Do you want to run a giveaway to get more followers?
Running a giveaway is the easiest way to get more followers on social media. Yet, knowing where to start is a challenge if you've never run a giveaway before. How do you ensure your campaign reaches your target audience?
This article will show you how to run a giveaway to grow your audience. We'll also show you what to do before, during, and after the contest to ensure your success.
Do Giveaways Increase Followers?
Savvy marketers know that follower giveaways are an excellent way to get more social media followers. They can raise brand awareness, boost engagement with your ideal audience, and encourage people to learn more about your company.
For example, Instagram accounts that run follower giveaways or contests grow 70% faster than those that don't. And if you use our secret weapon when building your viral giveaway, you can quickly get new followers.
There's no catch with this method. You won't need to buy followers, and there are no shady bots involved. Instead, you'll get REAL followers who are genuinely interested in your business.
But before we show you how to get more social media followers with a giveaway, there are a few tasks to consider.
Before creating your giveaway, you need to determine the prize you'll offer, your giveaway rules, and which contest tools you'll use. This helps you get everything planned and build your giveaway quickly and efficiently.
So how do you get followers with a giveaway? Let's find out!
Step 1. Choose an Exciting Giveaway Prize
Your viral giveaway aims to get more social media followers, so you should choose a grand prize that generates excitement.
Choose a prize you know your followers will love and make sure it's relevant to your brand. If the prize has nothing to do with your business, it'll be harder to transform participants into potential customers. Instead, they'll be in it for the freebie and probably won't engage with your company after
Here are some giveaway prize ideas to get you started:
Offer a free new product or service from your business
Create a giveaway bundle of products related to your brand
Team up with a similar, non-competitor to offer a high-quality prize or gift card
Give away limited edition or custom products unavailable elsewhere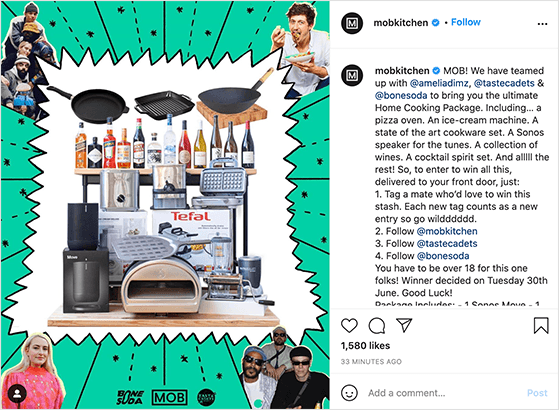 In this contest on Instagram, MOB Kitchen teamed up with food influencers to offer a vast bundle of kitchen-related goodies. This Instagram post helped them spread the cost of the prize and tap into the audiences of their partners.
Step 2. Set the Rules for Your Giveaway
Next, you need to define the rules for your follower giveaway. This keeps your contest fair for everyone taking part and avoids potential confusion.
You can run several different types of contests with varying entry requirements. So keep that in mind when putting your rules together. For instance, with classic giveaways, people enter for a chance to win. In contrast, other contests might require users to submit a photo (for photo contests), a video, or other media.
Classic giveaways tend to be the most popular because they're easy for people to enter. It's also a great way to create followers since people won't have to submit anything.
You should also include the following details in your giveaway rules disclaimer:
The minimum age for people to take part
If there are any location limits
The start and end date and times
How people can enter your giveaway (e.g., post a picture)
The way you'll draw a winner
If your giveaway is sponsored or affiliated with a third party
Make sure your entry methods align with your main contest goals. To run a contest to get more followers, they should follow you on your chosen social media platform. For instance, your Instagram account or Twitter profile.
Remember: the contest rules for each social media platform may differ. For example, Instagram's rules may be different from Twitter. You can check out Facebook and Instagram's promotion guidelines on their website.
Once you've picked a prize and defined your contest rules, think about what tools you can use to make creating an online contest easier.
Step 3. Choose the Best Viral Giveaway Tool
Several social media marketing and giveaway tools are available to help build your giveaway easily. Most include a dedicated contest builder to display your giveaway in a widget. They have entry options to make it easier for users to enter.
Why not look at the best contesting tools on the market by reading our Rafflecopter vs. Gleam vs. RafflePress comparison. This will give you a great idea of which contest app is right for you.
Step 4. Create a Giveaway to Gain Followers
Now it's time to create a giveaway to increase your followers on social media. We'll be using RafflePress to walk you through the process.
RafflePress is the best WordPress giveaway plugin on the market. And it's the only contest tool designed primarily for WordPress users. Getting started is super easy with the intuitive drag and drop giveaway builder. And with tons of 1-click entry options, you can grow your email list, site traffic, and social media follower count with viral contests.
Click here to get started with RafflePress and download the plugin.
Then, follow the steps below to create your first giveaway.
4a. Create a New Giveaway to Get More Social Media Followers
The first step is to upload RafflePress to WordPress and activate it. Here's a step-by-step guide on installing WordPress plugins if you need help.
After installing the WordPress plugin, hover your mouse over the RafflePress icon and click Add New to create a new giveaway.

You're then taken to a screen where you can enter your contest name and choose a giveaway template. RafflePress has several pre-made templates designed to meet specific contest goals. Like, Grow Your Email List, Refer-a-Friend, and more.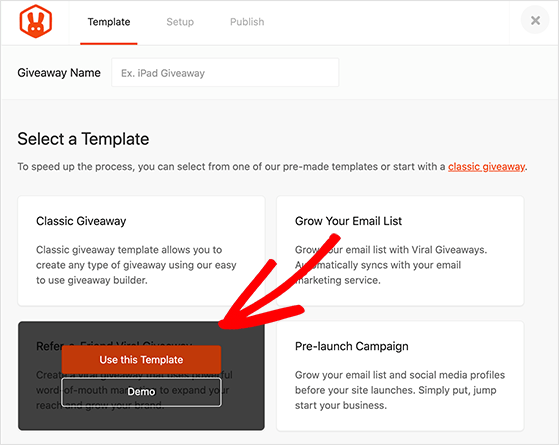 To run a giveaway to grow your followers, choose the Refer-a-Friend template by hovering your mouse over it and clicking Use This Template.
If your contest is more specific, you could choose the :
The next screen you'll see is RafflePress's giveaway builder. Here you can enter your prize details, entry methods, and other contest details for users to see in an interactive giveaway widget.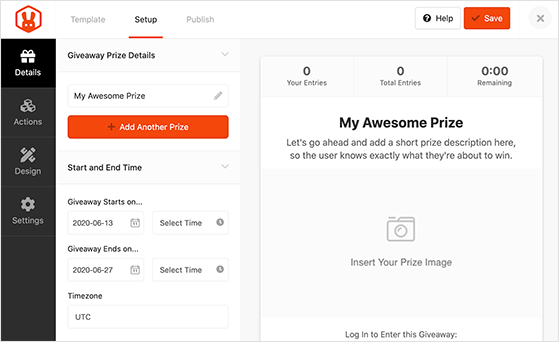 Click the Pencil icon under the Giveaway Prize Details heading to give your contest a title and description.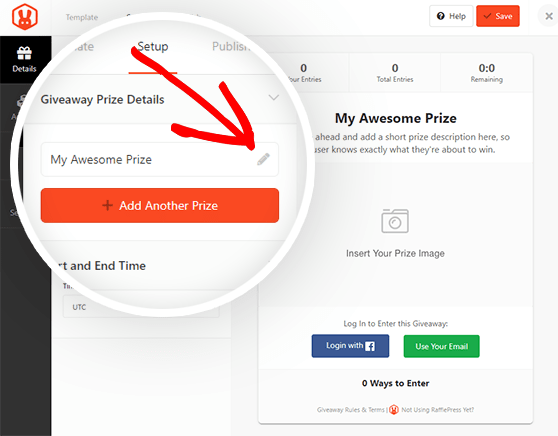 You can also upload a prize image from your media library or computer by clicking the Select Image button on the right-hand side of the screen.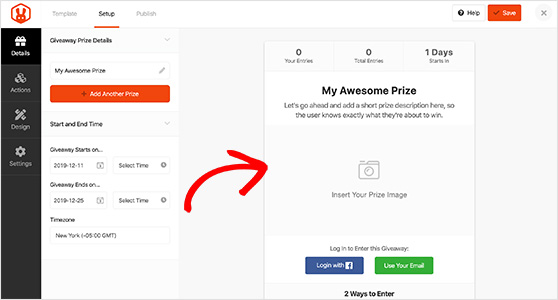 When you're happy with your prize details, click the Done Editing button.
You can add extra prize details by clicking the +Add Another Prize button if you're offering many prizes. Below that, you can also enter the start and end times for your contest.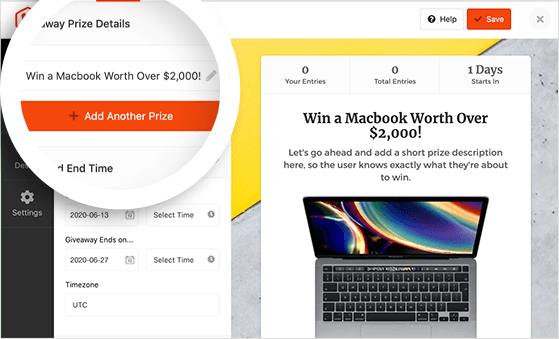 Remember to click the Save button periodically to preserve your settings.
4b. Add Ways to Enter Your Giveaway to Gain Followers
RafflePress's viral Refer-a-Friend template adds 2 ways for people to enter your giveaway, including:
Join an Email Newsletter: Users should subscribe to your email list to enter
Refer a Friend – Viral: Ask people to share the contest with their friends to enter
This is a great start for getting more followers through email and social media. But if you have a specific social media platform you want more followers on, you'll need to prioritize following you there.
For example, let's say you want more Pinterest followers. To make that your main priority, click the Follow us on Pinterest action to add it to your giveaway widget.
Or if you want to run an Instagram giveaway to get followers, you can use the "Visit us on Instagram" action.
Clicking the action inside the widget reveals more options for customizing the action, including:
Change the action label
Choose a value (how many entries that action is worth)
Make the action mandatory
Enter your Pinterest profile URL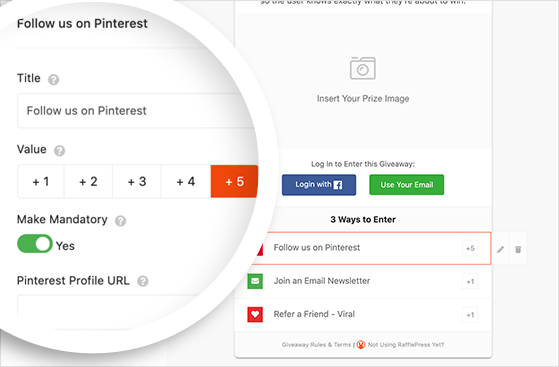 Since growing your followers on Pinterest is the main goal in this example, set the value to 5 and make it mandatory. This means people HAVE to enter using this method before accessing any other options.
If you'd like to learn how to run a Pinterest contest, check this out.
4c. Add Bonus Entries to Boost Brand Awareness
Earlier, we mentioned a secret digital marketing weapon that can explode your social followers. That weapon is bonus entries.
In RafflePress, you can set up bonus entries to drive people to follow your social channels.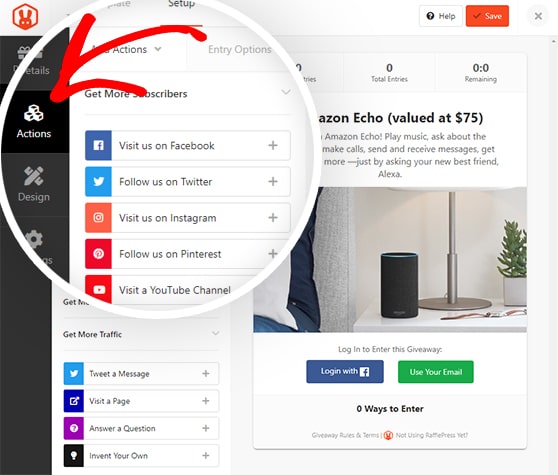 Let's look at a few examples:
If you want more Facebook followers, you can add bonus entries for people to visit you on Facebook
For more Instagram users, you can do the same with the Visit us on Instagram action
To get more Twitter followers, you can offer another bonus entry to Follow you on Twitter
For extra LinkedIn contacts, you can use the Follow us on LinkedIn action
And, for more YouTube subscribers, add a 4th bonus entry to visit your channel
You'll get engaged followers using bonus entries because it gives entrants more chances to win and take action on the platforms you want.
You could even ask users to submit a photo or selfie to collect user-generated content (UGC) or leave a comment in your comments section.
It doesn't stop there either.
The Refer-a-Friend giveaway template includes actions to join your email list and share your contest on social media. As a result, you get qualified email leads and the chance to get even more followers.
4d. Customize Your Giveaway Widget
Now that you've added entry methods let's finish designing your contest. To do that, click the Design tab. Here you can choose from 2 giveaway layouts, change the widget font, and choose a button color.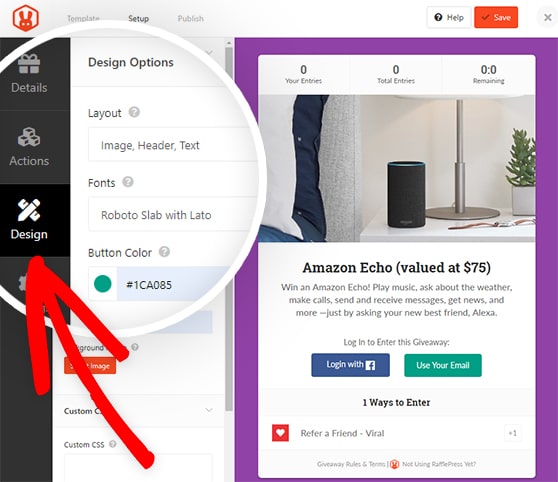 Under the Page Background heading, you can upload a background image for your giveaway's landing page. Just click the Select Image button.
Remember to click Save to save the changes.
4e. Display Your Giveaway Rules
Remember the rules you defined earlier? With RafflePress, you can display those rules right inside the contest widget.
Just click the Settings tab and select Giveaway Rules. Here you can paste your rules directly into the widget. Or, you can use the built-in Rules Generator to create a simple set of rules.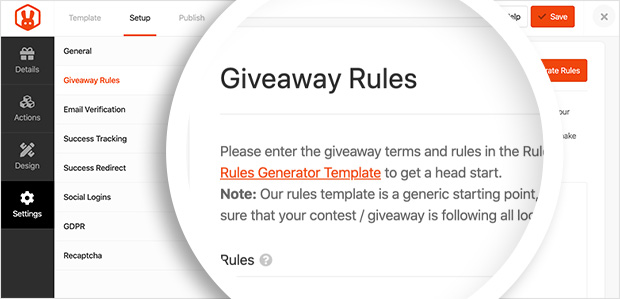 Click the + Generate Rules button. Then answer questions about your sponsor, contact details, age, and location eligibility information.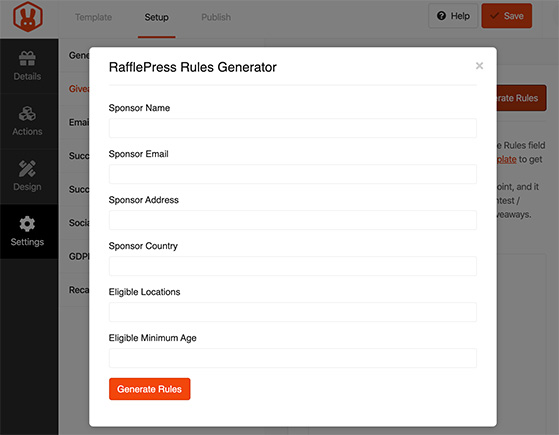 Then click the Generate Rules button to populate the content area with a simple set of rules. You can also edit and add to the content to suit your business requirements.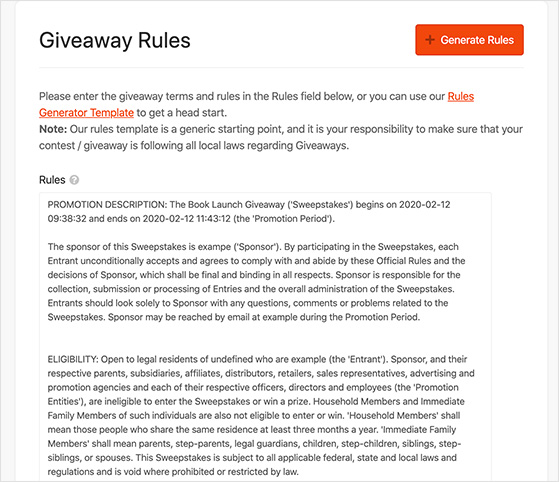 4f. Publish Your Viral Giveaway in WordPress
Now you're ready to publish your viral giveaway. RafflePress offers 3 different ways to publish your contest in WordPress, including:
RafflePress WordPress Block: Use the new WordPress block editor to embed your giveaway widget in a new post or page.
WordPress Shortcode: Embed your contest in the old classic WordPress editor, sidebar widgets, or inside your WordPress theme.
Giveaway Landing Page: Create a clean, distraction-free landing page for your giveaway.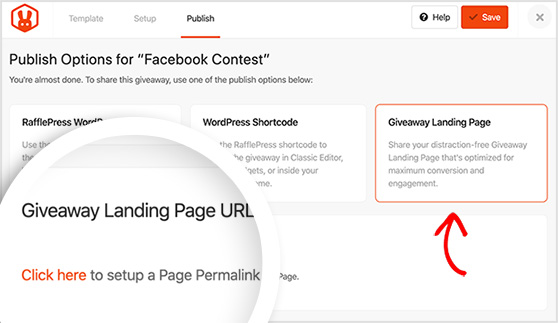 The best option for securing the most contest entries is to use the Giveaway Landing Page option. Because there's nothing else on the page to distract people, they're more likely to enter your giveaway, getting you more followers.
So, click the Giveaway Landing Page option, then click the Click Here link to add the URL for your page.
Once you've done that, click the View button to see what your giveaway landing page looks like.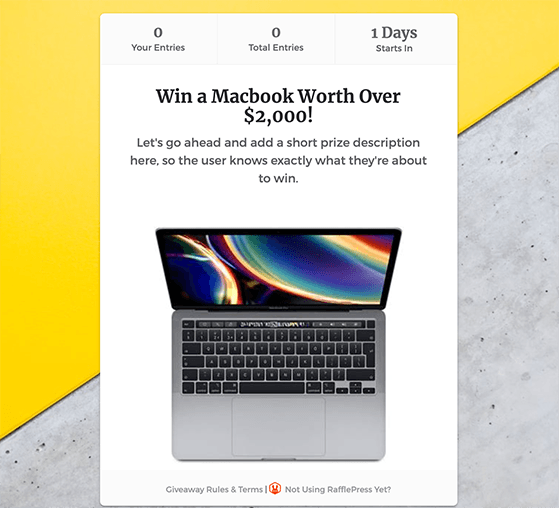 Awesome! You have a fantastic-looking landing page for your viral giveaway.
The work doesn't stop once you publish your giveaway. You need to promote it to maximize entries and track your contest's performance so you can make improvements.
We'll look at this in more detail below.
Step 5. Promote Your Giveaway
You can't simply wait for people to discover your contest. If no one knows about it, you won't get any entries. And more importantly, you won't get the followers you need to reach your business goals.
Instead, you should start promoting your giveaway right away to get the message out and spread the word. There are several proven contest promotion methods available. The easiest way is to share your giveaway post on your social media channels and ask people to tag a friend in the comments.
For example, in this Facebook giveaway, Risata Wines asked their fans to tag their summer crew. This helped spread awareness about the contest, gaining over 3k comments, 130+ shares, and 900+ reactions.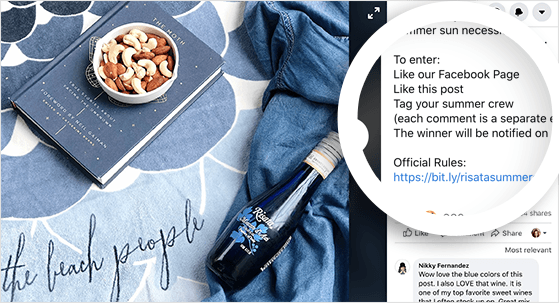 You can also promote your contest with the following methods:
Send an email newsletter announcing your giveaway to existing subscribers
Add an exit popup linking to your contest that triggers when users are about to leave your site
Add a link to your giveaway landing page on your homepage
Enter your giveaway into some of these contests and sweepstake directories
Use popular giveaway hashtags and Instagram hashtags, so your contest is easy to find
Run Facebook ads and ads on other social media platforms for your contest marketing campaign
Announce your giveaway in your Instagram stories
Start promoting your giveaway from the moment it goes live to get tons of entries from the very first day.
Step 6. Choose and Announce the Winner
Picking a giveaway winner is super-easy in RafflePress. Just head to RafflePress » Giveaways and click the Needs Winners link on the right.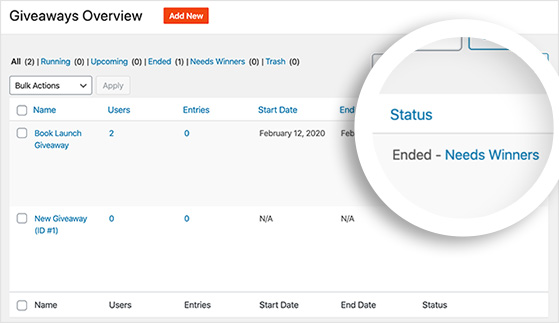 You can see everyone who entered your giveaway, how they entered, and their contact details on the following page.
To choose a winner randomly, click the Pick Winner button, select your options, and click Choose Winners Now.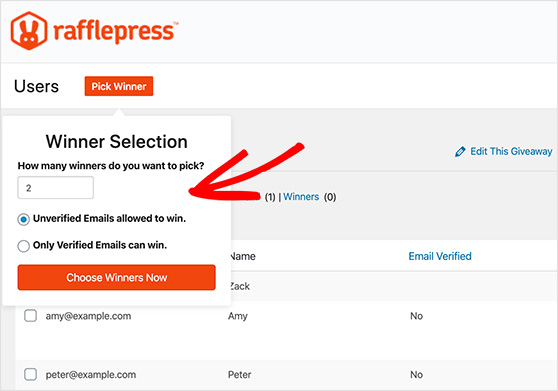 RafflePress will highlight the winner instantly. You can easily click to email them and tell them the good news!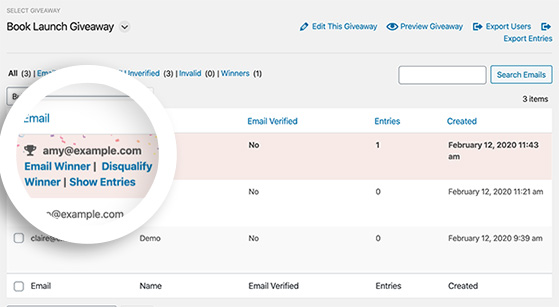 Don't forget to announce the winner on social media, like your Instagram feed, to let your new audience know.
Step 7. Analyze Your Giveaway Results
When your giveaway is over, take the time to analyze your results. This will help you create a better giveaway next time.
The easiest way to collect actionable data about your contest is with MonsterInsights, the best Google Analytics plugin for WordPress.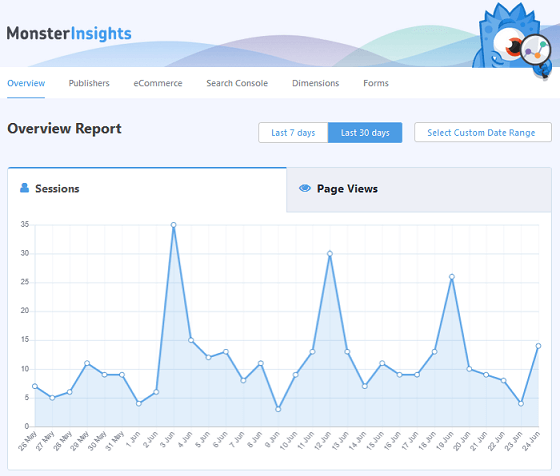 MonsterInsights makes it easy to track visits to your contest landing page, website traffic, referral traffic, etc. You can see all your data right within your WordPress dashboard.
By looking at your data with MonsterInsights, you can see which promotion methods drove the most entries to your contest. Then you can use that information to improve your marketing strategy for future giveaways.
FAQ
What are the best giveaways for Instagram?
If you're running an Instagram giveaway to get more followers, one of the best giveaway ideas is to run a photo contest. You can then use the content you collect to promote your brand elsewhere.
What are the most popular giveaways?
The most popular types of giveaways are those where users can perform a simple task like sharing or liking your post to win.
What is the best promotional gift?
Some popular promotional giveaway gifts include branded t-shirts, branded tech like USB drives, custom drinkware, and more. You can learn more about promotional giveaways in this guide.
There you have it!
We hope this article helped you learn how to create a giveaway to get followers for your small business. When you create a viral contest, you unlock the chance to grow your followers and engage fans more than ever.
What are you waiting for?
And don't forget to follow us on YouTube, Twitter, and Facebook for more great tips to grow your business.