Are you thinking about running a Valentine's Day giveaway?
Valentine giveaways are excellent campaigns your brand can run for the most romantic day of the year. Not only do they offer your target audience the chance to win an exciting prize, but they can also increase brand awareness, improve website traffic, and boost sales.
However, to run successful Valentine's Day promotions, you'll need to start with a great idea. So in this article, we'll share the best Valentine's Day giveaway ideas to help you grow your business.
Why Run a Valentine's Day Giveaway?
A Valentine's Day giveaway is ideal for grabbing your target audience's attention. Given that Valentine's Day spending has reached $23.8 billion in recent years, consumers will find the prospect of a free Valentine's Day gift appealing.
Even though flowers, chocolates, and romantic dinner dates are popular gift ideas, clothing, jewelry, and online shopping also play a crucial role. In fact, online shopping is on-par with department and discount stores as the most popular Valentine's shopping destinations.
So if you have an online store or eCommerce website with products that Valentine's shoppers find attractive, a special romantic promotion is an excellent way to put them center stage.
One of the most effective ways to promote your products, social media, and brand during the Valentine's Day period is with a giveaway. Giveaways are popular on almost all online platforms and have the power to engage your audience with relevant products and services.
A Valentine's Day giveaway can also help you with the following:
Improving brand awareness
Driving traffic to your business website
Growing your email subscribers
Increasing your social media followers
Selling more products or services
Boosting brand loyalty
Ultimately, a Valentine's Day giveaway and robust marketing strategy can help you get more leads, sales, and customers.
Valentine's Day Giveaway Ideas You'll Love
You may need help with some good ideas when planning your Valentine's Day contest or sweepstakes. Luckily, we've researched and found some of the best Valentine's Day giveaway ideas and examples your audience will love.
Let's dive in!
1. Romantic Duo Valentine's Day Poll
If your audience has their fingers on the pulse of celebrity culture, they'll love this simple giveaway idea. Run a poll asking users to pick their favorite celebrity or on-screen couple and enter each participant into a prize draw.
The Twitter account TV Guide ran a similar promotion using the Twitter Polls feature. While participants didn't win a prize for voting, it still generated tons of engagement.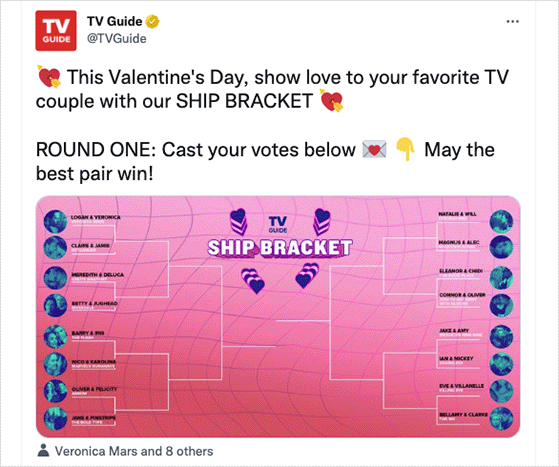 If you want to drive traffic to your business website while engaging your Twitter audience, consider running your Valentine's Day giveaway with a WordPress giveaway plugin like RafflePress.
With its Surveys & Polls feature, users can vote for the romantic couple on your WordPress site.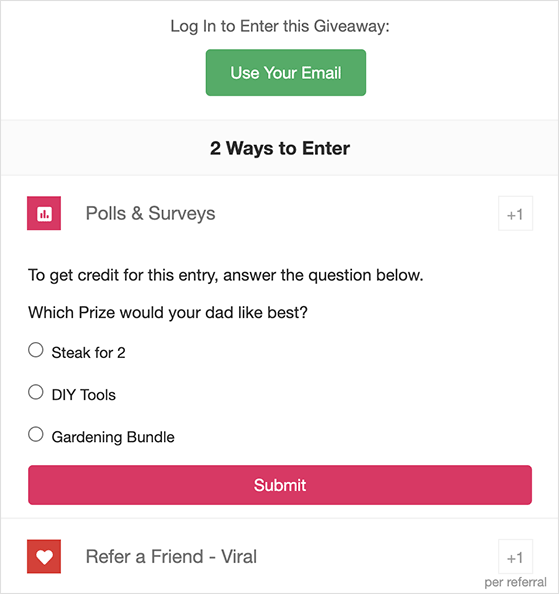 Even better, they can increase the odds of winning by completing bonus entries, like sharing the giveaway post on Twitter, following your Twitter profile, and much more.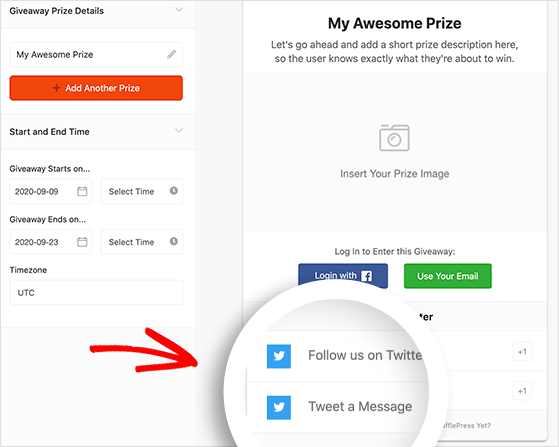 The winning entry could win a gift card, a romantic meal for 2, a date night pamper bundle or any other romantic gift related to your brand.
2. Pampered Pets Photo Contest
Another fantastic way to boost social media engagement during Valentine's is to run a photo contest. People love sharing photos online, and when it comes to their pets, they're even more enthusiastic.
In this Valentine's Day giveaway example, Vets4Pets asked fans on their Facebook page to post photos of their pet describing why they love them. Eligible entries could win a free photoshoot by a local company.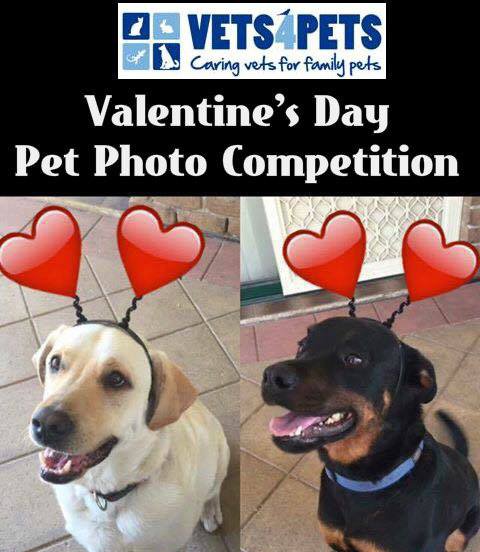 This is a fantastic way to gather user-generated content (UGC) from your fans. With permission, you can use this content to promote your brand in future marketing campaigns.
RafflePress makes running a Facebook photo contest effortless. Entrants can submit their photos via the dedicated giveaway action directly on your WordPress website.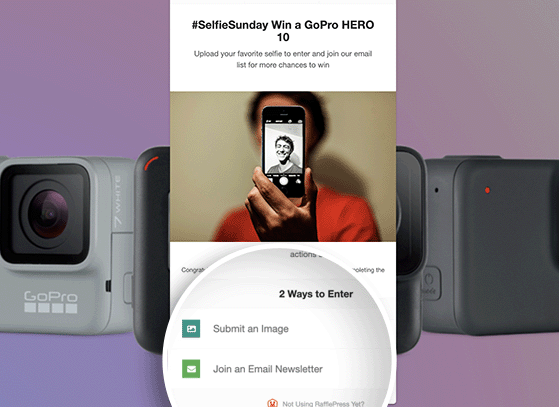 Like Twitter, participants can earn bonus entries by visiting your Facebook page, leaving a comment, sharing the post on other social media networks, and more.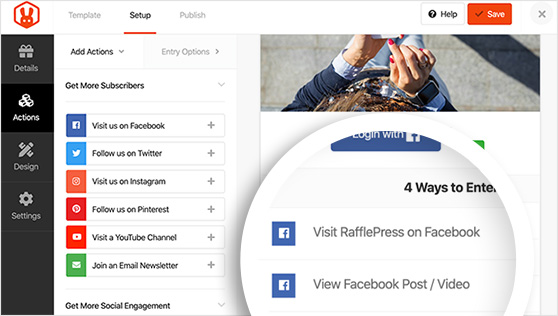 You can even use RafflePress's built-in giveaway rules generator to create official rules for your Facebook contest, including eligibility, time of entry, and prize draw information.
3. Galentine's Day Giveaway
You don't need to only focus on romantic couples for your Valentine's Day promotion. Instead of celebrating February 14th, you can start early by celebrating Galentine's Day on the 13th.
Galentine's Day celebrates platonic friendships, primarily among women. It's a way for BFFs to remind each other how wonderful they are.
If your brand caters to a broader audience that is less romantically inclined, you can use a Galentine's Day giveaway to get them involved. Bloom & Wild, for example, offered participants the chance to win a pamper bundle for the perfect night in for 5.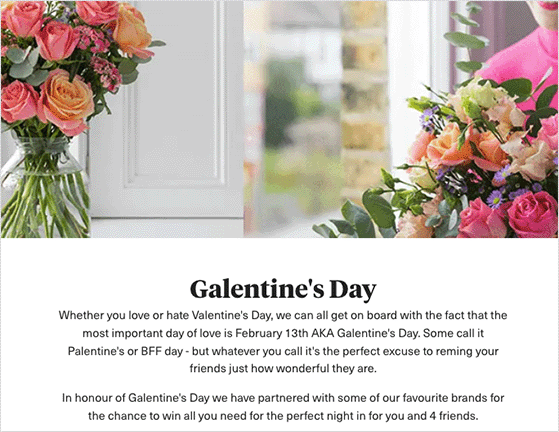 Like the example above, you can easily run this type of contest from your WordPress website. However, you can use RafflePress's automatic entry action instead of a long, complex entry form to qualify entries quickly.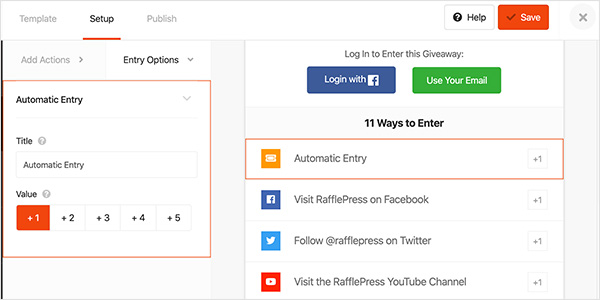 This is the perfect way to run sweepstakes in WordPress. All users need to do is enter their email addresses to qualify. Yet, if you're looking to generate more engagement and leads, you can also ask users to leave a comment, join your email list, refer a friend, and more.
4. Valentine's Baby Photo Contest
You can't go wrong with a baby photo contest if your audience includes parents. A creative spin on the theme is to ask fans to share photos of their Valentine's Day babies.
For privacy reasons, participants can use their sole discretion and submit baby photos of themselves on Valentine's. Or you can go down a route similar to Allter and ask users to share snaps of their baby's most endearing moments.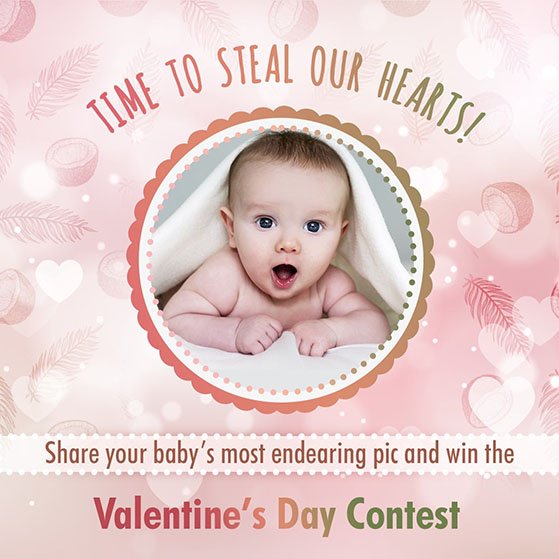 Like the pet photo giveaway idea, you can use RafflePress to run your photo contest. And if you find it hard to judge the winners, you can use the built-in winner picker to choose a winner randomly.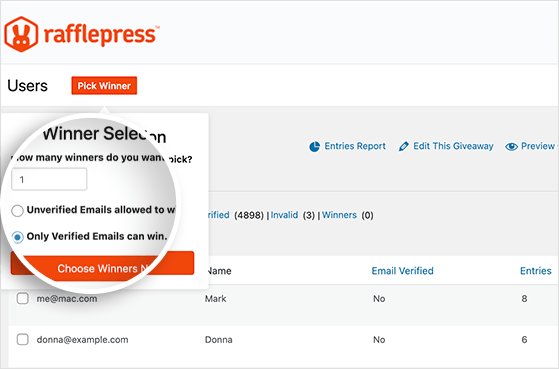 5. Valentine's Dance Duo Video Contest
Younger audiences will find this Valentine's Day giveaway idea appealing. You can run a TikTok dance challenge and award the winning entry with a VDay treat for two.
In this example from SHJDC, they asked dance duos to record a one-minute TikTok video in front of one of their buildings. They then had to upload the video to TikTok and share the post on Facebook using the branded hashtag.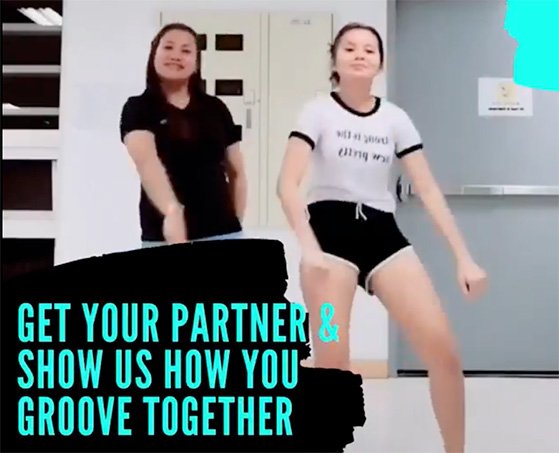 Why not go a step further and run your video contest from your website? With RafflePress, you can ask users to watch an example TikTok video by embedding it in your giveaway widget, awarding watchers with an entry.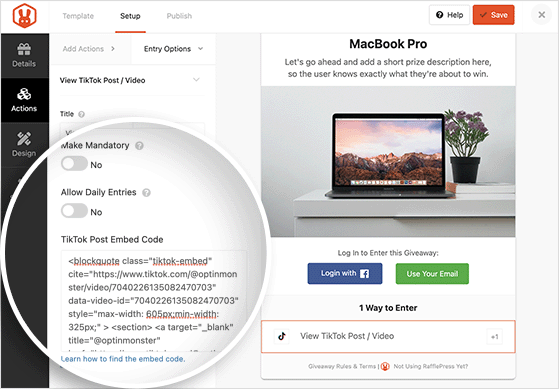 After uploading their video submission to TikTok, they can return to your giveaway page and use the leave a comment action to post their link.
Running your video contest this way makes it easier to manage submissions and count the entries in one place.
6. Valentine's Day Hashtag Contest
If your audience is more active on Instagram than TikTok, an Instagram hashtag contest is a fantastic choice for your Valentine's Day promotion.
That's precisely what 99 Pancakes did. To win complimentary pancakes for 2, users had to take a photo in one of their outlets and upload it to Instagram with their branded hashtag.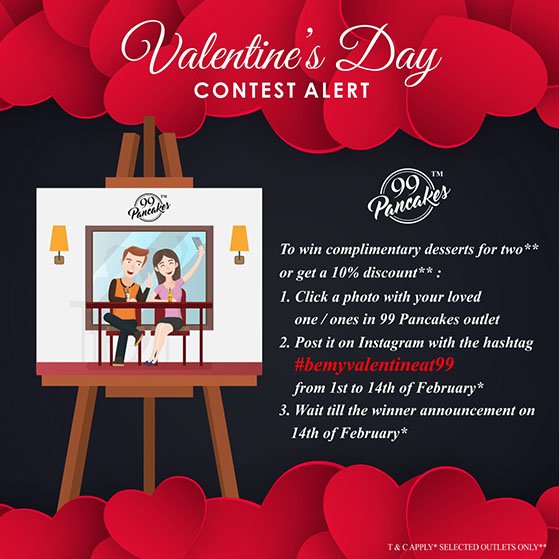 To keep your giveaway more organized, you can run it from your WordPress website using RafflePress's submit an image action. Users can then use the refer-a-friend action to share your giveaway using your branded hashtag on popular social media channels.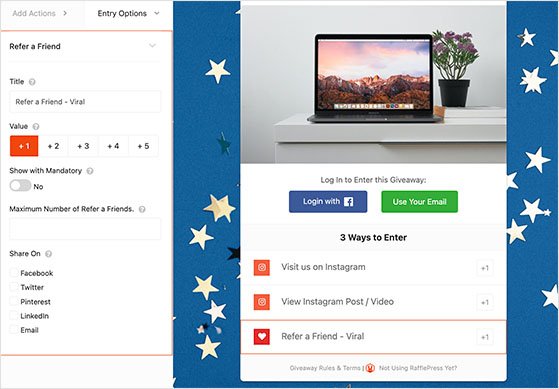 Even better, RafflePress's Instagram actions ensure you will get that crucial Instagram engagement.
7. Valentine's Makeup Selfie Contest
Similar to the example above, this next Valentine's Day contest idea involves posting a photo on Instagram. But where this example differs is by asking users to snap a selfie with a particular product.
The Body Shop used Valentine's Day as the perfect opportunity to collect user-generated content. Photos of people using their products make for excellent social proof they can use in future marketing campaigns. Let's face it; we trust recommendations from real people more than brands alone.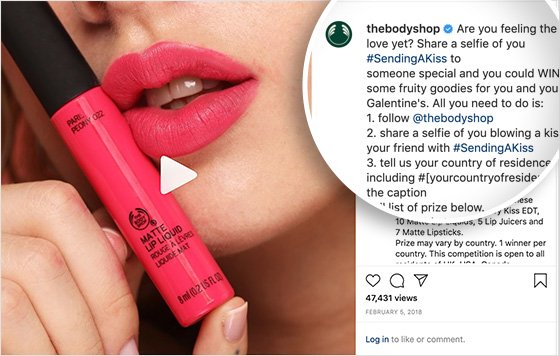 So take a leaf out of their book. Ask your fans to share a selfie with your makeup or beauty products. You can award the winner with one of the prize ideas on this list.
8. Nominate a Loved One Giveaway
Next up is a Valentine's Day giveaway idea that will suit beauty and wellness brands and bloggers. Ask your fans to nominate a loved one to win a special treat like a facial or spa day.
Urban Retreat Beauty & Hair ran a giveaway like this on Facebook, asking participants to like, share, and comment with their nominees.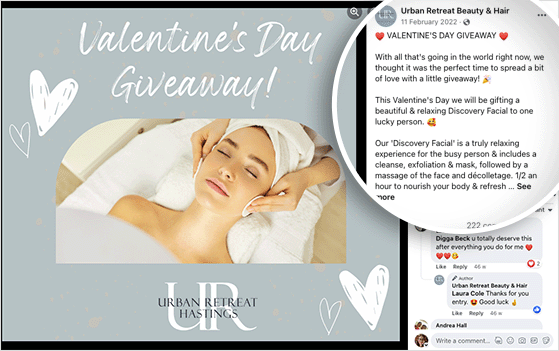 However, you can easily run a similar giveaway on WordPress using RafflePress' Leave a Comment action. Simply publish your giveaway inside a WordPress post or page, then ask users to comment with the person they want to win.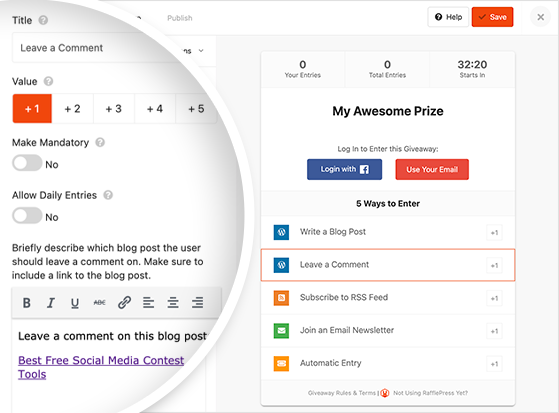 To verify entries, users will need to paste the link to their comments. This will make drawing winners much easier when the giveaway is over.
Bonus Valentine's Day Giveaway Ideas
The Valentine's Day giveaway examples above are an excellent starting point for marketing your business over the romantic period. But if you need more inspiration, here are some more quick contest ideas:
9. Best anti-Valentine's meme or photo
10. Sweet treat Valentine's recipe contest
11. Valentine's crafting contest
12. Romantic storytelling contest
13. Free coupon giveaway
14. Best-selling Valentine's product giveaway
15. Luxury getaway for two
16. Romantic home decor giveaway
17. Singles day giveaway
Next Steps
By now, you're probably brimming with ideas for your Valentine's Day promotion. Your next step is to put your plan into action by bringing your giveaway to life.
The easiest way to do that is with RafflePress, the best WordPress giveaway plugin.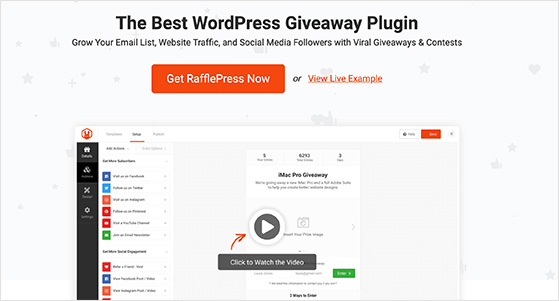 You can set up a giveaway in minutes using the pre-made giveaway templates and drag-and-drop builder. From there, you can add countless entry options designed to build brand awareness, subscribers, followers, and leads.
Ready to grow your business with a Valentine's Day giveaway?
Get started with RafflePress today!
We hope you enjoyed this article. You might also like these contest promotion ideas to get your giveaway in front of the right people.
If you liked this article, please subscribe to our YouTube Channel for RafflePress video tutorials. You can also find us on Twitter and Facebook.