Want to learn how to increase online sales through social media?
Social media marketing is a powerful way to connect with your target audience and get your products in front of potential customers. It's also a fantastic lead generation tactic that can drive sales for your small business.
However, your social media marketing strategy's success depends on your techniques. That's why, in this guide, we'll share the best tips on how to increase online sales through social media.
Why Is Social Media Good For Sales?
Social media is good for sales because it helps you raise brand awareness with online shoppers. Since consumers are increasingly shopping online, social selling is one of the most effective ways to close the gap between in-person and online shopping.
Instead of visiting your physical store, shoppers can learn about your products on social media channels through user-generated content (UGC), ad campaigns, word-of-mouth referrals, and even simple conversations. This near-instant research can help shoppers make purchase decisions and, in a few clicks, increase sales for your business.
Around 90% of top-performing sellers use social media as part of their digital marketing strategy. Plus, consumers spend up to 40% more on brands they've engaged with on social media platforms.
So if you were unsure about the efficacy of social media selling, the numbers above offer a convincing reason for you to try this approach.
How to Increase Online Sales Through Social Media
To help you get more from your social media strategy, we've put together the best tips and ideas to help you boost sales through social media marketing campaigns.
Let's jump in and get started.
1. Use Interactive Content to Engage and Educate
It's tempting to try the hard sell with every post you share on social media. After all, it's your goal to increase online sales. But the truth is, you also need to educate, entertain, and entice your audience.
Most people use social platforms in their spare time, so they want to relax or see content that entertains them rather than being pushed to spend money.
One way to promote your products without seeming pushy is to run a giveaway or contest. These posts can spread quickly beyond your key followers, especially if you encourage people to share and tag friends to enter.
Essentially, running a giveaway or contest is the easiest way to go viral and reach a broader audience.
If it sounds like lots of work, don't worry. Running a giveaway on social media is easy with marketing tools like RafflePress.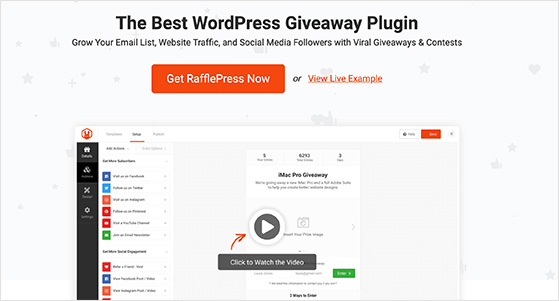 RafflePress is the best WordPress plugin for contests and giveaways. With it, you can create any type of contest without the hassle of complicated settings.
This plugin is super easy to use, includes a drag-and-drop giveaway builder, and offers everything you need to run a top-performing social media giveaway. That includes a giveaway rules generator, a random winner picker, pre-made giveaway templates, and more.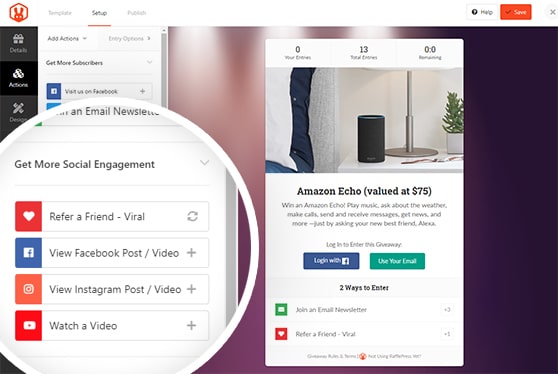 RafflePress also includes:
1-click giveaway entries
Email verification
Actions to grow your email list
Distraction-free giveaway landing pages
Refer-a-friend social sharing giveaway action
Giveaway templates for different marketing goals
Social logins
Email marketing integrations
Bonus giveaway actions
Yet, the best part is that no coding or "tech skills" are required. You can configure everything in minutes easily.
Ready to generate sales with a social media contest?
Get started with RafflePress today.
2. Showcase User-Generated Content
Savvy consumers read online reviews before buying products to ensure brands are credible and trustworthy. As such, more shoppers are turning to social media to find genuine reviews and see products in action.
Research suggests that 79% of people say user-generated content impacts their purchasing decisions. However, only 13% say content from a brand is impactful.
So how can you get social proof like this on your social media profiles and show new customers your products are worth their money? If existing customers are already leaving positive reviews and testimonials, share them with your audience on social media.
Whether sharing Instagram stories, reacting to a video on TikTok, or cross-posting on your Facebook page, you can use this content to boost your social proof and bolster your marketing efforts. At the same time, you'll make your profiles look more authentic, which can also improve trust.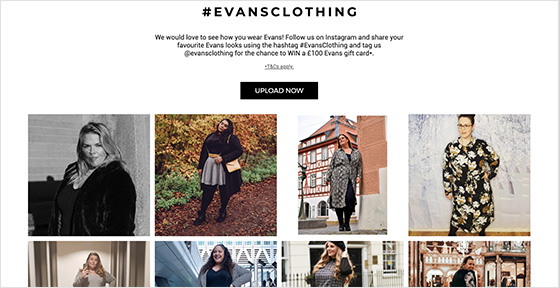 An effective way to get consumers to create content for you is to encourage them to share positive experiences through photos and videos on social media.
But it doesn't have to stop with social media. You can also display user-generated content on your website by embedding a social media feed.
If you're a WordPress website owner, we recommend using Smash Balloon.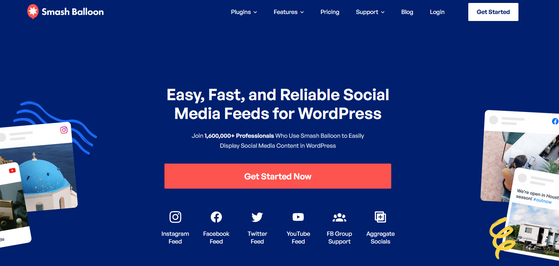 Smash Balloon is the best social media feed WordPress plugin. It lets you easily show social media feeds from the most popular sites, including Instagram, Facebook, Twitter, and YouTube.
This powerful social media plugin is beginner-friendly and lets you sync your social post content to your website. That way, the user-generated content you share appears instantly on your website.
Even better, visitors can engage with your social content directly from your WordPress site by liking, sharing, commenting, and following.
You can create fully customized social media feeds and tailor them to your brand's particular color scheme and style. Each feed is also SEO-friendly, helping you improve your search engine rankings.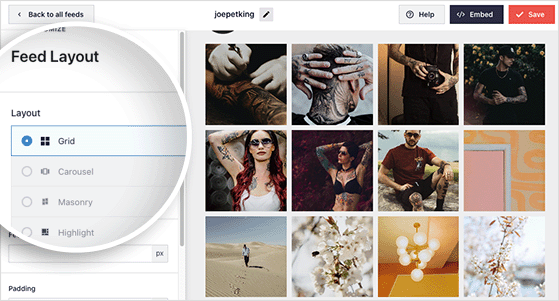 Besides increasing your social proof and sales, Smash Balloon is straightforward to set up. It also won't slow down your site, keeping the user experience fast and enjoyable.
Click here to try Smash Balloon today.
3. Use the Social Networks Your Audience Loves
There are many social media networks, with more popping up by the day. As such, it's tempting to sign up for them all and cross-promote your content across each one.
Even if you decide this is the best approach for your brand, you risk spreading yourself too thin and doing more harm than good.
Every social platform has a specific audience and specializes in different types of content. For example, Facebook is now the playground of adults, while Snapchat and Instagram attract millennials and younger audiences.
Meanwhile, LinkedIn is one of the best places for B2B content marketing.
Essentially, you need to connect with your audience on the platforms they use most. Only then, when you're talking directly to your audience, will you see your sales and conversion rates improve.
If you don't know which type of content works best for each platform, here's a list to start you off:
Instagram: photos and short video clips with captions that tell a story
Facebook: long-form written content and videos
Twitter: short news-worthy messages, videos, and pictures
Snapchat: short, entertaining videos
YouTube: long-form educational and entertaining videos
TikTok: short, entertaining videos and music
Pinterest: recipes, DIYs, and info about products
When creating content on social media, remember to stay authentic. Cramming your newsfeed with sub-par content won't engage your target audience.
Take GoPro, for example. Their Instagram profile has a distinct look that compliments their brand perfectly.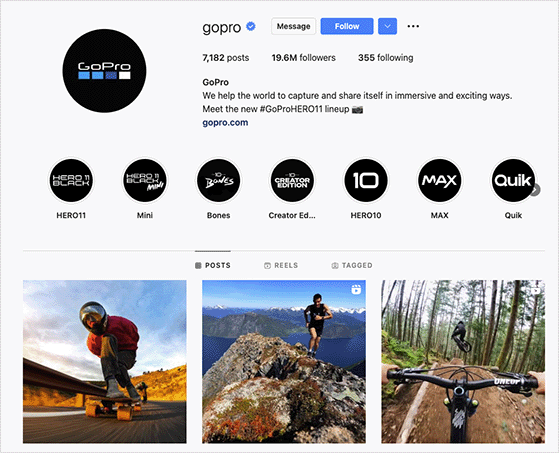 GoPro uses a consistent color palette, shares high-quality content designed specifically for Instagram, and uses all of Instagram's tools to reach its target demographic.
If you follow a similar approach, your chances of increasing sales will improve.
4. Create Shoppable Social Media Posts
Another effective way to increase online sales through social media is to create shoppable posts. These posts allow users to buy your products or services directly from social media.
Instagram is an excellent example of shoppable social media content. It lets you tag products in posts and stories, allowing users to visit the product page and checkout instantly on your website.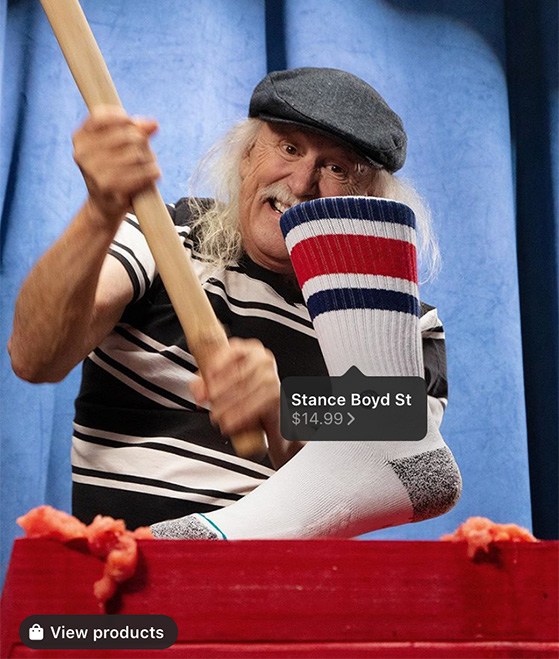 Users can enter their credit card information and delivery details on the checkout page, and the purchase is complete. Customers can then track their orders and receive shipping updates from inside the Instagram app.
The only thing you need to get started is a business Instagram account.
The other leading social platforms also offer eCommerce tools. Facebook has a shop section where you can list products, while Pinterest offers buyable pins where users can buy directly from the Pinterest app.
5. Get Brand Advocates and Influencers to Help
If you're just starting on social media, influencer marketing can help you reach a large audience fast. It's also an effective way to boost sales through social media.
There are thousands of influencers with different audiences, so do your research to find some that serve your industry. This will make their audience more likely to be interested in your products or services.
Influencer marketing works by asking them to promote your brand with honest reviews, tutorials, and interaction on their profiles. Most influencers will agree to this type of partnership in exchange for free products, affiliate links, and in some cases, payment.
These collaborations will position your brand in front of the influencer's massive audience, and because that audience trusts them, they're more likely to enter your sales funnel.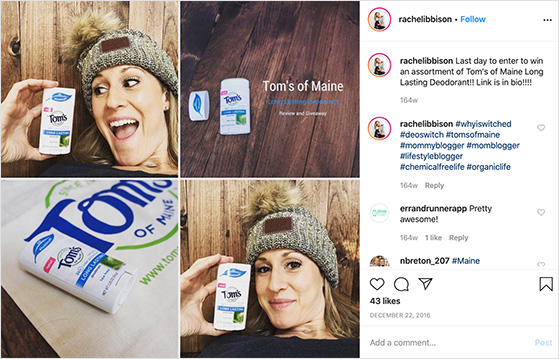 Granted, approaching influencers can be scary. Instead, you can get your most loyal customers to help. Ask your top customers to review their experience or promote your products for a discount, freebies, or other valuable perks.
Some businesses run referral programs where customers share a referral link with family and friends. They can then earn discounts and free products when the referral is complete.
Whichever approach you go for, loyal customers and influencers can help you reach a broader audience and increase online sales.
6. Create Branded Hashtags for More Reach
Hashtags are a fantastic way to increase brand awareness by making your posts easier to discover. They're also excellent for creating a sense of community because fans can find each other by browsing specific hashtags.
Level up your marketing efforts by creating unique branded hashtags. Doing so will help users understand your posts, drive engagement, and increase your visibility.
Additionally, hashtags can help users find user-generated content related to your brand.
For example, take a look at KFC's Twitter profile: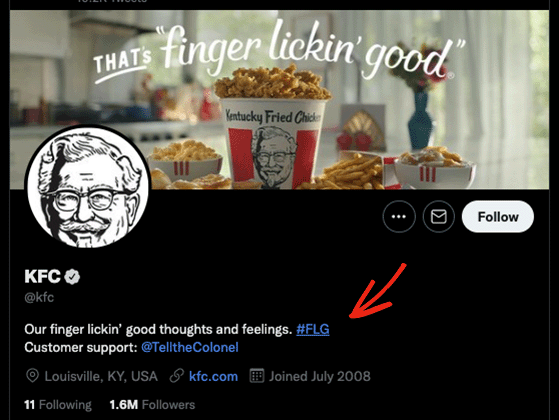 That blue text is a branded hashtag. When you click the hashtag, you'll see thousands of people using it and posts talking about KFC.
Besides Twitter, you can use hashtags on other social media networks. For instance, Facebook, Pinterest, YouTube, Instagram, and TikTok allow hashtags for search and community engagement.
You can also use giveaway hashtags to improve the reach of your social media contest.
When creating your brand's hashtag, keep it simple and easy to remember, and match it to your brand's personality.
7. Run Limited-Time Flash Sales
You can also increase online sales through social media by running and promoting flash sales. And as the name suggests, flash sales run randomly over a limited time.
Most companies will only announce a flash sale an hour or 2 before it launches to create urgency in customers and encourage them to grab the deal before it ends. This is especially true when a flash sale runs for no longer than a day.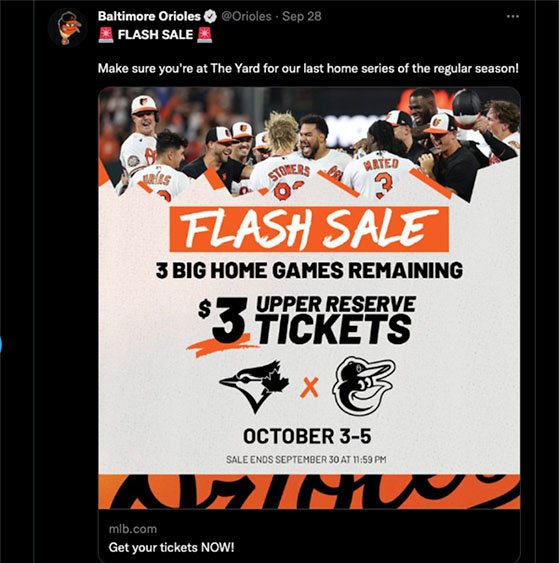 You can promote your flash sale on social media to get the most sales and engagement. The most popular platforms for this are Instagram and Facebook.
For example, you can create a Facebook event to generate an early buzz for your Facebook followers. Or, on Instagram, you can publish stories and teaser posts about your sale.
If you only have a small social media following, you can always use social media advertising to promote your sale.
Facebook ads, for instance, are a great way to combat the drop in Facebook's organic reach due to its algorithm change. It also offers detailed settings to reach specific demographics, interests, and industries.
8. Keep Your Posting Schedule Reliable
Given that consumers are constantly on social media, it stands to reason that you should be too. Plus, when you consider that the lifetime of social media posts varies between mere minutes to hours, you'll want to maximize engagement before the post disappears into the newsfeed.
Here is a general idea of how long posts last on each platform: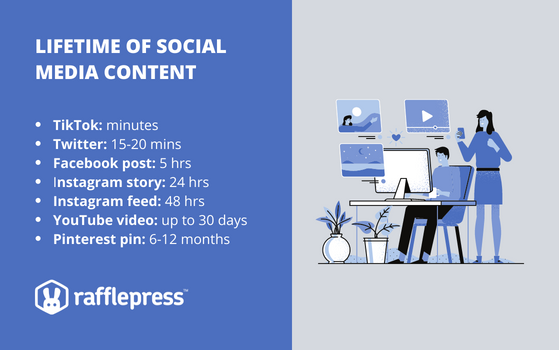 TikTok: minutes unless it goes viral
Twitter: 15-20 minutes
Facebook post: 5 hours
Instagram stories: 24 hours
Instagram feed: 48 hours
YouTube video: Up to 30 days
Pinterest pin: 6 – 12 months
You'll need to generate fresh content regularly to get the most out of social media. But don't bombard your followers with new content notifications all the time because you'll risk annoying them and could potentially lose followers.
Instead, experiment with different posting schedules and see what works best for your audience. Then after finding that sweet spot, stick with it.
In the end, a consistent and reliable posting schedule will help you maximize your reach and engagement and, in turn, increase your online sales.
There you have it!
We hope that with this guide, you've learned how to increase online sales through social media.
You might also like these other related guides:
If you liked this article, please subscribe to our YouTube Channel for RafflePress video tutorials. You can also find us on Twitter and Facebook.