Are you looking for the best WordPress blog tools?
Blogging tools can help your WordPress website grow by adding extra features and functionality. Without them, you'll likely find it much harder to increase awareness, boost engagement, and attract more blog subscribers.
However, what kind of blogging tools do you need? How do you choose the best ones for your WordPress site?
In this article, we'll share the best WordPress blog tools to improve your blog's user experience and help it grow.
Why Use WordPress Blogging Tools?
WordPress blogging tools make growing your blog easier. They include features that make everyday blogging tasks faster and handle the more technical aspects of blogging for you, so you won't need to worry about getting help from an expert.
For example, blog tools can help you in the following situations:
Easy Blog Customization – Many WordPress blog tools offer a range of customization options to help make your blog stand out and look visually appealing to readers. They often don't require code, making it easier for your blog to look how you want without hiring a developer.
Streamline the Blogging Process – With the help of blogging tools and resources, you can streamline many tedious blogging tasks and save valuable time. From editing content to creating graphics and researching keywords, these tools can simplify your workflow and make it easier to manage your blog.
Expand Your Reader Base – By using tools that support your blog's growth, you can also grow your audience faster. Understanding your audience and tailoring your content to meet their needs is crucial for building a loyal following. With the help of blogging tools, you can create content that resonates with your readers and keep them engaged.
Best WordPress Blog Tools
Now that you know the benefits of using blog tools on your website, let's look at some of the best solutions for WordPress users.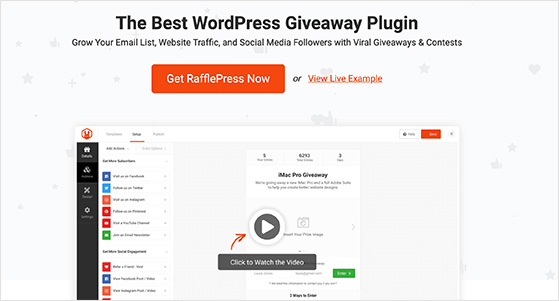 If you're serious about improving your online presence and driving traffic to your website, you can't go wrong with RafflePress. It's the best WordPress giveaway plugin, allowing you to quickly grow your email list, subscribers, and social media followers with online giveaway contests.
With its drag-and-drop giveaway builder and pre-made templates, you can quickly create any giveaway in minutes. It includes options to upload a prize image, heading, and description and lets you choose when your giveaway should start and end.
But where RafflePress excels is with its giveaway entry actions. Users can enter your giveaway via sharing on social media, following your social profiles, joining your email list, leaving a blog comment, and more.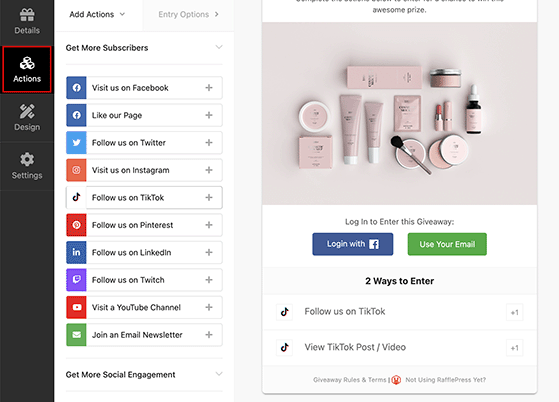 It supports all leading social networks, including LinkedIn, Twitter, Facebook, Instagram, YouTube, and TikTok, as well as Twitch, Podcasts, RSS, and more.
The plugin even has a viral refer-a-friend feature where contestants enter by referring friends, who, in turn, enter and refer more friends, and so on. Referral marketing is a fantastic way to spread word of mouth and drive massive traffic to your blog.
Besides the above, RafflePress also includes the following features:
Standalone giveaway landing pages
Random winner picker
Giveaway rules generator
Social logins
Email marketing tools integrations
Design options
Mandatory actions
Email verification
Spam protection
And more.
RafflePress offers both a free and premium version. With the free version, you can run a simple online contest, but we recommend the Pro version for all the best features.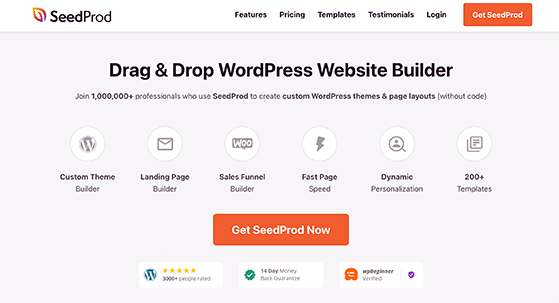 SeedProd is another powerful WordPress plugin your blog can't do without. It's the best drag-and-drop page builder for WordPress, allowing you to build and customize any page layout without writing code or PHP.
As a blogger, that means you can design your entire WordPress blog without help from a developer. You can even build a custom WordPress theme and tailor it to your needs and aesthetic.
What's more, you won't need to start from scratch. SeedProd offers hundreds of pre-made templates you can edit visually and see the changes in real-time, including lead generation landing pages, coming soon pages, WooCommerce websites, headers and footers, portfolios, and more.
From there, it's easy to add the design elements you need with the plugins WordPress block system. Simply drag and drop them onto your page and see your design come to life.
Some of the available blocks are as follows:
Contact, login, and opt-in forms
RafflePress giveaway block
Image galleries, carousels, and sliders
Social sharing buttons and social profile buttons
Testimonials, reviews, and star ratings
Call to action buttons
Shortcode and HTML blocks
WordPress widgets
Add to cart and payment buttons
eCommerce product layouts
Pricing tables and price lists
Team members
And much more
Besides the above, SeedProd integrates with popular email marketing services, Google Analytics, and some of the best WordPress plugins on the market.
So if you want an easier way to design your WordPress site and increase conversions, SeedProd is the ideal solution.
You can try the free plugin to get a taste of how SeedProd works, then upgrade to the pro version for all the best features.
Alternatives: Thrive Architect, Elementor, and Beaver Builder.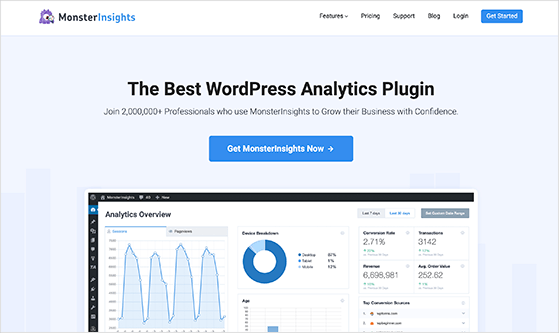 MonsterInsights is the most popular Google Analytics plugin for WordPress that helps you make data-driven decisions about your blog.
It integrates with Google Analytics to provide a user-friendly interface for accessing website traffic data, such as page views, sessions, demographics, and more. With that information, you can track and optimize your website's performance, understand your audience, and grow your business.
The plugin is easy for beginners to use and creates reports so you can find the information you need. It also doesn't require any coding, so you can connect to your Analytics account with a few clicks.
Here are some of the other features available with MonsterInsights:
eCommerce tracking
Form tracking
Custom dimensions
File download tracking
Enhanced link attribution
Customizable reports
EU Compliance
Marketing integrations
And more
MonsterInsights offers a free version with zero cost. However, more features are available in the premium version.
Get started with MonsterInsights.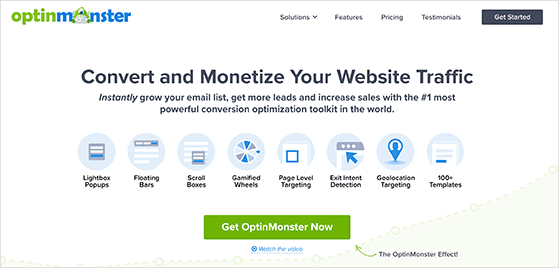 Another reliable WordPress blog tool is OptinMonster. This lead-generation and conversion optimization toolkit makes growing your email list and boosting engagement effortless.
With its drag-and-drop builder and pre-made templates, you can build high-converting opt-in forms for your blog. In a few clicks, you can create exit-intent popups, sidebar forms, floating bars, lightbox popups, full-screen welcome mats, and more.
Plus, the tools' behavior detection and targeting rules allow you to show the right campaign to specific website visitors. For example, if a reader is about to leave your site, you can display an exit popup to get their info before leaving. Or you can redirect visitors to your most popular blog posts.
Additionally, the A/B testing feature helps you understand and optimize your campaigns for the best results.
Get started with OptinMonster.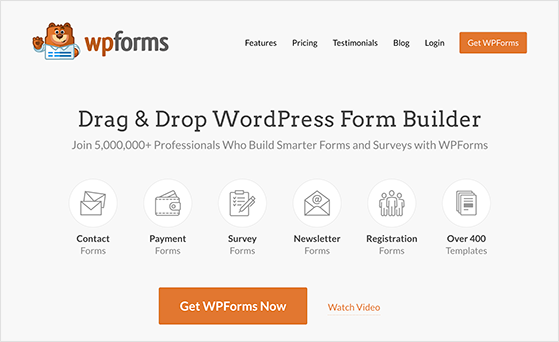 WPForms is a must-have blog tool for any WordPress website. It's the best WordPress contact form plugin, allowing you to display user-friendly forms anywhere on your site.
You can create many different forms, including payment, survey, newsletter, registration, and more. Plus, you won't need to start from scratch because it includes hundreds of mobile responsive form templates you can customize with a few clicks.
WPForms makes it effortless to build relationships with blog readers by helping to grow your email list. Thanks to its intelligent conditional logic, you can collect user data via form submissions to help you craft the most relevant content for your blog.
Other WPForms features are as follows:
Drag-and-drop form builder
WordPress (Gutenberg) form block
Free version: WPForms Lite
File uploads
User registration forms
Payment gateway integrations
Anti-spam settings
And more.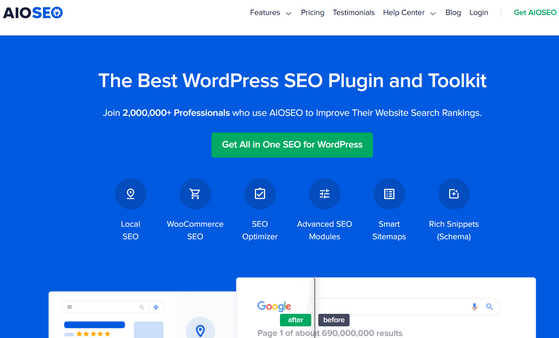 AIOSEO is the leading search engine optimization (SEO) plugin for WordPress, with over 2 million website owners and bloggers using it to improve their search engine rankings. If you have a blog, it's essential to optimize it for search engines to make it easy for your target audience to find.
The plugin provides a user-friendly interface inside your WordPress dashboard for optimizing your website content, including the ability to edit title tags, meta descriptions, keyword analysis, and more. It also includes an SEO Audit Checklist to help identify and fix errors on your website, making it easier to improve your blog's rankings in search engine results.
AIOSEO also includes the following excellent features:
On-page SEO checker to format your posts
Rich schema snippets support
Video, Google News, and XML sitemaps
Link assistant
Redirection manager
Image, local, and WooCommerce SEO
And more
Alternative: You may also like Yoast SEO as an alternative WordPress SEO plugin.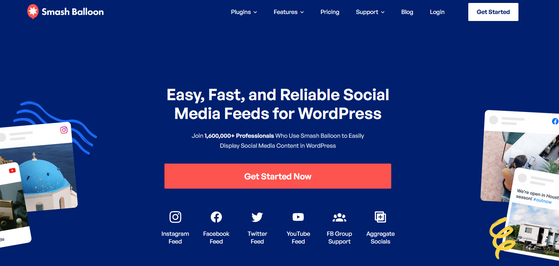 If you need a WordPress blog tool that helps increase engagement, you'll love this next solution.
Smash Balloon offers the best suite of social media feed plugins on the market. They allow WordPress users to easily integrate and display different social media content on their sites without code or CSS.
The company offers social feed plugins for Facebook, Twitter, Instagram, and YouTube and even has a solution that combines them all into a single social media wall. These plugins aim to make it easy for you to connect with your social media audience and increase engagement on your website.
You can choose from several feed layouts to match your branding, and the plugin will automatically adapt your theme's styling to make the process even faster. Plus, every feed is 100% mobile responsive for the best user experience and readability across mobile devices.
Get started with Smash Balloon.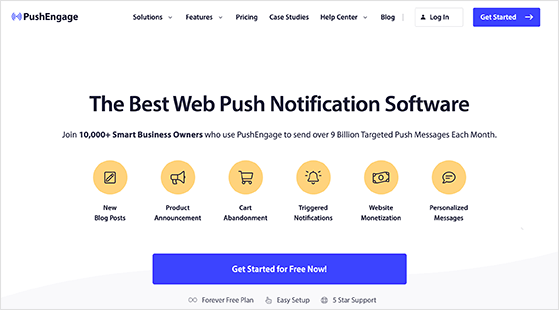 PushEngage is the most popular web-based push notification platform. It lets you send push notifications to your subscribers even if they're not actively on your blog.
PushEngage's platform lets you create, manage and send push notifications in real time, helping you increase engagement and drive traffic to your blog. It has various customization options and targeting features to help you send personalized and relevant notifications about your blog content.
PushEngage works on all modern web browsers, including Chrome, Firefox, Safari, and Edge, making it a popular choice for bloggers who want to engage their audience and grow their website traffic.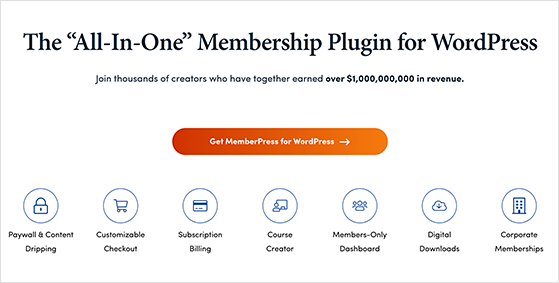 MemberPress is one of the best WordPress plugins for blogs that offer exclusive content. It's the best membership plugin for WordPress, enabling you to build a members-only site for online courses, a private blog audience, and more.
With MemberPress, you can charge website visitors for access to specific blog content. It provides an effortless way to create, manage, and monitor membership subscriptions to expand your audience and increase sales.
The plugin is user-friendly and beginner-friendly, working seamlessly with any WordPress theme for a cohesive look and feel. It also includes powerful access controls, giving you complete control over what blog content your members see while limiting access to posts, pages, tags, post types, categories, and more.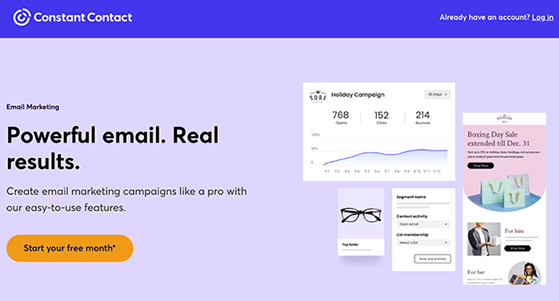 If you're serious about growing your blog, you'll need a way to manage your email list. That's why our next favorite blog tool, Constant Contact is an excellent choice.
Constant Contact is a popular email marketing platform that lets you send emails and sell products all from one place.
As your subscriber list grows, you need a robust email service provider to keep up. Constant Contact offers easy subscriber management, task automation, email campaign creation, and more.
The platform has a user-friendly drag-and-drop email editor with various customization options to personalize your email newsletters. It also provides list-building tools, segmentation, triggered email options, and so much more.
Get started with Constant Contact.

Keeping your blog backed up is another crucial part of any blogger's workflow. Without backups of your content, you could lose all your hard work.
With UpdraftPlus, you can back up your entire WordPress site, giving you the peace of mind you need, including files, databases, and plugins. This backup plugin lets you store the backups in various remote locations like cloud storage services (e.g., Google Drive, Dropbox, etc.) and use them to restore your blog in case of data loss or other problems.
UpdraftPlus provides users an easy-to-use interface for managing and scheduling backups, making it a popular choice for website owners who want to keep their data secure and protected.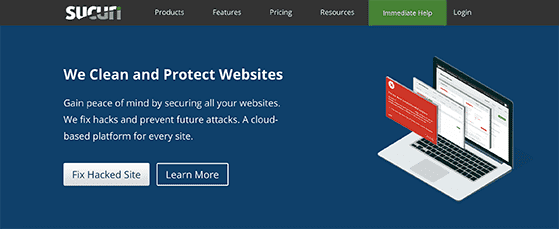 Sucuri is another essential tool for your blog. It's a WordPress security plugin that provides various security solutions for websites and servers.
Sucuri helps you protect your blog from various security threats like hacking, malware, and other types of attacks. As a result, you can keep your blog secure and protect your reputation and user data.
This comprehensive security platform includes the following features:
Malware scanning and removal
Website firewall
Website monitoring
SEO spam repair
Hacker attack prevention
And more.
Additionally, Sucuri provides customers with a dashboard for monitoring website security and receiving alerts about potential threats.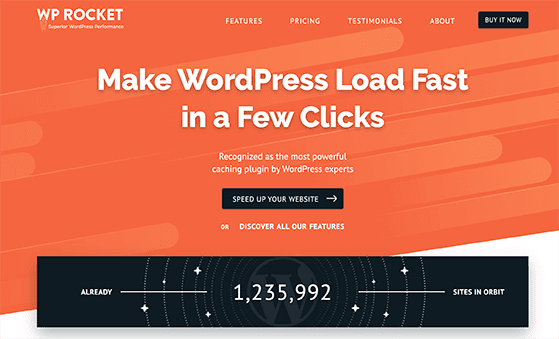 Slow blog load times can push your visitors away, which is why it's so important to keep your blog as fast as possible. That's where WP Rocket, one of the best WordPress caching plugins, can help.
WP Rocket generates cached versions of your website, allowing your server to save resources. It also pre-loads the cache, enabling search engines to index your site quickly.
WP Rocket also optimizes your website's performance by compressing static files and optimizing code. Additionally, it implements image optimization with lazy loading for images, further improving page load speed.
This powerful plugin includes these other excellent features:
GZIP compression
eCommerce optimization
Browser caching
RocketCDN
Multiple add-ons
And more.
Bonus Best WordPress Plugins for Blogs
So far, we've covered some of the best WordPress blog tools on the market. However, you may also find the following WordPress plugins and tools helpful for your blog.
There you have it!
You now have a list of the best WordPress blog tools at your fingertips. Try them out to discover which blogging tools suit your blog the best.
Before you go, you may also like these expert tips to get more blog followers and how to promote your blog on LinkedIn.
If you liked this article, please subscribe to our YouTube Channel for RafflePress video tutorials. You can also find us on Twitter and Facebook.