Looking for a WordPress plugin that lets you set up Google Analytics without coding and helps you uncover insights to grow your business?
MonsterInsights is a popular Analytics plugin for WordPress. With the plugin installed on your site, using Google Analytics is a walk in the park. But is the plugin worth it?
In this MonsterInsights review, we'll show you its different features, what benefits it provides, and help you decide if it's the right fit for your business.
What Is MonsterInsights?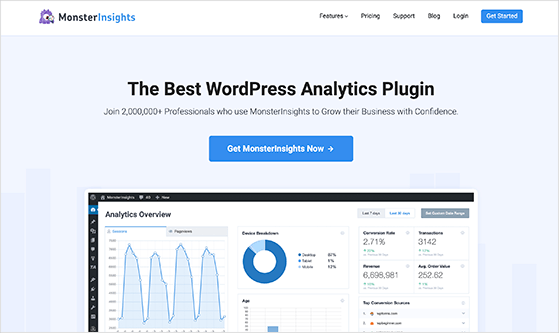 MonsterInsights is the best Google Analytics plugin for WordPress. It makes the process of setting up and using Google Analytics very simple. You won't have to touch a single line of code to configure analytics and its advanced tracking features.
With MonsterInsights, you get insights into how people behave and interact with your website. It shows data about what's working and what's not, so you can make data-driven decisions without relying on guesswork.
Over 2 million professionals worldwide use the Google Analytics plugin to grow their business. This includes small businesses and large companies like Microsoft, Bloomberg, PlayStation, Subway, FedEx, and WPBeginner, to name a few.
Now, are you ready to learn if MonsterInsights is worth it?
MonsterInsights Review: 7 Reasons to Use the Analytics Plugin
Let's look at some of the features and benefits you get from using the Google Analytics WordPress plugin and how it can help grow your business.
1. Set Up Google Analytics without Coding
When it comes to setting up Google Analytics, you'll have to enter a tracking code on your WordPress website. This usually requires editing code, which can be tricky if you're a beginner. Plus, if you ever decide to update your WordPress theme, you'd have to enter the tracking code again.
But MonsterInsights makes it very easy to set up Google Analytics, and you won't have to touch a single line of code.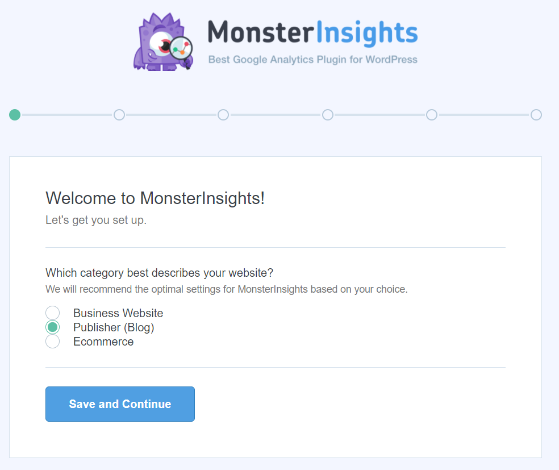 Thanks to its setup wizard, you can add Google Analytics to your site in minutes. It also comes with different tracking features out of the box.
There is no need for additional setup or hiring a developer to get the data you need to make decisions.
2. View All Your Important Data in One Place
MonsterInsights is more than just a WordPress plugin for adding Google Analytics to a website. It brings all your important metrics to one place through its dashboard reports, and you can view them inside your WordPress admin area.
Usually, it takes a lot of time to understand how Google Analytics works, where you can find the data you need and then make sense of it.
MonsterInsights dashboard reports are easy to understand. They're designed so that you can quickly understand how your site's performing, which marketing strategies are working, and how people are interacting with your site. And you won't have to spend time learning how to use Google Analytics.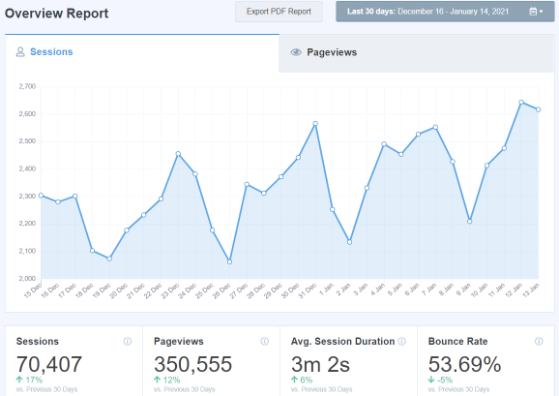 3. Better Understand Your Visitors
Now, using different reports and features in MonsterInsights, you can uncover insights that will help better understand your audience.
For instance, if you're wondering which device people use to view your site, the Device Breakdown report shows all the information. This helps optimize your site for different devices and make sure it works on desktop, mobile, and tablets.

Along with devices, you can also view the New vs. Returning Visitors report.
You'd want to increase the number of people returning to your website using the data. That's because it's easier to convert existing visitors, as they're familiar with your brand and are more likely to convert than a new user.
And if you're looking for specific demographic information to target the right audience, then MonsterInsights can help out. In the Publishers section, you can see the Age and Gender of your visitors.
This helps in creating marketing campaigns and targeted messages for different groups of visitors.

Another way of better understanding the needs of your visitors is by looking at the Interests report. It shows which categories people like on your website. You can use the information for creating content on topics that your visitors will enjoy.
4. Uncover How People Find Your Website
Another advantage of using MonsterInsights is that it helps identify your top traffic sources. It helps you get more insights into your visitor's behavior and provides critical information for investing in the proper channels.
In the Overview report, you can look at your visitors' location and find many opportunities to boost traffic and conversions.
For example, you can create content for audiences from different regions. Let's say you have a food blog, and many visitors are from the United States. You can create articles on top restaurants in Boston or the best pizza in New York.
The top 10 Countries report also helps determine which language to translate your website into and boost user engagement. Not only that, but you can come up with promotional offers for people from specific locations.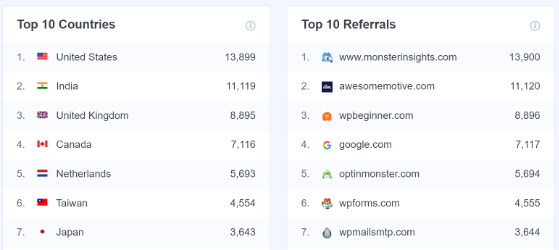 Another report you'll see along with the top countries is the Top 10 Referrals.
Referral traffic is when users click on a link on another website and land on your site. Since these sites send traffic, you can create partnership opportunities like submitting guest posts, collaborating on a content piece, and creating exclusive offers.
Plus, you can find more websites like these and promote your content or products. It will help you get backlinks and increase website traffic.
Besides, MonsterInsights also shows which keywords people use in Google to find your website. Connect Google Search Console with Google Analytics and view the Search Console Report in your WordPress dashboard.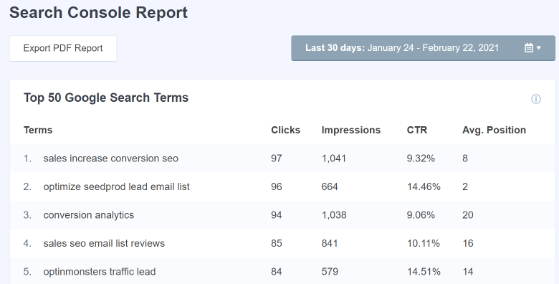 The report shows the top 50 Google search terms, the number of clicks they get, impressions, click-through rate (CTR), and average position.
You can identify keywords close to reaching the first page on Google and increase your organic traffic. Or use high-ranking keywords to find similar search terms to optimize your site.
5. Create Content That Gets Results
MonsterInsights helps to streamline your content strategy based on data and invest in the best traffic source. You can now create content that works instead of guessing which topics visitors might like.
To start, you can view the Top Landing Pages report in MonsterInsights. It shows the number of visits, average duration, and bounce rate for each landing page. You can use the information and develop more topics that get a lot of traffic.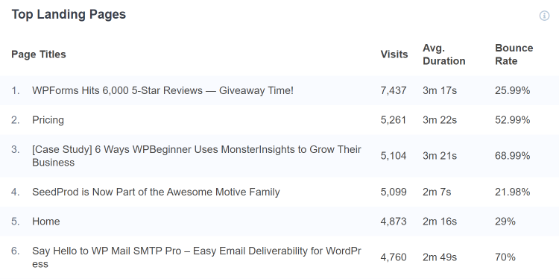 And if you're wondering which type of content you should create, then MonsterInsights lets you set up custom dimensions in just a few clicks.
With custom dimensions, you can track additional metrics in Google Analytics that are not tracked by default. And with the Most Popular Post Types dimension, the plugin offers insights about the content format you should focus on more.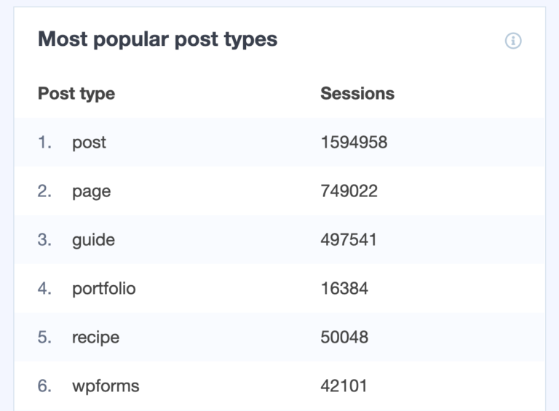 6. Get Insights to Boost Your Conversions
Now that you've got a great understanding of your audience and create content that attracts many visitors, what about converting those users into paying customers?
MonsterInsights helps set up tracking and identifies critical information to skyrocket your conversions.
For instance, you can enable scroll tracking from the settings and see the Average Scroll Depth report. Using the report's information, you can place call to action (CTA) buttons where you'd get the most clicks.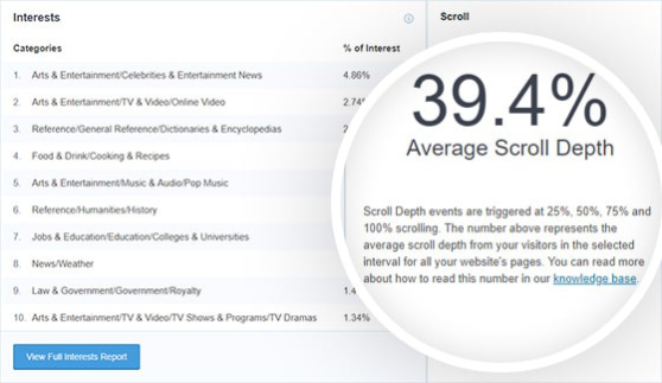 And if you have an eCommerce store and want to track its performance, MonsterInsights can help. With its eCommerce addon, you can track conversions on your online store without editing code. You can then view the stats in the eCommerce Report inside your WordPress dashboard.
In the report, you get to see the conversion rate, number of transactions, revenue, and average order value. Aside from that, the report also shows the Top Products on your website. This is extremely valuable information, as you can find more products like these and increase conversions.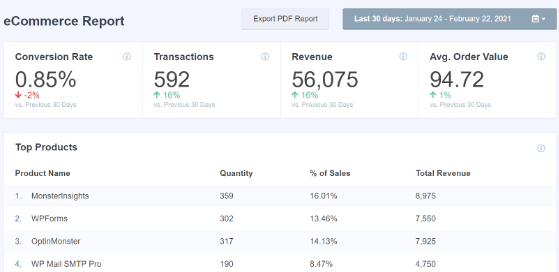 If you scroll down, you'll find the Top Conversion Sources report. Since these websites send traffic that results in conversions on your eCommerce store, you can find similar sources and invest in promoting your products on these websites.
MonsterInsights also helps you boost conversions of forms on your WordPress site. The plugin automatically tracks all types of forms through its Forms addon.
And you can see the performance of all your forms in the Forms Report. See the number of impressions, conversions, and conversion rates for each form.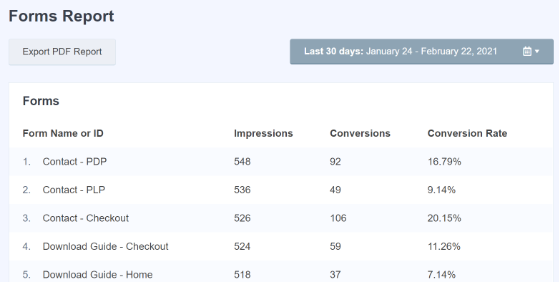 7. Automatically Track Links Clicks
MonsterInsights also sets up link tracking automatically on your website. Usually, you'd have to edit code or manually create events using Google Tag Manager to track link clicks. But that's not the case with MonsterInsights.
For instance, if you have affiliate links on your site, define the path and label for your links, and the plugin will start tracking them in Google Analytics. It helps identify affiliates that get a lot of clicks, so you can promote them more and earn more money. You can view the stats in the Top Affiliate Links report.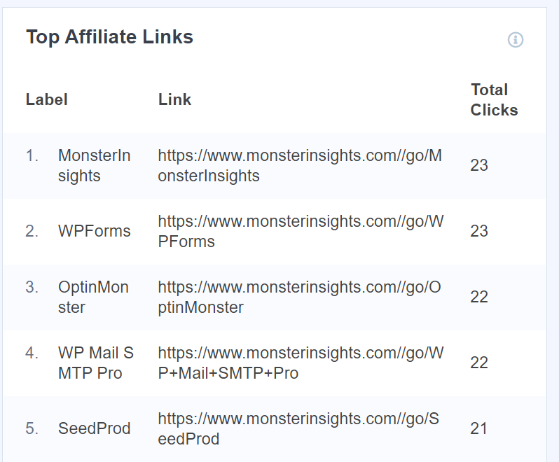 And if you have external links to other websites, then MonsterInsights will automatically Outbound Links. You can use the information to create similar content on your website and keep visitors from exiting.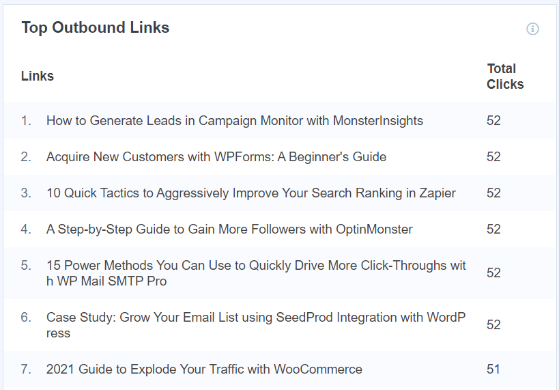 Besides that, MonsterInsights also track file downloads. If you offer downloadable content like PDF files, spreadsheets, eBooks, and videos, the Analytics plugin will track them in Google Analytics.
You can view the Top Download Links report's data and see which file gets the most downloads. Then use these insights to offer similar content and grow your email list.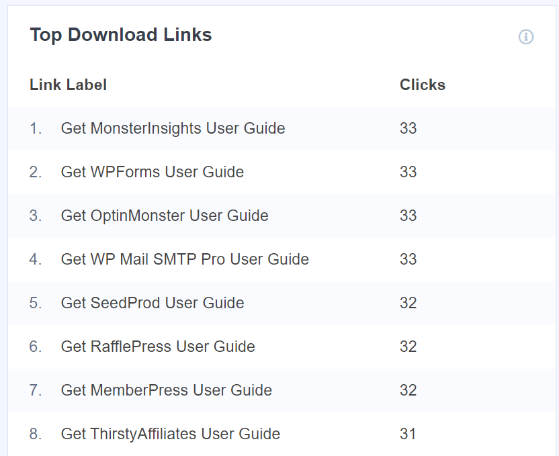 How Much Does MonsterInsights Cost?
MonsterInsights offers different pricing plans that are suitable for all types of businesses. And with each plan, you get a 14-day money-back guarantee.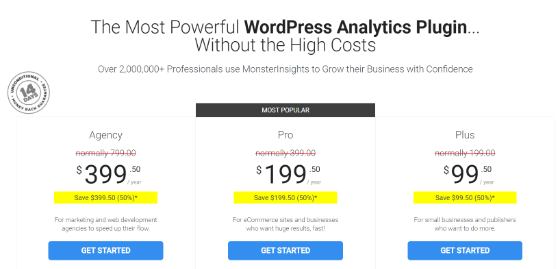 If you're on a tight budget, you can also give MonsterInsights Lite a try. It lets you set up Google Analytics without editing code and other advanced features.
But if you want to take advantage of dashboard reports, powerful add-ons, and other features, you'll want to get MonsterInsights Pro.
Is MonsterInsights the Best Google Analytics Plugin for WordPress?
Now that we've gone through the MonsterInsights review, there is no doubt that it's the best Google Analytics plugin for WordPress.
It's very easy to use and offers tones of features to help you get insights about your visitors and provide the data you need to make business decisions. Give MonsterInsights a try today!
If you found this article helpful, join us on YouTube, Twitter, and Facebook for more giveaway guides and tutorials.