Want to learn how to sell digital downloads from your WordPress site?
Perhaps you want to sell digital art, ebooks, or your own music. Irrespective of what you're selling online, WordPress is the easiest way to sell digital products and deliver them to your customers.
In this step-by-step tutorial, we'll show you how to sell digital downloads on WordPress easily.
Choosing a Platform to Sell Digital Downloads
Before we dive into selling downloadable files, you need to choose an eCommerce platform. This is where you can upload your digital products and promote them to your target audience to buy and download.
It's a good idea to choose your eCommerce platform carefully. After all, switching to a different platform after your online store is established is complicated and time-consuming.
Moreover, some platforms are better for selling physical products versus digital goods. As such, you need to ensure the solution you choose can protect your digital goods and includes essential features, such as:
Correct licensing
Recurring payments
Subscriptions
Several payment processors
And more.
That's why we suggest using a self-hosted WordPress site and the Easy Digital Downloads WordPress plugin.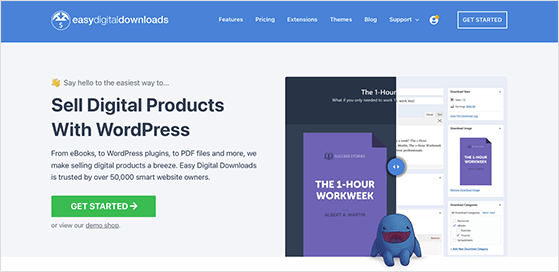 WordPress is the most popular website platform behind 43% of websites online. Conversely, Easy Digital Downloads is the best WordPress eCommerce plugin for selling digital products.
This combination of tools has many advantages over alternatives like Sellfy, Sendowl, and Gumroad. They offer complete control over your website and let you sell unlimited digital products without high transaction fees or monthly payments.
Before moving on, you should know that there are 2 versions of WordPress: WordPress.org and WordPress.com.
WordPress.com is a blog hosting service; however, WordPress.org is the free WordPress software you can use on self-hosted websites. For this guide, it's best to choose WordPress.org because it doesn't limit what you can sell online and offers the most flexibility and control over your site.
If you need more information, see this comparison of WordPress.com vs. WordPress.org.
How to Sell Digital Files with Easy Digital Downloads
Below you'll find a complete step-by-step guide on selling digital files using WordPress and Easy Digital Downloads.
We'll start with setting up your WordPress site.
Step 1. Set Up Your WordPress Website
To sell digital goods online, you first need a domain name, website hosting, and an SSL certificate.
Your domain name is what users type into their browsers to visit your website and is like your address on the internet. For example, our domain name is rafflepress.com.
Web hosting is your home on the internet; it's where your website files live, allowing users to visit you and browse your goods. Here are the best WordPress hosting providers to help you decide.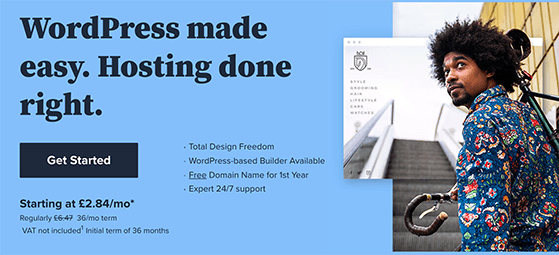 Our top choice is Bluehost, which offers managed WordPress hosting, a free domain name, and a free SSL certificate. You can find full instructions on setting up your WordPress website here.
Step 2. Install and Configure Easy Digital Downloads
The next step is to install the Easy Digital Downloads plugin on your WordPress site to sell your digital goods. WordPress plugins add additional functionality to your site, such as marketing tools, payment gateways, and more.
Click here to get started with Easy Digital Downloads, then install and activate it on your website. If you need help, you can follow these instructions on installing a WordPress plugin.
After activating the plugin, go to Downloads » Settings from your WordPress admin area, and enter the location of your online store.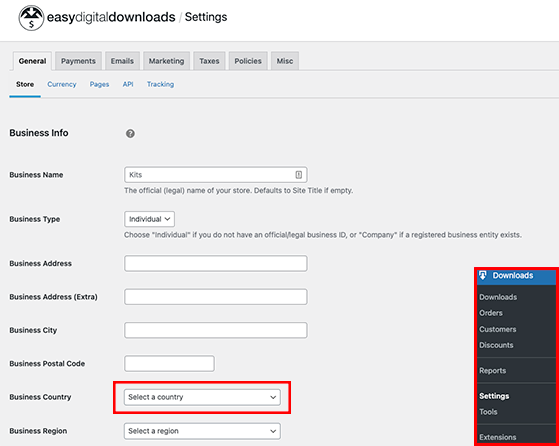 Even though you're selling digital goods, Easy Digital Downloads will automatically use your location to calculate sales tax and other details.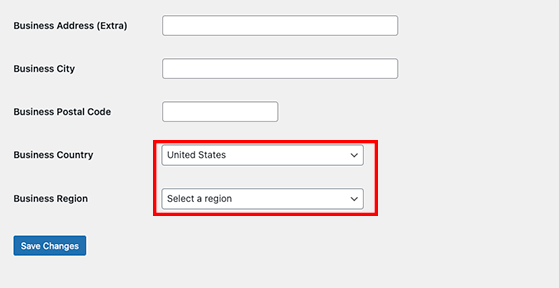 Simply choose your business country from the drop-down menu, enter your province or state, and click the Save Changes button.
Step 3. Add Your Payment Gateways
Since you're selling digital products, you'll need a way for your customers to pay for your goods. We call these payment processors, and Easy Digital Downloads supports several payment methods, including Stripe, PayPal, Amazon Payments, credit cards, and more.
To select your payment gateway, click the Payments tab and ensure the General tab is selected. You can then click all the gateways you wish to use on your WordPress site.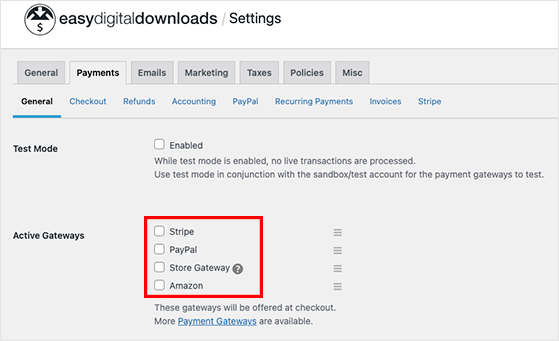 The most popular payment options are PayPal and Stripe. However, you'll need to select a default gateway from the drop-down menu if you're using multiple gateways.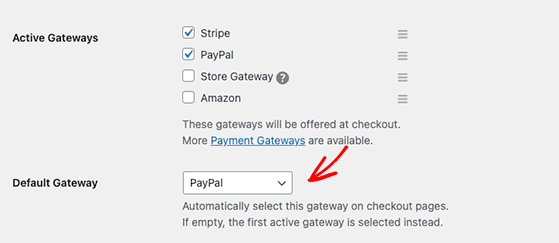 Next, scroll down and click on the Save Changes button.
If you're using Stripe or PayPal as your payment gateway, you'll need to configure their settings. To do that, click their respective tabs in the top menu.
For example, if you click the Stripe tab, you can click the Connect with Stripe button and work through the easy setup wizard.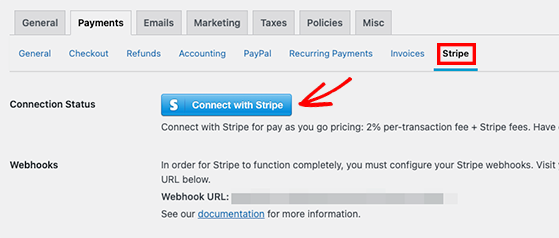 Depending on your location, you may wish to change the currency of your online store. You can do that by clicking the General tab and selecting the Currency link.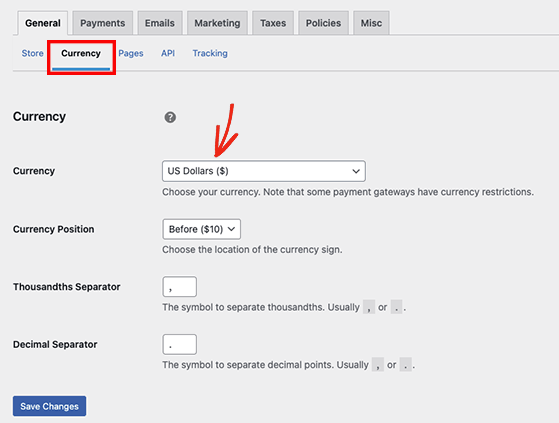 Easy Digital Downloads shows your currency in dollars by default, but you can change it by choosing a different currency from the drop-down menu.
Remember to click the Save Changes button before moving on.
Step 4. Create Your First Digital Product
Now that your website is ready, you can start selling digital products online.
To create a digital product, navigate to Downloads » Add New.
You can type your product name in the 'Enter Download name here' field. Then, enter your product description to explain to users what they'll get when downloading your file.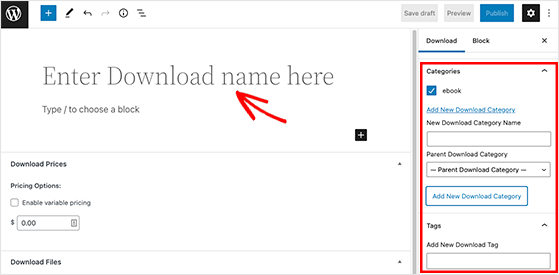 Many websites use product categories and tags to organize goods and display related products. You can add these in the right-hand panel under the Download Categories and Download Tags headings.
After, scroll to the Download Prices section. Easy Digital Downloads sets the price to free by default. You can change it by typing the amount you want users to pay.
Now it's time to upload your digital goods to your website. It could be an ebook, MP3 file, webinar recording, or even an image.
To add your file, go to the Download Files section, give your file a name and upload the file from your computer or WordPress media library by clicking the Add New File button.

The next task is to add an image for your download. For example, this might be a screenshot from your webinar or your ebook cover image.
You can create professional images using free software like Canva, then head to the Download Image section and upload the product image to your website.

When you're happy with your product information, click the Publish button.
Your first new digital product is live, and you can preview it to see how it looks.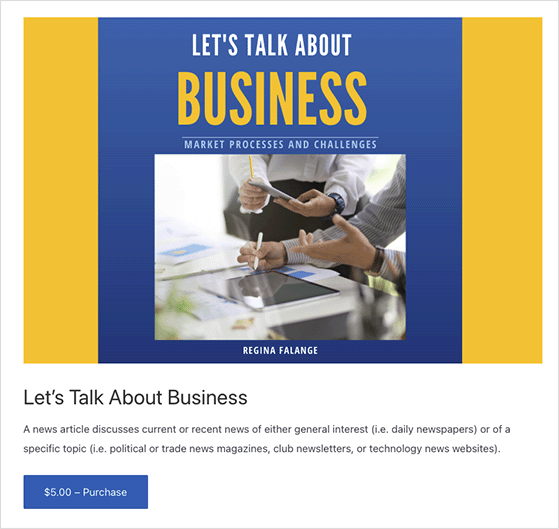 Follow the same steps above to create more digital products for your store.
Step 5. Choose and Customize Your WordPress Theme
The next step is to pick a design and styling for your new digital product website, and you can do that with a WordPress theme. Themes define how your website looks to visitors, including fonts, colors, and the overall layout.
There are thousands of themes on the WordPress theme repository; however, we recommend using a premium WordPress theme for additional security and customization options. Here you can find the most popular WordPress themes with some excellent options.
After choosing a theme, install and activate it on your WordPress website by going to Appearance » Themes » Add New. You can then upload the theme zip file and activate it to make it live.
Another alternative is to create a custom WordPress theme yourself. The easiest way to build a custom WordPress theme from scratch is with SeedProd, the best website builder for WordPress.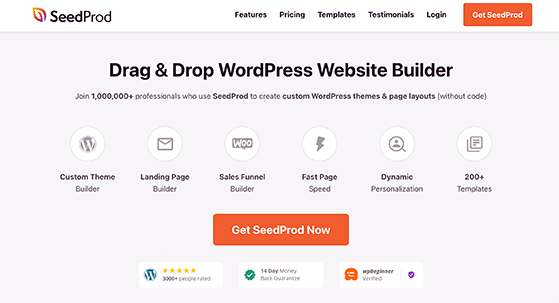 SeedProd lets you create beautiful layouts for your website using its drag-and-drop theme builder and pre-made website kits without coding. Each design is mobile-friendly and optimized for sales, with support for WooCommerce checkout pages, email integration, and more.
For more details and a step-by-step tutorial, see our post on how to create a custom WordPress theme (without code).
Step 6. Customize Your Digital Download Email
With your products and website design in place, let's look at how you'll contact new customers about their product downloads.
When users buy a digital download, Easy Digital Downloads will email them a link to download their purchase. You can customize that email to add your own branding and message, making your communication look more professional and trustworthy.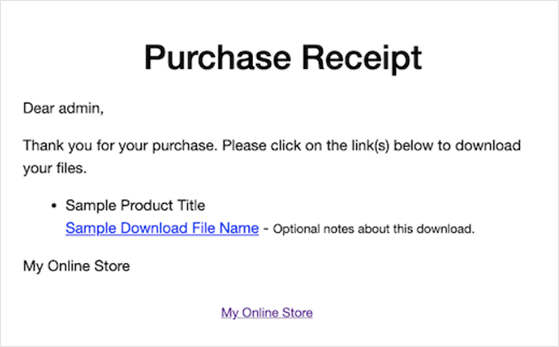 To customize emails for your digital downloads, go to Downloads » Settings from your WordPress dashboard, and click the Emails tab.
Start by finding the Logo heading and uploading your logo image from your WordPress media library or computer.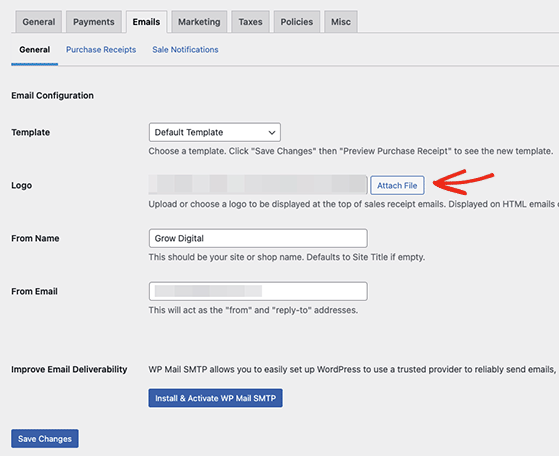 Below, you can add a 'From Name' so users can recognize your email in their inbox. Adding a professional email address in the 'From Email' field is also a good idea.
When you're happy with your email branding, click the Purchase Receipts tab. On this screen, you can write an email message that customers will receive every time they make a purchase.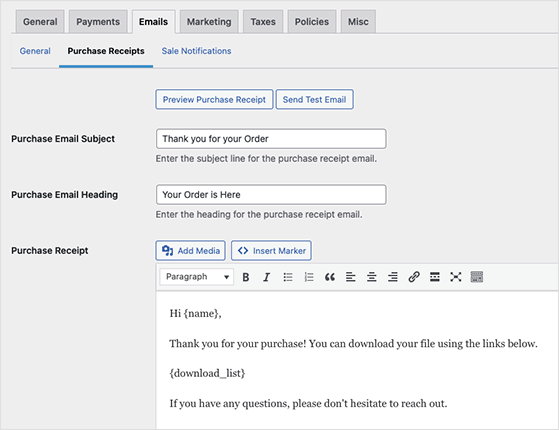 Easy Digital Downloads includes tags you can use to insert dynamic text, such as the customer's name, product links, and more. You can find these under the email message window or by clicking the Insert Marker button.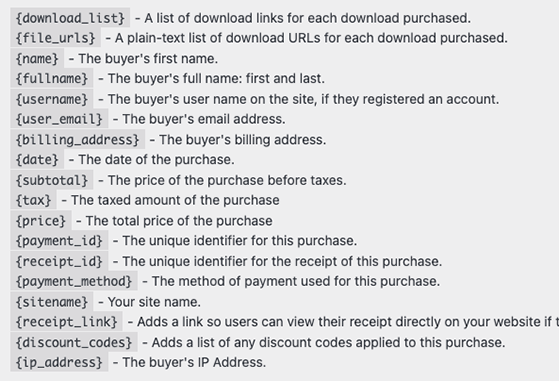 Before saving your changes, click the Preview Purchase Receipt button to see how the message looks.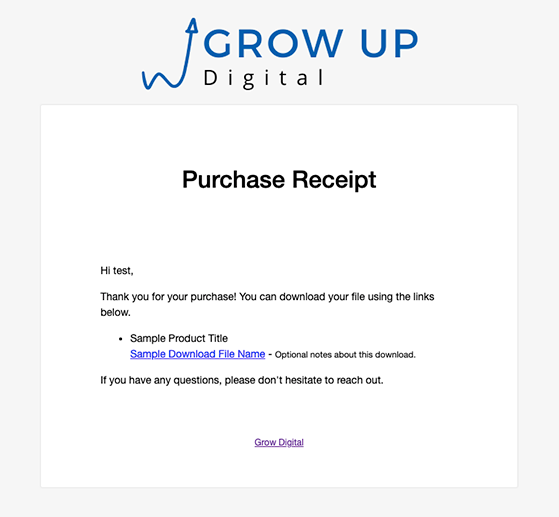 You can click the Save Changes button if everything looks the way you want.
Step 7. Promote Your Digital Downloads
Because Easy Digital Downloads creates a new page for each product, you'll need to drive traffic to them to promote and sell your goods.
One way to do that is to add your product pages to your WordPress menu. You can also add links to each product in different places on your website, such as your sidebar, blog posts, and landing pages.
You'll need your product's URL to do this, which you can find by editing the product and finding the permalinks heading on the right-hand side.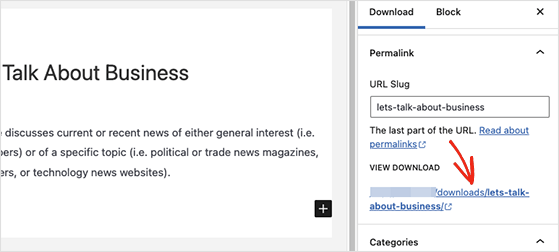 You can also change the purchase button behavior for each product. It's set to 'Add-to-Cart' by default, but if you head to the Button Options panel, you can change it to 'Buy Now' from the drop-down menu.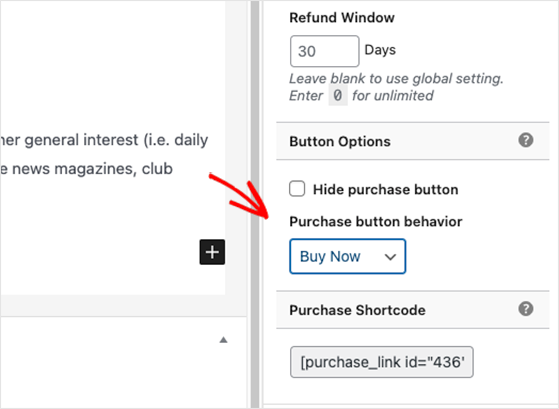 When users click the purchase button, they'll head straight to the checkout page to buy your digital product.
Another way to promote your digital downloads is to run a giveaway contest from your WordPress site. Giveaways are an effective way to increase product awareness and drive traffic to your website.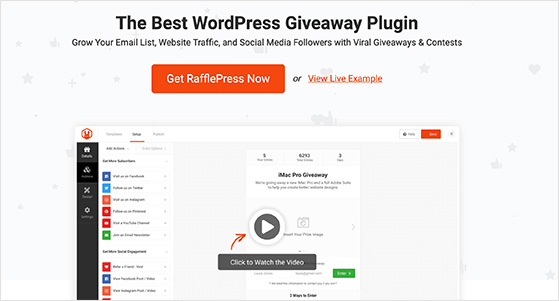 RafflePress is the best way to create WordPress giveaways easily. It includes user-friendly giveaway templates, a drag-and-drop giveaway builder, and many contest entry options.
For example, the viral Refer a Friend entry action asks contestants to share your giveaway on social media, helping you spread the word about your giveaway and digital goods.
For help getting started, follow this step-by-step guide on creating an online contest in WordPress.
Bonus: Tools To Sell More Digital Downloads
Congratulations! You now have a functional website with digital products ready to sell online. Now you need to convince users to buy your products, which is where the following WordPress plugins can help.
These top WordPress plugins can help you sell more digital downloads in WordPress:
Each of these tools can help you improve your digital marketing strategy, boosting sales of your digital products.
That's it!
We hope you enjoyed this post and that it helped you learn how to sell digital downloads on WordPress.
You might also like this guide on how to create a WooCommerce contest for more customers.
If you liked this article, please subscribe to our YouTube Channel for RafflePress video tutorials. You can also find us on Twitter and Facebook.