Do you need free content for your website?
For your content marketing strategy to work, you must publish high-quality content on your website. Yet creating relevant content takes time, and it's easy to run out of good ideas.
That's why today, we'll share some of our best strategies to get website and blog content for free.
Video Tutorial
What Is Free Website Content?
Free website content comes in several different varieties, including:
Free articles
Copyright-free videos
Free images
And more
But what they all share in common is you can use them completely free.
For example, you can download free stock photos from websites like Flickr and use them under the creative commons license. That means you can use the images on your website without buying them outright and attribute the content creators in exchange.
You can also find free website content by reaching out to your target audience. Then you can use those ideas to create content tailored to their interests and aligned with your business goals.
The clear benefit of generating content for your website like that is it doesn't cost a thing. Additionally, it can help you find content ideas you wouldn't normally consider writing about.
How to Get Free Content for Your Website
So if you're wondering, 'where can I get free content for my website?' you're in the right place. Below we list some of the most effective content creation methods that cost next to nothing.
1. Run a Blog Writing Contest
One of the easiest ways to get free content for your website is to run a contest or giveaway. And if you're looking for free written content, what better way is there than to hold a blog writing contest?
Blog writing giveaway contests involve asking your readers to write an article and submit it for the chance to win a prize. You might think that organizing a giveaway like that is complicated. But with the right tools, not only is it easy, but it can also drive tons of traffic to your website.
If you have a WordPress website, the best way to hold a giveaway is with RafflePress.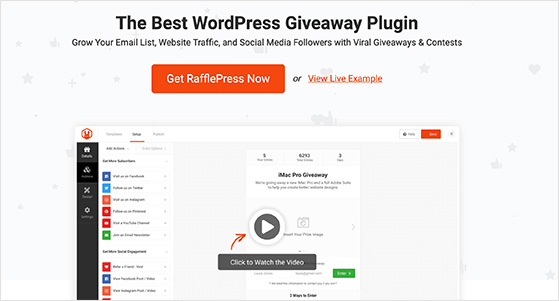 RafflePress is the best WordPress giveaway plugin with a drag-and-drop giveaway builder.
With its ready-made giveaway templates, you can get started in just a few clicks. Then you can add powerful actions users should complete for a chance to win.
For a blog writing contest, you can include the 'Write a Blog Post' action. Then you can ask entrants to paste the link to a shared document with their submission.
What's more, you can add bonus actions like the 'Viral refer a friend' action to raise awareness of your giveaway and attract more entries.
In the end, you'll have a variety of free content to use on your website, and your audience could win a fantastic prize. We call that a win-win situation.
Pro Tip: Make sure your giveaway rules include a section telling participants that they grant permission for you to reuse their content by entering.
2. Host a Photo Contest
Photo contests are another excellent way to find free website content. You can ask your audience to submit photos on various themes for the chance to win a prize.
For instance, you can run a photo contest to show people using your products. Or it could be something as simple as a selfie from a recent event.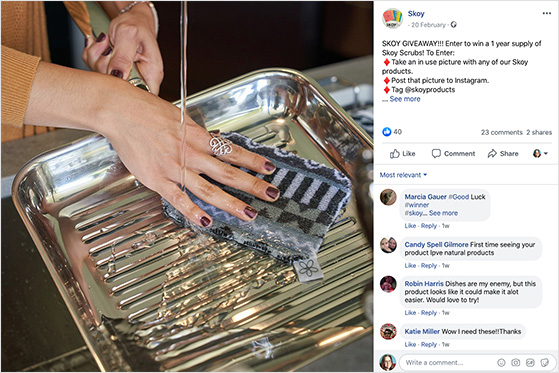 We call this type of content user-generated content (UGC), and it's a great way to find quality content for free. You can then use those images in product descriptions, blog posts, and image galleries on your website.
Again, the easiest way to run a photo contest in WordPress is with RafflePress. It includes a handy 'Submit an Image' action, allowing entrants to upload their submissions directly to your website.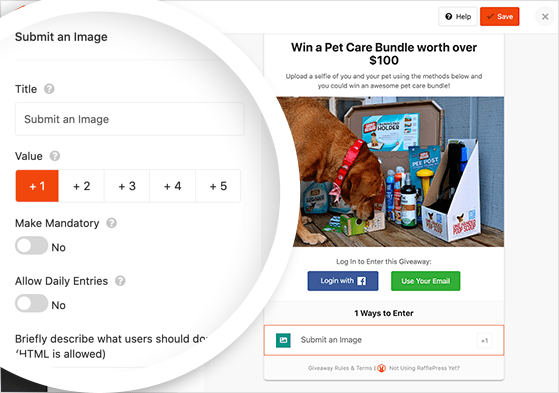 Check out this step-by-step guide to learn how to run a photo contest with RafflePress.
3. Allow Guest Posting on Your Blog
Another great way to find free content for websites is to open your blog to guest post submissions. Many content marketers use guest posting to fill gaps in their content calendar.
And since it offers benefits to both parties, you and the content creator, it's an excellent way to build long-lasting relationships with relevant writers.
To accept guest posts on your blog, you should first create some guidelines explaining:
The type of content you accept
Which topics your blog covers
If writers can include external links
Where to send their submissions
Some websites ask users to send their content to a specific email address. But we think the best method is to add a content submission form to your website.
And the good news is you can do that easily with WPForm's Post Submission addon.
The Post Submissions addon lets website visitors submit guest posts and other content to your WordPress site without logging in.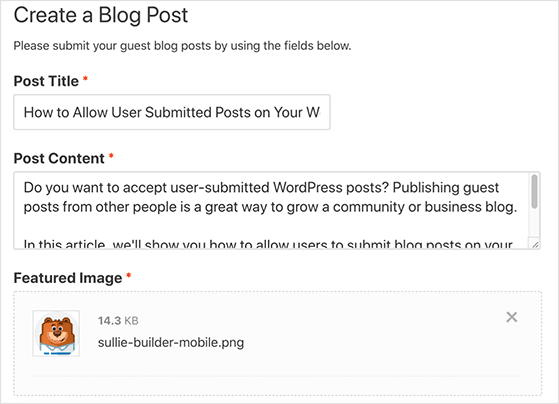 After submitting the post through your form, WPForms creates a blog post automatically and marks it as Pending. That way, you can review it before it goes live.
On the submission form, content creators can include:
Post Title
Post Content
Post Excerpt
Featured Image
Custom Fields (aka Post Meta)
And in the WordPress admin area, you can control the post status, type, author, and more.
Follow this detailed guide to learn how to allow user-submitted posts in WordPress.
4. Embed Social Media Feeds on Your Website
Let's not forget about social media when looking for free website content. Social networking sites like Twitter, Facebook, and Instagram offer a goldmine of content you can repurpose on your website.
For instance, you can embed social media posts on your blog and write content to tell a story. Or you can go a step further and embed entire social media feeds on your site and serve fresh content automatically.
One way to add social media feeds to your WordPress site is with Smash Balloon's social media feed plugins suite.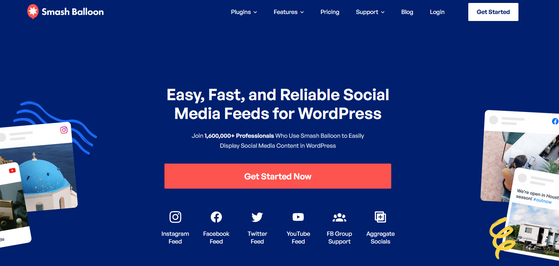 Each plugin allows you to add custom social feeds to WordPress from:
Twitter
Facebook
Instagram
YouTube
Even better, Smash Balloon's Social Wall plugin allows you to pull content from all 4 platforms and display it in a single feed of free social media content.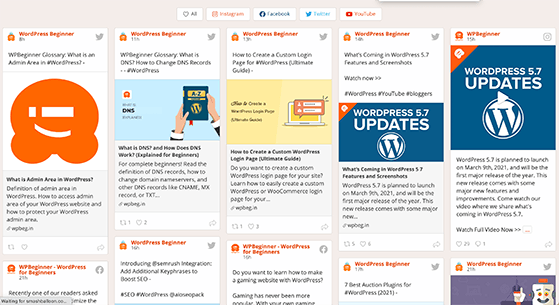 The benefits of automatically pushing social content straight to your site include keeping your site looking fresh while engaging your audience.
Check out this guide to learn how to add social media feeds to WordPress.
5. Repurpose Existing Blog Posts
Did you know that you have free content already on your website? If your site is a few years old, there's a ton of content in your archives begging for attention.
An excellent way to give that content the attention it deserves is to update, revamp, and reuse it. But first, you'll need to find your top-performing posts to ensure the content you repurpose is popular with your audience.
The easiest way to do that is with MonsterInsights, the best WordPress Google Analytics plugin.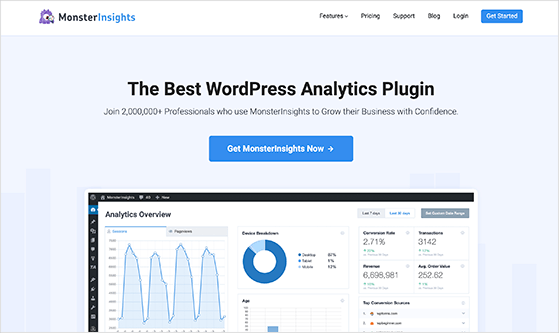 Using the plugin, you can properly set up Google Analytics on your WordPress site, perform advanced Analytics configurations, get actionable insights, and more.
You can then use the MonsterInsights publisher's report to find your top-performing posts and pages. After picking your best-performing content, you can turn them into new, exciting pieces of content.
For example, you can:
Turn written blog posts into video tutorials
Convert your top downloads into blog posts
Turn an ultimate guide into an ebook
Use blog content for Infographics
And more.
A popular way to repurpose content is to turn it into a downloadable checklist, swipe file, or ebook. Then you can offer it as a lead magnet to collect email addresses and leads.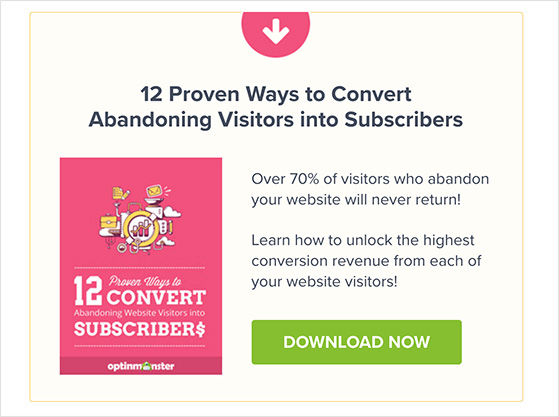 Related: 7+ Ebook Marketing Tips You Can Actually Use Today
6. Conduct a Survey on Your website
Surveys and polls are other excellent ways to generate free content ideas for your website. Not only are they easy to set up, but they can find valuable ideas that you may have never considered before.
Conducting a survey helps you tap into your audience's thoughts, feelings, likes, and dislikes. That way, you can build content addressing those needs and offer solutions.
For example, a customer feedback survey about new products can help you generate blog post ideas that answer frequently asked questions. Besides, content like that is highly targeted and performs well in search engines.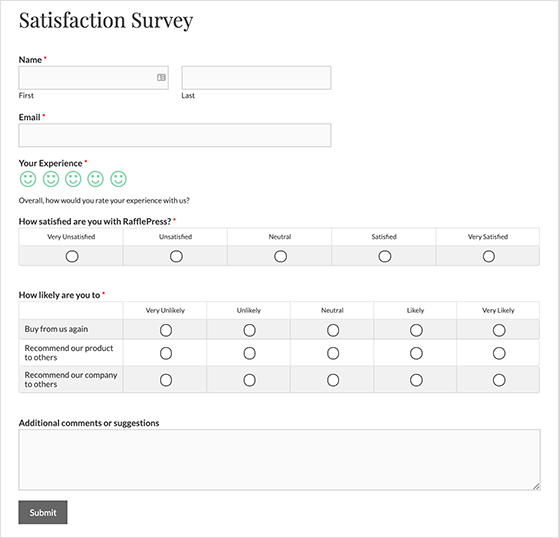 There are several ways to create surveys in WordPress. For instance, you can:
Add a survey form to your website with WPForms.

Turn your survey into a giveaway with RafflePress's surveys and polls action.

Create a landing page for your survey to minimize distractions with SeedProd.
7. Organize an Expert Roundup
Crowdsourcing may be a popular way to raise funds online, but did you know it's also a great way to generate free content for your website?
It works by asking experts, often on social media, to share ideas and tips on a given topic. Then you can put those ideas together, create an expert roundup, and publish it on your blog.
For example, in this expert SEO tips roundup from OptinMonster, they asked industry leaders to share their best advice on search engine optimization. And with tons of social media shares and organic traffic going to that post daily, it's clear to see it was a great success.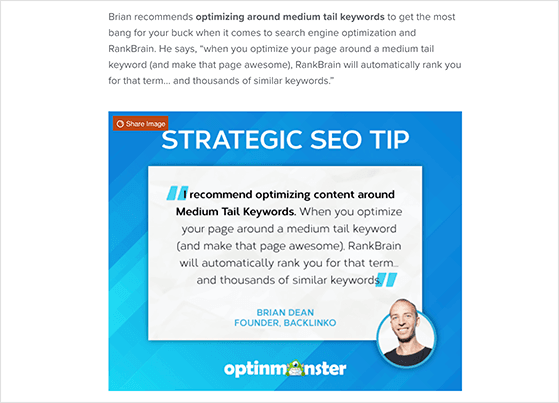 You can take the same approach for your website easily. For instance, you could start a Twitter thread on a specific topic, asking your followers to add their tips in the comments.
After, all you need is to compile those tips into a post and hit publish – easy free content.
8. Interview Influencers on Your Website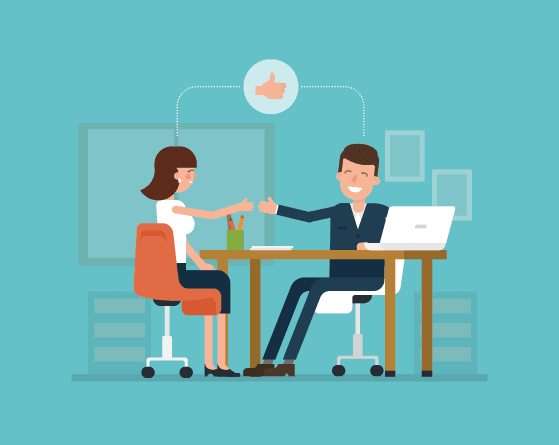 If asking experts for tips and advice isn't enough, you can also interview an expert directly on your website. You could sit down and interview them for a video face-to-face, or email a list of questions they can answer.
Text interviews take the least amount of time because you don't need to organize meetups and schedules. But audio and video interviews are much more engaging and pull in a larger audience.
Regardless of your approach, you'll then have some excellent content you can publish on your website. You can also ask the interviewee to help spread the word by sharing the finished post with their audience.
9. Write a Case Study
You might think of case studies primarily as a sales tactic, but the truth is, they're an excellent way to fill gaps in your content calendar. Chances are you already have loyal customers excited about your products or services, so why not reach out to them and see exactly why your business works for them?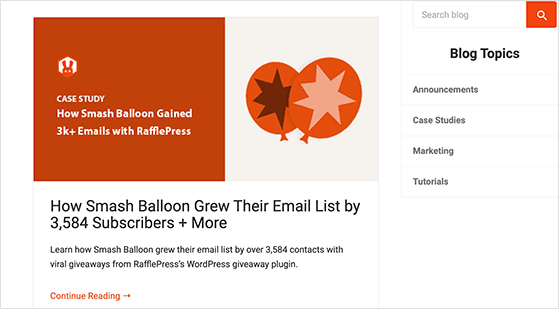 With that information, you can put together a detailed study of your findings and publish it on your blog or website. Besides, there are several benefits to publishing case studies, including:
Case studies are so easy to create we use them regularly on RafflePress. For example, we wrote this case study showing how one customer grew their client's email list by 52% with RafflePress.
10. Create Highly Visual List Posts
Besides interviews, roundups, and case studies, you can use free photos, videos, and other media to create list posts packed with visual content. And since visual content is more memorable than written content, it's an excellent way to engage your website visitors.
Many places offer copyright-free visual content you can reuse. Here is a selection of websites you can use for inspiration.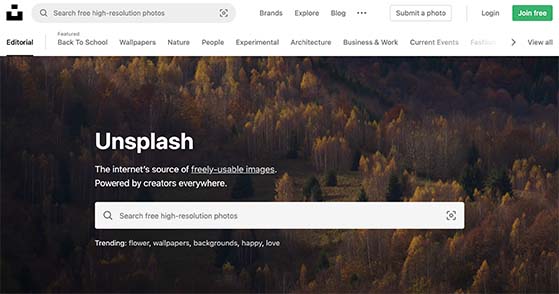 Free photos and graphics: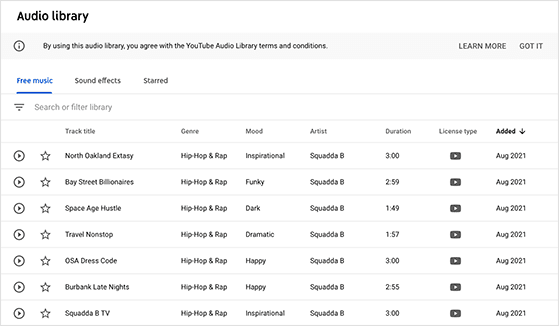 Copyright-free music: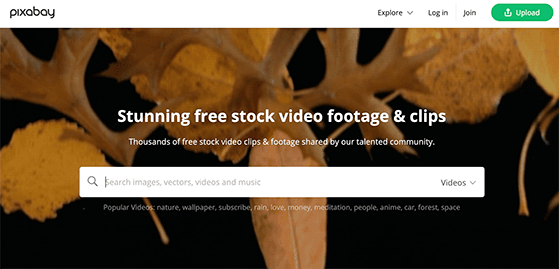 Free videos:
11. Look on Niche Forums and Message Boards
Aside from regular social media websites, there are tons of forums, message boards, and niche social media sites where people post and ask questions. Those websites have a wealth of information you can use to generate free blog post ideas.
For example, you can use Quora to see what people ask about your business topics. Then you can use that information to create a blog post, ultimate guide, video, or infographic for your website.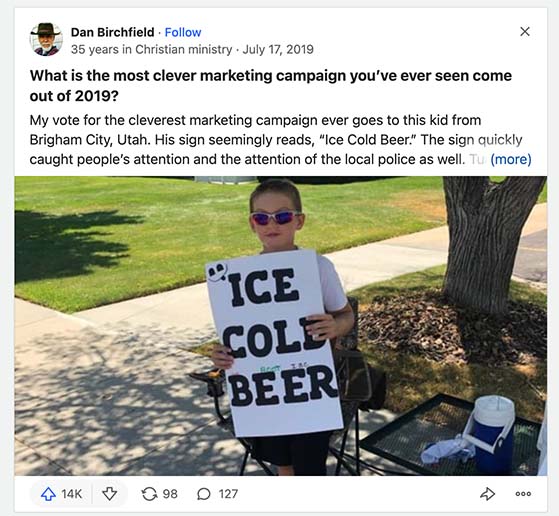 Some other popular niche sites include:
12. Try Blog Topic Generators
Our final suggestion for creating free content for your website is to use an idea generator to get your creative juices flowing. Coming up with great content ideas is sometimes a struggle, but idea generators can give you just the right amount of inspiration to get you going.
For example, with SEO Pressor's Blog Title Generator, you can enter any search term, and it generates a list of blog titles to work with.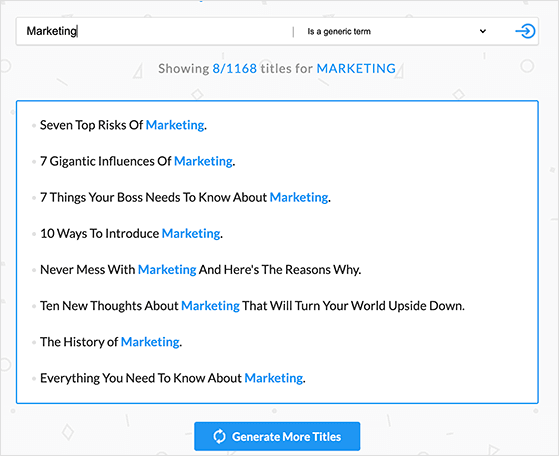 While you still need to write the content, chances are, it's the sort of content that will attract readers and improve your search engine rankings.
There you have it!
We hope this article helped you find some excellent ways to get free content for your website. Why not take it a step further and learn how to get more blog followers too?
Thanks for reading, and don't forget to follow us on YouTube, Twitter, and Facebook for more great tips and tutorials.