Do you want to add a contact form to your WordPress website?
Contact forms offer website visitors and potential customers the easiest way to connect with your business. So adding one to your WordPress site is an excellent way to improve user experience.
WordPress doesn't offer a contact form by default, so you might think creating one is tricky. The truth is, with the right tools, it's easier than you think.
This step-by-step guide will show you how to add a contact form to your WordPress website, so even non-techy users can build one without coding.
Before diving in, let's explore why your WordPress website needs a contact form.
Why Do You Need a Contact Form in WordPress?
A basic contact form is a web form you can embed on your website or blog. Website visitors can use the form to enter a message and get in touch with questions and feedback without requiring your email address.
These forms will start with a header describing what to do and often include contact form fields with a text area to enter your name, email subject, and message. After, there will be a form button to submit the form.
Some forms may also have a GDPR checkbox to comply with user data regulations and a Recaptcha or security popup element to prevent spam and bots.
Adding a contact form to your site is an effective way to avoid unsolicited mail from spammers. Many form builders come with spam protection features for this.
Furthermore, a contact form lets you tell people exactly what you need via customizable field options, such as their phone number, customer account number, etc. This saves time hunting down the correct details, allowing you to solve problems faster. And as a result, you can offer a more memorable customer experience.
How to Add a Contact Form in WordPress: 6 Easy Steps
Today we'll show you how to create a contact form similar to this example: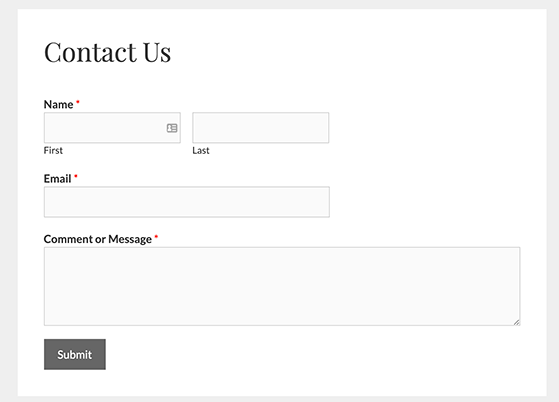 We'll also show you how to add your form to your contact page and embed it in your website sidebar. But before that, you'll need to choose a WordPress contact form plugin to make adding a contact form easier.
Step 1. Choose the Best Contact Form Plugin
There are several free and paid contact form plugins available for WordPress, including popular plugins like Contact Form 7. Choosing one that fits your business can be challenging if some of the more popular solutions are outdated.
For this tutorial, we'll use the most user-friendly WordPress contact form builder plugin on the market, the WPForms drag-and-drop form builder.
Here are just a few reasons why we think WPForms Pro is the best WordPress contact form plugin:
Beginner Friendly – WPForms is the most beginner-friendly form plugin around. It has a drag-and-drop form builder allowing you to create any form without code.
Extensive Functionality – Use templates to build smarter forms with conditional logic, file uploads, surveys, payment fields, multi-steps, and more.
Compatibility – WPForm works with popular page builders like SeedProd and the WordPress block editor. It's also compatible with popular WordPress plugins like WPMail SMTP, SEO plugins, and more.
Spam Protection – Protect form submissions from spammers with CAPTCHA, Google reCAPTCHA, and hCaptcha.
Payment Options – Easily accept payments from Stripe, PayPal, and other payment processors.
Tried and Tested – Over 5 million websites use WPForms to power their contact forms. Over 11,000+ users give it 5-star ratings.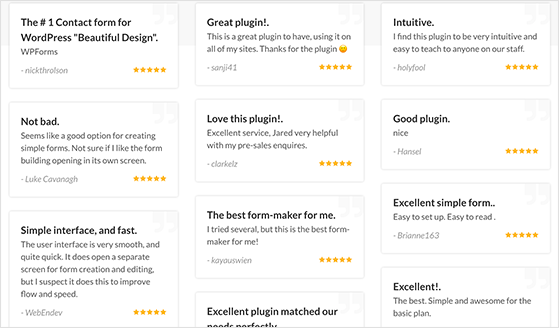 Plus, WPForms offers a free version for site owners on a budget called WPForms Lite.
You can find it by heading to Plugins » Add New from your WordPress dashboard, searching for WPForms, and clicking Install Now. Alternatively, you find it easily by heading to WordPress.org.
WPForm's pricing is super cost-effective, with plans for many budgets. You can check out our in-depth WPForms review here.
Now that you know which contact form plugin to use, let's create a contact form in WordPress with WPForms.
Step 2: Install the Contact Form Plugin on Your Site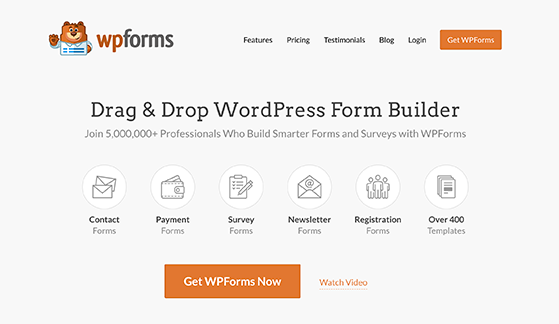 Click here to get started with WPForms and download the plugin to your computer. Then go ahead and upload the plugin to your website.
If you need help with this step, see this step-by-step guide to install a WordPress plugin. Once you've done that, move on to the next step.
Step 3: Create a Contact Form In WordPress
Now that WPForms is activated on your website, it's time to add a new contact form.
From your WordPress dashboard, click the WPForms menu in the left-hand panel, and click Add New.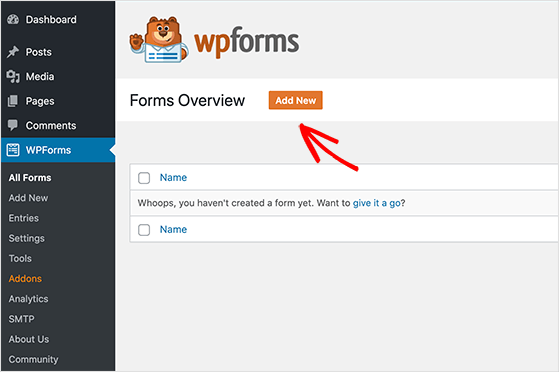 This opens the WPForms form builder with various form templates to choose from and customize. Start by choosing a form name. This can be anything that helps you identify it quickly in WordPress.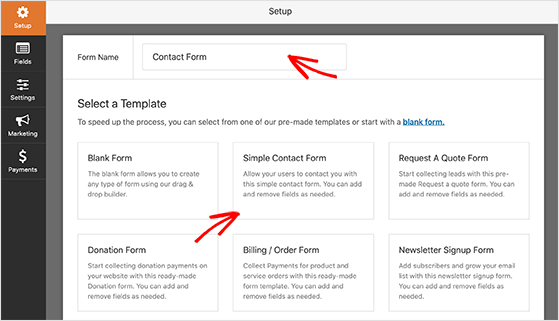 Now hover your mouse over and select the Simple Contact Form template and click the button labeled "Create a Simple Contact Form." This will open the template in the form builder for you to add form customizations.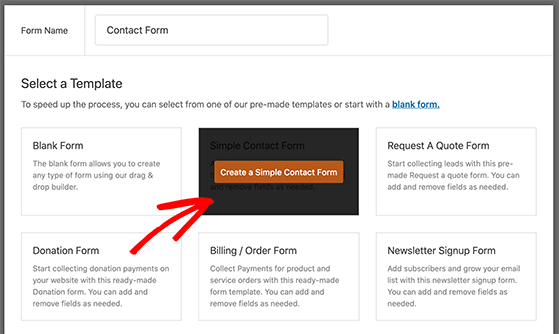 The Simple Contact Form template automatically fills your form with all the form field labels you're likely to need, including the first and last name fields, subject line, email address fields, and message fields. It also lets you change the button text.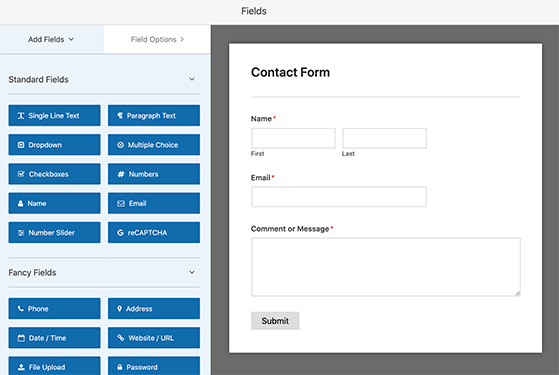 You can easily rearrange the fields by clicking, dragging, and dropping them to a different place. You can add extra fields to your form by selecting one from the left-hand panel and dragging it over to your form on the right.
You can also include custom CSS classes if you want further customizations.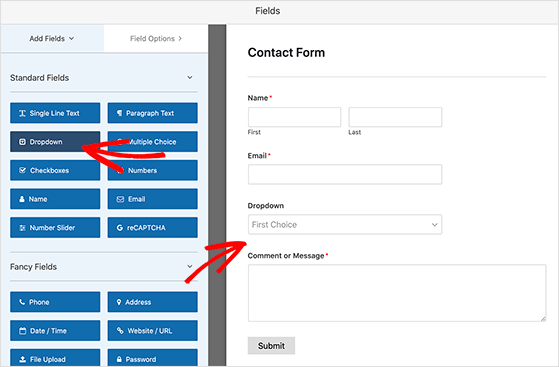 When you're happy with how your form looks, click the Save button in the top-right corner of your screen.

Step 3: Configure Your Form Notifications
Now that you've created your contact form, you need to configure your form notifications. To do that, navigate to Settings » Notifications.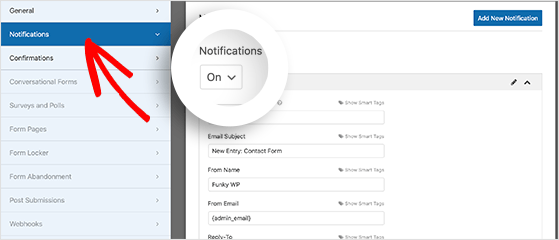 Form notifications are emails you'll receive when someone fills in and submits your contact form. The default notification settings have email notifications turned on. So if you don't want to get an email every time someone submits a form, choose Off from the dropdown menu.
You can also customize the information included in email notifications with smart tags. However, the default tags are just what you need for a simple contact form. See the WPForms documentation to learn more about smart tags.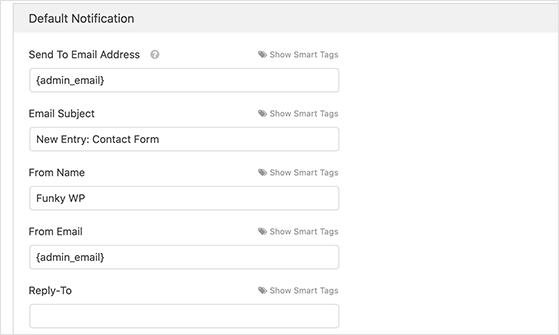 With your notifications configured, click Save and move on to the next step.
Step 4: Configure Your Confirmation Messages
For this step, we'll look at your contact form confirmation messages. Users will see these immediately after clicking the submit button on your website. You can find the confirmations section by clicking Settings » Confirmations.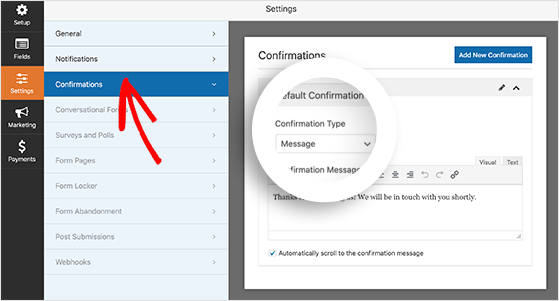 Upon submitting their contact form, users will see the 'Message' default confirmation type. WPForms comes with a simple confirmation message ready to go. You can easily customize it by writing your message in the text editor.
Besides the Message confirmation type, you can select two other confirmation types from the dropdown menu: Show Page and Go to URL (Redirect).
After submitting a form, the Show Page confirmation type shows users a specific page on your website.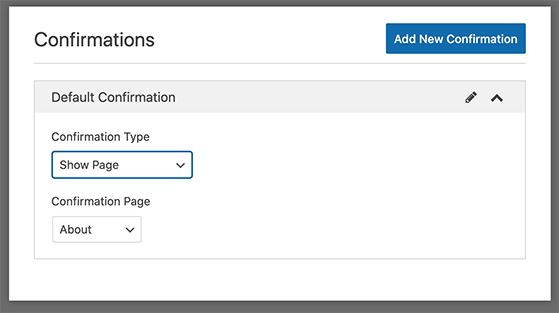 With the Go to URL (Redirect) option, you can send users to a page on a different website when the form is completed.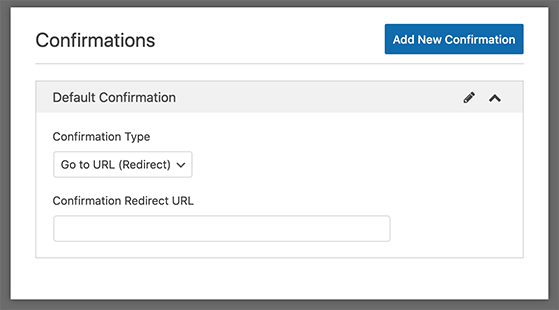 After choosing a confirmation type, click Save. You've now successfully created a form in WordPress.
Now it's time to publish it! Keep reading to learn the 2 key ways to add your contact form to your WordPress website.
Step 5: Add The Contact Form to Your Website Contact Page
The first method we'll use to publish your contact form is to add it to a new WordPress page. You can edit the page if you already have a contact page instead.
To create a new page in WordPress, navigate to Pages » Add New. We'll use the WPForms WordPress block for this step.
To add the WPForms block to your page, click the plus (+) icon in the top menu and scroll down to the Widgets section.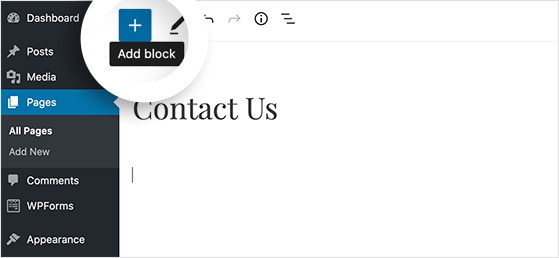 Then find the WPForms WordPress block and click it to add it to the page editor.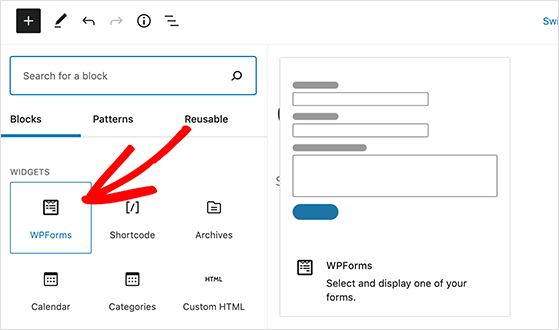 The WPForms block will now appear on the page. Click the dropdown menu and select the contact form you created earlier.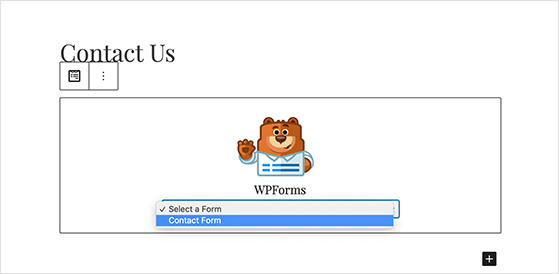 Your contact form will now appear on your page with a preview of its appearance.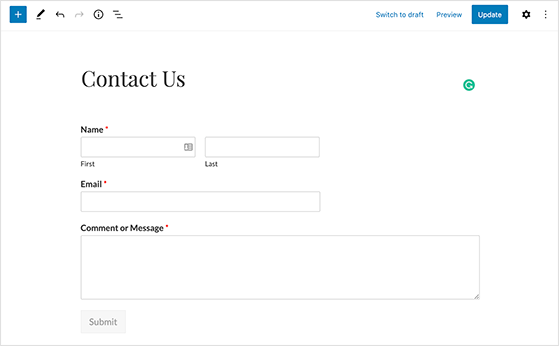 Now you can save or publish your page. Here's how the form looks on a contact page after publishing.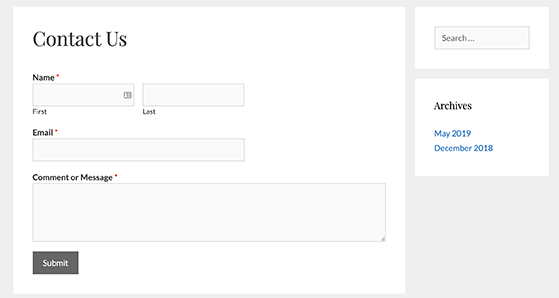 WPForms also offers a shortcode for embedding your form. You can copy the contact form shortcode by visiting WPForms » All Forms and pasting it into any WordPress post or page.
Step 6: Add The Contact Form to Your WordPress Sidebar
Another way to publish your contact form in WordPress is to add it to your website's sidebar area. WPForms comes with a handy WordPress widget so you can add your contact form to any widget-ready area of your WordPress theme.
From your WordPress admin area, navigate to Appearance » Widgets. You'll see all the widgets you can add to your WordPress sidebar area on this page.
Look for the WPForms widget and drag it over to your desired sidebar. We'll add our widget to the right sidebar area.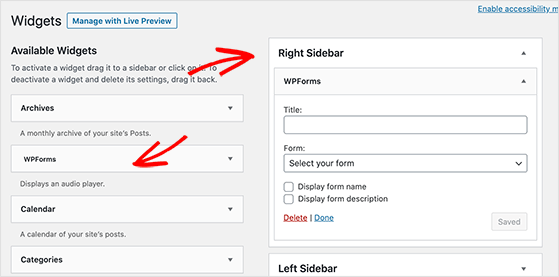 Now give your widget a title, click the checkboxes to either hide or display your form name and description, then choose your contact form from the dropdown menu. Remember to click Save to preserve your widget settings.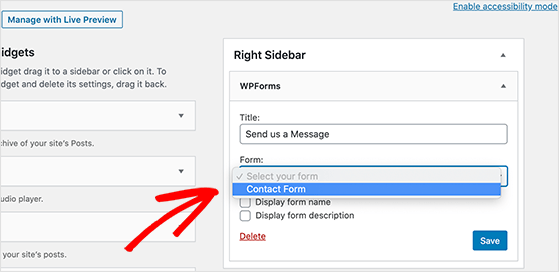 When you navigate to the front of your website, you'll see your contact form in your chosen sidebar.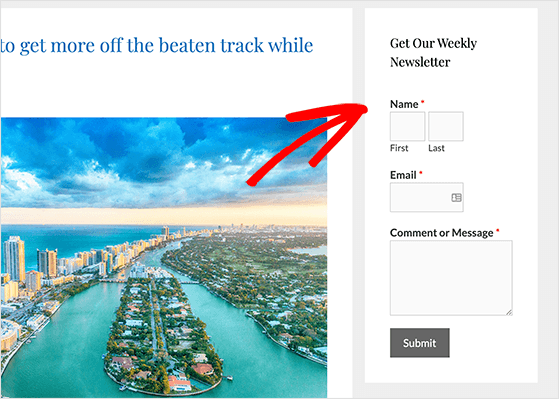 Congratulations!
Tracking Your WordPress Form Conversions
After adding a contact form to WordPress, you'll want to see how well your forms perform. So if you track your forms in WordPress, you monitor how many conversions your forms achieve, your conversion rate, and which is the most successful form on your site.
The easiest way to track form conversions in WordPress is with MonsterInsights.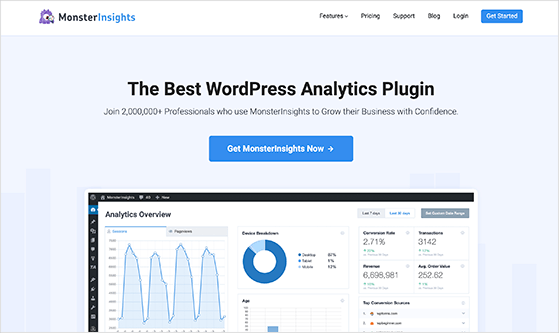 MonsterInsights is the best Google Analytics plugin for WordPress, and it includes a powerful form-tracking add-on that tracks form conversions automatically.
Moreover, MonsterInsights is easy to set up and takes only a few clicks to get started. Just install MonsterInsights, and it will start tracking right away. It's also fully compatible with WPForms and other form plugins for WordPress.
Check out this guide to learn how to track WordPress form conversions.
How to Create a Custom Contact Form in WordPress
One of the best things about WPForms is that it lets you create custom contact forms for any purpose. After building a contact form, you can customize it by:
Adding a file upload field
Adding multiple steps to your form
Using Zapier to connect to thousands of other apps.
WordPress Contact Form FAQs
How do I get my contact form to send emails?
For your contact form to send emails, you'll need to configure the email settings in the WPForms plugin notification settings area.
How do I protect my contact form from spam?
To protect your contact form from spam, enable WPForms' spam protection features, including Captcha, honeypot, and more. You can also lock specific forms to certain users.
What are some of the most common problems with contact forms?
Some of the most common problems with contact forms include:
Forms not sending emails
Forms not displaying correctly
Forms being filled out by spam bots
How can I troubleshoot problems with my contact form?
If you're having problems with your contact form, there are a few things you can do to troubleshoot the issue.
First, check the email settings for your contact form plugin. Make sure that the email address you have specified is correct and that the plugin is configured to send emails. Second, check the display settings for your contact form. Make sure that the form is displaying correctly in all browsers.
Finally, check for spam bots. If you are seeing a lot of spam messages in your inbox, you may need to add a CAPTCHA or honeypot field to your form.
And there you have it.
You now know how to create a contact form in WordPress for your small business. We hope this article covers everything for beginners.
You might also want to check out the other best WordPress plugins to use on your website.
Thanks for reading, and if you liked this article, don't forget to follow us on YouTube, Twitter, and Facebook for more great WordPress tutorials to grow your business.