Are you looking for the best WordPress security plugins for your WordPress website?
Security plugins help protect your site from unauthorized access, hacking, and other security threats, but knowing which one to choose is often challenging.
In this guide, we'll review the best WordPress security plugins on the market to help you decide.
Why Do You Need a WordPress Security Plugin?
WordPress is the world's most popular content management system (CMS), powering over 43% of all websites. However, with popularity comes risk.
WordPress sites are a frequent target for hackers, who can steal data, install malware, or even take your site offline. This can also impact your SEO rankings.
WordPress security plugins can help to protect your site from these threats by providing security features, such as:
Malware scanning to check your site for malicious code, such as viruses, trojans, and other vulnerabilities.
Firewall protection to block unauthorized access to your site from specific IP addresses or countries.
Brute force attack protection to protect your site from repeated login attempts from the same IP address.
Two-factor authentication allows users to enter a code from their phone and a strong password when logging in.
File change detection to alert you when someone makes unauthorized changes to your website files.
Security auditing to provide reports on your site's security status.
By using the WordPress plugins with these features, you can keep your data safe and website secure.
Best WordPress Security Plugins
The best WordPress security plugins for you depends on the type of website you run. For example, an eCommerce site will need additional security measures, such as an SSL certificate, to protect credit card information.
That being said, we're confident that the solutions below will cover all of your small business security needs.
Let's dive in to discover the best WordPress security plugins for your website.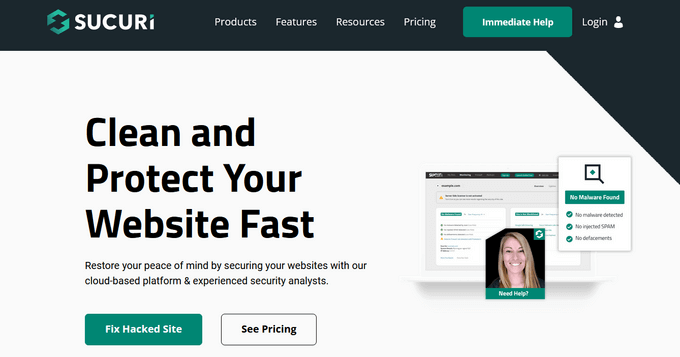 Sucuri is one of the best WordPress security plugins on the market and a leader in WordPress security. With its free base plugin, Sucuri Security, it can scan your website for common threats and security vulnerabilities.
Sucuri's paid plans are a must-have for WordPress security hardening. They come with a website firewall that offers brute force protection and shielding from malicious hack attempts.
The firewall filters harmful traffic before it reaches your server. Sucuri even delivers static content from its own CDN servers, giving your site a speed and performance boost.
Key Features:
Scans your WordPress files for changes, alerting you when files are modified or deleted.
File integrity monitoring tracks changes to your core WordPress files and database to identify suspicious activity.
Checks your site against a blacklist of malicious IP addresses and domains.
Scans your site for malware using Sucuri's cloud-based scanning engine.
Effective security hardening.
Helps perform a website clean-up and malware removal and prevents future hacks.
Sends email alerts for security events, such as malware scans, blocklist warnings, and security hardening recommendations.
Web Application Firewall (WAF) protection to block brute force login and DDoS attacks.
Pricing: The free version of Sucuri Security is available from WordPress.org. Premium plans start from $199 per year and open customer service channels.

Wordfence Security is another of the best WordPress security plugins. The free version includes a user-friendly malware scanner, threat assessment, and exploit detection functionality.
The plugin performs automatic scans of your website for common security issues. You can also launch a full scan whenever you like. If the plugin detects signs of a website security breach, it will alert you with details on how to fix them.
Additionally, Wordfence offers a WordPress firewall. However, it's less effective than Sucuri's DNS-level firewall because it runs on your server before loading WordPress.
Key Features:
Blocks malicious traffic, including brute force attacks, SQL injection attacks, and other common threats.
Scans your site for malware, malicious files, and unexpected changes.
Login protection shields your website from login-related threats.
Adds extra security with 2-factor authentication.
Activity log tracks changes to your site, including file changes, logins, and attempted attacks.
Offers detailed information about the security of your site.
Pricing: Wordfence security offers a limited free version. Wordfence Security premium costs $199 per year.

iThemes Security is another one of the best security plugins for WordPress. From the team behind Backup Buddy, it offers an easy user interface with various security tools.
From its security dashboard, you can monitor your site's activity and view helpful security logs. It also offers file integrity checks, the option to limit login attempts, brute force protection, 404 detection, and more.
While iThemes Security is a powerful security solution, it doesn't come with a firewall or its own malware scanner. Instead, it uses Sucuri's Sitecheck malware scanner.
Key Features:
Protects your site from brute force attacks.
Scans your WordPress core files for changes.
Scans for malware using Sucuri's Sitecheck scanner.
Provides detailed reports about your site's security.
Lets you create security profiles for different WordPress users.
Enforces strong passwords for users on your site.
Sync your settings with other iThemes products, including iThemes backups.
Pricing: iThemes Security offers a limited free version. The pricing for iThemes Security Pro starts from $99.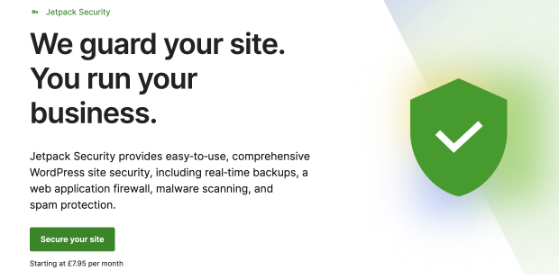 Jetpack is one of the best WordPress security plugins for beginners, offering many features to protect your website. The plugin is easy to use, with comprehensive security features, including real-time backups, malware scanning, a web application firewall, and spam protection.
Database backups are handled automatically by its VaultPress backup solution. Plus, the web application firewall and malware scanning protects your site, detects threats, and sends email notifications so you can fix the issues.
Additionally, Jetpack uses Akismet anti-spam to monitor and clear comment spam quickly.
Key Features:
Automatically blocks attempts to hack your site from malicious attackers.
Actively monitors your site for downtime.
Offers an activity log to help identify who made changes to your site.
Protection from comment and form spam, which also integrates with WooCommerce.
Real-time cloud backups of your WordPress site.
Protect your site with a web application firewall.
Fix your security issues with 1-click.
Pricing: The Jetpack security bundle includes VaultPress, Jetpack Scan, and Akismet, starting from  $10.95/month, billed annually. You can also buy each product individually.
You may also like these best Jetpack alternatives.

All-in-One WP Security is another popular security plugin for WordPress that offers security auditing, monitoring, and a firewall for your website. From the team behind UpdraftPlus, it helps you perform security best practices on your site with minimal fuss.
With this free security plugin, you can protect your login page from brute force attacks, filter IP addresses, monitor user accounts and file integrity, and scan for suspicious database code injections.
The plugin's website-level firewall rules can detect and block common patterns. However, you'll need to stop any suspicious IPs manually.
Key Features:
Login security allows you to hide login pages from bots.
Login lockdown blocks users from repeated login attempts.
Create strong passwords with the password strength tool.
Add honeypot spam protection to registration forms.
Protects your website's PHP.
Schedule automatic backups, including your .htaccess and .wp-config files.
Firewall protects your site from malicious attacks.
Pricing: All-in-One WP Security is a free plugin. The Pro version offers premium support and advanced features starting from $84 per year.

Anti-Malware Security is a helpful WordPress anti-malware plugin and security solution. It comes with definitions of common threats that are actively maintained to help protect your website.
With its malware scanner, you can check your WordPress site for backdoors, malicious code, malware, and other known security attacks.
To configure the plugin, you'll need to create a free account on its website. This also allows you to access some premium features, such as brute force prevention.
Key Features:
Protect against new threats by downloading definition updates.
Run complete scans to remove known security threats.
Use its firewall to block malware exploits.
Update vulnerable script versions.
Check the integrity of WordPress core files.
Pricing: Anti-Malware Security is a free plugin.

WPScan Security is a unique WordPress security plugin with its own curated vulnerability database. Team and community members update the database daily with the latest threats.
With this plugin, you can scan your WordPress files, plugins, and themes for over 21,000 vulnerabilities. It also allows you to run automatic scans daily with notifications of the results.
WPScan Security has a free security API, although it's no longer actively supported for non-enterprise customers. You can upgrade to the premium version if you have a larger site with many WordPress plugins.
Key Features:
Scans for plugin, theme, and file vulnerabilities.
Performs additional security checks on your WordPress site.
Displays the total number of vulnerabilities in your WordPress admin bar.
Sends email notifications of new vulnerabilities.
Pricing: The base plugin is free. You'll need to contact the developer for a quote for Enterprise plans.
What Are the Best WordPress Security Plugins?
In our professional opinion, Sucuri is one of the best WordPress security plugins. It's a complete security solution that will help protect your site from common threats, including hackers, brute force attacks, spam, and DDoS attacks.
Sucuri's firewall is a powerful defense against these threats, stopping them before they even reach your site while monitoring your site in real time.
We hope this guide has helped you find the best WordPress security plugins for your website. Now, you have everything you need to secure your site against hackers.
If you like this article, you may find the following tips and tutorials helpful:
If you liked this article, please subscribe to our YouTube Channel for RafflePress video tutorials. You can also find us on Twitter and Facebook.