Are you looking for St Patrick's Day giveaway ideas?
Running a St Patrick's Day promotion is a great way to increase brand awareness while celebrating the Irish holiday. You can also spread the luck of the Irish with a St. Paddy's Day giveaway and generate more leads for your small business.
In this article, we'll share some of the best St Patrick's Day giveaway ideas and show you how to run a successful St Patrick's Day-themed contest, giveaway, or sweepstakes.
Why Run a St Patrick's Day Giveaway?
Running a St. Patrick's Day giveaway is an excellent way to achieve several marketing and customer engagement goals for your business.
First, a giveaway can increase brand awareness by bringing attention to your business and products.
It can also help attract new customers who may not have heard of your business. By offering a prize relevant to your target audience, you can increase their chances of being interested in your products or services.
Second, a giveaway can generate buzz around your business by getting people talking about it on social media platforms and other online communities. This is especially effective if you create a social media contest or encourage customers to share information about the giveaway with their friends and family.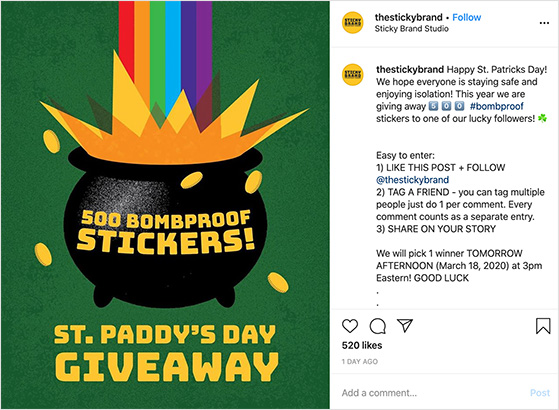 Third, a St. Patty's Day giveaway is a fun and festive way to celebrate the holiday and show your customers that you appreciate their loyalty. Many people enjoy celebrating St. Patrick and participating in festive activities, so running a giveaway is a fun way to tap into that excitement and build stronger customer relationships.
Fourth, a giveaway can boost sales by offering themed products, discounts, or special deals. It's a great way to increase revenue and drive sales during a traditionally slow time of year while encouraging the St. Patrick's Day spirit.
Overall, running a St. Patrick's Day giveaway is a fantastic way to increase brand awareness, generate buzz, improve customer relations, and boost sales.
With that being said, let's kick things off by setting your giveaway goals.
Set Your Giveaway Campaign Goals
Setting up your St. Patrick's Day giveaway goals can help ensure that it's successful and achieves the desired results.
First, you'll need to define your objectives. In other words, write down what you want your giveaway to achieve.
For example, you may want to:
Next, you'll need to decide who you want to reach with your marketing strategy. Will you target existing customers, or are you most interested in attracting new leads and customers?
If you need help defining your ideal audience, you can check out this guide on creating a buyer persona.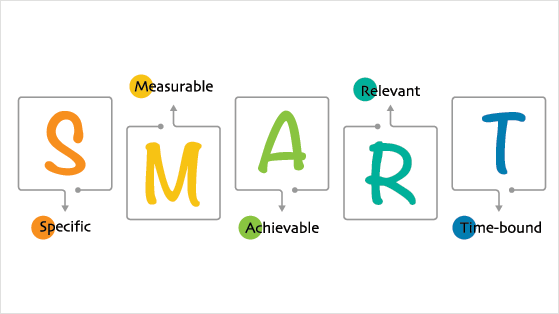 After defining your audience, it's a good idea to set specific and measurable goals for your giveaway. This will help you track your progress and offer benchmarks to measure your results when the giveaway ends.
Here are some examples of clear and specific giveaway goals:
Increase website traffic by 20%
Gain 100 new social media followers
Grow your email list by 50 subscribers
Get 150 shares on Twitter
Remember to keep your goals relevant to your brand and measurable, so you can track your progress.
Brainstorm St. Patrick's Day Giveaway Ideas
You might feel that coming up with engaging St. Patrick's Day marketing ideas is a challenge. Surely the best ideas are already used up?
Many businesses use similar giveaway ideas for a reason: they work! Don't be put off by not having an original giveaway idea. Go with something proven to succeed and put your own creative spin on it to make it relevant to your brand.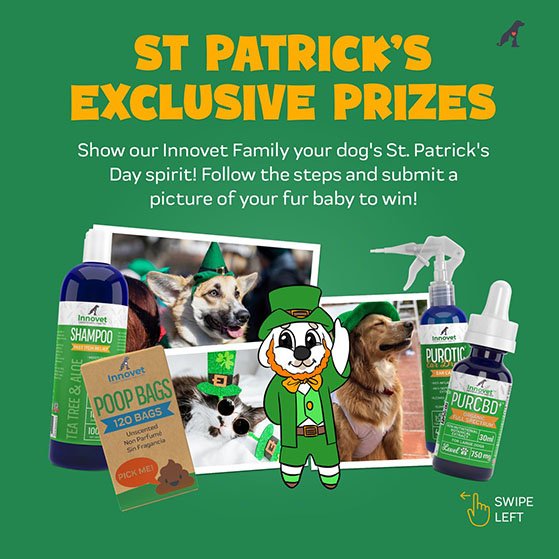 Here are some St. Patrick's Day giveaway ideas that you can adapt for March 17th:
Pot of gold hunt: Hide a "pot of gold" somewhere in-store or in the community and give clues on your social media to help customers find it.
Online scavenger hunt: Create an online scavenger hunt where participants must find specific items or information related to St. Patrick's Day to win a prize.
St. Patrick's Day-themed photo contest: Encourage customers to share photos of themselves celebrating at a St. Patrick's Day parade or gathering on social media for a chance to win a prize.
Irish whiskey tasting: Host a whiskey-tasting event and give away a bottle of Irish whiskey or green beer as a prize.
St. Patrick's Day-themed cook-off: Host a virtual cook-off where participants must make a dish using traditional Irish ingredients and give a prize to the winner.
Storytelling or Trivia contest: Ask social media followers to submit their St. Patrick's Day myths and legends. For instance, why do Leprechauns wear green, or how did the first shamrock or four-leafed clover come to be?
Irish dance challenge: Celebrate Ireland's traditional dance with an Irish dance-off on TikTok and reward the best entries with a free dance class.
Choose a Prize for Your St. Patrick's Day Giveaway
Once you know the type of giveaway you'll run, it's time to think of an exciting prize. You'll need a prize to encourage your audience to participate while keeping it relevant to your brand.
The prize doesn't need to be expensive, but it should reflect your niche and be something your audience desires.
For example, you could offer green t-shirt merch or a Guinness mug if you're a dropshipping business. Or, if you sell homeware, you could offer a green-themed gift basket filled with candles, home decor, a lucky charm four-leaf clover, and more good luck goodies.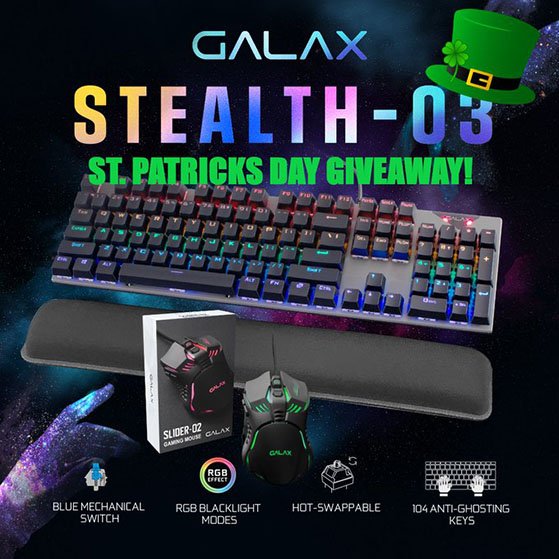 Alternatively, you could offer a gift card to a local Irish pub or restaurant for a St. Patrick's Day party. You can also check out these giveaway prize ideas for more inspiration.
Once you have your goals, promo ideas, and prize in place, you're ready to start setting up your giveaway in WordPress
Set Up Your St. Patrick's Day Giveaway in WordPress
Until recently, WordPress didn't have many giveaway or contest plugins, and those available were buggy or too expensive for small businesses. Luckily, that changed with the birth of RafflePress, the best WordPress giveaway plugin on the market.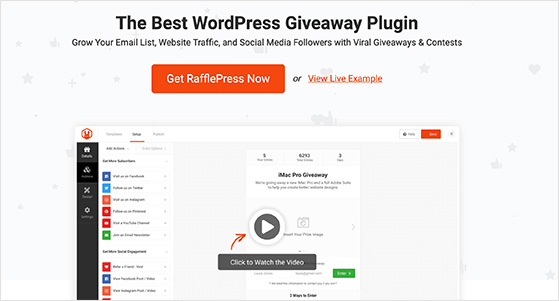 RafflePress lets you run any giveaway on your WordPress website quickly and easily. It has integrations for all popular social media platforms, including Facebook, Twitter, Instagram, TikTok, and YouTube, and offers countless ways for your audience to participate and win.
Moreover, this powerful plugin includes 1-click fraud protection and verified giveaway actions. That means you can ensure all entries are genuine.
Let's start setting up your St. Patrick's Day giveaway with RafflePress. Follow the instructions below, and you'll be up and running in no time!
First, install and activate the RafflePress plugin on your WordPress website. You can follow this guide on installing RafflePress if you need help.
You can use the free version of RafflePress to run giveaway campaigns without worrying about your budget. However, we'll use the premium version because it has more features and integrations.
After activating the plugin, navigate to RafflePress » Settings from your WordPress admin, and paste your license key.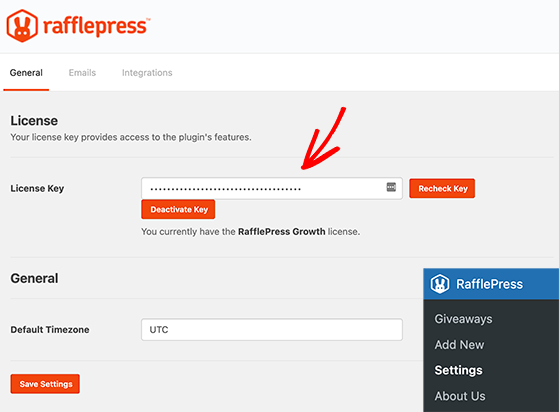 You can find that information in your RafflePress account under the Downloads heading. Once you've done that, click the Verify Key button.
Now you're ready to create your first giveaway, so head to RafflePress » Add New, which will launch the giveaway builder.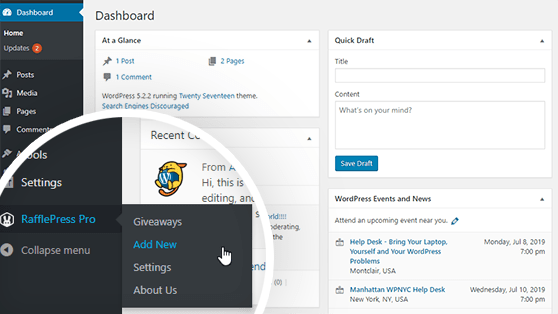 On the next screen, you'll first need to give your giveaway a name. Then you can choose from several pre-made giveaway templates.
RafflePress offers templates for different giveaway goals, such as growing your Instagram followers and getting more email subscribers. You can choose any template that matches your goal.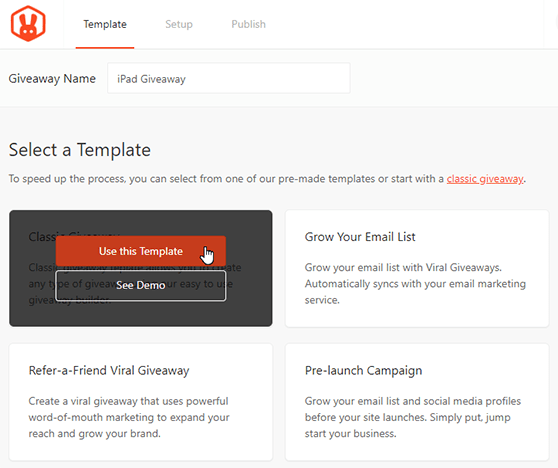 We'll use the blank template for this guide to create a giveaway from scratch. To do that, hover your mouse over the template and click the Use This Template button.
You'll now see the RafflePress builder, where you can start entering your giveaway details.
Enter Your Giveaway Prize Details
First, you'll want to let contestants know what they could win, so click on the "My Awesome Prize" headline and replace it with your St Patrick's Day giveaway prize.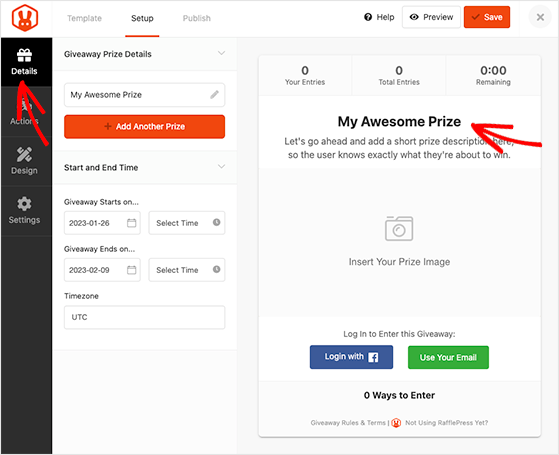 From there, enter more information about the giveaway to encourage users to enter. You can add a more detailed description and upload a custom Prize Image so users can see what's up for grabs.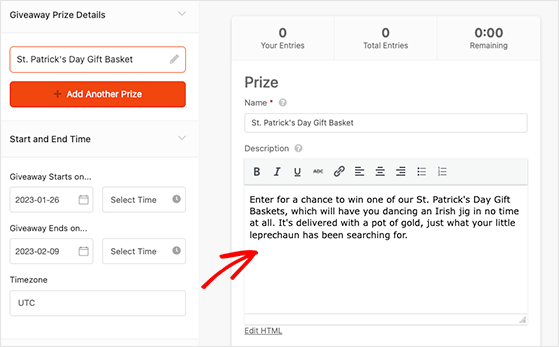 To add a prize image, click Select Image button and choose an image from your WordPress media library or computer.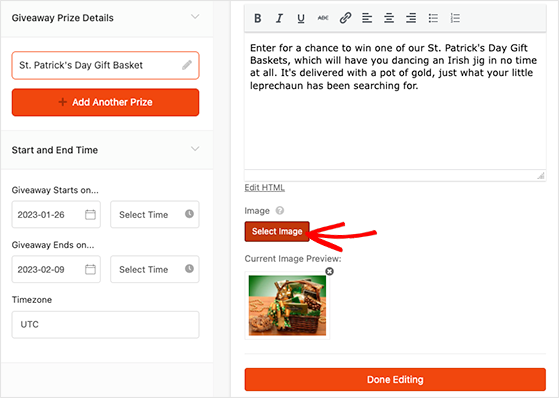 When you're happy with your prize details, click Done Editing.
You can also enter the giveaway duration on the same screen, including the start and end date, times, and timezone.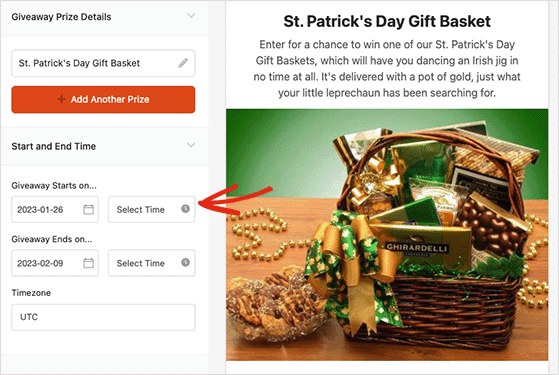 Now, let's move on to adding ways for your audience to enter your giveaway.
Add Your Giveaway Entry Actions
Giveaway actions are how your visitors can participate in the giveaway. For instance, they can subscribe to your podcast or share a post on social media.
RafflePress has countless actions that you can add to your campaign. However, it's important only to choose those that will help you meet your giveaway goals.
For example, if you want to grow your email list, you might use the "Join an Email Newsletter" action. Or, to get more blog engagement, you can use the "Leave a Blog Comment" action.
To see all RafflePress's actions, click the Actions tab in the left-hand panel.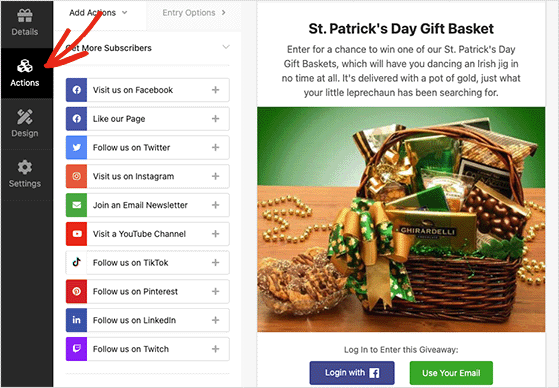 You can add an action by clicking it, and it will appear automatically in the giveaway widget below your prize details.
From there, you can configure the action settings in the left-hand panel.
You can customize some basic settings for each action. This includes adding a title visible to participants and making the action mandatory.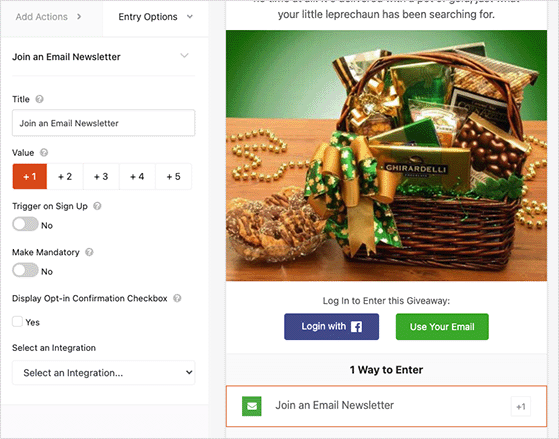 Mandatory actions are helpful if you plan to offer multiple entry methods but want to ensure users complete a specific task.
By default, each action is worth 1 entry, but you can adjust the value to make specific actions more valuable. Doing so encourages users to prioritize actions, even if they can choose from multiple entry methods.
Besides these basic settings, there may also be some action-specific settings. For example, in the Visit a Facebook Page action, you'll need to enter the page's URL.
You can add as many actions as you like. However, it's a good idea to prioritize actions based on your goals. For example, if your primary goal is to grow your email list, you'll want to put that action at the top of your list.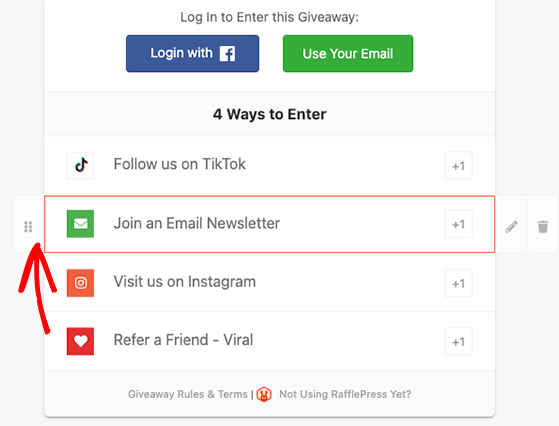 To do that, hover over an action, click the dotted button and drag the action to its new position. Now go ahead and click the Save button to store your changes.
Customize Your Giveaway Appearance
With your giveaway set up, you can start customizing its appearance by clicking the Design tab.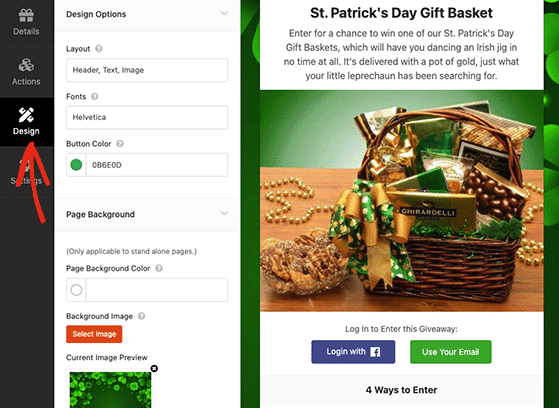 In RafflePress, you can customize the design of your St Patrick's Day giveaway by changing the fonts, button color, background color, and more. Additionally, you can use custom CSS to personalize the giveaway template further.
You'll see a live preview of the changes and once you're happy with the design, remember to click Save.
Configure Your Giveaway Settings
RafflePress offers various settings to configure your giveaway, including displaying and hiding elements, tracking entries, and more. To see them click the Settings tab.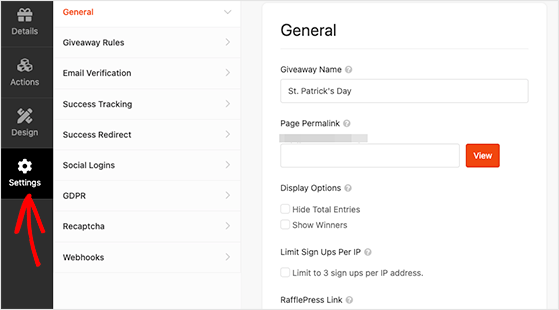 In the General section, you can set basic settings for your giveaway, like showing the contest winners on the widget, hiding or showing the total entries, and limiting sign-ups by IP address.
Next, switch to the Giveaway Rules tab, where you can use the Rules Generator to create giveaway rules for your promotion quickly.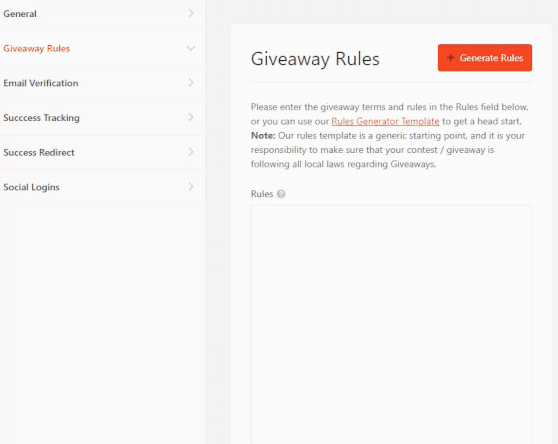 Now click the Email Verification tab. On this screen, you can require users to verify their email address, which is a good idea if you're running a giveaway to get more subscribers.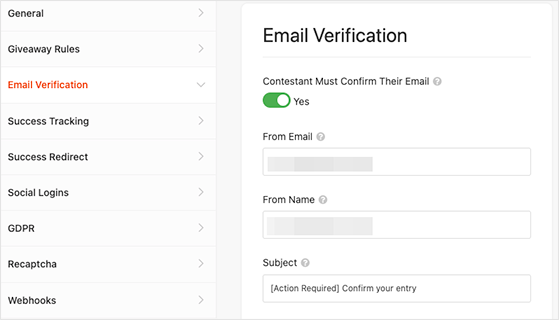 You can do that by clicking the 'Contestant Must Confirm Their Email' toggle until it turns green.
If you want to know how people engage with your giveaway, you can use Google Analytics tracking. Simply click the Success Tracking heading and add your Google analytics code.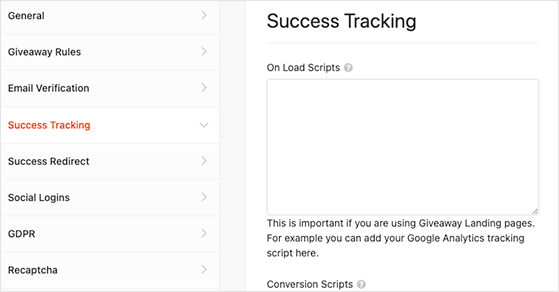 Additionally, you can set up a redirect for your giveaway. This means you can send people who enter your giveaway to a different page on your website, like a thank you page or a popular blog post.
To do that, select the Success Redirect tab and click the 'Enable Success Redirect' toggle. Now add your chosen page to the 'Redirect URL' field.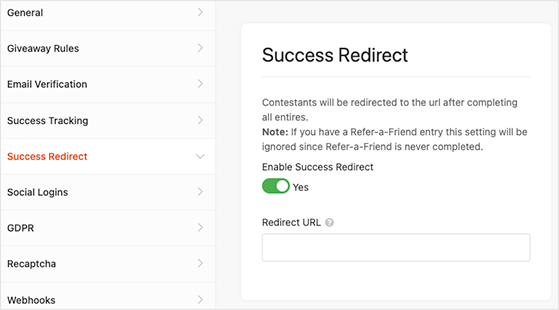 You can also make it easy for people to enter your giveaway by allowing them to sign in using their Facebook account. This can help you get more entries.
To allow logging in with Facebook, click the Social Logins tab and activate the 'Allow logging in with Facebook' toggle.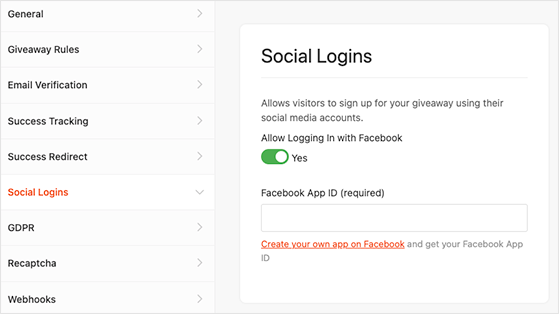 It's also essential to follow a European Union law called GDPR. This law makes sure people have control over their personal information. RafflePress can help you follow this law by asking for permission before people enter your giveaway.
Just click the GDPR tab and activate the 'GDPR Consent' toggle.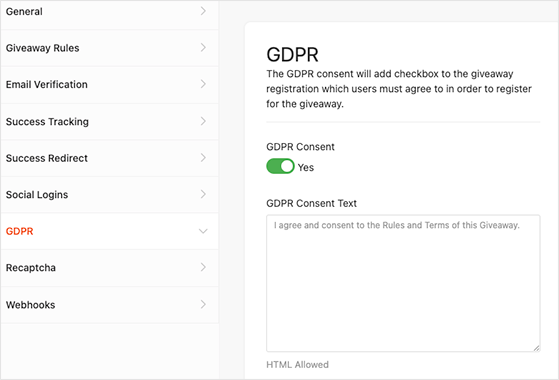 To prevent spam and fake entries, you can use Invisible Recaptcha, which you can find in the Recaptcha tab.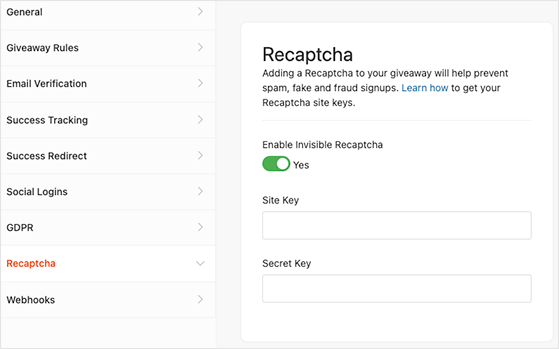 This setting helps block spam without hurting the visitor's experience.
When you're done setting up your contest, remember to click the Save button.
Publish Your Giveaway on Your Website
Now that your giveaway is set up, you're ready to publish it on your website. With RafflePress, you have 3 ways to do this:
The RafflePress block lets you add your giveaway to a WordPress post or page.
You can add the contest to any post, page, or widget area with the shortcode.
Or, you can publish your giveaway on a standalone giveaway landing page.
You can see our documentation on publishing a giveaway for each method. However, we'll share the easiest and most effective way to publish your St. Patrick's Day giveaway: on a landing page.
Landing pages are ideal for sharing across multiple platforms. For example, you can tweet your giveaway page link and use popular hashtags to boost its reach.
They're also free from distractions, making users more likely to enter.
To set up a giveaway landing page, click the Publish tab from the giveaway editor, and select the Giveaway Landing Page option.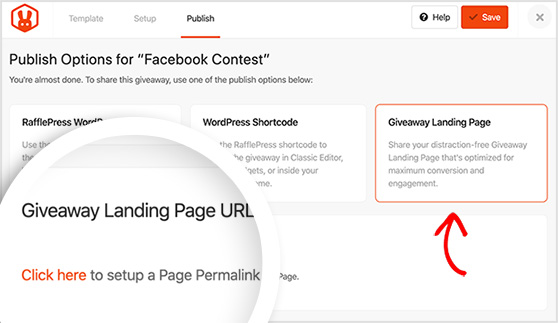 Now select the "Click here" link, which will take you to the General Settings page.
Next to the Page Permalink heading, enter a URL for your giveaway page, and click the View button.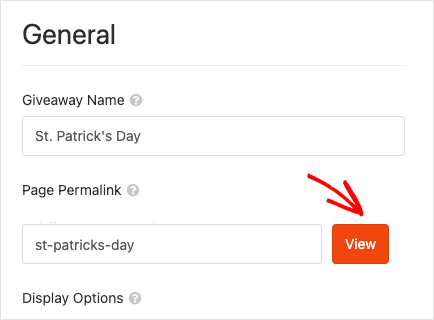 RafflePress will publish your giveaway on a landing page, and if you visit the URL, you'll see it live on your website.
Promote Your St. Patrick's Day Giveaway
After publishing your St Patrick's day giveaway, you'll want to let people know about it so they can enter. A good idea is to start promoting the giveaway before it goes live, so people will know about it ahead of time and be excited to enter.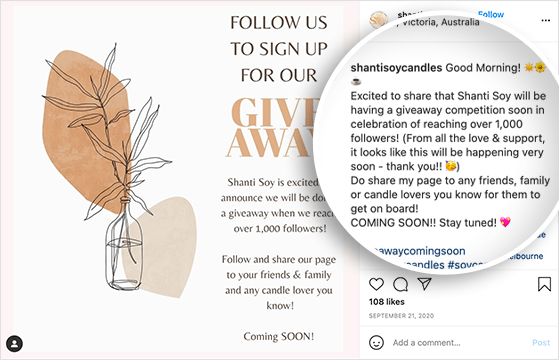 You can tell your email subscribers and post about the giveaway on your social media accounts. Additionally, you can promote it on websites or forums relevant to your giveaway.
Check out this in-depth guide for even more contest promotion ideas.
Announce Your Giveaway Winner
Once your giveaway is over and you're ready to pick a winner, you can use RafflePress to select the winner randomly.
First, go to the RafflePress page in your WordPress dashboard. If you didn't set an end date for the giveaway, you need to end it manually.
Next, click on the "Needs Winners" link. You'll see a list of all the people who entered the giveaway and how many entries they have.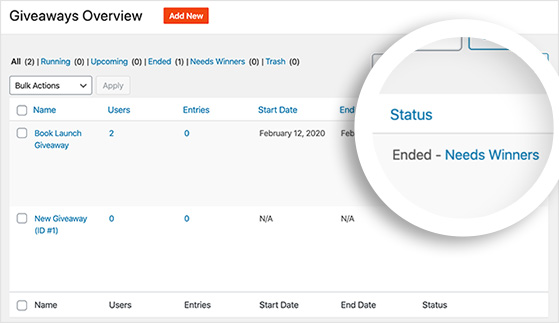 In the "Winner Selection" panel, type the number of winners you want to pick. When ready, click on the "Choose Winners Now" button.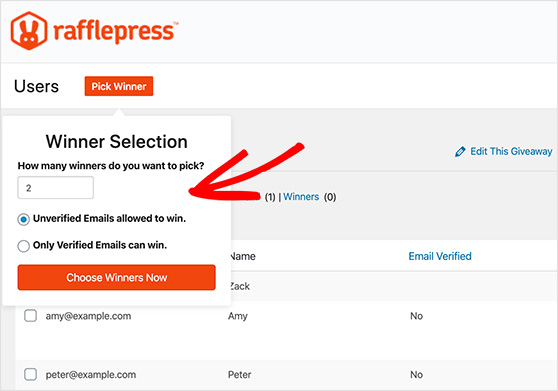 RafflePress will pick a winner and show you their name at the top of the list.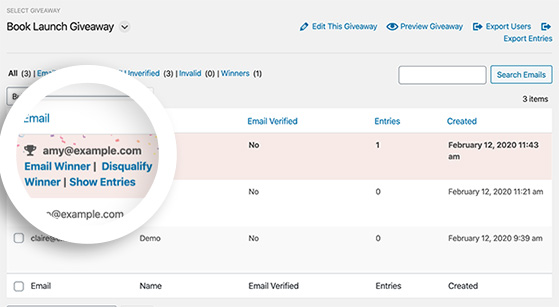 Finally, you can email the winner to let them know they won your St. Patrick's Day giveaway.
There you have it!
You now have a bunch of St Patrick's Day giveaway ideas and can run one quickly and easily from your WordPress website.
Ready to create your next giveaway?
Get Started with RafflePress Today.
Before you leave, you might also like these lead-generation ideas to help your business grow.
If you liked this article, please subscribe to our YouTube Channel for RafflePress video tutorials. You can also find us on Twitter and Facebook.