Do you want to learn how to promote a blog on LinkedIn?
If you write content aimed at business professionals, promoting that content on LinkedIn is an excellent way to reach your target audience and drive traffic to your blog. This article will show you how to promote a blog on LinkedIn to make your digital marketing efforts a success.
Why Should You Promote Your Blog on LinkedIn?
LinkedIn is the ideal place to promote your content for many reasons.
As mentioned before, LinkedIn is a social network for businesses and job hunters looking to expand their professional network. And that means they probably consume business-related content regularly.
LinkedIn is 3x more effective at lead generation than other social media platforms.
And with nearly 50% of social traffic to B2B websites coming from LinkedIn, promoting your blog on the platform makes it easier to reach the LinkedIn users most likely to read your content.
How to Promote a Blog on LinkedIn
Now that you know the benefits of promoting your blog posts on LinkedIn, here are 11 ways to get more LinkedIn traffic to your blog by broadcasting your content on the top B2B social network.
1. Run a Giveaway Contest
One of the best and easiest ways to promote a blog on LinkedIn is to run a giveaway contest. Giveaways are popular with many different audiences, but they're also a great way to generate excitement and drive traffic to your website.
Most people love having the chance to win a prize, and with effective giveaway promotion tactics, you can make your giveaway go viral online.
With a viral giveaway contest on LinkedIn, you can:
Promote your LinkedIn company page
Drive traffic from LinkedIn to your website
Promote your blog posts
And more.
The easiest way to promote your blog on LinkedIn with a giveaway is to run the giveaway on your business blog. You can promote the giveaway on LinkedIn, forcing users to visit your blog to enter.
And if your blog uses WordPress, RafflePress has everything you need to create a successful online giveaway.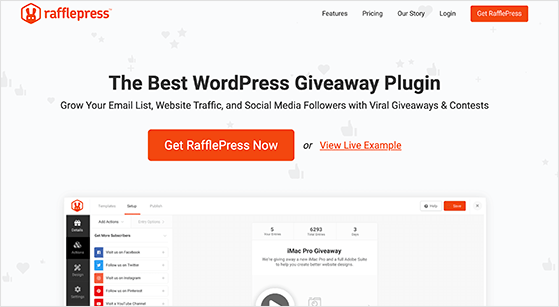 RafflePress is the best WordPress giveaway plugin on the market. It makes it easy for anyone to run giveaways from their website, even if you have no technical knowledge or design skills.
Creating your giveaway is super-easy with its pre-made giveaway templates and drag-and-drop builder. You can build your contest visually and see the changes in real-time without getting help from an expert.
Plus, RafflePress also has powerful giveaway entry options to promote your blog on LinkedIn fast, such as:
Follow us on LinkedIn
Share on LinkedIn
Refer a friend
Leave a blog comment
Write a blog post
Visit a page
Subscribe to RSS feed
Join an email newsletter
And more.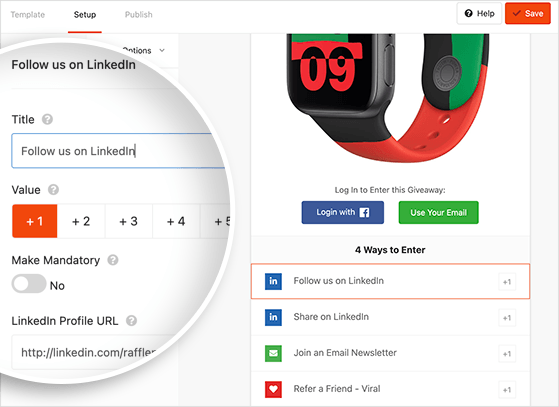 All people need to do is click the action on your giveaway widget and perform the task to enter.
Additionally, publishing your giveaway on your site is just as easy. You can embed the giveaway widget in a WordPress post or page.
Or you can create a standalone giveaway landing page free of any distractions. You can share your giveaway on LinkedIn and anywhere else online with this option.
For help with setting up your giveaway, follow this guide to run a LinkedIn Competition with RafflePress.
2. Optimize Your LinkedIn Profile
Ensuring your LinkedIn profile is complete and optimized can help potential blog readers find it in search engines like Google.
With that in mind, you should add words to your profile that people may use to search for your blog. Similarly, include these words and phrases in your tagline, about section, and any other personal profile areas.
In addition, add your blog URL to your LinkedIn page or profile so people can visit your blog directly.
A complete LinkedIn Page should also include a logo and banner image. Otherwise, potential blog visitors may move on quickly if they see a generic or unfinished profile.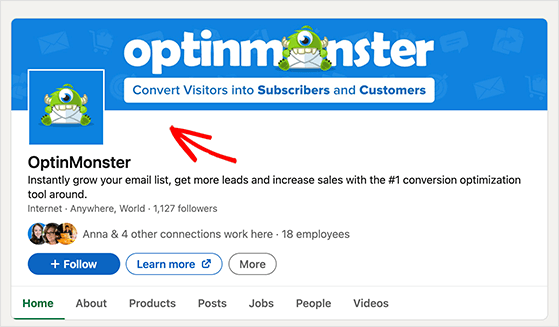 The logo next to your name should be around 300 x 300 pixels. And the recommended size for your LinkedIn banner image is 1536 x 768 pixels.
After optimizing your LinkedIn profile, it will be much more inviting for visitors, making it more likely they'll check out your blog.
3. Increase Your LinkedIn Network
Another fundamental step in promoting a blog on LinkedIn involves building a dynamic LinkedIn network. Building your connections makes it easier for your audience to discover your blog posts and share them with their circle of influence.
You can start growing your LinkedIn followers by searching for people you already know. For example, you can connect with people that you:
Work with
Went to school with
Worked with in the past
Met at events or conferences
Have in your email contacts
Know from other social media networks
The more connections you have on LinkedIn, the more likely it is that people will see your status updates linking to your latest blog posts.
4. Post Frequent Updates
If you're serious about driving targeted traffic to your blog from LinkedIn, you need to ensure you post frequent updates on the platform.
Ideally, you should post updates on LinkedIn several times per week. This helps your followers recognize your face, logo, and blog name, increasing their trust in your brand.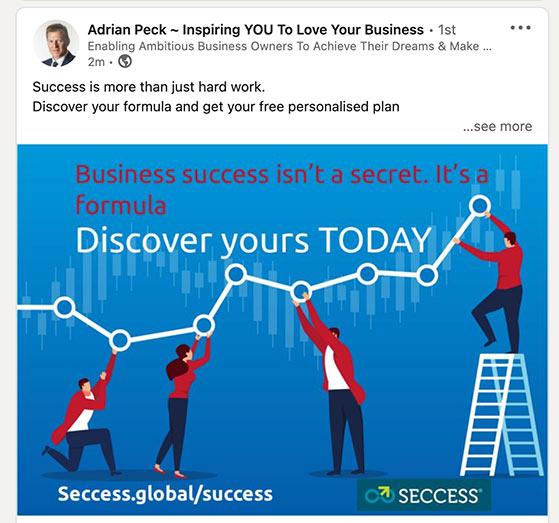 The more your connections see you on LinkedIn and the more trust you build, the more likely they will click through to your blog. This exercise in trust-building can turn into potential customers, clients, or partners.
When sharing content on LinkedIn, don't make the mistake of spamming your network with blog posts. Keep your updates a healthy mix of links to recent articles and more general or personal updates and advice.
5. Add a Publication Section to Your LinkedIn Profile
Hidden under LinkedIn's Accomplishments section is an area explicitly for content promotion. That area is the Publications section, and you can use it to add blog posts directly to your profile.
Not only can you hyperlink the headline of your publication, but you can even include a call to action, prompting people to click through and read the post.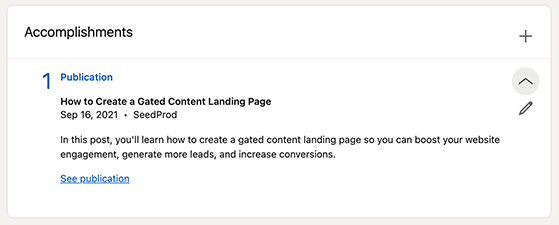 Use the publication section to add deep links to your blog. And to make them stand out on your profile, you can add images and videos too.
6. Include Blog Posts in Your Featured Section
Similarly, you can add links to the most important blog posts in your LinkedIn Featured section. This panel sits right below your about information, giving it prominent real-estate on your profile.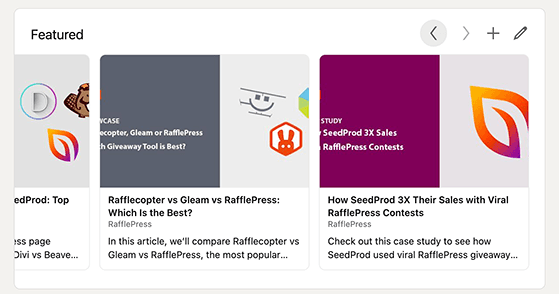 For instance, you can include a range of media in your featured section, including:
Posts – Content posted on LinkedIn
Articles – Articles published on LinkedIn
Links – Links to web content
Media – Upload photos, documents, and presentations
All of the above content types can relate to your blog. For example, past status updates about your blog, links to blog posts, and even articles you've republished on the platform.
Again, this approach makes your blog more visible on LinkedIn, improving your trust, authority, and the likelihood that your audience will visit your blog.
7. Join Relevant LinkedIn Groups
There are millions of groups on LinkedIn, with most LinkedIn users belonging to at least 1. And with groups on almost any topic, from content marketers to human resources, you'll likely find one to fit your niche.
You can discover LinkedIn groups by clicking the My Networks tab and selecting the Groups heading in the left-hand panel. You can type phrases related to your niche, and LinkedIn will show a list of relevant groups.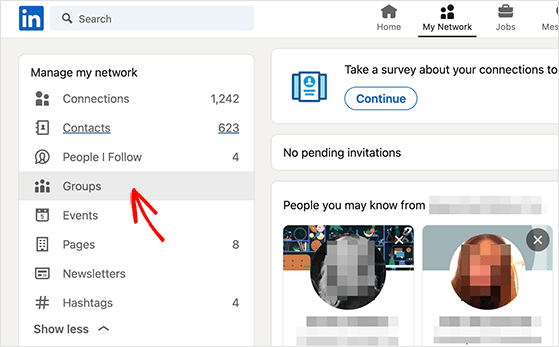 Once you find a LinkedIn group related to your blog and industry, you can start promoting your blog posts to group members. But before you start posting, make sure you check out the rules, guidelines, and posting requirements for the group.
8. Write Articles Directly on LinkedIn
LinkedIn Pulse used to be a separate LinkedIn feature that helped users reach their audience. However, in 2017, LinkedIn integrated Pulse into its main newsfeed.
LinkedIn Pulse is still a super effective way to reach a massive audience. Writing and publishing articles directly on LinkedIn can drive more traffic and attention to your blog than publishing on your website.
You can include all of the usual media, such as links, images, and videos, in LinkedIn articles. As a result, it's easy to link back to your blog so users can find your other blog content.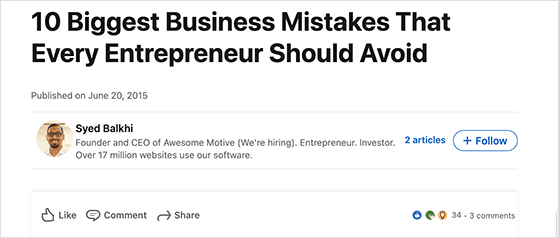 Here are a few tips for publishing articles on LinkedIn:
Use images regularly to break up your text and add interest
Include multiple headlines for skim readers
Write long content as this performs much better than shorter updates
Include at least 1 link to your blog to drive traffic
9. Share Posts With Contacts Individually
Since LinkedIn is primarily a social media network, it's easy to contact your connections individually through its messaging service. And by getting in touch that way, you can send links to blog posts they'll find interesting.
For example, if you're running a giveaway on your blog, you can send your network a message to spread the word and attract more entries.
But like any other message, you should make your message personal to each contact. Use the contact's name and give them a reason to feel special by clicking through to your website.
10. Tag LinkedIn Users in Your Updates
Like any other social media network, there are plenty of active influencers on LinkedIn. If you include any influencers in a post you're sharing, tag them in your updates.
By tagging those people in your posts, you increase the chances of their audience seeing your update. This is especially true if that influencer shares your post with their followers.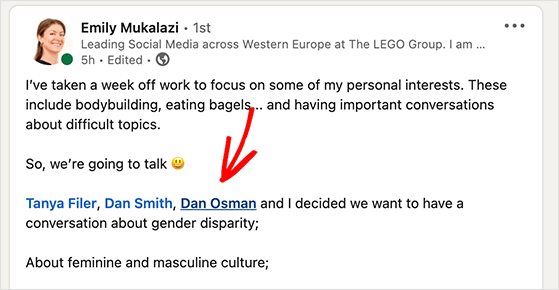 But don't make the mistake of overdoing that tactic because tagging people too often can look spammy.
11. Add a LinkedIn Share Button to Your Blog
Lastly, you should include a LinkedIn share button on your blog.
Share buttons allow blog visitors to share your content on LinkedIn easily. This increases the chance that people will see your content and click through to your blog to read it.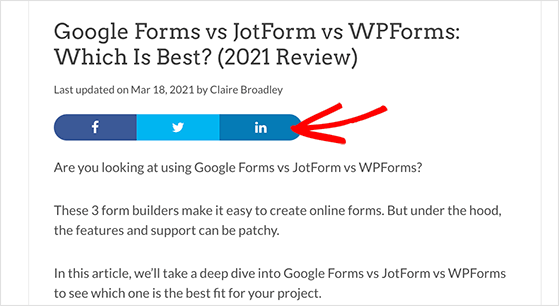 In the end, this LinkedIn blog promotion tactic can net tons of new blog followers.
If you need help, you can check out this helpful guide to learn how to add social share buttons to WordPress.
Frequently Asked Questions (FAQs)
Can you put blogs on LinkedIn?
Yes. You can put blogs on LinkedIn by sharing the blog post URL.
How do I post a blog on LinkedIn?
To post a blog on LinkedIn, you first need to copy the URL of your blog post. Next, create a new update on LinkedIn and paste your blog post URL. You can then publish the update to appear in LinkedIn's news feed.
How do I track the results of my LinkedIn promotion efforts?
You can track the results of your LinkedIn promotion efforts by using Google Analytics or another analytics tool. You can track metrics such as traffic to your blog, leads generated, and engagement with your articles.
There you have it!
We hope this article helped you learn how to promote a blog on LinkedIn. With a bit of work, you can expand the reach of your blog to more relevant people, drive traffic to your website, and grow your business.
Check out these referral marketing ideas to drive even more traffic to your blog.
Don't forget to follow us on YouTube, Twitter, and Facebook for more great tips and tutorials.