Are you looking for easy ways to promote your small business?
Creating a refer-a-friend promotion is one of the best ways to attract new customers and encourage word-of-mouth marketing.
In this article, we share several refer-a-friend promotion ideas you can use to grow your customer base.
But before we start…
What Is a Refer a Friend Promotion?
A refer-a-friend promotion, sometimes known as a referral marketing program, is a reward system used to get people to talk about your business and recommend it to their friends and family.
It's similar to traditional word-of-mouth marketing, yet referral programs are more effective. That's because the customers making the referrals get something in return.
The rewards people gain from referring others are known as referral incentives. They can be anything like free cash, discounts, or even free products or services.
Refer a friend promotions work so well because your existing customers will keep returning for referral rewards while attracting new customers to your business. This creates a way to generate long-term revenue.
Additionally, when users are referred by a friend, they're 4x more likely to make a purchase.
Bottom line: Customer referral programs are excellent marketing strategies for:
Brand awareness
Customer acquisition
Customer retention
Revenue growth
Now that you know the benefits of creating a referral program, you'll need ideas to help you start spreading the word.
Luckily, we've put together the best refer-a-friend promotion ideas you can try today.
Best Refer a Friend Promotion Ideas
Below you'll find several refer-a-friend promotion ideas you can offer customers. And remember, one size doesn't fit all, so experiment to see which is the best fit for your business.
Let's dive in!
1. Create a Referral Contest
One of the most popular refer-a-friend promotion ideas are referral contests.
Referral contests work by setting up a contest widget on your website for people to enter. The widget offers several ways users can enter and rewards them with entries for completing simple tasks.
Often, the more tasks that people complete, the more contest entries they earn.
For example, clothing retailer Huckberry's ran a referral contest that gave the top referrer $1,000 to spend in their store.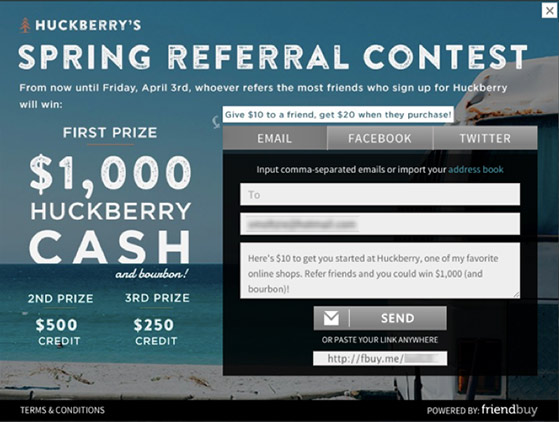 Contests like this typically focus on ways to get more people to enter the contest. For instance, you can award an entry for sharing on Facebook, a second entry for sharing on Twitter, and a third entry for sharing via email.
You can also drive brand loyalty and engagement by offering bonus entries for tasks like joining your email list, uploading a photo, and more.
When it comes to creating a refer-a-friend contest, there are several giveaway tools that can help. WordPress users will find that the most beginner-friendly solution is RafflePress.
RafflePress is the best WordPress giveaway plugin on the market. With its drag and drop giveaway builder, it's super easy to make any type of online contest and host it on your WordPress site.
It has a dedicated refer a friend giveaway template with many contest tasks built right into the widget, including the viral refer a friend task.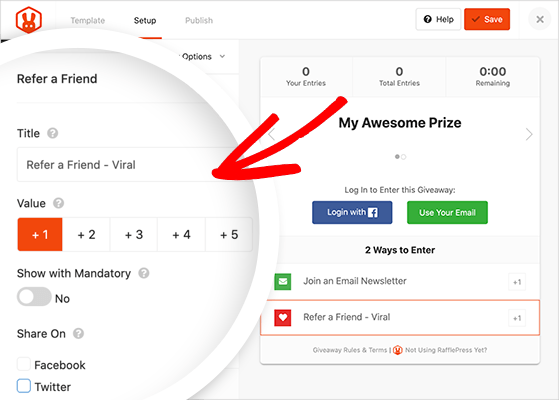 This task gives you the power to choose which platforms you'd like people to share your contest to, including:
Facebook
Twitter
Pinterest
LinkedIn
Email
You can also add tons of other giveaway tasks, like writing a blog post, leaving a comment, submitting an image, following on social media, and more.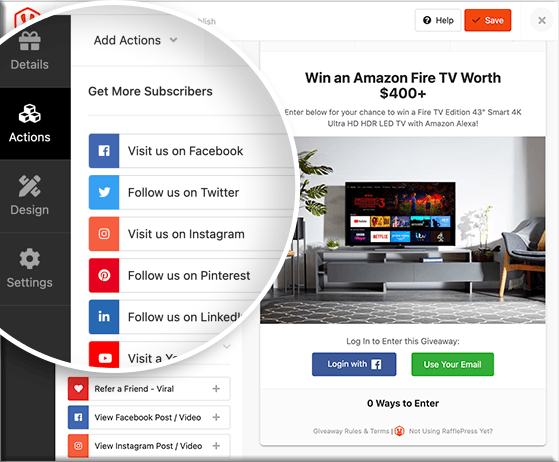 Publishing your contest is just as easy. You can embed your widget in any post or page, or you can instantly create a distraction-free giveaway landing page to drive more entries.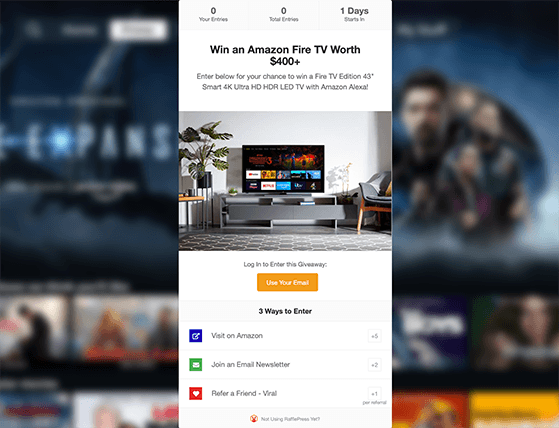 The result is a viral contest with the power to skyrocket your referral marketing efforts.
Get Started with RafflePress today!
Refer a Friend Wording
Need some inspiration on how to present your refer a friend giveaway? Here are some catchy slogans and refer a friend wording examples that may help:

Refer and you shall receive
Do it for your friends
Share the love
You know you love us, your friends will too
Help us, help you
Reward your friends
They win, you win
2. Try Social Gifting
Social gifting is another excellent referral marketing idea, but it doesn't offer the referrer an award. Instead, the reward goes to the friend they successfully refer.
Many subscription box brands use this method by giving customers a code for friends to claim a free box. The friend gets the free box, and the referrer has the satisfaction of sending a gift.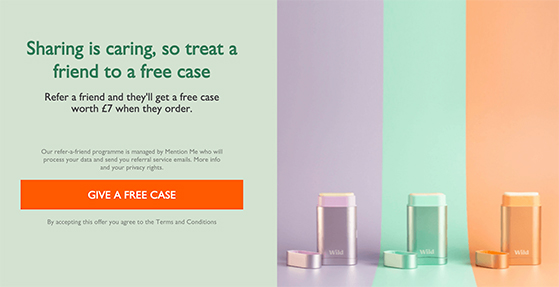 More importantly, the brand gets the opportunity to convert that friend into a paying customer. So this is an excellent idea if you're confident people will buy your product once they're aware of it.
3. Offer Free Cash
Another way to encourage customers to refer a friend to your brand is to offer free cash rewards. For instance, Pavlus Travel offers customers up to $500 for each successful referral who books with them.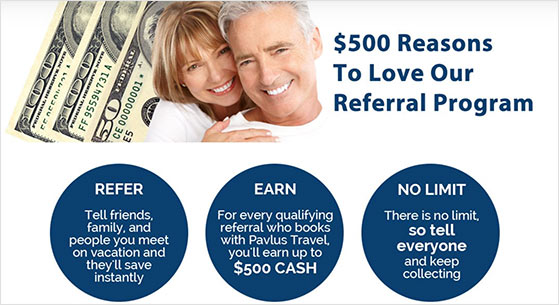 While this idea may work for brands that offer high-value goods and services, it's worth thinking it through. This type of referral program offers cold, hard cash, so it can be costly if you continue long term.
Instead, you can pick a customer goal, and when you reach that goal, you can pause the program and start it again in the future.
4. Reward with a Charity Donation
If your audience is more motivated by good deeds, you can run a refer-a-friend promotion that rewards people with a charity donation. Chances are, if you donate to a worthy cause on their behalf, they'll be more likely to refer their friends.
If you choose this solution, the charity you pick must align with your business and customer interests. For instance, through sales of its Bee Lovely collection, Neal's Yard Remedies donates money to help save Britain's bees. This clearly demonstrates the link between the brand, its values, and its audience.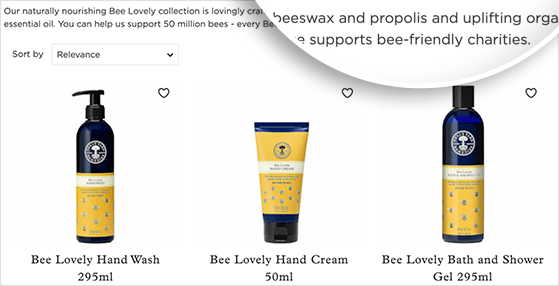 5. Offer Free Products or Services
People love getting something for free. So why not offer customers a free product, service, or subscription for every friend they refer.
This idea works for almost any business size, but the key is choosing your freebies carefully. Pick rewards that you know your audience will love and which won't cost much to offer.
A great example is this one from ExpressVPN. For each friend their customers refer, they can earn 30 free days for both themselves and their friends. That's a whole free month for each friend.

6. Or Reward with Upgraded Products
If you prefer, you can always give customers a better version of something they already have instead of something new.
For instance, you could upgrade their subscription to a better plan for a certain number of referrals. You could even send a free belt to go with the jeans they just bought.
One of the best examples of this is Dropbox. Their referral program offers customers an extra 500GB of space for every referral up to 16GB.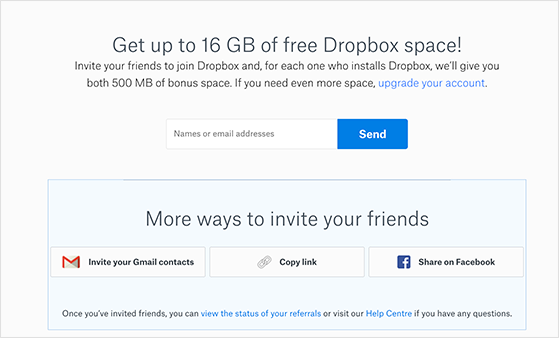 7. Try a Mystery Gift
You should typically be specific about the rewards you offer in your referral program. Customers want to know exactly what they'll get for their time and effort.
Depending on your brand and audience, you can add some mystery into the mix.
The Gym Box physical fitness center did just this. They awarded customers with a free 1-month membership and successful referrals with a free mystery gift.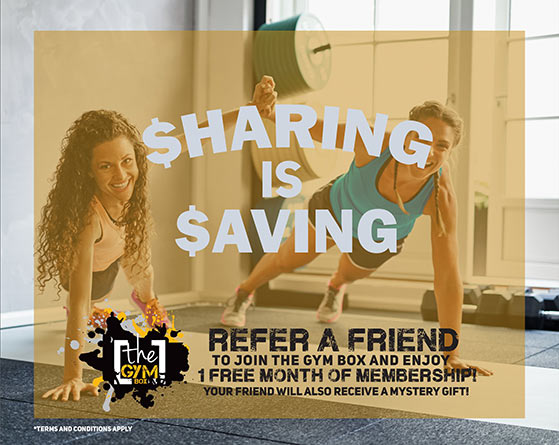 The great thing about this type of promotion is you don't have to buy anything special. You can offer anything you already have (that you know your customers will love) and are willing to give away.
8. Offer Free Store Credit
Another of the most popular refer-a-friend promotion ideas is to reward customers with store credit for each successful referral.
There are several reasons why this is an excellent incentive for your customers:
Protects Your Margins. It won't cost you $25 to give someone $25 credit. Instead, you only pay the actual cost. For instance, if someone uses their $25 credit to buy a new bag, you only lose the cost of the bag. In most cases, this is a lot less than your retail price.
People Buy More. Giving users credit for referrals encourages them to buy more from your company.
Drives Loyalty. When people use their credit to buy more from your brand, it creates brand loyalty and improves trust in your business, making future sales even easier.
9. Reward with Discounts on Future Purchases
Just like store credit, offering users discounts on future purchases is an excellent way to ensure those people keep coming back to your business. If they know they can save money in the future by referring friends, they'll refer as many people as possible to save as much money as they can.
Why not combine this referral offer with a giveaway to make things easier to track? Just create a refer a friend contest on your WordPress site with RafflePress, and include giveaway tasks to:
Sign up for your email newsletter
Refer a friend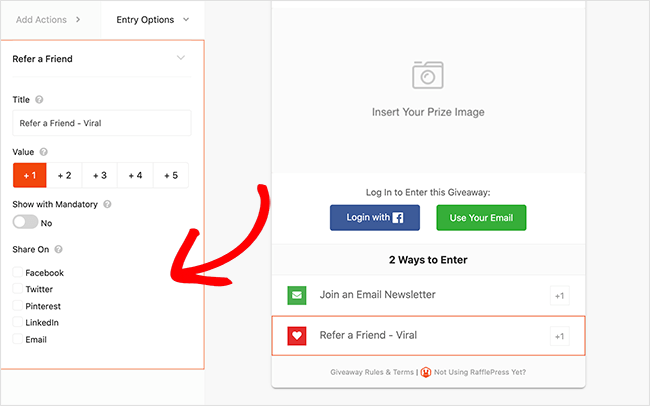 And any other tasks relevant to your brand, like following your social media profiles.
Once people successfully sign up for your email newsletter, you can send them to a thank you page to claim their discount.
And if you think that creating a thank you page is difficult, we have a great solution to make it as easy as possible. Just use SeedProd's drag-and-drop WordPress landing page builder.
SeedProd makes building any landing page in WordPress insanely easy. You can start by choosing a design from its huge library of landing page templates, then customize it in the truly visual editor.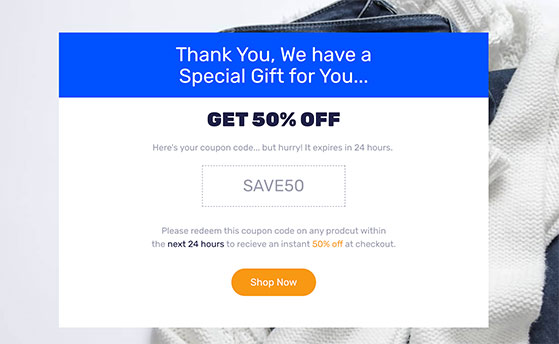 They even have a step-by-step guide on how to make a thank you page in WordPress.
10. Gamify Your Referral Program
Another way to make your refer-a-friend program more exciting is to turn it into a game. This is called a gamified referral program, and it works by dividing your rewards into tiers.
The more people customers refer, the higher they'll climb in the reward tier. And as they get closer to the top, the rewards get bigger, encouraging them to do more for your business, increasing your reach.
The only downside to this type of program is you can quickly run out of reward ideas. So it's best to use this solution for short-term goals rather than as a long-term marketing strategy.
For more game ideas, you can see these best WordPress gamification plugins.
11. Provide Exclusive Memberships
If you're looking for another effective referral promotion idea, you can always give your program members something other customers don't have. For instance, why not offer successful referrers an exclusive VIP membership?
It doesn't have to be anything fancy or elaborate. It could be something as simple as access to exclusive members-only content.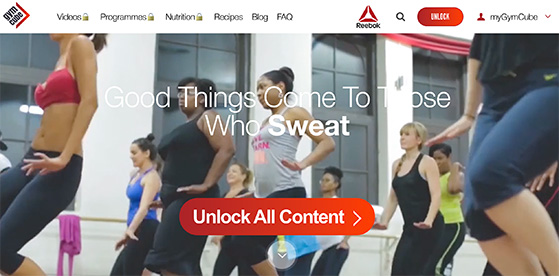 Then, when customers have successfully referred other people, you can grant them access to that area of your website. If you're not sure how to make a members-only area, check out this detailed guide on creating a membership site in WordPress.
Bonus: Offer Regular Giveaways to Referral Program Members
To up the excitement and keep customers motivated to refer more friends, why not run a regular members-only giveaway.
You can do this easily with RafflePress. Just publish your giveaway widget in a members-only area of your website.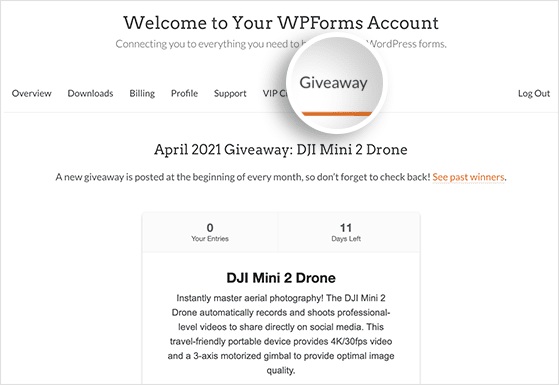 Check out how WPForms got 11K+ Facebook Group members with monthly member giveaways using RafflePress.
And there you have it!
We hope this article helped you find some great refer a friend promotion ideas to not only attract new customers but also keep your existing customers loyal to your brand.
While you're here, you might also like these 20 simple contest ideas proven to promote your business.
Thanks for reading, and don't forget to follow us on YouTube, Twitter, and Facebook for more great tips and tutorials.