Are you looking for an unbiased ShortStack review?
Contests are an excellent way to engage with your audience and create buzz around your brand. However, designing a visually appealing and engaging contest can be daunting, especially if you don't have design skills.
That's where contest design software like ShortStack comes in. It's software that claims to make it easy for anyone to create contests, giveaways, and landing pages, but is it really the best sweepstakes software out there?
In this ShortStack review, we'll take an in-depth look at the software's features, pricing, and user experience to help you decide if it's the right tool for your small business needs.
What Is ShortStack?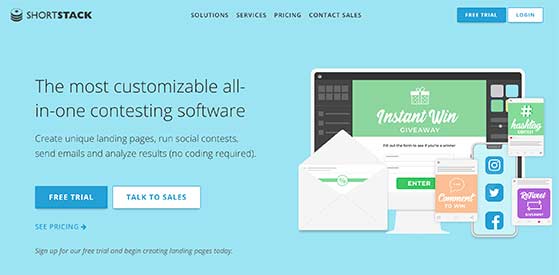 ShortStack is a cloud-based contest design and marketing platform that allows you to create and manage interactive campaigns, such as contests, giveaways, quizzes, and landing pages. You can easily design and launch campaigns without coding skills, using a drag-and-drop interface and a library of customizable templates.
The platform offers a range of features, including social media integrations, analytics, and marketing automation. They can help you maximize the impact of your campaigns and drive engagement and conversions.
Additionally, ShortStack is suitable for businesses of all sizes and industries, from small startups to large enterprises.
ShortStack Review: Key Features
ShortStack has various features to help you create engaging and effective campaigns. With that in mind, here are some of its key features and what they can do:
Drag-and-Drop Builder: The drag-and-drop builder makes it easy to create custom landing pages, forms, and widgets without coding. You can choose from a library of customizable templates or start from scratch.
Custom Forms: Create custom forms, such as entry forms for contests, surveys, and quizzes. For example, you can add various form fields, including text fields, dropdown menus, and checkboxes, to collect the data you need from your audience.
Social Media Integrations: It supports integrations with major social media platforms like Facebook, Instagram, Twitter, and Pinterest. You can run contests and campaigns on these platforms to increase engagement and reach.
Analytics and Insights: Access detailed analytics and insights to help you track the performance of your campaigns, including clicks and conversions.
Marketing Automation: Easily set up automated email and social media campaigns based on user behavior, such as form submissions or contest entries.
Collaboration Tools: Collaborate with team members and clients on campaigns by sharing access and feedback through the platform.
Overall, you can use ShortStack to create engaging and effective contests and marketing campaigns that boost your lead-generation efforts.
How to Use ShortStack
ShortStack has a reputation for its ease of use and extensive functionality. However, it's hard to judge this without trying the software ourselves. With that in mind, we signed up for a ShortStack account to see how it works from the perspective of a new user.
To sign up for ShortStack, you'll need to go to their website and choose a pricing plan. From there, you can choose from various pricing options or use their free trial, which limits you to 20 giveaway entries.
After signing up, you'll see your account dashboard. This is where you can build your digital marketing campaigns, manage leads, and analyze your results.
Clicking the Campaign button lets you choose from various campaign templates. We'll go into each of these in more detail below, giving you a better idea of how to use them.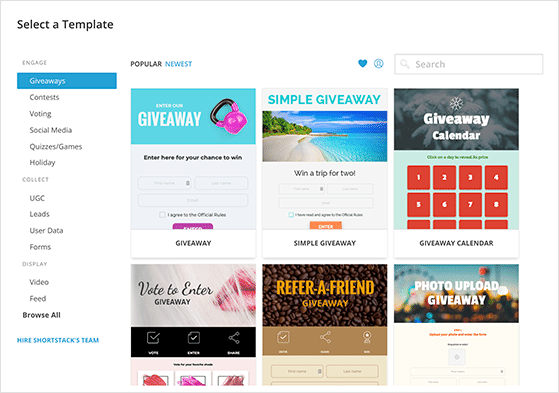 Running Online Contests and Giveaways
You can run various types of contests with ShortStack by choosing a relevant template from the library, including:
Sweepstakes/Giveaways: This type of contest involves randomly selecting winners from a pool of entries.
Contests: In this type of contest, winners are selected based on criteria such as creativity or performance.
Voting: A voting contest allows users to vote for their favorite entries.
Social Media: ShortStack offers contests that you can run on platforms such as Facebook, Instagram, Twitter, and Pinterest.
Quizzes/Games: This type of contest involves quizzes or games that users can participate in.
Pop-ups: ShortStack also allows users to create pop-up contests to engage with their audience.
Holiday: You can design campaigns to celebrate or promote a specific holiday or event.
UGC: This type of template lets you run photo contests to collect user-generated content from entrants.
Video: You can run video contests by asking users to upload video content.
Additionally, you can create hashtag feeds to collect more UGC and instant win contests to collect contact information.
Customizing Contest Landing Pages
After choosing a template, you'll head to ShortStack's drag-and-drop builder. This is where you can customize your contest landing page and tailor the design to fit your business needs.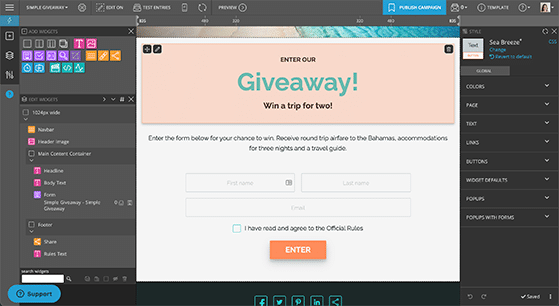 You'll see a preview of your page on the left and different widgets and modules on the right. Clicking anywhere on the preview will highlight the corresponding widget where you can edit its content and styling options.
Shortstack also offers a mobile page version that you can preview by clicking on the mobile icon at the top of the editor.
Publishing An Online Contest
When it comes to publishing your giveaway, ShortStack has 2 options. You can either embed the contest widget on your website or launch it on a giveaway landing page.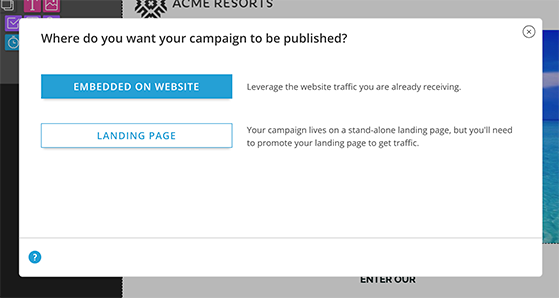 Embedding a campaign on your website requires copying and pasting the embed code.
Yet, choosing the Landing Page option will publish your giveaway on a page hosted by the ShortStack platform.
The landing page option makes it easier to share your campaign online and reduces distractions. However, this option doesn't utilize your website's existing traffic.
Contest Management
ShortStack offers various ways to manage and administer your contest marketing campaigns. In the Entries section, you can choose which entries to display while running contests, such as specific photo entries, hashtags, and more.
You can also pick giveaway winners from a list of verified entries. With the winner selection tool, you can choose a random winner or pick an instant winner yourself.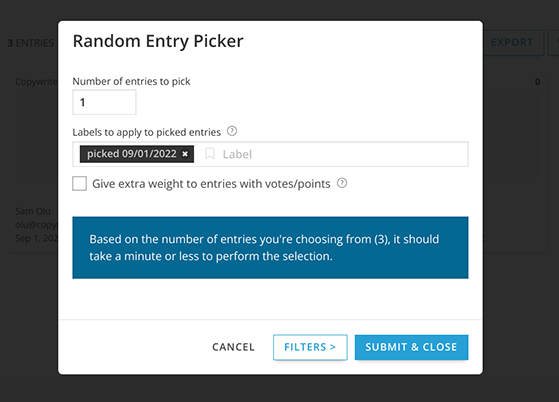 Additionally, ShortStack lets you set the rules and regulations for your contest. For instance, you can include eligibility requirements, submission guidelines, and judging criteria to ensure your campaign is fair and meets legal guidelines.
Email Marketing & Integrations
ShortStack's email marketing settings can help you create effective email campaigns. One key feature of these settings is the ability to create autoresponder emails you can send to users after taking action, such as entering a contest or completing a form.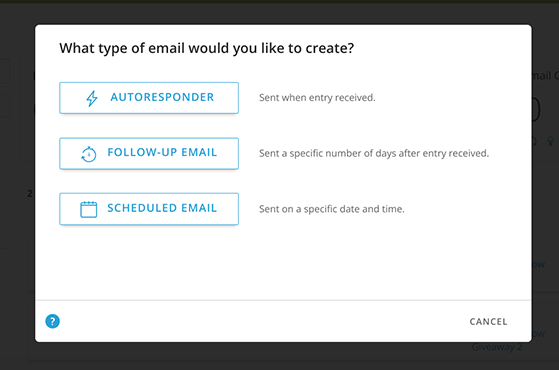 You can customize these emails to include your branding, messaging, and contest information. They're an effective way to engage participants and keep them informed about your contest.
ShortStack's email marketing settings also let you create and manage subscriber lists by building them from scratch or importing them from other platforms such as Mailchimp and Constant Contact. Plus, you can use your lists to send newsletters, follow-up emails, and other marketing campaigns.
Analyzing Your Campaign Results
ShortStack's analytics dashboard provides an overview of key metrics, such as page views, unique visitors, and conversions. With this data, you can see how your campaigns perform and identify areas needing improvement.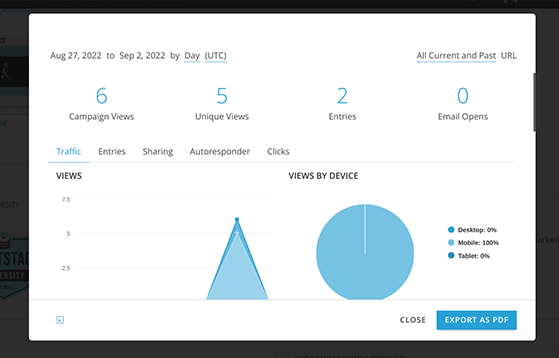 You can also see detailed information about participants, such as their geographic location, age, and gender. By analyzing this data, you can gain valuable insights into your target audience and adjust their messaging accordingly.
Moreover, you can integrate ShortStack with Facebook Meta Pixel and Google Analytics if you need even more metrics.
Collaborating with Team Members
With ShortStack's team collaboration features, you can add team members and assign them different permissions, such as the ability to edit campaigns and approve entries.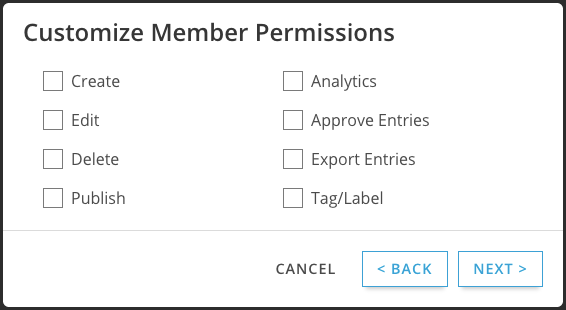 Additionally, you can add clients to get their input and view the analytics of their campaigns.
ShortStack Review: Pricing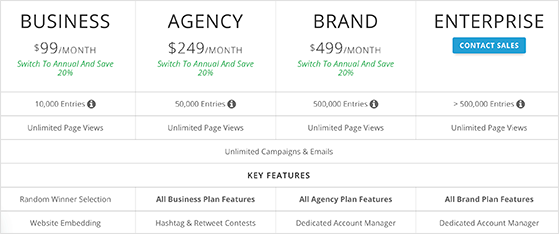 There are several pricing options for ShortStack to suit the needs and budgets of different users:
Free Trial: provides basic features and limited entries for your campaigns.
Business: costs $99 per month and includes more features, such as advanced analytics, custom branding, and 50,000 entries.
Agency: costs $199 per month and provides additional features such as custom integrations, dedicated support, and 150,000 entries.
You can generally save up to 20% by choosing ShortStack's annual plans.
If you have a larger business or more complex needs, ShortStack also offers custom plans. These plans provide tailored solutions with advanced features, custom integrations, and dedicated support.
The pricing for custom plans depends on your specific needs and requires you to contact ShortStack for a quote.
ShortStack Pros and Cons
This contest design software offers several benefits as well as a few potential drawbacks. Here are some of the main pros and cons of using ShortStack:
Pros:
ShortStack is a versatile platform that offers a wide range of tools for creating and managing contests, giveaways, and other campaigns.
The drag-and-drop interface offers a variety of customization options to make your campaigns stand out and match your brand.
Provides robust analytics and an account manager to help you measure the success of your campaigns and make data-driven decisions.
Collaboration features allow you to work with team members and clients more efficiently.
Provides good customer support, including live chat sales teams, email support, and a detailed knowledge base.
Cons:
The pricing plans can be expensive for those with limited budgets.
Some users may find the drag-and-drop interface harder to use than other easier alternatives.
Some features are hidden and hard to find.
ShortStack doesn't include a native WordPress plugin integration, which makes it harder to use with WordPress websites.
The free version limits campaigns to only 20 giveaway entries.
None of ShortStack's plans offer unlimited entries.
After reading this ShortStack review, let's see what the verdict is. Is it really the best SaaS for running online contests?
Is ShortStack the Best for Online Contests?
While ShortStack is a robust platform with some excellent contest creation and marketing features, there are better, easier-to-use alternatives.
For one, ShortStack's interface isn't as user-friendly as other contest tools, and it lacks integrations with popular website platforms like WordPress. Moreover, the pricing plans don't offer the best value for money.
ShortStack Alternative: RafflePress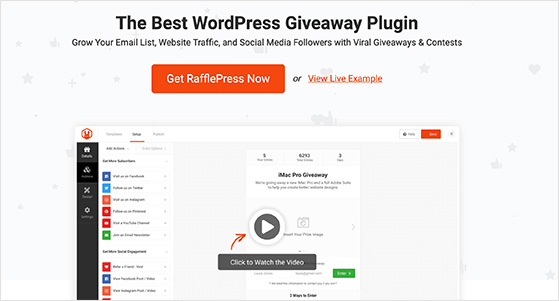 Consider RafflePress, a popular ShortStack alternative, for example. It's the most popular giveaway plugin for WordPress, with a drag-and-drop builder that's truly beginner-friendly.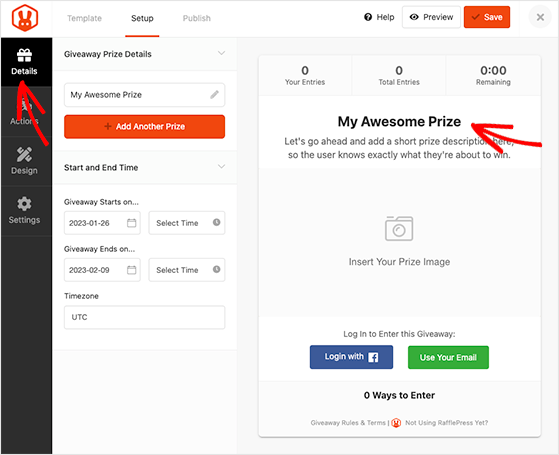 The interface is clean, simple, and clearly labeled, allowing you to find what you need in a few clicks. Like ShortStack, it has giveaway templates for specific contest goals and numerous ways for users to enter, including:
Social media follow
Email newsletter sign-up
Social sharing
Blog commenting
Uploading photos
Podcast subscribe
And more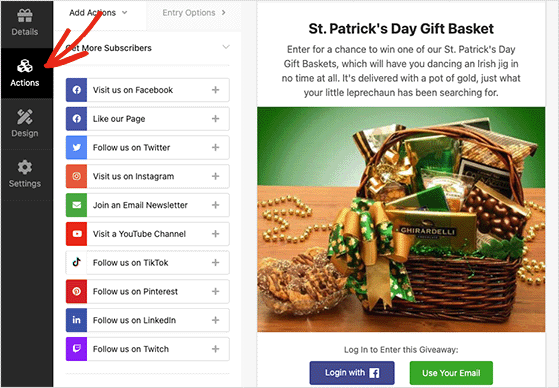 RafflePress also has a giveaway rules generator, a subscriber management dashboard, and the ability to generate winners randomly. But where it differs is its direct integration with WordPress.
Because RafflePress is a WordPress plugin, your giveaway runs on your website. You won't need to copy and paste code or install extra tools. Instead, your giveaway traffic will go right to your business site, allowing you to generate engagement and leads quickly.
You can publish your contest using the WordPress block editor, shortcodes or even instantly launch a giveaway landing page to share with your audience.
Even better, you can run unlimited giveaways with the free version of RafflePress without limiting your contest entries. From there, the premium plans start from as little as $39.50 per month.
So if you're looking for a cheaper and easier alternative to ShortStack for your WordPress site, RafflePress is a no-brainer.
Get started with RafflePress today.
There you have it!
We hope this ShortStack review has helped you decide if it's the best contest software for your business.
If you're still unsure of which platform to use, you can see this side-by-side comparison of Wishpond vs Shortstack vs RafflePress. You might also like these proven contest prize ideas.
If you liked this article, please subscribe to our YouTube Channel for RafflePress video tutorials. You can also find us on Twitter and Facebook.