Want to know how to get followers on TikTok for free?
TikTok is one of the quickest-growing social platforms. With over 1.4 billion monthly active users and a young, global audience, it's an excellent place to market your brand to that demographic.
Yet, reaching your target audience relies on growing your following on the platform, so how do you get free followers on TikTok? We'll show you how in this article.
What Are the Benefits of Growing Your TikTok Followers?
As mentioned above, growing your TikTok followers can help make your brand popular in TikTok communities. With more followers, you have a greater chance of your content generating likes and comments and appearing in other TikTok users' FYP (For You Page).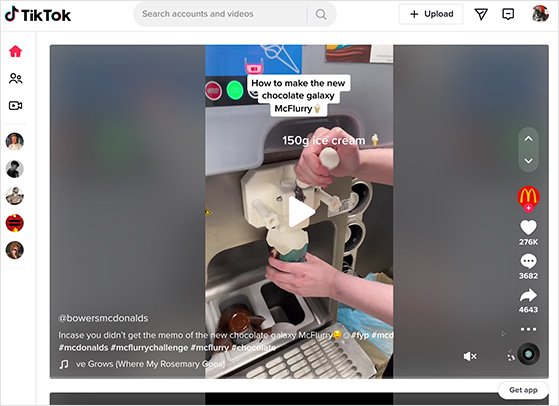 Like other social media platforms, getting more TikTok fans exposes your brand to your target audience and, in turn, can result in:
Brand awareness on other social platforms
Leads you can nurture through your sales funnel
Boost your TikTok marketing efforts
And, ultimately, more sales
More importantly, getting more TikTok followers doesn't have to break your budget.
How Do You Get Free TikTok Followers for Free?
How do you get free followers on TikTok? It's a question many marketers with small budgets ask. Why spend money when you can get TikTok followers for free?
It's an excellent question to ask, but where many brands stumble is by using TikTok services that claim to generate TikTok followers fast and for free. Try adding the following search terms to Google, and you'll see a host of so-called "high quality" services:
Free TikTok followers generator
Free TikTok likes app fast
TikTok followers free
Fast fans followers Tik Tok
These services typically come with hidden fees and, in some cases, ask for your TikTok login credentials, which can expose your account to scammers.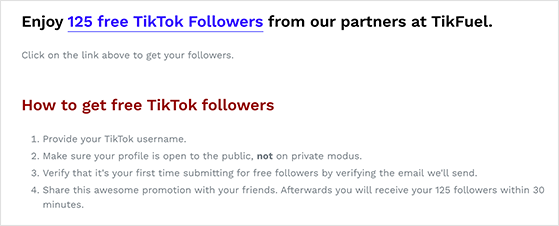 It isn't worth taking that risk, in our opinion.
Moreover, there are many other ways to grow your following. Follow the tips below, and we'll show you how to get followers on TikTok for free without jeopardizing your account.
1. Optimize Your TikTok Profile
Let's start with the basics.
First, you should ensure every part of your TikTok profile is complete. Your profile is the first place people will look on TikTok to learn more about your brand.
Here's an excellent example from OptinMonster's TikTok: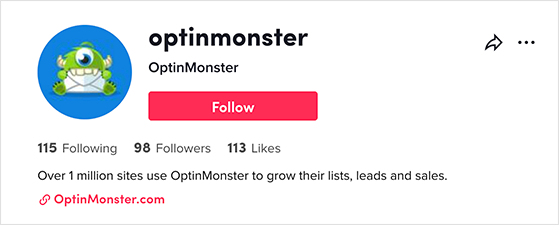 They include the following information on their TikTok profile:
Recognizable profile image
Short, engaging description
Clickable link to their website
If your TikTok profile is a personal account, you may not have the ability to add a link to your TikTok bio.
You can fix that by switching to a TikTok business account like this:
Go to your TikTok settings
Click 'Manage Account'
Click 'Switch to business account'
Click 'Switch'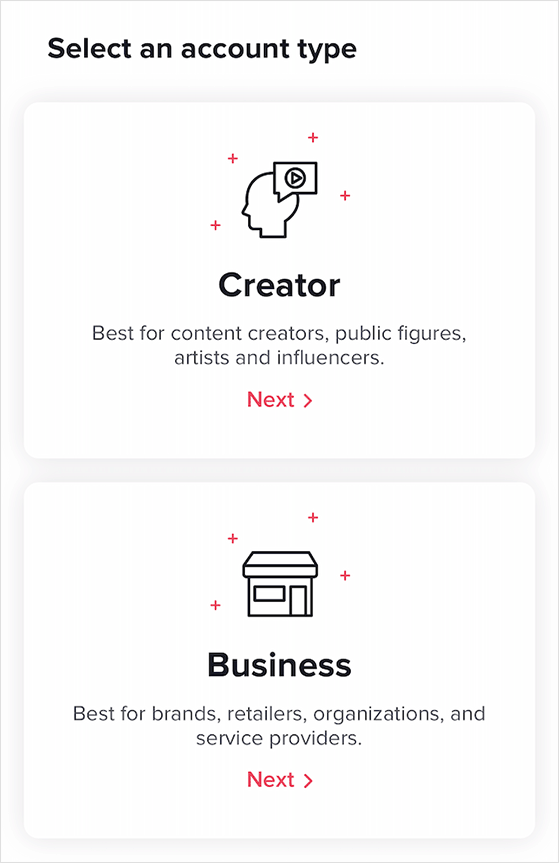 A half-finished bio looks unprofessional, and fans are more likely to follow you on TikTok if your profile page is complete.
2. Create Engaging Content for Your Target Audience
Another fundamental step in getting free TikTok followers involves creating content your target audience finds interesting and engaging. It starts by learning what content is popular in TikTok communities and among your ideal fans.
You can use your other social media platforms to ask your followers what kind of content they'd like to see on TikTok. Or you can look at similar brands on TikTok and see what content they post gets the most attention.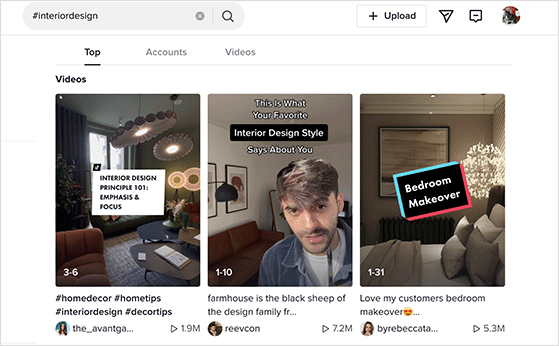 Some of the most popular TikTok videos are:
Song imitations
Dance videos
Re-enactments of dialogue
Animal videos
Questions and answers
DIY and art
Satisfying and calming content
Ensure you promote TikTok videos that are high-quality and include a call-to-action in your caption to leave a comment, like, or share your video on other platforms. Doing so will boost the reach of your videos, resulting in more potential followers.
3. Run Giveaways and Contests
Giveaways are also incredibly popular on TikTok. They're fun and engaging and give fans the chance to win a free prize.
E.L.F cosmetics, for example, ran a viral TikTok dance contest for the chance to win $250 of its products.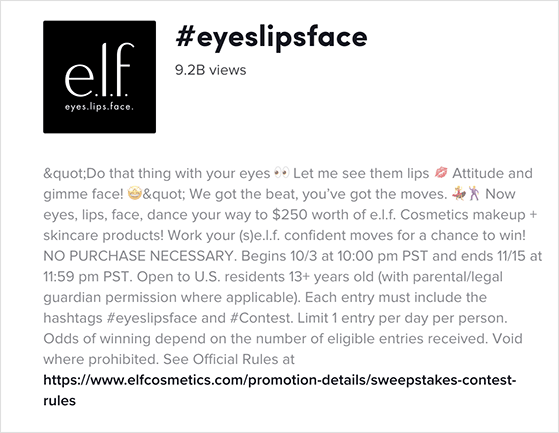 The campaign caught the interest of over 5 billion people, going viral and attracting tons of potential new customers.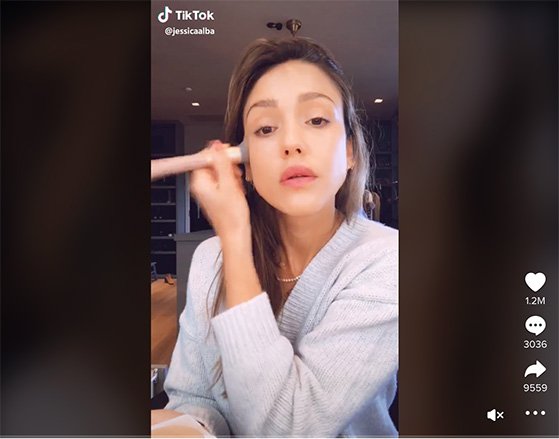 You don't need to be a popular brand like E.L.F to create viral TikTok contests. In fact, you can run TikTok giveaway contests quickly from your WordPress website, hassle-free.
Check out RafflePress, one of the best WordPress giveaway plugins.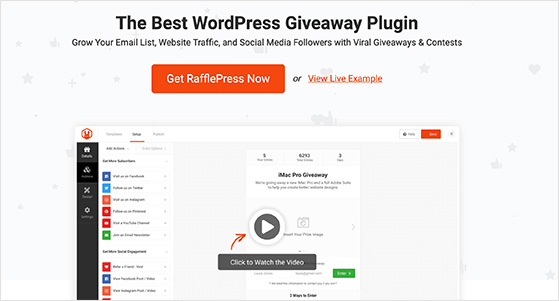 This plugin lets you run any contest from WordPress, even if you have no technical knowledge. You can even get RafflePress for free.
It includes a visual drag-and-drop giveaway builder, pre-made giveaway templates, and all the giveaway actions you need to make your contest a success.
For instance, the Follow us on TikTok giveaway action lets you require contestants to follow you on TikTok to qualify for an entry.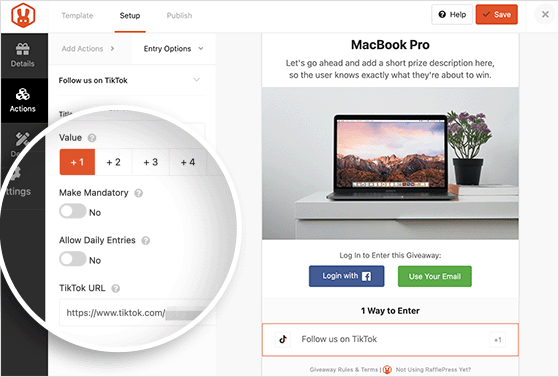 You can also use the View TikTok Post/Video action to increase TikTok engagement, which helps your content appear on the TikTok discover page.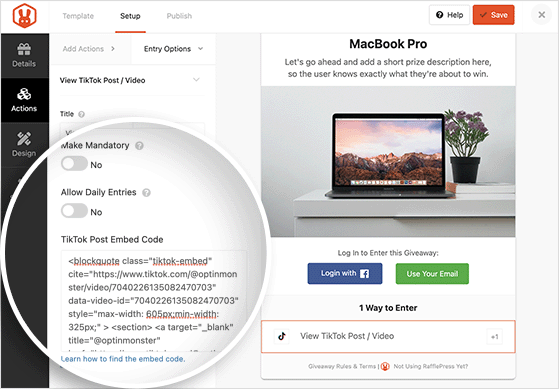 Why not use both to make your giveaway even more appealing? You can ask people to watch a video and then follow you to earn multiple giveaway entries.
There are many other ways to use RafflePress giveaways to meet your marketing goals.
For example, you can ask participants to:
Watch a TikTok video and refer-a-friend
View a TikTok post and leave a blog comment
Watch a TikTok promo and visit a product page
Watch a TikTok trailer and subscribe to your podcast
View a TikTok clip and follow you on Twitch
Follow this step-by-step guide on creating a TikTok giveaway for complete instructions. You can also find more TikTok WordPress plugins here.
4. Join TikTok Challenges
TikTok challenges are different from contests. Challenges are trends like the Toosie slide that inspire other TikTok users to participate for fun.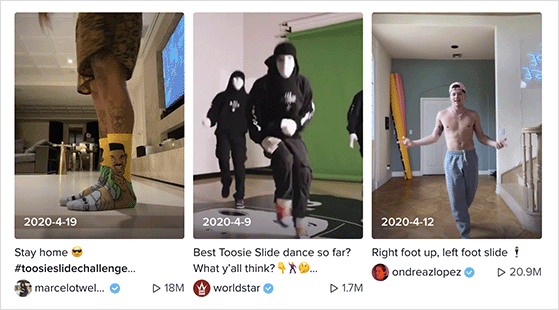 TikTok challenges are so popular that they often go viral across multiple social media channels.
Your brand can tap into that viral trend by posting challenge-related videos, including:
Participating in dance challenges
Challenge mash-ups
Creating new challenges
Challenging relevant brands
If even one of your videos goes viral, it can result in many more TikTok followers without spending a dime.
5. Use Relevant and Popular Hashtags
Hashtags are a must-have to get followers on TikTok for free. They're popular on almost all social media platforms because they make it easy to find content that users are interested in.
Using hashtags can help you grow your TikTok followers for free, especially if you use trending hashtags, branded hashtags, and industry-related hashtags. You can even run a hashtag contest to reach a broader audience.
Some of the top TikTok hashtags include:
#fyp
#tiktok
#foryoupage
#viral
#funny
#duet
#trending
#love
#memes
#cute
#comedy
#featureme
#repost
#savagechallenge
#tiktokchallenge
#new
#music
#recipe
#workout
#artist
Check out the Discover section to see which hashtags are currently trending in your part of the world.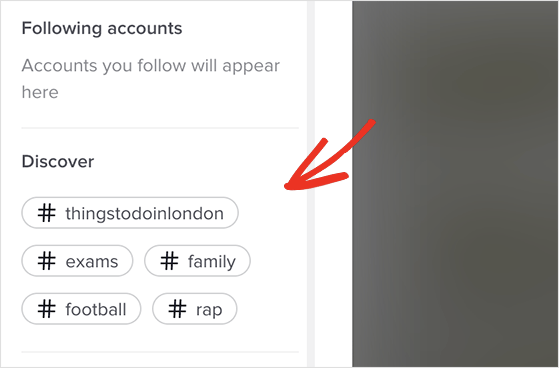 You can also look at this post to see the top giveaway hashtags.
6. Post When Your Audience Is Active
Another easy way to get free followers on TikTok is to ensure you're posting content at the correct times.
It's harder to reach your target audience if you're posting TikTok videos when they're not active on the platform. However, you can reach potential followers more easily if your videos are on the discover page when they're active.
The best time to post on TikTok will depend on the audience you're trying to reach. We recommend checking your TikTok analytics first to see when users engage most with your content.
Finding your TikTok analytics on mobile is easy:
Go to your TikTok profile
Tap the Settings and Privacy menu
Tap the Creator Tools heading
Tap Analytics
You can then start posting TikTok content when it's likely to get the most engagement and impressions.
Alternatively, you can use these TikTok posting times if your audience isn't large enough yet:
| Day | Best Times to Post on TikTok |
| --- | --- |
| Monday | 6 AM, 10 AM, 10 PM |
| Tuesday | 2 AM, 4 AM, 9 AM |
| Wednesday | 7 AM, 8 AM, 11 PM |
| Thursday | 9 AM, 12 AM, 7 PM |
| Friday | 5 AM, 1 PM, 3 PM |
| Saturday | 11 AM, 7 PM, 8 PM |
| Sunday | 7 AM, 8 AM, 4 PM |
7. Comment and Respond to TikTok Comments
Engagement is crucial for any social media platform. It gets users interested in your brand, excited about your products or services, and makes people feel valued.
You're missing the perfect opportunity to get more TikTok followers if you're not engaging with your community. By that, we mean commenting on relevant videos and replying to interactions on your videos.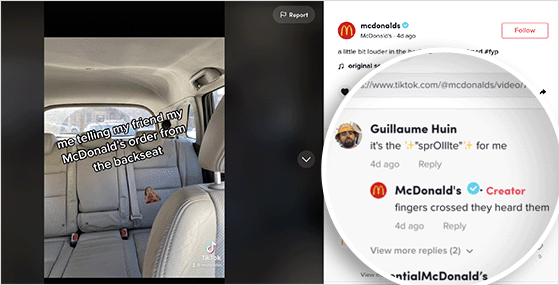 A simple comment can likely blossom into an exciting conversation attracting many new TikTok followers.
8. Post Your Videos on Other Social Media Platforms
What makes TikTok so successful is the ability to share videos across multiple social media platforms. Conversely, a solid digital marketing strategy should include cross-promotion on other channels like YouTube, Instagram, Facebook, and Twitter to reach the largest audience.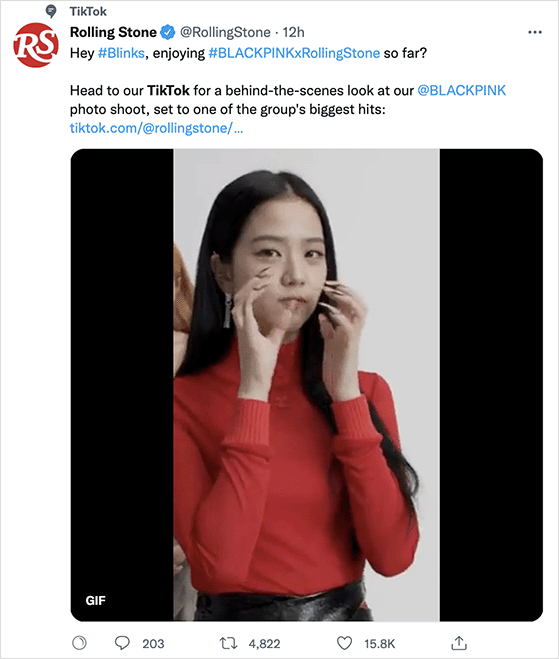 It's good practice to share your TikTok videos on any other platform where your target audience is active. For example, you can share your TikTok videos in:
YouTube shorts
Facebook reels
Twitter reposts
You can also edit your videos, removing the TikTok watermark and making them look native to that specific platform. Ensure you include a link to the original TikTok video, so potential followers know where to find you.
9. Promote TikTok on Your Website
TikTok and social media aren't the only places to find more TikTok followers. Your website is a goldmine of untapped potential if you have one.
As mentioned earlier, you can run viral TikTok giveaways directly from your WordPress site, helping you get free followers on TikTok.
You can also use other marketing tactics, including:
Adding TikTok profile icons to your website sidebar
Adding TikTok share buttons to your blog posts
Using exit popups to promote your TikTok account
Embedding TikTok content in posts and pages
Creating a landing page for TikTok

Users visiting your website may not know that you have a TikTok account. Pointing your profile out to visitors is an excellent way to turn them into TikTok followers for free.
10. Collaborate with TikTok Creators
Working with other TikTok creators can amplify your content and reach many potential followers. You can use the TikTok Creator Marketplace to find influencers, TikTok personalities, and creators relevant to your brand.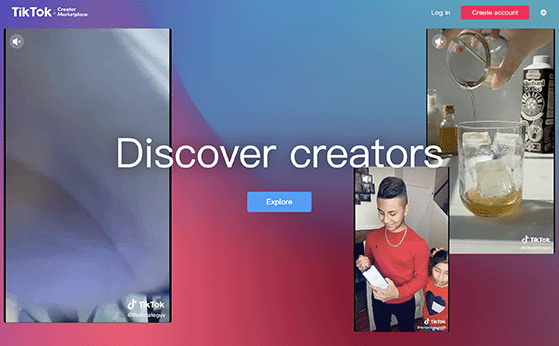 Make sure the creators you connect with have an audience similar to yours to ensure the content you make resonates with both communities. Otherwise, you may not see a significant increase in TikTok followers.
11. Use Trending Songs in Your Videos
TikTok videos have a habit of turning certain songs into earworms you can't get out of your head. If you look at the current top-charting songs, you'll see that many are also popular on TikTok.
TikTok is a massive asset to the music industry and works with record labels to promote certain songs through its app. Use one of those songs in your TikTok videos, and it'll have a greater chance of appearing on TikTok's FYP.
You can find trending songs on TikTok by following these steps:
Open your TikTok video editor
Press the + icon at the bottom of your screen
Tap "sounds"
Scroll through trending songs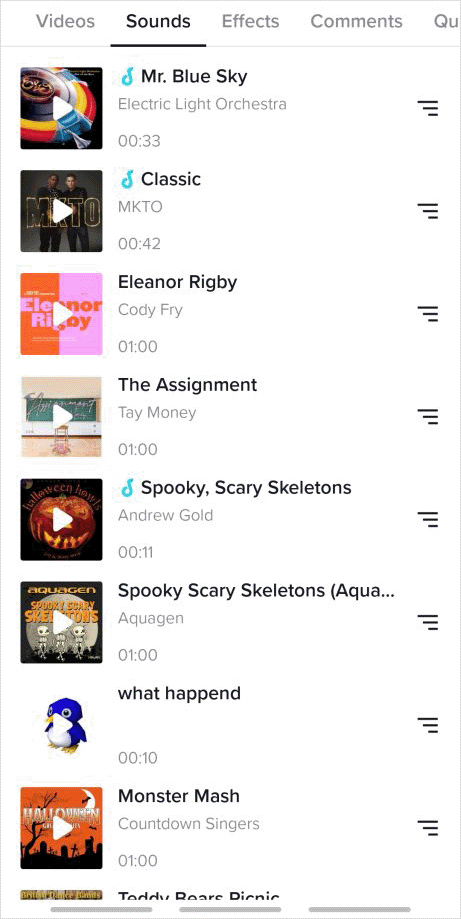 TikTok Pro users can also learn which songs their audience has listened to in the last 7 days. Go to your TikTok analytics tab, and in the "Followers" tab, scroll down to see what people are listening to.
Frequently Asked Questions (FAQs)
What is the TikTok algorithm?
TikTok's algorithm, also known as the "For You" algorithm, uses various factors to determine what content to show each user. These factors include the kind of content you've interacted with in the past, your location, and the details of the content itself (like the hashtags used).
Is it legal to buy TikTok followers?
Buying TikTok followers isn't illegal. However, it's against TikTo's terms of service and can result in your content being demoted or your account being banned. Many services that sell followers provide low-quality or fake followers who won't genuinely engage with your content. Additionally, these services can also risk your data privacy.
How many followers can you have on TikTok?
TikTok has no limit on the number of followers you can have. This is why you can see influencers or celebrities with millions of followers. However, there is a follower limit for how many accounts a user can follow, which is 10,000 accounts.
How many TikTok followers do I need to get verified?
TikTok does not set a specific follower count to become eligible for verification. The blue checkmark that represents verification, or being an "authenticated user," is not tied directly to the number of followers a user has.
Next Steps
We hope this post has helped you learn how to get followers on TikTok for free. We recommend making a TikTok giveaway your next step, and with RafflePress, creating a viral TikTok giveaway takes only a few minutes.
Get Started with RafflePress Today.
You might also like this detailed tutorial on how to use contest marketing to grow your business.
If you liked this article, please subscribe to our YouTube Channel for RafflePress video tutorials. You can also find us on Twitter and Facebook.