Did you know that LinkedIn is 2x more effective for lead generation than Facebook and Twitter? Because of this, many brands are using LinkedIn to reach their ideal audience and seeing amazing results.
What if it was easier to get LinkedIn users to interact with your brand?
From today, you can.
We're excited to announce 2 new LinkedIn giveaway actions for RafflePress Pro plans!
Now you can promote your business by asking people to share your giveaway or follow you on LinkedIn to secure contest entries.
Let's take a look at all the details.
Share on LinkedIn Action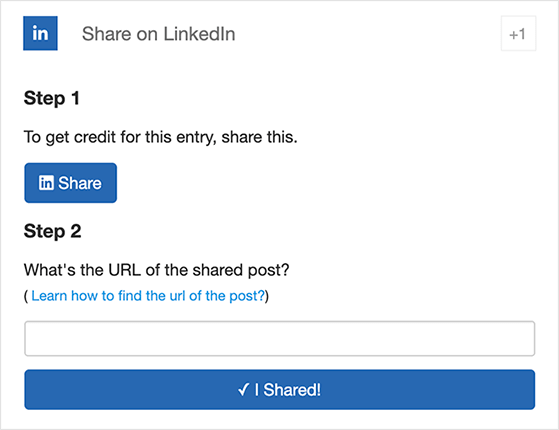 With the new Share on LinkedIn giveaway action from RafflePress, getting people to promote your brand on LinkedIn is super-easy. Everyone who shares your giveaway on the platform gets an entry, boosting your visibility to potential customers.
Want to add an extra incentive? You can!
Just give the action a value from 1 to 5 and each user will get that many contest entries.
You can even make the action mandatory, so people have to complete the action to unlock more entries.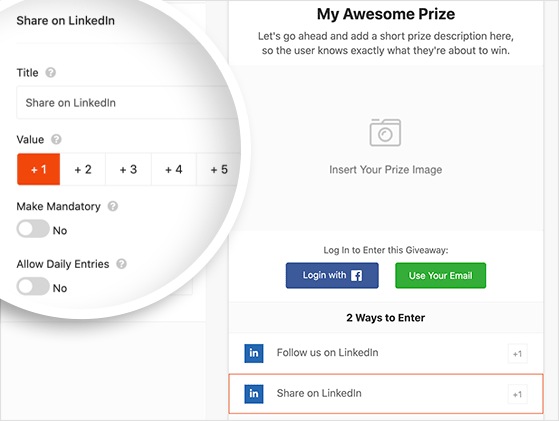 For users to prove they shared your giveaway, all they have to do is paste the post URL in the field on your giveaway widget.
To boost your reach further, you can also toggle the Allow Daily Entries option. This gives users the chance to come back every day and share your giveaway again for bonus contest entries.
Follow Us on LinkedIn Action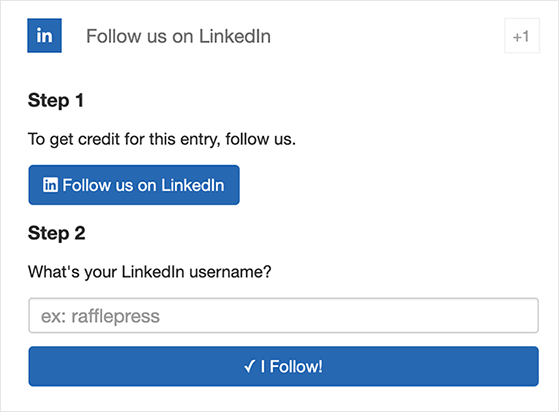 The Follow Us on LinkedIn entry action allows you to ask users to follow your LinkedIn profile for entry into your giveaway. This is the perfect action for growing your LinkedIn followers and raising brand awareness.
Just like the previous action, you can assign an action value and make it mandatory. This means users are required to follow your LinkedIn profile before unlocking extra entries.
All you need to do is add your profile URL in the field provided. To prove they followed you successfully, users have to enter their LinkedIn username in the giveaway widget.
With these new giveaway actions, growing your brand and going viral on LinkedIn is easier than ever.
You can learn more about them in the giveaway actions documentation.
That's it for today.
We've got lots of new features in the works, so keep an eye out for the next big announcement.
Not using RafflePress yet?
Click here to get started with RafflePress today!
We're truly grateful for your ongoing support in making RafflePress the best WordPress giveaway plugin.