Are you looking for an unbiased Rafflecopter review?
Many website owners use Rafflecopter to run and manage giveaway campaigns. But with so many other giveaway tools available, is Rafflecopter the best choice?
This Rafflecopter review will look at how Rafflecopter works, helping you decide if it's the best contest software to grow your business.
What Is Rafflecopter?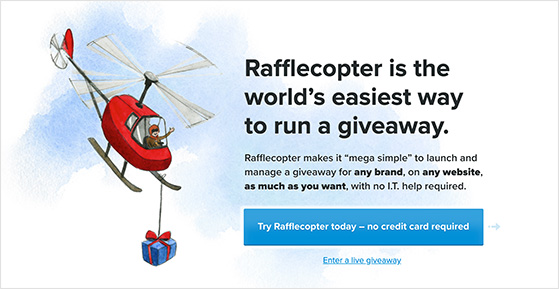 Rafflecopter is a web-based giveaway tool that allows you to host giveaways and online contests. It comes with a giveaway widget that you can embed on your website and share on social media.
Rafflecopter works by asking users to perform tasks in exchange for giveaway entries. For example, you can ask participants to follow your Twitter profile, visit a Facebook page, or sign up to your email list.
After completing each task, Rafflecopter will award users with points. The more points users collect, the more entries they have into your giveaway.
In the end, Rafflecopter lets you run giveaways that can help you get more social media followers, brand awareness, and email subscribers.
Rafflecopter Features
Rafflecopters' features depend on which version of the tool you use. Initially, there are minimal features, yet you can have access to more as you move up the pricing tiers.
With the free version of Rafflecopter, you can access the following features:
Unlimited giveaways
Unlimited entries
Instant random winners
Giveaway entries dashboard
Facebook entry options
Twitter entry options
Standard entry form design
However, if you upgrade to Rafflecopter's paid plans, you can access these other features:
Pinterest entry options
Poll/survey entry options
Terms and conditions template
Entry form design options
Add prize images
Custom themes
Email marketing integrations
Refer-a-friend option (highest paid plan)
Analytics (highest paid plan)
Rafflecopter Review: A Hands-on Look
Now that you know what Rafflecopter is and the features it offers, you probably want to know what it's like to make an online giveaway with this tool. Below, we'll walk through creating a giveaway with Rafflecopter so you know how it works.
Note: We'll use the free version for this Rafflecopter review.
Creating a Giveaway with Rafflecopter
To create a giveaway with Rafflecopter, make an account, log into the Rafflecopter dashboard, and click New.
Doing that will open the widget builder to add the details for your giveaway. First, you can add a prize name and, if you're a premium user, upload a prize image or slideshow.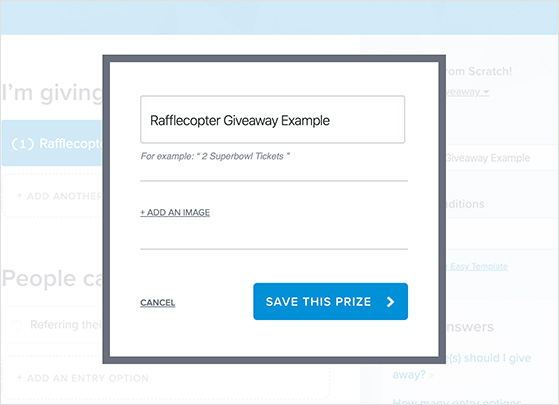 You can add as many prizes to the widget as you want. After that, you can start adding giveaway entry options to the widget.
Rafflecopter Giveaway Entry Options
As we mentioned earlier, the entry options you get with Rafflecopter depend on the plan you're using. Since we're using the free version for this example, we can only include the following entry options:
Visit a Facebook page
Tweet a message
Leave a blog post comment
Invent your own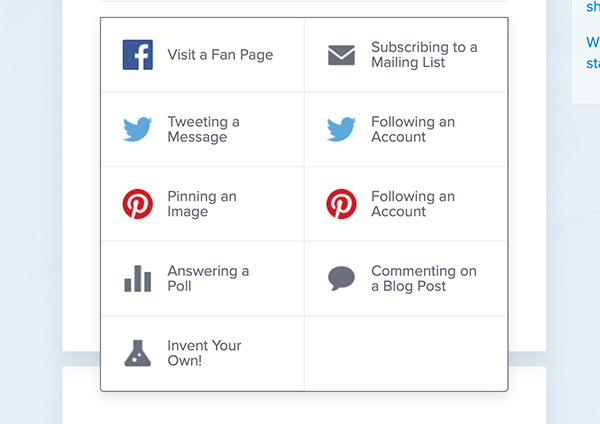 Even if you use one of the paid plans, there are still fewer entry options than we'd like. For example, there isn't an easy way for users to share contests on LinkedIn, and it lacks follow options for other social networks like Instagram.
Additionally, Rafflecopter doesn't offer a way to host photo contests.
Photo contests are a super-effective way to collect user-generated content. Because they come from genuine users, they're ideal to use in social promotions to demonstrate trust and credibility.
Without the ability to run photo contests, you could be missing a sweet opportunity to boost your customer base.
After adding your entry options, you can set the duration of your giveaway. You can add the start date and time and the time your giveaway ends.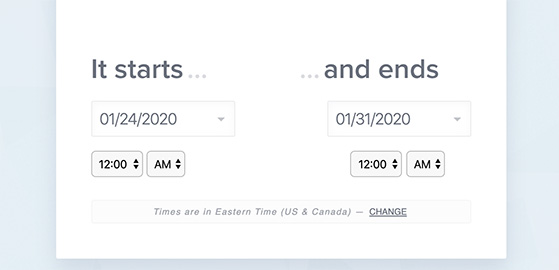 You can also add terms and conditions for your giveaway by clicking the text field on the right.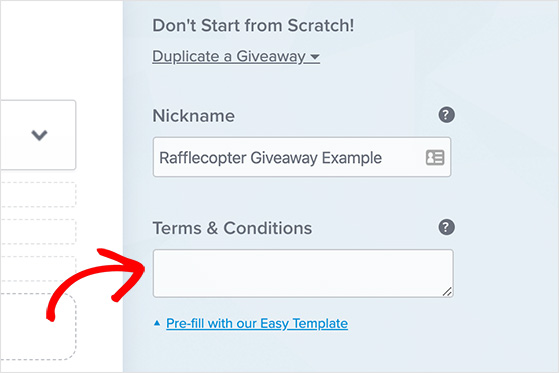 With the free version of Rafflecopter, you'll need to enter your terms manually. But if you have the paid version, you can automatically use its rules generator to create them.
Publishing Your Giveaway with Rafflecopter
Rafflecopter offers several ways to publish your online giveaway. You can:
Copy and paste the embed code to embed the widget on your website.
Install the giveaway in a Facebook tab.
Share the link to your Rafflecopter giveaway landing page.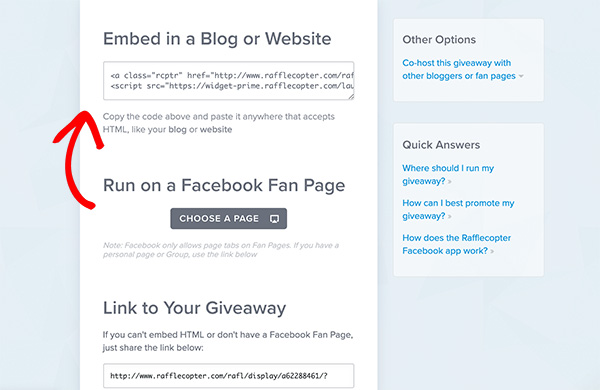 Even though these are good ways to publish and promote your giveaway, we find them overly fussy. Who really wants to copy and paste third-party code?
It also lacks a WordPress plugin that would allow WordPress website owners to add giveaways directly to their site (without code).
Rafflecopter Integrations
Rafflecopter offers several email marketing integrations to paid users. You can run a giveaway to grow your email list with those integrations.
The integrations that Rafflecopter offers include:
Mailchimp
AWeber
Campaign Monitor
iContact
Mad Mimi
Infusionsoft
GetResponse
Mailjet
The above integrations are only available to Grow and Premium users.
Rafflecopter Pricing
Now let's explore how much Rafflecopter costs. As we've already mentioned, you can use a limited free version to run simple giveaway contests.
Yet, to access more features, Rafflecopter pricing is as follows: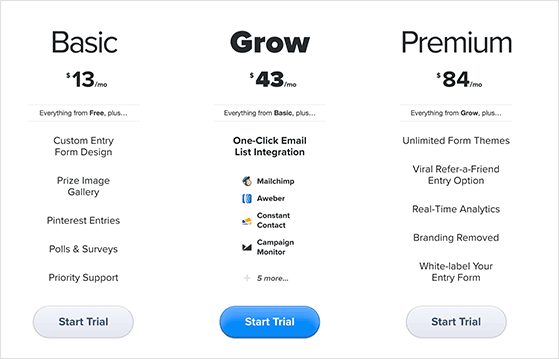 Basic: $13 per month – includes prize image gallery and more entry actions.
Grow: $43 per month – includes email marketing integrations.
Premium: $84 per month – includes form themes, refer-a-friend, and analytics.
Rafflecopter Review: Pros and Cons
After exploring the features, functionality, and pricing, what are the pros and cons of Rafflecopter?
Rafflecopter Pros
Easy to use
Encourages social media sharing
Allows you to grow your email list
Includes a free version
Offers popular email marketing integrations
Rafflecopter Cons
Lacks entry options for LinkedIn and Instagram
Missing actions for Twitch, Podcasts, and RSS
It doesn't allow photo contests
No WordPress plugin
Limited customization options
Can't create custom giveaway landing pages
Rafflecopter Review: Is It Worth It?
We're nearly at the end of our Rafflecopter review. By now, you may be wondering, is Rafflecopter worth it?
Here's what we think.
Rafflecopter is a great giveaway tool if you need an easy way to run simple giveaways online. It includes several features to help grow your social media followers, email list, and website traffic with giveaway campaigns.
Yet, if you need a dedicated WordPress giveaway builder with more features, such as the option to run photo contests, boost podcast subscribers, and more, there are Rafflecopter alternatives that do a better job.
Best Rafflecopter Alternative for WordPress: RafflePresss
In our opinion, the best Rafflecopter alternative for WordPress is RafflePress.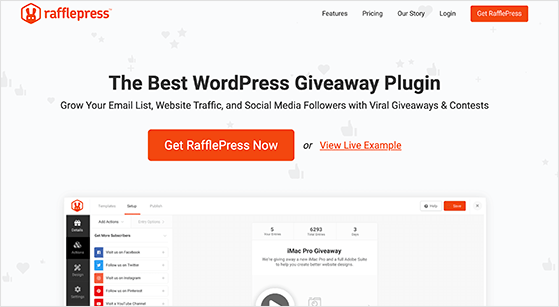 RafflePress is a WordPress giveaway plugin that lets you grow your email list, website traffic, and social media followers with viral giveaways and contests. It offers an easy drag-and-drop giveaway builder that enables you to create any giveaway and see a live preview in real-time.
Unlike Rafflecopter, RafflePress offers powerful giveaway entry options for pretty much any marketing campaign.
RafflePress includes actions for:
Facebook
Instagram
Twitter
YouTube
LinkedIn
Pinterest
Twitch
That means you can run social media contests to raise brand awareness and grow your followers right inside WordPress.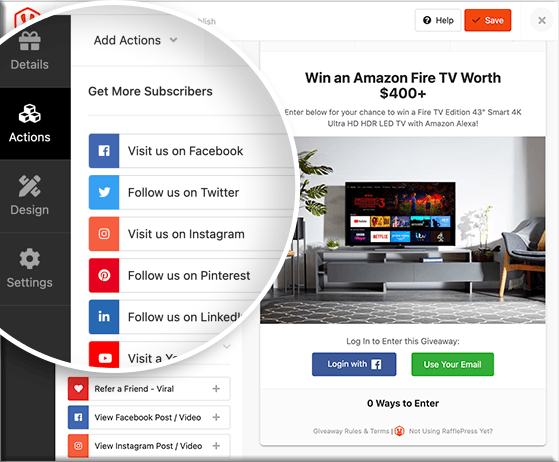 Additionally, RafflePress includes image submissions for running photo contests, polls & surveys, podcast subscriptions, and RSS feed subscription actions. You can also generate giveaway rules automatically for free.
The premade giveaway templates let you get started quickly, and with the viral refer-a-friend action, you can skyrocket your reach on social media platforms.
Even better, you can create eye-catching giveaway landing pages with a few clicks. As a result, you can instantly publish your giveaway on your WordPress site and share the link anywhere online.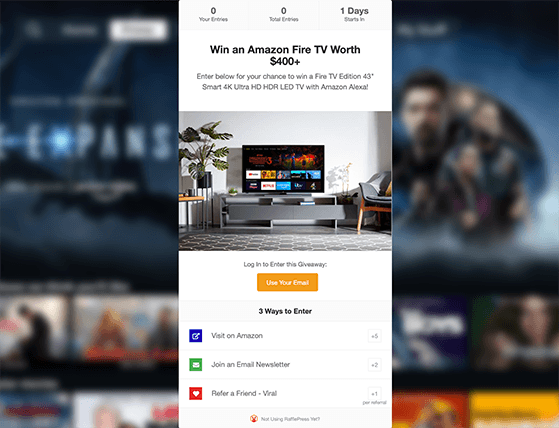 To pick a winner, you can use RafflePress's random winner picker and display the results live on your giveaway widget. You can also review stats that show which entry actions were most popular.
If you want to run an online giveaway contest in WordPress, RafflePress is a no-brainer. You can try RafflePress for free or jump into running viral giveaways right away with RafflePress Pro.
Ready to skyrocket your leads, traffic, and followers with viral WordPress giveaways?
You might like these winning contest ideas or our complete guide on sweepstakes vs contests vs lotteries.
If you liked this article, please subscribe to our YouTube Channel for RafflePress video tutorials. You can also find us on Twitter and Facebook.