How to Run a Successful Instagram Giveaway in 9 Easy Steps
Are you looking for a shortcut to get more Instagram followers and boost engagement for your brand?
Instagram giveaways are a great way to achieve those goals. It makes sense with Instagram's growing popularity that you want to take advantage of this to increase your business's reach.
But there's a lot of competition on Instagram which makes it difficult to make any headway. Luckily there are a few marketing strategies you can use, learning how to run an Instagram giveaway or contest being one of them.
Today we'll explore how to run an Instagram giveaway in a few easy to follow steps.
First, let's take a look at the steps we'll cover:
Shall we get started?
Step 1: Decide The Goal of Your Contest
The goal of your Instagram giveaway helps you tailor your strategy during the rest of the planning stages. It also helps you measure your results when the contest has ended to see if the outcome aligns with your main aims.
Take a moment to think about what you want to achieve from your giveaway. You might have one or multiple goals. 
Here are some examples of what those goals might look like:
Grow your social media following.
Get more newsletter subscribers.
Increase traffic to a particular webpage.
Raise awareness about a new product.
The key thing to remember about your goals is you need to be able to easily measure the results.
Don't worry if you can't think of how to measure your results right now. The entry criteria you set plays a big part in this and we'll cover that next.
Step 2: Set Your Contest's Entry Criteria
A giveaways' entry criteria are what actions you want people to take when entering your giveaway. Entry methods can vary and depend on the goal you're aiming for.
Here are some popular criteria for entering a giveaway with an example of the goal you might want to achieve:
Ask people to share your giveaway if you want to increase brand awareness.
Build your email list by asking people to sign up for your newsletter.
Get people to follow your social profiles so grow your social media following.
Ask people to leave a comment to increase blog engagement and traffic.
Whether your goal is to drive more traffic to your site, or to get more Instagram followers, choosing the right entry criteria can make a whole lot of difference to the outcome you get.
Let's face it, there's not much point asking people to sign up to your newsletter if your goal is to get more Instagram followers.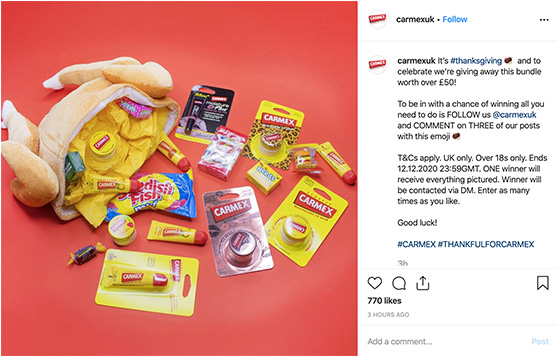 This Instagram giveaway example from Carmex is a good example of clearly stating how people can enter. Their criteria are in caps to help it stand out from the rest of the content.
With your goal and criteria set, the fun part is choosing an exciting giveaway prize.
Step 3: Choose a Prize for Your Instagram Giveaway
One of the most important steps when learning how to run an Instagram giveaway is choosing a great prize. What you choose largely depends on your goal.
Do you want to raise awareness about your product? In that case, giving away a copy of it would be a good prize. Is it to celebrate the season? Then, a seasonal themed prize is a good choice.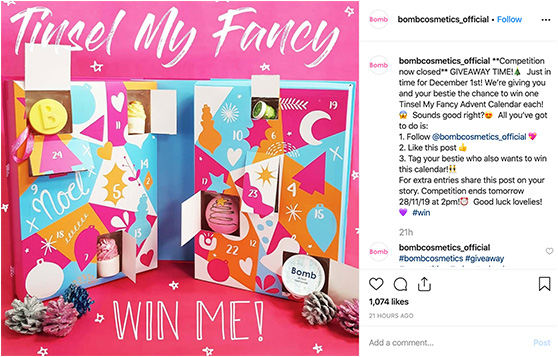 Bomb Cosmetics did a great job with this seasonally festive giveaway. Even the clever use of emojis helps to convey the time of year.
Alternatively, you could offer an experience or the chance to meet a leader in your industry to the winner of your prize draw.
Whatever it is, make sure your prize aligns with what you want to achieve for your business.
For some proven prize ideas for your giveaway, take a look at this extensive list.
Step 4: Pick a Good Instagram Hashtag
You might already know that hashtags are a pretty effective way of finding things on Instagram. Using a popular Instagram hashtag might even result in your giveaway showing up in the Explore channel. This would further help increase the visibility of your contest and make it easier for more people to find.
Consider using some of these widely used hashtags yourself:
#giveaway
#giveawaycontest
#giveawaytime
#giveawayalert
#win
#winitwednesday
You could also consider creating your own branded hashtag to firmly associate the contest with your business.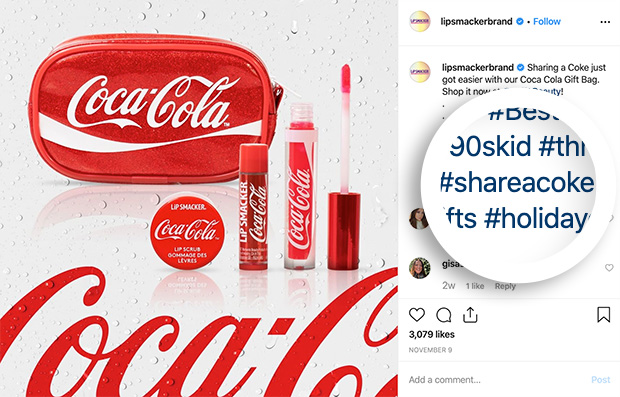 Coca-Cola's #shareacoke branded hashtag campaign proved to be wildly popular.
With your hashtags in place, it's worth setting the rules for your giveaway. Let's look at this next.
Step 5: Set Your Instagram Giveaway Rules
Before running an Instagram giveaway, it's important you have some clear rules in place. Without any rules or terms, your contest can easily become messy with entrants unclear of what's expected of them.
More importantly, Instagram has its own set of rules for promotional activity.
A comment similar to this example should be included with your giveaway so your follower's know it's not connected in any way to Instagram:
"This giveaway is in no way sponsored, associated with or administered by Instagram, Inc. By entering you confirm you are over 13 years of age, agree to Instagram's terms of use, and release Instagram of responsibility".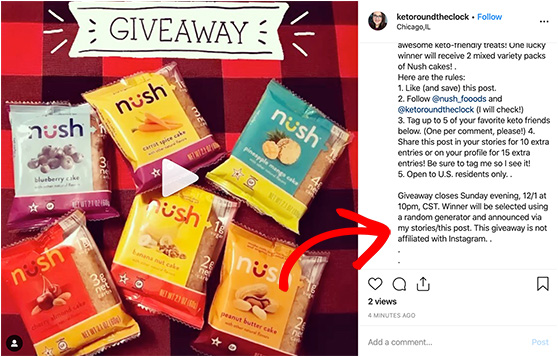 As you can see in the above example they've clearly marked the rules of their giveaway and stated that they are not affiliated with Instagram.
Alongside this, you should make sure you don't ask entrants to tag themselves in your content, or something that isn't in the photo. If you do, it's highly likely that Instagram will penalize you for it.
Fur a full list of Instagram's rules and regulations, take a look at their promotional guidelines here.
Step 6: Put a Time Limit on Your Giveaway
With the rules taken care of, telling people how long they've got to enter your Instagram giveaway can avoid unnecessary confusion.
You can do this by stating your time limit clearly in your giveaway rules. Or, you can use RafflePress to cross-promote the giveaway on your website.
RafflePress is the best tool on the market for creating a successful Instagram giveaway because it has a wealth of options designed to create fantastic viral giveaways and supercharge your growth at the same time.
Further Reading: How to Go Viral on Instagram: 12 Tips & Tricks
The easy-to-use giveaway widget in RafflePress lets you clearly set an end date and time. This way both you and your audience will know what's happening at all times.
Another good thing about giving your giveaway a time limit is that it creates a sense of urgency with your followers. Knowing that they only have a certain amount of time to enter, makes them more eager to participate for fear of missing out on a great prize.
Even better, having people enter your giveaway more quickly, will likely keep your post at the top of your followers' feeds.
So how about we look at how to launch your Instagram giveaway next?
Step 7: Launch and Promote Your Contest
Now it's time to launch your Instagram giveaway and the process is pretty simple. Here's a quick guide to get you started:
First, select or create an eye-catching image to draw people's attention towards your prize
Then write the main content of your post explaining what people can win and when they have to enter by.
Clearly state the rules of your Instagram giveaway. Make sure to include a statement explaining Instagram isn't involved in the contest.
Include the most important hashtags to help people discover your giveaway.
Publish on a day and time that your audience is usually active to ensure maximum visibility.
Schedule reminder posts throughout the duration of your giveaway.
At this point, it's important to note that your contest won't go viral or generate a massive amount of interest all at once. This is especially true if your audience isn't used to you hosting giveaways. It takes practice and repetition to get that kind of momentum for your business.
But using RafflePress's built-in giveaway templates can get you on the right track to creating a truly viral giveaway.
The Refer-A-Friend Viral Giveaway template, for example, uses powerful word-of-mouth marketing to expand your reach and grow your brand.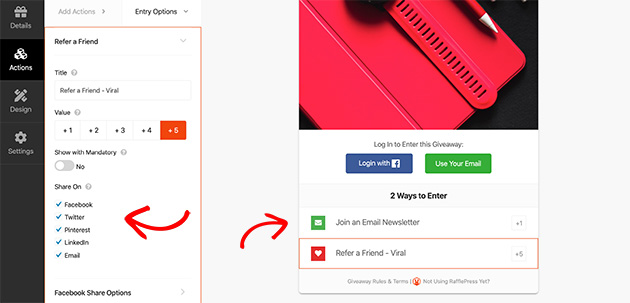 The pre-set actions included in this template encourages visitors to share your giveaway with their own community. And, as we all know, when something is shared between friends online, it has the power to go viral in a matter of minutes.
Another action included in this template is the Join an Email Newsletter action, which helps grow your email list at the same time.
So it makes sense to promote your giveaway like this because it increases the chance of getting far more eyes on your contest than you would by using a simple post.
You can then announce the winner of your giveaway, which we'll cover next.
Step 8: Announce the Winner of Your Instagram Giveaway
With your Instagram giveaway over, it's now time to choose a winner and announce it to those people who entered.
A popular way of choosing a winner in an unbiased way is to use a random number generator. Searching for the term, random number generator in Google brings up its own tool for this.
Next, add all of the participants into a spreadsheet and assign them a number. Then add the number range between 1 to however many people entered successfully, into the generator and click Generate.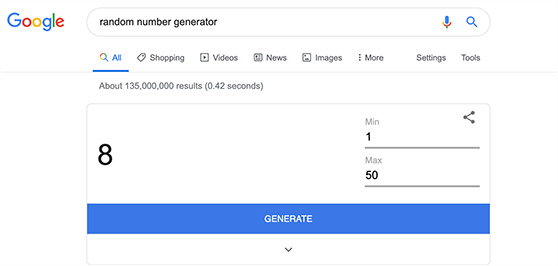 Check the number you receive with the number on your spreadsheet to find the details of your winner.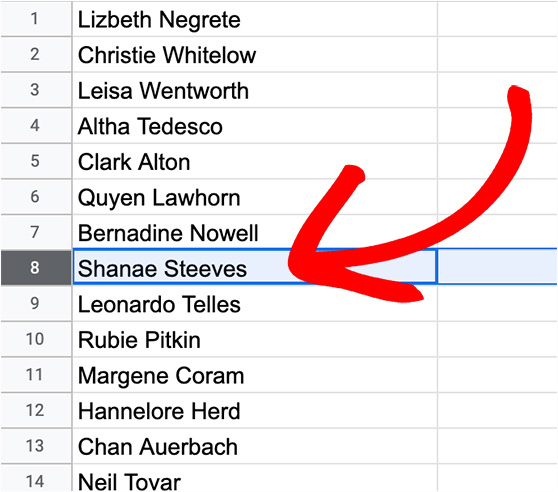 Users of RafflePress can take advantage of having the plugin automatically draw a winner for you, as well as displaying it live on the widget.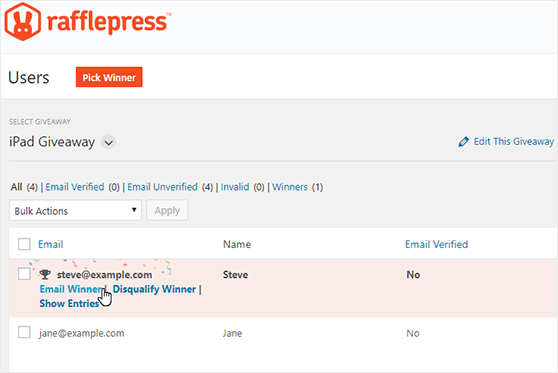 You can also announce the winner of your Instagram giveaway in a new Instagram post.
Most businesses ask the winner to contact them via Direct Message to arrange delivering their prize. But, if one of the requirements for entering included having participants provide their email address, you can contact the winner via that method too.
Now, remember those goals you set? How are you going to find the results? We'll learn that in our final step.
Step 9: Track Your Giveaway Results
How successful was your Instagram giveaway? Finding the results isn't too tricky.
If your goal was to drive more traffic to a product or web page via Instagram, MonsterInsights is the best analytics tracking plugin for WordPress websites.
It lets you track competition landing pages, referral traffic from Instagram and other social platforms, product sales, and a lot more.
For goals related to growing your followers, you can easily compare how many new followers you gained over the competition's duration. The same goes for growing your email list too. Just measure the difference in email subscribers between when you began and ended your giveaway and you'll get your results.
Congratulations! You've now learned how to run an Instagram giveaway.
Not only does this provide an excellent way to get to know the likes and dislikes of your followers, but it also helps you increase brand awareness and more traffic to your business.
If you're interested in running a contest using RafflePress, take a look at this step-by-step guide.
And, don't forget to check out our YouTube channel. You can also find us on Facebook and Twitter for even more great giveaway ideas.