Wouldn't it be great to dramatically grow your email list and engage your audience on multiple platforms in less than a month?
Smash Balloon used RafflePress's viral WordPress giveaway plugin over Black Friday and Cyber Monday to do just that.
Let's jump in and see how Smash Balloon grew its list and generated tons of blog and YouTube comments with promotional giveaways.
Meet Smash Balloon
Smash Balloon is the best suite of social media feed plugins for WordPress. They make it super easy for anyone to embed social feeds from Instagram, Facebook, Twitter, and YouTube directly on their website with no coding needed.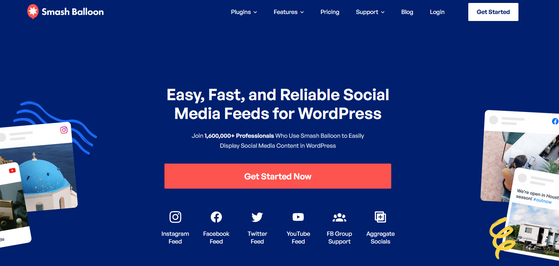 Over 1,600,000+ professionals use Smash Balloon to showcase their feeds and engage their social followers in WordPress. With just a few clicks, it's super easy to customize your social media content to completely match your brand identity.
In addition to its ease of use and reliability, Smash Balloon offers top-notch customer service. With an average rating of 4.9 stars out of 5, it's safe to say that their customers are delighted.
Even with such a glowing reputation and happy customers, Smash Balloon still needed extra ways to reach its audience beyond its website.
And with RafflePress, they found the answer! After running a giveaway for less than 4 weeks, they converted thousands of visitors into subscribers.
Here's how they did it!
How Smash Balloon Used RafflePress to Grow Their Business
Smash Balloon knew that the best solution to get people to claim their Black Friday discount was to build a highly targeted landing page.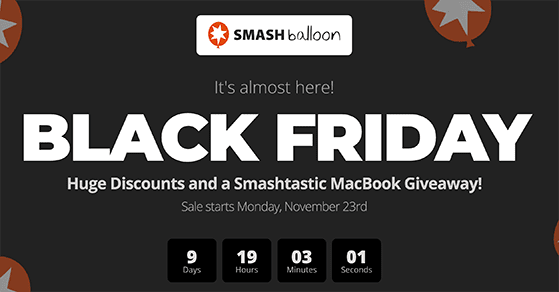 But after creating the page, they needed a way to entice people to visit it and take advantage of the offer.
Here's how RafflePress offered the ideal solution.
Using RafflePress to Drive Traffic to Landing Pages
With RafflePress, Smash Balloon launched a giveaway on their landing page the week before their sale, offering users the chance to win a Macbook Air.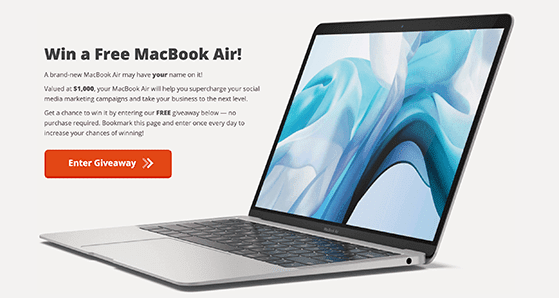 One of the requirements for users to enter and earn 2 chances to win was to add the Black Friday sale to their calendars.
This meant that when the sale launched, people who had taken that action would get a reminder to visit the sale landing page. And as a result, they'd be much more likely to claim the offer.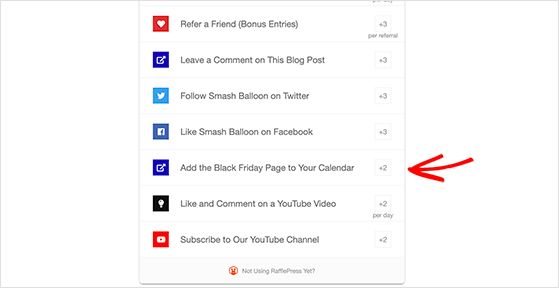 In fact, the giveaway alone resulted in over 54,623 total entries.
Using RafflePress to Increase Email Subscribers
One of Smash Balloon's other goals for running this giveaway was to boost their email list subscribers. They did this by adding the Join an Email Newsletter action to their giveaway widget.

RafflePress's Join an Email Newsletter action allows users to sign up to your email list in return for extra giveaway entries. Many participants take this action because it's easy and requires minimal effort.
With this action, you can connect to a wide range of email marketing services, including:
ActiveCampaign
GetResponse
Mailchimp (+ Mailchimp tag support)
CampaignMonitor
MadMimi
iContact
Sendy
You can also paste your own HTML web form or connect with thousands of other marketing services via Zapier.
By using this method, Smash Balloon added over 3,584 subscribers to its list.
But they didn't stop there…
Using RafflePress for More Comments
To get even more out of their giveaway, Smash Balloon also used RafflePress to increase engagement with their brand.
First, they invited users to comment on their blog posts with the Visit a Page action. They did this by pasting the link to the post in the action settings and changing the action label.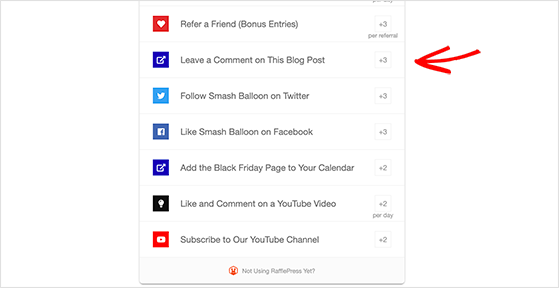 At the time of running the giveaway, RafflePress didn't have a Leave a Comment action. But now, we do, making it a whole lot easier to generate more comments for your blog.
By using this method, Smash Balloon gained over 300+ comments, drastically improving their engagement.
They used a similar method to get 100s of comments on their YouTube videos too. But for this, they used the Invent Your Own giveaway action.
With this action, you can decide what you want visitors to do without any constraints. In Smash Balloon's case, they asked participants to Like and Comment on a YouTube video, with excellent results.
If that wasn't enough, they also added a variety of bonus actions, including:
Share giveaway on Facebook
Share giveaway on Twitter
Like Smash Balloon on Facebook
Follow Smash Balloon on Twitter
Subscribe to YouTube Channel
View Social Wall Demo
View Instagram Feed Demo
Answer a Question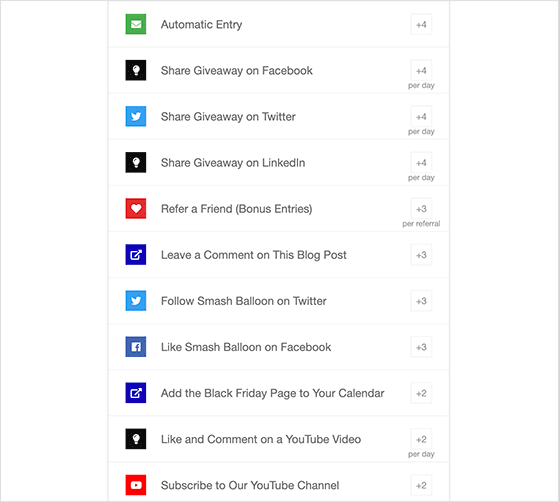 Each bonus action awarded users with even more chances to win the giveaway. And at the same time, it helped Smash Balloon boost its followers on Twitter and Facebook, highlighted its new and existing products, and increased brand awareness.
Results
As you can see, Smash Balloon's Black Friday giveaway was a raving success with excellent results:
54,623 people entered the giveaway sending tons of traffic to their Black Friday sales page.
Over 3,584 people subscribed to Smash Balloon's newsletter, generating thousands of new leads.
Around 300 people left comments on their blog and YouTube, boosting brand engagement.
Hundreds of people followed Smash Balloon on Twitter and Facebook, increasing their social media followers.
Summary
Smash Balloon turned to RafflePress because, like all businesses, they needed their sale to succeed. And by doing so, they grew their list, traffic, and social media engagement right from their WordPress website.
And you can too!
With RafflePress's easy and powerful features, you can boost conversions, increase revenue, and grow your email list like never before.