Do you want to grow your Facebook page with a giveaway? Want to know Facebook contest rules before you start?
Running a contest on Facebook is an excellent way to increase engagement and grow your audience on the platform. Yet, there are some rules you should follow to ensure your competition is compliant.
This article shares some critical Facebook contest rules you shouldn't ignore.
Before we start, let's clear something up.
Are Contests Allowed on Facebook?
In short, yes! Contests are allowed on Facebook.
According to Facebook, only Pages, Groups, and Events can run a giveaway, competition, contest, or sweepstakes. However, they ask that when you administer promotions, you should follow their policies.
What Are the Key Facebook Contest Rules?
Facebook has several policies for running promotions on Pages, Groups, and Events. With that in mind, we've outlined the most important ones below to make them easier for you to understand.
Disclaimer: Since we are not legal experts, it's always best to check the giveaway rules with your local authority before running any type of contest. For instance, rules in the United States might differ from other countries etc.
1. You Are Responsible for Running Your Contest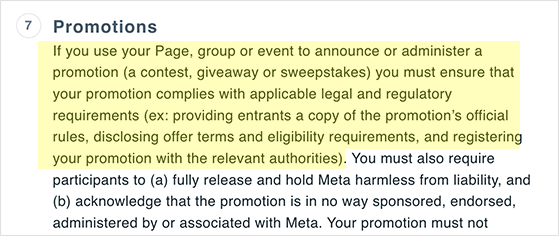 Before running your contest on Facebook, you must understand that you are responsible for lawfully operating it. This means that it's your job to make the following details crystal clear:
Your official competition rules
Offer terms and eligibility requirements
Compliance with rules governing the promotion and prize you offer
It's a great idea to create official terms and conditions to ensure your contest runs smoothly.
Your contest rules should include:
It would be best to display your contest rules where users can see them. For example, you could create a landing page and link to it from your Facebook giveaway post.
An even easier solution is to run your Facebook contest with RafflePress, the best WordPress giveaway plugin.
RafflePress comes with a built-in giveaway rules generator that allows you to create a detailed set of contest rules by entering some essential information.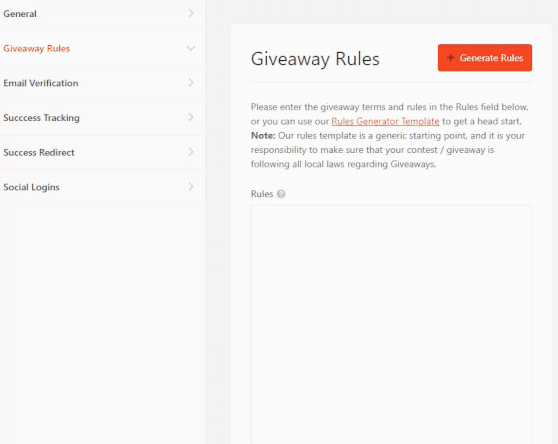 You can then show the official rules right inside the RafflePress giveaway widget.

2. Be Clear Your Contest Is Not Affiliated with Facebook
In addition to the rules above, Facebook requires that you make it clear your promotion isn't affiliated with Facebook in any way. This includes clarifying that "the promotion is in no way sponsored, endorsed, administered by, or associated with Facebook."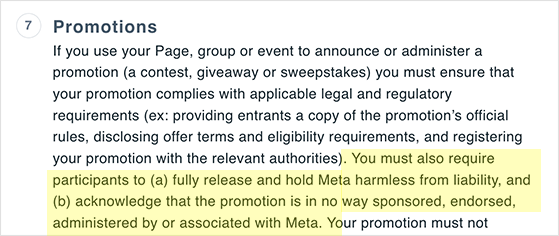 There are several ways you can tell participants about this, including:
Adding the release to your giveaway landing page
Including it in your official contest rules
Adding the disclaimer to a Facebook post promoting your contest
You can even use all of the methods above to ensure your audience is well-informed.
3. Know Which Contests Are Allowed on Facebook
Facebook allows you to run only certain types of contests on the platform. You're allowed to run:
Giveaways where you draw the winner randomly
Contests where entries require effort and a judge draws the winner
However, you cannot run contests that require users to pay to enter, for instance, buying a ticket, as this falls under Facebook's gambling policies.
To quote Facebook:
"Common types of gambling or gaming activities which may require permission [from Facebook] include betting, lotteries, raffles, casino, fantasy sports, bingo, poker, skill game tournaments, and sweepstakes."
Related: 11 Must-Have Facebook Marketing Tools
4. Do Not Require Prohibited Actions to Enter
There are several actions you cannot encourage participants to take during your contest.

According to Facebook:
"Your promotion must not require or incentivise participants to share, repost, tag others or in any other way publicise your promotion."
In other words, this means that you can't encourage people to:
Share one of your Facebook posts
Share your post on a friend's timeline
Tag people in your post
While you may have been hoping to use some of these actions to drive more contest entries, you can use several other solutions.
For example, you can use a 3rd party giveaway app like RafflePress to run a Facebook contest. Our giveaway actions comply with Facebook's rules and policies by not requiring users to carry out Facebook tasks.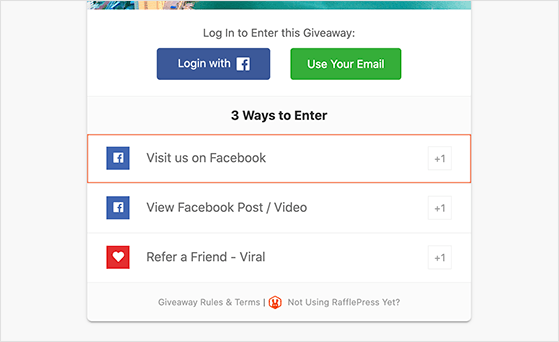 For instance, with RafflePress, you can ask users to enter by:
Visiting a Facebook page
Viewing a Facebook post or video
The choice of liking your page or post is left entirely in the user's hands.
5. Avoid Running Competitions on a Personal Profile
Given the complexity of Facebook, it's easy to create a personal profile instead of a business profile by mistake. If you're in this situation, it's good to fix it before running your competition.
According to Facebook's contest rules, you can only run promotions and contests from a Facebook Page, Event, Group, or App. This means you can't run a contest from your personal profile.
You can go here to create a Facebook Business page.
6. Get Permission to Use User-Generated Content
User-generated content (UGC) is an excellent way to generate interest in your contest and raise brand awareness. However, when collecting UGC, you need to ensure you have permission from the owners to use it.
Facebook's data collection policy stipulates you should "obtain user consent for your use of the content." In other words, make sure you get permission to use it first.

To comply, you can add a waiver to your official giveaway rules, stating that users agree to allow you to use their content.
For instance, you could write:
"All entries and any copyright subsisting in the entries become and remain the property of the promoter who may publish or cause to be published any of the entries received."
You can easily add a consent checkbox to your giveaway with RafflePress. Just enable the GDPR consent checkbox setting and paste in your terms and conditions.

As a result, when anyone clicks "agree" when entering your contest, they grant you their permission.
7. Facebook Will Not Assist With Your Promotion
The last of Facebook's contest and promotions rules is that Facebook will not administer your contest or assist. In addition, any Page running a promotion on Facebook does so at its own risk.
If you break any of Facebook's rules or any local laws for running contests, you cannot hold Facebook liable.
For example, in RafflePress, we include bonus giveaway actions to ask users to 'like your page' and 'share on Facebook. However, since these actions go against Facebook's policies, we advise you to use them at your own risk.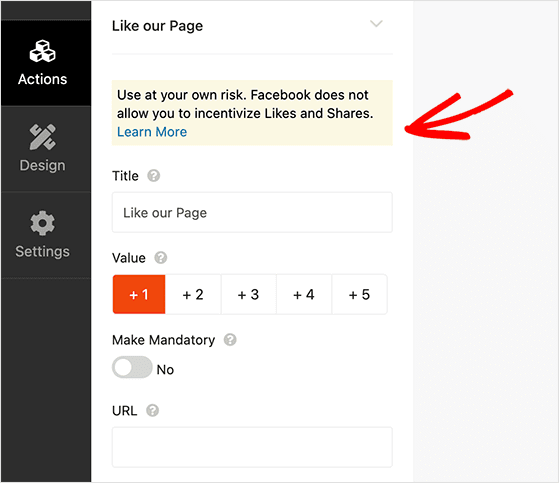 If you go ahead and use them, both RafflePress and Facebook cannot be held responsible. The choice is yours.
Facebook Contest Rules: FAQ
After looking at the rules for running a giveaway on Facebook above, you might have a few questions. We'll do our best to answer your most pressing Facebook competition rules questions below.
Are 'tag a friend' Contests Allowed?
As stated in the Facebook giveaway rules, you shouldn't encourage people to tag friends to enter your contest.
An excellent alternative to tagging is to use RafflePress's refer-a-friend giveaway action. It asks users to share your contest on the social network of their choice, including:
Facebook
Twitter
Pinterest
LinkedIn
Email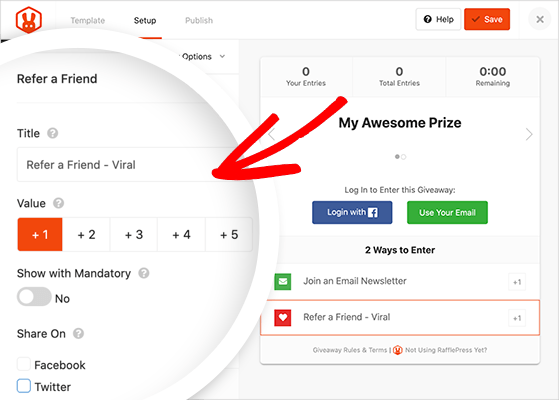 This is a great way to spread the word about your giveaway contest because it awards users with bonus entries. As a result, the more people share your contest, the more people will enter by sharing it.
Can You Ask People to Like Your Facebook Page to Enter?
Facebook claims that you can't incentivize people to use social plugins or to like a Page. Therefore, running a contest asking people to like your page to enter is also against the rules.
Instead, you can ask them to visit your page. Anyone who visits will like your page if they like what they see.
What Can Users Do to Enter Your Contest?
Even though there are several things you can't require users to do to enter your contest, all is not lost! Here are plenty of things users can do to enter for a chance to win your contest:
Visit a web page
Share on Twitter
Visit on Instagram
Follow on Pinterest
Visit a YouTube Channel
Refer a Friend
View a Facebook Post/Video
View an Instagram Post/Video
Tweet a Message
View a TikTok Post/Video
Visit your TikTok profile
Answer a Question
Complete a Poll/Survey
Leave a Comment
Write a Blog Post
Subscribe to RSS Feed
The best part is enabling all of the above giveaway actions with RafflePress. You can offer participants multiple ways to enter right from your WordPress website.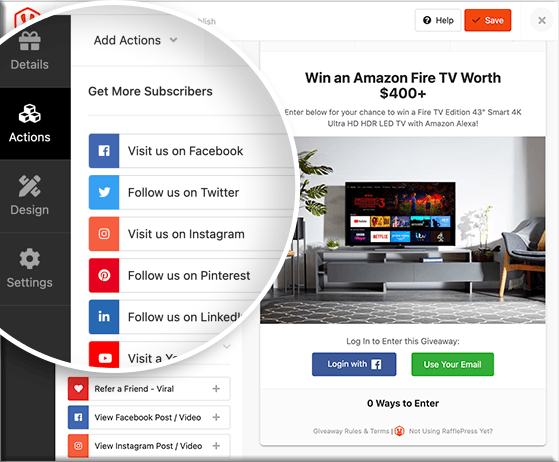 How Do I Do a Contest on Facebook?
If you're a WordPress website owner, the easiest way to run a Facebook contest is with RafflePress.
Our WordPress giveaway plugin has everything you need to make your contest viral. With several premade giveaway templates and an easy drag-and-drop builder, you can spin up contests in just a few minutes.
Publishing your giveaway is easy; use our WordPress giveaway block to embed our contest widget in any post or page. Or, you can create a standalone giveaway landing page to remove distractions and boost entries.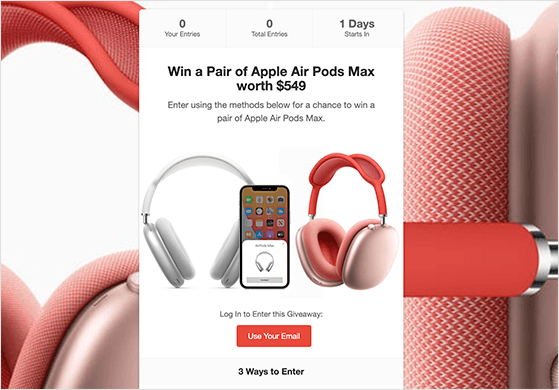 In addition, you can use the built-in winner picker to generate winners randomly and see which actions drove the most entries with our Giveaway Entry Report.

Follow this step-by-step guide to learn how to run a Facebook Contest.
Or, if you're ready to dive in…
You might also like these Facebook giveaway ideas for inspiration for your next promotion. And if you need them, you can check out these excellent Facebook giveaway examples.
While you're at it, don't forget to follow our YouTube Channel for a range of helpful video tutorials. You can also find us on Facebook and Twitter too.