Do you want to learn how to promote your podcast?
Promoting your podcast is the best way to grow your audience and attract more loyal listeners. Plus, you can turn your podcast into a valuable resource to grow your business with the right promotion strategies.
In this article, we'll share the top podcast marketing tips to reach your target audience and keep your existing audience coming back for more.
How to Promote Your Podcast: 15 Top Strategies
This article is split into several sections to make finding the information you need easier.
We'll start with simple podcast promotion tips that every podcaster should know, then move on to promotion tactics involving your website, social media, and building relationships with other podcasters.
Quick Podcast Promotion Tips
Let's kick things off with tips every podcaster can do from the moment you launch your first successful podcast episode.
1. Release Several Episodes on Launch Day
If you're at the beginning of your podcasting journey, creating at least 3 episodes before you launch is a great idea.
Chances are, if you don't have several episodes for new listeners to explore, they won't have enough time to become invested in your show. As a result, they'll soon lose interest and forget about you.
So create anywhere from 3 to 5 episodes so listeners can binge your podcast at the start. This will give them a taste of your content and style and encourage them to listen more.
2. Publish Your Podcast At Strategic Times
Another tip before launching is to check out other podcasters and see when they publish their content. If you see a pattern in their posting times and frequency, there's likely a good reason behind it.
Follow that pattern for your show and start collecting data you can analyze later. Then you can go back through your podcast analytics, see when people listen the most, and adapt your posting schedule to reach them.
Most podcast hosting services offer built-in analytics so you can see listener trends. If you host your podcast in WordPress, you can use a tool like MonsterInsights, the best WordPress Google Analytics plugin, to see how users interact with your podcast.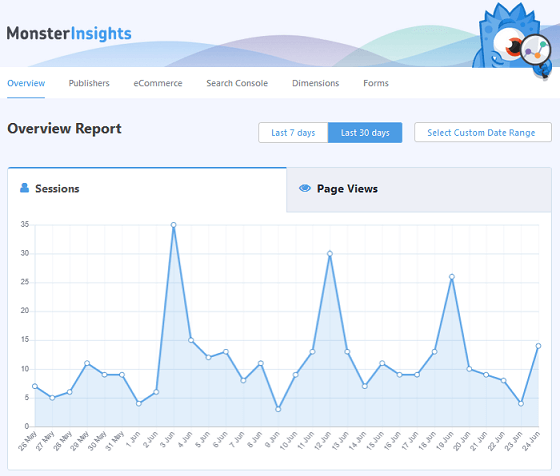 3. Submit to Podcast Aggregators
After launching your podcast, you'll want to expand your reach to as many listeners as possible with a podcast marketing strategy. One of the best ways to do that is to submit your podcast content to the best podcast directories and aggregators – apps that allow potential listeners to download podcasts and play them whenever they like.
The most popular podcast aggregator is Apple Podcasts on iTunes. It's the default podcast app on iOS, but plenty of other aggregators cater to a broader range of users.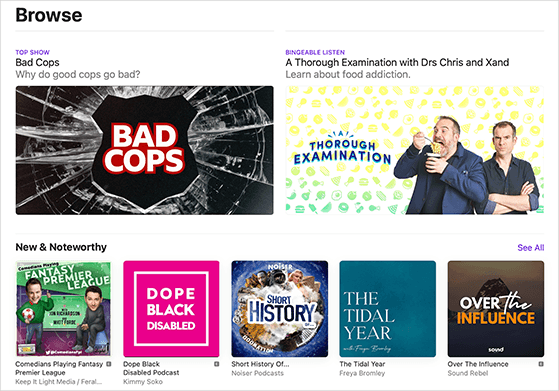 Other popular podcast aggregators include:
Spotify
Google Podcasts
SoundCloud
Podbay
TuneIn
Stitcher
You can create an account on these platforms and submit your podcast RSS feed. That way, all of your new episodes are published on their platforms automatically.
Doing this exposes your podcast to a new audience as they browse for exciting content.
4. Ask Listeners to Subscribe and Share
One of the easiest ways to grow your podcast audience is to record an introduction and conclusion at the beginning and end. In these sections, you can prompt listeners to subscribe and share your latest episode on social media.
However, it's essential to be authentic when you do so. Explain that as you grow, you can offer better content your entire audience can enjoy.
How to Promote Your Podcast From Your Website
Now that the basics are covered, let's turn our attention to some podcast promotion tactics that involve using your business website.
If you don't have a website yet, you can follow this ultimate guide for creating a website with WordPress.
5. Run an Online Giveaway Contest
Giveaways are an excellent way to build an audience and engage your existing followers. Did you know they're also a fantastic way to drive targeted traffic to your website?
With a successful giveaway contest, you can simultaneously promote your podcast across multiple platforms, boosting your audience, traffic, and followers. With RafflePress, you can do all of the above.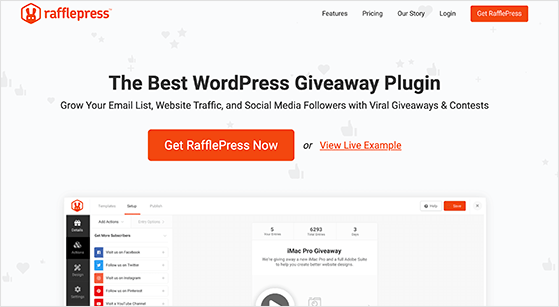 RafflePress is the best WordPress giveaway plugin on the market. With its powerful drag-and-drop giveaway builder, you can spin up giveaways in minutes.
Start with a ready-made giveaway template with entry actions designed to meet your goals. Or, you can start from scratch and build a custom giveaway tailored to your podcast.
RafflePress also offers 1-click giveaway actions making it super easy for people to enter your giveaway. For example, with the Subscribe to Podcast action, you can require users to subscribe to your podcast for a chance to win a prize.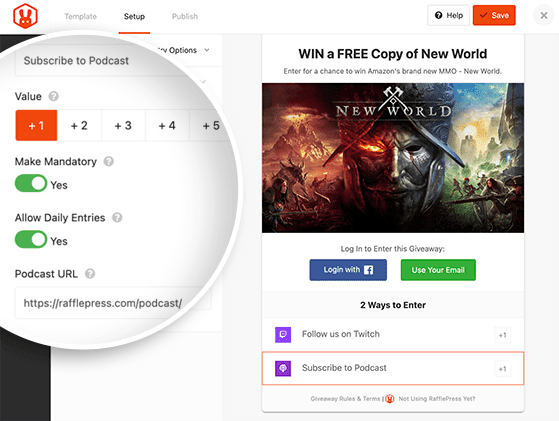 Furthermore, you can include bonus actions to follow your social media channels, including LinkedIn, Facebook, Twitter, refer a friend, and more. Plus, with popular email integrations, you can quickly run a giveaway to grow your email list.
Check out this step-by-step guide to learn how to run a giveaway with RafflePress.
Pro Tip: Don't make the mistake of getting RafflePress nulled – it could seriously harm your website.
6. Create a Podcast Landing Page
Another effective way to promote a great podcast is to create a dedicated podcast landing page. This type of page is a standalone web page that encourages users to listen to your show or become loyal podcast subscribers.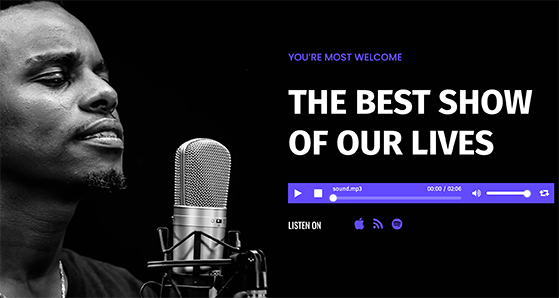 If you can get users to listen to just one promo episode, you have a much better chance of converting them. So fill your page with information to help them make that decision, including:
Benefit driven headlines that describe your podcast
A description that explains your show and the benefits users get from listening
Positive reviews and testimonials from satisfied listeners
Links to recent episodes
Call to action (CTA) buttons to subscribe to your podcast
If you're unsure where to start, our friends at SeedProd have an excellent step-by-step tutorial for creating a podcast landing page.
7. Embed Podcast Social Mentions on Your Website
With over 3.8 billion internet users on social media, it's a critical channel for promoting your podcast. But tons of people visit your website and may not know about your social media presence.
With that in mind, it's a brilliant idea to showcase social posts about your podcast on your website. Curious visitors and influencers can check out your channels and follow you on those platforms.
The easiest way to embed social media content on your website is with a social media feed plugin like Smash Balloon. In fact, Smash Balloon offers several plugins tailored to the most popular social media networks, including:
Facebook Feeds
Instagram Feeds
YouTube Feeds
Twitter Feeds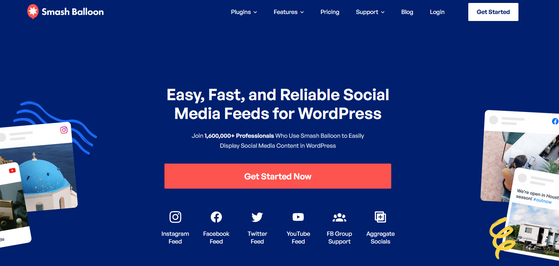 They even offer a Social Wall plugin that pulls content from multiple social channels, displaying them in a single, unified feed.
Social media feeds like this are an excellent way to promote your podcast mentions on both your website and social media without having to manually update your website with every new post.
If you need help getting started, you can follow this guide for adding social media feeds to your website.
8. Optimize Your Podcast Website for Search Engines
A podcast website isn't just a great foundation for promoting your show. It's also an effective way to draw in people looking for something specific. By that, we mean organic traffic – people who are looking for a solution to a problem that your podcast answers.
But it's hard to attract targeted traffic if you don't optimize your website for search engines (SEO). This means tailoring your website content, such as blog posts, podcast episodes, and pages, around words people search for, i.e., keyword research.
Check out this post to learn how to do keyword research for your website and improve your podcast SEO. Then for every podcast episode, you launch, you can create a brand new post on your website with:
An embedded audio player
Podcast show notes
Soundbites
Playlists
Transcriptions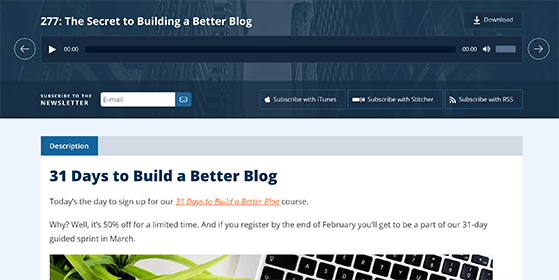 And tailor it to specific keywords, so your site appears in search engines like Google.
If you repeat this process regularly, your content marketing will pay off, and you should start attracting users interested in the topics your podcast covers.
9. Transcribe Your Podcast Audio Into Blog Posts
Evergreen content is the cornerstone of a successful marketing strategy. This translates as content that is relevant to people, no matter how long ago you published it.
So when thinking of how to promote your podcast, consider which past episodes fall into that evergreen category. For instance, general how-to guides or top 10 lists are excellent shows to repurpose.
Then you can turn that content into written posts published on your blog. And in doing so, reap the benefits of all that search engine traffic.
10. Use Exit Popups on Your Website
After turning your podcasts into blog posts and optimizing great content, there are still a few things you can do to promote them. And one of those things is to capture your audience's attention when they're about to leave your website.
The best way to do that is to use exit popups, which are lightbox popups that appear just as a user moves their cursor away from your web page. When this happens, you can present them with a compelling call to action to listen to your podcast or subscribe for new episodes.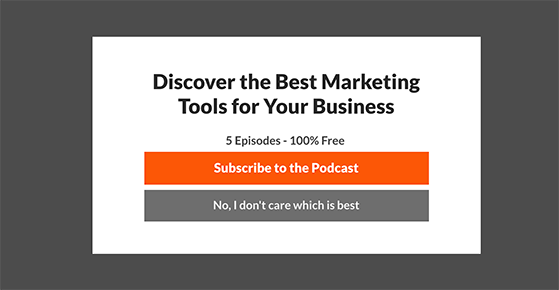 Usually, these users would leave your site and potentially never return. But with an exit popup, you can encourage them to stay long enough for them to convert.
Creating exit popups is super easy with a tool like OptinMonster. Its drag-and-drop campaign builder lets you design, create, and launch popup campaigns in a matter of minutes.
So why not check out this tutorial for using exit popups on your website?
11. Include Your Podcast in Your Email Newsletter
Email marketing is another excellent way to keep your audience engaged with your podcast. In fact, it has the best return on investment out of all digital marketing channels.
So if you haven't already got one, you should start growing your email list. Then once you have a list of contacts, you can create an email newsletter promoting your new podcast episodes.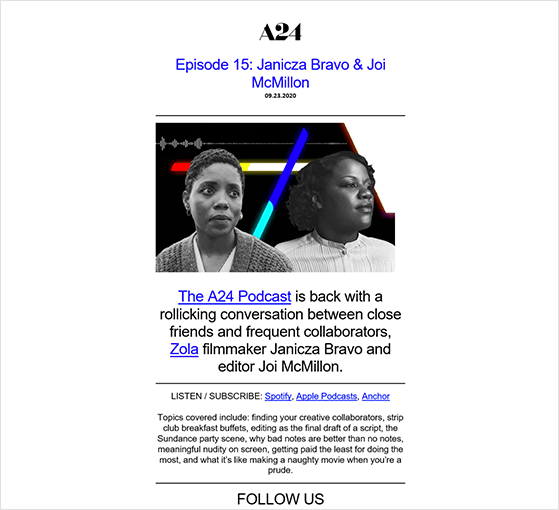 Alongside your podcast episodes, you can use your newsletter to promote any giveaways, deals, and offers. And as a result, you'll keep your audience flocking back to your website to engage with your show.
How to Promote Your Podcast on Social Media
So far, we've talked about some basic podcasting tips and how to promote your podcast on your website. We've also touched briefly on the power of social media.
With that in mind, let's dive deeper into how to promote your podcast on social media.
12. Leverage Word-of-Mouth Marketing
Word-of-mouth marketing is a compelling podcast promotion tactic. It involves encouraging satisfied podcast listeners to recommend your show to their friends, family, and broader acquaintances.
It might seem challenging to encourage recommendations online, but it's easier than you think. For example, if you're already running a giveaway with RafflePress, you can use the refer-a-friend giveaway action to attract referrals.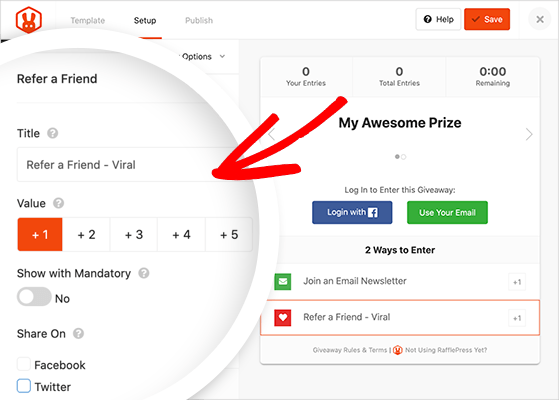 As each person uses that action to enter your giveaway, they're spreading the word to their wider network, encouraging more people to enter, and so on. In the end, you'll have tons of people who now know about your podcast instead of just a handful.
You can also leverage word-of-mouth marketing offline. Just find where your audience congregates, such as:
Conferences
Meetups
Local events
And use that as an opportunity to hand out business cards with your podcast URL.
13. Cross-Promote on Social Media Platforms
Let's not forget the simple act of cross-promoting your podcast on other social media platforms. Since each platform has a different type of audience, exposing those users to your podcast is an excellent way to draw in a new crowd of listeners.
Moreover, it's easy to miss posts in fast-moving social feeds, so covering all the important channels reduces the odds of people missing your episode.
For instance, if you tweet a new episode on Twitter, why not post it on Facebook too? You can even join relevant Facebook Groups and suggest your podcast after contributing to the conversation.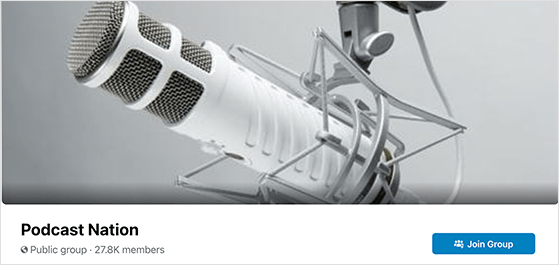 Audiograms are ideal for sharing on social media. They're short episode snippets that are easy to share across multiple social networks.
You can even leverage paid ads, such as Facebook ads, to give your marketing efforts an extra boost.
14. Convert Your Podcast Audio Into YouTube Videos
Earlier in this post, we suggested submitting your podcast to aggregators like Apple Podcasts. But have you considered turning your podcast into videos and publishing them on YouTube?
For this tip, you don't even need fancy video recording equipment. You can simply convert your podcast MP3 file into an MP4 file format and upload it to your YouTube channel.
From there, you can create a branded image to display during the episode. And in the description, you can include links to your website and other social platforms.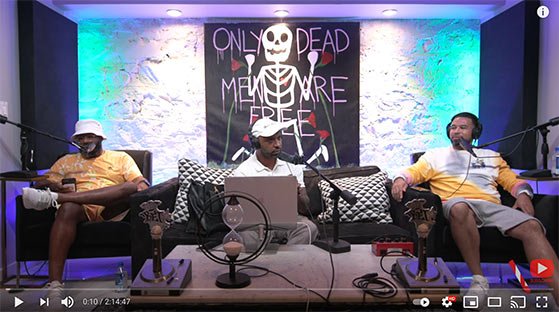 Of course, you can go down the route of creating a high-quality video, but if you're still new, the above approach will save time and money.
15. Leverage Your Guest Speaker's Audience
If your show follows an interview format with podcast guests, it's the ideal opportunity to tap into your guest's audience. Anyone you invite to talk on your podcast will likely have a large following of their own, so why not use it to promote your show?
You can do this by making it super easy for guests to share the episode they appear on. One way is to send them a quick email on the day it goes live with a collection of ready-made shareable media, such as:
From there, they can broadcast the episode to their audience, encouraging those users to listen. As a result, you could net many like-minded podcast subscribers ready to binge future episodes.
So there you have it!
We hope these tips have helped you learn how to promote your podcast. While you're here, you might also like these event promotion ideas to increase your attendees significantly.
And don't forget to follow us on YouTube, Twitter, and Facebook for more great tips to grow your business.