Want to learn how to set up a thank you page in WordPress?
Thank you pages are a fantastic way to re-engage visitors after they take action on your WordPress site. You can use them to upsell other products, offer coupon codes, and keep visitors on your website for longer.
In this article, we'll show you how to set up a thank you page in WordPress step-by-step.
What Is a WordPress Thank You Page?
A thank you page is a web page on your WordPress website that contains a thank you message. Website visitors will typically see your thank you page after they take action on your site.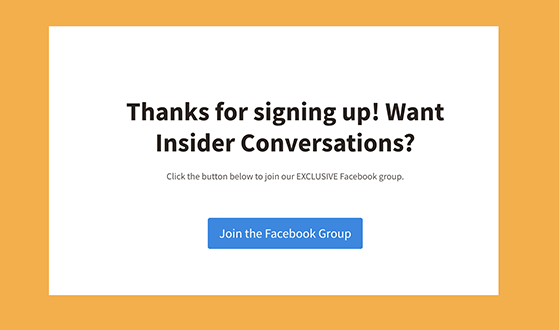 For example, you can redirect users to a thank you page:
After form submissions
After buying a product
After entering a giveaway
The benefits of doing this are you have an extra chance to re-engage that visitor. Since they've already taken action to reach your thank you page, they're more likely to take another.
For example, someone buying a product on your eCommerce site is more likely to click product cross-sells on your WooCommerce thank you page. Similarly, users entering your giveaway are more likely to click a call to action button on your thank you page.
Essentially, thank you pages are the perfect way to continue engaging warm leads and increase conversions on your website.
The question remains, how do you set up a thank you page in WordPress? We'll show you how in the guide below.
How to Set Up a Thank You Page in WordPress
The easiest way to add new thank you pages to your WordPress site is with a drag-and-drop page builder plugin. For this tutorial, we'll use SeedProd, the best landing page builder and website builder for WordPress.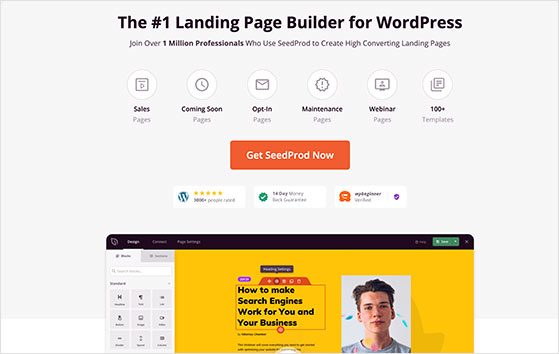 With SeedProd, you can create any WordPress page, including landing pages, headers, footers, and custom sidebars, without writing PHP, HTML, CSS, or copying and pasting shortcodes. You can even build a custom WordPress theme or a complete WooCommerce store.
With hundreds of pre-made landing page templates, you can create your new thank you page in minutes. From there, you can customize the template with your own content using WordPress blocks, which include:
Social sharing buttons
Countdown timers
Opt-in forms to increase subscribers
Related products
Testimonials
Social media icons
Checkout and order details
And more.
Check out the steps below to learn how to set up a thank you page in WordPress with SeedProd.
Step 1. Install and Activate SeedProd
The first step is to visit the SeedProd website and download the plugin to your computer. For this guide, we'll be using the pro version for its advanced features.
After downloading the plugin, you'll need to upload it to your WordPress dashboard and activate it. If you need help with this step, you can see this guide on installing a WordPress plugin.
Once the plugin is active on your website, navigate to SeedProd » Settings and enter your license key details. You can find this information in the downloads section of your SeedProd account.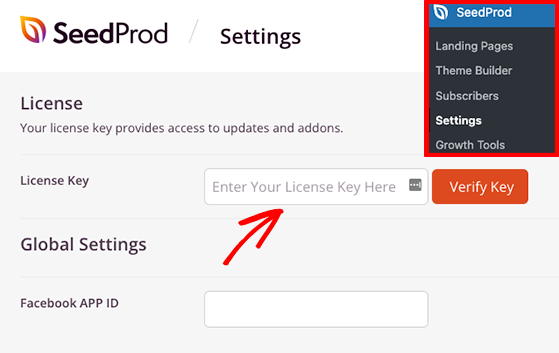 Now go ahead and click the Verify Key button to unlock your premium features.
Step 2. Choose a Thank You Page Template
For the next step, navigate to SeedProd » Landing Pages, and click the Add New Landing Page Button.

Clicking the button will open the library of landing page templates for you to browse.
Click the Thank You filter at the top to see thank you page templates. Then, when you find a design you like, click the checkmark icon to launch it.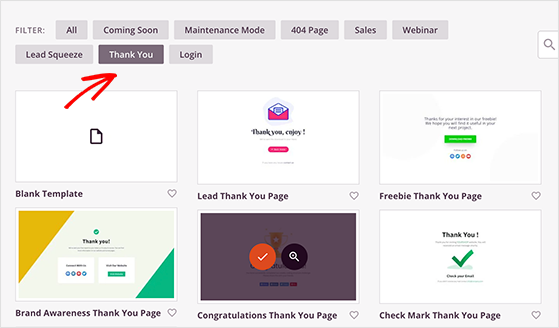 In the following popup window, you can enter your thank you page name and URL.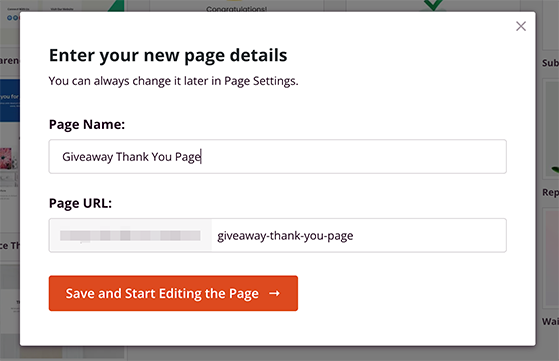 From there, click the Save and Start Editing the Page button to launch your template in SeedProd's visual editor.
Step 3. Customize Your Thank You Page Design & Content
On the next screen, you'll see a drag-and-drop interface where you can customize your thank you page design.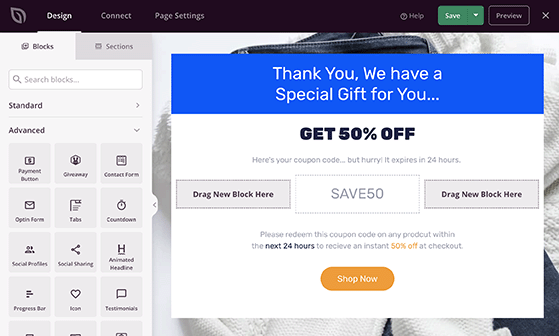 On the left is new page content called WordPress blocks and page sections that you can drag onto your page. Then, on the right is a live preview of your design.
Clicking any page element lets you customize its contents. For example, clicking the headline element opens its settings in the left panel, where you can add your own custom headline.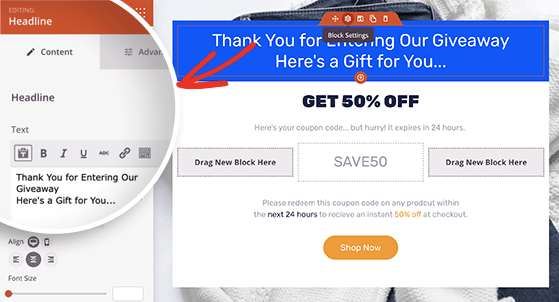 Similarly, adding new content elements can enhance your thank you page. In this example, we'll drag over the countdown timer block to add some urgency.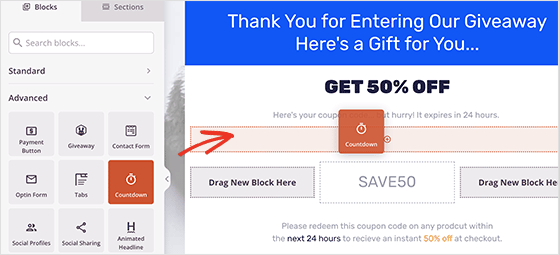 Plus, many of SeedProd's blocks include block templates that let you change the styling options with a single click.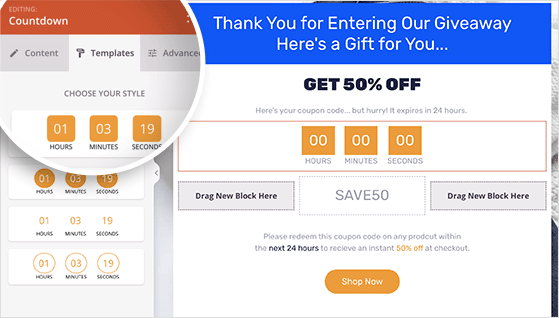 If you'd like more control over your thank you page customization, you can click the Global Settings icon. Doing so lets you adjust the background image, color scheme, and typography across your entire thank you page.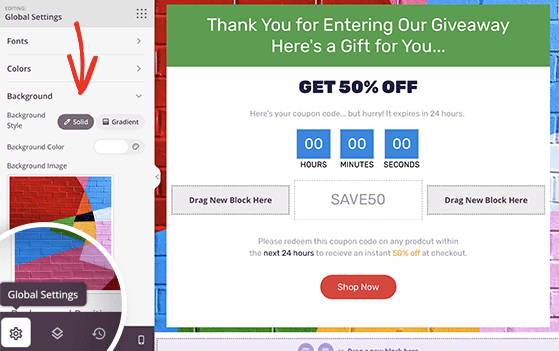 Once you are happy with how your thank you page looks, click the Save button in the top-right corner.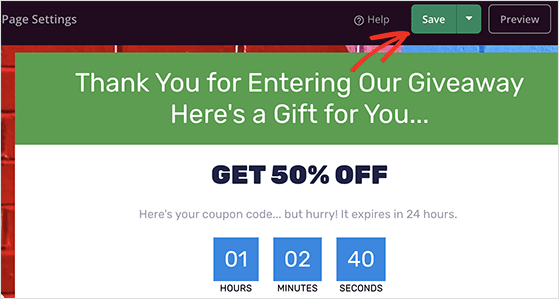 Step 4. Connect Your Email List
If you've used SeedProd's Opt-In Form widget on your thank you page, you'll need a way to add new subscribers to your email list automatically.
Luckily SeedProd offers direct integrations for popular email marketing services. It also has integrations for Google Analytics and Zapier.
To integrate your preferred email marketing service, click the Connect tab at the top of the page, then choose your email provider from the list.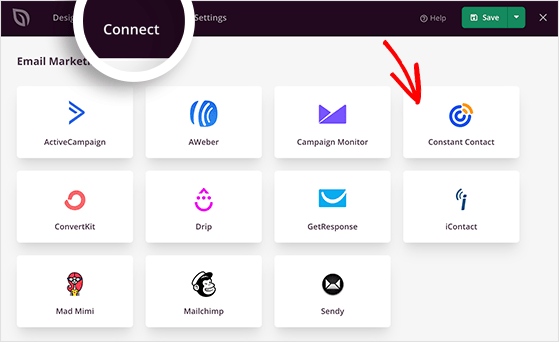 Simply follow the on-screen instructions to authorize your connection and link your email list.
Step 5. Configure Your Thank You Page Settings
The next step is to adjust your thank you page settings to get even more conversions. So click the Page Settings tab at the top of the screen, where you'll see several options, including General, SEO, Analytics, and Scripts settings.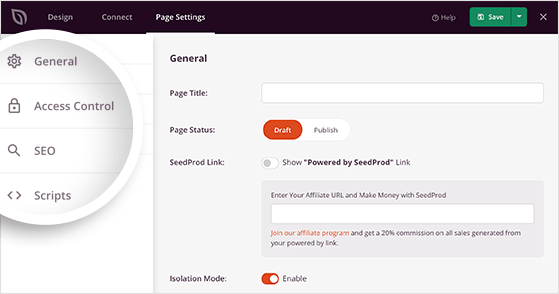 These sections let you tweak things like:
Your thank you page name
On-page SEO settings
How you monitor your landing page performance
You can also enter custom scripts to your header, body, and footer sections, like your Facebook tracking pixel.
Remember to click the Save button after configuring your settings.
Step 6. Publish Your Thank You Page in WordPress
Now that your thank you page is complete, it's time to make it live on your WordPress website. But first, let's make sure the page is mobile-responsive.
To preview your page on mobile devices, click the Mobile Preview icon at the bottom-left of your screen.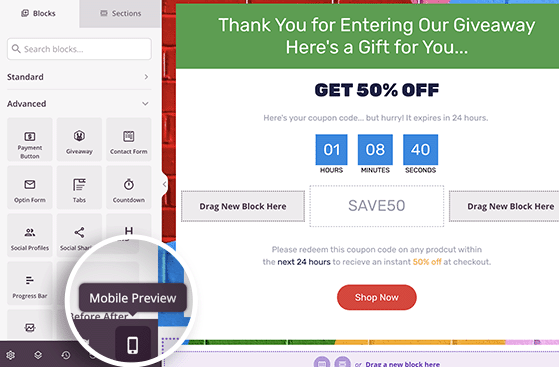 And if anything looks wrong, you can edit the layout until it's perfect.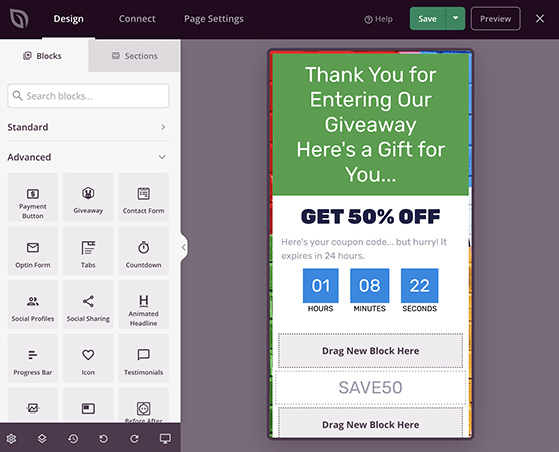 When you're happy with how everything looks, click the dropdown arrow next to the Save button and click Publish.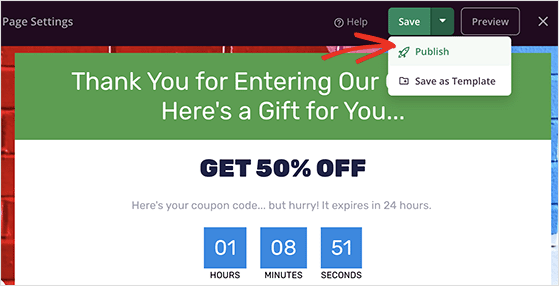 Now you can view your page to see it in action.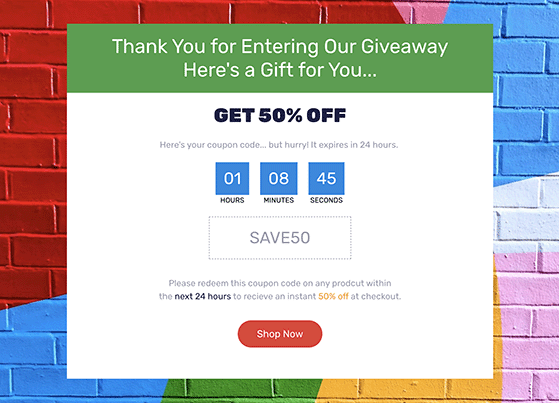 Bonus: Redirect Giveaway Participants to Your Custom Thank You Page
Using your thank you page alongside your WordPress giveaway is a fantastic way to go the extra mile for warm leads. Once people have successfully entered your giveaway, you can send them to a custom thank you page and offer a reward for participating, like a discount code or coupon.
So how about we show you how to redirect entrants after they enter your RafflePress giveaway? First, follow these instructions on creating a giveaway with RafflePress.
Next, go to your giveaway's Settings page and click the Success Redirect heading.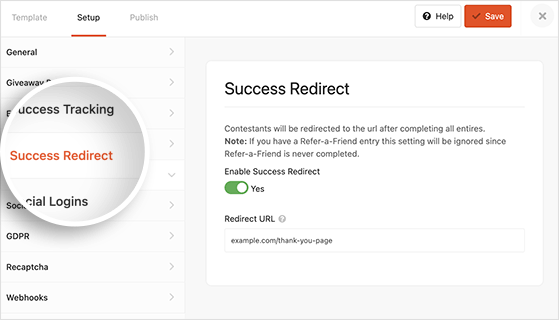 On this screen, you'll need to click the Enable Success Redirect toggle to the on position. Then go ahead and paste your thank you page URL into the Redirect URL box and click Save.
Now anyone that enters your giveaway will go to your thank you page automatically.
There you have it!
You now know how to set up a thank you page in WordPress and redirect users to it after entering your RafflePress giveaway.
Ready to dive in?
Get started with RafflePress today.
If you enjoyed this tutorial, you might also like the following marketing guides:
If you liked this article, please subscribe to our YouTube Channel for RafflePress video tutorials. You can also find us on Twitter and Facebook.