Do you want to get more views on Instagram Reels?
Instagram Reels offer an excellent opportunity to showcase your talents, promote your brand, and attract more attention to your products or services. However, with so many businesses competing for attention on the platform, it can be challenging to make your Reels stand out and garner more views.
In this article, we will guide you on how to get more views on Instagram Reels to enhance your digital marketing efforts.
First, let's clarify what Instagram Reels are. 
What Are Instagram Reels?
Instagram Reels is a feature that allows users to create short-form videos that entertain and engage viewers. This relatively new feature is Instagram's response to similar video content on platforms like TikTok. 
With Reels, you can share 15-60 second videos, set to music or trending sound bites, with creative editing tools and effects.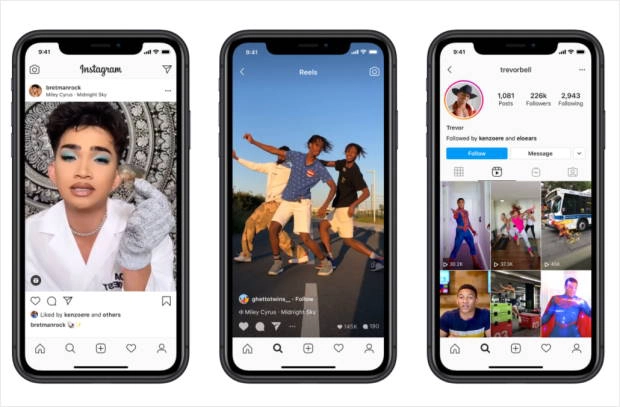 But why is it essential to use Reels in your Instagram marketing strategy?
Why Get More Views on Instagram Reels?
One of the main reasons to get more Reel views is to increase your online visibility.
The more people watch your content, the more likely they'll share it, follow your Instagram profile, or engage with your other posts. This can lead to a snowball effect, helping you grow your audience and make a bigger impact on the platform.
In addition to this, increasing your views can provide the following benefits:
Attract potential customers
Improve your chances of going viral
Monetize your content
Creative satisfaction
Moreover, Instagram Reels typically perform much better than carousels, single photos, stories, and feed videos in almost every metric. They're also Instagram's fastest-growing feature.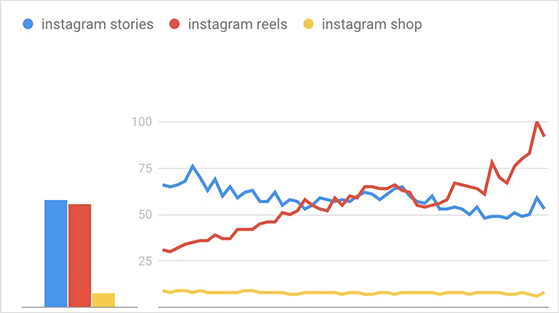 How to Get More Views on Instagram Reels
Considering the factors above, let's dive into some of the best Instagram tips and hacks to get more views on Instagram Reels.
1. Understand the Instagram Algorithm
To make the most of the Reel feature, you need to understand the Instagram algorithm. It decides how content is displayed and ranked, which affects which posts and Reels appear first in users' feeds, on the Explore page, and in the Reels tab.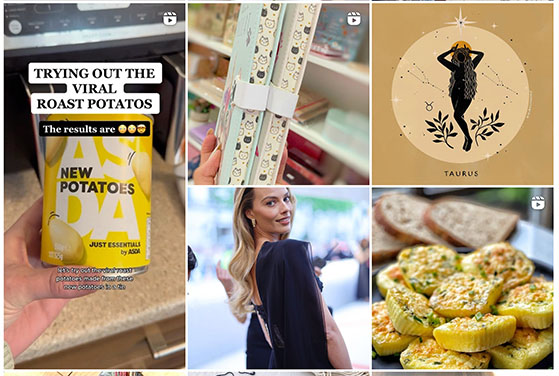 The Instagram algorithm uses machine learning to decide what content is most popular and relevant to individual users. Based on factors like user behavior, it shows content it believes users are most likely to engage with and enjoy.
Several factors can influence the visibility of your Reels:
The engagement levels of your reels
How relevant your content is
If your content is fresh and timely
How often users interact with your content
If your video content is high quality
Understanding the Instagram algorithm and aligning your social media marketing strategy with its preferences can help you get more views on your Instagram Reels.
2. Choose Relevant Topics for Your Reels
Sharing topics that matter to your audience is crucial for creating Reels that people will love. However, you need to know who your target audience is first.
Consider your audience's demographics, interests, and the challenges they face. Building personas can help you dive into what makes your audience tick.
By focusing on their needs and preferences, you can create valuable content that resonates and that they'll want to share with others.
Staying in the loop about current trends, viral challenges, and popular hashtags in your niche is also important. Incorporating these into your Reels can boost visibility and help you connect with a wider audience.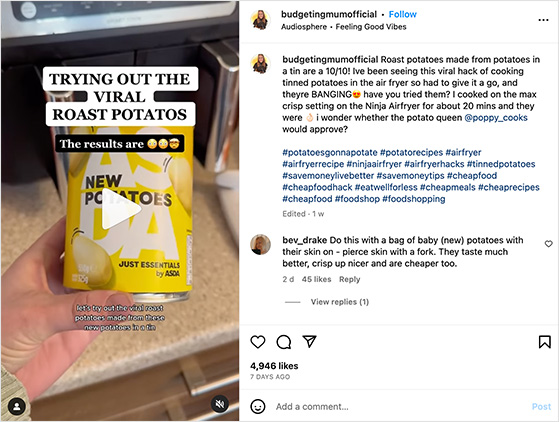 At the same time, don't forget about evergreen topics – those that stay relevant and interesting over time. Balancing trending and evergreen content ensures your Reels will have lasting appeal.
Furthermore, people love a good giveaway or contest, so mentioning them in Reels can drive engagement and attract new followers. Get creative with the format and offer exciting prizes to entice users to participate.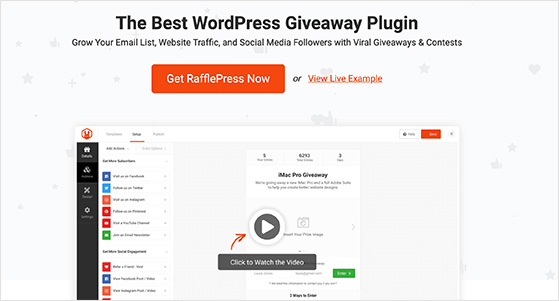 If you're using WordPress for your website or blog, RafflePress is an easy-to-use WordPress giveaway plugin that can help you create and manage online giveaways and contests without code.
It seamlessly integrates with Instagram, allowing you to encourage users to engage with your Reels or visit your Instagram account as part of the contest requirements.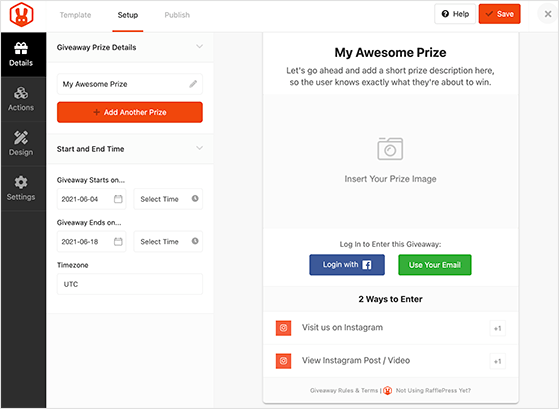 Follow this guide to learn how to create an Instagram giveaway with RafflePress.
3. Make Your Reels Visually Appealing
It's crucial to make your Instagram Reels visually appealing. High-quality visuals grab people's attention as they scroll, making them more likely to stop, watch, and engage with your content.
A visually stunning Reel captures your audience's attention and leaves a lasting impression. Engaging visuals give your content a polished and professional look, enhancing your credibility and attracting more views.
Instagram's algorithm also favors good-looking content, so investing time and effort into your visuals can pay off big time!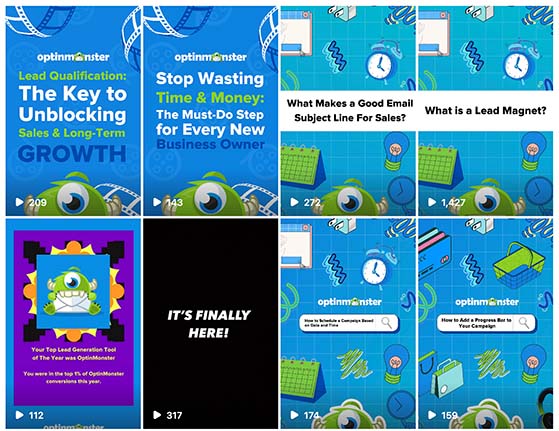 To make your Reels stand out, try some of the following tips:
Choose a striking thumbnail with bright colors and engaging visuals that entice users to watch.
Include short text overlays to provide context in a bold, readable font.
Keep your thumbnail theme, design, and colors consistent to make them more recognizable.
Ensure your video subject is well-lit and the composition is visually appealing.
Remember, quality visuals are key to standing out in the sea of content on Instagram!
4. Optimize the Reels Video Length
When creating Instagram Reels, finding the right video length is essential. The ideal duration can make all the difference in keeping your audience engaged and getting more views.
Instagram Reels can be anywhere from 15 to 60 seconds long, offering the flexibility to create bite-sized content that's easy to consume and share. But what's the best length for maximum engagement?
While there's no one-size-fits-all answer, keeping Reels between 15 and 30 seconds is a good idea. This duration is long enough to convey your message yet short enough to hold viewers' attention and encourage them to watch the entire clip.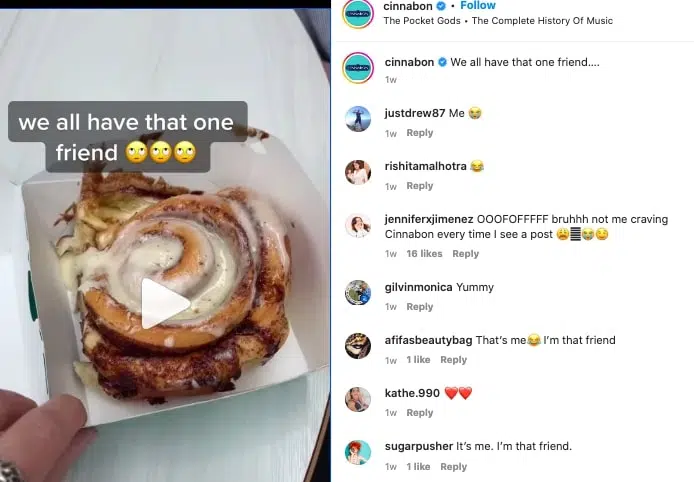 Of course, this isn't a strict rule.
Depending on your content, audience, and story, you may find that longer or shorter Reels work better for you. Experiment with different lengths to see what resonates with your viewers and keeps them engaged.
To optimize the length of your Reels and maximize engagement, consider the following:
Keep it concise and avoid unnecessary filler content that can cause viewers to lose interest.
Use quick cuts, transitions, and effects to maintain interest and keep the energy high throughout the video.
Grab people's attention within the first few seconds with a solid hook to keep them watching.
Include a call-to-action (CTA) at the end of your Reel, asking viewers to like, comment, share, or follow your account.
By keeping Reels to the ideal duration and ensuring the content is engaging, you can maximize your chances of getting more views and growing your audience.
5. Add Captions and Text Overlays
Using captions and text overlays in Reels is a powerful way to enhance your content's accessibility, convey your message, and increase engagement. For example, Instagram content with captions helps users who are hard of hearing understand the context of your video.
Text overlays can also highlight key points and provide additional context or information. Since many users watch Instagram videos without sound, captions and text overlays can help users enjoy your content even when viewed silently.
When creating captions and overlays, remember to choose fonts that are easy to read and large enough to see on small screens. It's also important to keep them short and ensure they don't cover important visuals.
Furthermore, make sure that any text, stickers, and watermarks are consistent with your overall theme and design to maintain consistency.
Using captions and text overlays is a simple yet effective way to increase accessibility and engagement, so don't hesitate to add them to your content.
6. Embed Reels on Your Website
Cross-promoting Instagram Reels on your website is another excellent way to reach a broader audience and drive more views. By embedding Reels on your site, you can showcase your content to visitors who may not have found you on Instagram yet.
Embedding Reels on can also make your website more dynamic and engaging. This can encourage visitors to stay longer and interact with your content, improving your site's bounce rate and user experience.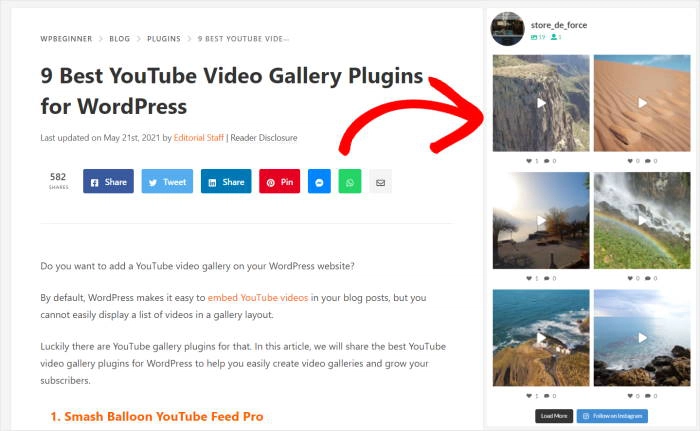 For instance, if you're running a giveaway and promoting it through an Instagram Reel, embedding the Reel on your site can create a seamless experience for visitors. They can watch the Reel, learn about the giveaway, and enter the contest together.
One of the easiest ways to embed Reels and other Instagram posts on your WordPress website is with Smash Balloon's Instagram Feed plugin.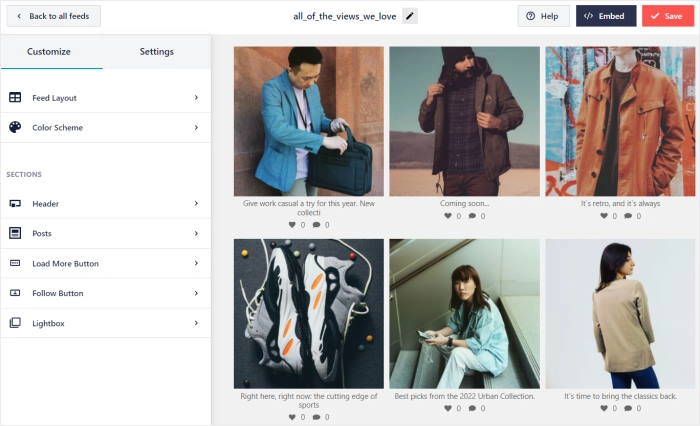 It's user friendly, doesn't require coding to set up, and works right out of the box. That way, you can quickly display Instagram video feeds that automatically match your site's theme.
For assistance, check out this step-by-step guide on how to add Instagram videos to WordPress.
By embedding your Instagram Reels on your website, you can expand your reach and engagement, creating a strong online presence to attract even more followers and viewers.
7. Harness the Power of Hashtags in Reels
Hashtags are an important aspect of any Instagram Reels strategy. They increase your content's discoverability and help you reach a wider audience.
To start researching trending hashtags, use Instagram's native search feature or use tools like Hashtagify and RiteTag, which analyze hashtag usage and popularity.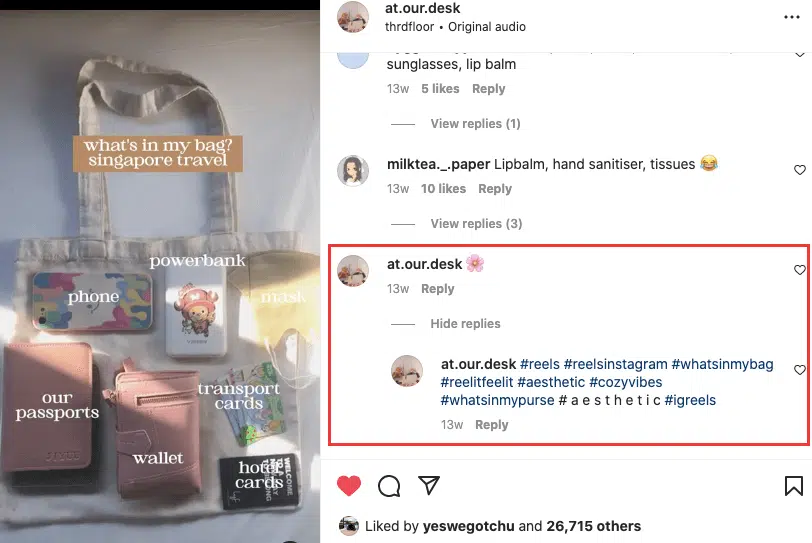 And to make the most of hashtags in your Instagram Reels, combine popular and niche-specific ones.
Try to avoid generic hashtags, and use between 10 and 15 hashtags for optimal engagement. Experiment with different hashtag combinations to see what works best for your content.
Creating your own branded hashtag is also an excellent way to build brand awareness. Keep it short, easy to remember, and ensure it relates to your brand somehow.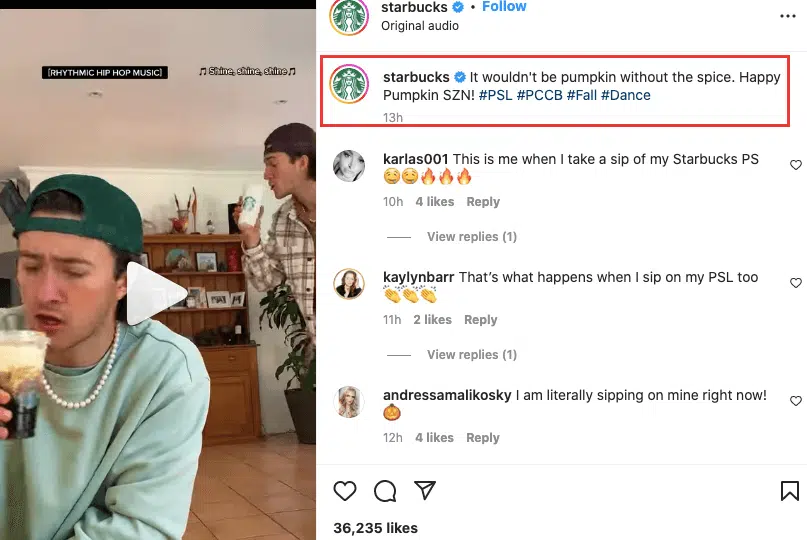 Promote your branded hashtag across all your marketing channels, and encourage your followers to use it when sharing content related to your brand. You can even incorporate it into contests and giveaways as an entry requirement.
Sharing user-generated content collected through a photo contest using your branded hashtag is another way to leverage it as part of your social media strategy. For example, with RafflePress's refer-a-friend action, you can require users to share a message to enter.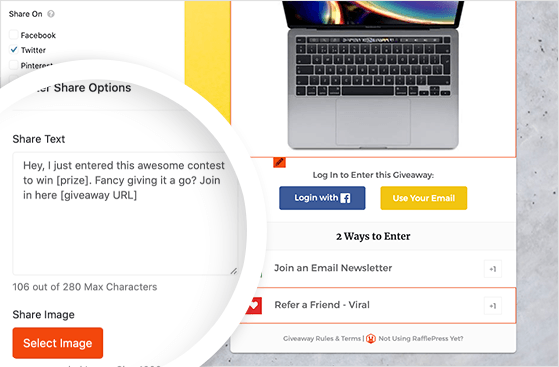 8. Collaborate with Influencers and Other Users
Partnering with influencers and other Instagram users can be a powerful way to increase your Reels' visibility and reach new audiences. One way to do this is by participating in viral challenges or creating content together.
When seeking influencers to collaborate with, look for those with an engaged audience that matches your target demographic. Reach out to them and suggest creating content together, such as hosting a joint giveaway or creating a Reel that showcases your talents.
Don't forget to share each other's content on your Instagram Stories and encourage your followers to check out your collaborator's profile.
Another effective strategy for cross-promotion is tailoring your Reels to suit each platform you're posting on. This means creating custom captions for Facebook, shorter teaser videos for Twitter, and taking advantage of each platform's unique features.
Remember to engage with your audience and promptly reply to comments and messages to foster a sense of community and encourage users to check out your content on other platforms.
9. Post Reels at the Right Time and Frequency
Consistency is key to building a following on Instagram, as it keeps your audience engaged and aware of when to expect new content. If you post too infrequently, your followers may lose interest, and if you post too often, you may overwhelm them.
So, what's the ideal posting frequency for Instagram Reels? Again, there's no one-size-fits-all answer. The best posting frequency depends on your niche, audience, and the type of content you're creating.
However, a good starting point is to post at least once a week and work up from there. Posting three to four times a week is considered a sweet spot for keeping your followers engaged without overwhelming them.
Here's what OptinMonster has to say about the best time to post on Instagram: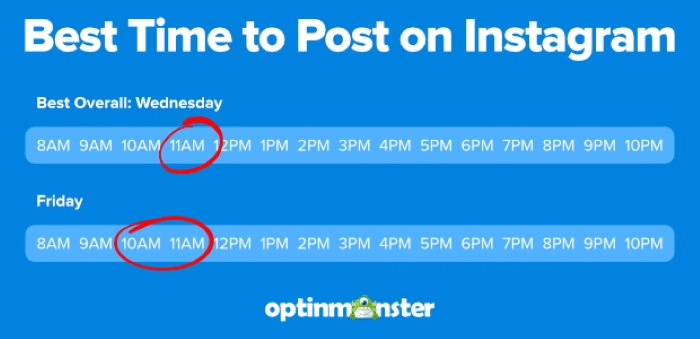 Remember, it's about posting frequently and creating valuable content that resonates with your audience. By understanding your audience's needs and preferences and tailoring your Reels to their interests, you can build a loyal following and maximize engagement.
Keep experimenting, refining your strategy, and engaging with your followers, and you'll be well on your way to Instagram success!
10. Monitor and Analyze Your Performance
Monitoring your Instagram Reels' performance is critical for refining your content strategy and maximizing engagement. You can do this by using Instagram Insights, an analytics tool built into the app, to track the following metrics:
Reach: the number of unique users who have seen your Reel
Impressions: the total number of times your Reel has been viewed
Engagement: the number of likes, comments, and shares your Reel has received
Saves: the number of times users have saved your Reel to their collections
Hashtag performance: the effectiveness of the hashtags you've used in terms of driving engagement and visibility
Audience demographics: information about your audience, including their age, gender, location, and active times
Video completion rate: the percentage of users who watch your Reel to the end
Using this data, you can make informed decisions to optimize your content strategy.
For instance, you can learn which types of content resonate with your audience and generate the most engagement, then create similar content to boost your results. Additionally, you can tailor your content, hashtags, and posting schedule to suit your target audience better.
To stay ahead in the ever-evolving world of social media, you need to adapt and evolve your strategy continuously. This involves keeping up-to-date with the latest trends in your niche, experimenting with different content formats to gain a competitive edge, and using audience feedback to improve your content.
Take time to observe the strategies other successful accounts use within and outside your niche. Be prepared to adjust your plan as trends evolve to stay relevant and maintain your audience's interest.
There you have it!
With the tips and strategies in this guide, you'll find it much easier to get more views on your Instagram Reels. If you're looking for more engagement help, check out this guide on the best gamification plugins for WordPress. 
If you liked this article, please subscribe to our YouTube Channel for RafflePress video tutorials. You can also find us on Twitter and Facebook.