Want to know how to promote candles on Instagram?
Selling homemade candles is a popular way to make money online and kickstart a small business. Since it's a popular platform for many companies, it makes sense that you'd want to market your candle business on Instagram.
This post will show you how to promote candles on Instagram with our best candle marketing ideas.
Why Sell Homemade Candles?
Handmade candles have become an essential home-decor staple. Plus, with the candle-making industry expecting to reach $5 billion in the next few years, it's the ideal solution for people looking to start a small business.

If you look at Google Trends, you can see plenty of interest in different types of candles. From essential oil scented candle wax to environmentally friendly soy wax candles and every other variation imaginable.
So when you're trying to generate business ideas, this knowledge is a powerful insight to help you start a candle business that resonates with potential customers.
Benefits of Promoting Candles on Instagram
After learning how to make candles, setting up your candle company, and creating a range of unique scented products, you'll need to create a marketing plan to promote your products.
There are many marketing strategies available, including email marketing, blogging, and taking out ads, but many small businesses see excellent results with social media.
Instagram, in particular, is the ideal place to sell candles because it's a highly visual platform. Users can see products in detail and get an idea of how they'll look in their own homes.
Moreover, Instagram's large user base makes it a low-cost solution for increasing brand awareness. Plus, as you engage with your audience and grow your Instagram followers, you'll drive more traffic to your business website, leading to more sales.
How to Promote Candles on Instagram: Tips & Tricks
So far, we've established that creating a candle business is a lucrative way to start selling online. We've also learned that Instagram is one of the best ways to reach customers based on its extensive reach and visual nature.
But how do you promote candles on Instagram? Follow these tips and tricks to find out.
1. Ensure You Have a Business Profile
When marketing your candle company on Instagram, the most important thing is to ensure you're using an Instagram business profile.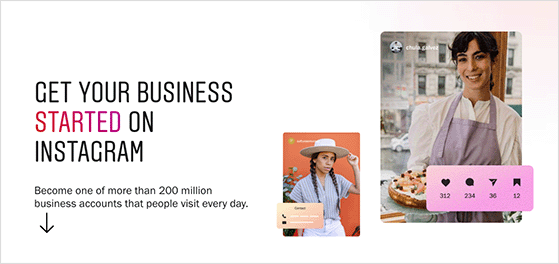 A business account unlocks extra features that are ideal for selling on the platform, including:
You can switch to a business account inside the Instagram app if you already have a personal account.
Follow these steps to switch to an Instagram business account:
Go to your Instagram profile and tap the hamburger menu (☰) in the top-right corner
Tap the Settings icon
Tap the Account icon
Tap Switch to a professional account
Pick a category to describe your business and select Business
After setting up your business account, you can optimize your Instagram bio with contact details, clickable hashtags, and your website link so users can learn more about your candle-making company.
2. Take Enviable Product Photos
The foundation of any Instagram promotional strategy is high-quality visual content. You'll want to inspire your audience and overload their senses with imagery that compels them to learn more.
Since Instagram is a visual platform, your photos should be top-quality and tell a visual story. Take this example from Yankee Candles:
You can imagine yourself stretched out in a sunny park, enjoying a summer picnic, and that's the goal. Put yourself in your audience's shoes and snap product photos you know they can't resist.
3. Find the Right Time to Post
Taking amazing product photos is only part of the struggle when promoting candles on Instagram. You also need to post them at a time when your target audience will see them.
The Instagram algorithm doesn't display posts in chronological order, so the best way to get more eyes on your content is to post on Instagram during peak hours.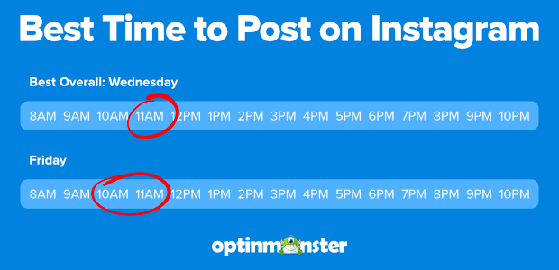 According to research from OptinMonster, the best times to post on Instagram are:
Wednesday at 11 am, and Friday at 10-11 am
Consistent engagement mostly happens on Tuesday to Thursday from 10 am – 3 pm.
It's also a good idea to dive into your Instagram analytics and see when your followers are most active. That way, you can get more tailored insights and pick the optimal time for them to see your content.
4. Post Frequently and Consistently
Posting frequent updates is another way to ensure your content appears in the Instagram news feed.
The more content you post on Instagram, the more likely users are to see and engage with it, and as a result of higher engagement rates, Instagram will show your content more often.
Consistent Instagram posts will also help your audience know when to expect fresh content from your brand.
The general rule is to post at least once per day on Instagram and no more than 3 times per day, but that largely depends on your audience.
Experiment with your posting frequency to see what works best. Just ensure your content is high quality; otherwise, you'll bore your audience, and they'll turn away from your candle business.
5. Run Instagram Giveaways and Contests
A fantastic way to reach a much larger audience and engage your existing customers is to run a giveaway or contest on Instagram. Most people love winning freebies, and a candle giveaway can introduce potential customers to the wonders of your hand-crafted products.
One of the easiest ways to run a giveaway is with a giveaway builder or contest app. Our favorite giveaway tool is RafflePress, the best giveaway builder for WordPress.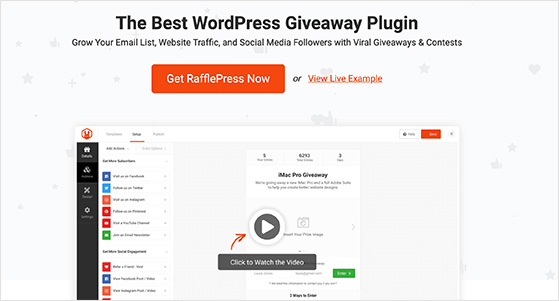 RafflePress lets you create any giveaway or contest from your WordPress website without code. You can start with a pre-made giveaway template, then use the drag-and-drop builder to add prize information and set your giveaway entry methods.
For example, you can ask participants to:
Visit your Instagram profile
View an Instagram post
Share your giveaway on other social media channels
View a product page
And much more
Just as helpful is the ability to post your giveaway link anywhere online. Because RafflePress includes distraction-free giveaway landing pages, you can publish your giveaway in WordPress and add the link to your Instagram bio for users to find it and enter easily.
Follow these guides to learn more about running giveaways on Instagram:
6. Leverage the Right Hashtags
Another easy way to reach potential customers is to use relevant hashtags in your Instagram post captions. Hashtags sort content into topics, making them easier for people to find and browse.
For example, typing the #candle hashtag into Instagram will reveal many other hashtags you can use in your content.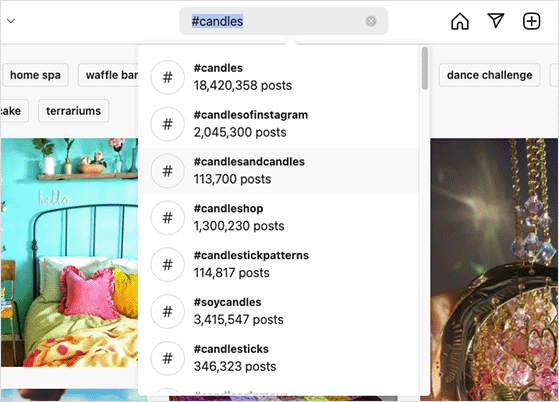 When writing this, the most popular candle-related hashtags are:
#candlesofinstagram
#candlesandcandles
#candleshop
#soycandles
#candlesglamour
#scentedcandles
#candleseason
The best way to use hashtags when promoting your candle business is to include a mix of broad and branded hashtags. For instance, you might use #candleshop and #scentedcandles as more general terms and your shop name as your branded hashtag.
7. Create Shoppable Instagram Posts
As mentioned earlier, business accounts on Instagram can sell products directly from posts. Because the entire sales process is handled via the Instagram app, users won't need to leave the platform to buy your candles.
Since fewer steps are involved, convincing your audience to take the plunge and buy your homemade candles is much easier.
Take a look at this example from MIVA:
It includes a great candle photo, a compelling caption, and relevant hashtags. Plus, in the mobile app, users can tap to buy them right away.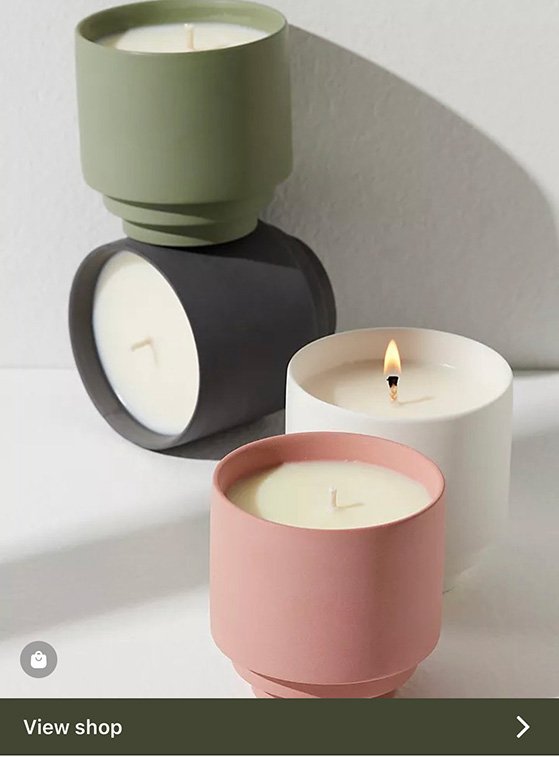 Pro Tip: Did you know you can also sell products on Instagram from your WordPress website? With an Instagram feeds plugin, you can show shoppable Instagrams posts on your site, exposing your website visitors to your Instagram account while selling more candles.
8. Use Instagram Stories
Instagram stories are another helpful way to promote candles on Instagram. Around 86.6% of businesses use stories as part of their marketing strategy because they're so engaging.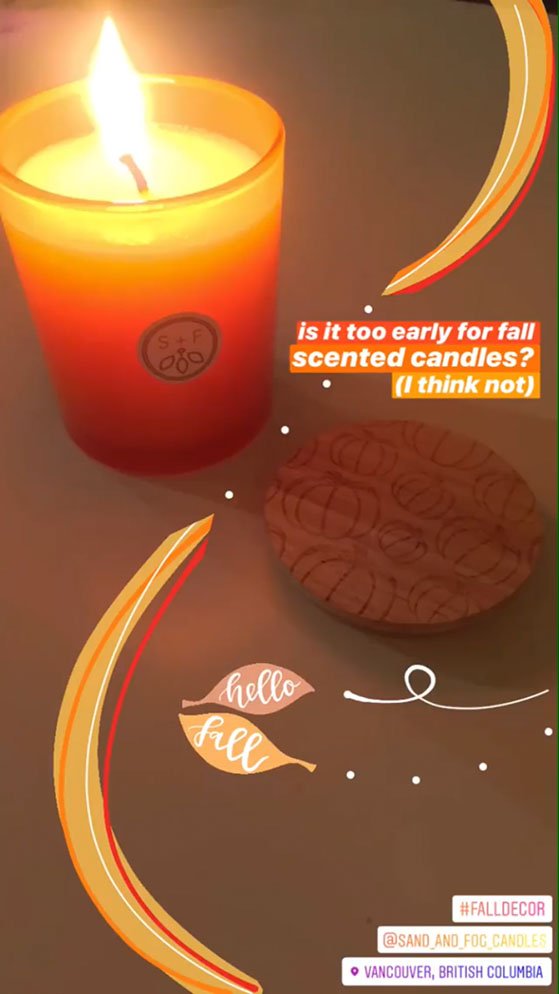 Stories tend to have a less polished look than traditional Instagram posts, which makes them more authentic and "real" to viewers. They also disappear after 24 hours, so you can use them more frequently to promote your brand on Instagram.
Here are some of the ways to use stories to promote candles on Instagram:
Share your candle-making process
Tease new products
Post polls to get customer feedback
Show you getting orders ready to ship
9. Post Live Videos and Instagram Reels
Similar to stories, videos are another popular format for promoting your candle business. The Instagram Reels feature, for example, is a great way to post longer videos to your feed.
In this example, La Luna Glow Candles uses Instagram Live to chat with followers and explain more about her business.
This one-on-one format feels more personal than a typical post and helps the company connect with users more effectively.
Going live or shooting a video is also straightforward. All it takes is the camera on your phone, and you can engage with your audience anywhere.
10. Work with Instagram Influencers
It's hard to go anywhere on Instagram without bumping into influencers. That's because influencer marketing is a multi-million dollar industry with the power to:
Raise brand awareness
Reach new or targeted audiences
Improve brand loyalty
Increase sales conversions
In fact, data reveals that 61% of consumers trust influencer recommendations more than branded content. So if you can work with the influencers your target customers follow, you'll raise brand awareness, drive website traffic, and see positive impacts for your candle business.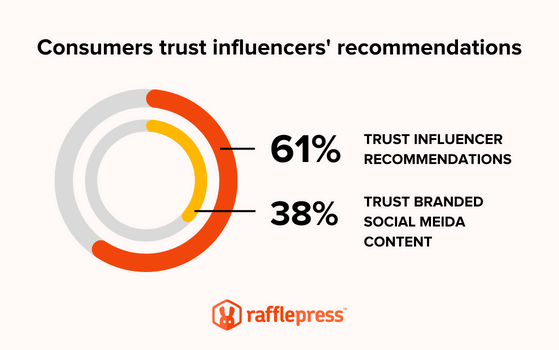 Here's an example of how one influencer worked with Nest, a candle and fragrance brand:
As you can see, the post has tons of engagement. Because the brand is tagged in the post, viewers can instantly click to learn more about their products.
11. Share User-Generated Content
The above tip leads us nicely to talking about user-generated content (UGC). By that, we mean content from your fans and customers, like product reviews, photos using your products, videos, and more.
Similar to influencer marketing, consumers respond better to UGC than other types of content because it's from genuine people who have used your products. It's a form of word-of-mouth marketing that increases trust in your brand with positive social proof.
Take this example from Shaunte: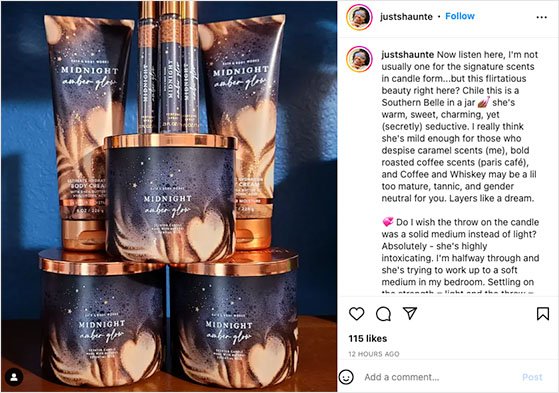 They give a glowing review of a Bath and Body Works candle, prompting many people to like and comment.
By sharing UGC about your own candle products, you can generate genuine interest with significant results for your business.
12. Promote Your Candles with Instagram Ads
No promotional strategy is complete without talking about the benefits of Instagram ads. Running ads is a fantastic way to reach users interested in your niche and introduce them to your candle products.
You can create 5 types of ads on Instagram, including:
Photo
Video
Carousel
Stories
Ads in the Explore feed
From there, you can fine-tune who should see your ads in the ads manager.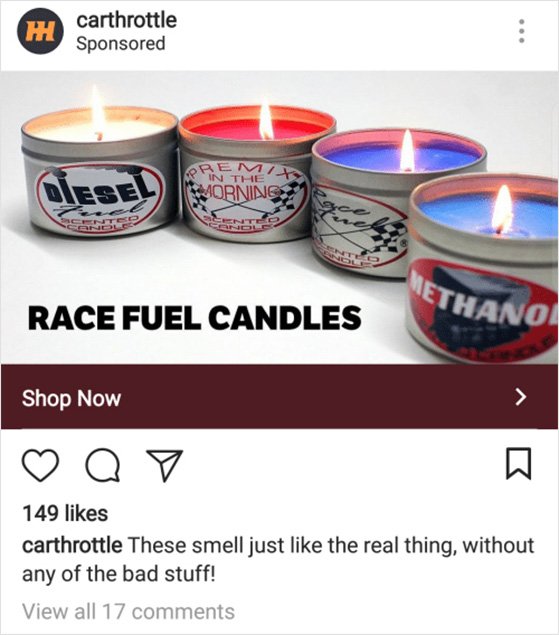 In this example, Car Throttle promotes its scented candles with Instagram ads by including a customer testimonial in the caption. Because the ad contains a button to "shop now," users can also buy the candles right from the ad.
Bonus Tips to Promote Candles on Instagram
Since there are so many tips and ideas for promoting your candle business, we couldn't include them all in this post. So here are a few more quick tips to boost your candle marketing efforts:
Optimize your Instagram profile for SEO by using relevant keywords in your bio, post descriptions, and more.
Differentiate your feed from your competitors with your unique style and branding
Mix up your feed with a combination of sales, educational, and entertaining content
Check out your competitors to generate more ideas
Explore your Instagram analytics to see what does and doesn't work
Include a call to action in captions to share your post on other social media networks
That's it!
In this article, we've helped you learn how to promote candles on Instagram. Now you can dive in and use these candle marketing ideas to grow your business.
Another effective way to promote your candle business is by selling products on Etsy. Check out these Etsy marketing tips to attract more customers.
If you liked this article, please subscribe to our YouTube Channel for RafflePress video tutorials. You can also find us on Twitter and Facebook.