Do you want to learn how to get more likes on Instagram for your business? With stories of people making big bucks through the platform, it's tempting to get involved.
But getting those longed for likes doesn't come easy. It's common to post something and barely get any response on a carefully crafted post you hoped would take off.
That's why we've put together this guide for getting more likes on Instagram. All so you can influence more people, get more clicks, and ultimately make more money for your business.
To make things a little easier, we've broken everything down into the following sections:
Let's get to it!
Get More Likes on Instagram with Better Posts
The first place to start when trying to get more likes on Instagram is to look at what you publish. What you post plays a large part in who will like it so getting this right is a crucial step.
Take a look at the following suggestions for improving your Instagram posts.
1. Take Great Quality Photos
Even though there's a trend now towards taking more authentic photos on Instagram the truth is they don't perform as well as photos of a higher quality.
Great quality photos are not only super attractive but they also feed into our need to escape reality for a while.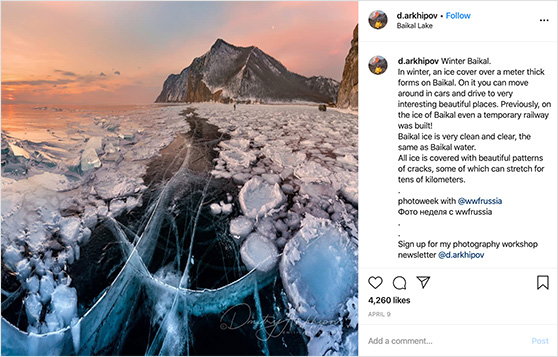 Don't worry you needn't rush out to buy a super expensive camera for your photos. Most modern smartphones have pretty sophisticated cameras so that should do the trick.
Pay attention to your lighting (natural light is best), get creative with filters and you'll have an insta-worthy photo in no time that nets you way more likes.
2. Use Filters Consistently
Another quick way to get more likes on Instagram is to use a consistent set of filters on your photos.
Haven't you noticed how some of the top Instagrammers have a feed full of images that all look like they were taken in the same photoshoot? What's their secret? They use the same filters throughout!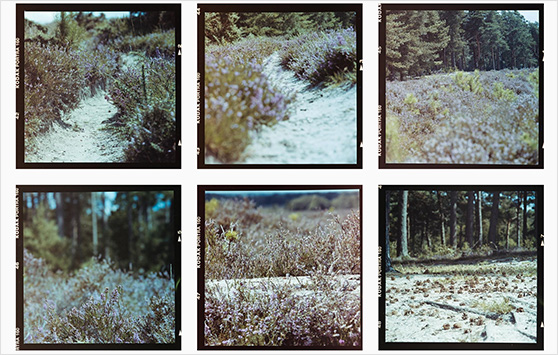 It might seem counter-intuitive but using the same filters for each mage helps cement your visual identity. It enables you to build a brand that's recognizable to your followers which in turn gets you a regular boost in likes.
3. Make Your Captions Interesting
When posting on Instagram it's tempting to simply snap an image, publish it and pray that the likes will start rolling in. But that's not how social media marketing works.
You need to make the effort to engage with your followers and a great way to do that besides sharing awesome photos is to write interesting captions alongside them.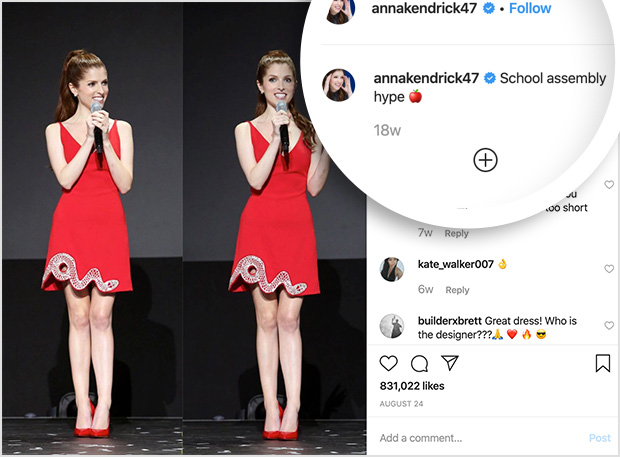 Some of the best Instagram captions tell a story about the image helping the viewer imagine they're right there in the photo experiencing it for themselves.
You could also try:
Asking a question about the image.
Sharing a funny story from the shoot.
Writing tips for getting the perfect shot.
Adding witty comments that reflect your personality.
Whatever you include make sure it's interesting and offers an opening for your followers to join in on the conversation. This is a sure-fire way to get even more likes.
4. Share Behind The Scenes Photos
Instagram isn't just a great place to help people escape reality. It's also the ideal platform for sharing more intimate and personal moments from your business.
Not only will your followers go crazy for these behind the scenes snapshots it also helps you build an emotional connection with them.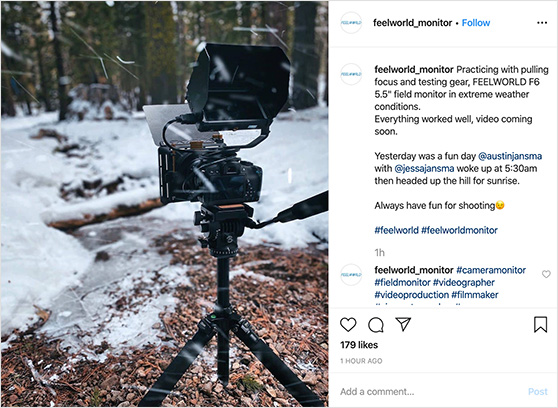 Think about what your audience would enjoy knowing about the rarely seen aspects of your business. It could be you share images of how you shoot videos or your day-to-day work habits. That window into your everyday business life is the key generating interest and more likes.
5. Post More Videos
When you browse your Instagram feed what stands out the most? Is it the pictures you scroll past endlessly? Probably not!
Chances are it's the videos that make you stop scrolling. And so video is where you should focus some of your efforts in order to get more Instagram likes.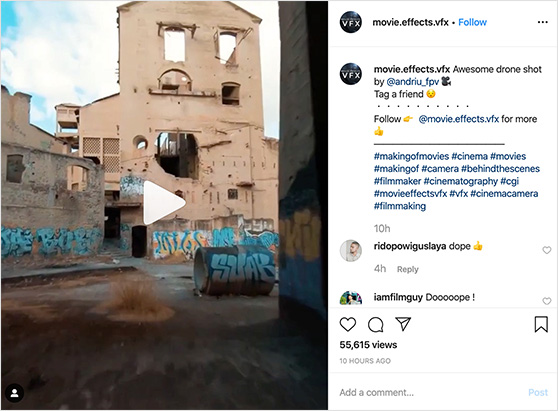 In a crowded feed, video is far more engaging than a simple photo. So think about how you can use video to grab the interest of your followers.
How-to videos that don't rely on audio are a great place to start. You could also consider adding captions to videos so people in public places won't need to turn on the sound to get the most out of your posts.
6. Make Posts Fun with Boomerang
And while we're on the subject of making your Instagram posts more engaging why not try injecting some fun into your photos and videos with Boomerang.
Boomerang from Instagram is a tool that lets you create a forward and then a backward loop of a short video clip. Think of it as something halfway between a video and a gif.
Many people use Boomerangs to highlight a funny moment in their day. And quick, dramatic movements tend to make the most interesting boomerangs.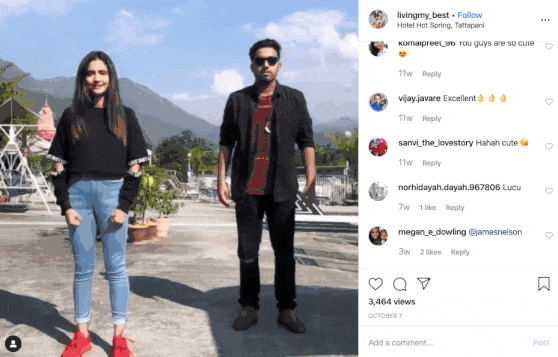 Have a think about how you can use this in your Instagram strategy to get more likes and engagement.
7. Make Use of Carousels
Carousels on Instagram used to be limited to ads. But now anyone can add multiple images into a stylish carousel offering another way to make your posts stand out in a crowded feed.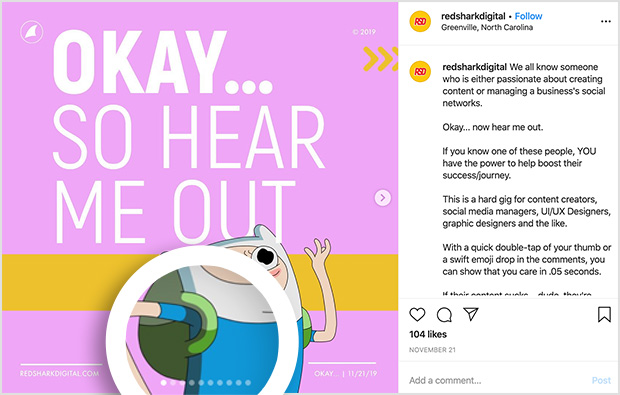 There are plenty of ways you can use carousels to add interest and intrigue to your feed including:
A carousel of product images.
Collections of photos from a photoshoot.
A group of images from an event.
Photos grouped together to form a story.
These ideas all contribute towards getting even more likes on Instagram.
8. Post Actionable Quotes
Posting quotes on Instagram might seem a little cliche but the truth is they work wonders for getting loads of likes.
Quotes are usually posted on a clear background with bold text making them stand out from the rest of the feed. This makes them easy to read and attention-grabbing all at once.
One way to get away from the more generally used quotes is to share more actionable quotes people can take value from. And if you're feeling super creative you can come up with your own quotes that directly relate to your brand.
9. Repost Great Content
One of the biggest perks of having an active social presence is user-generated content. Instead of liking and commenting on posts fans of active brands repost brand content as a way of showing their support. What's more, they usually tag the original account in the post giving them credit.
You can do this too if you're stuck for content ideas.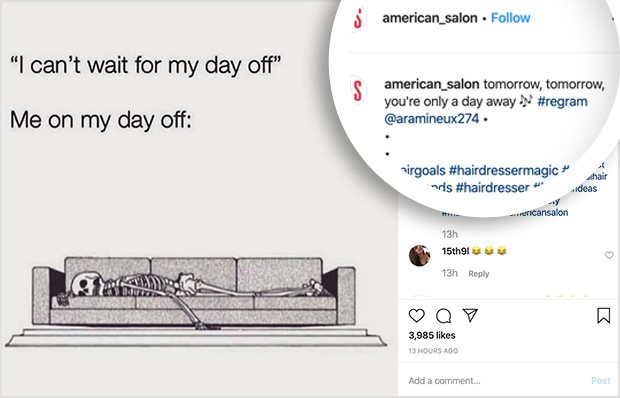 Take the time to browse through your follower's feeds and pick out a post that aligns well with your brand and performed relatively well. Then repost the image making sure to mention the account who first posted alongside a good caption.
This is a two-pronged approach to getting more likes on Instagram. Not only are you re-sharing a popular piece of content the original poster will likely engage with the re-post too as a thank you for sharing it.
10. Run an Exciting Giveaway
Another sure-fire way of getting more likes on Instagram is to run a giveaway. Contests generate heaps of excitement and have the power of making your posts go viral.
An easy way to run a giveaway on Instagram is to use RafflePress the best giveaway and contest plugin on the market. RafflePress makes it super simple to run a viral contest that gets loads of likes and comments.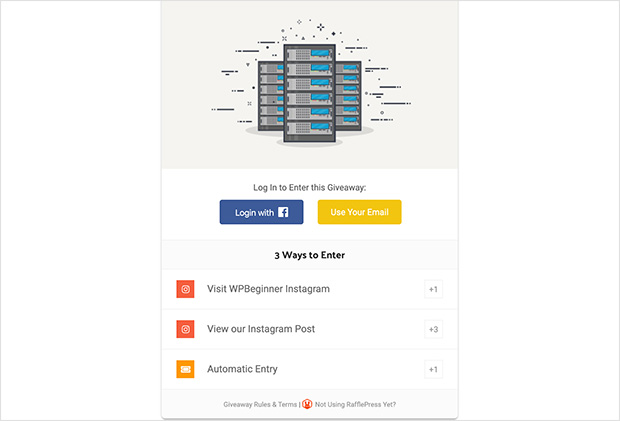 You can even use the Grow Your Instagram Following template to make it easier to get set up. This template automatically adds the requirement for people to visit you on Instagram in order to enter your giveaway.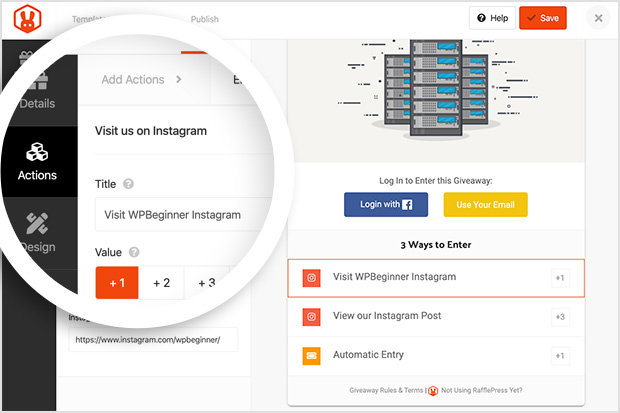 Then you can promote your contest on Instagram to get the most exposure for your account which builds your audience and gets many more people liking your content.
Further Reading: 13 Amazing Instagram Examples to Try Now
11. Offer Discounts and Promotions
Providing ways for your followers to save some money is a great way to turn them into solid leads. Offering discounts is really easy to do on Instagram.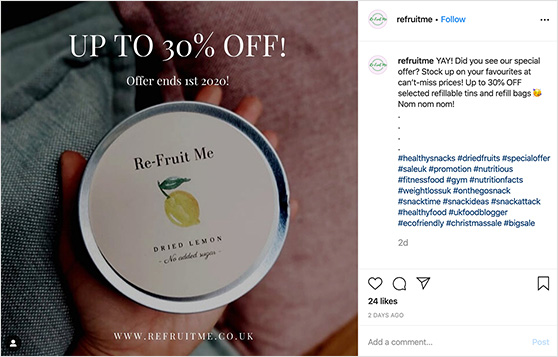 A simple, eye-catching image with bold text highlighting your offer is often all you need because it's easy to read and chances are people will like and save it so they don't forget to use it later.
Posts like this help to increase your followers and make it more likely that those same people will like your posts in the future.
Further Reading: 18 Gym Promotion Ideas to Get More Clients Now
12. Make Use of Instagram Stories
Stories are Instagram's version of the typical Snapchat Story. They let you share updates that last no longer than 24 hours and are generally more forgiving than the highly polished Instagram feed.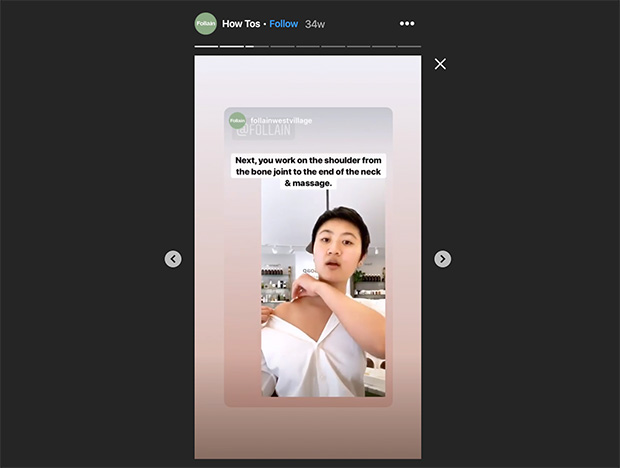 This means you can afford to be more fun and authentic without compromising the curated look of your main Instagram feed.
You can use stories to highlight new and upcoming promotions, customer feedback and other interesting aspects of your business people might find insightful.
Even better you can cross-promote Instagram stories on Facebook stories using the same content to reach a different audience that might not follow you on Instagram.
13. Go Live on Instagram
You might think that going live on social media is limited to the likes of Twitter and Facebook but broadcasting live streams on Instagram is an effective way to engage with your audience too.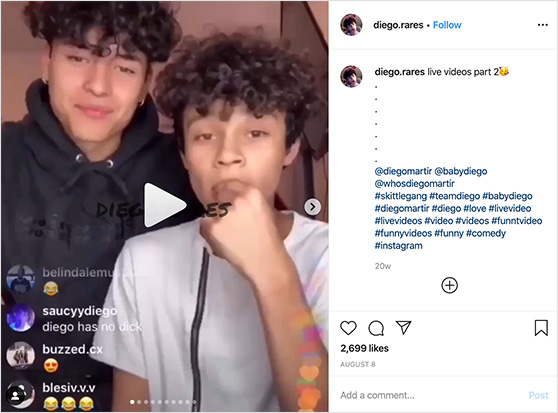 Live streaming a question and answer session on Instagram offers a way for your followers to get to know more about your business in a more unconventional format.
Try publishing a number of posts promoting the session in the lead-up to your live stream to generate more interest and awareness.
You can even offer prizes and discounts to people who show up making your stream more desirable and more likely to receive a bigger number of likes.
14. Post Regularly
It might not seem so important at first but having a regular schedule of content going out on your Instagram page goes a long way to improving the number of likes you get overall.
Posting regularly means you're always engaging with the followers you have while making your profile more attractive and active for future followers. This helps to maintain a certain level of engagement while you make efforts to grow further.
Plus going for a long time without posting anything can lead to people unfollowing you and a decrease in engagement. Combat this by posting every couple of days at the very least.
15. Ask Important Questions
If you pay attention to Instagram accounts that get a lot of engagement you'll notice they share some important things in common. One of these is that they ask questions in the captions of their posts.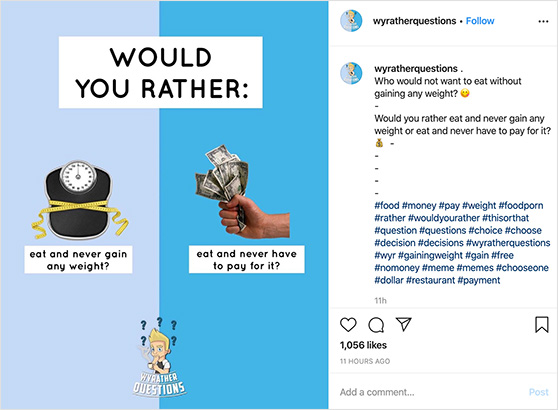 Asking questions is highly engaging and gets your followers thinking about a response. And people who have already left a comment on a post are much more likely to double tap and like your photo.
Turning this kind of thinking into habit when putting together your content can net far more likes than a simple caption.
16. Take Advantage of Trending Topics
Another guaranteed way to get more likes on Instagram is to take advantage of trending topics.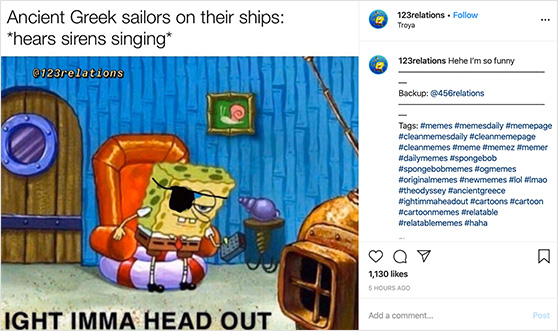 Let's face it, we've all been caught up in the latest meme or craze sweeping the internet and we know how powerful they can be for the original accounts that post them.
Every one of these trends is an opportunity for your business to jump on and use to boost your own social presence especially if the trending topic is related to your field of interest. This keeps your brand top-of-mind and relatable to the people following you.
Get More Instagram Likes by Promoting Your Posts
Now that we've discovered some highly-effective ways to craft engaging Instagram posts it's time to find out how you can promote them.
Let's look at some simple ways to get more likes on Instagram by promoting your posts like a pro.
17. Cross-Promote on Other Platforms
Instagram makes it super easy to cross-promote your posts on other platforms. You've probably noticed that when you're about to hit publish a prompt comes up asking if you'd also like to post to Facebook, Twitter, and Tumblr.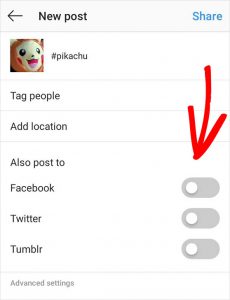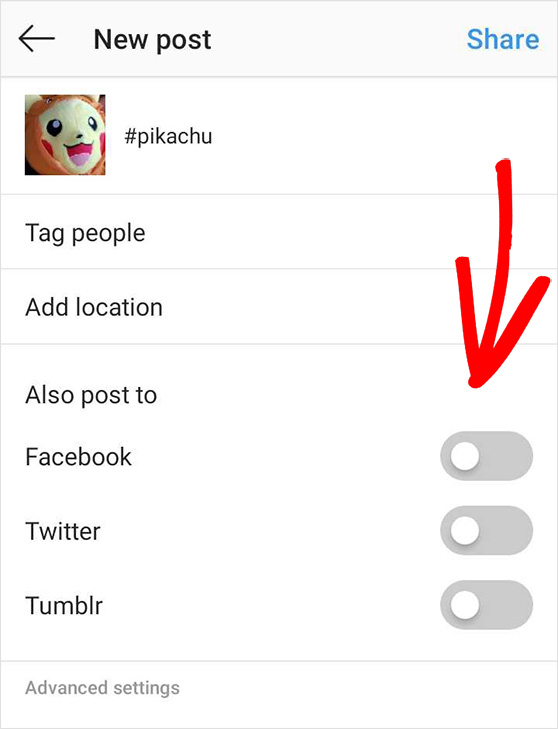 Toggling these options will send that same post to those other networks reaching an audience that might not realize you have an Instagram account. This can prompt them to check your profile out in response and maybe even like a few of your photos.
If you're running an Instagram giveaway like we mentioned earlier you can also use the actions in RafflePress to get people to share your giveaway on other social platforms.
This increases the exposure of your giveaway and as we just said can get them to check out your Instagram profile. You never know you may even tap into a whole new audience of followers.
If you're using Instagram to help grow your blog this ultimate guide to Instagram for bloggers will help.
18. Add Your Instagram Feed to Your Website
Embedding your Instagram feed on your website is an easy way to get more likes. Many of the people that visit your website are already fans of you, so they're more likely to interact with your posts.
You can easily add your Instagram feed anywhere on your WordPress site using Instagram Feed Pro by Smash Balloon.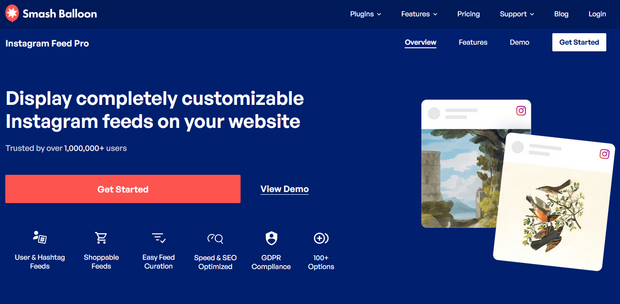 With Smash Balloon's Instagram Feed Pro, you can display standard feeds, hashtag feeds, Instagram Stories, IGTV videos, "shoppable" feeds, and more.
The feeds are highly customizable; you can choose from different layouts, decide which posts will appear in the feed, design the feed to match your brand, and more.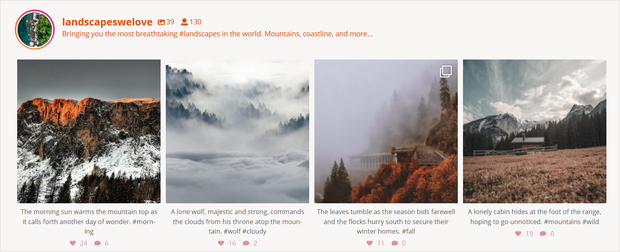 Plus, you can display your likes and comments, which encourages others to engage with your posts too.
19. Research and Use Local Hashtags
Did you know that using local hashtags is a good way to reach potential customers who are near you? Doing so can help you connect with people close-by who may be interested in featuring or promoting you as a local business.
Do a quick Google search for popular Instagram accounts in your town or city and take note of the local hashtags they're using. Then use these in your own posts to get more likes on Instagram.
20. Use Relevant Popular Hashtags
A similar way to get more Instagram likes is to use popular hashtags that are relevant to your brand. These hashtags can tap into a larger audience than using local ones and can help your photos get seen by more people.
The key thing to remember about using popular hashtags is that they're generally not high-quality likes. But they're a good way to increase your credibility when growing your account.
A good practice is to pick a few of the most popular hashtags and sprinkle them in with more highly targeted ones. That way you reach a large 'general' group of users alongside a more targeted audience.
21. Add Hashtags to Your Bio
Another way to give your profile a boost and get more likes on Instagram is to include relevant hashtags in your bio. Doing this helps people to find you more easily in search queries and makes your brand more recognizable.

By using relevant hashtags in your Instagram bio you are showing visitors what your page is about and it's purpose. Your bio description isn't searchable so using hashtags improves your visibility.
It's also a great way to link to tagged content together. For example, you could include a branded hashtag to promote and collect user-generated content to use in future posts for more likes.
22. GeoTag Your Location
Geotags are also a great way to increase engagement on Instagram. All you need to do is add your location when publishing a new post or allow Instagram to use your current location.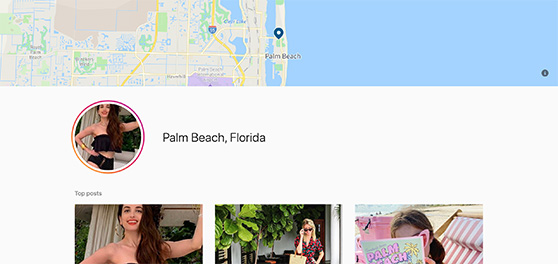 These tags let people find your photo anytime they click on the same geotag on another photo. It's, therefore, a great way to grow your following and boost your likes because it's another way to increase your visibility.
23. Promote Posts Using Ads
Just like Facebook Instagram has its own ad platform that allows you to promote posts. Taking advantage of this can help you reach a large group of people who don't already follow your account.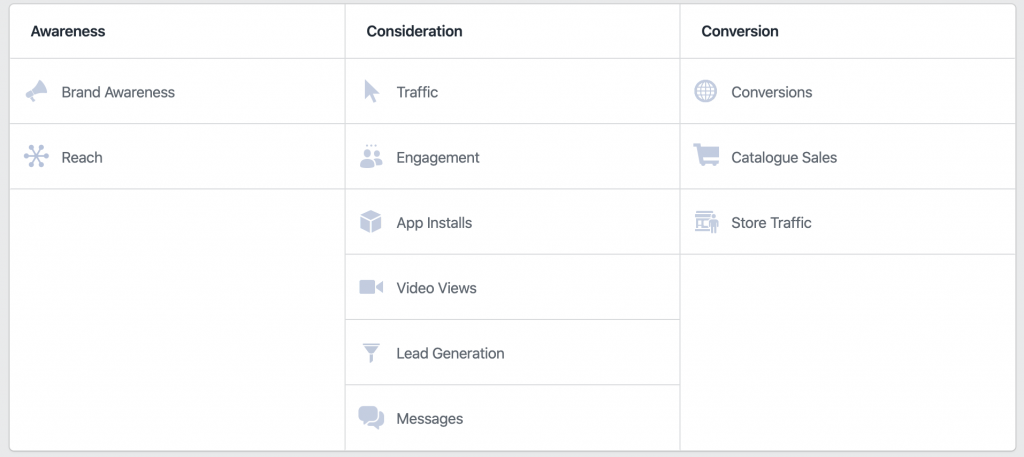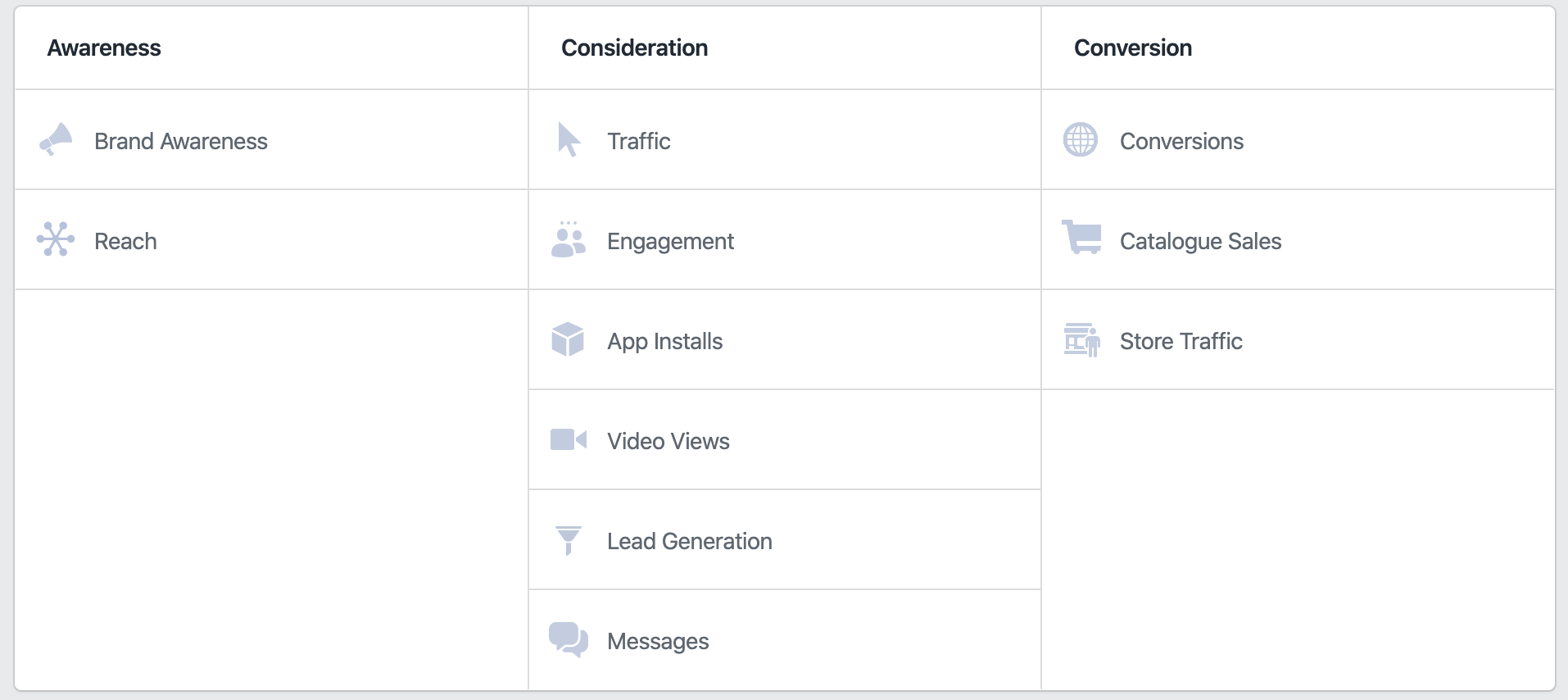 The targeting options on Instagram promotions are exactly the same as Facebook's ad platform and can take some time to get your head around. However, it can help you precisely target the type of audience you want to reach.
And if you make your content as engaging as possible using the methods we explained earlier you're bound to get more people interested in your brand following you. This ultimately leads to more likes.
24. Tag Influential Accounts
Want to know another way to reach more people in your target market who will like your content? Well tagging influential accounts in your niche is an effective way to do this.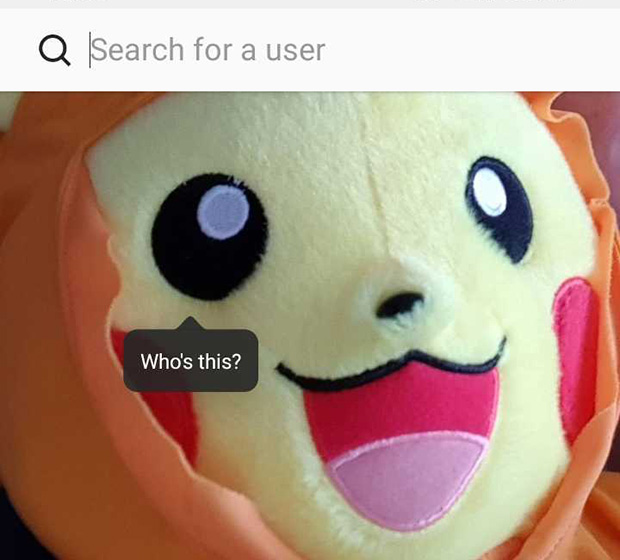 All you need to do is search for related influencers and tag them in your photos. This allows your posts to appear in their tagged in section and feed, turning it into a nifty way to reach other people in your target audience.
You never know it could also get you featured on the influencer's account exposing you to a whole new audience of likes.
25. Encourage People to Tag-a-Friend
Sharing content that's related to your brand, products, and industry is one of the best ways to get more likes on Instagram. You can make it about any topic you think people will like from funny memes and videos to promotions and discounts.
To give you an example, you could post a new product release announcement and ask your followers to tag-a-friend who they think would like it. This is a more organic way of raising awareness and opens your brand up to new followers.
26. Learn the Right Time to Post
You probably know by now that you tend to get more engagement on Instagram on certain days of the week.
Tap into this by learning the best times to post on Instagram so that you've got fresh content available when most people are browsing their feeds.
To help you out here are some of the best average times we've found to post on Instagram:
Monday: 11 am – 5 pm Central Daylight Time (CDT)
Tuesday: 5 am, 9 am – 6 pm CDT
Wednesday: 5 am, 11 am, 3 pm CDT
Thursday: 5 am, 11 am, 3 – 4 pm CDT
Friday: 5 am, 9 am – 4 pm CDT
Saturday: 11 am CDT
Sunday: 10 am – 2 pm CDT
But to get more accurate times look at your Instagram insights which will tell you exactly when your posts get the most likes and engagement.
Want to know how to boost your ROI on Instagram? Check out these handy tips.
Get More Likes by Working with Others on Instagram
There's a popular saying that goes like this:
"Many hands make light work"
And the same can be said for getting more likes on Instagram. Working with other people on Instagram can make the whole process of increasing your likes much easier.
Let's take a look at how you can work with other people to great effect.
27. Team up With Influencers
Working with influencers has fast become a popular way for brands to reach a wider audience and get more Instagram likes. Finding an influencer to work with helps you reach people in your target market and allows you to use social proof to increase conversions and improve your credibility.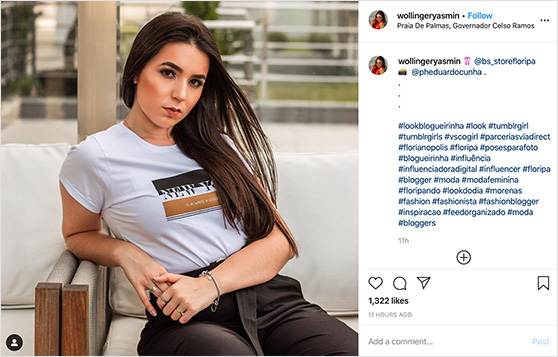 People take the decisions of influencers into account a lot more than they would with a brand or business. What this means is that their followers are more open to the idea of buying your products.
28. Host an Instagram Takeover
In the same way, having that influencer take over your account for a brief period of time can expose you to more people in your niche.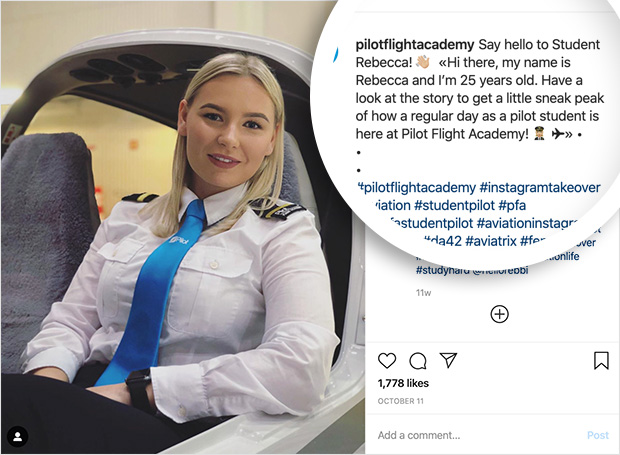 Just be sure that the influencer lets their followers know they'll be taking over your account so they can check out your profile and interact with the influencer there.
Again, this helps you increase the credibility of your profile and allows you to tap into the influencer's established audience for more likes and followers.
29. Partner up With Brands
Just like you'd partner with influencers you can also partner up with a brand that has a complementary product to yours. That way you get access to their audience who are potential followers that might not be aware of you and vice versa.
An effective way to do this is to team up and host a giveaway with the prize being a bundle of products from both brands. You can use RafflePress to host the giveaway on your websites and use the viral refer-a-friend action to reach more people naturally.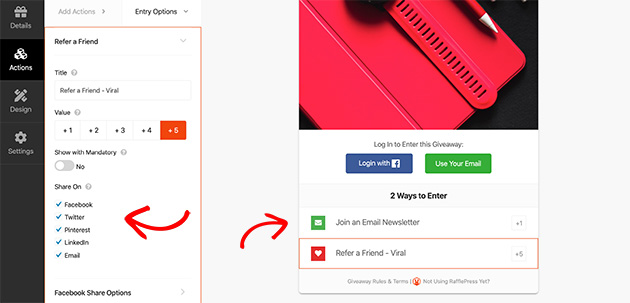 This is a win-win for both brands helping you share followers, get more likes on your posts and eventually more sales for your products.
30. Comment on Popular Photos
The Explore feed on Instagram is another handy way to find more content to engage with. If you follow a bunch of accounts that are specific to your niche you'll notice that it's filled with content that's relevant to your brand.
Choose some of the most popular posts in this feed and add your comments to them. Other people who also interact with that post will see your comments which might lead to them clicking your profile to learn more about your brand.
You never know you might get a few new loyal followers out of it which are highly valuable.
31. Follow More People in Your Niche
Our final strategy for getting more likes on Instagram is likely the simplest. And our tip is to take the time to follow more people in your field of interest. You can use the Explore feed to do this too by identifying popular accounts related to your brand and interacting with them.
A good rule-of-thumb is to follow 2-3 new accounts every day to boost your follower count and to show potential new followers that you're a credible brand to engage with.
And that's it!
Today we've gone through some of the simplest and most effective ways to get more likes on Instagram. All you need to do now is to put our tips into practice so you can grow your account, increase your likes and turn those followers into new sales.
And if you're following our strategy of running a giveaway to get more likes you'll love these prize ideas for your contest. After all, a great prize makes your giveaway much more desirable.
We hope you liked this article. If you did, please follow us on YouTube for some great video tutorials. You can also find us on Facebook and Twitter here.