Are you looking for Halloween giveaway ideas?
Running a Halloween-themed giveaway or contest can help kick-start your seasonal marketing campaigns. That way, you can increase brand awareness, drive traffic to your website, boost leads, and attract potential customers.
This article will share the best spooky giveaway ideas for a successful Halloween campaign.
What Is a Halloween Competition?
A Halloween competition is a seasonal marketing strategy where participants complete a task for the chance to win a prize. You can hold the giveaway, contest, or competition in person or online.
Many eCommerce websites and businesses run online giveaways as part of their marketing strategies. This is because giveaways are popular on social media and more cost-effective than running paid ads.
Moreover, giveaways help brands generate leads and grow their audience. When you give something away for free, your audience feels compelled to reciprocate with social media follows, reviews, email subscriptions, website traffic, or word-of-mouth marketing.
Here's an example from Food Love Story: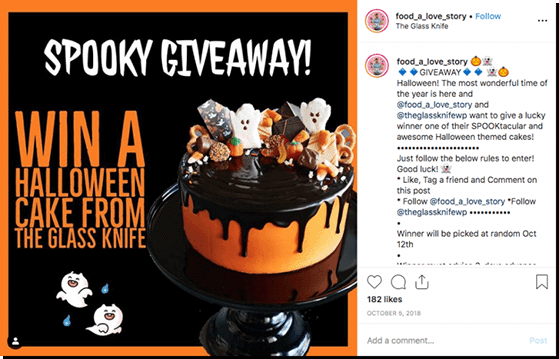 By running a Halloween giveaway on Instagram for the chance to win a free cake, they generated tons of new followers, likes, and engagement.
Best Halloween Giveaway Ideas with Examples
Giveaways and contests are a powerful way to grow your online brand. However, finding a unique idea to excite your audience isn't always easy.
With that in mind, here are some of our favorite Halloween giveaway ideas and promotional products for a successful fall marketing campaign.
1. Pumpkin Carving Photo Contest
You can't have Halloween without some jack-o-lantern carving. Despite being a fantastic stress reliever, pumpkin carving can make some fun and exciting creations.
In this example, Wings and Waves Waterpark ran a Halloween photo contest for its audience. In exchange for submitting a photo of their best carved pumpkins, one family could win a 4-month boarding pass to the park for free.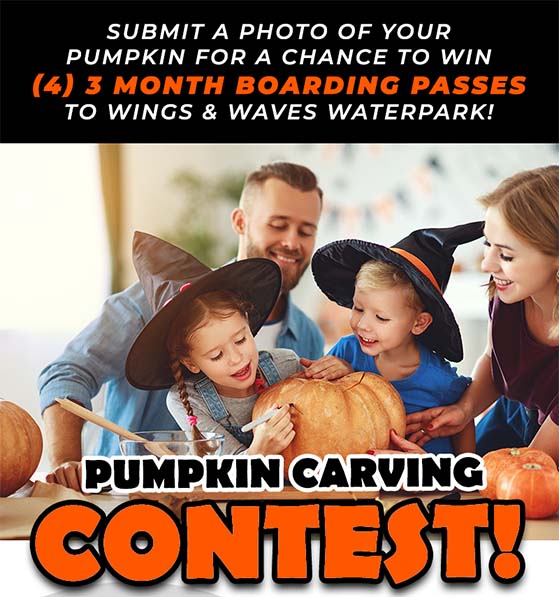 The great thing about running a photo contest is you can collect user-generated content (UGC) from your target audience. Encouraging UGC gets your brand name in front of more people and provides free content you can use in future marketing campaigns.
How to do it:
You can run a photo contest easily with RafflePress, the best WordPress giveaway plugin. It offers a drag-and-drop giveaway builder and multiple ways for contestants to enter your giveaway.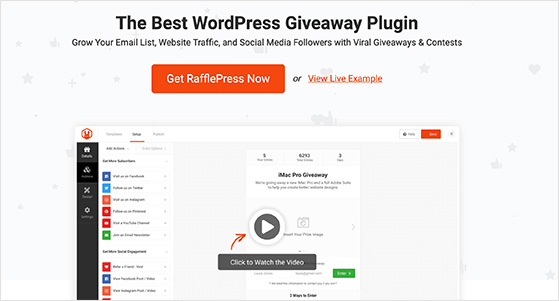 For instance, the Submit an Image action lets users upload a photo to your website for a giveaway entry. You can also award bonus entries for completing extra tasks like following you on social media, signing up for your email newsletter, visiting a web page, and much more.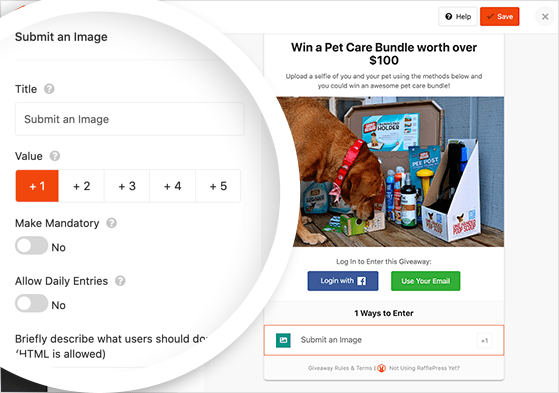 2. Halloween Decor Pinterest Contest
Around 52% of Americans decorate their homes for Halloween, making it a popular choice for the spooky season. Let's face it, trick-or-treating at a haunted house is way more fun than an undecorated home.
Combine that with the popularity of Pinterest, where 85% of pinners plan new projects, and you have the perfect recipe for reaching an engaged audience.
Kick off your happy Halloween with a Pinterest contest and ask users to curate boards around their favorite Halloween party decor ideas.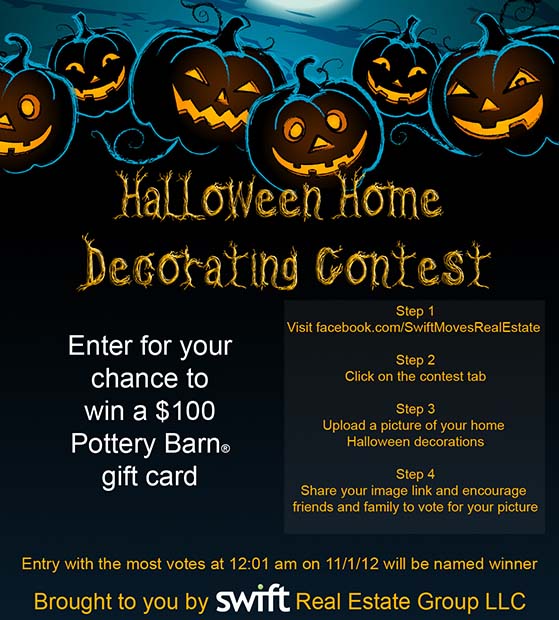 The Swift Real Estate Group ran a similar campaign on Facebook for the chance to win a $100 gift card. However, you can easily adapt their idea for Pinterest.
How to do it:
With RafflePress's giveaway builder, running a Pinterest contest is a breeze. For the chance to win cool Halloween gifts, you can ask participants to follow you on Pinterest, then leave a comment with a link to their spooky-themed Pinterest board.
Simply enter your Pinterest profile URL in the action settings, and select the "Make Mandatory" toggle to require completing that action for a successful entry.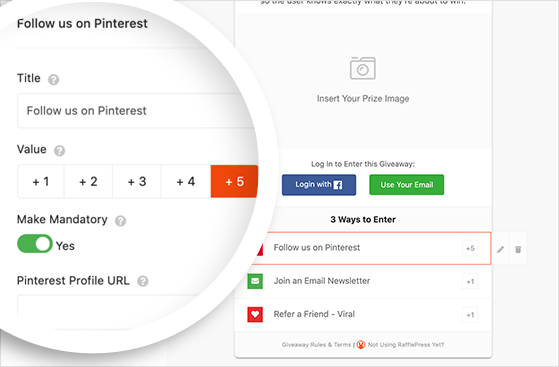 You can then use the Invent your Own action, with instructions for contestants to paste the URL to their boards for more chances to win.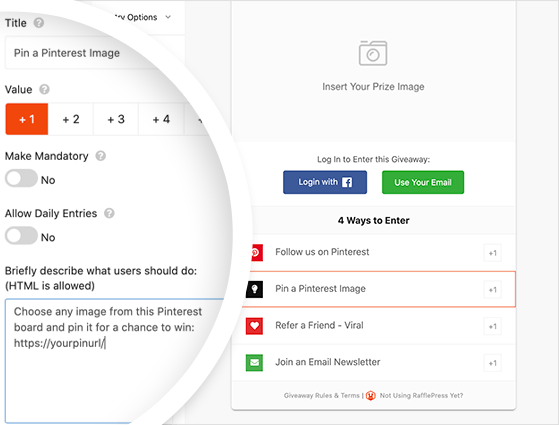 3. Thriller Dance Challenge TikTok Contest
Chances are you can't go a single Halloween without hearing Thriller by Michael Jackson. Just as the song is synonymous with Halloween, it's also a popular dance challenge on platforms like TikTok and YouTube.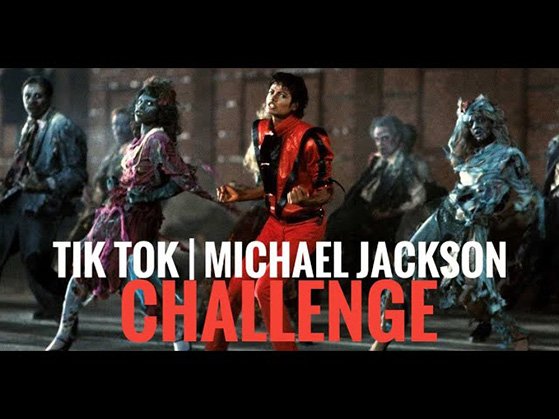 If you're trying to grow your presence on TikTok, a dance challenge can be a fun way to introduce your brand.
One promotion idea is to post a video of your team dancing to Thriller. Then you can invite other TikTokers to join by following you, tagging you, and using your branded hashtag in the caption.
How to do it:
RafflePress offers dedicated actions that make running a TikTok giveaway super easy. You can use the watch a TikTok video action to demonstrate the dance challenge and ask users to watch it for one entry.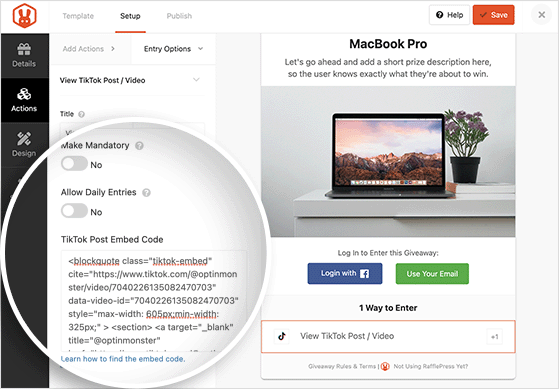 After that, you can use the Follow on TikTok action to grow your followers.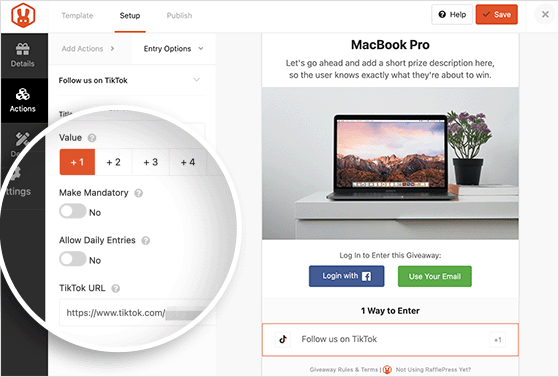 If your contest is family-friendly, you can offer a variety of promotional items for the prize bundle and add in goody bags for the kids, including:
Lightup wristbands
Reflectors
Glow-in-the-dark tote bags
Temporary tattoos
Stickers
Erasers and highlighters
Halloween candy eyeballs
Bookmarks
Lip balm
Coloring books
Glow sticks
And many other Halloween treats.
4. Horror Game Live Stream Giveaway
The Halloween fun isn't limited to retailers and online brands. Live streamers can even get in on the action with a promo to grow their personal brand.
If you plan to spend October 31st streaming the latest horror game, turn it into an event for your entire community by running a giveaway for your stream community, like Horror Papi.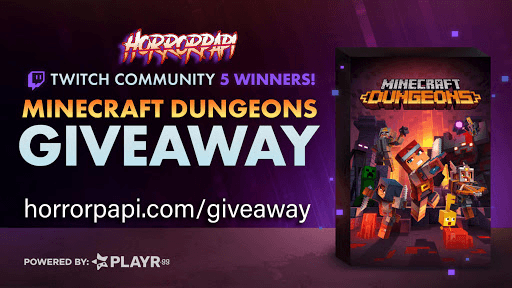 This Twitch streamer offered 5 lucky winners the chance to win a free game code. You can follow his lead by building your own Halloween bags with merch like chargers, flashlights, candy corn tins, game codes, and water bottles with your stream logo.
How to do it:
RafflePress is an excellent choice for running a Twitch giveaway. You can host the giveaway on your WordPress website and use the Follow on Twitch action to grow your community.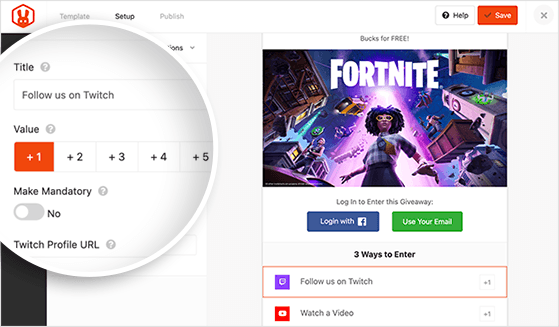 Because the builder includes giveaway landing pages, you can add the page URL to your Twitch profile, where users can click through to enter. Make sure you cross-promote your giveaway on other social media networks to increase your reach and entries.
5. Frightful Fiction Facebook Book Giveaway
Book giveaways are popular Halloween giveaway ideas for authors, book retailers, and book bloggers. Users of all ages can participate and simultaneously satisfy their inner bookworm.
The Charitable Organization, Reading Force, launched a Facebook giveaway for serving, ex-serving and veteran Forces families.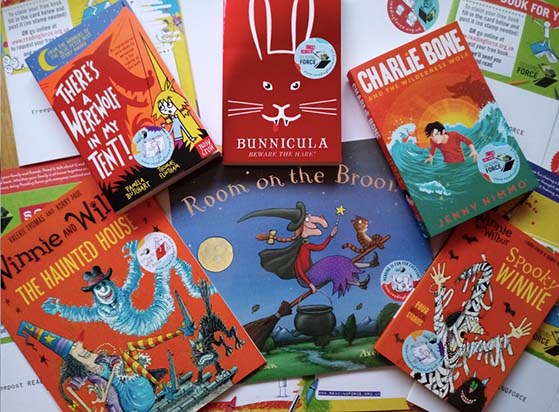 One lucky family could win a collection of 6 spooky-themed picture books, with the winner picked randomly from successful entries.
How to do it:
You can run a book giveaway on Facebook with RafflePress. Instead of asking users to send their contact information, you can use the Join an Email Newsletter action. That way, you'll have their email address and can email the winners the good news while growing your email list simultaneously.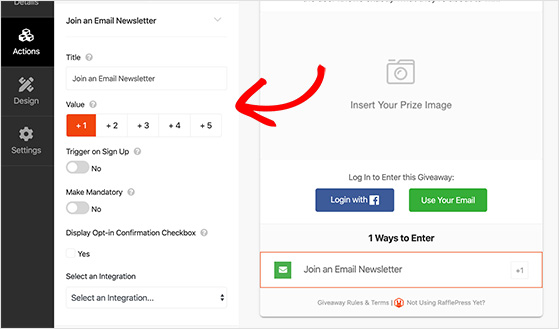 Additionally, there are several Facebook giveaway actions to help you grow your page. You can ask contestants to view a Facebook post or video, visit your Facebook page, and, optionally, like and share your giveaway with their friends.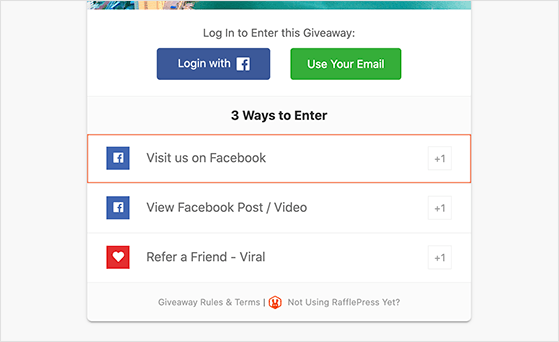 6. Spiced Pumpkin Recipe Contest
What are you supposed to do with all those left-over pumpkins once Halloween is over? Instead of letting them go to waste, task your audience with a challenge for the chance to win some Halloween treat bags.
Mix & Match Mama, for example, made a simple blog post asking users to send in their best Halloween recipe ideas. The winner would receive an anniversary edition bundt pan to make future tasty treats.

How to do it:
Bloggers can run a giveaway just like this with RafflePress. However, instead of emailing their DIY recipe ideas, you could ask users to leave a blog comment with their recipe submission.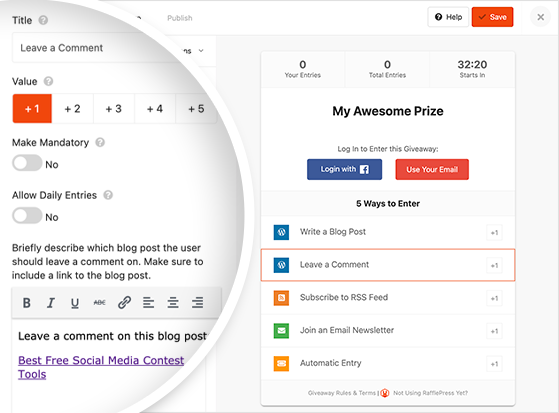 This is an excellent way to boost engagement on your blog and spark conversations with your target audience. You can also ask users to subscribe to your RSS feed to grow your blog subscribers.
RafflePress also makes it super easy to choose a giveaway winner. Use the built-in random winner picker, and you can generate the winner right from inside WordPress and display the winner on the giveaway app.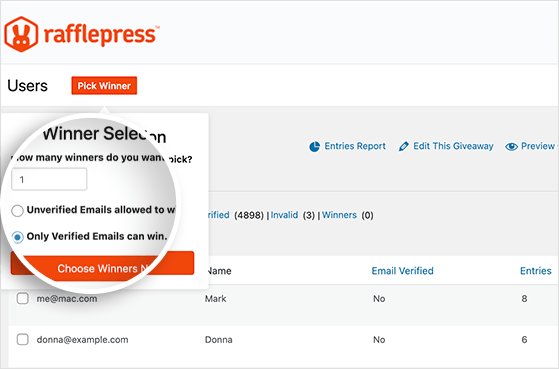 7. Family Halloween Costume Contest
Our final Halloween giveaway idea has to be our favorite. Anyone can join in, from work colleagues and retailers to school children, pets, and online events.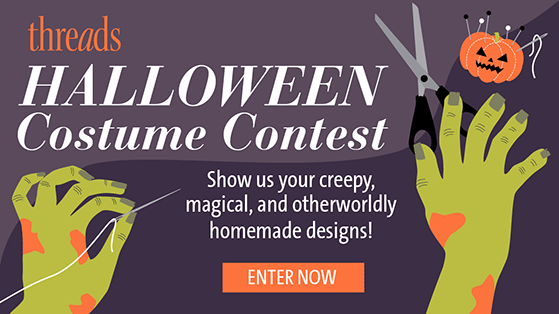 Launch a Halloween costume contest and let the whole family join by snapping a photo. You can reward the winning entry with a prize the entire family can enjoy, like:
Tasty food hampers
A family day out
Tickets to the cinema
A family vacation
Gift cards
Matching costumes
Check out this guide for even more giveaway prize ideas.
How to do it:
There are many ways to run this type of Halloween giveaway with RafflePress. The most popular is to use the Submit an Image entry action.
However, you can broaden your reach by adding the Refer a Friend entry method. It asks entrants to share your giveaway on other social networks, including Facebook, Twitter, LinkedIn, Email, and more.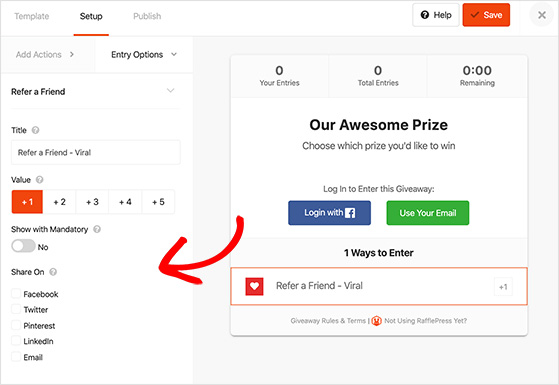 The more people each entrant refers, the more likely they'll enter your giveaway and refer even more of their friends. It's word-of-mouth marketing at its best and can help your campaign go viral.
That's it for now.
We hope this post helped you find some terrifyingly good Halloween giveaway ideas to market your business.
Ready to get started with your first Halloween giveaway?
You might also like these other giveaway ideas while you're here:
If you liked this article, please subscribe to our YouTube Channel for RafflePress video tutorials. You can also find us on Twitter and Facebook.