Do you want to grow your photography business? Running a giveaway is an excellent way to attract your ideal audience. But coming up with giveaway ideas that stand out from your competitors is a challenge. After all, it's a tactic brands have been using for years to generate interest and sales.
In this article, we'll share our creative photography giveaway ideas that'll set your brand apart and turn your visitors into paying customers.
What Is a Photography Giveaway?
A Photography giveaway is an online marketing campaign where participants perform specific tasks for the chance to win a prize.
For example, photography brands can run a giveaway and ask users to share their posts on social media for the chance to win photography products.
Alternatively, you can run a photo contest to test your audience's photography talents. Then, you can reward the best photo submission with a prize.
Why Run a Photography Contest?
Running a giveaway is an effective way to raise brand awareness. As you spread the word about your campaign, more people will discover it and become familiar with your brand, resulting in more potential customers.
Photography giveaways can also benefit your business in the following ways:
Increase product and promotion discovery
Reach a broader target audience
Generate new leads and potential sales
Drive traffic to your business website
Increase social media followers
Running a Photography Giveaway
Since your business has photography at its core, photos should play a crucial role in the giveaway. One of the best ways to use photos in any contest is to get participants to share their own photos to win the grand prize.
In marketing circles, we call this user-generated content (UGC), content your audience creates that you can use to promote your business.
Using UGC combined with a photo contest helps you attract highly targeted users. These are people genuinely interested in your business and the services you offer.
And because submitting a photo takes time and effort, it helps filter out people entering simply for a freebie, and who won't engage with your brand when the contest ends. After, you're left with an audience more likely to become future customers.
If you need help getting started, check out this guide to run a photo contest.
Now let's look at some creative photography giveaway ideas to increase your sales.
Creative Photography Giveaway Ideas
1. Caption a Photo
Running a photo caption contest is a fun way to introduce your brand to your target audience. All you need to do is share a photo and ask participants to submit their best caption to go with it. Then you can reward the funniest or most imaginative caption with a prize like a discounted photoshoot.
Chances are you have tons of photos lying around from old shoots you could use to caption. So why not dig them out and do something fun with them.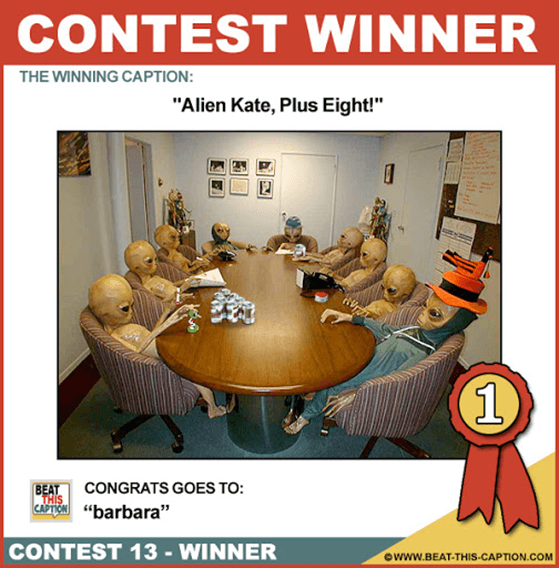 Sharing those snapshots gives potential customers an idea of what it's like to work with you. Caption contests are the perfect way to promote your giveaway on visual social networking sites like Instagram and Pinterest.
2. Upload Your Best Selfie
Another idea for your photography giveaway is to get users to submit a selfie in return for an entry. Selfies are perfect for running a giveaway on Instagram since that's the birthplace of the classic selfie.
Even better, you can use your contest to promote your Instagram profile by asking users to visit your profile or view a post or video in exchange for bonus entries. This approach will raise awareness for your brand on Instagram and draw attention to your photography business.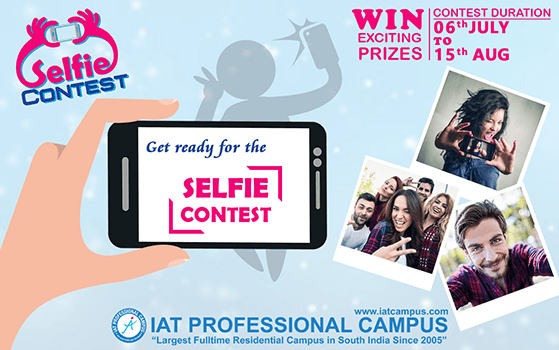 To seal the deal, you could offer a professionally edited and framed selfie to the winner. This will highlight both your photography and editing services to future customers.
3. Design Your Own Photoshoot
If you want to get more creative, give participants the task of designing their own photoshoot. Ask them to plan out their dream shoot, complete with props and a theme. Then get them to upload their photo via your giveaway widget.
To create excitement about the contest, include bonus entries for sharing it with a friend. In return, the winner can have their photoshoot brought to life for free.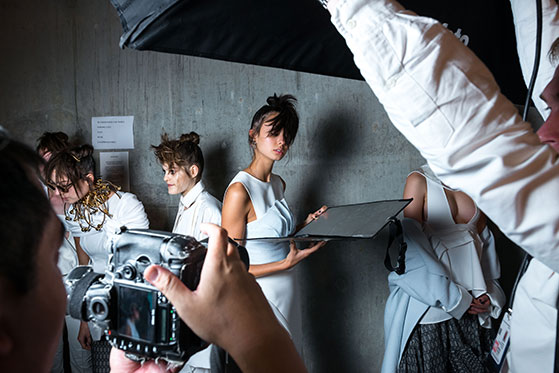 Once the giveaway is over and you've finished the photoshoot, don't forget to share the results on your website and social media channels. Doing so will make people eager to join your next giveaway for fear of missing such an awesome prize.
4. Create a Photo Story
Another creative photo contest you can run is where users have to create a narrative with their photos. Get participants to send a series of photos that tell a visual story for a chance to win.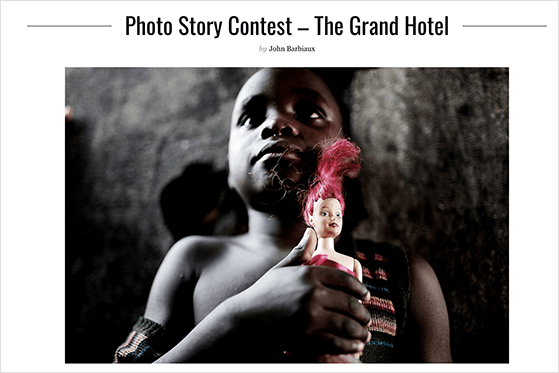 To keep the momentum going during your giveaway, highlight submissions in slideshows on your social media networks. And to keep track of conversation about your business, tag your giveaway posts with a branded giveaway hashtag.
Consider transforming the winning photo story into a framed storyboard. This would be a great keepsake for the winning entry while highlighting your framing services.
5. Submit the Best Event Photos
As a photographer, you likely cover plenty of events and want to advertise that service to your customers. One way to do that is to run a contest for users to submit photos they've taken at different events.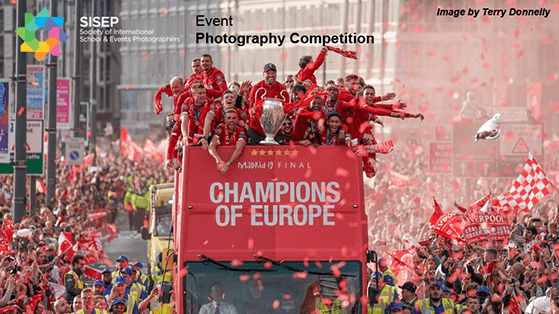 It could be events like:
Business training events
Sporting events like basketball matches
Community events
Fundraisers and charity events
The winning entry could receive tickets to another event, or a photography class to help them brush up on their skills.
To spread the word about your giveaway, ask entrants to share their submissions on social media and tag the photographed event.
6. Partner With a Relevant Brand
There's no rule saying you have to run your photography giveaway solo. Many successful brands partner with relevant companies to ease the load and improve their reach.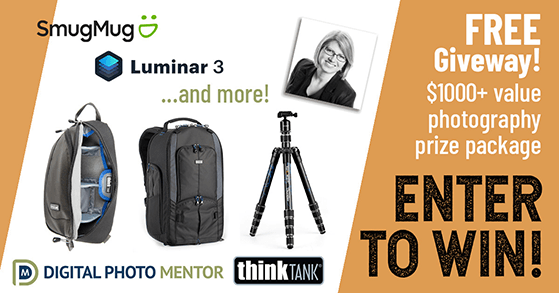 For example, photographers could team up with:
Camera equipment brands
Event venues
Printing services
Local news stations
Colleges and universities
Sports clubs, etc.
To get the most entries, make the giveaway easy to enter. You could ask users to leave a comment, sign up for your newsletter, or even follow you on social media. Then you can choose a winner randomly to keep things fair.
As for the prize, consider putting together a prize bundle of goods and services from you and the brand you partner with. For instance, if you're partnering with a sports club, you could offer a bundle of sporting goods with a professional team photo.
7. Ask for the Best Family Photo
A change in the seasons is a great excuse to snap a new family photo. And running a giveaway for the most creative examples is a fun way to get your audience involved.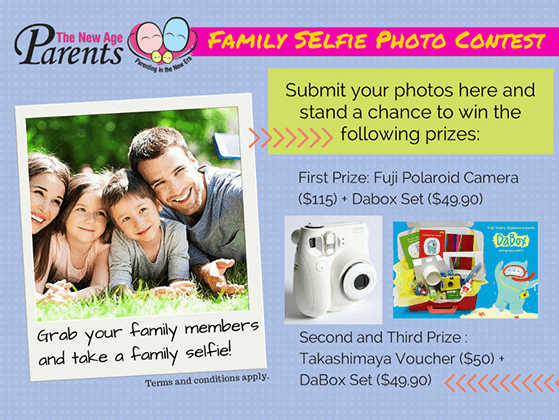 Try to make this photography giveaway idea as exciting as possible by giving the photo a theme. You could take advantage of Christmas by asking for family Christmas card photos. Or you could choose a fall theme complete with pumpkins and Halloween costumes.
You can reward the best entry with a hefty discount for your services or a seasonal photo opportunity.
8. Show Off Your Photo Editing Skills
This photo contest idea gets people to use their imagination. Let their creativity run wild by theming your giveaway around the best edited photo submissions.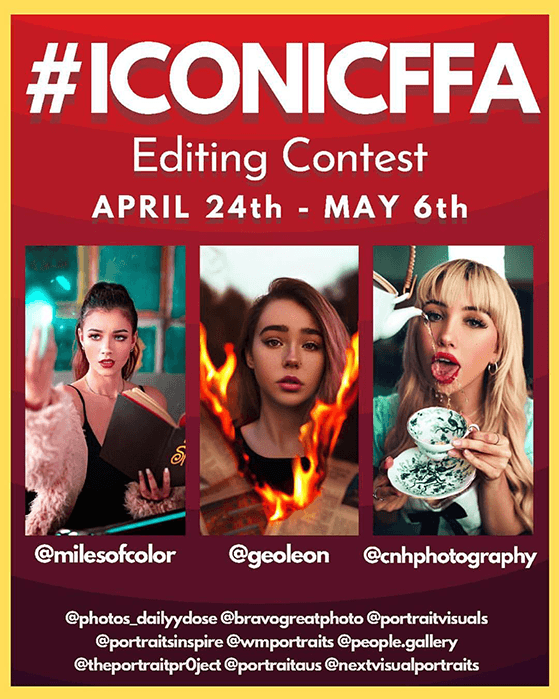 You could judge the contest based on different editing categories such as:
Most professional looking touch-ups
Most imaginative editing
Best use of filters
Best portrait, and so on.
Since this idea takes a lot of work to enter, make sure the prize you offer is worth the effort. Otherwise, you could end up with fewer submissions than you'd like.
Take a look at these proven contest prize ideas for inspiration.
9. Vote for the best Boudoir Shoot
Valentine's Day is the perfect time to promote your boudoir photo services. So consider running a photo contest that requires users to submit their best amateur boudoir snaps to enter.
After collecting all the submissions, get your audience to vote for the winner. This is a fun way to boost interactions on your giveaway and attract more participants. This is because entrants will be getting friends and family to vote with the hopes of winning.
For you, that means more eyes on your brand, improving the chances of gaining new customers.
10. Expectation Vs Reality
Ever seen those posts where people fail miserably at recreating a Pinterest masterpiece? Well, there's your next photography giveaway idea.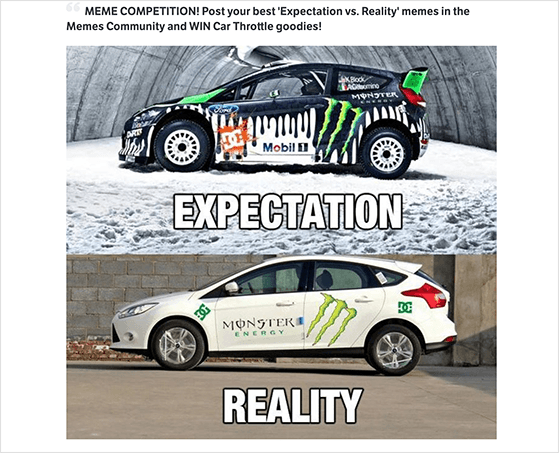 An expectation vs reality photo contest is a light-hearted way to poke fun at our perfectionism. Plus, it's a fun way to introduce people to your brand.
Consider offering 2 different prizes for the best and worst submissions. That way, you celebrate everyone's skill level without coming across as elitist.
11. Photos to Raise Awareness
We all have a charity or cause that's close to our hearts. So what better way to draw attention to them than running an awareness photo contest.
At first glance, this might not seem like a good way to increase sales. But when people see that you're authentic in caring about important issues, it can convince them to use your services over your competitors.
Users can submit their best photos celebrating different causes, and to keep things fair, you can draw a winner randomly from all entries.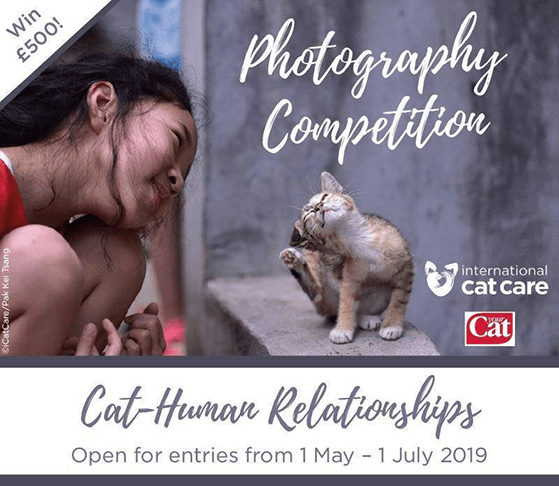 There are many different causes you could choose to highlight. For example, you might want to draw attention to a local youth charity. Choose one that you know will resonate with both your audience and yourself. The grand prize could be a donation to your charity of choice.
12. Before and After Transformation Photos
This is another photography giveaway idea you can transform into a voting contest. Before and after photos, get tons of engagement on social media because people love a great transformation.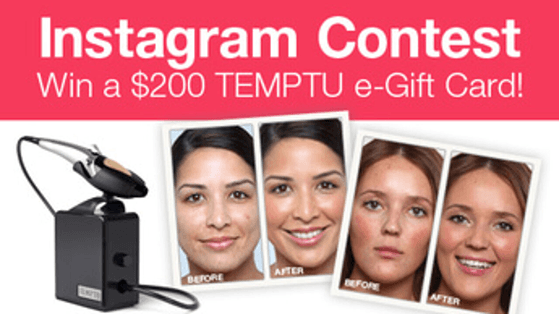 So use this idea to run a photo contest where users submit their best before and after photos. And for a bonus entry, get them to refer a friend by sharing the giveaway on their social channels.
This would be a great time to partner with a gym or fitness center for a prize bundle in exchange for gym promotion. The winner could receive a professional photo shoot along with a gym membership or exercise equipment to keep them in shape.
13. Your Favorite Concert Photos
Want to draw attention to your live concert portfolio? Then you can try running a giveaway asking for people's favorite concert snaps. Plus, you can use your portfolio as an example of how to take the perfect band photo.
For example, you could announce your giveaway in a blog post explaining the different methods used in concert photography. Then include a bonus entry in your giveaway widget, asking participants to view your portfolio page for ideas.
Remember to include options for sharing your giveaway to boost awareness and entries. You could even offer a small discount just for entering.
14. Create a Timelapse Photo
Timelapse photography might seem a little too specialized to ask for in a giveaway. Yet, you'd be surprised at the quality of work from many hobbyists. With that in mind, run a giveaway asking for your audience's attempts at timelapse photos.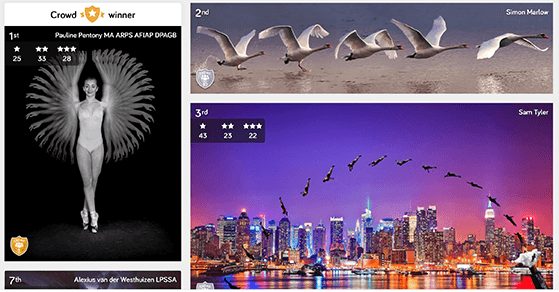 During the giveaway, showcase the best submissions in an Instagram gallery on your website, or another type of photo gallery to generate interest.
Consider offering different prize tiers to encourage more participation. You could offer discounts and framed photos to runners up, and a one-to-one masterclass to the main winner.
15. Showcase Your Home Town in Photos
One of the best ways to promote your business and attract new customers is to get your local community involved. This is especially useful if your business has a physical location and storefront, as you'll want to get more local business.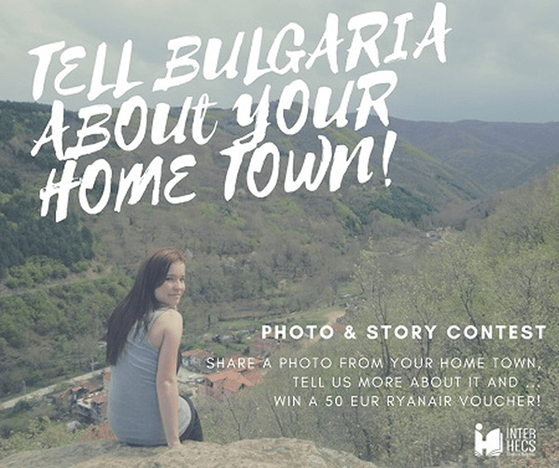 One way to achieve that is to run a photo contest where users need to send in photos of your town. Encourage people to be creative by including different categories like:
High street photos
Shop interiors
Parks
Historical buildings
Monuments
You can also get local businesses involved with promoting your giveaway by pooling your resources for a massive prize bundle of locally sourced goods. And in doing so, you demonstrate that you care about your community, which, in turn, encourages more people to use your services.
16. Best Happy Accident Snaps
Another photography giveaway idea that doesn't require any skill is a contest around the best accidental photos. This involves requesting submissions of photos people have taken by accident with excellent results.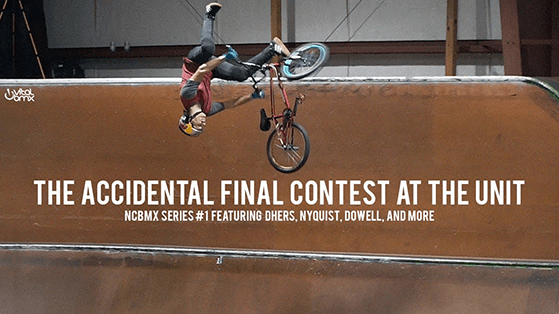 Perhaps they pressed the camera option on their phone by accident and caught a stunning sunset. It could even be an unexpected selfie with amusing consequences.
Whatever the accident, it's a fun way to draw attention to the photos we often ignore and throw away. And it encourages people to look at photography in a more light-hearted way.
Make sure you include an option for bonus entries in your giveaway. Asking people to join your email list or follow your social channels is a good way to gather leads for your business and nurture them into sales.
17. Funny Pet Portraits
Many pet owners love dressing their cats and dogs up in clothes and costumes. And if you're a photographer with a portfolio of pet portraits, you can use that trend to your advantage.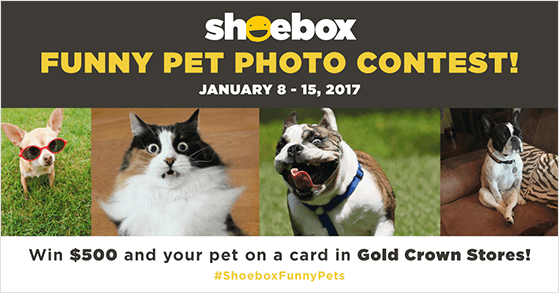 Consider running a giveaway where people submit their funniest pet photos to win your grand prize. This would be an excellent way to promote your business around Halloween when everyone's getting dressed up.
The winner could receive a professional photoshoot with their pet, complete with a framed snap to hang on their wall.
Bonus Tip: Create a Sense of Urgency
The last tip in this article involves creating urgency around your contest. Making it clear the giveaway is running for a limited time only spurs people into action.
You can invoke a sense of urgency by adding a countdown timer on your website, telling people they have only a certain amount of days left to enter. Make sure you include a call to action button that links to your giveaway landing page.
When users see your countdown timer, they won't want to miss out, pushing them to click and enter now.
And there you have it!
We hope this article helped you discover tons of creative photography giveaway ideas to increase your business sales.

And since Instagram and photos go hand-in-hand, you might want to check out this tutorial on how to host an Instagram photo contest.
While you're here, don't forget to follow us on YouTube, Twitter, and Facebook for more great tips to grow your business.