Wondering how to market on TikTok?
Promoting your business on TikTok is an excellent way to increase brand awareness on this popular social media platform. Plus, with an effective content strategy, you can use TikTok to generate new leads and sales.
In this article, we'll show you how to market your small business on TikTok and improve your digital marketing efforts.
What Is TikTok Marketing?
TikTok marketing is the process of using TikTok to promote your brand, product, or service. You can use different marketing tactics such as influencer marketing, creating viral content, and even running TikTok advertisements.
Marketing your business on TikTok can help you:
Improve brand awareness
Create thriving communities
Sell your products or services
Provide customer support
And more.
The most popular ways to market on TikTok are content creation, influencer marketing, and paid TikTok advertisements. We'll get into this in more detail later.
How to Set Up TikTok for Your Business
Before you begin marketing your small business on TikTok, you'll want to set up a TikTok business account. With a business account, you can add extra information to your TikTok profile and access real-time analytics and audience insights.
Follow these steps to create a TikTok business account:
Open your TikTok app
Go to your profile page
Open the menu in the top-right corner
Tap the Settings and privacy option
Tap Manage account
Select Switch to Business Account
Choose a category for your business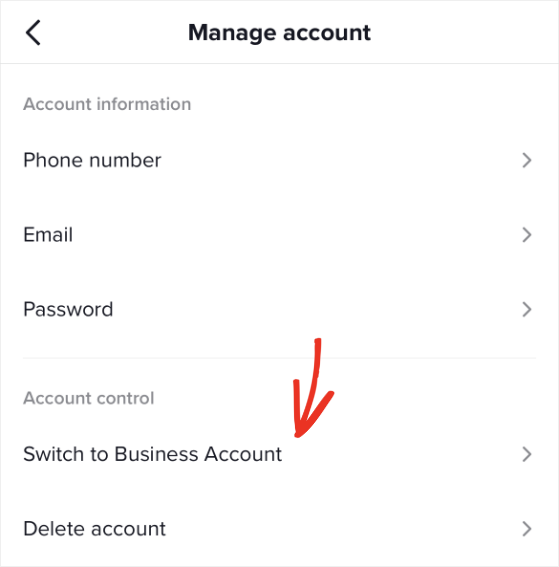 That's it! Your TikTok account is now set up for business. Now you can add your website link to your profile, a business email address, and more.
How to Create a TikTok Marketing Strategy
Now that your business account is ready, you can start learning how to market on TikTok.
While there is no such thing as a sure-fire TikTok marketing strategy, you can use tried and tested tactics to help your business reach its potential on this social network. Keep reading to learn how to develop a TikTok marketing strategy designed to grow with your business.
1. Familiarize Yourself with How TikTok Works
Before you start creating content to attract your target audience, it's important to learn how TikTok works. It's an entirely different platform from other social networks, with a different type of audience, user behavior, features, and trends.
Take time to use the platform and consume the content its users create. Look at the different feed types, such as the "For You" page, follow different accounts, and look at the hashtags they use.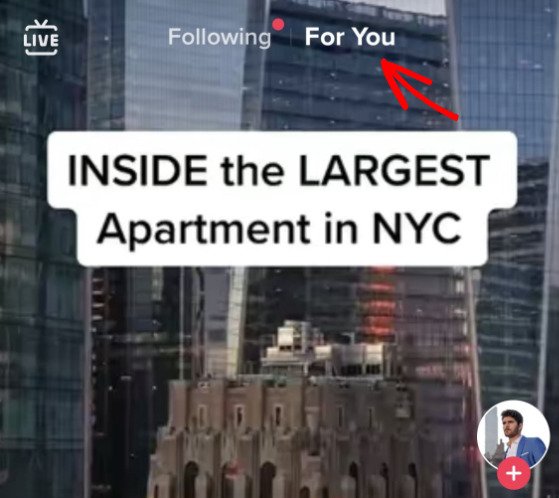 It's also an excellent idea to note down the filters and songs that are currently trending on TikTok. Music plays a crucial role, with some sounds generating more traction than others and many appearing in TikTok's popular duets feature.
Many tracks are used frequently in branded hashtag challenges, which involve dance moves, or tasks users recreate for fun. User-generated content like this is a tactic we'll explore more later in this article.
Just like Facebook, TikTok has its own algorithm that dictates how posts appear in the news feed. Read up on the TikTok algorithm to inform your content and engagement strategy.
2. Define Your Target Audience
Take a moment to think about who you want to reach on TikTok. Who is your ideal audience?
Before creating TikTok content, learn about the different people that use the social media network. TikTok is mostly popular with teens; however, it's seeing a significant uptick in users aged between 20-29, with users in their 30s following close behind.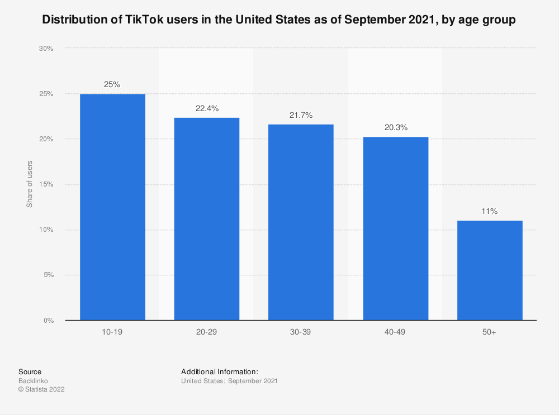 Take time to research your audience on other social media networks and look for users who also use TikTok.
Your current audience may not use TikTok, but there could be several sub-groups with related interests who will enjoy your content. For example, a video publisher's audience could consist of producers on LinkedIn, viewers on Instagram, and creators on TikTok.
After identifying a particular audience, research the content they engage with and generate ideas for your business.
3. See What Your Competitors Do
It's highly likely that your competitors are also on TikTok. If they're not, it's an ideal opportunity to get a competitive advantage, but if they are, you can spy on them to see how they use the platform to attract their target audience.
Look for at least 3 brands similar to yours and see how they market themselves on TikTok. Try to identify what does and doesn't work for them by looking at their:
Strengths
Weaknesses
Opportunities
Threats
You also shouldn't rule out looking at celebrities and influencers because TikTok is a creator-led platform. Look at creators specializing in your area of expertise, and take note of the tactics they use to get results.
4. Set Actionable Goals
When you first start using TikTok, you might do so just for fun. However, it's better to set goals that align with your business's marketing objectives. For example, you may want to use TikTok to:
Reach a wider audience
Boost product awareness
Drive traffic to your website
Develop customer relationships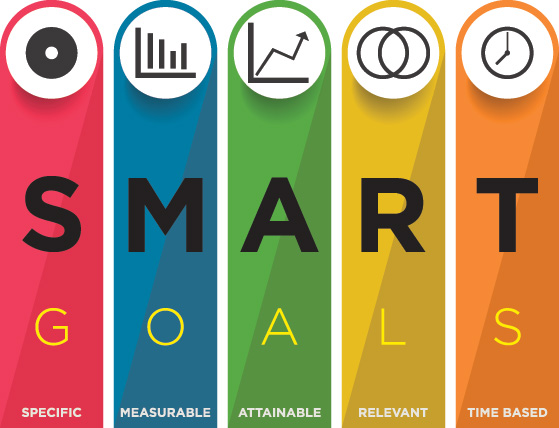 Use the S.M.A.R.T goals framework to set goals that are Specific, Measurable, Attainable, Relevant, and Timely. You can then use TikTok's built-in analytics to track your progress and measure your results.
5. Post Relevant Content Regularly
One of the most important things to do when carrying out your TikTok marketing strategy is to ensure you promote relevant TikTok videos regularly. That's how you'll build an audience interested in your posts and how you'll learn the types of content that work best.
Create a content calendar to keep your posting schedule consistent, and try your best to stick to it. Users will start to expect your content, helping you increase your engagement rates.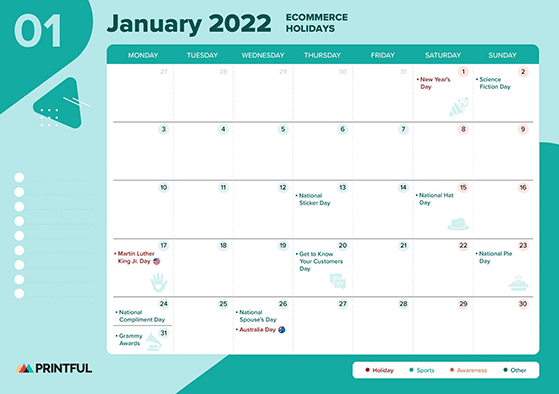 It's also an excellent idea to create content around popular holidays and events like Black Friday, Christmas, and New Year, to piggyback on their popularity.
6. Experiment with Different Content
TikTok is synonymous with going viral, but there isn't a single formula to help you go viral on the platform. You'll need to experiment to learn what works for your particular audience.
This video from Wendy's was particularly successful, generating thousands of likes and hundreds of comments and shares.
Yet, if a particular video doesn't get the results you want, don't give up. Learn from it and move on to the next TikTok experiment.
Here are some TikTok video ideas that almost always do well:
Dance challenges
Duets
Hashtag challenges
Cute animal videos
Re-enactments
D.I.Y and tutorials
Oddly satisfying videos
Many content creators use a combination of videos to keep their feeds interesting and engaging. For example, you could run a giveaway, asking participants to create videos dancing to a particular song. You can then re-post the submissions, where you personally dance alongside them, creating a dance challenge duet.
If you're looking for the easiest way to run a giveaway, RafflePress is an excellent choice.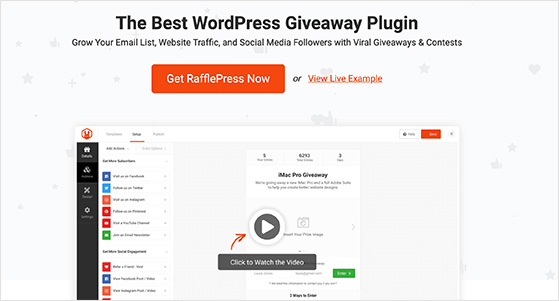 It lets you create any giveaway from your WordPress site easily and without code, helping you drive traffic to your website, grow your email list, and boost your social media following.
With its drag-and-drop giveaway builder and giveaway templates, getting started is quick and easy. You can point and click to add your prize details, description, giveaway duration, and more.
From there, you can drag and drop powerful actions for users to enter your contest, such as: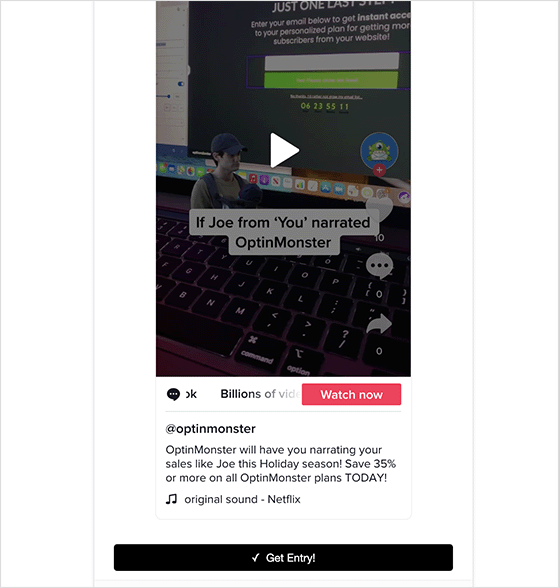 Follow these steps to learn how to run a TikTok giveaway contest with RafflePress.
7. Use the Right TikTok Hashtags
Helping users find your TikTok videos is the next challenge you'll face. If they can't find your content, they can't engage with it, learn more about your brand, or become leads.
This is where TikTok SEO can help. It means optimizing your content so people can find it when they use the search feature.
One of the easiest ways to do this is to use relevant hashtags in your video descriptions. If you're unsure which hashtags to use, type a relevant keyword into the TikTok search bar, and you'll see several suggestions associated with your search.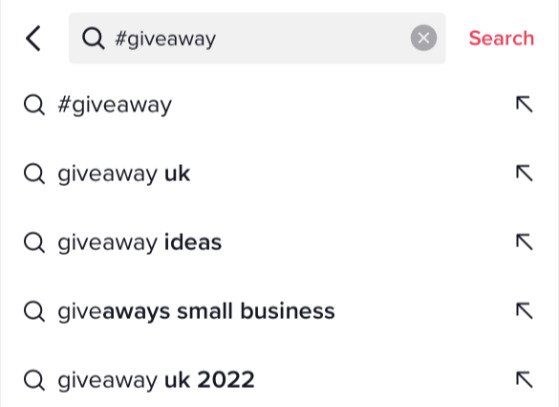 To reach a broad audience, you may want to use generic hashtags. For instance, when running a giveaway, you can use popular giveaway hashtags.
While there isn't a limit on how many hashtags you can use, your video captions can only contain 100 characters. Therefore, you may want to focus on 2-3 hashtags and give yourself space to write an engaging caption.
8. Partner with TikTok Content Creators
If you're finding it challenging to build your following on TikTok, you can consider partnering with other creators on the platform. For instance, if you're in the beauty niche, you could create videos with other people that create beauty-related content that have more followers.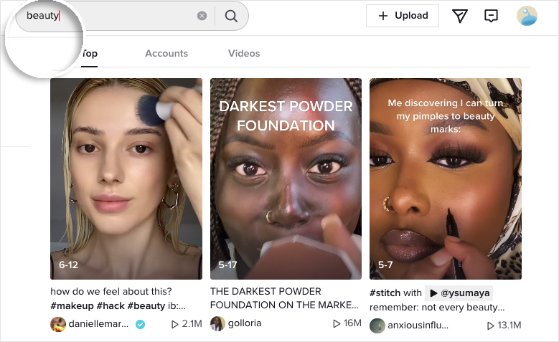 To find these people, search for relevant TikTok videos and send them a friendly message telling them you're keen to partner with them.
It can be a bit hit and miss at first, but over time you can forge long-lasting relationships that benefit you both. As your followers increase, you may also find creators are more willing to partner with you because the benefits of a partnership are greater.
9. Run TikTok Advertisements
Ads are another excellent way to promote your business on TikTok. You can set up a TikTok ads campaign and often reach your target audience within 24 hours, meaning you won't need to start with a large following.
There are 5 different types of TikTok ads:
In-feed ads
Branded hashtags
Top-view ads
Brand Takeover ads
Branded effects
Most small businesses find that in-feed ads generate the best results. However, the other ad formats are often only open to brands with a large advertising budget.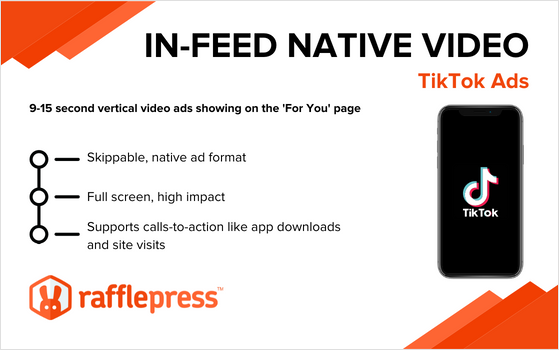 In-feed ad videos follow similar rules to normal content, meaning your video can't be longer than 60 seconds. TikTok recommends a video ad length between 9 to 15 seconds.
After picking your advertising objective, you can choose several other settings. For example, if you chose the App Installs objective, you can provide a link to your app page.
TikTok also offers 2 targeting options:
Interest targeting: Similar to Facebook, you can choose interests relevant to your target audience, and the platform will show your ads to those users.
Behavioral targeting: This option lets you target users by their behavior on TikTok within the past 7 or 15 days.
If you're unsure about how to make your TikTok ads, visit the Inspiration section on the TikTok website. On this page, you can see ad examples that have had excellent results.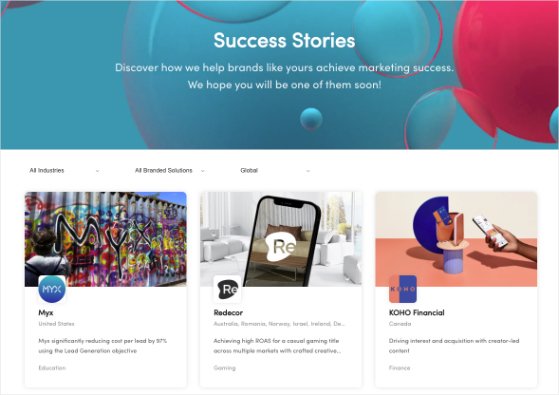 You can also click the ad campaigns to see how the brand put together a winning TikTok marketing campaign. With this information, you can start creating a successful campaign of your own.
Bonus TikTok Marketing Tips
As mentioned earlier, there isn't a one size fits all approach to marketing your business on TikTok. With that in mind, here are some bonus TikTok marketing tips to help grow your small business on the platform:
Use a TikTok plugin to add TikTok feeds to your website
Promote your TikTok account with website popup campaigns
Comment regularly on other TikTok posts
Use TikTok effects to make your videos stand out
Repurpose content from your blog
Cross-promote content from your other social media channels
Tease future content with short trailers and snippets
Use social media plugins to add TikTok share and follow buttons to your website
There you have it!
With the tips in the post, you can cross 'how to market on TikTok' off your to-do list and start growing your brand with engaging TikTok content.
Need more help? Check out this post to learn how to use contest marketing to grow your business.
If you liked this article, please subscribe to our YouTube Channel for RafflePress video tutorials. You can also find us on Twitter and Facebook.