Do you want to learn how to get followers on Pinterest?
Many bloggers and small business owners use Pinterest marketing to raise brand awareness and send traffic to their websites. So if you aren't already using it, you could miss out on an easy way to drive your business growth.
In this article, we share various proven tips to improve your Pinterest marketing strategy and grow your Pinterest audience.
Before we dive in, what are the benefits of boosting your Pinterest following?
Why Should You Grow Your Following on Pinterest?
Given the popularity of Pinterest and its active user base, there are plenty of reasons to focus your efforts on getting new followers on this social media platform, including:
Free marketing for your business
Rapidly grow your website traffic
Reach a highly targeted audience
Boost your email subscribers
Promote other social networks
Engage with influencers
Increase your authority and credibility
Earn more business revenue
How to Get More Followers on Pinterest
The benefits above are just a taste of how Pinterest traffic can help your business grow. But how do you do it? Check out the tips below to boost your Pinterest follower count fast.
1. Understand Who Uses Pinterest
An excellent place to start is by learning more about Pinterest's users. This will help you decide if Pinterest is the right place to focus your marketing efforts. After all, if your audience isn't active on Pinterest, your content won't give you the results you want.
Here are a few Pinterest statistics to give you a general idea:
Most users on Pinterest are women, with a smaller male proportion at only 30%.
Pinterest's algorithm reaches more women aged 25-54 in the US than Instagram, Snapchat, and Twitter.
Millennials are the most active group on Pinterest, with 1 in 2 in the US visiting Pinterest each month.
Around half of Pinterest's user base lives in the US.
With this information, it's a lot easier to create original content for your Pinterest page that appeals to Pinterest's unique audience.
2. Run a Viral Pinterest Contest
Once you know who uses the platform, you can start implementing ideas to increase your number of followers on Pinterest. And one of the quickest and easiest ways to do that is to run a giveaway contest.
Running a giveaway is an excellent way to grow your followers on Pinterest for these reasons:
Pinterest's highly active user base is likely to get involved with interactive campaigns like contests, leading to high engagement.
Contests on Pinterest effectively introduce your brand to new audiences, particularly if you reach those users by spreading inspirational content.
If you're launching a new product or sale, contests are a cost-effective way to amplify your reach on Pinterest and expose your offering to a larger audience.
You can ask your audience to submit Pins or new Boards as a part of a contest to generate user-generated content (UGC) while engaging your audience.
But how do you run a Pinterest contest?
If you're a WordPress website owner, the easiest way to run a Pinterest giveaway is with RafflePress.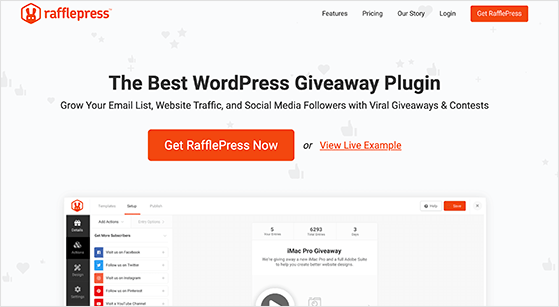 RafflePress is the best WordPress giveaway plugin on the market. It offers everything you need to create and launch a viral giveaway from your WordPress site.
With the drag-and-drop giveaway builder and pre-built giveaway templates, you can create any contest in minutes. It also includes tons of actions people can take to earn more entries into your contest, such as:
Follow us on Pinterest: Ask users to follow your Pinterest account for entry into your giveaway.
Refer-a-Friend – Viral: Ask users to share your giveaway on Pinterest for bonus entries.
Visit a Page: Encourage people to visit a specific URL and "pin it" for an extra chance to win.
Join an Email Newsletter: Invite users to sign up to your email list for giveaway entries.
…And many more!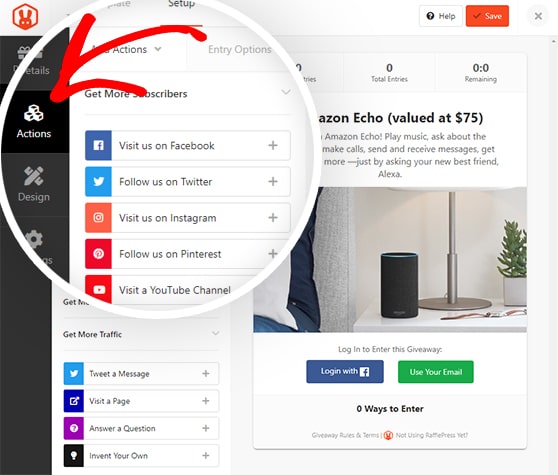 You can pick and choose any giveaway action and tailor your contest to fit your business needs. And when you're ready to go live, you can embed your giveaway widget in a WordPress post or page or instantly create a giveaway landing page that you can share on social media.
Follow this step-by-step guide to learn how to run a successful Pinterest contest with RafflePress.
3. Engage with Popular Pinterest Content
Another easy way to get followers on Pinterest is to check out popular pins on the platform.
Browse the 'Explore' feed and write down common themes and similarities. The feed is updated on a regular basis with new pins, offering plenty of inspiration. You can then use your notes to apply those ideas to your own Pinterest content.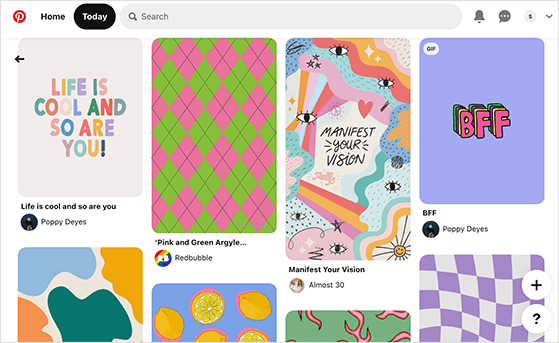 If you like, you can re-pin compelling content to your own boards, leave a comment on the pin, or follow the user. Just don't get too enthusiastic. Too many comments all at once can be considered spammy, leading to more unfollows than follows.
4. Search for Relevant Group Boards to Join
Pinterest allows you to create group boards where multiple users can pin to the same board.

Why not search for the best Pinterest boards in your industry and ask to join so you can contribute? In many cases, the board's admin will have instructions for joining. If they don't, you can reach out to them directly with your request.
You could even start your own group board and invite some of your loyal followers to contribute. In the instructions for joining, you can state that users must follow you and the board to join.
As a result, you can accumulate Pinterest followers relatively fast.
5. Follow Your Competitors' Followers
It's almost impossible to get followers on Pinterest if you sit around and wait for them to come. One tactic to jumpstart your follower growth is to follow fans of your competitor's boards.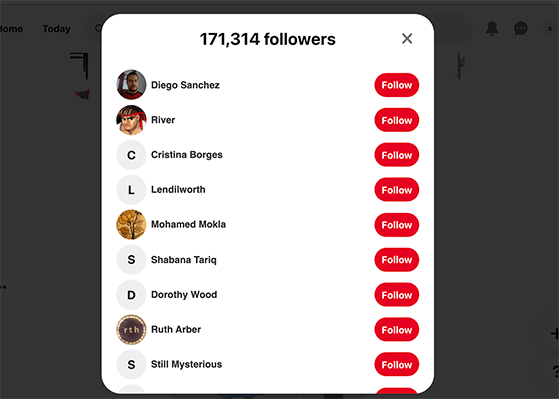 Just click your competitor's profile picture and check out the users following their updates and notifications. Given that you have similar audiences, it's highly likely that those users will follow you too.
6. Optimize Your Pinterest Profile Name
If you haven't optimized your profile name yet, you're missing out on a golden opportunity to get more Pinterest followers.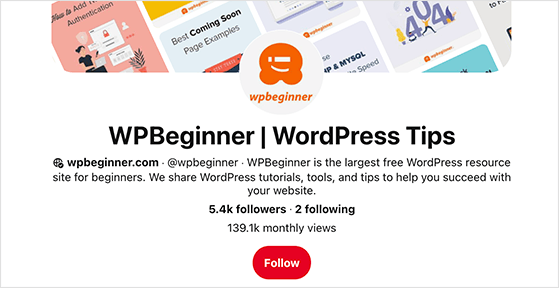 Just like search engines, Pinterest uses keywords to help people find the content they're searching for. With this in mind, adding relevant keywords to your profile name can help potential followers find you more easily.
7. Share Original High-Quality Content
When posting content on Pinterest, it's best to stay away from generic stock photos. Instead, Pinterest users search the site for original ideas and unique content, and products that fit their aspirational lifestyle goals.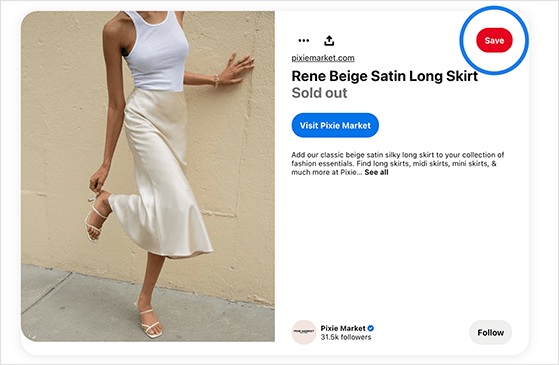 When you share content, keep it fresh and unique, and focus on any novel or new aspects. This will keep users interested in your content, making them much more likely to follow you.
8. Use the Right Image Size
According to Pinterest's art of the Pin video, top-performing pins have several things in common.
The best pins are:
Beautiful
Interesting
Actionable
So when you craft your pin designs, you should keep those points in mind.
The easiest way to start is first to ensure your pins are of the highest quality. Lifestyle images tend to perform a lot better than standard product shots, and they shouldn't too busy.
You should then make sure your pin is the optimal image size. Since many Pinterest users use the platform on mobile, vertical images have a better impact.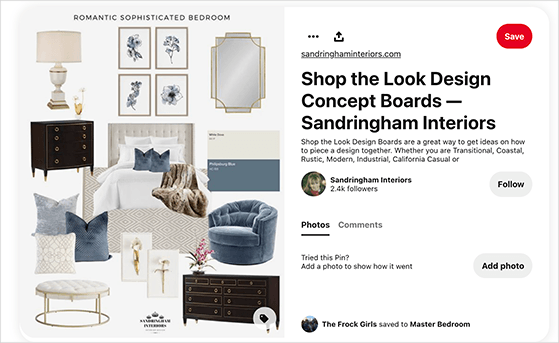 That said, don't make the images too long, for example, infographics. The best aspect ratio is 2:3 or 600px wide by 900px high.
To spark curiosity and action, you can include multiple products in one pin. This is a great way to serve different tastes in a single image. You could even try videos that stand out far more than even the very best photos.
With these pin design tactics, you'll position your brand as one that shares high-quality content that many users will want to follow for inspiration. Try using a tool like Canva to create beautiful images easily.
9. Write Keyword Rich Pin Descriptions
Strictly speaking, Pinterest is a search engine for images, and like any other online content, it should be optimized for search results.
When creating pins, it's good practice to write detailed descriptions that include relevant keywords.

You can find the right keywords by:
Adding a few words in the Pinterest search bar and writing down the automatic suggestions
Taking note of the keyword bubbles that show in the search bar's header area
Checking out accounts related to yours and see which terms they use
You should also include a clear call to action to tell users what to do next.
10. DoDon'torget to Use Hashtags
Just like keywords, you can use hashtags on Pinterest. Hashtags group pins by topic to make them easier for potential followers to find.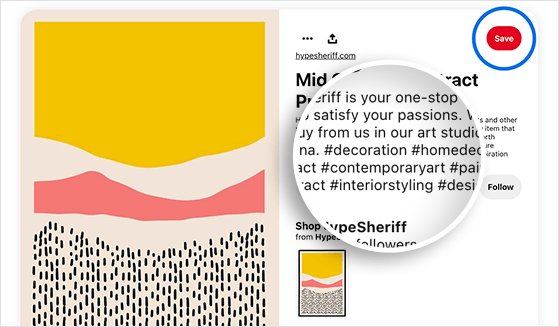 Finding the right hashtags to use on your own pins follows a similar process to keywords. For instance, you can use the search bar to search for relevant hashtags and see what other pinners use.
If you're on mobile, you can look at trending hashtags in your category. And as you add hashtags to your pins, you can look at the usage stats and hashtag suggestions for more ideas.
11. Optimize Board Names for SEO
When optimizing your boards for Pinterest search, don't forget about your board titles. Make efforts to name your boards specific to the type of content you pin and write an accurate board description.

You should also use keywords in your board name and description, as well as adding hashtags too.
12. Organize Boards with Sections
Another handy feature you can use on Pinterest is Board sections. Sections can help you organize boards into specific subcategories.
For example, if you have a large board category like WordPress, you can make separate sections like WordPress Themes, WordPress Plugins, and so on.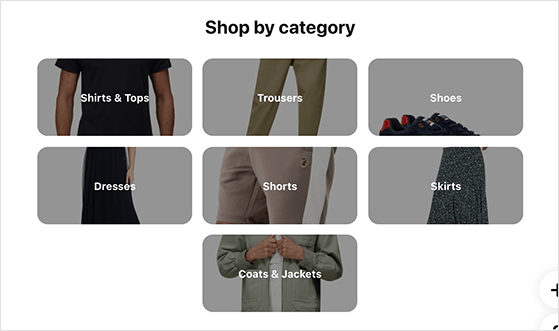 By adding sections to your boards, you can make it easier for potential Pinterest followers to explore your content. In addition, as a result of your streamlined board navigation, they're more likely to follow you.
13. Verify Your Website
To add more authority to your pins, make sure you verify your website with Pinterest. The steps to claim your site includes adding an HTML tag.
If yours is a WordPress website, you can verify your site using a WordPress plugin like All in One SEO (AIO SEO). All you need to do is copy and paste the HTML tag into the plugin, and it will add the code to the appropriate place on your site.

Check out the AIO SEO Pinterest verification documentation for all the details.
14. Set Up Rich Pins
After claiming your website, you can set up rich pins on Pinterest. When you pin content from your website with Rich Pins enabled, it adds extra information to your pin.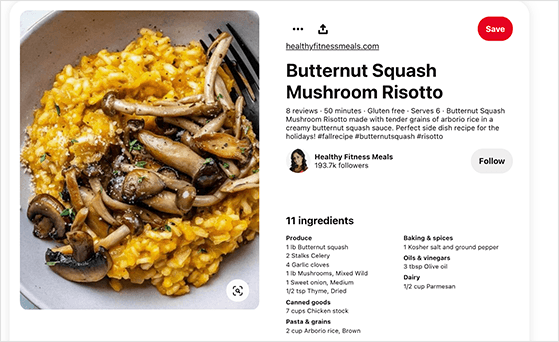 The 3 different types of rich pins are:
Product – Include pricing, availability, and product information on your pin.
Article – Add the headline or title, description, and author of your blog posts.
Recipe – Include a title, serving size, cooking time, rating, diet preference, and ingredients for recipes to your pin image description.
Before you start using Rich Pins, you need to apply for them so your data syncs correctly. To do this, you should first add meta tags to your website.
You can easily add meta tags to your WordPress site with AIO SEO. Just follow these steps in their social meta documentation.
After adding meta tags to your site, enter the URL of one of your correctly marked-up pins into the Pinterest rich pin validator. If everything goes well, you'll see a success message, and Pinterest will process your application within 24 hours.
The benefits of rich pins are that they give potential followers a lot more information, which can help them decide whether to follow you.
15. Publish Content Frequently
It takes time for anything you post on Pinterest to gain traction and reach. Unlike Facebook and Twitter, your content on Pinterest amplifies over time.
This means you need to play the long game and post consistently over several months to see an uptick in traffic, followers, and engagement. Pinterest itself claims this is the best way to grow your audience and get followers on the platform.
16. Choose the Right Time to Post
Besides publishing high-quality content frequently, it's vital that you pin content when your audience is active.
The most active hour of the day on Pinterest is around 11 pm. In addition, the majority of pinning happens between noon and midnight.
Create a plan to post content during the most active times on Pinterest to ensure your pins achieve the maximum reach.
17. Schedule Pins in Advance
Not everyone wants to stay up all night to post Pinterest content at optimal times. Luckily, you can use a social media scheduling tool to schedule pins in advance.
For example, SEMRush, the SEO management platform, includes a social media dashboard that allows you to schedule pins to Pinterest.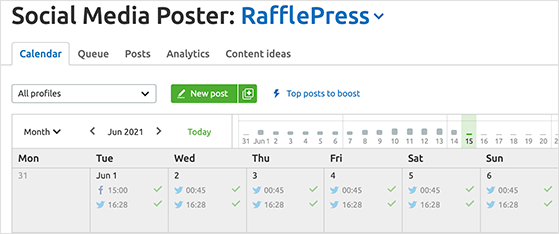 If you're already using SEMRush to track your WordPress SEO, it's an excellent way to also manage and track your Pinterest business account all from one place.
Some other social media scheduling tools are Buffer, Tailwind, Hootsuite, and ViralTag.
18. Plan Pins for Holidays
Pinterest users are well known to be super active over the holidays, with good reason. Pinterest itself says that if you reach pinners early, it can cause a sales lift of over 6%.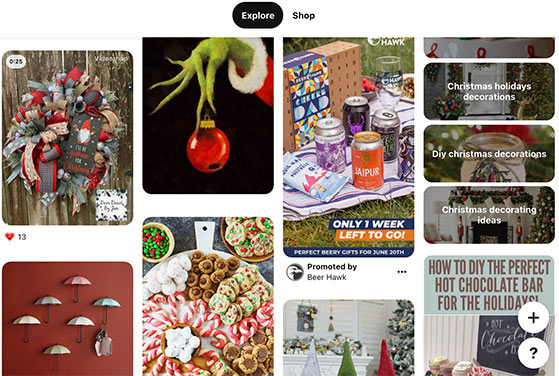 For instance, 60% of the sales influenced by Pinterest in 2020 were completed by Cyber Monday.
So get started early by pinning seasonal brand-related content with keyword-rich descriptions and relevant hashtags.
If you wait too long to plan and pin holiday content, you could miss significant opportunities to boost your sales and Pinterest followers.
19. Add a Pinterest Follow Button to Your Website
Besides working hard to amplify your reach on Pinterest, it's a good idea to make following you as easy as possible. Of course, adding a 'Follow on Pinterest' button to your website is one of the easiest ways to do that.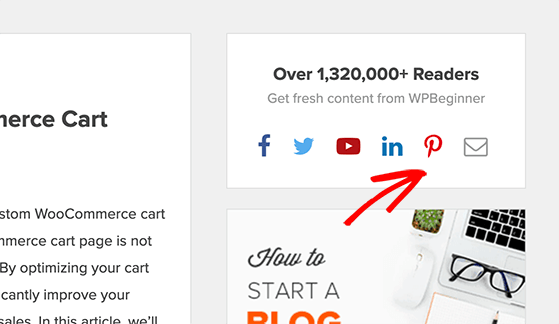 You can create a Pinterest follow button with Pinterest's widget builder. Or you can use a WordPress social media plugin to add Pinterest follow buttons to WordPress without copying and pasting code.
20. Add a Pinterest Share Button to Your Website
Similarly, it's an excellent idea to add social media share buttons to your website. That way, website visitors can easily share content directly to Pinterest without leaving your site.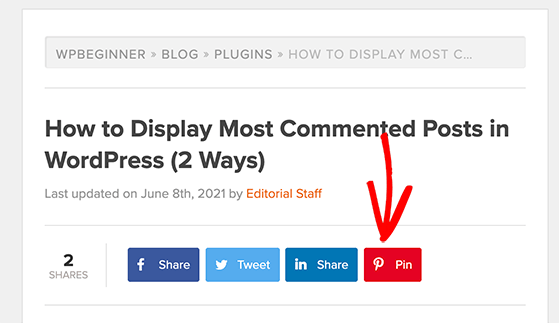 For WordPress, we recommend using the Shared Counts WordPress plugin. It includes social media share buttons for:
Facebook
Pinterest
Yummly
Twitter
Email
Print
LinkedIn
And allows you to show a total count of all shares.
Check out this step-by-step guide to add social media share buttons to WordPress with Shared Counts.
21. Try Promoting Your Pins
If your brand has a social media marketing budget, it's worth looking into Promoted Pins. Pinterest's promoted Pins can significantly help to expose your brand to a broader audience.
Once your pins start gaining traction, you can use your Pinterest Analytics to find your top-performing content. You can then promote those pins to target new potential followers.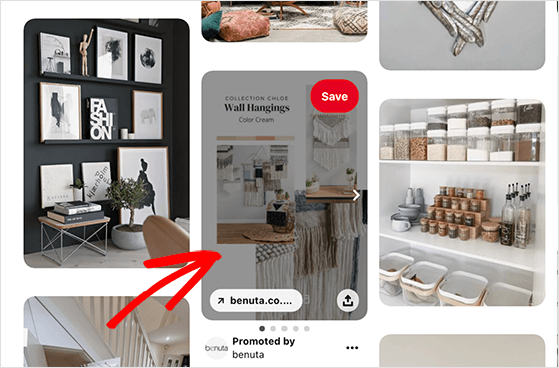 Promoted Pins show up in the Pinterest feed just like regular pins, but they'll appear to many more users than non-promoted content. And as a result, you can gain tons of new Pinterest followers.
Frequently Asked Questions
How do I get more followers on Pinterest?
To get more followers on Pinterest, create high-quality, original content that aligns with your audience's interests. Use relevant keywords and hashtags in your pins and pin descriptions. Engage with other users by commenting on and repinning their content.
How to get 1k followers on Pinterest fast?
To get 1k followers on Pinterest quickly, you might consider running a contest or giveaway that requires users to follow you and repin your content. Additionally, promoting your Pinterest account on other social media platforms can help attract more followers.
Why am I not getting followers on Pinterest?
If you're not getting followers on Pinterest, it could be due to a lack of consistent activity, poor-quality or irrelevant content, or insufficient engagement with other users. It's also important to ensure your profile is fully optimized with a clear description and relevant keywords.
How do I get my Pinterest noticed?
To get your Pinterest noticed, use SEO strategies like keyword optimization in your pin descriptions and board titles. Regularly pinning and repinning content can also increase your visibility. Collaborating with popular pinners or influencers in your niche can also help boost your profile's exposure.
There you have it!
We hope this article helped you learn how to get followers on Pinterest fast. You might also like this post on growing your blog followers.
Thanks for reading, and don't forget to follow us on YouTube, Twitter, and Facebook for more great tips and tutorials.