Did you run Amazon Giveaways in the past? Want to know why you can't anymore?
The Amazon Giveaway program was an excellent way to engage with your customers and drive sales for your online store. But now that it's no longer around, you might be looking for an alternative solution.
This article will explain what happened to Amazon Giveaways and how you can still create a successful giveaway with RafflePress's viral WordPress giveaway plugin.
What Happened to Amazon Giveaways?
So what happened to Amazon Giveaways?
On October 10th, 2019, Amazon announced that Amazon Giveaways were retiring. Customers could still enter giveaways until October 17, 2019, but you could only create new giveaways up to October 10, 2019.
The reason for retiring the Amazon Giveaway program is unclear. But the fact remains that they were an effective way for online stores to amplify their visibility and promote their products.
Does Amazon Still Do Giveaways?
Unfortunately, Amazon no longer does giveaways directly from its eCommerce platform. You'll need to find an alternative giveaway solution if you want to give away Amazon products online.
How Did Amazon Giveaways Work?
Amazon giveaways worked straightforwardly. Sellers could choose a product to give away to their audience, how many prizes users could win, and the type of giveaway to run.
For instance, you could choose:
Instant win giveaways
Sweepstakes
First-come-first-served
And more
Users could enter your giveaway with a single click by watching a short video or following an author on Amazon. You could also give people who didn't win your giveaway a discount code for the prize on offer.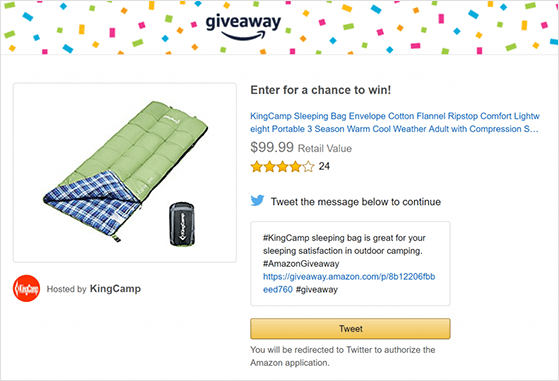 Your giveaway would show up on Amazon's Giveaway page, making them an excellent way to promote your Amazon products and boost sales. But after the platform's retirement, you may be stuck with an Amazon Giveaway-shaped hole in your marketing strategy.
Can You Still Run Amazon Giveaways?
Even though Amazon no longer offers a giveaway platform, you can still run effective giveaway contests to promote your amazon products. There are plenty of giveaway tools available with everything you could need.
And if you have a WordPress website, RafflePress is the ideal Amazon giveaway solution.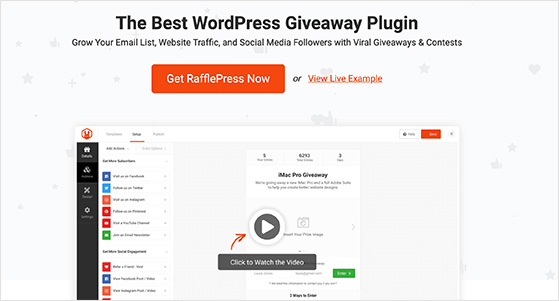 RafflePress is the best WordPress giveaway plugin on the market. It allows you to run action-based giveaways where users have to complete several tasks to enter your giveaway.
The more actions people complete, the greater their chance is of winning your grand prize.
You won't need to build your giveaway from scratch, either. RafflePress comes with several premade giveaway templates designed to accomplish your marketing goals.
For example, if your main goal is to increase your email subscribers, you can use the Grow Your Email List template.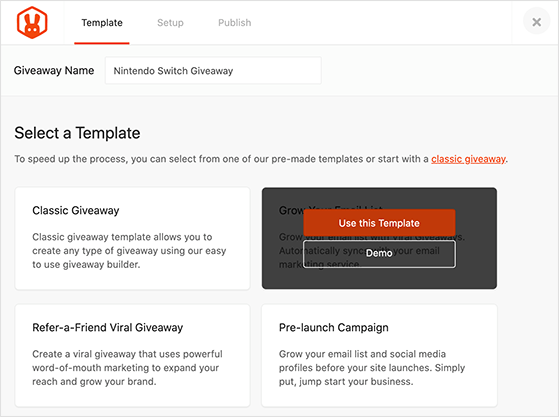 The entry actions needed to meet your goals are automatically added to the giveaway widget with this template. This means you won't need to build it manually, saving you tons of time.
You can also drive more entries to your giveaway with the following actions:
Follow on social media
Watch a video
Submit an image
Refer-a-friend – viral
Visit a page
Leave a comment
Answer a question
Polls and surveys
Subscribe to RSS
Automatic entry
And more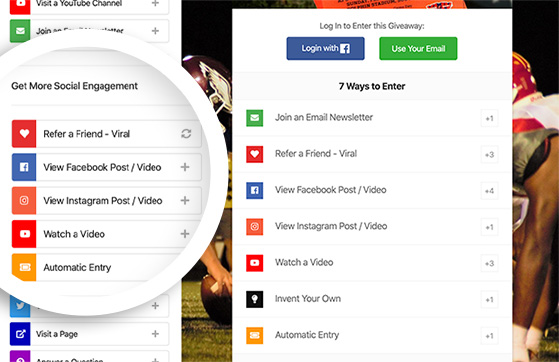 You can even invent your own entry action based on your specific business needs. For example, you could hide a secret code in your product video and ask people to enter the correct code in RafflePress for a chance to win.
While retailers ran Amazon Giveaway campaigns exclusively on the Amazon Giveaways page, RafflePress offers more flexibility.
You can embed your RafflePress giveaway in any WordPress post or page or even within your WordPress theme. Or you can create a standalone giveaway landing page right on your WordPress site and share the URL anywhere online.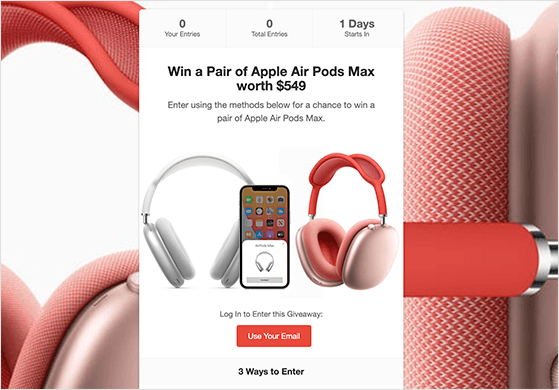 How to Run an Amazon Giveaway with RafflePress
Now that you know what happened to Amazon Giveaways let's look at the steps to run a successful Amazon giveaway with RafflePress.
1. Install and Activate RafflePress
First, click here to get started with RafflePress and download the plugin to your computer. You then need to install and activate it on your WordPress website.
For help with that, follow these instructions for installing a WordPress plugin.
Pro Tip: Don't make the mistake of getting RafflePress nulled – it could seriously harm your website.
After installing the plugin, hover your mouse over the RafflePress icon in your WordPress dashboard and click Add New to create a new giveaway.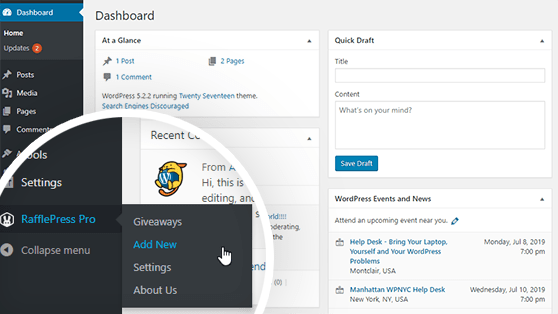 2. Choose a Giveaway Template
After clicking Add New, you'll see a screen where you can name your giveaway and choose a giveaway template.
First, type your giveaway name in the text field at the top of the screen. Then choose your giveaway template.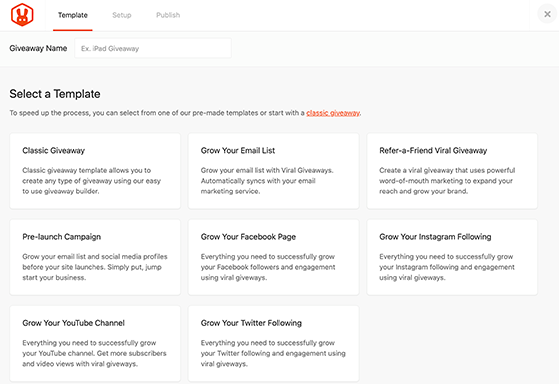 RafflePress offers several pre-made templates designed to reach particular giveaway goals, such as Grow Your Email List, Refer-a-Friend, Pre-launch Campaign, Grow Your Facebook Page, etc.
For this guide, we'll use the Classic Giveaway template. This template lets you create any type of giveaway in the RafflePress drag-and-drop builder.
Choose the Classic Giveaway template by hovering over it and clicking Use This Template.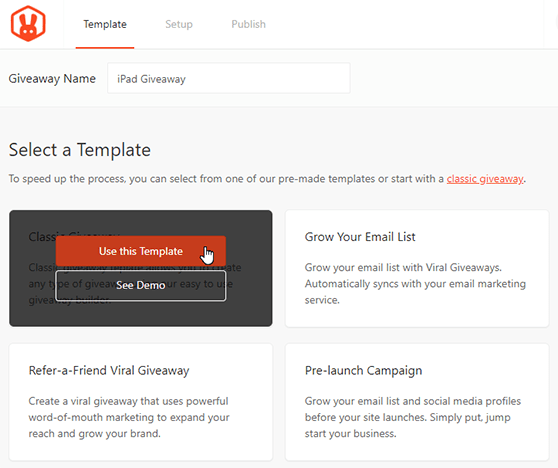 3. Add Your Prize Details
On the next screen, you'll see the RafflePress giveaway builder. This is where you can enter details about the giveaway prize and add actions for participants to complete.
The first step is to enter your prize details. So click on the pencil icon under the Giveaway Prize Details section.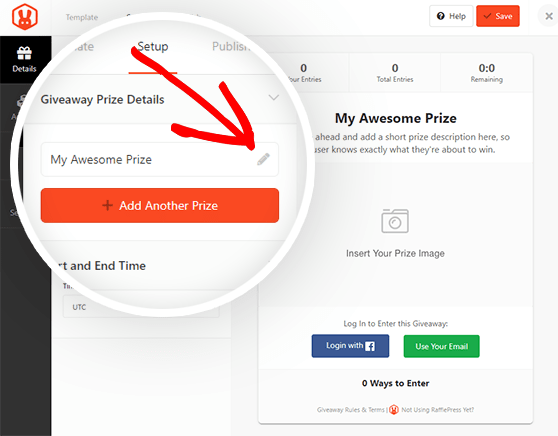 In this area, you can choose the name of your prize and give it a short description.
You can also add a prize image by clicking the Select Image button under the description box. The app will ask you to choose an image from your media library or upload an image from your computer.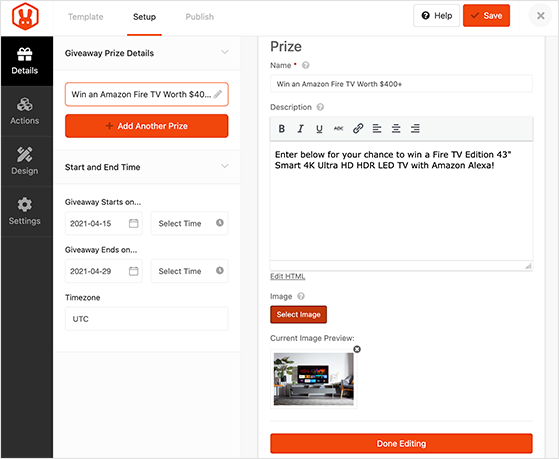 When you're happy with your prize name, description, and image, click on the Done Editing button.
If you have many prizes to give away, you can click the + Add Another Prize button to enter more details.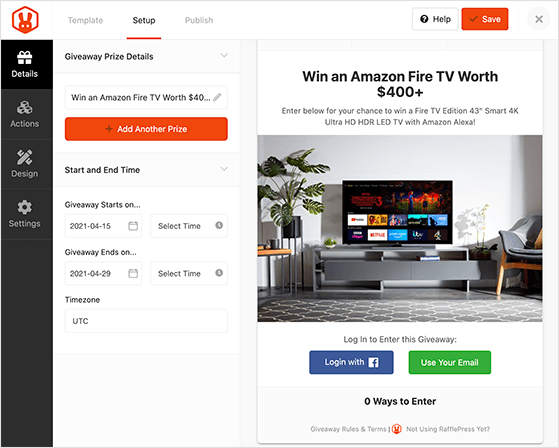 You can also choose the date and the time your giveaway starts and ends and choose your timezone under the Start and End Time section.
Click the Save button to save your changes. You should save regularly while building your giveaway to avoid losing any changes.
4. Choose Giveaway Entry Actions
Next, click the Actions tab to add giveaway entry actions to your widget. RafflePress has multiple ways that users can enter your giveaway.
For instance, you can allow users to receive 1 giveaway entry for visiting your Amazon product page, a 2nd entry for joining your email list, a 3rd entry for referring a friend, etc.
Most users will complete all the tasks they can because they'll have more chances to win. 
RafflePress's entry methods are grouped by goal:
Get More Subscribers
Get More Social Engagement
Get More Traffic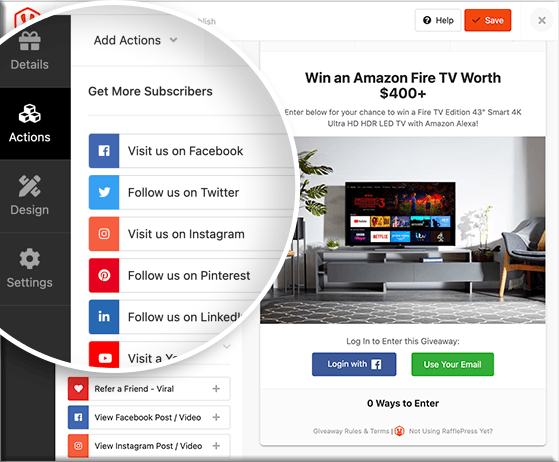 Click on any action you'd like to add it to your giveaway widget.
Why not check out how SeedProd used RafflePress actions to 3X their sales?
After adding an action, you can set the action's entry options in the left-hand panel. The settings include the title, value (how many entries the action is worth), if the action is mandatory, etc.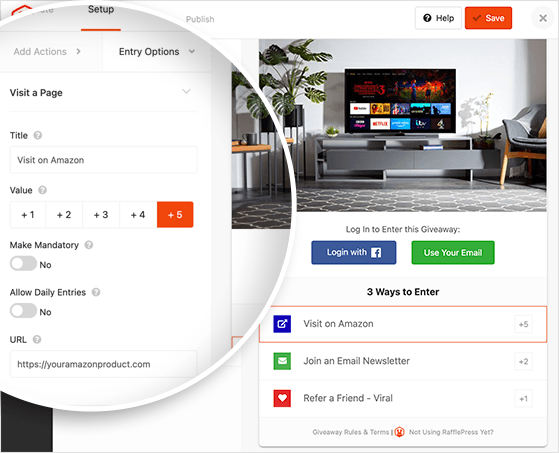 If you add many entry methods, ensure that the most important actions are worth the most giveaway entries.
Repeat that process for every action you wish to add to your contest. You can easily rearrange actions for your contest by dragging and dropping on the left side or delete actions by clicking the trash can icon on the right side.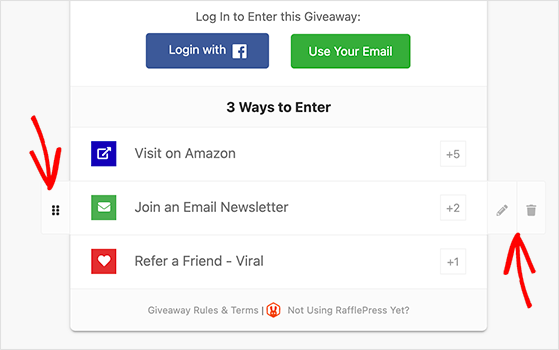 5. Customize Your Giveaway Design
After adding your giveaway actions, click the Design tab to customize the look of your Amazon giveaway. On this screen, you can choose from 2 different layouts (display image, then header, or header, then image) and several fonts and button colors.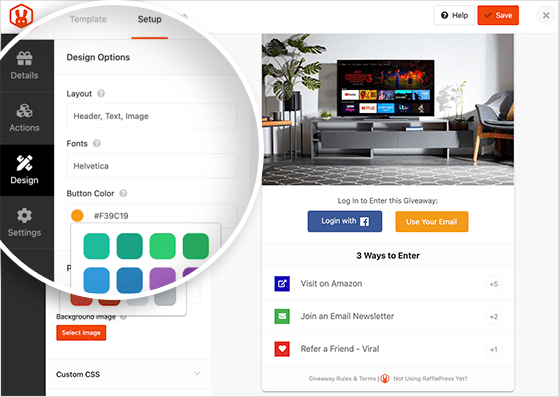 If you're making a standalone page for your giveaway, you can also choose the page color background or upload a custom background image.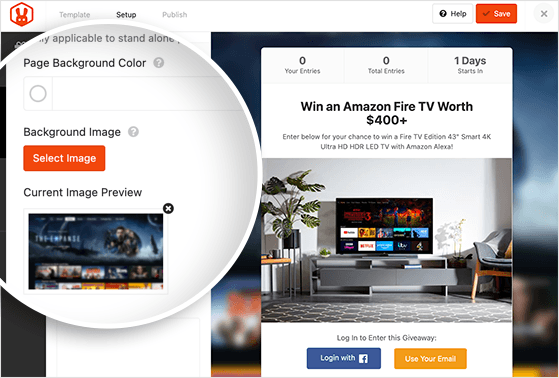 Once your giveaway looks the way you want, hit the Save button.
6. Configure Your Giveaway Settings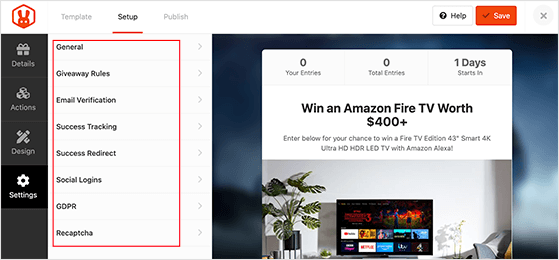 In the Settings tab, there are 8 different sections:
General
Giveaway Rules
Email Verification
Success Tracking
Success Redirect
Social Logins
GDPR
Recaptcha
The most important setting on this page is the giveaway rules.
With RafflePress, it's easy to create a simple set of giveaway rules. You can use the Rules Generator Template to get a head start. 
Just click the + Generate Rules button to show a window where you can type in the sponsor name, email, address, eligible locations, the minimum age to enter, and more.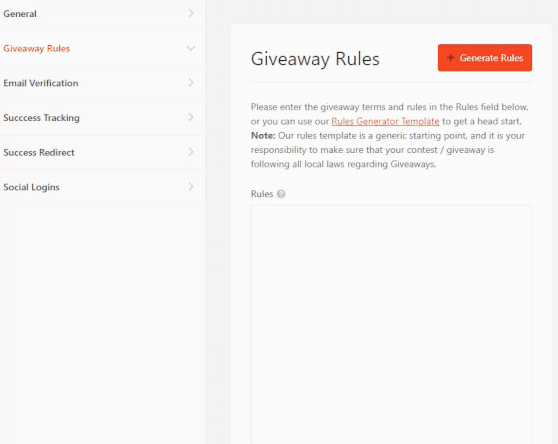 Then click the Generate Rules button to add your giveaway rules to your RafflePress widget. When your giveaway is live, participants can view your rules by clicking a link on your app.

You can check out our documentation for details on all the RafflePress settings.
When you've finished configuring your settings, click Save to continue.
7. Publish Your Amazon Giveaway in WordPress
Now it's time to make your Amazon giveaway live. RafflePress makes launching your giveaway super-easy. Just click the Publish tab at the top of the giveaway builder.
Clicking publish shows 3 ways to launch your giveaway in WordPress:
RafflePress WordPress Block – Embed the giveaway widget in your WordPress post or page.
WordPress Shortcode – Embed the giveaway in the classic WordPress editor, sidebar widgets, or inside your WordPress theme.
Giveaway Landing Page – Create a distraction-free landing page on your website for your giveaway.
The best option is to create a dedicated landing page for your giveaway. Since there isn't anything on the page to distract visitors, they're more likely to sign up and enter your giveaway.
So, go ahead and choose the giveaway landing page option.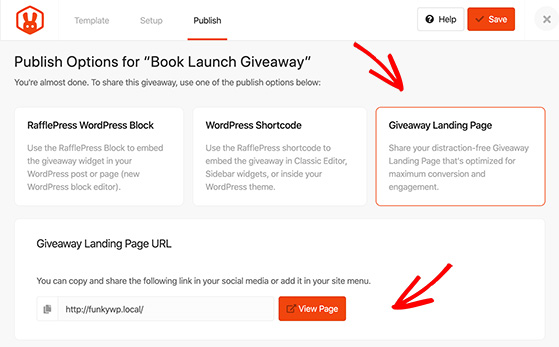 Then click the View Page button to see how your Amazon giveaway page looks.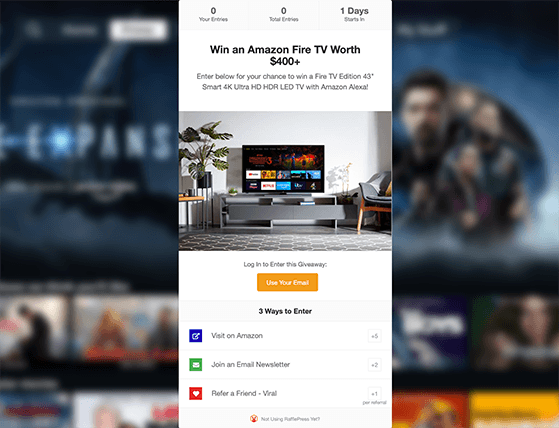 Congratulations! You now have an excellent landing page for your giveaway. All that's left is to promote your giveaway page to secure tons of entries.
When Your Amazon Giveaway Ends
After successfully promoting your giveaway and when it naturally comes to an end, there are a few things RafflePress can help you with, which we will cover next.
8. Choose a Giveaway Winner
When your giveaway is over, you'll need to choose the winner or multiple winners if you have more than 1 prize.
The fairest way to draw a giveaway winner is to choose a winner randomly.
RafflePress makes this super-easy. When your giveaway ends, navigate to RafflePress » Giveaways from your WordPress dashboard and click the Needs Winners link on the right.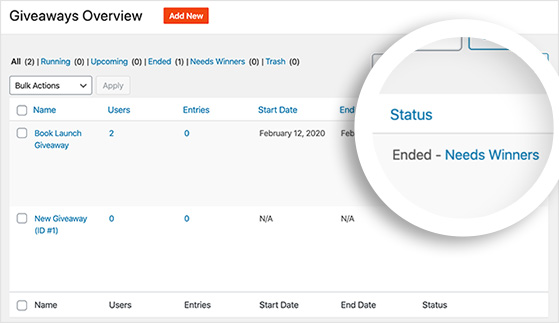 You can see everyone who entered your giveaway and how many entries they have. To choose a winner randomly, click the Pick Winner button, select your options, and click Choose Winners Now.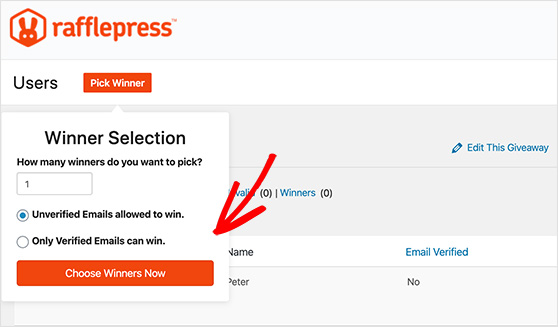 The winner is highlighted instantly at the top of the list. Now you can click to email them and tell them they're a winner.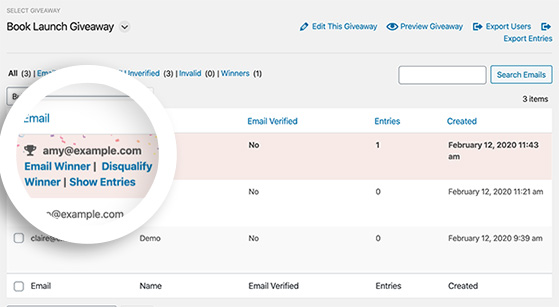 9. Analyze Your Results
After drawing a giveaway winner and telling them the good news, it's time to look at your results. Analyzing your results makes it easier to see what did and didn't work. That way, you can run a giveaway that's even more successful next time.
Navigate to RafflePress » Giveaways from your WordPress dashboard, and click on Users on your recently ended giveaway to see your Amazon giveaway results.
Then, click the Entries Report link at the top of the screen to see the results.
RafflePress will show you a helpful pie chart with each segment representing a single action for entering your contest.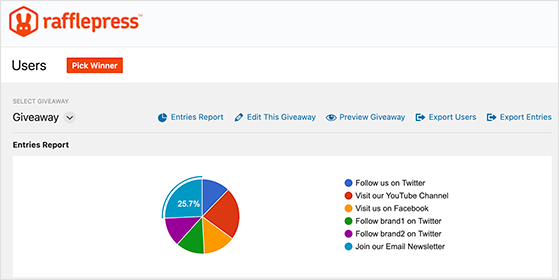 If you hover your mouse over each segment, you can see a percentage of how many users took that action.

For instance, most users signed up for the newsletter to enter the contest in the example above. And at a close second is the visit on YouTube action.
As a result, you can see that these 2 options led to the most giveaway entries.
With this information, it's much easier to make your next online giveaway more successful. Just choose the actions that drove the most entries.
Another easy way to get the data you need to optimize your giveaways is with MonsterInsights, the best Google Analytics plugin for WordPress.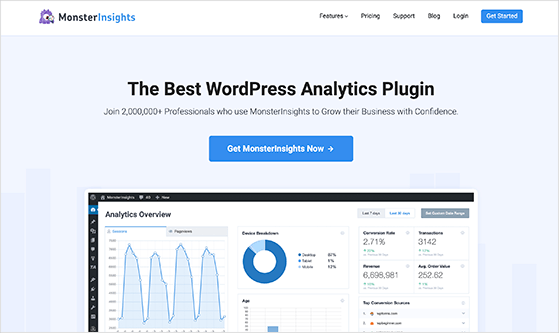 MonsterInsights makes it easy to track your contest landing page visits, traffic to your website, referral traffic, website activity, eCommerce promotions, etc. You can see all of the MonsterInsights dashboard reports right inside WordPress.
By analyzing your website data with MonsterInsights, you can see which promotion strategies drove the most traffic to your giveaway page and use that information to improve future giveaways.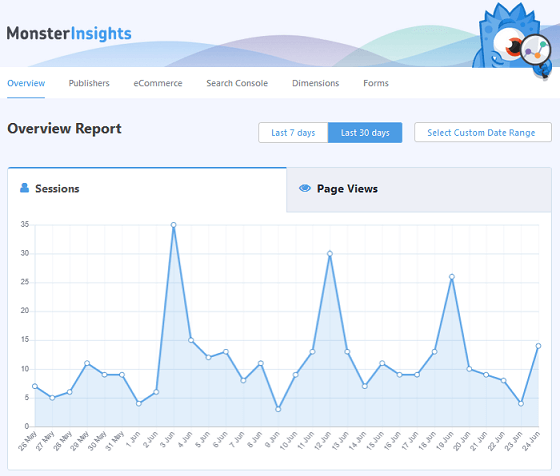 With MonsterInsights' real-time stats, you can monitor your website traffic during the contest and make adjustments as you go.
And that's it!
We hope this article helped answer what happened to Amazon Giveaways. Plus, with the help of RafflePress, you can still create successful Amazon giveaways with the bonus of hosting them right from your WordPress website.
So what are you waiting for?
Get started with RafflePress today!
If you found this article helpful, be sure to join us on YouTube, Twitter, and Facebook for more giveaway guides and tutorials.