Are you interested in growing your business with a viral giveaway? With the right tools, it's easy to create an online contest. But figuring out how long your giveaway should last can be hit and miss.
Don't worry. We've found the best contest run times and put them together in this guide, so you know how long a giveaway should last to get the best results for your business.
How Long Should a Contest Run?
The length of your giveaway largely depends on your goals. If your goal is to get a quick boost in social media engagement, your contest won't need to last long. But if you're after a steady stream of qualified leads, you'll need to give users time to find and enter your giveaway.
It also takes trial and error to find the contest duration that offers the results you need.
Even so, you'll find that most businesses choose 1 of these 4 popular giveaway run times:
Up to 1 week
2 weeks
30 days
Several months
Each of these giveaway durations has pros and cons. Let's look closer at each option, so you know which one is the best starting point for your contest.
1. Running a Giveaway for 1 Week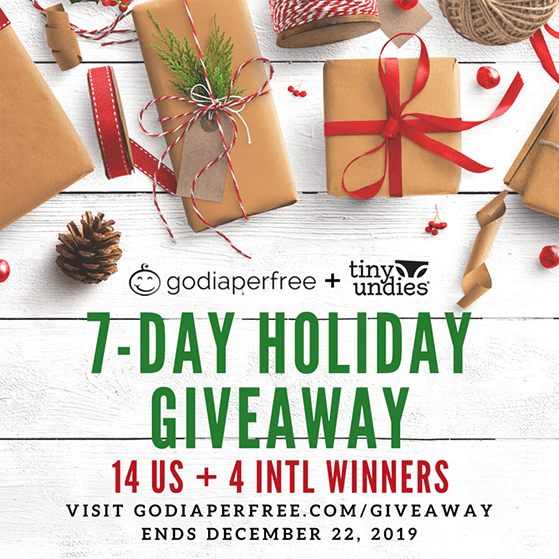 Running a giveaway for 1 week or less is a smart choice for encouraging your audience to act quickly. Since there's so little time to enter your contest, your audience has to act right away before it's too late.
Shorter, flash giveaways like this evoke a sense of urgency, especially if they're paired with a desirable prize. They instill the fear of missing out, which can significantly increase entries.
Yet, to ensure this type of contest has the most impact, you'll have to ramp up your promotion efforts. If you don't promote your giveaway on a daily basis, not enough people will see your campaign.
Your giveaway needs to go viral for it to show up in as many news feeds as possible. That's because the more people see your contest, the more likely they are to enter and meet your business goals.
But this is pretty difficult to achieve in only 7 days.
2. Running a Contest for 2 Weeks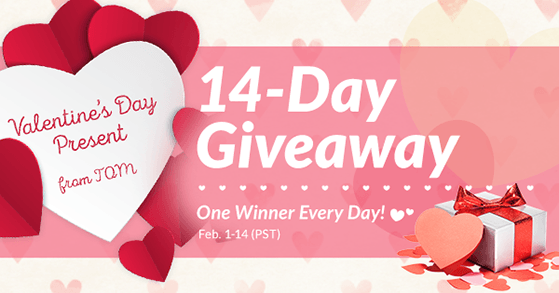 Running a giveaway for 2 weeks (14 days) is generally the best giveaway running time. It gives you plenty of time to secure entries, and it isn't so long that users will forget about you.
Having your giveaway last for 2 weeks is actually the most popular choice for many businesses. It offers the optimum amount of time to reach your ideal audience while keeping your giveaway relevant and timely.
When running this type of giveaway, generate tons of hype at the beginning to get an instant burst of entries. Then keep a steady stream of promotion throughout to keep up the momentum. Right before the end of your contest, create a last-minute promotional frenzy to secure a final boost in entries.
The only downside to a shorter contest like this is that it might not be long enough to raise as much awareness as possible.
3. Running a Contest for 1 Month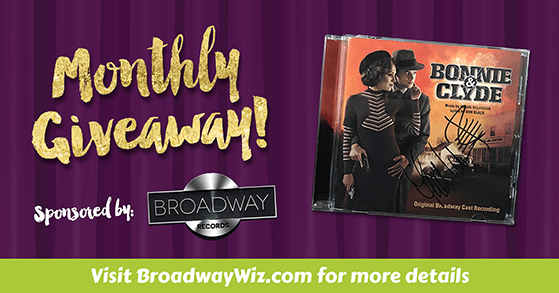 Running your contest for a 1-month duration gives you enough time to launch it with the right momentum. You can also fix any mistakes that come up and get the word out to your audience.
A 1-month giveaway is also the perfect opportunity to fit your contest into a theme or seasonal event.
For example, you could run a…
Christmas in July contest
February Frenzy
March Madness
You could even run a post-holiday season giveaway to beat the January blues.
Themed contests like this work because they give you the chance to promote your contest without it feeling forced. Plus, it means your giveaway is relevant for longer.
That said, having your giveaway last this long, could see it become idle and lose engagement.
You can combat that by coming up with creative ways to promote your contest that generates a lot of interaction, such as running polls, highlighting contest entries, and offering extra incentives like ways to earn more entries.
RafflePress, the best WordPress giveaway plugin, has everything you need to incentivize your giveaway. The 1-click bonus actions let users earn extra ways to enter your contest that simultaneously boosts your contest awareness.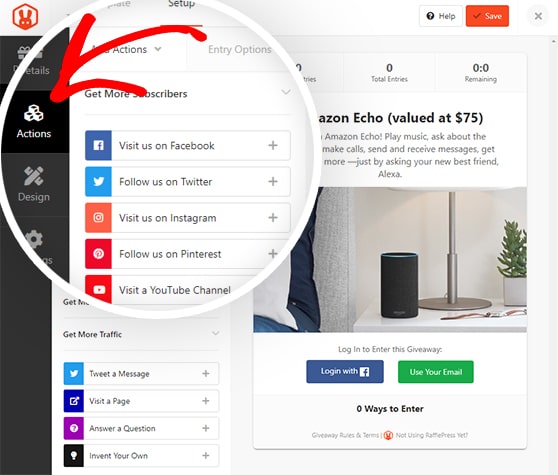 Plus, running a contest with RafflePress doesn't require any technical experience. The drag and drop giveaway widget handles everything for you without needing to code.
4. Running a Contest for Several Months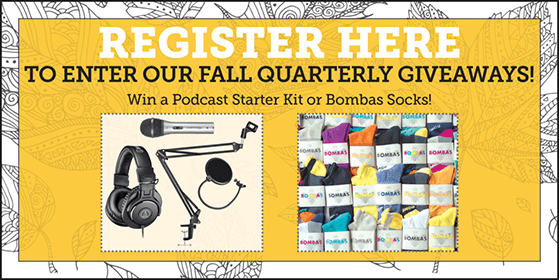 Having your giveaway last for several months has many of the benefits as the other run times.
You'll have loads of time to plan and organize your contest, iron out mistakes, and pick up a steady stream of entries. What's more, if you keep your promotional efforts creative and enticing, it can result in many more customers.
That said, a time-frame longer than a month isn't as effective as shorter giveaways. You'll lose the sense of urgency, which can cause participants to put off engaging and entering. And if they put it off long enough, they'll lose interest in your contest altogether.
As a result, you'd have to spend money and effort on paid promotions to win-back that engagement, which likely won't work.
So, how long should your giveaway last?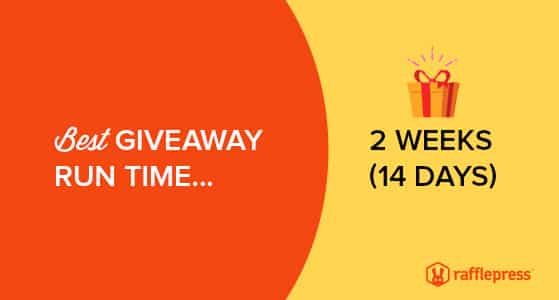 While each giveaway contest requires a unique approach, a giveaway duration of up to 2 weeks is the best solution. 14 days offers the ideal balance between giving your campaign time to grow without losing engagement and interest.
What's more, research shows you'll get the best quality entrants in the first and last 3 days of your giveaway, with engagement dropping during the middle. Therefore, a 2-week giveaway gives you the best gap between both peaks in engagement.
What Time Should You Run a Giveaway?
Deciding how long your giveaway should last is only 1 part of creating an online contest. You also need to find out the best time to launch your giveaway.
Since your audience is hit with tons of promotions all day long, you'll need to time your contest for when they're most active and engaged. Otherwise, your message is lost in the news feed.
Here are our top tips for discovering when to run your giveaway:
Check your calendar – Avoid running your campaign during important dates like Christmas weekend and the Super Bowl. Your audience's attention will be elsewhere, so your contest may not get much traction.
Make contests a habit – If you run regular giveaways, your audience will come to expect them, creating a habit they'll look forward to.
Check your statistics – Dive into your social media and website statistics to learn when your audience is most active. You can then use that data to launch your campaign at the perfect time for them to see it.
Giveaway Times: Week Days vs. Weekends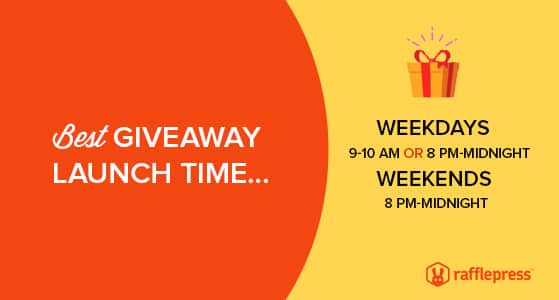 Besides checking your statistics and analytics, the majority of users have pretty predictable surfing habits. These habits can vary from weekdays to weekends, and from hour to hour. Generally speaking, here's what to look out for:
Weekdays – For maximum entries, launch your giveaway between 9-10 AM or 8 PM to midnight. Most people start the day by surfing the web and unwind similarly before bed.
Weekends – You can expect the highest number of entries between 8 PM and midnight.
As with any contest timings, you should consider your audience's timezone to get the best results.
How to Run a Giveaway for Any Duration
Running a giveaway over any duration is much easier with the right tools. RafflePress, for example, includes options to control the length of your giveaway with a few clicks.
It also includes a drag-and-drop giveaway builder, viral entry methods, and distraction-free giveaway landing pages.
Follow this step-by-step guide to create a giveaway with RafflePress. Or you can click here to get started with RafflePress today.
There you have it!
We hope this article helped you learn how long a giveaway should last. With the right giveaway timings, you can attract tons of entries to your contest, resulting in more leads.
To find out how to create a viral giveaway to get more social media followers, follow this easy tutorial.
And don't forget to follow us on YouTube, Twitter, and Facebook for more great tips to grow your business.