Are you looking for an easy way to run a Twitter giveaway? Twitter contests are an excellent way to engage your existing followers and attract a broader target audience interested in your brand.
In this article, we'll show you how to do a Twitter giveaway to maximize engagement and skyrocket your business growth.
Before we start, what are the benefits of running a contest on Twitter?
Why Run a Twitter Contest for Your Business?
Running a Twitter contest is one of the easiest and quickest ways to boost your Twitter followers. It's also a great way to increase brand awareness and improve your engagement rates on the platform, including Twitter likes and followers.
What's more, you can use Twitter contests to improve other areas of your marketing strategy, such as:
Promoting new products and services
Cross-promoting other social media channels
Collecting user-generated content (UGC)
Most of all, Twitter giveaways are a fun way to show your online audience that you value their loyalty.
How to Easily Create a Twitter Giveaway
Creating a giveaway contest on Twitter doesn't have to be complicated. The best approach is to keep things simple and plan in advance.
Follow the steps below to plan and create a successful Twitter giveaway.
1. Set Your Twitter Giveaway Goals
Before you create your giveaway contest, you need to decide what you want to achieve. Setting clear goals will help you build your giveaway and make it easier to see if it was a success.
Some of the goals you can meet with a Twitter giveaway include:
Raising product or brand awareness
Sending targeted traffic to your website
Building your Twitter following
Increasing your Twitter engagement
If your goals seem a little too vague, you can make them more detailed by using the SMART goals method.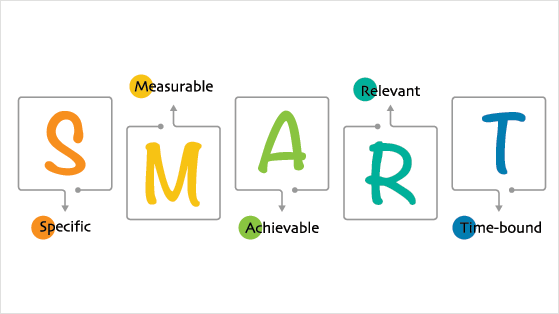 This will make your goals:
Specific – Who do you want to reach, why do you want to reach them, and what do you want to achieve?
Measurable – What metrics will you use to decide your contest is a success?
Achievable – Are your goals realistic and easy to achieve?
Relevant – Do your giveaway goals align with your business goals?
Timely – Have you set a realistic deadline for your giveaway duration?
It's much easier to stay on track with your goals in place and turn your Twitter giveaway into a raging success.
2. Choose Your Twitter Contest Prize
The next step is to choose a prize for your Twitter giveaway. Many brands make the mistake of going overboard with the prize or not offering something valuable enough.
For instance, if you offer a top-of-the-range Apple product, people will materialize out of thin air to enter. That can lead to many unqualified leads, which means a ton of people who are not interested in your brand. They just want that sweet freebie.
Alternatively, if you offer a prize that's of low value, like a $5 Amazon gift card, it won't be worth peoples' effort to enter. It won't generate enough excitement and interest for you to meet your SMART goals.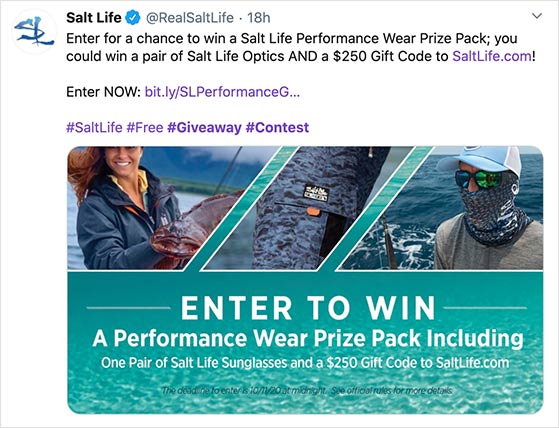 When choosing a prize for your Twitter contest, think about your audience's desires and interests. Select a prize that's specific and relevant to your audience.
Do you run a hair salon? Why not offer a complete cut, color, and style revamp at your salon as the prize? You could give away a cut and finish, or a hair treatment as second and third prizes.
Maybe your audience targets entrepreneurs. In that case, some noise-canceling headphones or a lightweight, portable laptop would suit those customers.
See this guide for even more contest prize ideas.
3. Create Rules for Your Twitter Giveaway
After choosing an excellent giveaway prize, you need to think about the rules for your Twitter contest. This will make it easy for participants to enter and prevent any confusion.
When writing your rules, you should cover the following information:
The minimum age of users eligible to participate
If your giveaway is limited to a particular country or location
What the giveaway prize is
How people can enter your giveaway (more on that shortly)
The duration of your contest, including start and end times
How you'll pick a winner
Disclosure of any sponsors
It's also worth noting that there is "no purchase necessary" for entering your Twitter contest. If you require users to purchase to enter your giveaway, you run the risk of setting up an illegal lottery.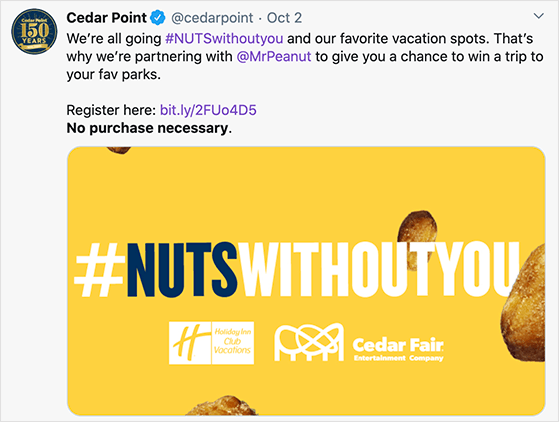 When it comes to Twitter's rules and guidelines for promotions, you'll find they're relatively straightforward. Your rules should state that you'll disqualify people using multiple accounts to enter and that multiple entries on a single day will not be eligible.
Those rules are to ensure Twitter's search quality. When you encourage people to share or retweet a message multiple times, Twitter might automatically filter them out of the search results.
4. Pick Your Giveaway Entry Requirements
As mentioned above, you should include easy ways for people to enter your Twitter giveaway for a chance to win. RafflePress, the best WordPress giveaway plugin, makes this super-easy no matter what type of Twitter contest run.
With RafflePress, people can enter your giveaway by completing the following actions:
Following you on Twitter
Tweeting a message
Joining your email newsletter
Visiting a specific webpage
Answering a question or poll
Watching a video
Following you on Pinterest
Visiting your Facebook, Instagram, or YouTube profiles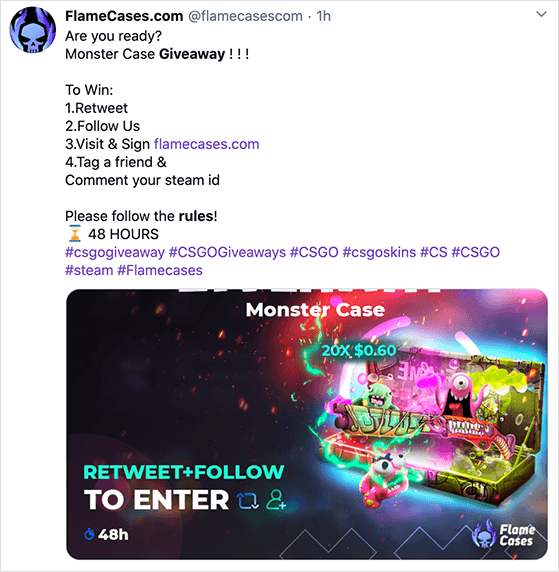 You can also grant users automatic entry into your contest after logging in. Plus, you can use the Invent Your Own action to create an entry method specific to your business, such as entering the URL to a comment left on your blog giveaway post or social media post.
5. Create Your Twitter Giveaway
Creating your Twitter giveaway is just as easy as the previous step. RafflePress comes with a ready-made Twitter template designed to grow your Twitter following. After choosing the template, it automatically populates your contest widget with Twitter-specific entry methods.
If you're not convinced, here's how OptinMonster generated 3,500+ new users from one giveaway.
Don't worry if you're not sure where to start. We'll explain each step in the process.
First, click here to get started with RafflePress and download the plugin to your computer. Then follow these instructions to install a WordPress plugin.
Step 1: Create a New Twitter Giveaway
After installing and activating the RafflePress WordPress plugin, click the RafflePress icon in your WordPress admin area and click Add New.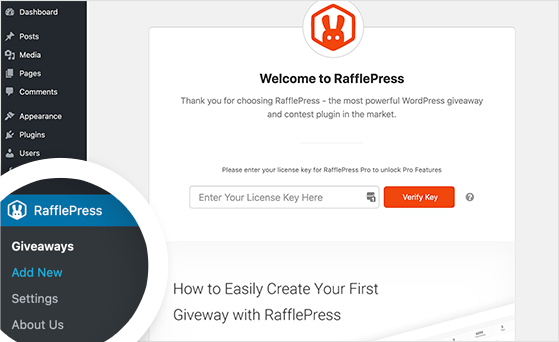 This opens the RafflePress giveaway builder where you can give your contest a name and choose a giveaway template based on the type of giveaway you wish to run.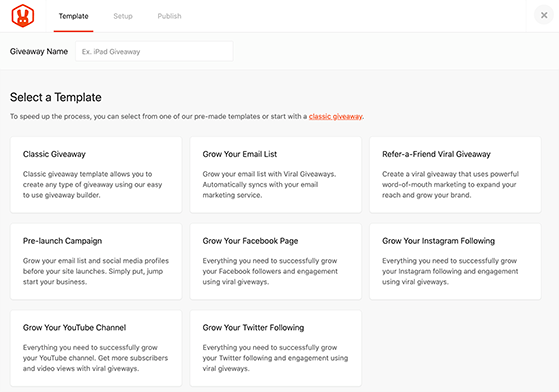 As mentioned earlier, the easiest way to create a Twitter giveaway is to select the Grow Your Twitter Following template.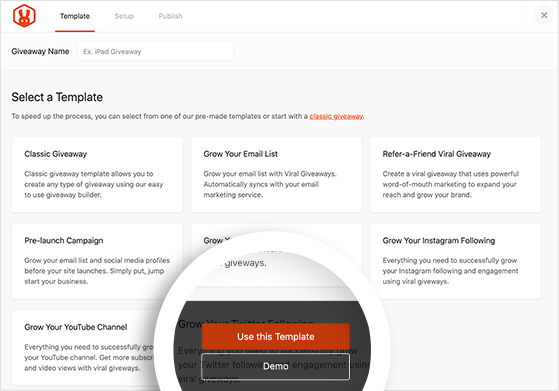 So, go ahead and hover your mouse over the Twitter giveaway template and click the Use This Template button.
RafflePress then opens the template in the drag and drop giveaway builder, complete with 2 ways to enter your contest:
Follow us on Twitter
Tweet a Message
Step 2: Enter Your Prize Details
On this screen, you can enter the details for your giveaway prize. To do that, click the pencil icon under the Giveaway Prize Details heading.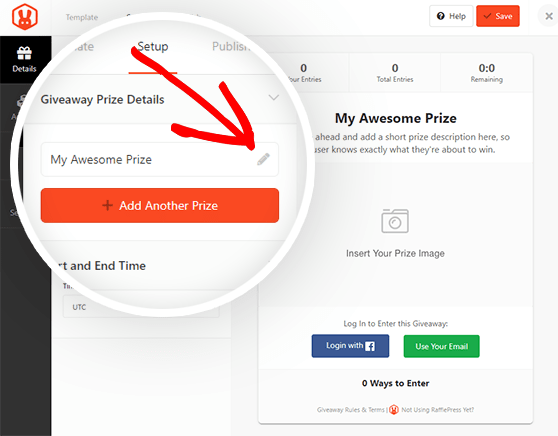 On the right-hand side, you can enter the title and description of your prize. You can also upload a prize image from your computer or WordPress media library by clicking the Select Image button.
When you're happy with your prize details, click Done Editing.
On the left-hand side, you can set the duration of your giveaway under the Start and End Time heading.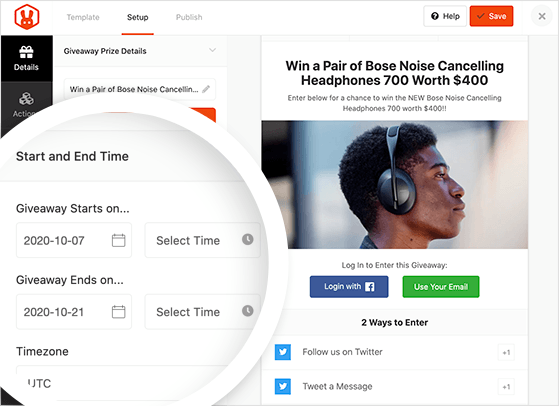 Remember to click the Save button in the top-right corner periodically to preserve your settings.
Step 3: Add Bonus Contest Entry Methods
After adding your prize details, it's time to select some bonus entry methods for your Twitter giveaway. You can do that by clicking the Actions tab on the left and choosing the plus (+) icon next to any action in the list provided.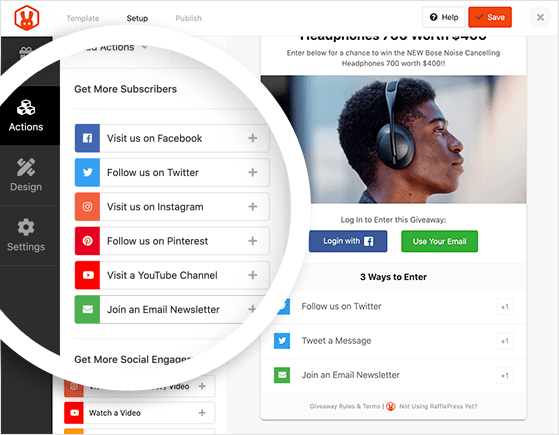 For example, one of your giveaway goals could be to grow your email list and your Twitter followers. In this case, you can click the Join an Email Newsletter action to add it to your giveaway widget.
It's also possible to edit each entry action by clicking it in the giveaway widget on the right. Doing so reveals various options you can change for each action.
For example, clicking the Follow us on Twitter action gives you the ability to:
Change the action title
Assign a value (how many entries that action is worth)
Make the action mandatory
Enter your Twitter username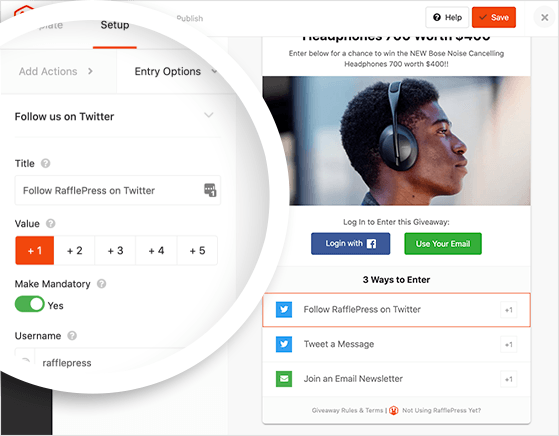 Upon clicking the Join an Email Newsletter action, you can edit the following settings:

Action title
Value
Tigger on signup (Automatically add a user to your list when they sign up for the giveaway)
Make mandatory
Display a double opt-in confirmation
Select an integration (connect to popular email marketing services)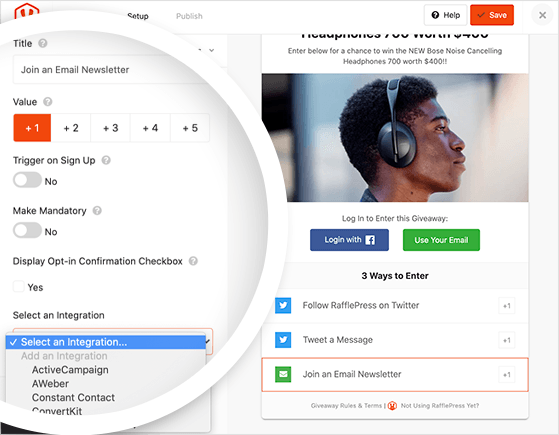 Repeat the process above for every bonus action you wish to add to your Twitter giveaway and remember to click Save.
Step 4: Design Your Giveaway Widget
The next step is to customize your giveaway widget to suit your brand by clicking the Design tab.
You can choose from 2 different giveaway layouts on this page, select a different font combination, and choose a primary button color.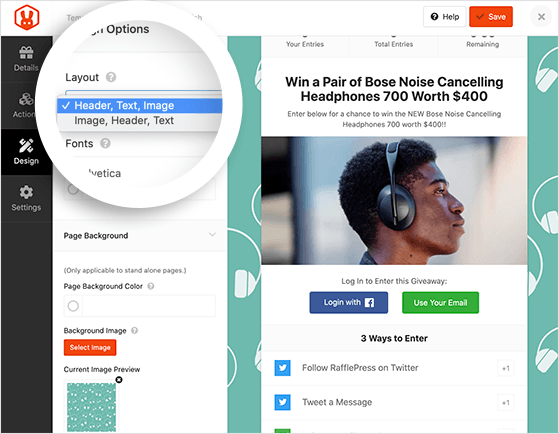 If you plan to publish your Twitter contest on a standalone landing page, you can also choose a background color for your page or upload a custom background image.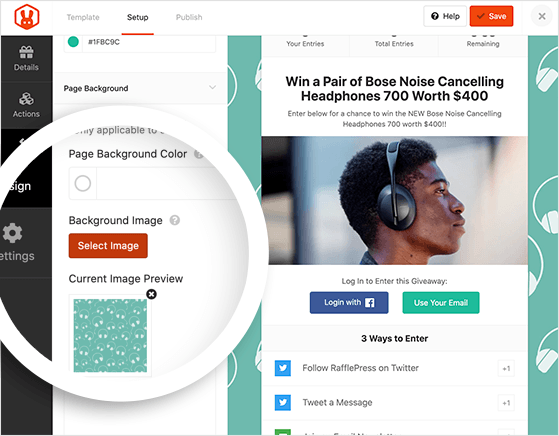 Click the Save button when you've finished designing your giveaway widget.
Step 5: Configure Your Twitter Giveaway Settings
Next, click the Settings tab on the left-hand side of your screen. You can set up your contests' general settings, email verification, success tracking, social media logins, and more on this page.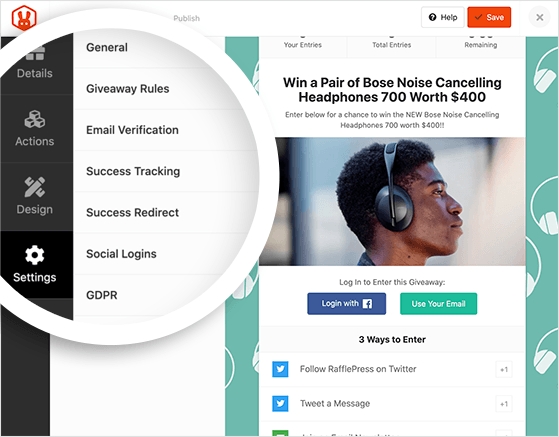 The most important setting is the Giveaway Rules. RafflePress makes creating and displaying your contest rules super easy with the rules generator template.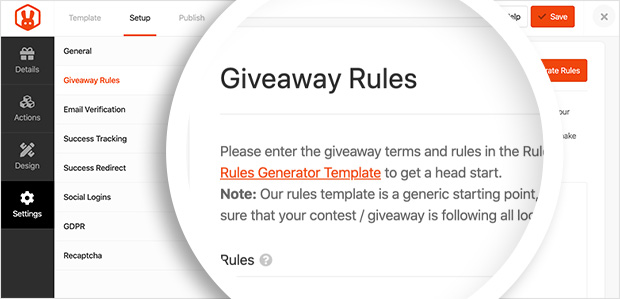 Just click the +Generate Rules button, and a lightbox window appears where you can enter information such as:
Your sponsor name
Sponsor email
Address
Country
Eligible locations
Minimum age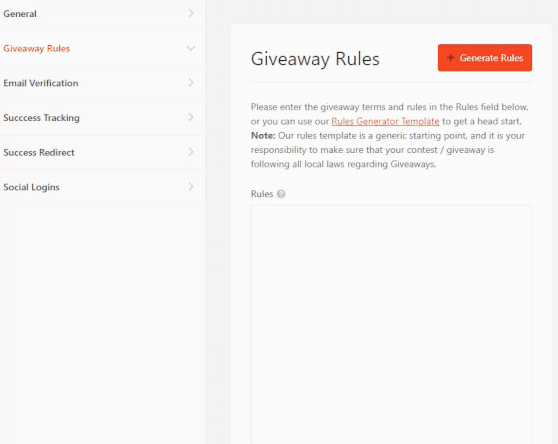 Then go ahead and click the Generate Rules button to automatically create a set of standard rules and guidelines and add them to your contest widget.
Step 6: Publish Your Twitter Giveaway in WordPress
Now you've created your Twitter giveaway, it's time to publish it in WordPress. Click the Publish button at the top of your screen to see the different publishing options available.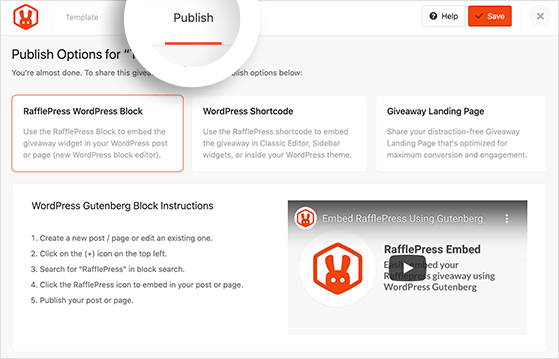 RafflePress offers 3 easy ways to publish your Twitter giveaway in WordPress, including:
RafflePress WordPress Block: Embed the giveaway widget in a WordPress post or page using the WordPress block editor.
WordPress Shortcode: Embed the giveaway in the classic editor, sidebar widgets, or inside your WordPress theme.
Giveaway Landing Page: Publish your giveaway on a distraction-free landing page optimized for maximum conversions and engagement.
The easiest option is to publish your Twitter contest on a standalone Giveaway Landing Page. That way, there won't be anything to distract users from taking action and entering.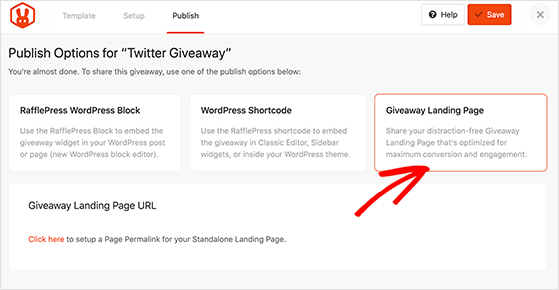 So, go ahead and click the Giveaway Landing Page option. A message will appear below, asking you to "Click here" to set a permalink for your giveaway page. Clicking the link takes you to the General Settings page.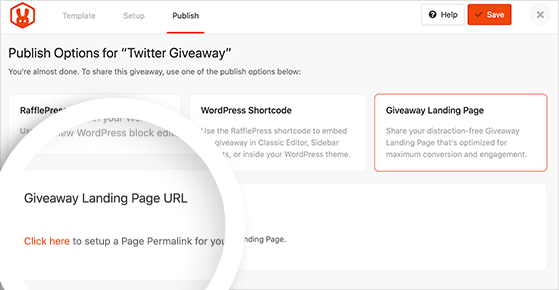 Under the Page Permalink heading, enter a short phrase separated by dashes, such as twitter-giveaway, then click the Save button.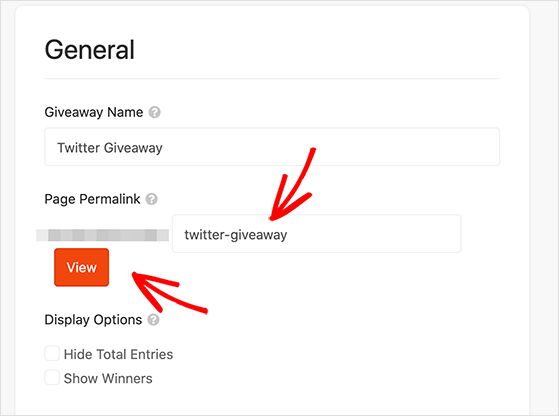 Now you can click the View button to see what your Twitter giveaway landing page looks like to participants.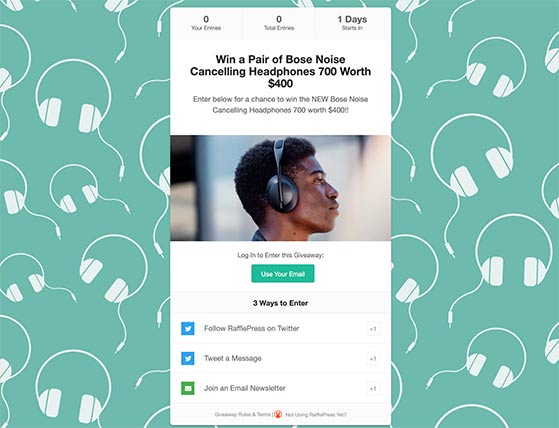 6. Promote Your Twitter Contest
When your Twitter giveaway goes live, you'll need to promote it to ensure as many people enter as possible. The easiest way to promote your giveaway is to write a viral Tweet to excite your Twitter audience.
You can also promote your contest by:
Check out these contest promotion ideas for more inspiration.
Start promoting your giveaway weeks before the giveaway starts, to generate the most anticipation and secure entries on day 1.
7. Pick a Giveaway Winner
When your Twitter giveaway is over, you'll need to choose and notify the winner. RafflePress makes picking a giveaway winner easy.
Just navigate to RafflePress » Giveaways when the contest is over, and click the Needs Winners link on the right-hand side of your screen.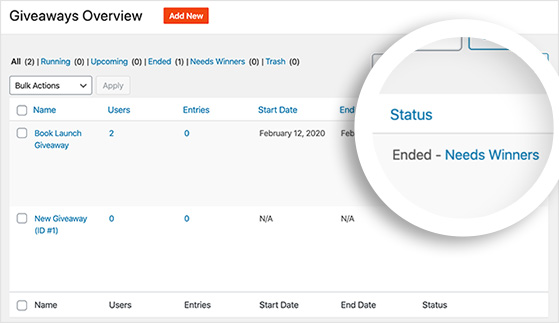 That takes you to a list of everyone that entered your contest, their contact details, and how many entries they each have.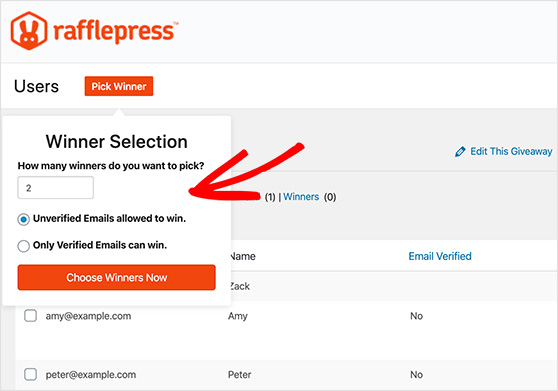 Next, click the Pick Winners button at the top of your screen, enter your options, and click Choose Winners Now. RafflePress will pick a winner randomly and highlight them at the top of your list of entrants.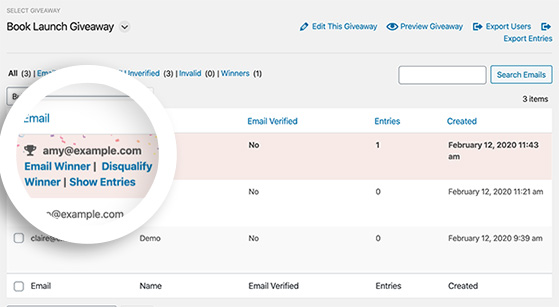 After you've selected a winner, all you need to do is click to email the winner with the good news.
8. Follow Up with Non-Winners
Now that you've chosen a winner and arranged for them to claim their prize, you should think about the participants that didn't win.
How can you engage with your new audience and ensure they stick around even though the contest is over?
One way is to write a Tweet announcing the contest winner, tag them in your message, and (if you have one) share a photo of them with their prize. Announcing the winner and following up demonstrates that you care enough about your audience to follow up even though the giveaway has ended.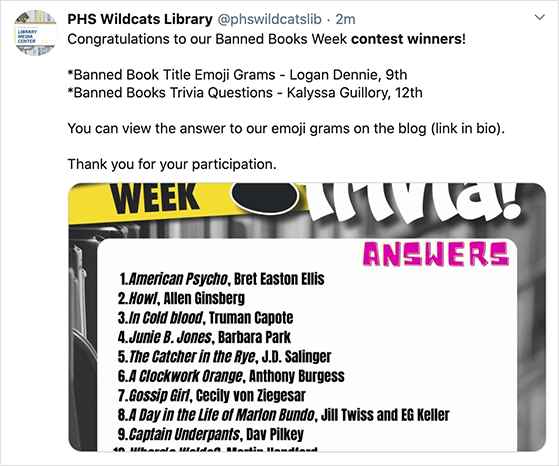 You can also send an email message to everyone that took part, thanking them for participating and inviting them to join in on your next contest. If you're feeling especially giving, you can offer a discount on their next purchase.
Related: How to Email Non-Winning Giveaway Contestants (5 Tips)
Not only will you have a happy giveaway winner, but you'll also have a whole new engaged and interested Twitter audience.
9. Track Your Twitter Giveaway Performance
Your last task in learning how to do a Twitter giveaway is to analyze your performance. By looking at your contest statistics, you'll get an idea of how well you did and what you can do to improve your next giveaway.
The easiest way to track the performance of your Twitter giveaway is with MonsterInsights; the best analytics plugin for WordPress.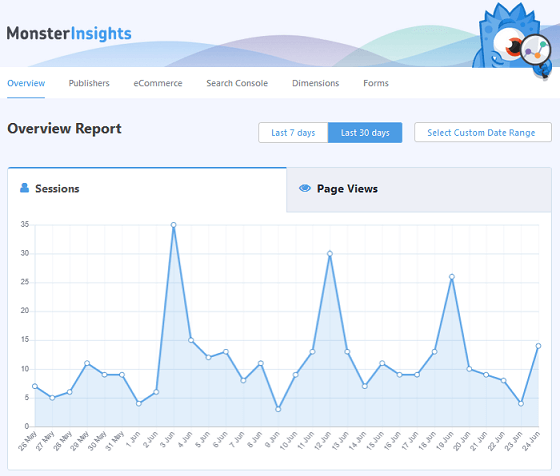 MonsterInsights makes it easy to add Google Analytics to your WordPress website so you can collect the data you need about your contest activity, such as:
Traffic to your giveaway landing page
General website traffic
Link clicks
Referral traffic
Traffic from social media
eCommerce traffic
Then you can view powerful reports inside your WordPress dashboard and gain actionable insights on what did and didn't work for your contest. You can use that data to put steps in place to create a much more successful giveaway in the future.
There you have it!
We hope this article helped you learn how to do a Twitter giveaway to maximize your business engagement.
With RafflePress's ready-made Twitter giveaway templates, actionable entry methods, and easy drag and drop giveaway builder, running a giveaway on Twitter is easier than ever.
Get started with RafflePress today!
Thanks for reading, and if you liked this article, don't forget to follow us on YouTube, Twitter, and Facebook for more great tips to grow your business.