Are you looking for smart ways to grow your Facebook Page? With the RafflePress Facebook contest app, you can attract more followers, tons of engagement, build your email list, and even drive traffic to your website.
And you can do all that with our powerful drag and drop contest builder from your WordPress website.
Facebook Contest Template
Imagine being able to grow your Facebook page in a few minutes.
With most Facebook contest apps, you need to build your giveaway from scratch. But the truth is, you shouldn't have to.
RafflePress's Facebook contest template makes creating your Facebook contest effortless. It offers everything you need to successfully grow your Facebook followers, raise brand awareness, and boost engagement with viral giveaways.
Facebook competition templates have preset actions that let you create giveaways in just a few clicks. That way, you can ask participants to visit your Facebook page and even view a post or video for more engagement.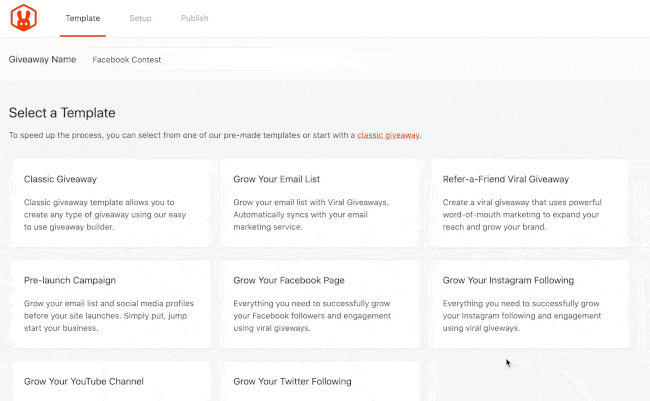 And that means you'll never have to build a Facebook contest from scratch again.
RafflePress's refer-a-friend action gives entries when you refer another person, not when it's shared, so you can encourage viral sharing without breaking any Facebook contest rules.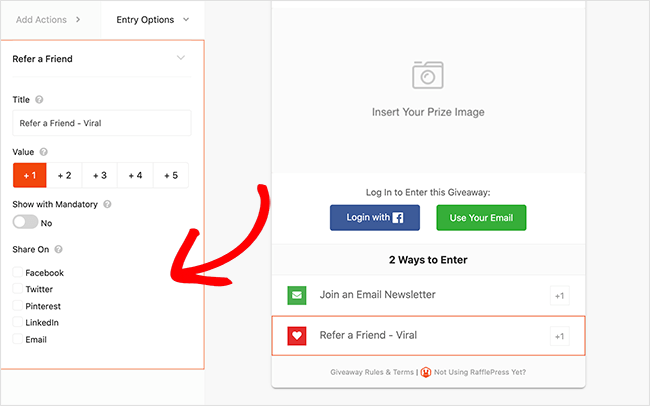 At RafflePress, we've taken the pain out of creating Facebook giveaways and made it easy.
Bloggers, businesses, and all WordPress website owners love the convenience that RafflePress offers.
Let RafflePress help you leverage the real power of viral marketing campaigns to grow your Facebook page.
Create a viral Facebook giveaway in minutes … What are you waiting for?