Are you looking for the best KingSumo alternatives for your small business?
KingSumo is a popular giveaway tool that can help grow your email list, generate leads, and boost engagement. But, as with any software solution, it may not be the perfect fit for your type of business.
In this article, we'll explore what KingSumo is and why you may need a KingSumo alternative. We will also provide an in-depth comparison of the top KingSumo alternatives to power your business growth.
What Is KingSumo?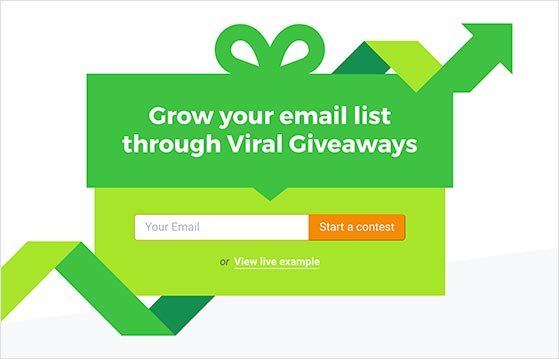 KingSumo is a giveaway app from the team behind AppSumo. It's a software as a service (SaaS) that helps entrepreneurs, startups, freelancers, and businesses grow their audience with viral giveaways and sweepstakes.
You can use this tool to set up and promote your giveaways, drive traffic, increase social media followers, and build an email list. KingSumo giveaway also offers a variety of features, including email marketing integration, social media sharing, and bonus entries, making it a popular choice for many marketers.
You can learn more by reading this KingSumo review.
Why Do You Need KingSumo Alternatives?
While KingSumo has several benefits for online marketing, it may not be the right solution for everyone. Some users may prefer a different interface, additional features, or pricing options. For example, KingSumo has no giveaway templates, so creating a unique look and feel for your online contests takes more work.
This is where KingSumo alternatives come in. By looking at the alternatives, you can find a giveaway tool that best fits your business needs and preferences.
Best KingSumo Alternatives
When deciding on a KingSumo alternative, keep in mind its ease of use, features, customization options, customer support, and pricing. We'll cover many of these factors below when digging into the best alternatives for KingSumo.
Let's get to it!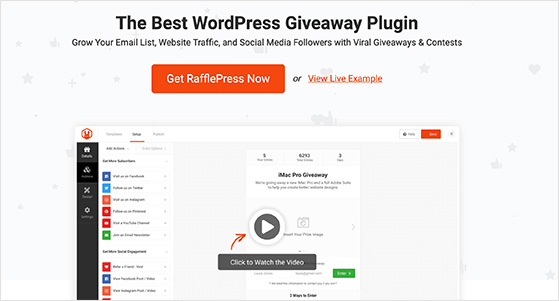 First, let's look at RafflePress, the best WordPress giveaway plugin. If you're a WordPress site owner, this user-friendly tool makes it easy to create viral giveaways right from your website without code.
This means you won't have to go back and forth between multiple platforms to manage your contest or giveaway. It's also an excellent way to drive direct traffic to your business site.
RafflePress comes with a powerful drag-and-drop builder and various goal-based giveaway templates, making it quick and easy to get started. You can also customize your giveaway widget with prize images, custom colors, and unique background images.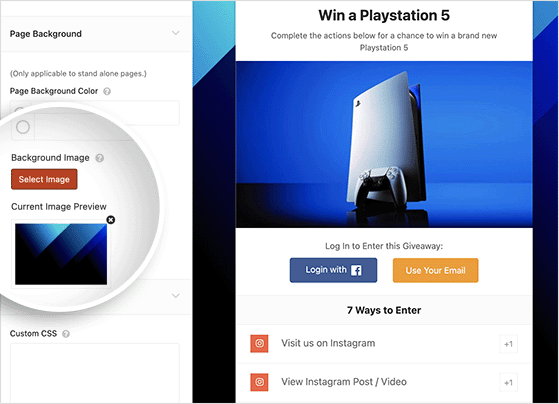 However, this plugin's stand-out feature is its viral sharing options. Entrants can participate by referring a friend, sharing your contest on social media, signing up for your email newsletter, and following you on multiple social networks.
Other 1-click entries include:
Submit an image
Write a blog post
Subscribe to a podcast
Visit a page
Polls & Surveys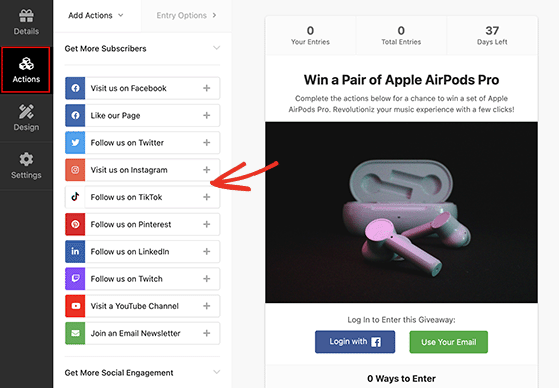 When publishing your giveaway, you can do so with RafflePress's WordPress block, which works seamlessly with the WordPress block editor. You can also use a shortcode or publish your contest on a distraction-free giveaway landing page.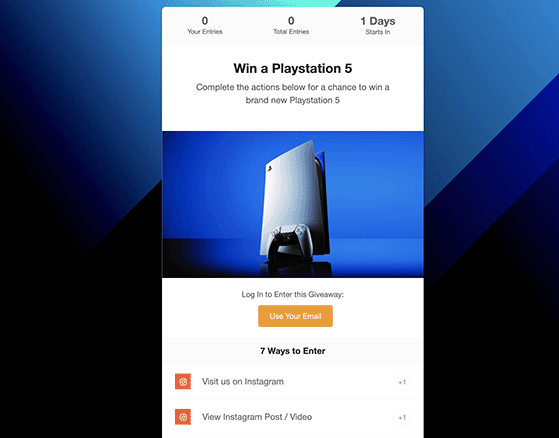 Contest management is just as easy. You can see participant information inside your WordPress dashboard, including the actions they took to enter. From there, you can choose random winners with just a few clicks.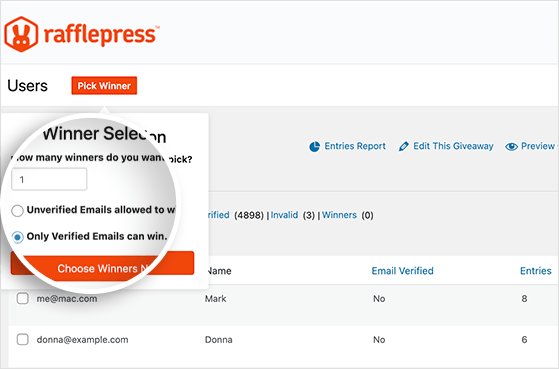 RafflePress also offers the following functionality:
Email verification for fraud detection
GDPR compliance checkbox
Giveaway rules generator
Integration with email marketing tools
Retargeting and redirection
Social logins
Zapier and webhooks for other marketing automation platforms
SEO-friendly WordPress plugin
Lightweight code
Pricing: Starts from $39.50 per year. However, you can take advantage of the lifetime deal, which includes all features and priority support for a one-time payment of $499.50.
Get started with RafflePress today!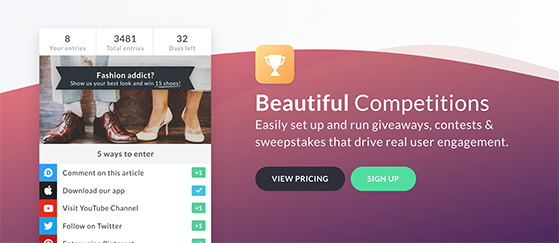 Gleam is an all-in-one marketing platform that offers giveaways, rewards, galleries, and other engagement-boosting tools. With Gleam, you can create highly engaging campaigns that encourage social sharing and lead generation.
Similar to RafflePress, it lets you build a giveaway widget with multiple social sharing incentives. However, Gleam is a standalone platform, so anyway giveaway you create is hosted on their servers.
That said, you can embed your contests on any website with an embed code. For WordPress, you can use the Gleam WordPress plugin.
Some of Gleam's other features include:
Integration with popular CRM, eCommerce, and marketing platforms.
Multiple 1-click entry methods
Viral referral options
Customizable templates
Random winner picker
Coupon incentives
Webhooks API
Gleam is a versatile KingSumo alternative that's ideal for marketers seeking a comprehensive marketing solution beyond just giveaways.
Pricing: Starts from $10 per month with limited features. Pro plans start from $49 per month.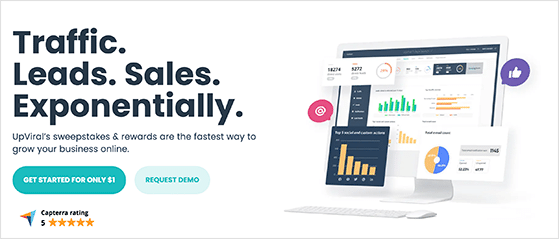 UpViral is another popular KingSumo alternative for creating viral giveaway marketing campaigns. It's a cloud-based referral marketing platform that encourages users to share your giveaway with their friends to increase your reach.
You can use this platform to run sweepstakes to signup new subscribers, launch new products, promote events, and more. Plus, its drag-and-drop builder and premade templates make it easy if you have no technical knowledge.
UpViral's features focus heavily on referral marketing, with leaderboards, unlockable incentives, and gamification to build hype.
Some of its other features include:
Multiple entry methods
Fraud detection
Campaign scheduling
Automatic winner selection
A/B testing
Retargeting & tracking
Custom domains
This makes UpViral a great KingSumo alternative if you want to emphasize referral marketing in your giveaway campaigns.
Pricing: Starts from $79 per month.
Here's an UpViral review you may find helpful.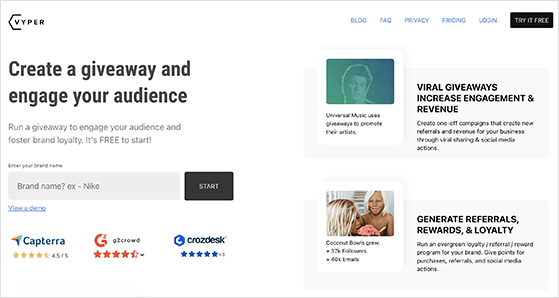 Vyper is a versatile marketing platform offering both giveaways and referral programs. With its sleek design and user-friendly interface, you can use it to increase engagement, generate referrals, and incentivize your paid media campaigns.
The platform has 3 different display modes: a dashboard, landing page, embed form, and widget. This helps you encourage participation both on and off your website.
You can also choose from several premade templates and integrate Vyper with email marketing tools like Mailchimp, ConvertKit, and Sendy.
Other key features include:
Mobile responsive design
Custom sub-domains (on Enterprise plans)
Google Analytics support
Countdown timer feature
Leaderboards
Vyper is an excellent KingSumo alternative for those looking for a stylish and feature-rich giveaway platform with an emphasis on referral marketing.
Pricing: You can get started with Vyper for free and only pay when you're ready to publish. The pricing starts from $149 per month.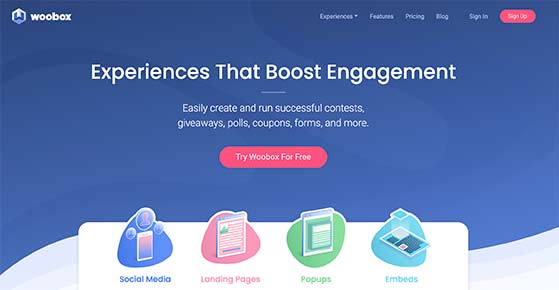 Woobox is a popular marketing platform offering giveaways, contests, quizzes, and more. It's designed to help you drive engagement, increase leads, and build your online presence.
With Woobox, you can create a wide range of campaigns, making it a versatile KingSumo alternative. For example, with its premade templates, you can run campaigns on social media, landing pages, popups, and with embed codes.
These campaigns range from social media contests and giveaways to discount coupons, email signup forms, and surveys. It's also easy to customize each campaign with the visual editor to get the perfect look and feel for your business.
Woobox also includes the following features:
Customizable templates
Email marketing integrations
Multiple entry methods
Social sharing options
In-depth analytics
Responsive design
Built-in winner picker
Woobox is a suitable KingSumo alternative for marketers looking for a platform that supports diverse campaign types beyond giveaways.
Pricing: Starts from $37 per month for up to 1000 participants.
For more information, here's a handy Woobox review.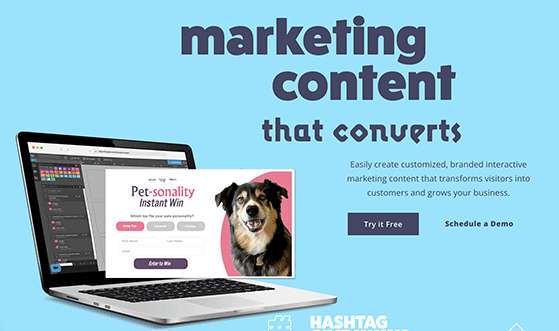 ShortStack is a marketing platform that helps you create contests, giveaways, quizzes, and landing pages. It's a flexible solution with advanced customization options, making it ideal for those who want complete control over their campaigns.
The platform offers various premade templates with point-and-click customization options, including instant wins, quizzes, coupon distribution, and more. You can publish your ShortStack campaign via popups, landing pages, custom domains, and with an embed code.
This tool also offers easy contest management and winner selection options, with coupon and prize codes.
More ShortStack features are as follows:
Refer-a-friend contests
Voting gallery
Social login
Campaign analytics
Team collaboration
ShortStack is a powerful KingSumo alternative for marketers who want a highly customizable platform supporting various campaign types.
Pricing: Starts from $99 per month.
You can see our ShortStack review here for more details.
Rafflecopter is a user-friendly giveaway platform that simplifies the process of setting up and managing giveaways. With its straightforward interface, Rafflecopter is ideal for users who want a no-frills solution.
Rafflecopters giveaway builder is straightforward with a simple interface. However, premium plans offer advanced theming options for custom designs.
You can publish a giveaway by copying and pasting its embed code to your website or sharing the Rafflecopter hosted link. From there, users can enter your giveaway by sharing it on social media.
Here are some of Rafflecopters other features:
Multiple entry methods
Terms and conditions template
Email marketing integrations
Responsive design
Basic analytics
Rafflecopter is an excellent KingSumo alternative for those who prefer a simple and efficient platform to create and manage their giveaways.
Pricing: Starts from $13 per month with a limited free version.
For more details, check out this Rafflecopter review.
Which KingSumo Alternatives Are Best?
The ideal KingSumo alternative depends on your business needs and marketing goals. However, if you're looking for an all-in-one WordPress solution for running viral giveaways, RafflePress is the best choice.
This dedicated WordPress giveaway plugin has everything you need to run viral giveaway campaigns without help from an expert. You can use it to grow your email list, boost brand awareness, increase your followers, and drive targeted traffic to your website fast.
From photo contests and Twitch giveaways to sweepstakes that grow your blog followers, RafflePress is the best KingSumo alternative for WordPress.
Get started with RafflePress today.
Frequently Asked Questions
What are some other popular KingSumo alternatives?
Some other popular alternatives to KingSumo for running giveaways and contests include ViralSweep, Votigo, Easypromos, and Woorise.
Can I use multiple giveaway tools for a single campaign?
Using multiple giveaway tools for a single campaign is generally not recommended, as it can create confusion for participants and make it difficult to manage and track the campaign's success. Instead, choose one tool that best fits your needs.
What are the benefits of using a giveaway tool like KingSumo or its alternatives?
Using a giveaway tool can help you increase brand awareness, grow your email list, boost engagement, drive website traffic, and create user-generated content for your marketing efforts.
How do I run a successful giveaway campaign?
To run a successful giveaway campaign, follow these steps:
Set clear goals for your campaign, such as increasing email subscribers or social media followers.
Choose a relevant and valuable prize that appeals to your target audience.
Create a visually appealing and user-friendly giveaway campaign using a reliable giveaway tool.
Promote your campaign on social media, email newsletters, and other relevant channels.
Encourage participants to share your giveaway with their networks through social sharing options and referral incentives.
Monitor your campaign's performance and make adjustments as needed.
Announce the winner(s) and follow up with participants to maintain engagement.
We hope this article has helped you find the best KingSumo alternatives for your next giveaway campaign. You might also like these social media marketing tools to grow your following.
If you liked this article, please subscribe to our YouTube Channel for RafflePress video tutorials. You can also find us on Twitter and Facebook.