Are you looking for an unbiased UpViral review?
UpViral claims it's the ultimate referral marketing platform. But is it really the best marketing software for running contests?
In this UpViral review, we'll explore what you can expect from this marketing tool so you can decide if it's the best fit for you.
What Is UpViral?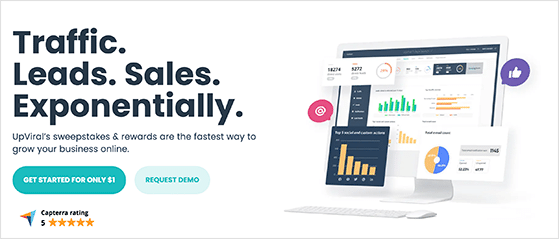 UpViral helps you create viral marketing campaigns to boost your brand awareness. For example, you can create sweepstakes, waiting lists, and rewards that users will want to share with their peers.
These viral campaigns are a great way to create viral loops where, after clicking your referral link, more people sign up, share your campaign with their peers, and so on.
Since UpViral works in your web browser, you won't need a business website to use it. That means everything is handled in your UpViral campaign dashboard from start to finish.
UpViral Features
UpViral has several features that make it a popular referral marketing tool to grow your audience and social presence. For instance, it comes with several premade contest templates that help you get started quickly.
You can also use UpViral for A/B split testing almost every part of your marketing campaign, from landing pages to thank you pages and email copy.
Some of UpViral's key features include:
Giveaways with its sweepstakes
Contests with the rewards feature
Product launches via the waitlist feature
Share referral links anywhere on social media
Points-based social sharing and follow actions
Built-in Facebook newsfeed and rich tweet optimizations
Auto-select winners at random or by points
Automated campaign scheduling
Advanced email personalization
Email marketing and CRM integrations
UpViral Review: A Hands-on Look
Now that you know what UpViral is and what you can do with this powerful tool, let's see what it's like in action. We'll create a giveaway with UpViral, so you can see how it works.
Creating a Giveaway with UpViral
To create a giveaway campaign with UpViral, log into your UpViral dashboard, enter a name for your giveaway and click the 'Create a Campaign' button.

From there, you'll see 3 options to choose from:
Giveaway – Run a giveaway with one or more unlockable rewards.
Contest – Run a referral-based contest
Generic – No reward or prize is set. You can use this type of campaign as a waiting list.
In our case, we'll use the giveaway campaign.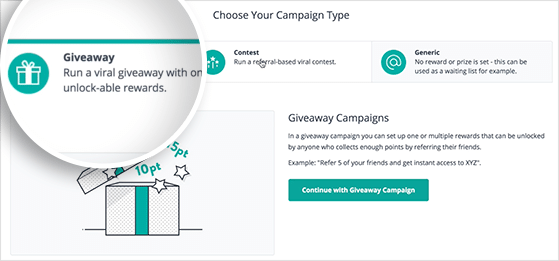 After clicking a campaign, you need to choose where you'd like to host your giveaway. You can use UpViral to run your giveaway on its servers and built-in landing pages, or you can integrate it with a platform of your choice.
Note: Once you choose a hosting method, you're locked into that choice and can't go back to change it.
Hosting your giveaway with UpViral
On the next screen, you'll have a checklist of steps to work through to create all the elements of your giveaway.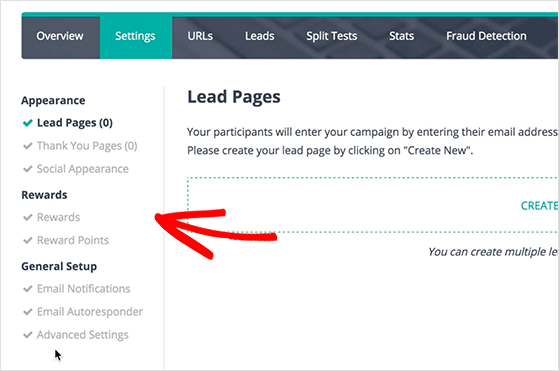 One of the first steps is to create a Lead Page, where users can sign up to enter your giveaway. You can choose from several premade templates and load them in the campaign builder automatically.
UpViral's campaign builder functions like a typical landing page builder. You can point and click to customize different elements and add content that encourages users to participate.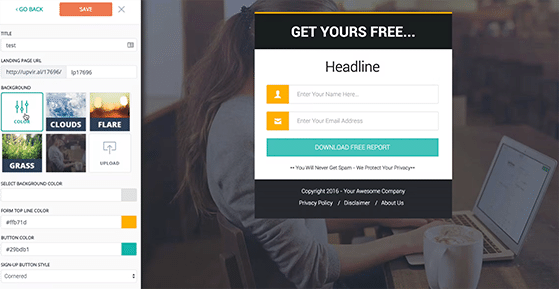 From there, you can customize the settings to match your giveaway goals.
Hosting your giveaway with 3rd party tools
If you decide to host your giveaway on your website or a third-party tool, the steps for creating your giveaway are different.
First, you'll need to enter the exact URL of the page that will be hosting your giveaway. Next, repeat that step with the exact URL of the page that will host your thank you page.

Now let's create a referral widget for your giveaway. There are 2 formats to choose from, including a popup or an embeddable widget.

Next, you can start building your widget by choosing a template and customizing its settings.

UpViral Giveaway Actions
In UpViral, users need to earn points for entry into your campaign. The more points that people earn, the more chances they have of winning your grand prize.
Users can earn points by performing actions on the following platforms:
Facebook
Instagram
Twitter
LinkedIn
Whatsapp
Pinterest
You can also create custom actions that align with your business goals. For example, you can ask users to:
Visit your shop
Read a blog post
Visit your home page
Watch a video
Download your free guide
Signup for free training
And more

Publishing Your Giveaway with UpViral
After creating a giveaway with UpViral, you can publish it in several ways, depending on how you set your giveaway up.
If you're hosting your giveaway on UpViral, the platform will publish your giveaway using a domain name with UpViral's branding. However, if you have the right pricing plan, you can use a custom domain name.
On the other hand, if you're hosting a giveaway on your website or third-party tools, you'll need to copy and paste several codes to embed your giveaway.
UpViral Integrations
UpViral works with most email marketing services to grow your email list and customer relationship managers (CRM), such as Mailchimp, Constant Contact, and more.
You can also use UpViral to send referral codes directly in your automatic emails if you're using an autoresponder.
UpViral Pricing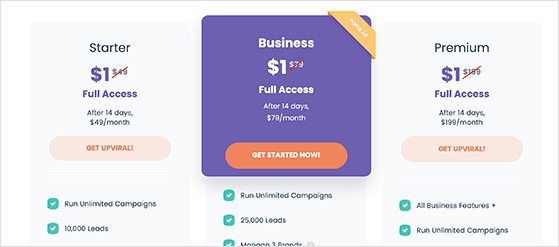 UpViral doesn't currently offer a free version which is the most significant barrier for many users. That said, it has 3 different pricing plans that you can choose from:
Starter – $79 per month or $59 per month paid annually.
Business – $119 per month or $89 per month paid annually.
Premium – $299 per month or $219 per month paid annually.
On the whole, UpViral's features don't stand out enough to warrant such a heavy price tag. UpViral support does include extensive documentation, explainer videos, and more resources to help you understand the platform.
Pros and Cons of UpViral
After looking in-depth at UpViral, let's round up some of the pros and cons of this referral marketing and giveaway platform.
UpViral Pros
Run contests and giveaway campaigns for businesses online
Use referral marketing to spread word of mouth
Embed social sharing buttons to increase brand awareness
Integrate with email marketing tools
UpViral Cons
No direct integration for WordPress
Setup process is long and complicated
No free version you can use to try it out
Pricey for its limited capabilities
No affiliate program support
UpViral Review: Is It Worth It?
In the end, is UpViral worth investing in for your business? 
The answer: it's a good platform with some valuable features; however, they could streamline the processes and be more user-friendly. We'd also love to see some direct integrations with popular content management systems.
If you're looking for a simpler, more beginner-friendly alternative to UpViral, keep reading because we have just the tool for you.
Best UpViral Alternative for WordPress: RafflePress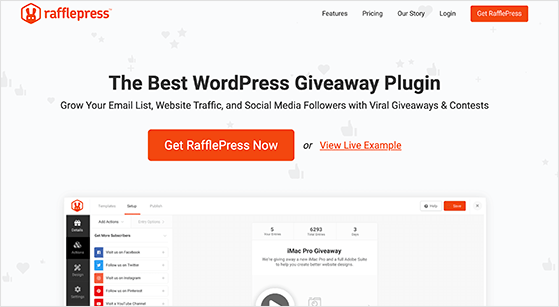 Unlike UpViral, RafflePress is a dedicated WordPress giveaway plugin. That means you can build, launch, and monitor giveaways right inside your WordPress website.
RafflePress also includes a beginner-friendly drag and drop giveaway builder. So when you're building your giveaway, you'll see a live preview in real-time.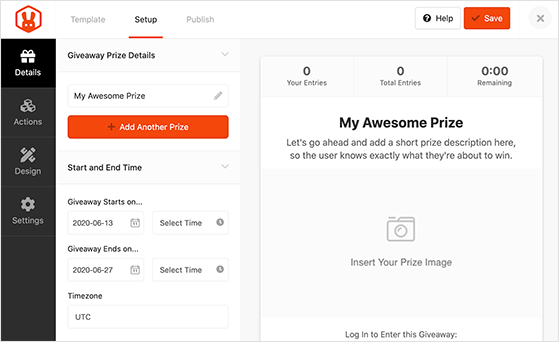 The giveaway entry actions outshine UpViral entirely. For example, it includes all of the standard social sharing and following options, along with bonus entry actions to:
Join an email newsletter
Subscribe to podcast
Leave a blog comment
Write a blog post
Submit an image
Answer a question
Subscribe to RSS
Polls and Surveys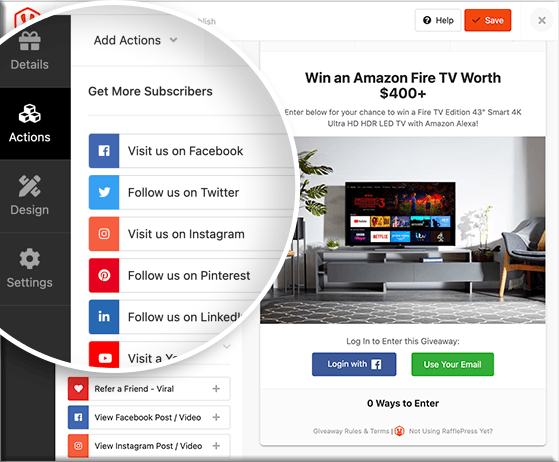 You can even run a viral referral contest with RafflePress's refer-a-friend action. That way, you can engage in word-of-mouth marketing with just a few clicks.
Beyond tons of entry options to grow your list, social media presence, and website traffic, RafflePress does so much more.
You can let users log into your giveaway via email or Facebook, set up your giveaway fast with pre-made giveaway templates, and even choose a giveaway winner randomly from inside WordPress.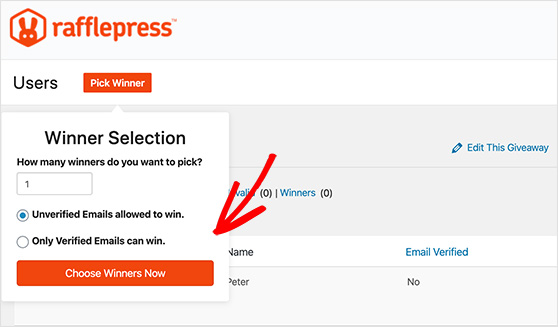 Not to mention, you can publish your giveaway on a giveaway landing page (connected to YOUR domain) that you can share anywhere online.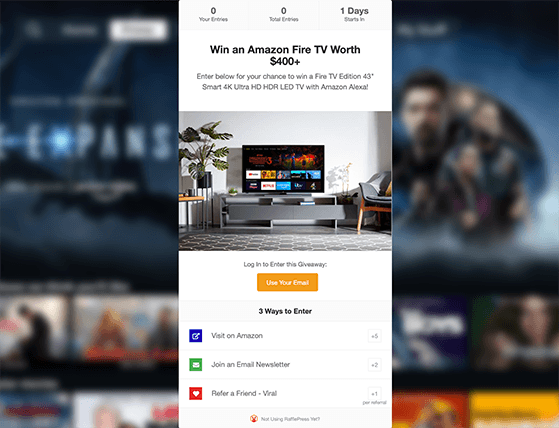 More importantly, RafflePress has over 17 integrations with popular email marketing services, Zapier and Recaptcha, meaning your email list will always be up to date.
So if you need a great alternative to UpViral that works seamlessly with your WordPress site, RafflePress is the best choice.
We hope this UpViral review helped you find the best referral marketing tool for your business. While you're here, you might also like this comparison of Wishpond vs Shortstack vs RafflePress.
If you liked this article, please subscribe to our YouTube Channel for RafflePress video tutorials. You can also find us on Twitter and Facebook.