Are you looking for an in-depth Woobox review?
As a small business, you may already know that engaging your target audience is crucial for building an active online presence. When you tie that engagement to your brand identity, your fans will view you as trustworthy and authentic.
An effective way to improve trust and engagement is with giveaway marketing campaigns, and Woobox is one of the many tools to help you run them. But is Woobox the best tool for running social media contests?
In this Woobox review, we'll look at its social media management features and functionality and see if it's the right solution for your business.
What Is Woobox?
Woobox is a digital marketing tool that helps you improve engagement and build connections with your ideal audience through social promotions and awards management. It lets you run several campaign types, including social media contests, landing pages, popups, and embed codes for your website.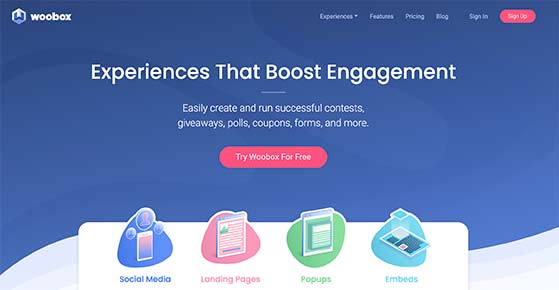 You can then use those campaigns to drive interactions with your fans on social media platforms, send traffic to your website, and generate leads.
Woobox Review: Features
Woobox offers various features for a range of campaign types. Let's take a look at each element in action and see how they can help your digital marketing efforts.
Social Media Campaigns
One of the most popular Woobox features is its social media campaigns. There are 5 different campaign types, which are:
Facebook Comment Picker
Instagram Comment Picker
Twitter Retweet Picker
Twitter Follow Picker
YouTube Comment Picker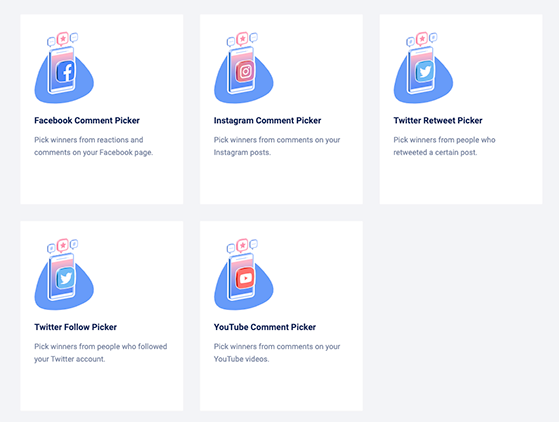 The best way to use this feature is with a social media giveaway or contest. You can run a giveaway or contest on Facebook, Instagram, Twitter, or YouTube, and ask entrants to comment, follow, or retweet for the chance to win.
When the campaign is nearing its end, you can then use one of those features to pick a winner.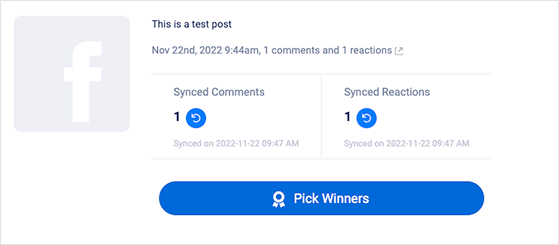 The winner selection settings vary by platform; however, you can choose multiple winners, add restrictions, and even limit the selection process to one comment per person.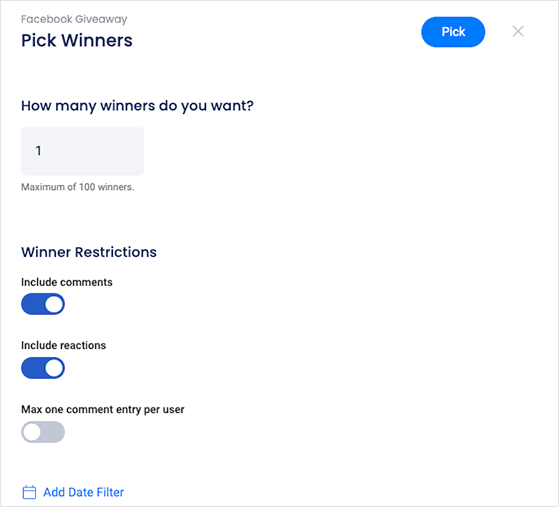 Facebook Tabs
Besides its winner-picker tools for contests and sweepstakes, Woobox also has a dedicated Facebook feature called Facebook Tabs. With this option, you can set up individual tabs on your Facebook page to show your Twitter, Pinterest, Instagram, and YouTube content.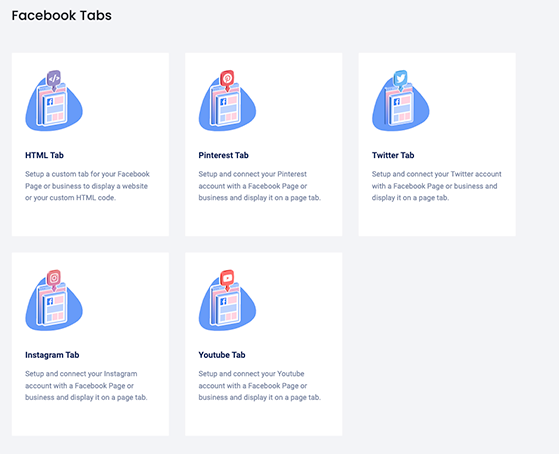 For example, the Instagram Facebook tab lets you choose between showing only photos or photos with tags, which is a great way to display user-generated content on your business page.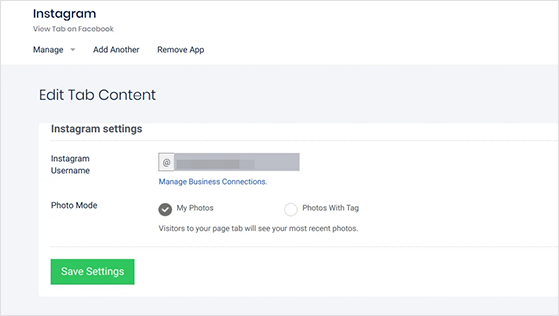 Landing Page Builder
Under the Landing Page section in Woobox, you can set up various standalone pages. They're an ideal way to generate leads for your business, and you can use them in conjunction with online contests and giveaways.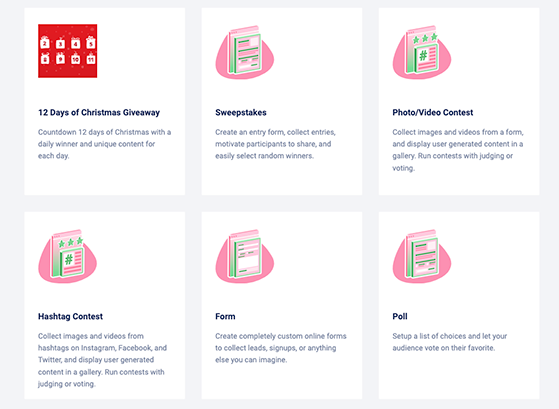 Some of the different pages you can make are as follows:
Sweepstakes – Motivate people to share your giveaway and collect entries with a user-friendly entry form.
Photo/Video Contest – Accept image and video contest submissions via an online form and display them in a gallery.
Hashtag Contest – Collect social media content from Twitter, Facebook, and hashtags.
Form – Build a custom online form to collect leads, signups, and email subscribers.
Poll – Let your audience vote for their favorite poll option.
Trivia Quiz – Run a quiz to test your audience's knowledge with custom results based on their answers.
Personality Quiz – Ask personality questions and generate results by scoring the responses.
Coupon – Create in-store or online eCommerce discount codes users can redeem.
Code Giveaway – Give away digital codes to giveaway winners.
Instant Win – Offer the chance to win multiple prizes instantly.
Media Giveaway – Let users sign up to download free digital media like ebooks and PDFs.
Bracket Poll – Create a bracket where your fans vote to move their pick to the next round.
Bracket Contest – Create a bracket where fans fill out a bracket to predict the outcome of future matches.
For example, if you select the photo contest option, you'll see a page similar to the one below: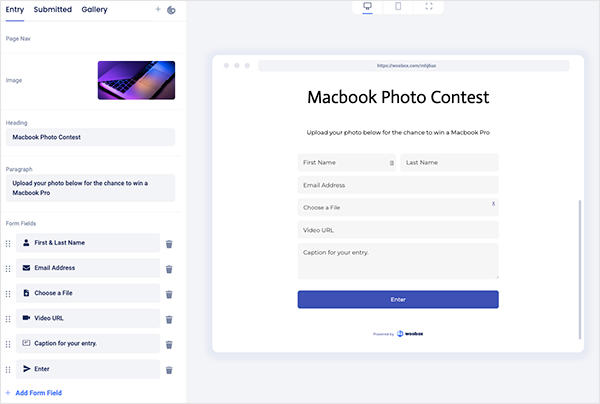 You can customize the page design by choosing a template, adding custom titles, uploading an image, editing the form fields, and adding new page elements.
The page elements you can use include the following:
Paragraph
Heading
Image
Video
Share
Divider
HTML
Calendar Countdown
Button
That said, you can't add new page elements in the free version of Woobox.
Additionally, you can edit the submission and gallery pages where you can ask people to vote for the best entry.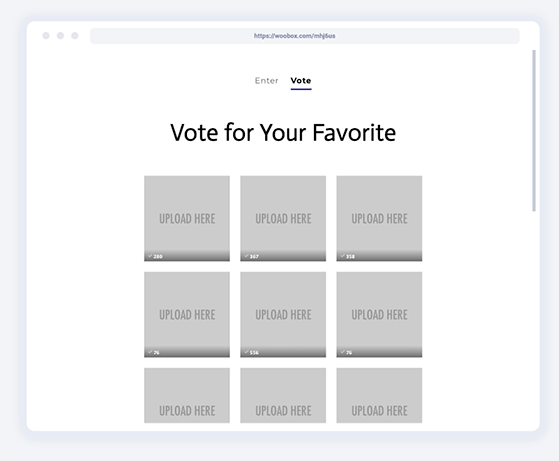 When it comes to publishing your landing page, there are a few options. You can publish it on the default Woobox domain, install it on your Facebook page, or embed it on your website with HTML or the Woobox WordPress plugin.
Popups & Embeddable Content
In addition to the above features, Woobox lets you display popups and embeddable content on your website. You can choose from showing a discount or poll popup and form or poll embeds.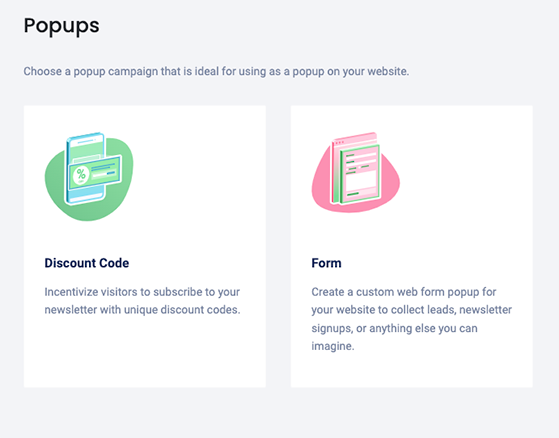 Just like the landing page feature, you can customize the design and install them on your Facebook page or your business website with HTML code or a WordPress plugin.
At the end of any Woobox campaign, the platform will export your data which you can export to a spreadsheet or send to customer management tools like Constant Contact, Zapier, Mailchimp, and more.
How Much Does Woobox Cost?
The pricing and features included in Woobox vary depending on your chosen plan.
For example, with the free version of Woobox, you can access all campaign types but cannot customize them with the page builder. You're also limited to 100 giveaway entries per month.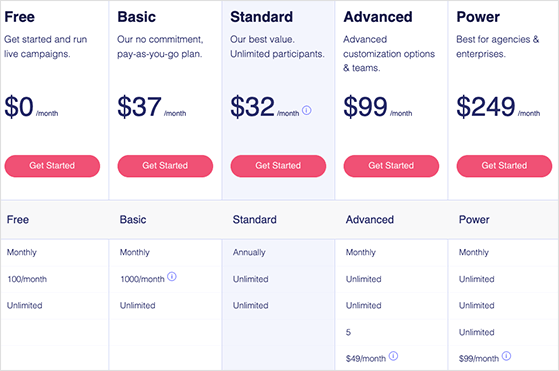 Here is a breakdown of the paid Woobox plans:
Plan Level
Participants
Additional Features
Pricing
Basic
1000/month
– Page builder customization
$37/month
Standard
Unlimited
– Page builder customization
$32/month billed annually
Advanced
Unlimited
– Page builder customization
– Custom HTML & CSS
– Multiple businesses
– Up to 4 team members
$99/month
Power
Unlimited
– Page builder customization
– Custom HTML, CSS & JS
– Multiple businesses
– Unlimited team members
$249/month
Woobox FAQ: Frequently Asked Questions
Before we end this Woobox review, here are some answers to common Woobox questions.
How does Woobox pick a winner?
Woobox picks a winner or multiple winners by randomly selecting from participants who have liked, commented, or shared your campaign.
How do you vote on Woobox?
In the campaign setup screen, disable the entry form toggle, enable the gallery option, and then allow voting. From there, you can choose the voting restriction settings and other security options.
How do you make a quiz on Woobox?
To create a Woobox quiz, click the Quiz option from your dashboard and configure the campaign settings.
Where is Woobox located?
Woobox is located in Vancouver, Washington, in the United States.
After looking at how Woobox works and the features it offers, is it the best social media contest tool on the market? Please keep reading to see our verdict.
With that in mind, we think other better Woobox alternatives are available.
What Is the Best Woobox Alternative?
If you're looking for a powerful Woobox alternative, RafflePress is one of the best solutions. It's a dedicated WordPress giveaway plugin that makes running any contest from your WordPress site effortless.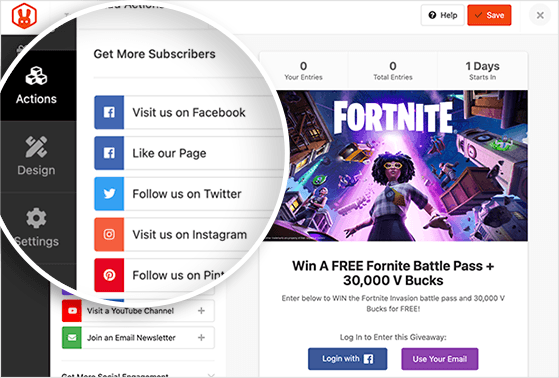 You can start with a pre-made giveaway template, then customize your giveaway widget with your prize image and giveaway details using its drag-and-drop builder. From there, you can choose from countless giveaway actions, including social media follows and sharing, refer-a-friend, image submission, polls and surveys, newsletter subscriptions, commenting, and more.
Publishing your giveaway is just as easy with the RafflePress WordPress block. Plus, you can create a giveaway landing page to remove distractions and share the giveaway page anywhere online.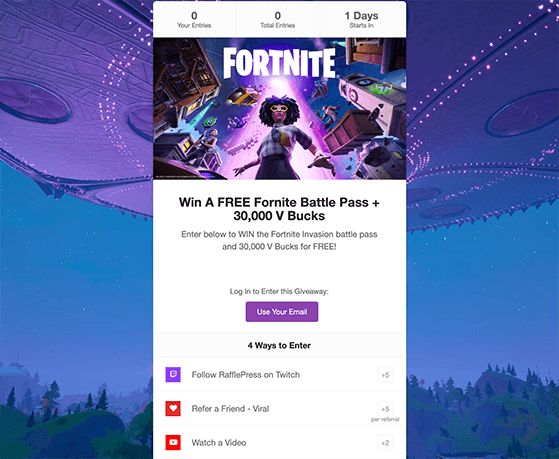 Some of RafflePress' other features are as follows:
Email marketing integrations, Zapier, and Webhook APIs
Seamless compatibility with SeedProd landing page builder
Giveaway entry reports
Giveaway rules generator
Entry verification and spam protection
Randomly pick one or multiple winners
You can even accept unlimited giveaway entries with the free version of RafflePress. And most importantly, the premium version is much more cost-effective than Woobox.
So what are you waiting for?
Get started with RafflePress today!
We hope this Woobox review has helped you decide if it's the best social media contest tool for your business.
To help you with your next giveaway campaign, you might also like these guides:
If you liked this article, please subscribe to our YouTube Channel for RafflePress video tutorials. You can also find us on Twitter and Facebook.