Are you looking for an unbiased KingSumo review?
KingSumo markets itself as the best way to grow your email list through viral giveaways. But is it really the best choice for small businesses?
In this KingSumo review, we'll explore what you can expect from this giveaway widget so you can decide if it's the best fit for you.
What Is KingSumo?
KingSumo is a web-based giveaway tool that helps you build your email list with online giveaway contests. It works by asking participants to complete tasks like following you on social media or joining your email list in return for entry into your prize draw.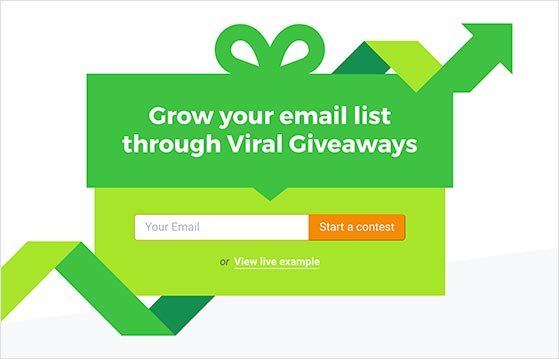 Since KingSumo works in your web browser, you won't need a business website to use it. And everything is handled in your KingSumo giveaway dashboard from start to finish.
KingSumo Features
KingSumo has several features that make it a popular giveaway tool to grow your audience and social presence. For instance, the giveaway builder is simple and easy to use, and the setup process takes just a few minutes.
You can also use KingSumo to run a giveaway to give bonus entries for additional tasks people complete. For example, you can ask users to enter your giveaway by joining your email list; they can also earn bonus entries by clicking a link or liking you on Facebook.
Some of KingSumo's key features include:
Create unlimited giveaways
Enter your giveaway via email
Upload a prize cover image
Use your own logo
Bonus social media giveaway sharing actions
Bonus social media following actions
3 Email marketing integrations + Zapier
Display winners inside the giveaway app
KingSumo Review: A Hands-On Look
Now that you know what KingSumo is and what you can do with this giveaway builder, let's see what it's like in action. We'll create a giveaway with KingSumo, so you get an insight into the entire process.
Creating a Giveaway with KingSumo
To create a giveaway with KingSumo, log into your KingSumo dashboard and click the "New Giveaway" button. From there, you'll see the giveaway builder, where you can enter your giveaway title and description.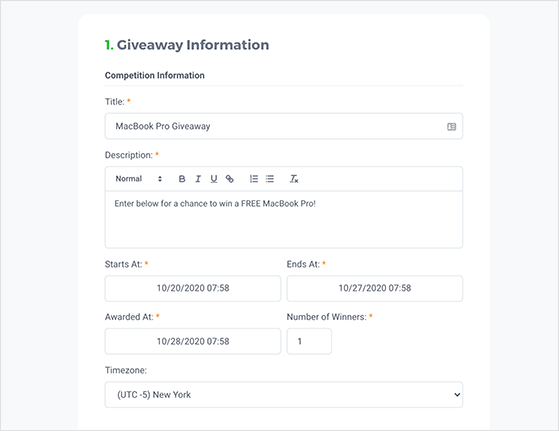 After entering your details, you can choose a start and end date and time. Additionally, you can set a date and time for when KingSumo awards the winner and choose how many winners you'll have.
Next, you can type in who is running the giveaway, along with your website URL, prize name, and prize value. And to show how your prize looks, you can upload some photos.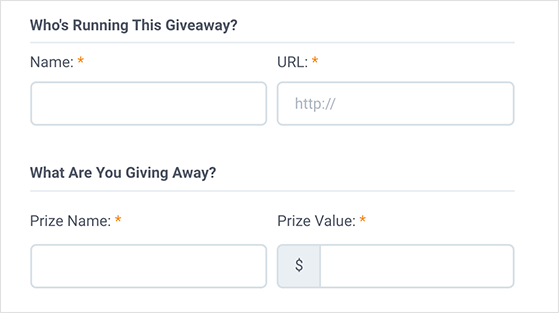 KingSumo Giveaway Actions
The next step involves choosing which platforms you'd like participants to share your giveaway. In total, there are 6 social sharing options, including:
Twitter
Facebook
Messenger
LinkedIn
Pinterest
Email

Under that section is the option to add bonus entries for additional chances to win. For instance, you can add bonus social follow actions like:
Facebook like
Twitter follow
YouTube subscribe
Podcast subscribe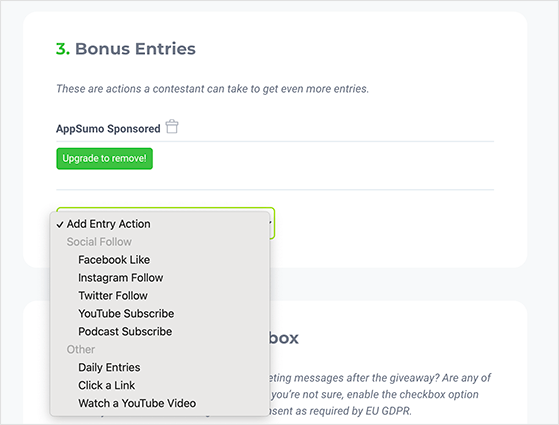 Or you can include other bonus entries like "Click a Link," "Watch a YouTube Video," or "Daily Entry."
Note: To remove the KingSumo branding, you'll need to subscribe to the paid version.
In addition, you can include an EU GDPR checkbox to ensure your giveaway is compliant. Finally, to complete the setup, click the "Next" button.
Publishing Your Giveaway with KingSumo
Given that KingSumo is a web app, there are several ways to publish your giveaway online. You can click any of the checkboxes to:
Share on Facebook
Send as message
Tweet about it
Send via email
Copy the link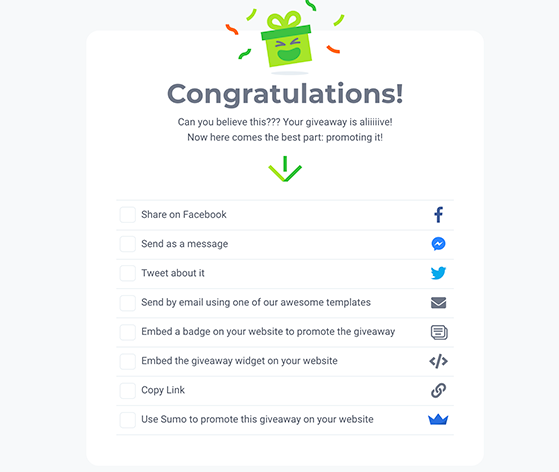 There's also the option to embed a widget on your website, which involves copying the embed code and pasting it onto your site.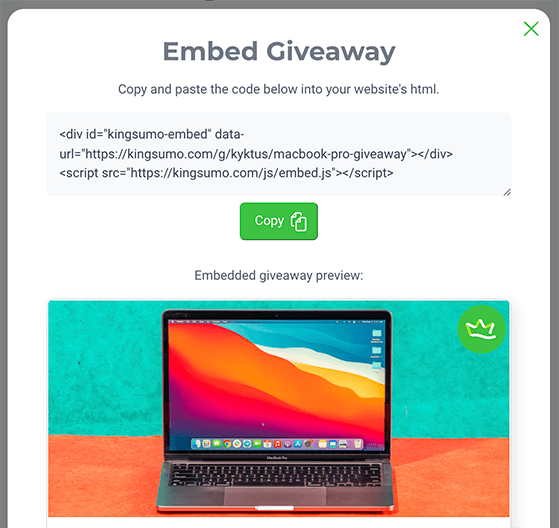 If you're not comfortable doing this, don't worry, we have an alternative coming up that may suit you better.
KingSumo Integrations
One of the best things you can do to grow your email list with a giveaway is to connect it to your email marketing provider. That way, your list gets updated automatically as each user enters.
KingSumo only offers 3 direct email marketing integrations, including MailChimp, SendFox, and ConvertKit. That said, you can connect with many other services by using Zapier integration.
KingSumo Pricing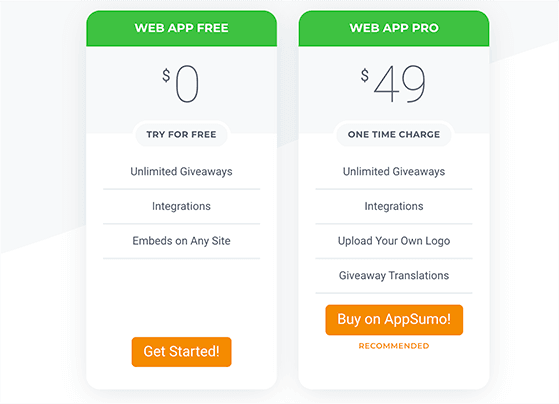 The free web app version of KingSumo allows you to create a simple giveaway with basic social sharing options.
However, the paid web app version, which removes the KingSumo branding and adds giveaway translations, is a one-time fee of $49.
Then there's KingSumo's WordPress plugin. That will allow you to integrate directly with your WordPress site and costs $198 for one website.
Pros and Cons of KingSumo
After looking in-depth at KingSumo, let's round up some of the pros and cons of this giveaway tool.
KingSumo Pros
Free web app version
Easy to set up
Social sharing options
Create unlimited giveaways
1-time payment for the paid version
Email support
KingSumo Cons
Distracting branding in the free version
No verification for entries
Cannot collect participant names
No entry management dashboard
Limited integrations
Limited entry actions outside of social media
KingSumo Review: Is It Worth It?
In the end, is KingSumo worth investing in for your business? If you're a small brand without a website, KingSumo is an excellent choice because its giveaways are web-based.
However, if you're interested in driving traffic and leads to your WordPress website with giveaways, there are much better KingSumo alternatives you can use, like RafflePress.
Best KingSumo Alternative for WordPress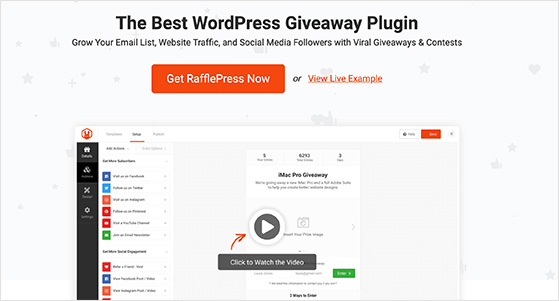 Unlike KingSumo's web app, RafflePress is a dedicated WordPress giveaway plugin. That means you can build, launch, and monitor giveaways right inside your WordPress website.
RafflePress also includes a beginner-friendly drag and drop giveaway builder. So when you're building your giveaway, you'll see a live preview in real-time.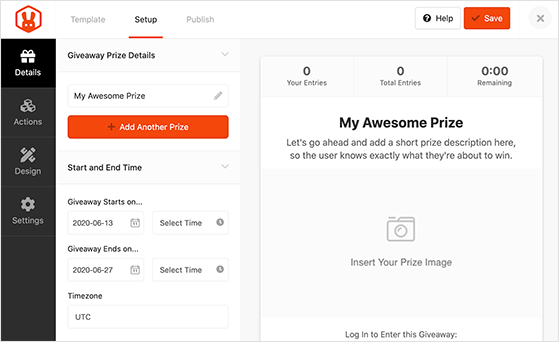 The giveaway entry actions outshine KingSumo entirely. For example, it includes all of the standard social sharing and following options from KingSumo, along with bonus entry actions to:
Join an email newsletter
Follow on Twitch
Leave a blog comment
Write a blog post
Submit an image
Answer a question
Subscribe to RSS
Polls and Surveys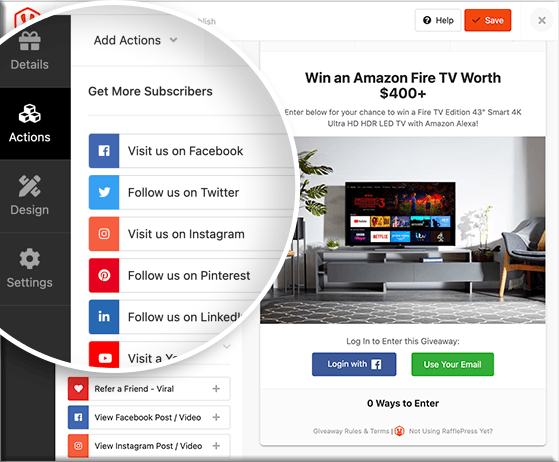 So you can easily hold a photo contest from your WordPress site or even run a giveaway to grow your Twitch followers.
Beyond tons of entry options to grow your list, social media presence, and website traffic, RafflePress does so much more.
You can let users log into your giveaway via email or Facebook, set up your giveaway fast with pre-made giveaway templates, and even choose a giveaway winner randomly from inside WordPress.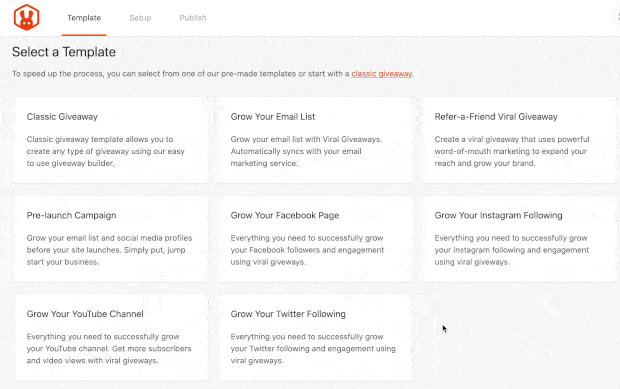 Not to mention, you can publish your giveaway on a stunning distraction-free giveaway landing page that you can share anywhere online.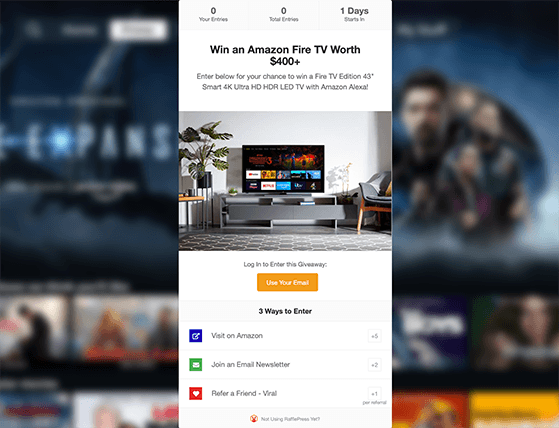 More importantly, RafflePress has over 17 integrations with popular email marketing services, Zapier and Recaptcha. That means your email list will always be up to date with minimal effort required.
So if you need a great alternative to KingSumo that works seamlessly with your WordPress site, RafflePress is the best choice.
Get Started with RafflePress Today.
That's it!
We hope this KingSumo review helped you find the best giveaway tool for your business. And if you really want a free giveaway solution, check out this guide on how to get an unlimited free trial of RafflePress.
If you liked this article, please subscribe to our YouTube Channel for RafflePress video tutorials. You can also find us on Twitter and Facebook.