Are you looking for the best WordPress FOMO plugins for your small business website?
FOMO means "fear of missing out," and FOMO plugins help to create a sense of urgency and encourage website visitors to take action. These plugins can display notifications of recent purchases, signups, or other user activity to excite and motivate visitors to engage with your WordPress website.
In this article, we'll look at some of the best WordPress FOMO plugins to increase conversions on your WordPress site.
Why Use FOMO Plugins in WordPress?
FOMO is a psychological phenomenon you can use to influence consumer behavior. When people see others taking action or making purchases, they feel more compelled to do the same.
FOMO plugins take advantage of this by showing notifications of recent activity on your website, such as recent sales or real-time email signups.
By creating urgency and excitement, FOMO plugins can increase engagement and motivate visitors to take action. This can lead to higher conversion rates, whether you're trying to boost sales of your products or services, grow your email list, or encourage social media shares.
Overall, FOMO plugins are a powerful tool for any WordPress website owner looking to boost conversions and social proof. With that said, let's dive in and look at some of the best FOMO plugins on the market.
Best WordPress FOMO Plugins
We've put the best FOMO plugins through their paces to see which solutions are the easiest and most powerful for your WordPress site. So keep reading to learn about our top picks.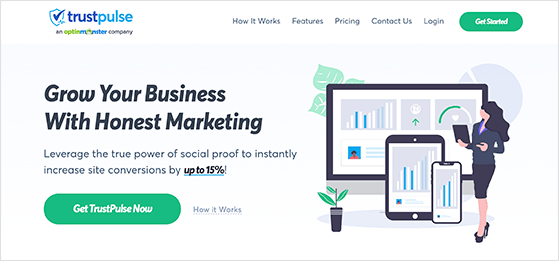 TrustPulse is the best social proof and FOMO app. It lets you show real-time user activity, such as recent sales notifications or email signups on your site. These FOMO notifications help to create urgency among visitors, encouraging them to take action and engage with your website.
TrustPulse works by tracking user activity and displaying notifications in real-time using a small popup or widget. These popup notifications are also customizable to match the look and feel of your site.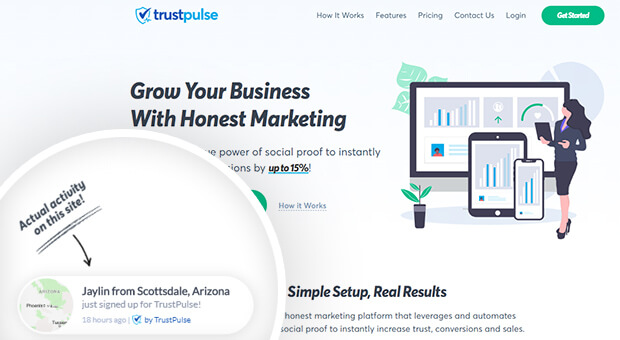 With TrustPulse's advanced targeting options, you can show notifications based on specific user behaviors, such as when they spend a certain amount of time on your site or visit a specific page. It's also easy to target notifications based on demographics, such as location or device type.
Additionally, you can create action messages to show custom notifications to grab your visitors' attention or on-fire notifications to show the number of people taking action over time.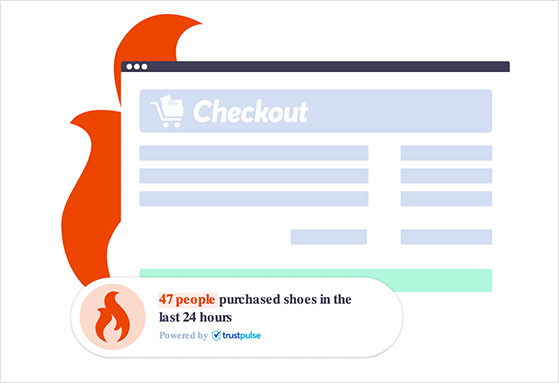 TrustPulse requires zero coding knowledge to set up and integrates with various platforms, including WordPress, Shopify, and WooCommerce for eCommerce sites. It also provides detailed analytics and reports, allowing you to track the impact of your social proof notifications on user engagement and conversions.
Pricing: Starts from $5 per month.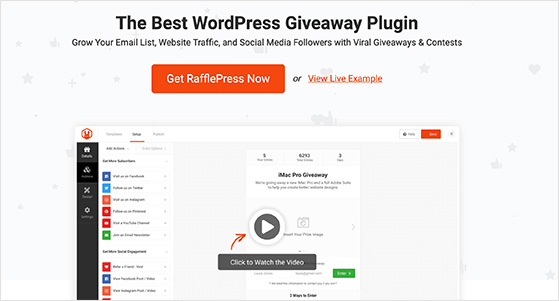 RafflePress is among the best WordPress giveaway plugins, helping you create and run effective giveaway campaigns to boost engagement, grow your email list, and increase website traffic. It has a user-friendly drag-and-drop builder that lets you create giveaways in minutes, even without coding knowledge.
You can choose from countless entry methods, such as social media follows, email subscriptions, and many more. It also offers advanced entry options like refer-a-friend and daily entries to increase engagement and the chances of winning.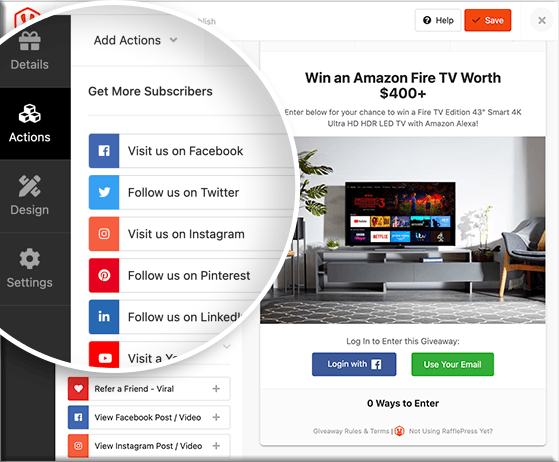 Since RafflePress incentivizes users to share your giveaways, it's a great way to evoke FOMO in your audience. This can make your giveaway go viral, increasing your brand's reach and traffic, so more people enter for fear of missing out.
With integrations for popular email marketing services, like Mailchimp, Constant Contact, and more, you can automatically add new subscribers to your email list. Moreover, built-in fraud protection helps to prevent bots and fake entries.
Pricing: Starts from $39.50 per year.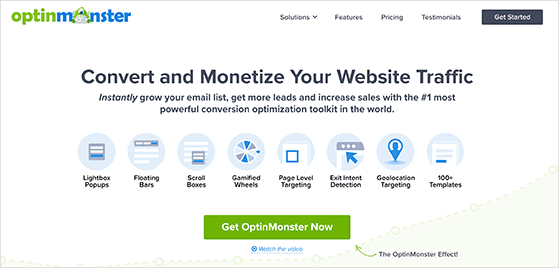 OptinMonster is the best lead generation tool and conversion optimization platform. It's a user-friendly software that doesn't require coding skills and integrates with various platforms, including WordPress, Shopify, and Magento.
With OptinMonster, you can create custom opt-in forms such as popups, slide-ins, notification bars, and other engaging campaigns to convert visitors into subscribers, leads, and customers. It also comes with pre-made templates and a drag-and-drop editor to create and customize opt-in forms without code easily.
Where OptinMonster makes for an excellent FOMO tool is with its A/B testing, behavioral triggers, and targeting options. These features allow you to show custom messages to visitors based on their behavior, demographics, and other criteria.
For instance, you can show FOMO popups with countdown timers to visitors based on their location, referral source, or the number of pages they've viewed on your site.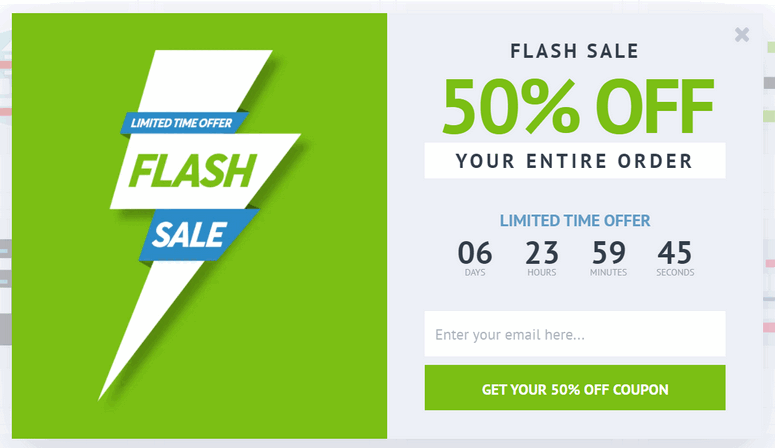 Another powerful OptinMonster feature is its exit-intent technology, which detects when visitors are about to leave your site and triggers a popup or another opt-in form. That way, you can capture their attention and convert them into subscribers or customers.
Furthermore, OptinMonster offers analytics and reporting to track your performance, monitor conversions, and find areas for improvement. It also integrates with popular email marketing services, making it easy to manage your email list.
Pricing: Starts from $9 per month.
Alternative: Thrive Ultimatum is another fantastic WordPress popup plugin.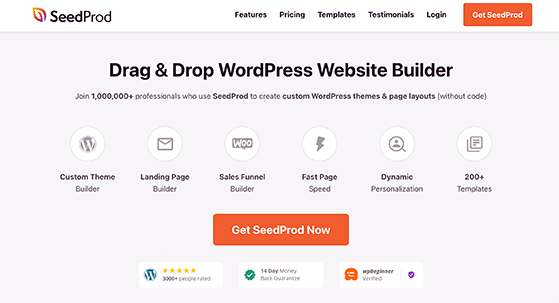 SeedProd is the best website and landing page builder for WordPress. You can use its drag-and-drop builder to visually create stunning web designs and high-converting landing pages without code.
Similar to other WordPress page builders, it comes with pre-made landing page templates that make getting started effortless, including:
Coming soon templates
Maintenance page designs
Sales page templates
Lead generation pages
Webinar registration templates
WordPress login pages
And more.
But where it differs is with the ability to create entire WordPress themes from scratch using its lightning-fast visual editor.
Since SeedProd has a block-based interface, adding FOMO elements to WordPress pages is hassle-free. For example, it has customizable blocks for adding countdown timers, Google and Yelp reviews, testimonials, star ratings, contact forms, giveaways, and more.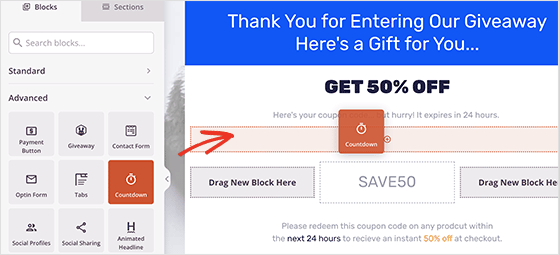 Plus, if you have a WooCommerce website, you can customize your entire online store with SeedProd's WooCommerce blocks and templates.
Moreover, this powerful plugin works seamlessly with the popular social proof marketing tools in this list, along with, Zapier, All in One SEO, WPForms, and leading email marketing providers.
Pricing: Starts from $39.50 per year.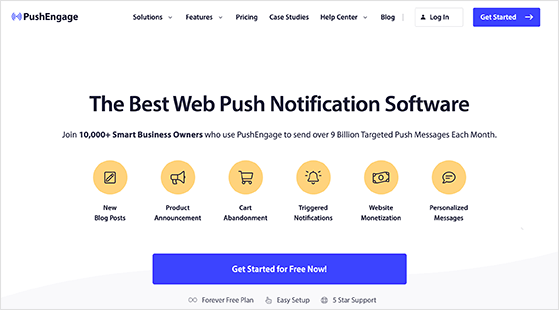 PushEngage is the best push notification plugin for WordPress. It also has a cloud-based push notification platform that you can use on other websites to create and display push notifications.
Push notifications are clickable popup messages that appear on a user's browser, even when they're not actively browsing your website.

With PushEngage, you can set them to trigger based on specific user behavior or events, such as when a user abandons their cart or when a product is back in stock. These notifications can create a sense of urgency among subscribers and act like a sales popup encouraging them to take action and make a purchase.
Moreover, PushEngage offers advanced segmentation, allowing you to target specific users by behavior, location, device type, and more. This helps you create more personal and relevant notifications, increasing the chances of engagement and conversions.
This must-have tool integrates with various platforms, including WordPress, Shopify, and WooCommerce, making it easy to set up and use. Additionally, it provides detailed analytics and reports, allowing you to track the performance of your notifications and optimize them for better results.
Pricing: Free for up to 500 subscribers and from $9 per month for paid plans.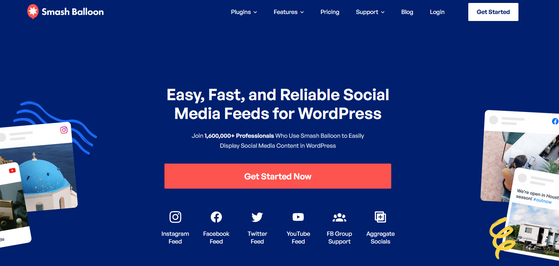 Smash Balloon is a group of WordPress plugins that allow you to easily add social media feeds from Facebook, Instagram, Twitter, and YouTube to your website. By showing real-time social media content, Smash Balloon can help evoke FOMO and boost engagement.
With Smash Balloon, you can customize the look and feel of your feeds to match the style of your site. You can also embed various content types, including posts, photos, videos, reviews, and more.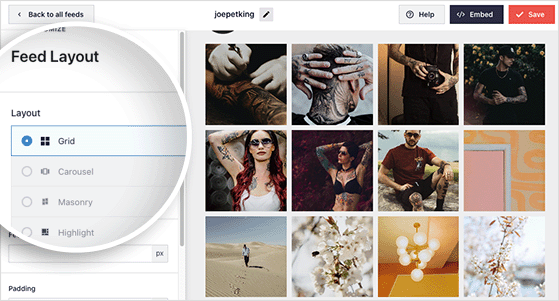 To add FOMO to your site with Smash Balloon, you can create "recent activity" feeds to show real-time content from your social media profiles. For example, if you run an eCommerce store, you can show feeds of recent Instagram posts featuring your products to show visitors that other people are buying and enjoying them.
In addition to creating FOMO, Smash Balloon can also help improve engagement and social proof by displaying user-generated content. This can include customer reviews, photos, videos of your products, and other content that showcases your brand in a positive light.
Pricing: Starts from $49 per year.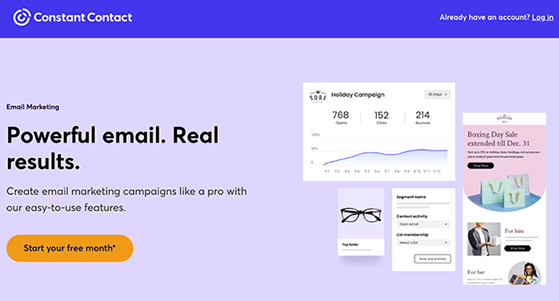 Constant Contact is a leading email marketing service that lets you create and manage email marketing campaigns, including newsletters, promotions, and automated emails.
To evoke FOMO, you can use Constant Contact to create and send emails featuring time-sensitive offers or limited-time discounts. For example, you could email your subscribers a 24-hour coupon on a product or service, creating urgency and encouraging them to act before the offer expires.
You can also use Constant Contact to set up automated emails that trigger when users take specific actions on your site, such as purchasing or signing up for your newsletter. These automated emails can include FOMO elements such as social proof or scarcity tactics, such as letting the recipient know that a specific product or service is selling out quickly.
Additionally, Constant Contact offers a range of customizable email templates to create professional-looking emails with FOMO elements like countdown timers. The platform also has detailed analytics and reporting, allowing you to track your email campaign performance and adjust your strategy to increase conversions and engagement.
Pricing: Starts from $20 per month.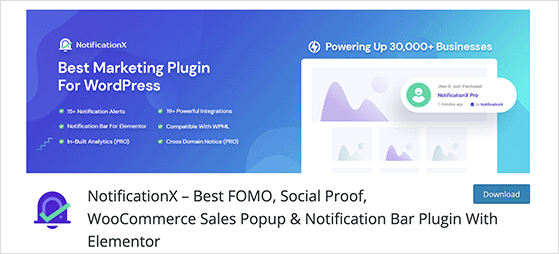 NotificationX is a free social proof plugin for WordPress that helps you show notifications on your website to create urgency and encourage action. It has several notification types, including FOMO notifications, which can display recent sales or signups on your website.
NotificationX also provides advanced customization options, allowing you to tailor the notifications to match your WordPress theme. You can choose from multiple notification templates, customize the text and colors, and add custom images or icons.
Furthermore, NotificationX integrates with various platforms, including WooCommerce, Easy Digital Downloads, Google Analytics, and Elementor. With these integrations, you can automatically display FOMO notifications when someone purchases or signs up for your service.
Pricing: Free from the WordPress plugin repository. Pro plans start from $39 per year.
Which WordPress FOMO Plugin Is Best?
After thoroughly testing the plugins in this list, TrustPulse is undoubtedly the best WordPress FOMO plugin available. Its beginner-friendly features and powerful options make it the easiest way to create eye-catching social proof notifications in WordPress.
Additionally, if you want to interact with your audience and encourage them to promote your products online, RafflePress is a fantastic plugin for attracting new customers and expanding your business with viral giveaways and contests.
Get started with RafflePress today!
There you have it!
We hope this guide has helped you find the best WordPress FOMO plugin for your business website. Before you leave, you may also enjoy this guide on how to build a podcast landing page that generates leads.
If you liked this article, please subscribe to our YouTube Channel for RafflePress video tutorials. You can also find us on Twitter and Facebook.