Do you want to learn how to promote your Twitch channel?
Live streaming on Twitch is an excellent way to reach the gaming community and position your products or services, such as video games, right in front of your target audience. But with millions of Twitch streamers, promoting your stream isn't as easy as it once was.
So in this article, we'll show you how to promote your Twitch channel easily on multiple platforms.
What Are the Benefits of Promoting Your Twitch Channel?
There are many benefits to promoting your Twitch channel and the most obvious reason is it can help people find your content. The more you promote your content, the more likely it is that users interested in your stream topic will find it.
Moreover, anyone visiting your stream is likely to follow you on Twitch if they like what they see.
But that's not all. Promoting your Twitch channel can also help in the following ways:
Grow your following on other social media networks
Send traffic to your website
Promote products and services
Draw attention from sponsors
Increase Twitch view time
Boost your Twitch affiliate revenue
Video Tutorial
Before Promoting Your Twitch Channel
Before learning how to promote your Twitch stream, you'll need to lay some groundwork. After all, promoting a channel is hard without setting goals or knowing who your audience is.
1. Set Clear Channel Goals
Whether you're a brand or a casual gamer, it's a good idea to treat Twitch streaming as a business. With that in mind, you should set tangible goals that align with what you want to accomplish.
For example, your goals might look like this:
Reach X subscribers by X
Get X viewers per stream
Refer X visitors to your website per month
Make X sales of X product
We suggest using the SMART framework to set your goals. It's easy to remember and generate meaningful results.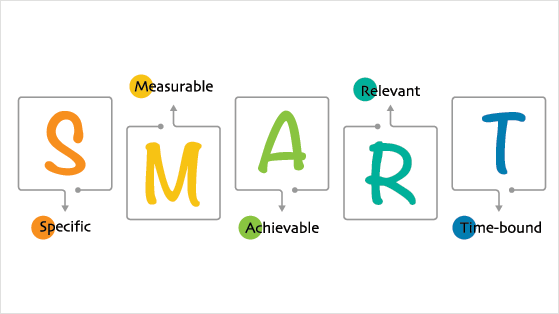 Here's a quick overview of how SMART goals work and what they mean:
Specific: Make your goal highly specific. For instance, 'reach X subscribers by X' instead of 'increase my subscribers.'
Measurable: Your goal should also be easy to measure; otherwise, you won't know if your strategy is working. Luckily, you can use your Twitch analytics to measure your total number of views, subscribers, etc.
Attainable: Is your goal realistic? If you set goals you can't possibly achieve, you're only setting yourself up for failure. Keep your goals small and easy to attain. For instance, you could set the goal of reaching 100 subscribers in your first month.
Relevant: Your goals should also be relevant to what you want to accomplish. For example, if it's to send more people to your website, you need to work on strategies to send your audience that way.
Timely: Any goals you set should have a precise deadline. Giving yourself a time limit ensures you don't waste time and continue to work towards your goals.
Above all, you need to have patience.
Growing on any platform doesn't happen overnight – it takes hard work, passion, and time. But with a strategy in place, reaching your goals should be a whole lot easier.
Promoting Your Twitch Channel on Your Website
Now let's explore how to promote your Twitch channel on your WordPress website. This is an excellent way to drive traffic to your channel, helping to increase your stream viewers and subscribers.
If you don't already have a personal or business website, you can follow this excellent guide on how to start a blog in WordPress. It guides you through the process from start to finish, including buying a domain name, WordPress hosting, and setting up your site.
Once your website is up and running, you can use the following tactics to promote your Twitch channel.
2. Blog About Your Twitch Stream
One of the easiest ways to promote your Twitch channel is to create content on your blog. That way, anyone reading your blog can learn about what you stream live on Twitch and visit your channel if they like what they see.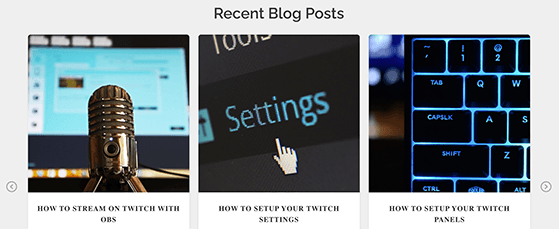 You could blog about a range of topics, including:
Your streaming schedule for the month
Twitch news and developments
Your top-performing streams
Subscriber-only Twitch perks
You can even save and publish your streams directly on your blog for people who may have missed them. And because blogging is one of the best ways to attract organic traffic from search engines, it helps promote your Twitch channel to a broader audience.
3. Run a Twitch Giveaway
Another tactic you can use to promote your Twitch channel is to run a Twitch giveaway on your website. Everyone loves a giveaway, and they often have the potential to make your brand go viral.
While you could do this live on your stream, running a giveaway on your website sends targeted traffic to your giveaway page. And in the end, it increases the chances of people reading your content, joining your email list, and even buying your products or services.
Running a Twitch giveaway on your website is easy with WordPress plugins like RafflePress.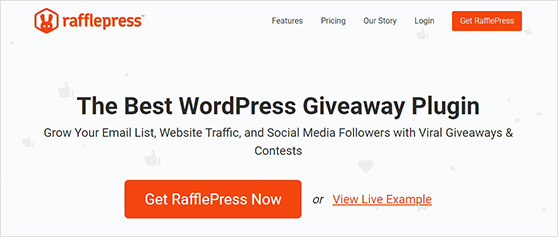 RafflePress is the best WordPress giveaway plugin on the market. It makes it super easy to design, build, and run any type of online giveaway from your business or personal website.
With an easy and powerful drag-and-drop giveaway builder, you can launch your giveaway in minutes – no coding needed. It also includes actionable entry methods designed to meet your giveaway goals.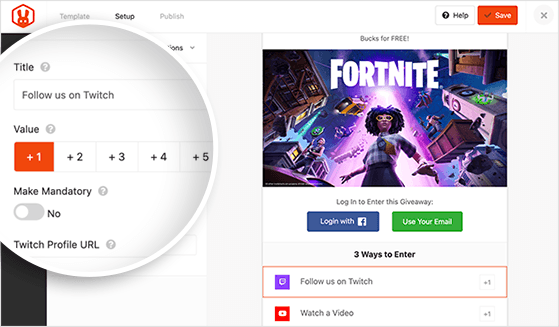 For example, users can enter your giveaway by:
Following you on Twitch
Watching a video
Subscribing to your email newsletter
Submitting an image
And more
So if you want to promote your Twitch channel fast, running a giveaway is the easiest way to make it happen.
Check out this step-by-step guide to learn how to do giveaways on Twitch with RafflePress.
4. Add Social Media Feeds to Your Website
With over 8 million active Twitch streamers, there's a lot of competition to deal with. That said, promoting your Twitch channel on social media is an excellent way to break through that noise.
You may already have social media accounts dedicated to your Twitch channel. But there are also tons of people who visit your website that may not know about your social media presence.
With that in mind, it's a bright idea to showcase social posts about your Twitch channel on your website. That way, curious visitors can check out your channel, watch your streams, and follow you on those platforms.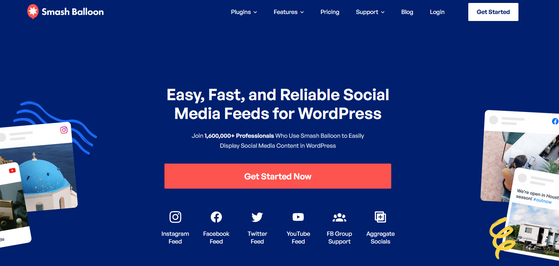 The easiest way to embed social media content on your website is with a social media feed plugin like Smash Balloon. In fact, Smash Balloon offers a suite of plugins for the most popular social media networks, including:
Facebook
Instagram
YouTube
Twitter
And if that wasn't enough, they offer a Social Wall plugin that pulls content from multiple social channels, displaying them in a single feed.
Social media feeds like this are an excellent way to promote your Twitch content on both your website and social media without having to update your website with every new post manually.
If you need a little help getting started, you can follow this guide for adding social media feeds to your website.
5. Send Push Notification About New Streams
Push notifications are an effective way to message website visitors after they leave your site.
For example, you can send a push notification when you start streaming on Twitch. That way, people will see a browser message telling them your stream is live. Or you can send notifications about new Twitch-related blog posts promoting your channel and your content.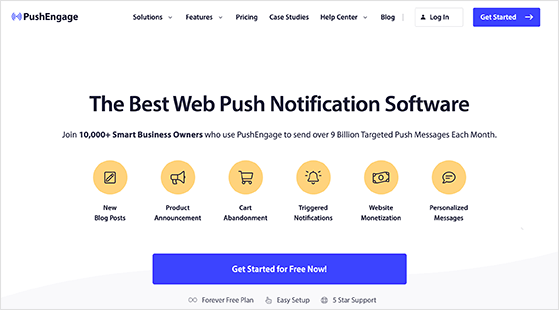 The best way to add push notifications to your WordPress site is with PushEngage, the best push notification software on the market.
You can use this plugin to send web browser notifications, redirect traffic to other parts of your website, grow your email list, and much more.
Plus, it comes with a variety of powerful features, including:
A/B testing
Automatic drip campaigns
Customizable opt-in reminders
Triggered campaigns
Interactive message options
And with its reliable analytics dashboard, you can refine and optimize your Twitch promotion strategy.
6. Put Your Stream in Your Sidebar
Adding your live stream to your website's sidebar is another great way to promote your Twitch channel. By doing that, your website visitors can watch your stream live on your website.
And if your visitors enjoy what they see, they'll likely head to Twitch and subscribe to your channel.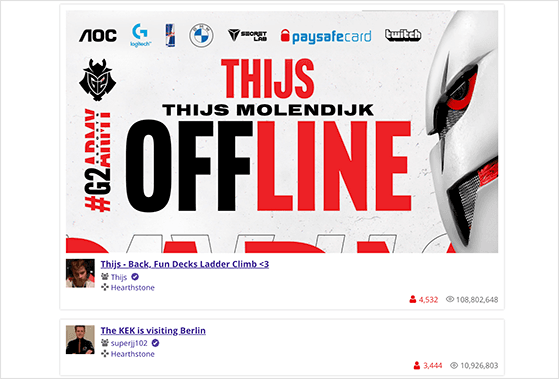 Luckily, you can embed your Twitch stream in WordPress easily. You can either copy and paste the embed code or use a plugin to do it for you automatically.
For the easy option, look at #6 in this best WordPress Twitch plugins showcase.
7. Add a Twitch Follow Button to Your Website
If your website visitors can't find your Twitch account easily, chances are they won't visit and subscribe to your channel. So it makes sense to make following you on Twitch as easy as possible.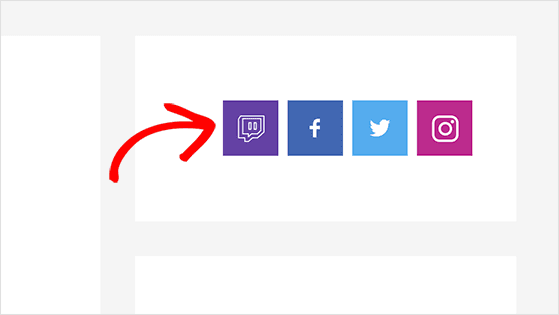 One way to do that is to add a Twitch follow button to your website. And it's super easy to do with popular social media plugins like Add This without copying and pasting any code.
Promoting Your Channel on Twitch
Now let's look at how to promote your Twitch channel on the platform. We'll cover several tactics such as interacting with your audience, perfecting your steaming schedule, and more.
8. Create Distinctive Branding
As we mentioned earlier, standing out on Twitch isn't easy with so much competition. But that doesn't mean you're doomed never to get noticed.
One thing you can do is make your branding as memorable and distinctive as possible. That means creating profile photos, channel banners, and stand-by screens that catch people's attention.

Here are some tips for branding your Twitch stream:
Profile Photo: Choose a photo representing your brand, such as an avatar, logo, or headshot. The size of your photo file should be under 10MB and can be a GIF, JPG, or PNG.
Channel Banner: Your banner sits at the top of your channel page. It's also the background to your hosting, channel trailer, and recent broadcast videos. The recommended size for a Channel Banner is 1200x480px. You can upload a GIF, JPG, or PNG under 10MB.
Video Player Banner: Also known as the 'offline image,' this banner displays when you're not currently streaming. You can use it to promote your website, social links, and more. The banner can be a GIF, JPG, or PNG, should be in 1080×720 or similar video-format sizes, and no larger than 10MB.
There are many free tools you can use to create branded images and banners for Twitch. For example, Canva has tons of ready-made Twitch templates.
9. Have a Frequent Streaming Schedule
If you want to promote your Twitch channel, you need to stick to a consistent streaming schedule. This is probably the single most effective way to let your audience know when to tune in.
Creating and sharing a streaming schedule promotes trust with your audience and encourages them to view your stream regularly. Moreover, a streaming schedule establishes you as someone who takes streaming seriously.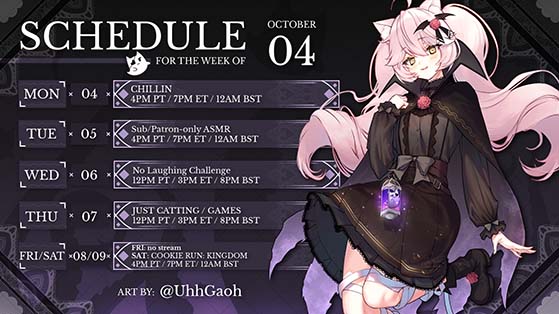 When creating a schedule, include the type of content you'll stream and when you plan to go live. This information will help people find the content they're looking for and give potential viewers a reason to check you out.
Ideally, you should stream several times per week for around 4 hours per session. If a session lasts less than 4 hours, you may struggle to pick up viewers.
10. Choose What You Stream Strategically
Another effective way to promote your Twitch channel is to choose what you stream carefully. Twitch is much more than a gaming platform these days.
For instance, there are categories for:
Just chatting
Music
Sports
Podcasts
Crypto
Food and drink
Crafting
And more
So it's even more important to create content that appeals to the right audience.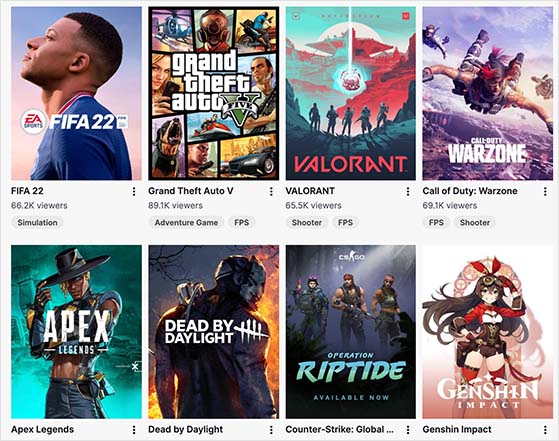 For example, if your channel is about gaming, look at which games are most popular and craft your stream around that topic. Or, choose a game that's relatively unknown that you know your audience will love.
If you're new to Twitch, experiment with different types of content to see what works best for you and your audience.
11. Interact and Engage with Your Audience
When building your Twitch channel, it's easy to get bogged down in the details. But one thing you should never forget is your audience.
Your audience is crucial to your streaming success. These are the people who will:
Watch your streams regularly
Recommend your channel to friends
Follow you on social media
Buy your products and services
So you need to give your audience a reason to watch your streams instead of the millions of other broadcasters on Twitch. To do that, you first need to understand why people watch Twitch in the first place.
Often people watch Twitch streams to:
Decide what game to buy
Get tips and advice
Watch professional gamers
Enjoy a streamer's personality
Understanding why people watch Twitch should help you brainstorm the type of content you should produce. If you can satisfy some or all of people's needs, your stream should be in good shape.
Promoting Your Twitch Channel on Social Media
We've already mentioned the importance of broadcasting your Twitch channel on social media. But what can you do to promote your Twitch channel on each major platform?
Check out the tips below to find out.
12. Share Behind the Scenes Photos on Instagram
You may not automatically think of Instagram as a good place to promote your Twitch channel. But given the popularity of Instagram stories and Instagram TV, it's easier than you think.
For example, you can show the more human and realistic side of your stream by posting behind-the-scenes photos on Instagram. This type of content works well because it's more authentic and gives your followers a glimpse into life as a Twitch streamer.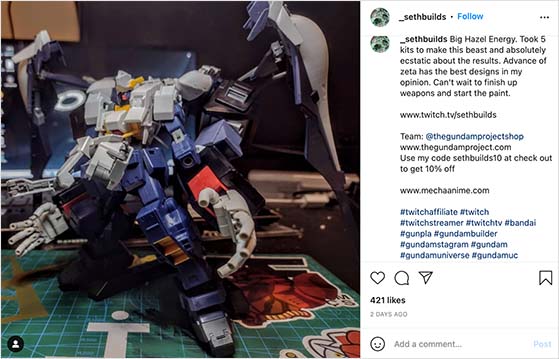 Some other things you can do, include:
Share stream clips in Instagram stories
Promote your Twitch giveaway
Connect and interact with other streamers
Network with streaming industry contacts
Live stream on Instagram then direct people to Twitch
As a result, you can use Instagram to promote your Twitch stream effectively.
13. Create Discussion Threads on Twitter
Just like Instagram, there are many ways you can promote your Twitch channel on Twitter. You can tweet your posting schedule, broadcast when you go live, and retweet relevant content.
But one thing you can do to engage more with your audience is to start a Twitter discussion thread.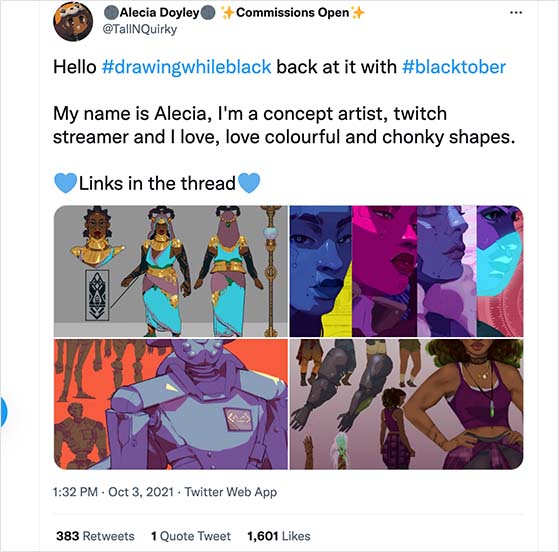 These threads are super popular because they don't limit how much you can say. You simply post a tweet and carry on the discussion in your Twitter comments.
For example, you could talk about a new game release and answer questions as they come up. Or you could discuss streaming ideas and ask for feedback from your followers.
14. Upload Your Streams to YouTube
YouTube is another platform you can use to promote your Twitch channel. It already has all the tools you need to post videos and reach your audience, with the added benefit of allowing your channel to show in Google search results.
The best way to use YouTube to promote your Twitch channel is to post videos showing the value your stream has to offer.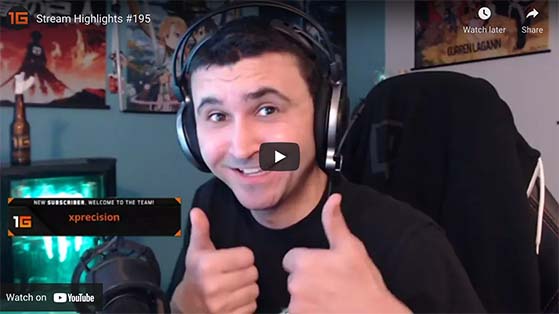 For example, you can upload videos that show people your personality and play style. And at the same time, show your content in a way that leaves viewers hungry for more.
Just remember to include your Twitch link in the description or the video. That way, viewers can find you on Twitch and check out your stream.
15. Start a Facebook Group for Your Twitch Channel
Facebook is saturated with Groups for promoting Twitch. But that doesn't mean you can't make a Facebook Group specifically for your channel.
Once your channel starts attracting a regular following, you can create a private Facebook group just for Twitch subscribers. Making your group exclusive to subscribers gives non-subscribers the fear of missing out, and as a result, will encourage them to subscribe so that they have access.
But remember, for this to work, you need to make the content you post in your group super valuable. Some things you can share in your group include:
Exclusive giveaways
Discount codes and coupons
Sneak peeks at upcoming content
And more.
So there you have it!
We hope this article helped you learn how to promote your Twitch channel fast.
While you're here, you might also like these best eCommerce marketing tools to promote your online store.
And you liked this article, please subscribe to our YouTube Channel for RafflePress video tutorials. You can also find us on Twitter and Facebook.