Do you want to create an affiliate program in WordPress?
Affiliate marketing is an effective way to get your products and services in front of your target audience. Since over 80% of brands have an affiliate program, it's about time your small business joined them.
In this article, we'll show you the best way to create an affiliate program in WordPress without hiring a developer.
What Is an Affiliate Program?
An affiliate program is a type of referral program where a business pays another business, blogger, or content creator a commission for marketing and selling their products or services.
Affiliates often promote those products by writing high-quality reviews, adding creatives to their sidebars, contacting their email lists, and even adding popup banners to their websites.
It's an excellent way for small businesses to generate leads, sales and increase brand awareness. Content creators can benefit from joining an affiliate program because it can help them generate passive income.
Benefits of Creating a WordPress Affiliate Program
Creating a WordPress affiliate program is a low-risk investment for your business. It doesn't cost much to make an affiliate site, and you only need to pay affiliates when they make a sale via your affiliate link. As such, you can see a successful return on your referral program quickly.
Additionally, an affiliate marketing program can help you unlock more affiliate sales opportunities by:
Increasing your marketing strategy's reach and attracting new customers
Leveraging the expertise of influencers and marketing experts without hiring more team members
Reclaiming your time so you can focus on more important tasks
These benefits are crucial for your small business. When your budget and resources are limited, you can spread yourself thin and lose focus. However, it's much easier to refocus your efforts when you have a community of affiliate marketers actively promoting your brand.
Since affiliate marketing is the top acquisition channel for 40% of merchants in the US, it's clear that this marketing strategy is effective. What's more, any online business can run WordPress affiliate marketing campaigns.
So, with that in mind, here's how to make your own affiliate program in WordPress.
How to Create an Affiliate Program in WordPress
For this tutorial, we'll show you how to create an affiliate program with AffiliateWP, the best affiliate plugin for WordPress. It makes it super easy to set up any affiliate or referral program on your WordPress website.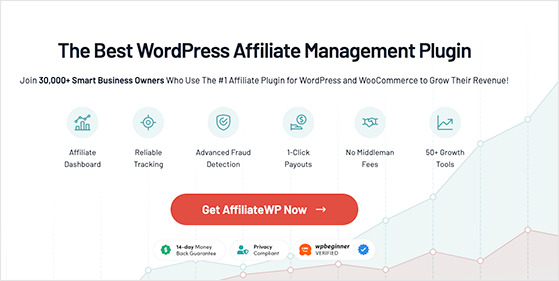 From its built-in affiliate area, affiliates can track their performance and earnings, find referral links, and more. You can also have unlimited affiliates and make unlimited creatives to promote your products, service, or website effectively.
AffiliateWP has an integrated payouts service, so you can quickly pay affiliates directly. Plus, you can track top-earning affiliates, moderate affiliate registrations, and edit individual accounts in your affiliate management dashboard.
If that wasn't enough, ​ AffiliateWP integrates seamlessly with popular eCommerce tools and WordPress plugins like WooCommerce, PayPal Buttons, MemberPress, Easy Digital Downloads, and more.
So follow the easy steps below to create your first affiliate program in WordPress.
Step 1. Install and Activate AffiliateWP
To get started, head to the AffiliateWP pricing page and pick a plan that best suits your business needs.
After completing the purchase, go ahead and install the plugin on your WordPress site. If at any point you get stuck, follow this step-by-step guide on installing and activating a WordPress plugin.
Step 2. Complete the AffiliateWP Setup Wizard
AffiliateWP is super easy to set up with its handy setup wizard. Once you've activated the WordPress plugin on your website, click the AffiliateWP link in your WordPress dashboard, and the wizard will launch automatically.
The first screen will ask you to enter your plugin license key. You can find your key in your account dashboard or your AffiliateWP welcome email. Copy the key, then paste it into the license key field and click Continue.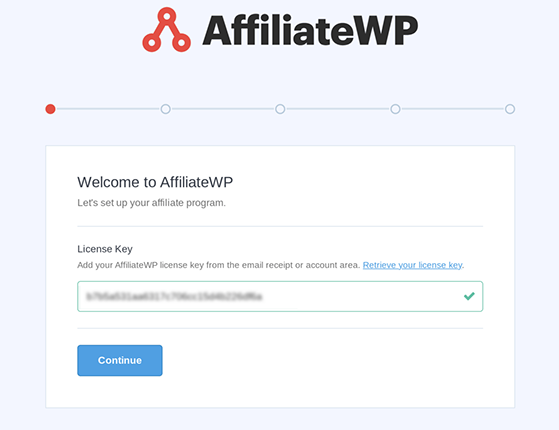 On the next screen, you can choose an integration to generate referrals. There are over 20+ integrations, including forms, memberships, courses, donations, invoices, and more. Simply tick your preferred integration and click the Continue button.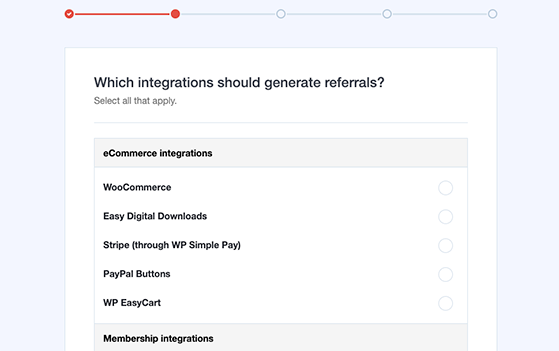 The next page lets you enter some basic information about your affiliate website. You can enter your currency, referral type, and referral amount.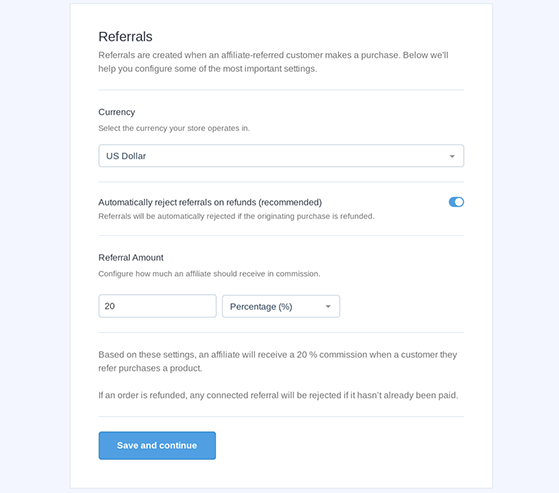 You can change these settings later if you need, so enter your best estimate, then click on the Save and Continue button.
Now you can choose the structure of your referral links and set the cookie expiration time. Again, don't worry about these settings, as you can change them later.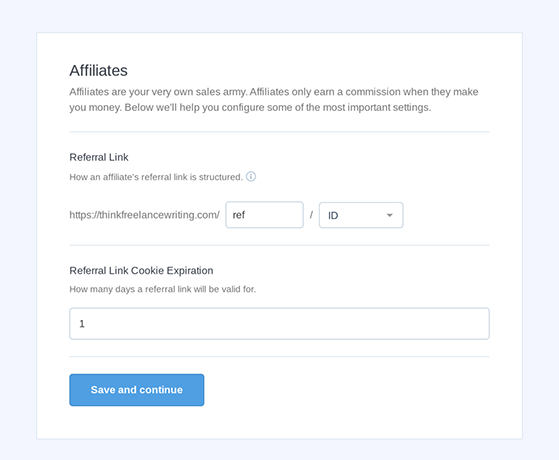 When you're happy with your settings, click Save and Continue, then finally click the Finish Setup and Launch Wizard.
Once you've done that, your program will be ready for you to track links in your affiliate dashboard.
Step 3. Customize the Affiliate Area
Now that the setup wizard is complete, the plugin will automatically create an Affiliate Area in your WordPress dashboard. This area will adapt to your WordPress theme and branding, but you can also customize it easily.
You can use the page the plugin makes, or you can use your own page as your affiliate signup page. For example, you can create a custom signup page with a page builder like SeedProd and use that instead of the default AffiliateWP page.
All you need to do is create your custom page, then go to AffiliateWP » Settings and choose your custom page from the Affiliate Area dropdown menu.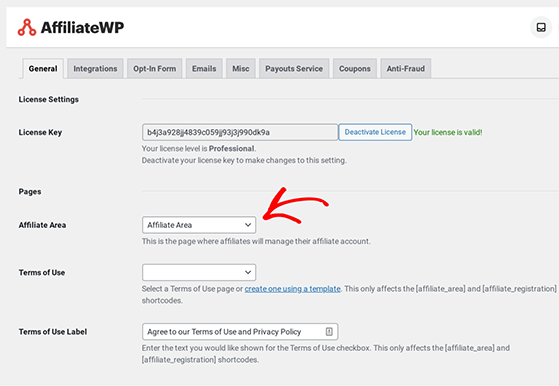 This is the page where users can sign up for your affiliate program and log into their account dashboard. So you may want to customize the signup form first.
You can do that by navigating to Pages » All Pages and selecting your signup page. If you're using the AffiliateWP Affiliate Area page, it will already have an affiliate registration form.
However, if you're making a custom signup page, you can add an affiliate form by typing "Affiliate" in your blocks search bar and selecting the Affiliate Registration block. This will embed the registration form template into your page.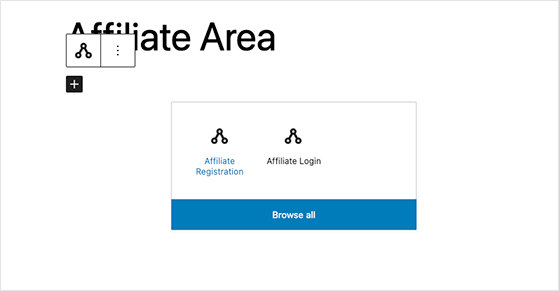 Now you can customize the form by:
Adding and removing form fields
Renaming your field labels
Reordering the form fields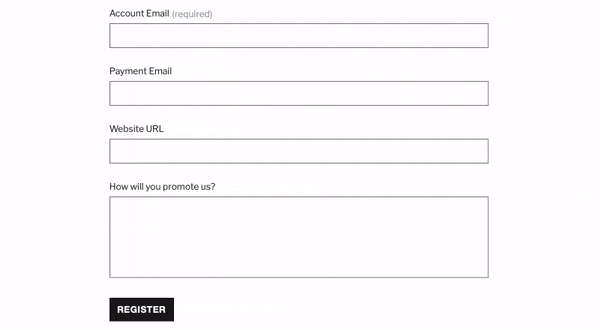 Remember to save the changes to your page before moving on.
After new affiliates have registered with your program, they can use the same page to log into their affiliate dashboards.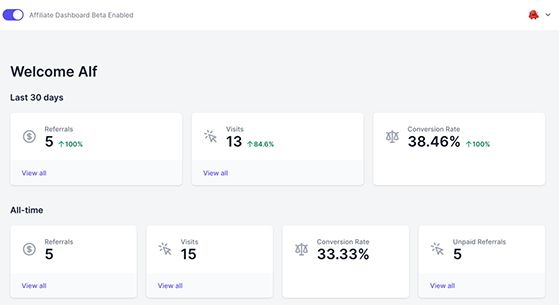 This is where they can generate affiliate links, find creatives and track their affiliate commission rates, payouts, and other data.
Step 4. Approve New Affiliate Registrations
The default AffiliateWP settings require you to approve new registrations manually. While it may seem like extra work, it's a good idea to leave these settings as they are.
We recommend this because only some people who sign up for your affiliate network will be the best fit for your business. By approving registrations yourself, you can prevent fraud and ensure the bloggers and marketers applying are relevant to your brand.
To accept or reject affiliate registrations, go to AffiliateWP » Affiliates and use the checkbox to confirm or deny applications.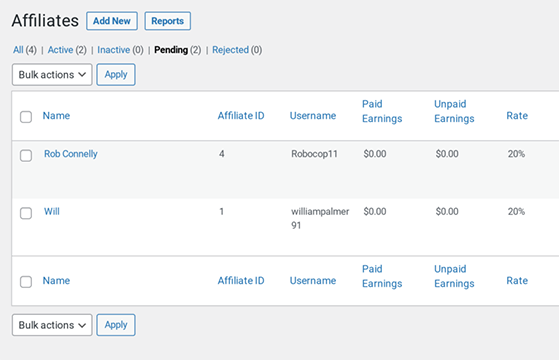 You'll get an email notification whenever someone applies to your program, and similarly, potential affiliates will get an email if they were successful or not.
Step 5. Manage Your Affiliates
After approving affiliate partners, you can manage them easily from your Affiliates page. You'll see information on earnings, referrals, visits, and more. But you can see even more affiliate management settings by clicking the affiliate's name.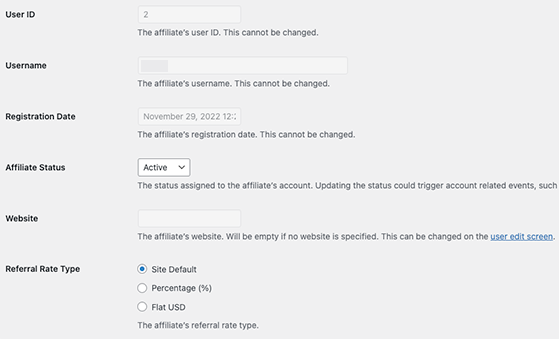 From there, you can manage your affiliate's details, set up custom commission rates, add payment details, write personal notes, and more.
Step 6. Improve Your Program with Growth Tools
Besides letting you create an affiliate program easily, AffiliateWP has several powerful tools and add-ons. For example, you can create vanity coupon codes, affiliate landing pages, and stunning customizable affiliate portals.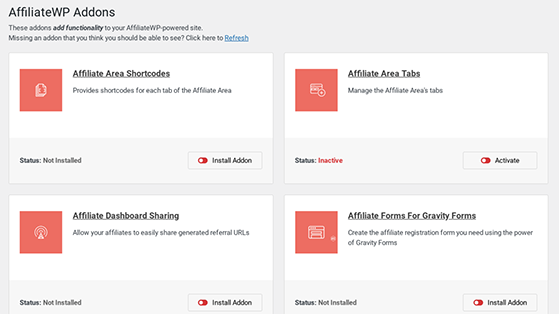 You can activate any of these add-ons by going to AffiliateWP » Add-ons. From there, toggle each add-on to activate them instantly.
Step 7. Set Up Affiliate Payments
The final step is to choose how you'll pay your affiliates, and AffiliateWP offers 2 ways to do that.
The first method is AffiliateWP's Payout Services. It lets you send payments to your affiliates via AffiliateWP's parent company, which uses Stripe to deposit payments directly into your affiliate's debit card or bank account.
You can enable this functionality by heading to Affiliates » Settings and clicking the Payouts Service tab.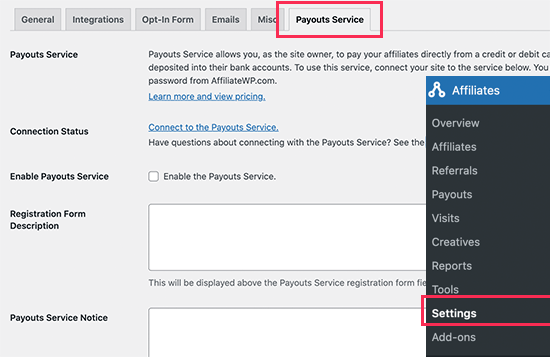 The second method is to use PayPal, which you can find as a separate add-on under the Professional AffiliateWP license.
If neither of these methods suits your business, you can pay your affiliates manually by visiting Affiliates » Referrals and clicking the Pay Affiliates button.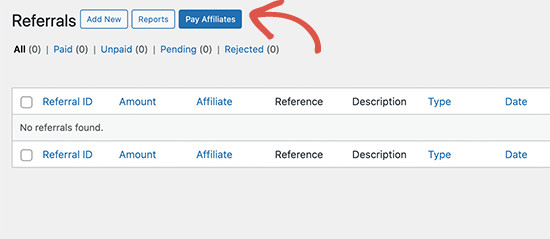 From there, you can choose a time and generate a payout list to pay your affiliates via PayPal, credit card, online banking, or any other payment method.
Note: AffiliateWP is our favorite way to create an affiliate program in WordPress. However, another solution we often recommend is to use the Easy Affiliate plugin. It's one of the best WordPress affiliate plugins available, and they have a handy step-by-step tutorial on creating a WordPress affiliate program using their software.
How to Promote Your Affiliate Program
When your affiliate program is live, you're ready to promote it to influencers, bloggers, and other marketing professionals. You can create a great affiliate program, but the quality of your affiliates is what will make the difference.
Some of the best and most popular ways to promote your affiliate program and reach a wider audience are as follows:
Reward your partners by running affiliate giveaways. Affiliates can also earn more commission by sharing your giveaway with their audience on social media.
Optimize your affiliate landing page with good search engine optimization tactics (SEO).
Use social proof to show how users will benefit from joining your referral program.
Follow up on new affiliates with email marketing to keep your relationship strong.
For even more ideas, check out our guide on the best affiliate marketing ideas and tips to boost sales.
There you have it!
After following this guide to create an affiliate program in WordPress, you'll have everything you need to grow your business. If you need more marketing tips, here are some more guides you'll enjoy:
If you liked this article, please subscribe to our YouTube Channel for RafflePress video tutorials. You can also find us on Twitter and Facebook.