Do you want to run an affiliate contest for your business?
An affiliate marketing contest is an excellent way to promote your products and services to your target audience. But what are the steps to make your giveaway a success?
In this article, we'll show you a complete guide on how to run an affiliate giveaway contest with RafflePress.
But first, what exactly is an affiliate contest?
What Is an Affiliate Contest?
An affiliate contest is a type of giveaway contest designed for active affiliate partners. It works by motivating your affiliates to promote your affiliate program more, with the chance to win a prize as the incentive.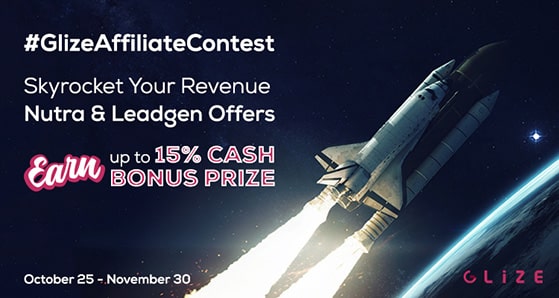 Essentially, it's a win-win situation. The harder your affiliates work to promote your brand, the greater their chances of winning and earning more affiliate commissions in their affiliate account. Plus, the extra boost in promotion can boost your brand awareness and revenue for your small business or startup.
How to Run an Affiliate Contest
Now that you know what an affiliate contest is, let's look at the steps to make yours a success.
1. Determine Your Affiliate Contest Goals
Before running any type of giveaway, creating a clear set of goals is important. Ask yourself why you want to run an affiliate contest.
Is it to:
Increase your sales via your affiliate program
Boost your number of affiliate partners
Activate inactive affiliates
Support the launch of a new product or service
Finding the purpose of your affiliate giveaway will help you decide the best structure and strategy. It will also help you measure your results once the contest is over.
2. Choose Which Contest Type to Run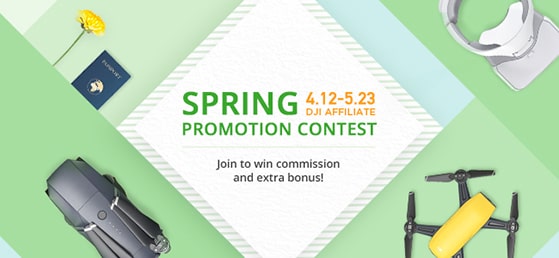 A content-focused giveaway is the best choice if your affiliate giveaway aims to encourage all affiliate partners to promote your products.
You could ask affiliates to participate in the contest by:
Writing a product review on their blog.
Filming a video tutorial showing how to use your product.
Creating a social media campaign to encourage referrals to start your free trial.
Yet, it's vital to ensure it isn't too hard to enter your contest. If the entry requirements are too complex, it will de-motivate your affiliates, and they won't participate.
3. Pick a Valuable Incentive (Prize)
After picking your goal and deciding on the right type of contest to accomplish it, your next decision is to select the right reward.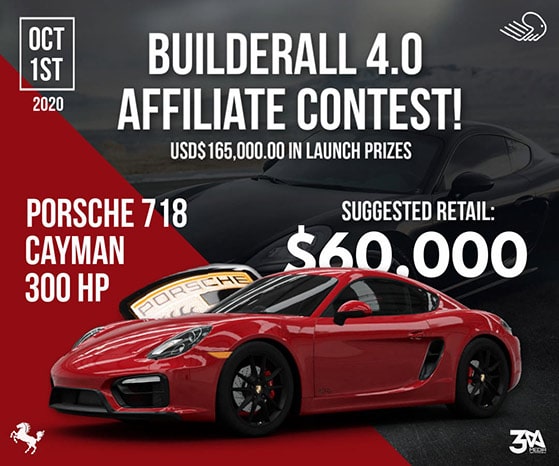 Not every prize or incentive will work, so you should identify your target audience and choose a prize they'll find attractive. It's also important to match your giveaway prize to the effort needed to enter.
Some of the most popular giveaway prize ideas include:
Physical goods like merchandise, gadgets, free products, etc. This is limited only by your budget and creativity.
Company resources such as free subscriptions, social media takeovers, guest posting spots on your blog, and more.
Financial incentives, including Amazon gift cards and coupons, a flat bonus added to the top affiliate's account, commission increase, and PayPal payments.
If you're unsure which prizes would be attractive enough for your affiliates, ask them. Send them a short survey and use the results to inform your prize.
You can also check out this article for even more proven contest prize ideas.
4. Create Fair Contest Rules and Guidelines
Your next task is to decide on your affiliate contest rules. This will help entrants understand their eligibility and which entry methods qualify.
Here is a general list of contest terms you should include in your giveaway:
Who can enter the contest
If there is a minimum age limit
If the contest is limited to specific locations
Contest period and end date
How people can enter
What the prize is
How you'll choose a winner
How the winner will be notified
Your affiliate contest rules should be easy for all participants to access. For instance, you can publish them on your giveaway landing page, social media, notification apps, or email promotional messages.
5. Create Your Affiliate Contest
With your goals, prize, and rules in place, it's time to create your affiliate giveaway. While it's tempting to write all the instructions in an email and send it via your affiliate platform, there's a much easier solution if you have a WordPress website – a giveaway builder like RafflePress.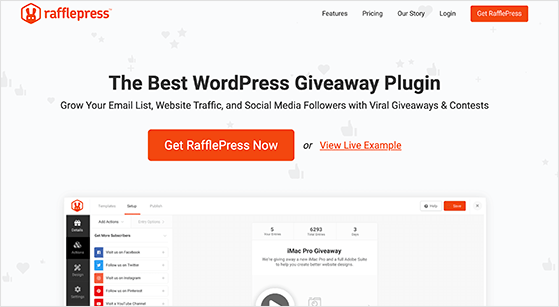 RafflePress is the best WordPress giveaway plugin. It makes running any contest from your WordPress site super easy without hiring a developer.
RafflePress's ready-made giveaway templates and drag-and-drop contest builder helps you get up and running quickly, no coding required. You can easily create online contests to grow your email list, get more social media followers, drive traffic to your website, and much more.
If you're not convinced, here's how OptinMonster generated 3,500+ new users from one giveaway.
For this tutorial, we'll show you how to run an affiliate giveaway contest using RafflePress. Just follow the steps below.
Step 1: Install and Activate RafflePress
First, click here to get started with RafflePress and download the plugin to your computer.
Note: You can use RafflePress for free; however, we recommend using the premium version for more social actions, email integration, SEO, and other powerful features. Check out the pricing for more details.
You'll then need to install and activate the plugin on your WordPress website. If you need help with this step, you can follow these instructions to install and activate a WordPress plugin.
After installing and activating RafflePress, hover your mouse over the RafflePress icon and click Add New to create your first giveaway.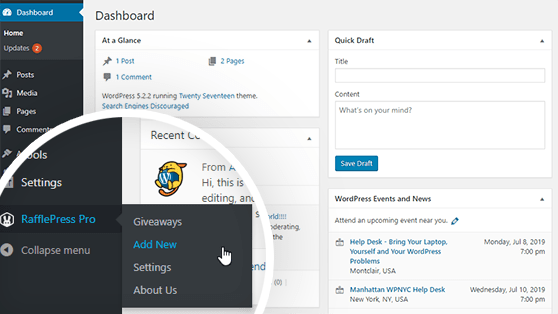 Step 2: Choose a Giveaway Template
On the next screen, you'll see RafflePress's library of giveaway templates. Each template automatically fills your giveaway widget with the actions needed to achieve your contest goals.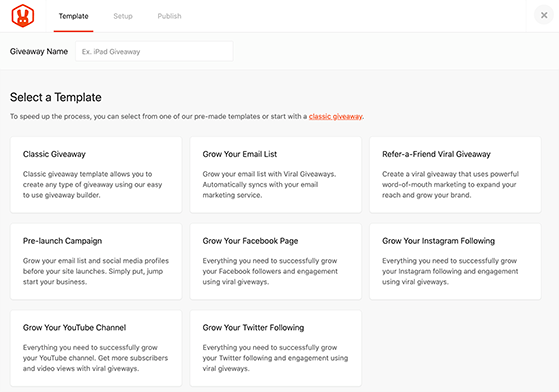 For example, if you want to grow your email list, choose the Grow Your Email List template. Your widget would then be pre-filled with a giveaway action that asks users to enter their email address to enter your contest.
For this guide, we'll choose the Classic Giveaway template, which gives you a blank canvas to start with.
Go ahead and give your contest a name, then hover your mouse over the Classic Giveaway template and click the Use This Template button.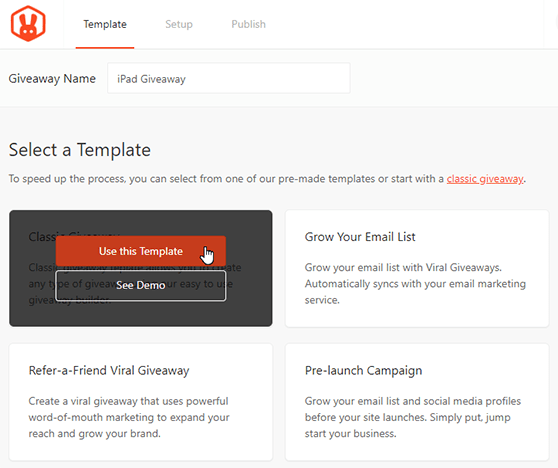 Step 3: Enter Your Contest Prize Details
On the next screen, you'll see RafflePress's drag-and-drop giveaway builder. Your first step is to add your giveaway prize details, which will appear on your giveaway widget.
Click the pencil icon under the Giveaway Prize Details section to get started.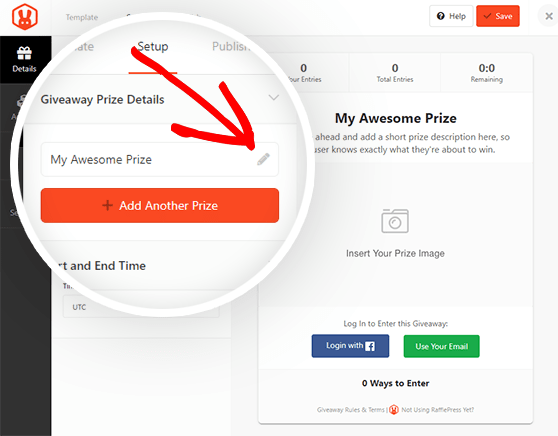 In this area, you can enter the name of your affiliate contest prize and write a short description. It's also possible to upload an image of your prize.
Just click the Select Image button under the prize description box. You can then select an image from your computer or your WordPress media library.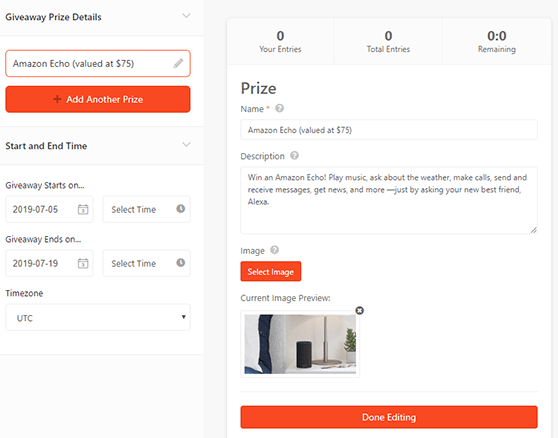 When you're satisfied with your prize details, click the Done Editing button.
If your affiliate giveaway has more than 1 prize, click the +Add Another Prize button to add more details.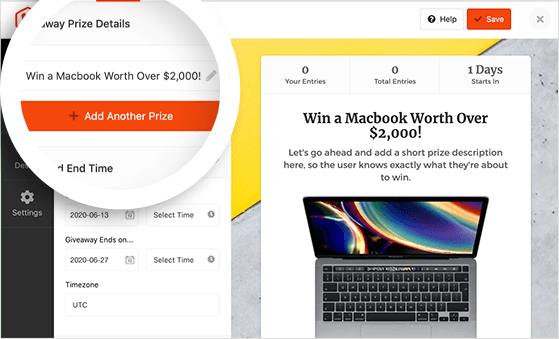 You can also set the date and the time your giveaway will start and end and select your timezone under the Start and End Time section.
Before moving on, click the Save button to store your changes. Remember to do this regularly to avoid losing any changes.
Step 4: Choose the Contest Entry Methods
The thing that makes RafflePress an excellent choice for running your affiliate contest is the fact you can give users more than 1 way to enter.
For example, users can get 1 entry for writing a blog post, a 2nd entry for joining your email list, and a 3rd entry for sharing the giveaway on social media.
Most people take all the actions they can because it boosts their chances of winning.
To add entry methods to your giveaway widget, click the Actions tab. All the different entry methods are grouped by goal, such as:
Get More Subscribers
Get More Social Engagement
Get More Traffic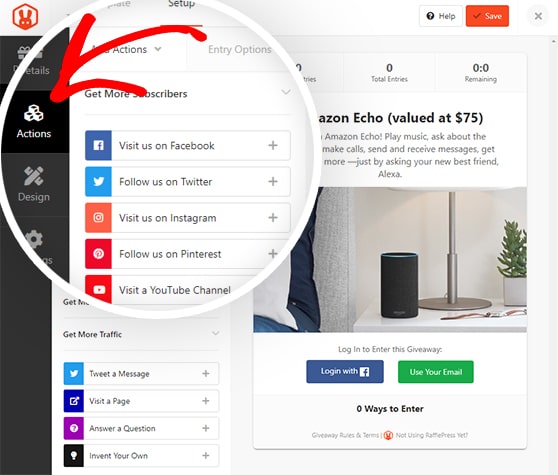 Click any action you like to add it to your giveaway widget.
For instance, if you want affiliates to write a blog post about your products to enter, click the Write a Blog Post action.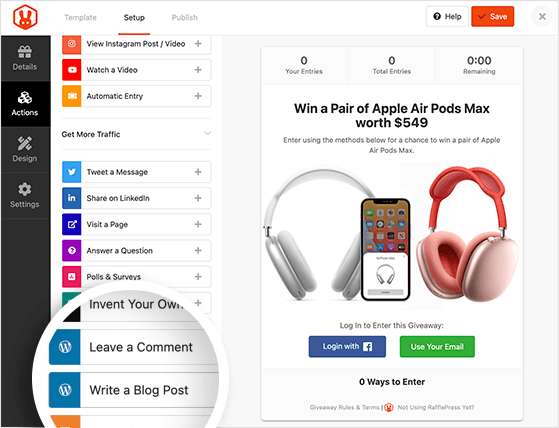 You can then enter more details about that action by clicking it in your giveaway widget.
The details include the action title, value (how many entries it's worth), if the action is mandatory, and if users can repeat it daily.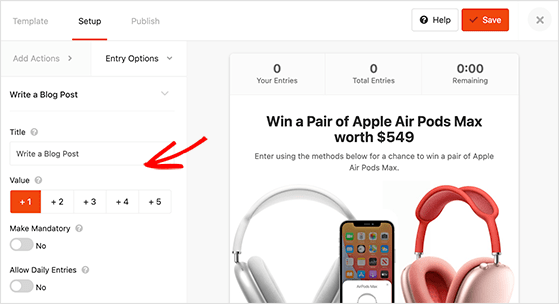 You can then describe what users should write about. For instance, "Write a 500-word post reviewing RafflePress".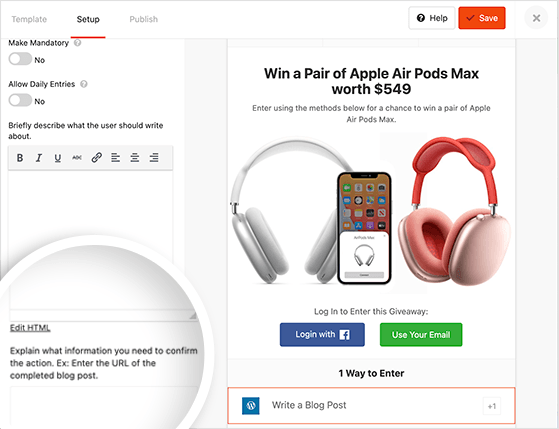 There's also a box where you can tell users what information you need to confirm the entry. In this case, it could be, "Post the link to your published article."
Repeat this for any extra entry methods you'd like to add. If you add multiple entry methods, make sure the most important actions are worth the most entries.
Click Save to preserve your settings.
Repeat the process above for any other actions you want to add to your affiliate giveaway. You can add as many as you like.
For instance, you can add the Subscribe to RSS Feed action to boost your subscribers and even add the Viral Refer a Friend action to encourage more people to sign up to your affiliate program and enter the contest.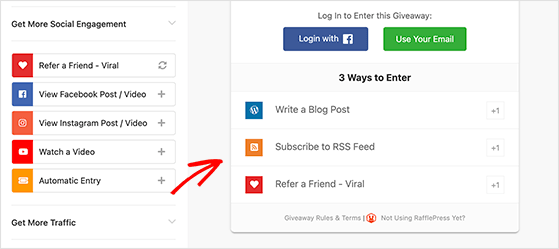 Step 5: Customize Your Contest Design
Next, click the Design tab. This is where you can customize the look and feel of your affiliate giveaway. You can choose from 2 different layout options, several fonts, and pick custom button colors.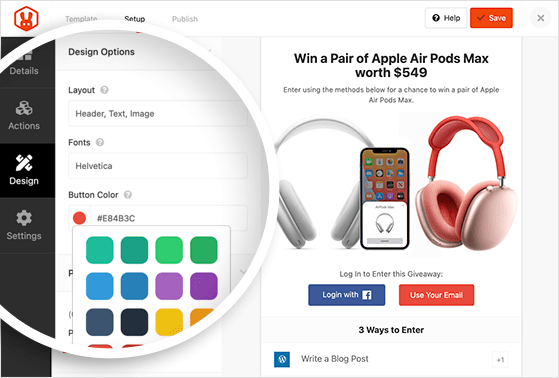 If you plan to create a standalone page for your affiliate contest, you can also choose a color for your page's background or upload a custom background image.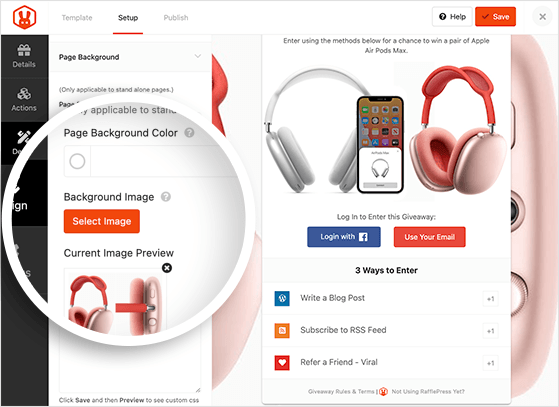 When your contest looks the way you want, click the Save button.
To give your affiliate promotion a competitive edge, you could create a leaderboard showing affiliates who have referred the most people or earned the most entries. You can then offer distinct rewards for the most and best referrals.
Step 6: Configure Your Affiliate Contest Settings
Now, click the Settings tab to configure your affiliate giveaway settings.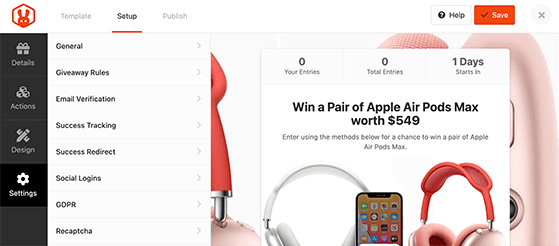 In this area, you can configure your:
General giveaway settings
Giveaway rules
Email verification
Success tracking
Success redirect
Social logins
GDPR
Recaptcha
One of the most important settings on this page is the Giveaway Rules. In this area, you can add your rules and guidelines for people entering your contest.
RafflePress makes it easy to set up and display your affiliate contest rules with the Rules Generator.
Just click the +Generate Rules button to show a window where you can type the sponsor name, email, address, eligible locations, the minimum age to enter, and more.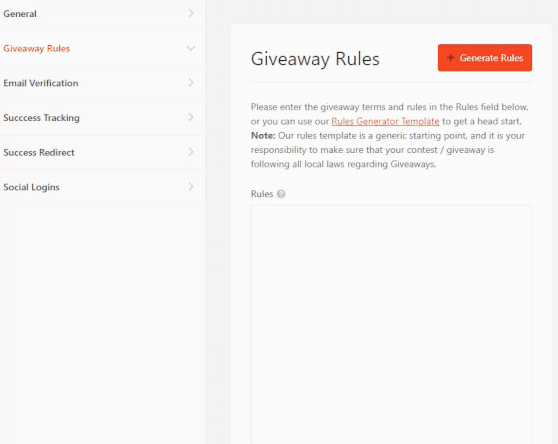 Then click the Generate Rules button to add them to your giveaway widget.
You can check out our documentation for details on all the RafflePress settings.
Don't forget to click the Save button before moving on.
Step 7: Publish Your Affiliate Contest
Now that you know how to create your affiliate giveaway, it's time to make it live on your WordPress website.
Click Publish at the top of your screen to see the different publishing options.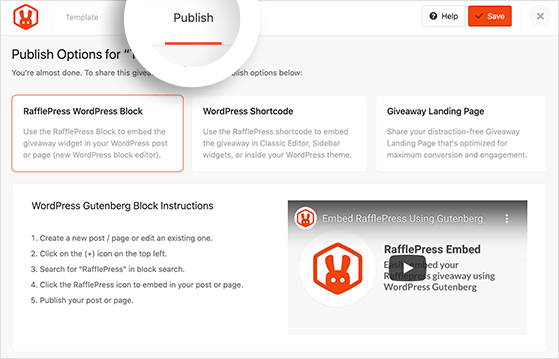 There are 3 publishing options for your affiliate contest, including:
RafflePress WordPress Block – Embed the giveaway widget in your WordPress post or page (new WordPress block editor).
WordPress Shortcode – Embed the giveaway in the classic WordPress editor, sidebar widgets, or inside your WordPress theme.
Giveaway Landing Page – Create a distraction-free landing page on your website for your giveaway.
For your affiliate contest, we'd suggest publishing it on a giveaway landing page. Since there isn't anything else on the page to distract users, they're more likely to sign up for your giveaway.
A giveaway landing page also makes it easy to share your contest via email, social media, and so on. Just paste the page link into your message, and users can click the link to visit and enter, driving more traffic to your website.
So go ahead and choose the Giveaway Landing Page option.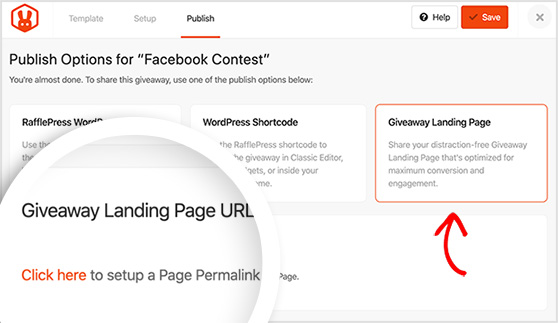 Towards the bottom of the screen, RafflePress will ask you to "click here" to set up your landing page permalink, which is the URL.
Clicking the link takes you to the General settings page. Under the Page Permalink heading, enter your preferred URL for your giveaway page, and click Save.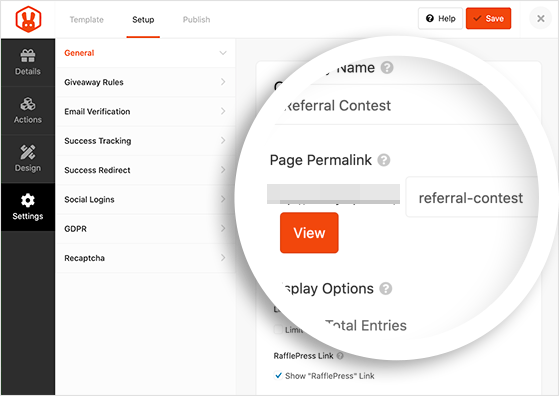 Next, click the View button to see your affiliate giveaway.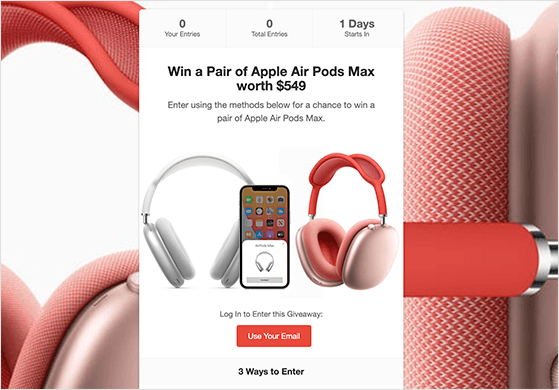 Great job. You've successfully created an affiliate giveaway contest!
6. Promote Your Affiliate Contest
After creating your giveaway, you can't sit around and wait for people to enter. You need to promote your giveaway to ensure you attract as many entries as possible.
There are several ways you can promote your affiliate contest. One of the easiest ways is to promote it on your social media profiles, such as Facebook, Twitter, Instagram, and LinkedIn.
You can also promote your giveaway by:
Sending an email to your current affiliates.
Creating automated messages through your affiliate platform.
Personally reaching out to affiliates with tailored messages.
You can check out this article for even more contest promotion ideas.
Start promoting your giveaway weeks before it goes live to give your affiliates time to create their content. That way, you can secure tons of entries from day 1.
7. Choose a Contest Winner
When your contest is over, you'll need to choose a winner. The fairest way to pick a winner is to choose one at random.
RafflePress makes this easy with its random winner picker. When your contest is over, head to RafflePress » Giveaways and click the Needs Winners link on the right.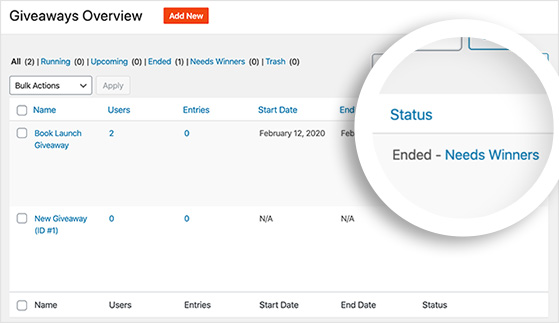 On the following screen, you can see who entered your contest, how they entered, and how many entries they each have. To choose a winner randomly, click the Pick Winner button, select your options, and then click Choose Winners Now.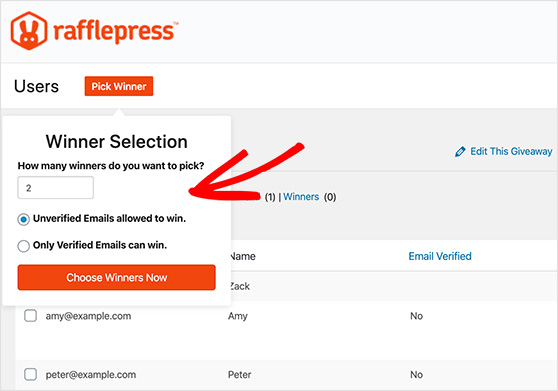 The winner will then be highlighted at the top of the list. You can now click to email them the good news.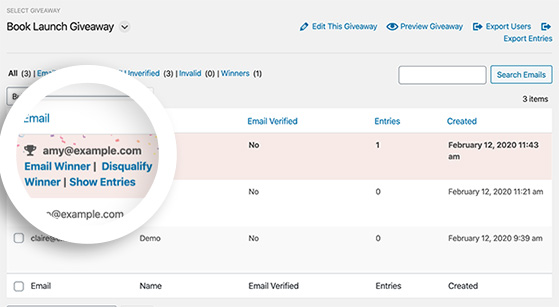 8. Follow Up After the Affiliate Contest
After you've contacted the winner of your affiliate giveaway, it's important to get in touch with those who didn't win.
Even though they didn't win your giveaway, following up with them allows you to develop stronger relationships with your affiliates.
You can follow up with participants by:
Sending an email broadcast thanking everyone for taking part and inviting them to join your next contest.
Announcing the winner via your affiliate marketing platform.
Highlighting the winner in a blog post and on your social media channels.
Recognizing your affiliates' hard work helps them see the value of entering your contest and promoting your brand.
9. Analyze Your Affiliate Contest Results
In the world of online marketing, it's hard to measure the success of your giveaway without analyzing your results. By looking at your giveaway results, you can learn how to make your affiliate contest even more successful next time.
The easiest way to get the data you need for optimizing your contest is with MonsterInsights, the best Google Analytics plugin for WordPress.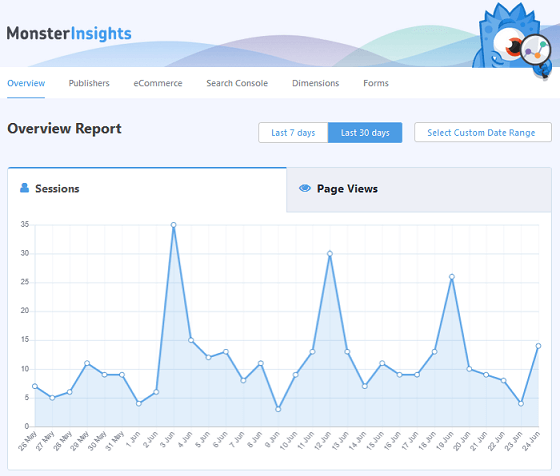 MonsterInsights makes it easy to track visitors to your giveaway landing page, affiliate referrals, web traffic, eCommerce activity, and more. You can also see all of this data right inside your WordPress dashboard with MonsterInsight's dashboard reports.
With this information, you can see which promotion strategies sent the most traffic to your giveaway page and which tactics weren't as successful. You can then use this information to improve your next contest.
There you have it!
You now know how to run an affiliate giveaway content to boost your sales and grow your business.
RafflePress WordPress contests are so easy to set up that even complete beginners can create them. With its lightning-fast giveaway builder, powerful entry actions, and user-friendly settings, you can easily grow your business with viral giveaways.
What are you waiting for?
Get Started with RafflePress Today!
Don't forget to follow us on YouTube, Twitter, and Facebook for more great tips and tutorials.