Suppose you're thinking about taking your business online. In that case, you may want to know, "How much does a website cost?".
WordPress is one of the most popular ways to create a business website, and while the software is free, the average cost varies depending on your goals and budget.
This article will answer the question, "how much does it cost to make a website" and how can you avoid overspending when building your site?
Essentials Needed to Build a WordPress Website
As we mentioned above, WordPress is a free open source software that anyone can download and install on any site. That said, there are several costs you can expect to pay before your site goes live.
You can break down the overall cost of a WordPress website into these categories:
WordPress hosting
Domain name
Website design
WordPress plugins
WordPress Hosting
First, you will need web hosting to create a self-hosted WordPress site. Your web host is your home on the internet, and it's where you'll store your website files.
Every website online needs hosting. Because there are different hosting packages for different types of websites, you'll need to pick one that fits your budget and website needs.
Domain Name
The next thing you'll need is a domain name for your website. A domain name is your website's address online; it's what users will type into their web browser to visit your website. For example, our domain name is rafflepress.com.

Many web hosting companies offer free domain names as part of their plans. Alternatively, you can use a separate domain registrar (more on this later).
Website Design
When you create a website in WordPress, you'll need a WordPress theme. WordPress themes make up your website's design and user experience.
There are many free WordPress themes and templates available. But if you need a custom design, you can buy a premium template or pay a web developer to design one for you, naturally increasing the design costs.
WordPress Plugins
There are 59,515+ free plugins available for WordPress websites. WordPress plugins enhance the functionality of your site with apps and extensions.

For example, you can use a WordPress plugin to add an image gallery, contact form, and other valuable features.
If you need advanced features for your website, you can use many premium plugins, which will add further costs to your website build.
In the end, you can build a professional website with only the cost of hosting and a domain name. However, you may end up paying for extra tools, which is why it's often confusing to figure out the actual cost of a WordPress site.
Keep reading, and we'll walk you through those costs.
How Much Should a Basic Website Cost (Low Budget)?
You can keep the cost to build a basic WordPress website under $100. It won't have many bells and whistles, but your site will be fully functional and suitable for a simple, personal website or blog.
Here is a breakdown of how much a low-budget website costs.
First, you will need web hosting and a domain name. A domain name can cost $14.99 per year, and the hosting cost can be $7.99 per month.
Luckily, we have a deal with Bluehost, an officially recommended WordPress hosting provider that offers up to 60% off hosting.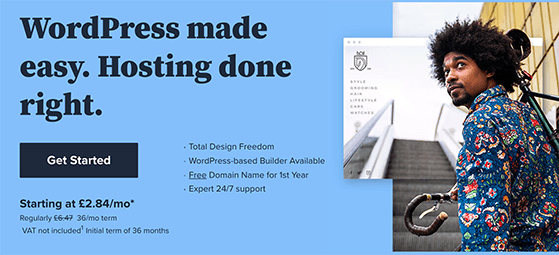 As part of the deal, you'll also get a free domain name, SSL certificate, 1-click install of WordPress, and 24/7 support. You can also check out this guide on how to choose the best hosting provider and shared hosting solutions.
After securing a host and domain name for your website, you'll need to install the WordPress content management system.
Most hosting providers, like Bluehost, offer 1-click WordPress installations. But if you need help, you can follow this step-by-step guide on how to start a WordPress blog.
The next step is to add a design to your WordPress site with a free template. As mentioned earlier, these are called WordPress themes.
WordPress offers thousands of professional, free WordPress themes you can install. Here is a round-up of the top free WordPress themes for inspiration.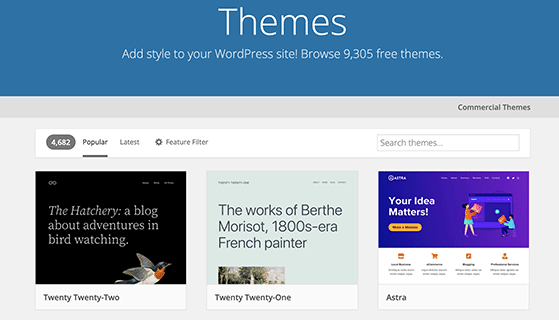 After installing a WordPress theme, you may want to add more features to your website. You can do that with a free WordPress plugin.
Here's a list of the best free WordPress plugins you should install on your website:
Functionality
Optimization
Security
Total website cost: A low-budget website can cost between $46 – $100 per year.
How Much Does a Website Cost with Advanced Features?
Starting small with a website is an excellent idea because you won't pay for features you don't need. Yet as your website grows, you may need to add more features and, as a result, increase your website costs.
For example, you may need a more powerful web hosting service like the GoGeek plan from SiteGround.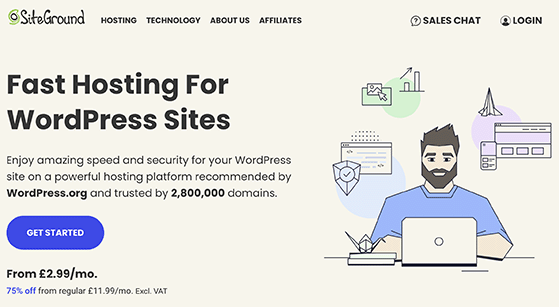 Even though it costs more, it has extra features like staging environments, improved performance, and the ability to cope with up to 100,000 website visitors per month.
You can also choose a more professional website design. Unlike free themes, premium WordPress themes offer more features and support for growing websites.
Check out these responsive WordPress themes for some excellent premium templates you can use.
With a growing website, you may also need to use a combination of free and paid WordPress plugins to get the proper functionality. Here are some of the best premium WordPress plugins and extensions you'll need:
Functionality
Marketing
Security
Naturally, there are many more tools and plugins you can add. However, each paid tool will add more costs to your website.
Total website cost: Depending on the tools, themes, and plugins you pay for, the total cost of an advanced website can be between $500 and $1000 per year.
How Much Should a Website Cost for a Small Business?
If you want to know the cost of a small business website, the answer is it depends on the tools you use and your business needs. Typically you can estimate the cost of your website to be between that of a low-cost website and one with advanced features.
If your small business website is just starting, you can easily use Bluehost's starter hosting plan to keep costs low. Yet if your budget is more flexible, SiteGround's GrowBig plan is an excellent choice because they offer excellent technical support, something website owners with limited knowledge will find helpful.
Choosing a free WordPress theme for your small business website is tempting. However, we recommend using a premium theme because they offer updates and support.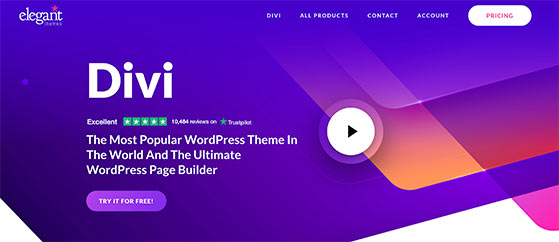 As for plugins, we suggest using a combination of free and premium plugins to keep expenses down. Here are some of the best premium WordPress plugins for small business websites:
Functionality
Marketing
Security
UpdraftPlus Pro – Access incremental backups, automatic backups before updates, and remote storage to keep your backups safe.
Sucuri Firewall – Website firewall and malware protection.
With so many more premium plugins available, we suggest trying the free versions first. That way, you can see if that tool is a good fit for your business before buying it.
Total website cost: The cost of a small business website depends on the tools you use. The price can be anywhere from $300 to $700 per year but could also go up to $1000 per year.
How Much Does an eCommerce Website Cost?
WordPress is the top choice for millions of eCommerce websites globally. Even though the cost of building an eCommerce website is a lot higher, we'll show you how to do so in the most cost-effective way.
Besides website hosting and a domain name, your eCommerce site will need an SSL certificate which costs around $69.99 per year. An SSL certificate is necessary to securely transfer information, such as credit card information, passwords, and usernames.
We suggest using Bluehost as your hosting provider because it includes a free SSL certificate and discounted hosting.
With your hosting in place, you'll need an eCommerce plugin to add website content about your products and services so visitors can buy them. There are many eCommerce plugins available, but we recommend WooCommerce.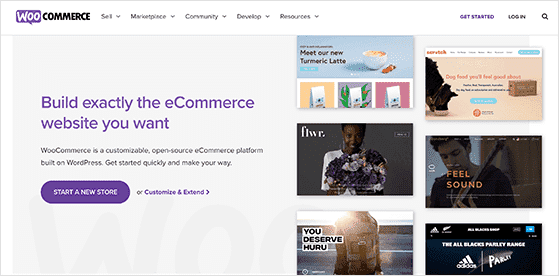 That's because WooCommerce is the best eCommerce plugin for WordPress, allowing you to build powerful online stores to sell your goods and services.
Even though WooCommerce is a free plugin, you may need to install add-ons for extra features. The cost of your eCommerce site will increase depending on how many add-ons you install.
After installing an eCommerce plugin, you'll need a WordPress theme that works seamlessly with WooCommerce. We suggest using a premium WordPress theme for this because it gives you access to updates and support.
Next, you'll need to add WooCommerce-ready plugins to your store. Here are some of the top WooCommerce plugins you can use.
You can also check out some of these other recommended premium plugins to enhance your online store:
Functionality
Marketing
Security
BackupBuddy – Back up your eCommerce site automatically.
Sucuri – Website firewall and malware scanner.
Total website cost: Building an eCommerce website can cost anywhere from $1000 to $3000. That cost could be higher depending on which tools and services you use.
How Much Does a Custom WordPress Site Cost?
Building a custom WordPress site involves hiring a developer to create a unique design and add specific features. Often, this is a solution that many large and medium-sized companies use.
Many business owners looking to build a custom WordPress site choose a managed WordPress hosting provider. Managed WordPress hosts cater specifically to WordPress sites, with fully managed updates, high-end support, premium security, and developer tools.
Alongside that and a domain name, you'll be paying a web developer to design and build your site. In that case, it's an excellent idea to get quotes from different developers, web designers, and agencies.
A custom WordPress theme can cost up to $5000. But if your website requires more specific features, the cost can go up to $150,000 and over.
How Much to Create a Custom Website Yourself?
If the cost of a custom WordPress site sounds scary, we have one solution that can reduce expenses significantly.
You can create a custom WordPress theme yourself with SeedProd Pro.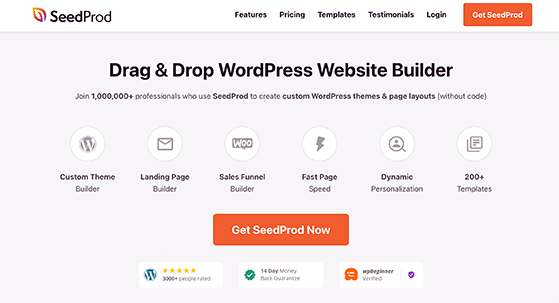 SeedProd is a complete WordPress website builder. It lets you create a custom WordPress theme, build fully functional WooCommerce stores, and make high-converting landing pages without code.
What's more, you won't need any design or technical experience to get started. The page builder is beginner-friendly, allowing you to create every part of your site with drag and drop.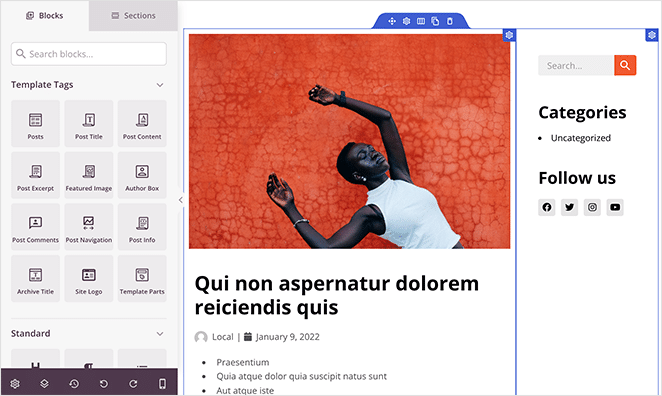 As a result, you won't need expensive developers or agencies that can cost thousands of dollars.
The cost of SeedProd Pro starts from $199.50 per year.
Add in the price of hosting, a domain name, and any other premium WordPress plugins; you're looking at paying up to $1000 for a custom WordPress website.
How to Avoid Overspending on Your WordPress Site
When building any website, it's best to start small and add features as your business grows. You won't need the shiny features you see on other sites in most situations.
Well-established websites have learned what works for them through trial and error. Because you don't have that head-start, it's best to start with a budget website and free tools.
As your site gets more traffic, you can introduce premium features like email marketing, a business email address, backup plugins, and more. It would help if you also look for WordPress coupons and deals. That way, you can score significant savings on the tools and services you use.
How Much Does a Website Cost: Summary
Here's a quick summary of how much you can expect to pay for each type of WordPress website:
| Type of WordPress Site | Cost |
| --- | --- |
| Low-budget website | $46 – $100 p/y |
| Advanced features website | $500 – $1000 p/y |
| Small business website | $300 – $1000 p/y |
| eCommerce website | $1000 – $3000 p/y |
| Custom WordPress site | $5000 – $150,000 |
| Self-build custom WordPress site | Up to $1000 p/y |
There you have it.
We hope this article helped answer the question of how much does a website cost. One thing you can do that doesn't cost a penny is to add a call now button to your website.
If you liked this article, please subscribe to our YouTube Channel for RafflePress video tutorials. You can also find us on Twitter and Facebook.