Are you looking for Jetpack alternatives for your WordPress website?
Jetpack is a popular WordPress plugin from Automattic, the team behind WordPress.com. It combines multiple features, offering a one-stop solution for various WordPress needs. However, as your website grows, you may need more advanced or specific features Jetpack doesn't provide.
In this article, we'll look at the best Jetpack alternatives to serve your growing website's needs.
Why Do You Need the Best Jetpack Alternatives?
Jetpack is a popular solution for many website owners due to its broad functionality. It offers various features, from performance optimization to security and design customization to marketing.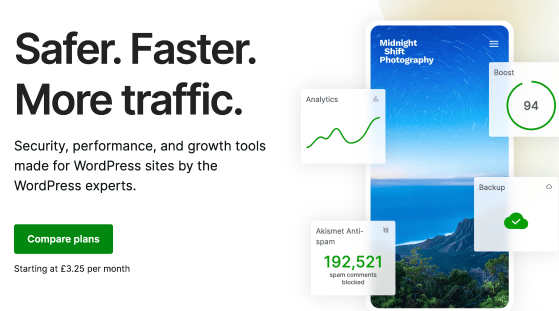 However, while its all-in-one approach is a strength, it can also be a limitation. As your website matures and your requirements become more nuanced, you may need features Jetpack can't offer.
Furthermore, dedicated third-party plugins can provide more tailored solutions, superior customization, and efficiency without requiring you to create a WordPress.com account.
Pros and Cons of the Jetpack Plugin
As with any plugin, there are advantages and disadvantages to using Jetpack on your WordPress site. As such, it's good to consider these when looking for an alternative.
Jetpack Plugin Pros
Here are some of the advantages of using Jetpack on your website:
You get a wide variety of features in a single WordPress plugin.
It's easy to install and use, with seamless WordPress integration.
The user interface is much nicer than other free WordPress plugins.
Jetpack Plugin Cons
Now let's look at some of the pitfalls of installing Jetpack on your WordPress site:
It lacks specialization and can limit advanced features and customization.
The all-in-one approach may lead to unnecessary features, potentially slowing down your site.
The cost of premium features can add up, making it less cost-effective than some standalone plugins.
It doesn't allow you to email your subscribers without publishing a blog post.
Your website eventually relies on a single plugin, making it much harder to switch in the future.
Best Jetpack Alternatives for WordPress
There are hundreds of WordPress plugins available to rival Jetpack's features. With this in mind, we've done the leg work and have found the best Jetpack alternatives below.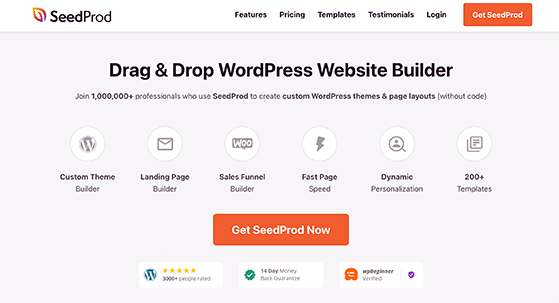 SeedProd is the best website builder and drag-and-drop page builder for WordPress. It lets you create stunning WordPress pages with advanced customizations without touching a single line of code.
While Jetpack has code-free customization options for setting up your sidebar, homepage, blog posts, and more, it has its limits. That's where a visual page builder like SeedProd can help.
With unique features, including its WordPress theme builder, full website builder, pre-made templates, and customizable blocks, you can tailor your website to look exactly how you want without hiring a developer.
SeedProd even has dedicated blocks for some of the most popular WordPress plugins, like RafflePress, WPForms, Easy Digital Downloads (EDD), and WooCommerce.
Key Features:
Built-in coming soon, and maintenance modes
Pre-made templates and sections for faster page building
Drag-and-drop landing page and theme builder
eCommerce support for WooCommerce and EDD
Support for SEO and Analytics plugins
Email marketing integrations
Subscriber management dashboard
Custom domains for landing pages
Pricing: SeedProd offers a free version, SeedProd Lite. The pro version starts from $39.50 per year.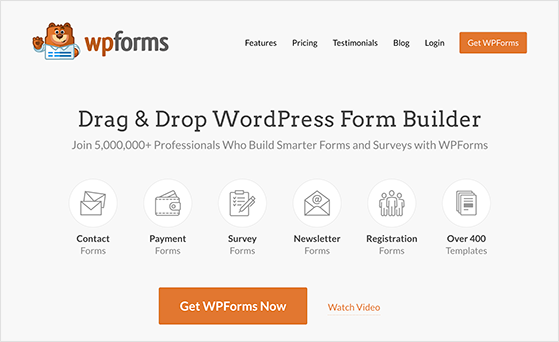 WPForms is one of the best WordPress form builder plugins. It's an excellent alternative to Jetpack's contact form feature and is used by over 6 million websites.
Besides allowing you to add contact forms to WordPress, WPForms can do so much more. With hundreds of form templates, you can create any type of form, including survey forms, signup forms, payment forms, and even forms that allow file uploads.
Building forms is a breeze with its drag-and-drop builder. You can add your forms anywhere with the WordPress block, shortcode, and widget.
The premium version of WPForms offers even more features, like conditional logic, user registration, Typeform style forms, and much more.
Key Features:
Drag-and-drop form builder
700+ pre-built form templates
Conditional logic for personalized form fields
Smart Captcha spam protection
Geolocation data
Email marketing provider integration
Pricing: You can get WordPress Lite for free. The premium version starts from $39.50 per year.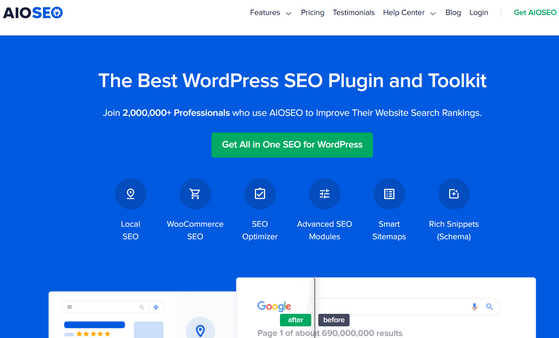 AIOSEO is the best WordPress SEO plugin and an ideal alternative to Jetpack's SEO features. While Jetpack offers SEO functionality, its features are limited, even if you're paying for the premium version.
In comparison, AIOSEO offers much more advanced features than Jetpack for improving your search engine rankings. You can create an XML sitemap, edit your .htaccess and robots.txt files, generate schema markup, and optimize social media graphs.
AIOSEO also has an in-built SEO audit checklist and TruSEO on-page analysis, which provide SEO scores to your pages. All these features make AIOSEO a powerhouse SEO tool.
Key Features:
XML sitemap generation
Supports schema markup
SEO audit checklist
Advanced canonical URLs
.htaccess and robots.txt editor
Google News sitemap and Video XML sitemap
Pricing: AIOSEO pricing starts at $49.50 per year. A limited free version is available in the WordPress repository.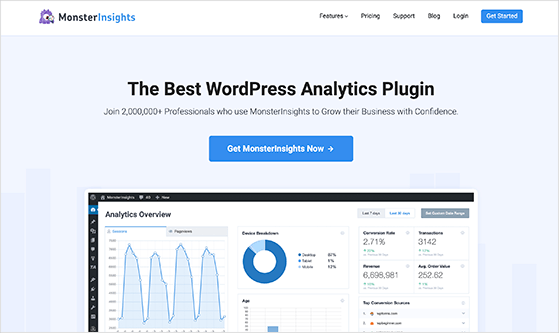 MonsterInsights is the best WordPress Google Analytics plugin. With over 3 million users, it's a popular rival to Jetpack's analytics feature, which requires a paid plan for Google Analytics integration.
While Jetpack offers basic site statistics, you'll need to upgrade to a paid plan for Google Analytics integration. MonsterInsights provides a more detailed analysis of your website traffic. With this powerful plugin, you can add Google Analytics to WordPress and make data-driven decisions to grow your business.
Moreover, MonsterInsights displays easy-to-understand analytics reports right inside your WordPress dashboard. This removes the need to dive into the often complex Google Analytics websites.
Key Features:
Real-time website analytics data inside WordPress
Detailed page-level data
Custom dimensions for tracking authors, categories, and more
Easy eCommerce tracking
EU compliance settings
Built-in Search Console report
Popular posts widget
Universal and GA4 tracking
Pricing: MonsterInsights offers a free version. Their premium plans start from $99.50 per year.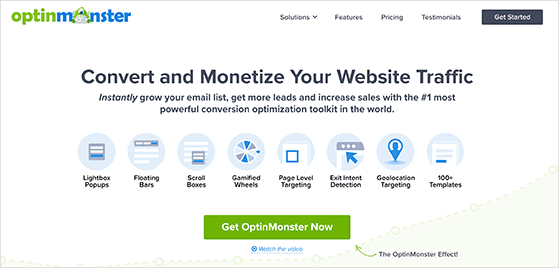 OptinMonster is one of the most powerful WordPress lead-generation tools. It's an excellent tool to use alongside your favorite CRM provider, overriding the need for Jetpack's premium CRM feature.
OptinMonster is much more flexible than Jetpack's CRM and lead generation options. It offers high-quality, customizable popup forms to convert your visitors into subscribers.
You can start with a pre-made template for spin-the-wheel, slide-ins, popup campaigns, and more, then tailor them easily with its drag-and-drop builder. And with OptinMonster's advanced page-level targeting and behavior automation, you can show the right message to the right person at the right time.
Key Features:
Drag-and-drop form builder
Multi-step forms for lead segmentation
Page-level targeting
A/B testing feature
Exit-intent technology
CRM and email marketing integration
Pricing: OptinMonster's pricing begins at $9 per month.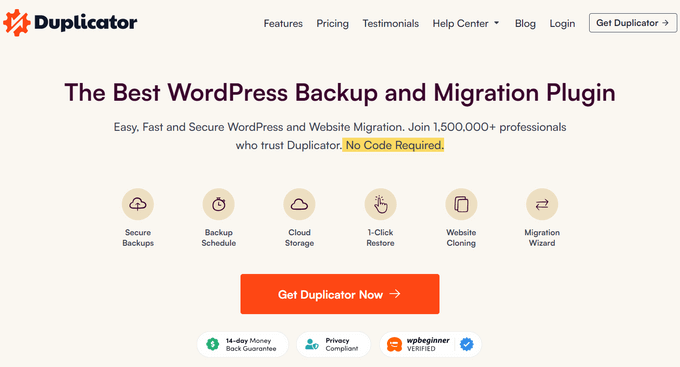 Duplicator is among the best WordPress backup plugins and a powerful alternative to VaultPress, Jetpack's backup feature. While Jetpack backups allow daily backups, this feature is only available to WordPress users on the premium plan.
In comparison, Duplicator allows backups for your entire WordPress site. It even allows backups of specific site data like your WordPress database.
Additionally, Duplicator lets you migrate your WordPress site between domain names or hosts and even clone your site easily.
Key Features:
Drag-and-drop migration
Scheduled backups
Archive encryption
Enhanced recovery points
Cloud backups to Google Drive, Dropbox, and Amazon S3
Large database support
Managed hosting support
Pricing: Duplicator's premium version starts at $49.50 per year. A free version is also available.
Alternative: UpdraftPlus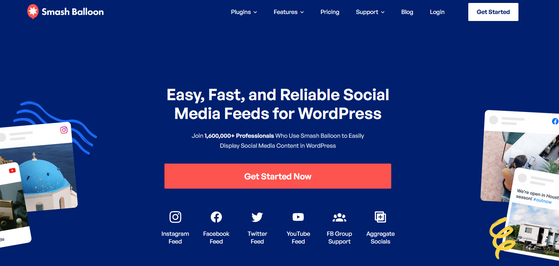 Smash Balloon is the best WordPress social media feeds plugin. It's a collection of individual WordPress plugins that can display social media feeds for popular social media platforms on your WordPress website.
Jetpack offers several extensions for adding social media content to your site. However, some may not work due to Facebook and Instagram's oEmbed issue and Twitter's API rules.
In contrast, Smash Balloon's plugins don't have those issues. As a result, you can use its mobile-responsive layouts to boost social proof and engagement with social media feeds that update automatically.
Key Features:
Feed plugins for popular social networks, including Twitter, Facebook, Instagram, and YouTube
Reviews feed plugin for TripAdvisor, Google, Yelp, Trustpilot, and WordPress.org.
Social Wall plugin pulls content from multiple social channels
Feeds include follow and share buttons and infinite scroll
Shoppable feeds for Instagram
Customizable design and layout
Pricing: Smash Balloon's individual plugins start from $49 per year. You can also find free versions on WordPress.org.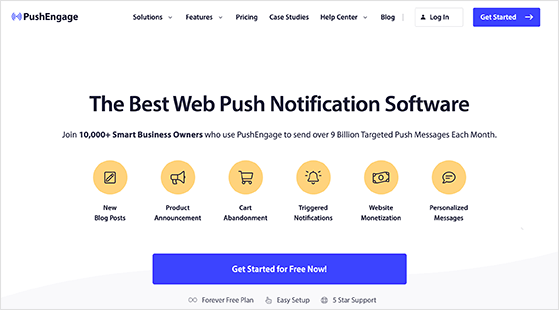 PushEngage is one of the best push notification software on the market. It lets you send direct messages to your audience's browsers, even if they're not browning your website.
While Jetpack has a subscription feature that lets you notify users of new blog posts, it lacks advanced functionality for growing websites. This is why PushEngage is an excellent Jetpack alternative.
Besides allowing you to send push notifications for new blog posts, PushEngage lets you send welcome messages, cart abandonment notifications, and triggered campaigns.
Key Features:
One-click opt-ins
A/B testing
Segmentation
Scheduled notifications
Goal tracking and analytics
Offline notifications
eCommerce integrations
Pricing: PushEngage offers a free plan, while premium plans start at $8 per month.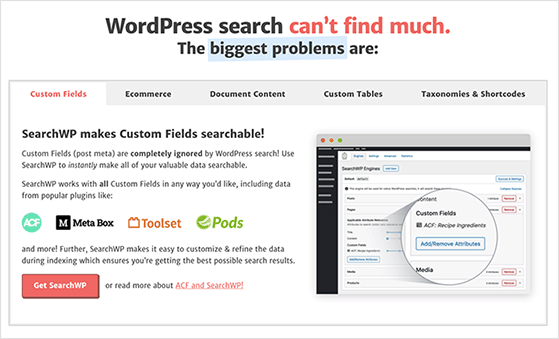 SearchWP is one of the most powerful WordPress search plugins. Jetpack has its own search feature addon; however, you'll need a premium plan to access advanced search settings, with pricing based on your site's size.
SearchWP is the best alternative to Jetpack search, no matter how large your website is. It's easy to use and makes your entire website searchable.
You'll get complete control over the search algorithm, with the ability to assign weight to your most valuable content. The plugin also provides search data, allowing you to see what users search for and tailor your content accordingly.
Key Features:
Search eCommerce products and orders
Search PDF and document contents
Custom field search
Search statistics
Pricing: SearchWP's pricing starts from $99 per year.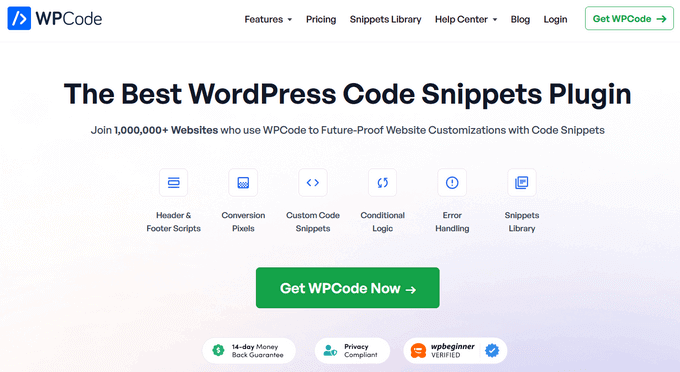 WPCode is one of the best WordPress code snippet plugins offering a smooth environment to write and test code right from your WordPress dashboard. It's the best alternative to Jetpack for adding custom CSS code to your website.
Both WordPress and Jetpack offer custom code functionality; however, Jetpack requires a premium plan. On the other hand, WPCode is free to use and keeps any changes you make on your site, regardless of the WordPress theme you use.
WPCode also has a library of popular code snippets from the WordPress community, making it easy to add custom code without writing it from scratch.
Key Features:
Real-time syntax checking
Code snippets library
Support for HTML, CSS, JavaScript, and PHP
Pricing: WPCode is available for free. The premium version starts at $49 per year.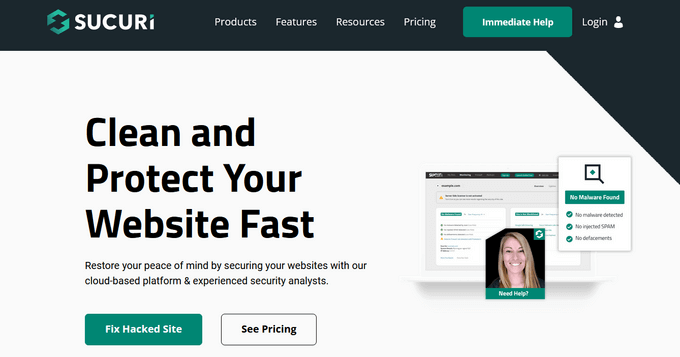 Sucuri is an industry leader and one of the most popular WordPress security plugins on the market. It helps secure your WordPress site from malware, brute force attacks, and other security threats.
Even though Jetpack scans your website for malware, this feature is only available on the most advanced premium plans. You'll need to pay an extra $10.95 per month to access this functionality without them.
In contrast, Sucuri offers a complete security package, including the best WordPress firewall to block suspicious attacks before they reach your website.
Key Features:
Malware scanning and removal
Security hardening
Firewall protection
Blacklist monitoring
CDN speed enhancement
SSL support and monitoring
Pricing: Sucuri's pricing starts from $199.99 per year.
Alternative: Wordfence security.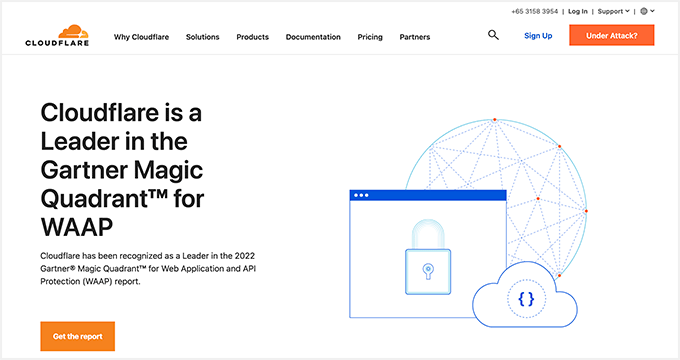 Cloudflare is a leading content delivery network (CDN) service and the perfect replacement for Jetpack's CDN feature. The Jetpack CDN helps optimize website performance by serving images through its CDN server.
However, Cloudflare goes a step further. Not only does it provide CDN, DDoS mitigation, and internet security, but it also improves your website's performance.
Furthermore, Cloudflare is a great free alternative to Jetpack's brute force attack protection.
Key Features:
CDN service
Automatic platform optimization for WordPress
DDoS protection
Web application firewall
DNS management
Pricing: Cloudflare offers a free plan for basic needs, while premium plans start from $20 per month.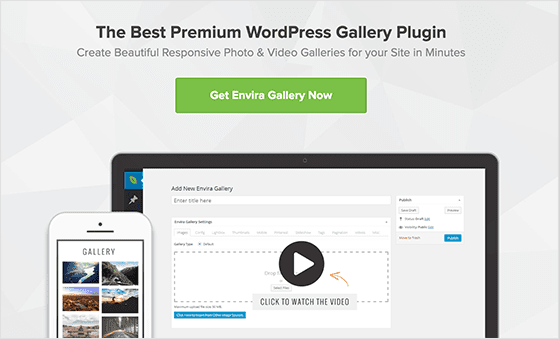 Envira Gallery is a popular WordPress gallery plugin. It's a great alternative to the Jetpack responsive galleries feature, which pales compared to the extensive options and control that Envira Gallery offers.
Envira Gallery is beginner friendly and offers a drag-and-drop gallery builder for creating responsive photo galleries quickly. It has a helpful template gallery and advanced features like lazy loading, image lightbox popups, and much more.
Key Features:
Drag and drop builder for easy gallery creation
Albums and tags for efficient image organization
Social sharing, watermarking, and password protection
eCommerce integrations for selling photos right from your site
Lightbox popup to display images
Pricing: Envira Gallery pricing starts at $29 per year. They also offer a limited free version.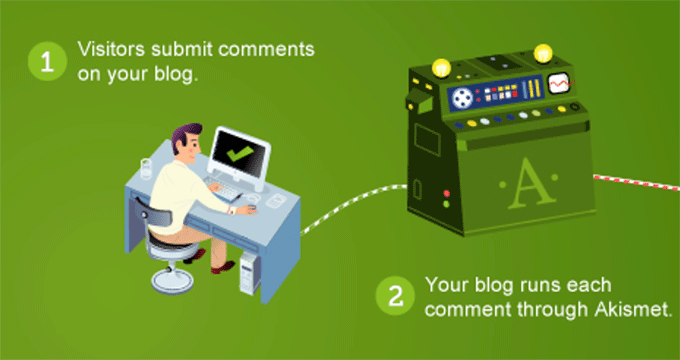 Akismet is a free WordPress spam protection plugin. It often comes installed automatically with WordPress, allowing you to filter spam comments easily.
Jetpack offers anti-spam functionality for its highest premium plans. If you don't have a Security or Complete plan, you need to pay an additional $4.95 per month for spam protection.
Akismet is an excellent Jetpack alternative for spam filtering. It checks your comments and forms submissions against its global spam database to prevent your site from publishing malicious content.
Key Features:
Automated spam filtering
Discard feature that outright blocks the worst spam
Status history for each comment
Pricing: Akismet offers a free version, with monthly premium plans starting at $8.33.

Shared Counts is among the best social media plugins for WordPress. It provides bloat-free social sharing buttons that won't impact your website's performance.
Jetpack offers several social media sharing extensions for displaying social media buttons, sharing icons, and widgets. However, many of these lack several social integrations.
SharedCounts, on the other hand, supports the most popular social media integrations, including Pinterest, Yummly, Facebook, LinkedIn, and email, and even includes a print button. It also lets you display share counts on your website to boost social proof.
Key Features:
Share count recovery
GDPR compliant
Various display styles
Integrates with popular social networks
Pricing: Shared Counts is a free WordPress plugin.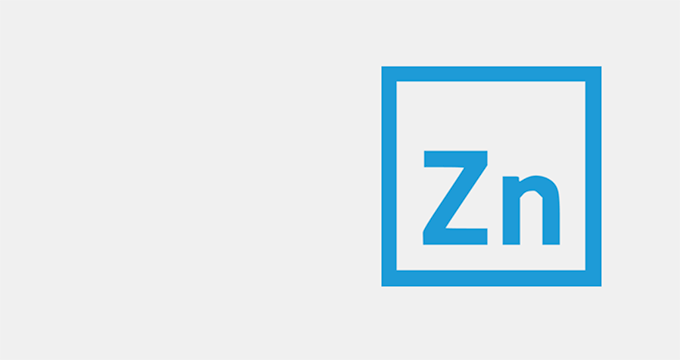 Auto Post to Social Media is the top alternative to Jetpack's social scheduling feature. Jetpack's scheduling feature, Publicize, lets you plan and schedule social posts in advance but requires a premium plan to use.
With Auto Post to Social Media, you can connect your WordPress site to Buffer and automatically schedule your posts. It also offers more control and scheduling features, such as auto post to Facebook Groups, Google Business, Mastodon, and more.
Key Features:
Automatically shares new posts to social media
Customize social media messages
Supports Facebook, Twitter, LinkedIn, and more
Pricing: Auto Post to Social Media is a free plugin, with a premium version starting at $39.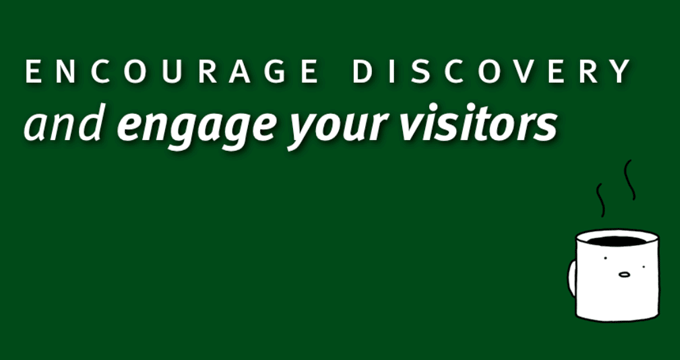 Yet Another Related Posts Plugin is a top WordPress related posts plugin and an excellent replacement for Jetpack's built-in related posts feature.
YARRP allows you to display posts, pages, and custom post types related to the content users are viewing. It offers more customization options than Jetpack's feature, such as thumbnail support and display related posts by text, and is used by over 100,000 WordPress sites.
Key Features:
Display a list of related content to engage readers
The algorithm considers post titles, content, tags, and categories for better accuracy
Customizable templates to match your site design
Supports both thumbnail and list views of related content
Pricing: Yet Another Related Posts Plugin is free to use.
Next: Try RafflePress Giveaway Builder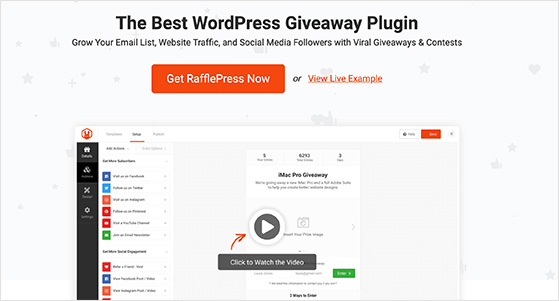 Before we end this guide on the best Jetpack alternatives, allow us to introduce RafflePress. It's the best WordPress giveaway plugin, allowing you to run any giveaway or contest from your WordPress website without code.
Unlike Jetpack, which doesn't include a native feature for organizing contests or giveaways, RafflePress is purpose-built for this task, providing robust features to help grow your email list, website traffic, and social media followers.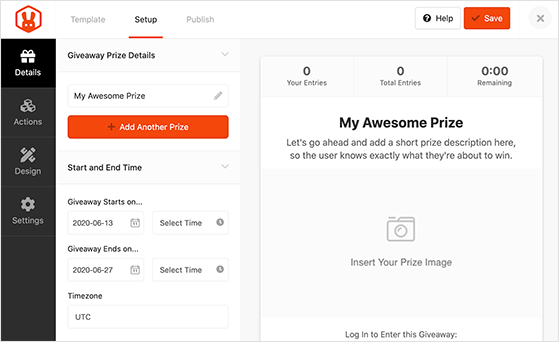 Key Features:
Drag-and-drop giveaway builder
Pre-made giveaway templates
Viral sharing (Refer-a-Friend
Image submissions
One-click entry
Social media integration
Email marketing integrations (Mailchimp, Constant Contact, Zapier, Webhooks, and more)
Success tracking
These features are not just nice to have but can significantly boost your marketing efforts. By running contests and giveaways, you can create excitement around your brand, drive user engagement, and foster brand loyalty.
RafflePress also shines with its ease of use, thanks to the intuitive drag-and-drop giveaway builder. This, coupled with its integrations with various social media and email marketing platforms, ensures your giveaways reach a wider audience and achieve their marketing goals.
Pricing: RafflePress pricing starts from $39.20 per year. A limited free version is also available in the WordPress repository.
Get Started with RafflePress Today.
We hope this guide helped you find the best Jetpack alternatives for your WordPress website. You might also like our guide on the best WooCommerce plugins for WordPress.
If you liked this article, please subscribe to our YouTube Channel for RafflePress video tutorials. You can also find us on Twitter and Facebook.