Do you want to learn how to create a coming soon page in WordPress?
With a pre-launch page, you can hide your website's construction from the public and drive traffic and leads before your site is live.
In this article, we'll show you how to create a coming soon page in WordPress step-by-step that helps grow your business from day 1.
But first, let's explore what a coming soon page is and when you should use one for your website.
What Is a WordPress Coming Soon Page?
A coming soon page is a type of landing page designed to tell website visitors that your new WordPress site is coming soon. Sometimes it might be called something different, such as a pre-launch page or an under-construction page. Either way, the message is the same: something awesome is arriving soon.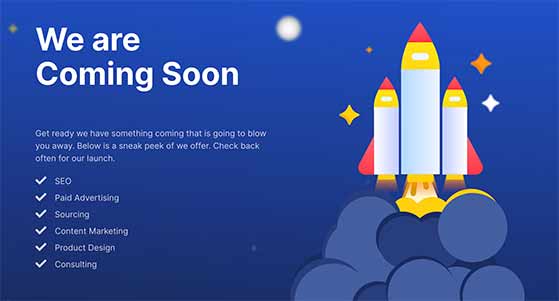 Visitors can learn more about your business on your coming soon and get a sneak peek at what's coming while the actual work is hidden. Sometimes this is confused with Maintenance mode, which you should use when you're only making minor changes.
If you're unsure, check out this article to learn the difference between Coming Soon vs Maintenance Mode.
Coming soon pages usually include the following page elements:
Headline and message telling people about your new website
Optin form for collecting email addresses to notify users when your site launches
Social buttons directing users to your social media profiles
Contact form that lets users get in touch and ask questions
Countdown timer that counts down until launch day
This means you can generate traffic, leads, and interest in your target audience well before your website is due to go live.
Creating a coming soon page is also an excellent way to rank your website in Google search results. Search engines like Google take time to index new pages, so having a landing page up as soon as possible will cut some of the wait time.
Plus, the Google bots that look out for new websites to index don't mind if they see a coming soon message. They care about the content, keywords, and user experience. So by adding a keyword-optimized and engaging under-construction page to your site, you're doing your business a favor in the long term.
Now that you know what a coming soon page is and when to use one, let's look at how to create a coming soon page in WordPress with our step-by-step guide.
How to Create a Coming Soon Page in WordPress
The easiest way to create a coming soon page for your website is with a WordPress coming soon plugin. We'll be using SeedProd, the best WordPress website builder, coming soon page and maintenance mode plugin on the market.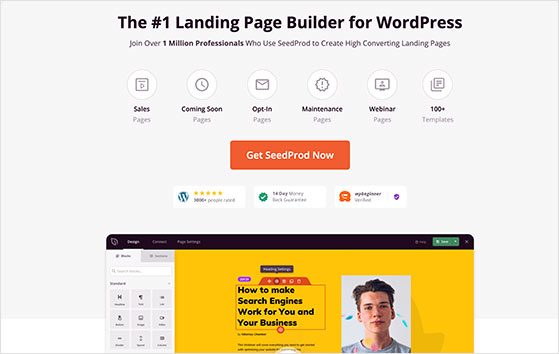 SeedProd makes it easy to build any page or layout in WordPress, and it's one of the best landing page plugins for speed and ease of use.
You can select from over 100+ stunning landing page templates or create a custom layout from scratch with the easy drag-and-drop builder, with no coding needed.
SeedProd also has the following powerful features:
WordPress theme builder (Pro version)
WooCommerce support (Elite version)
404 and login pages
Built-in coming soon, and maintenance mode pages
Live front-end previews
Import/export functionality
And much more
Compared to other page builders that are slow and bloated, SeedProd is optimized for speed. This ensures your pages are the fastest, so you can rank higher in SEO.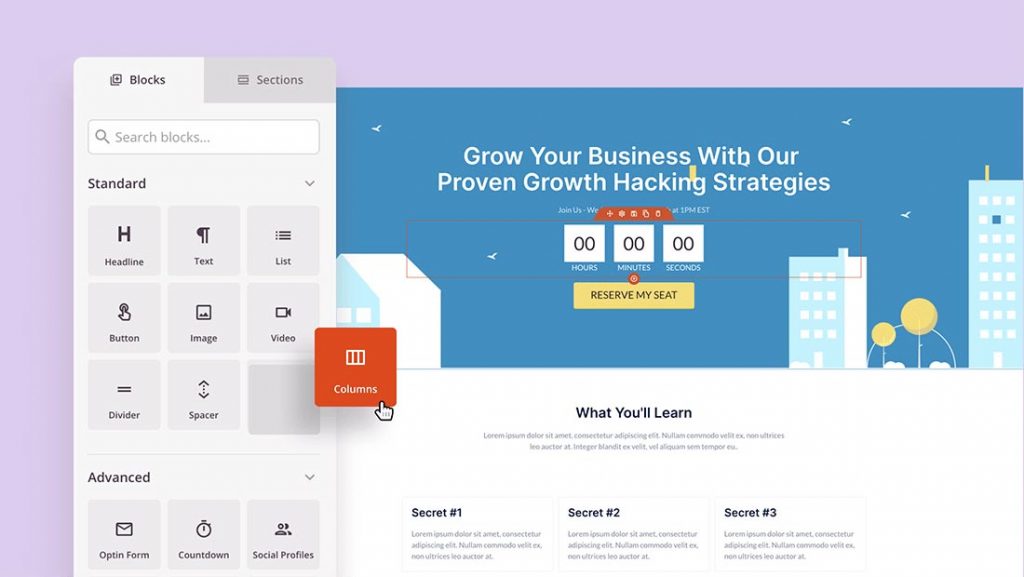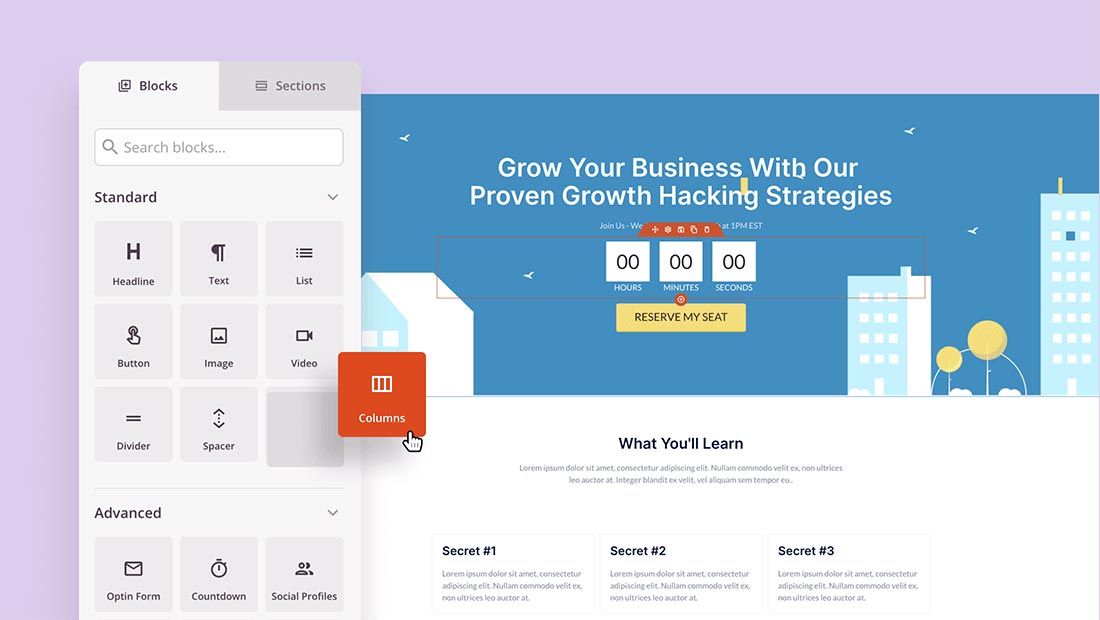 SeedProd's smart design system helps you save time by saving and reusing elements across your pages instead of repeating the same work. You can set color schemes and font combinations and save page templates, custom page blocks, sections, and more.
It comes with all the blocks and features you'd expect, such as:
Optin signup forms
Social profiles
Countdown timers
Buttons
Star ratings
And more
Many blocks even have pre-made templates so you can speed up the design process and add your favorite styles with 1 click, which is ideal for beginners.
SeedProd works with all major WordPress plugins. It also includes subscriber management and is easily integrated with popular email marketing services like Constant Contact, Mailchimp, ActiveCampaign, and more.
Best of all, it has built-in coming soon and maintenance modes you can turn on and off with a single click. This makes building and launching your coming soon page a breeze.
If you want to create a coming soon page in WordPress easily, follow this tutorial to do it with SeedProd.
Step 1: Install the SeedProd Landing Page Builder
First, click here to get started with SeedProd and download the plugin to your computer. Then if you need a little help, you can follow these steps for installing a WordPress plugin.
Note: SeedProd offers a free version with simple functionality. However, we'll use the premium version for the advanced features.
After installing and activating the SeedProd plugin, you'll see a page asking you to enter your license key. After purchasing the plugin, you'll find the license key in your SeedProd account under the Downloads section.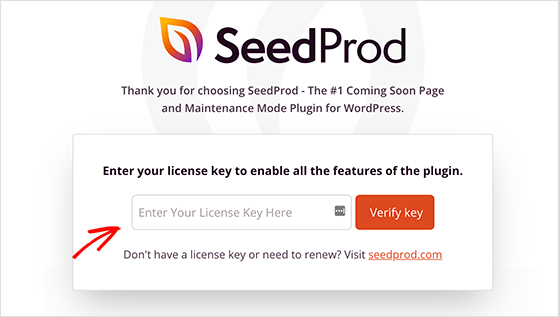 Enter your key in the box provided and click the Activate Key button.
Next, click SeedProd » Pages from your WordPress admin area to see the SeedProd dashboard where you can create your first coming soon page.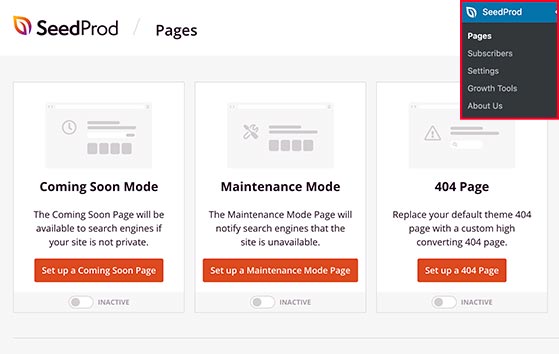 Step 2: Create a New Coming Soon Page
Along the top of the SeedProd dashboard, you'll see 3 different page modes, which include:
Coming Soon Mode – For creating a coming soon page in WordPress.
Maintenance Mode – To put your WordPress website in Maintenance mode.
404 Page – For showing a custom 404 error page on your website.
Underneath, you create any other type of landing page using the drag-and-drop builder.
Since you want to build a coming soon page, click the Set up a Coming Soon Page button in the Coming Soon Mode section.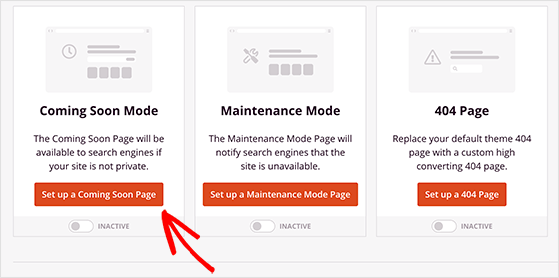 This will redirect you to SeedProd's growing library of landing page templates. SeedProd will automatically filter the templates to show the available coming soon page templates.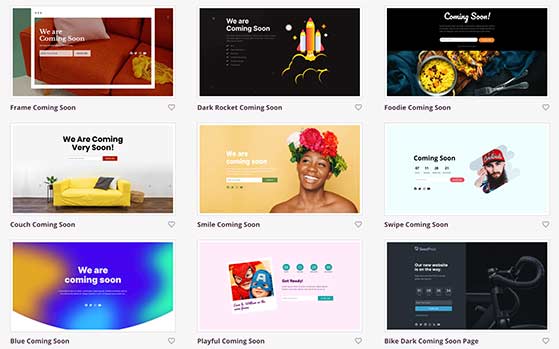 You can choose any template you like, then when you're happy with the design, hover your mouse over the template thumbnail and click the tick icon to launch it in the visual page editor.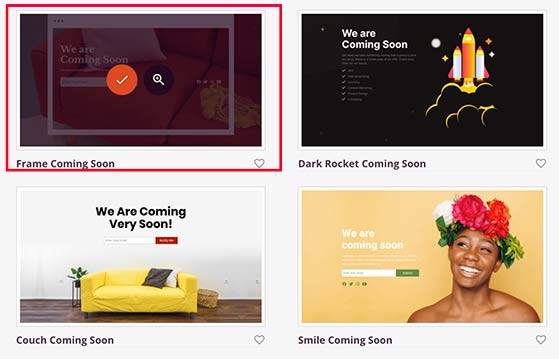 For this example, we'll use the Frame Coming Soon template.
Step 3: Edit Your Coming Soon Page Content
With the visual drag-and-drop builder, you can now add new content to your coming soon page.
On the left side of your screen are the available landing page blocks you can use to edit your page content.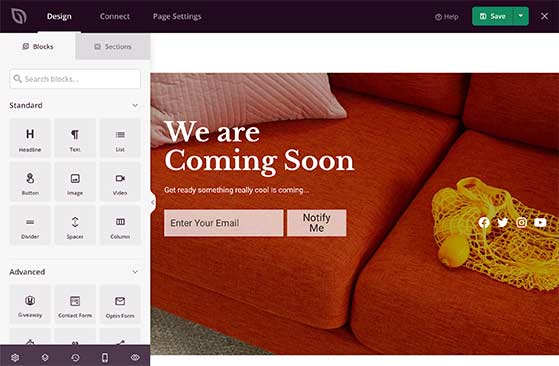 SeedProd's landing page blocks come in 2 different sections: Standard blocks and Advanced blocks.
The Standard landing page blocks include everything you need to design a great-looking page, including image blocks, headlines, text, buttons, video blocks, bullet lists, dividers, and more.
In comparison, the Advanced blocks are more focused on generating leads and growing your email list, such as:
Giveaway Block
Contact Form
Optin Form
Countdown Timer
Social Sharing
Social Profiles
Star Rating
Progress Bar
HTML
And more
The main focus of these blocks is to maximize your lead generation efforts before you launch your website. As a result, you won't see any unnecessary elements cluttering the builder.
Plus, almost all of these blocks integrate with powerful WordPress plugins such as RafflePress to create an online contest, WPForms to build user-friendly contact forms, and many more without needing a developer.
Adding any block to your coming soon page is as simple as dragging one from the left side of your screen onto your coming soon page.
For example, if you want to let people know how long is left before your website launches, you might want to add a countdown timer.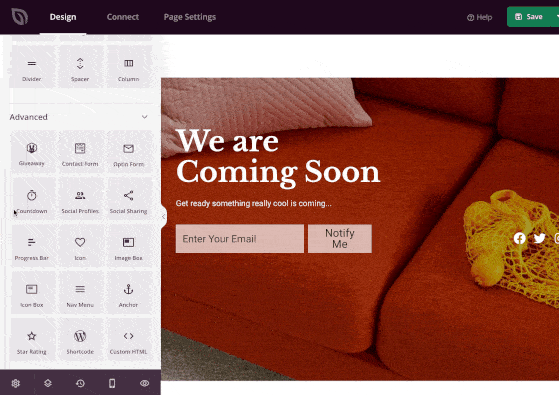 Just drag the countdown timer block from the left-hand panel and drop it on your page on the right.
Clicking the countdown timer block on your page preview shows several customization options in the left panel. Here you can change the countdown type, set an end date and time, change the alignment, and more.
You can also select a different style by clicking the Templates tab and choosing the one you like the most.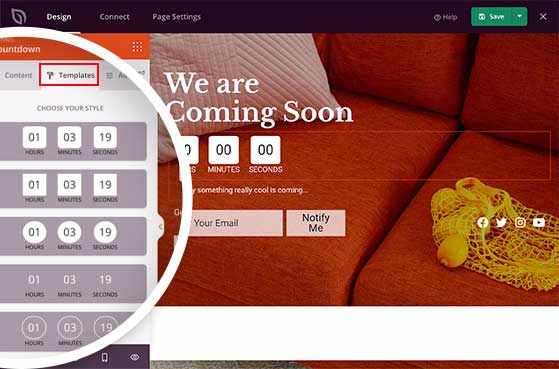 You can choose custom colors, typography, shadows, and more in the Advanced tab until you're happy with the final look.
SeedProd also has several content sections to complement the page blocks. You can find them by clicking the Sections tab on the left.
Sections are premade layouts you can add to your coming soon page without having to build them block-by-block.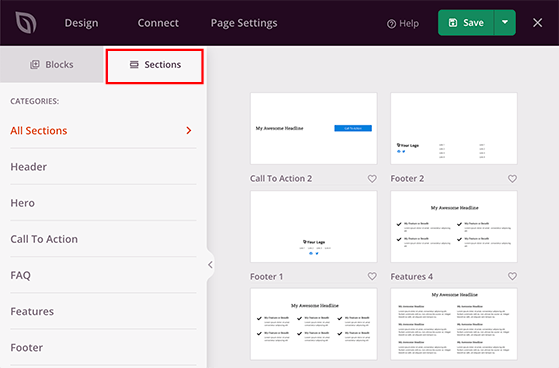 You can find sections devoted to headers, hero areas, calls to action, FAQ, features, and footer areas. Clicking any section automatically adds it to your coming soon page.
In the example below, we added a FAQ section to our coming soon page. This will help answer users' questions about your new website before the big day.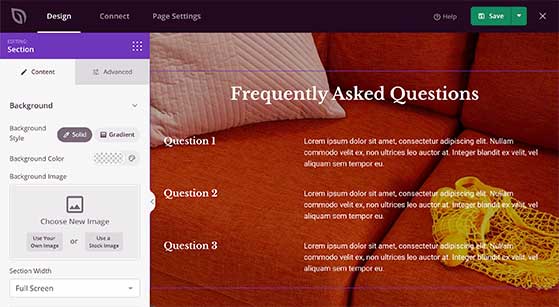 Continue adding content to your page until you're happy with how everything looks. Then click the Save button in the top-right corner to store your settings.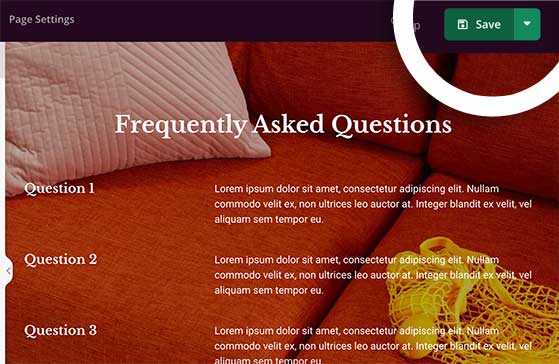 Step 4: Customize Your Coming Soon Page
The next step is customizing your coming soon page to match your website's branding.
To do this, click the Global Settings option, which is the gear icon in the bottom-left corner of the page builder.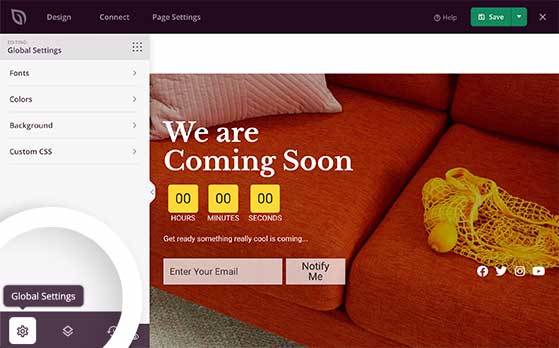 This takes you to the Global Settings page, where you can customize your entire page's colors, fonts, background colors, and images, and even add your own custom CSS.
To change your global page background, click the Background section.
In the background customization panel, you can change the background style to solid or gradient, add a background color, and upload a new background image. It's also possible to add a background video or scrolling slideshow.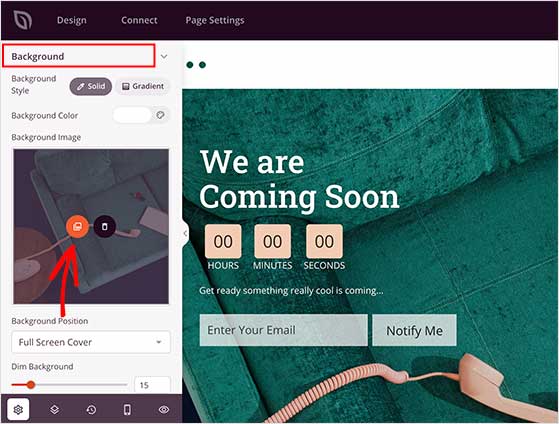 To change the background image, hover your mouse over the background photo thumbnail, and click the image icon. Then you can upload a new image from your computer or your WordPress media library.
If you want to change your global color settings, click the Color section.
In this area, you can change the color of your headers, text, buttons, links, and text backgrounds.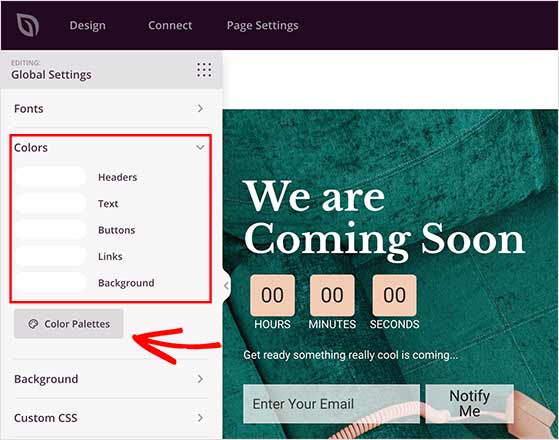 You can also click the Color Palettes button and select from over 20 pre-made color palettes for your coming soon page.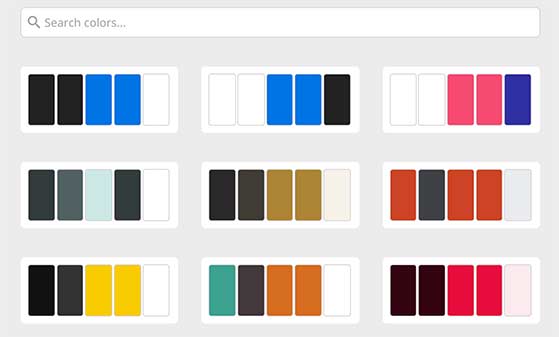 The same is true for the Fonts sections.
You can select from hundreds of Google web fonts and change the font weights.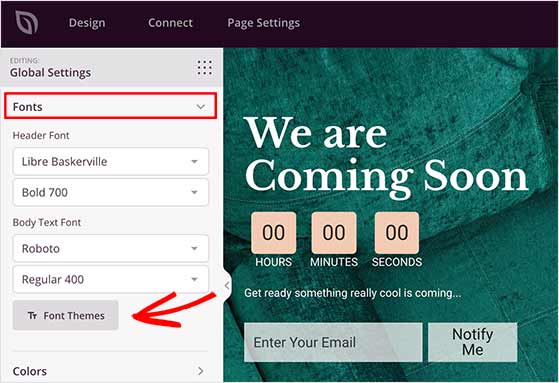 Clicking the Font Themes button reveals a library of different font combinations with a preview of how they'd look on your page.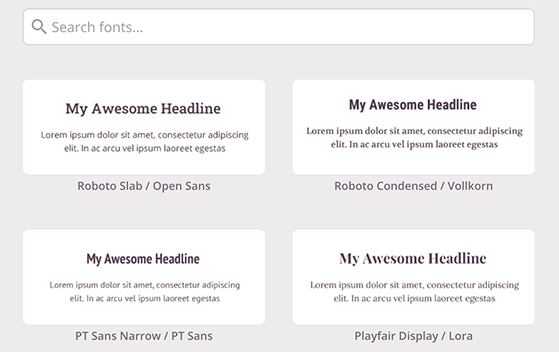 Remember to click Save before moving on to the next step.
Step 5: Integrate Your Email Marketing Service
To manage new email list subscribers, you'll need to connect your email marketing service to your coming soon page. SeedProd makes this easy by integrating with popular email marketing providers.
First, click the Connect tab at the top of the page builder. This will show you all the different connections available.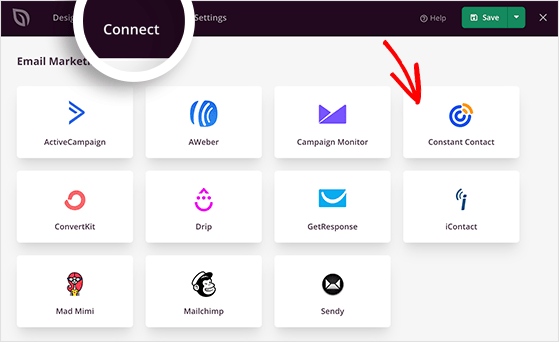 Then go ahead and select your preferred email service and click the Connect New Account button.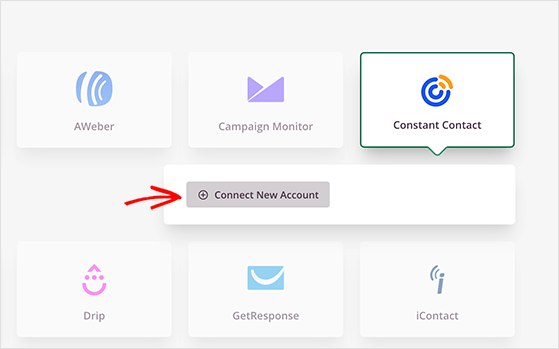 After that, follow the on-screen instructions to authorize and verify the connection.
For complete instructions on integrating specific email providers, see the SeedProd integration documentation.
On the same page, you can also connect to Google Analytics to track your page performance, Recaptcha to prevent spam, and Zapier, which provides access to thousands of tools and applications.
Step 6: Configure Your Coming Soon Page Settings
Once you've connected your email list, you'll need to configure your page settings. You can do this by clicking the Page Settings tab at the top of the page builder.
On this page, you can configure your page's general settings, SEO, and Analytics settings via All in One SEO and MonsterInsights, and add custom header, body, and footer scripts.
The most important section is the Access Control area. You can control who will see your coming soon page and who sees your standard website on this page.
You can exclude URLs with the terms: login, admin, dashboard, and account to prevent lockouts. Or you can create a bypass cookie instead of creating a WordPress user to bypass the page.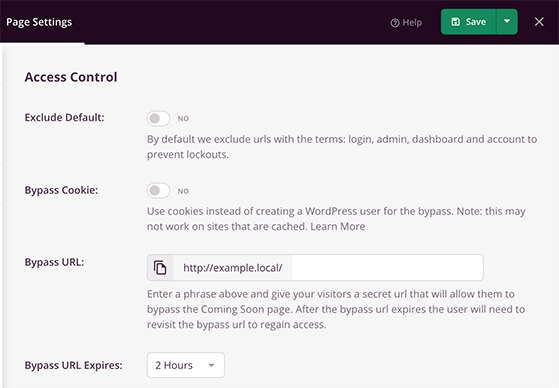 Creating a unique Bypass URL for your coming soon page is also possible. Then anyone who accesses your website with that URL will bypass the coming soon page and see your standard website. This helps you share your progress with a client or another member of your team who doesn't have login access.
Furthermore, you can hide specific pages in WordPress by using the Include/Exclude URLs section. Just add any page URL you want to hide behind your coming soon page on a new line in the box provided.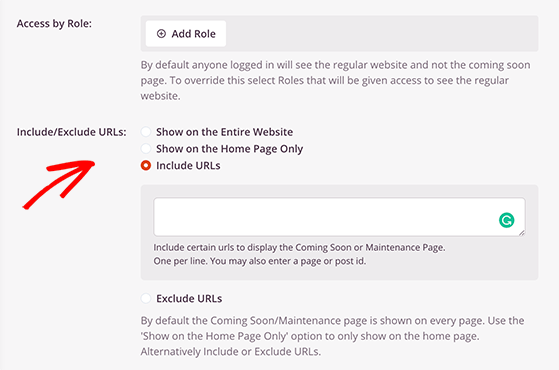 When you've finished configuring your settings, click the Save button.
Step 7: Publish Your Coming Soon Page
Now that you've created your coming soon page in WordPress, it's time to make it live. But before you do that, you must ensure it displays correctly on different device sizes.
SeedProd makes it easy to preview your landing page on both desktop and mobile devices to check that it's responsive.
Switch to the Design tab to view your coming soon page in the visual editor, then click the Mobile Preview option in the bottom-left corner.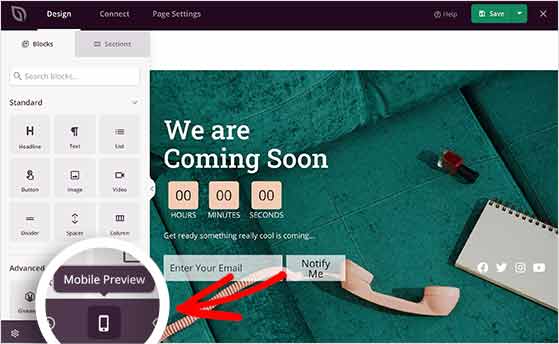 This will show you a preview of your coming soon page as users see it on mobile devices. You can edit the mobile preview, just like the desktop version, if anything looks odd.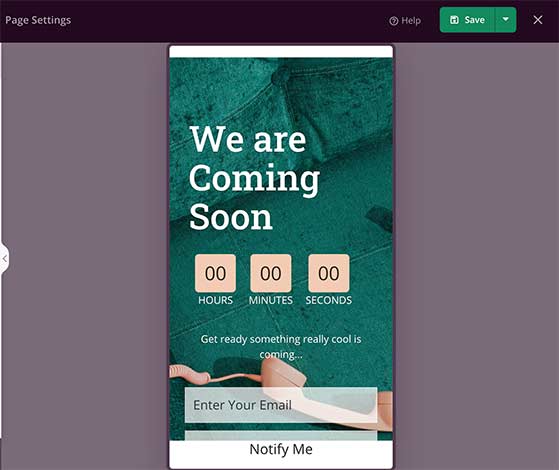 Just click the same icon in the bottom-left corner to switch back.
Now that everything looks great let's go ahead and publish your coming soon page.
In the top-right corner of your screen, click the downwards arrow next to the save button, and click Publish.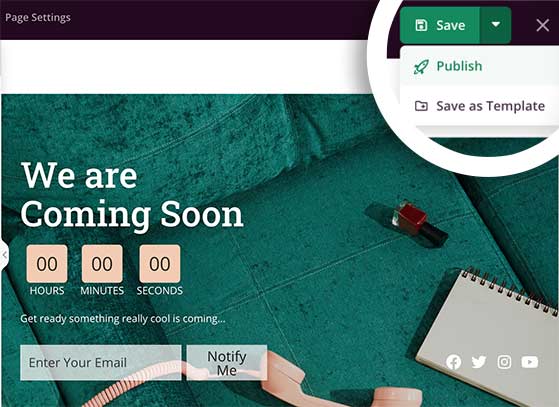 SeedProd will then show a popup telling you your coming soon page has been published.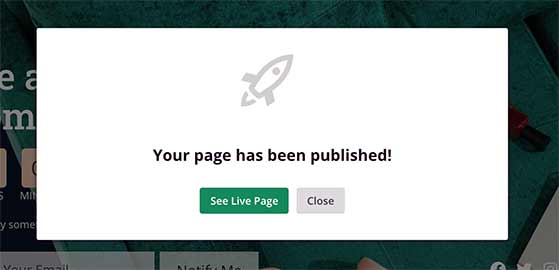 Click the See Live Page button for a live preview of how it looks.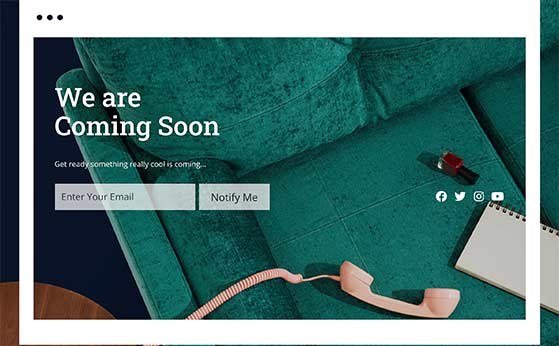 Step 8: Enable Coming Soon Mode in WordPress
With your coming soon page published, the last step is to enable coming soon mode on your WordPress website.
From your WordPress dashboard, navigate to SeedProd » Pages and find the Coming Soon Mode section.
Then, turn the toggle from Inactive to Active.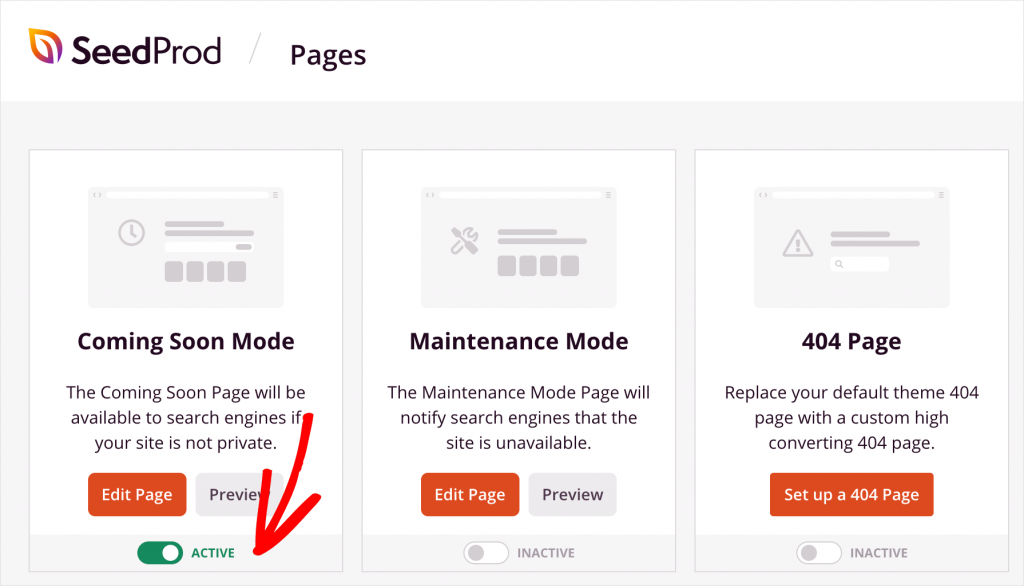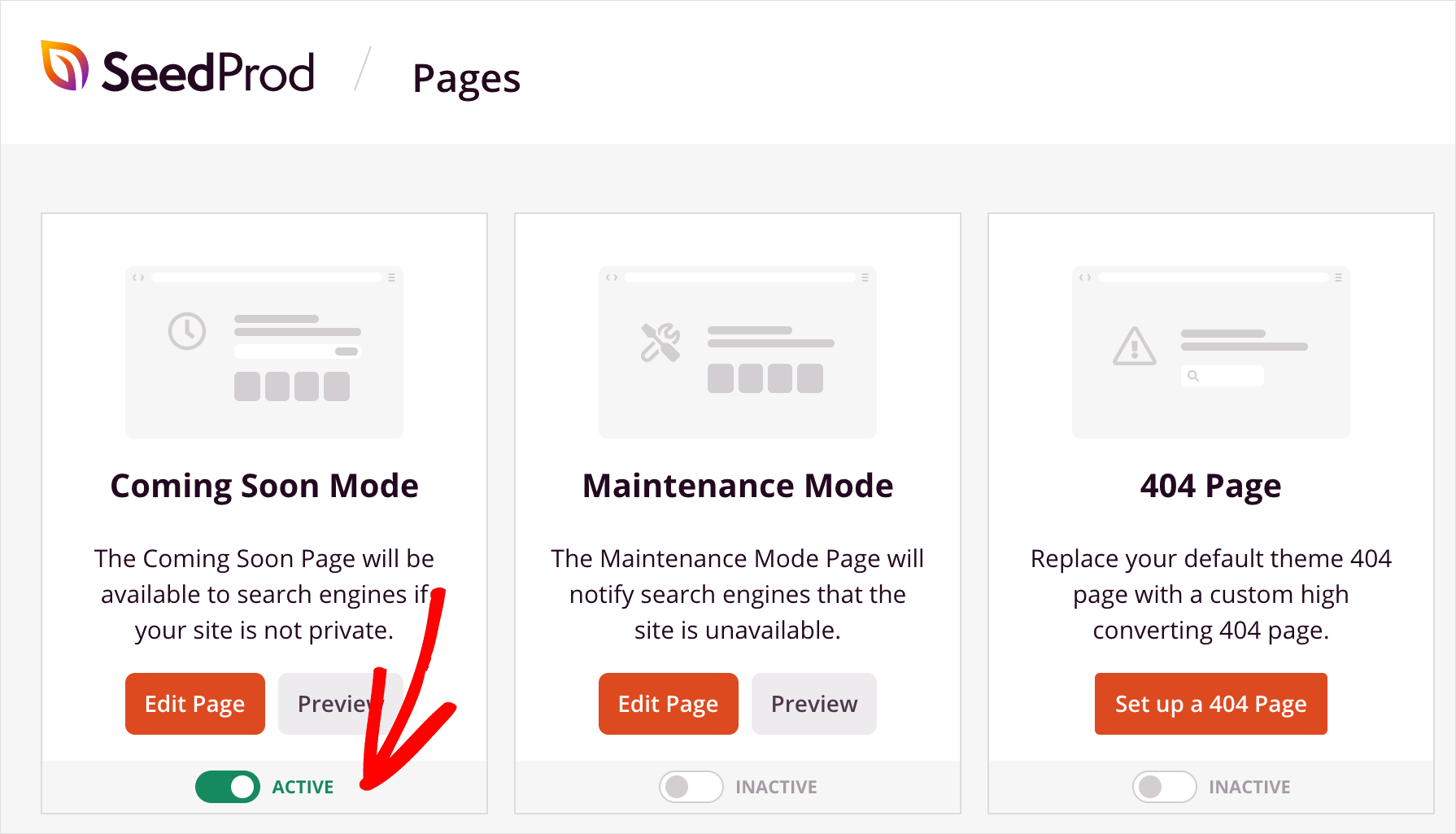 Now anyone visiting your website will see the coming soon page you just created.
Congratulations!
We hope this article helped you learn how to create a coming soon page in WordPress.
To generate even more leads before you launch, you might want to run a giveaway on your coming soon page. Why not check out this article to see if giveaways are good marketing before deciding?
While you're here, don't forget to follow us on YouTube, Twitter, and Facebook for more great tips to grow your business.