Are you looking for the best WooCommerce plugins to take your online store to the next level? Many WordPress plugins are designed to work seamlessly with WooCommerce enabling you to add new features and grow your business with a Shopify-style online store.
Yet, how do you find the best WooCommerce plugins for your eCommerce business with so many free and premium options to choose from?
In this article, we've picked some of the best WooCommerce plugins to skyrocket your sales and grow your business.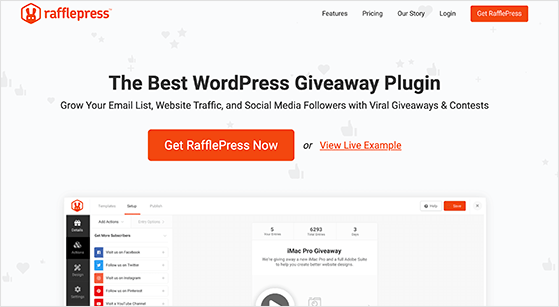 Running contests and giveaways is one of the best ways to boost your audience and increase your brand engagement. They can also help you grow your email list to develop better customer relationships.
RafflePress is the best giveaway plugin for WordPress. It makes it super easy to create online contests and giveaways for your website, blog, and social media platforms.
You can build brand engagement by letting website visitors and social media followers gain extra contest entries by completing promotional tasks like signing up for your newsletter, submitting user-generated content, and sharing your contest with viral referral actions.
RafflePress has a streamlined user-interface and a drag-and-drop giveaway builder, which gives you the ability to create an eye-catching giveaway in minutes. It also comes with success tracking and retargeting options so you can monitor your contest and increase entries.
What's more, RafflePress has built-in fraud and spam protection, distraction-free giveaway landing pages, and integrates with various email marketing services.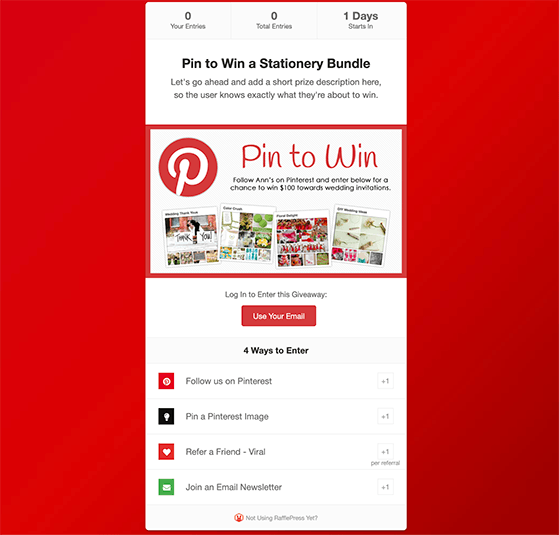 Key Features
Multiple 1-click entry options for major social networks
Drag and drop giveaway builder
Success tracking and retargeting
CRM and marketing integrations
Fraud protection
Why You Need This WooCommerce Plugin
RafflePress makes it easy to create online contests to drive engagement and send more people to your WooCommerce product pages and social media platforms.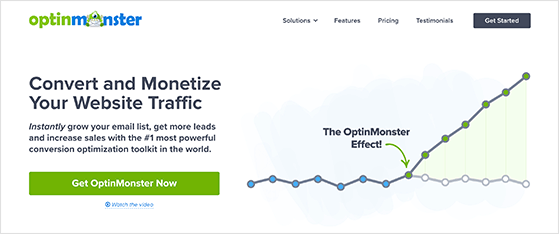 OptinMonster is the most powerful lead generation software for marketers. It helps businesses convert website visitors into subscribers and paying customers.
With the easy-to-use drag and drop builder, you can build various stunning opt-in campaigns or use one of the many pre-built templates. You can create eye-catching lightbox popups, full-screen welcome mats, exit popups, and more, without touching a single line of code.
Key Features
Coupon Wheel opt-in campaigns to increase sales and conversions
Drag and drop campaign builder
Campaign triggers to show options to the right people at the right time
Location-based targeting to improve customer experience
Unlimited customization options
Integrates with eCommerce platforms, email providers, and the best WordPress plugins.
Why You Need This WooCommerce Plugin
OptinMonster works with every major email marketing service to drive your lead generation efforts. With targeting and segmentation features, you can serve personalized messages to shoppers based on their behavior to get more engagement, conversions, and sales. The A/B testing option also lets you split-test your campaigns for the best results.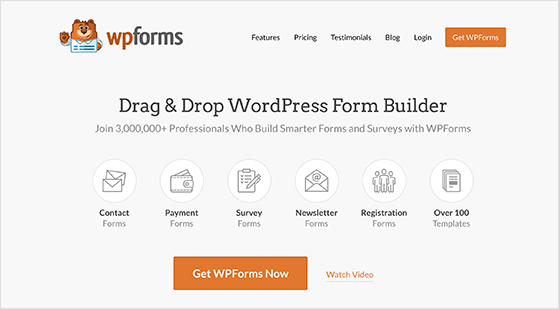 WPForms is the most popular contact form plugin for WordPress. It lets you create both simple and more advanced forms for your website without needing to code.
WPForms' drag and drop form builder comes with a wide variety of form templates you can launch and customize with a couple of clicks. You can easily create simple contact forms, order forms, multi-step forms, registration forms, take bookings, and even build more detailed survey forms with star ratings.
Key Features
Easy drag and drop form builder
Tons of customizable form templates
Create polls and display the results in real-time on your site
Visualize your form insights with beautiful reports
Payment gateway integration includes PayPal, Stripe, Square, and more.
Why You Need This WooCommerce Plugin
A contact form is an essential component of any website, including WooCommerce stores. With WPForms, you can create fully functional contact forms so your shoppers can stay in touch, and you can answer their questions and solve issues.
You can also get started with the free version; however, we recommend the Pro plugin for the advanced features, payment method integration, and more.
Click here to see our detailed WPForms review.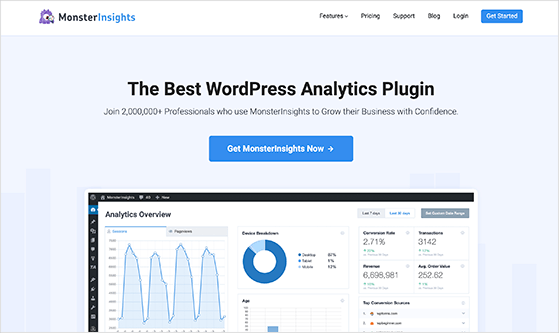 MonsterInsights is the best Google Analytics plugin for WordPress. This powerful plugin helps you keep track of all your important eCommerce data and metrics, such as conversion rates, transactions, revenue, and more. You can then view all that data right inside your WordPress dashboard in easy-to-understand reports.
Key Features
Real-time website analytics
Track related products on your WooCommerce site
Tracking for individual customers
WordPress dashboard reports
Why You Need This WooCommerce Plugin
With MonsterInsights' powerful analytics plugin, you'll have all the data you need to make improvements to your store and ensure your eCommerce site is successful.
Check out this MonsterInsights review for more details.
Or you can follow this guide to add Google Analytics to WooCommerce with MonsterInsights.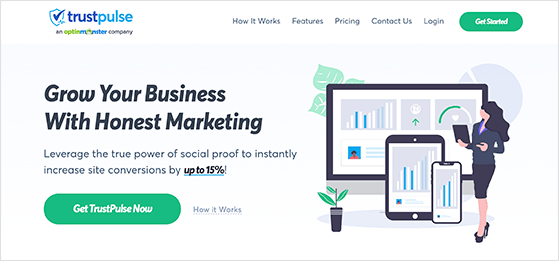 TrustPulse is a powerful tool for showing social proof on your website and building trust with your visitors. It shows a small notification popup of real-time activity other shoppers on your website have recently taken.
Key Features
Real-time tracking of purchases, registrations, signups, and other events
Boost conversions with advanced targeting rules and timing controls
Add on-fire notifications to show the number of people taking action at specific times
Customize notifications to match the branding of your site
Easy setup on any website with zero coding
Why You Need This WooCommerce Plugin
When it comes to purchasing decisions, people are 92% more likely to trust other shoppers' recommendations over other advertising methods. TrustPulse leverages real activity from real people to increase conversions by up to 15%.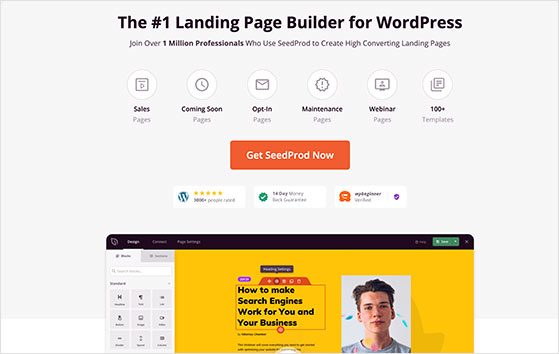 Whether you're launching a new WooCommerce store or updating your product pages, you'll need a temporary landing page to notify visitors about the upcoming changes. SeedProd, the best drag-and drop-landing page builder is the best tool for the job and helps you get a head start in Google rankings before launching your eCommerce site.
It includes a variety of pre-built landing page templates to build your coming soon or maintenance page. Or you can set up a custom 404 page, sales page, or thank you page to engage your visitors. The visual drag and drop editor makes it easy to customize every element of your landing page.
Alternatively, you can use SeedProd to create an entire WooCommerce store on your WordPress website. With its WooCommerce functionality, you can create product pages, shop pages, checkout pages, and more.
It also includes powerful WooCommerce content blocks, allowing you to create product sliders and product filters and show menu carts in your WordPress header to improve the checkout process.
While you're working on your store behind the scenes, you can use social sharing and profile buttons to engage with visitors and even add a contact form to gather feedback and questions.
Plus, it comes with custom WooCommerce blocks like add to cart, products grid, checkout, and shopping cart. This makes it easy to create product-focused landing pages and you can even customize the WooCommerce checkout for more conversions.
Key Features
Professionally designed and customizable landing page templates
Visual drag and drop page editor
Customize your pages with content blocks focused on generating leads
Boost leads and conversions with built-in opt-in forms, giveaway blocks, countdown timers, and more
Built-in 404, coming soon and maintenance modes
Various email marketing integrations
Powerful access controls to restrict site access while you work on it in private
Helps search rankings before you launch your site
Why You Need This WooCommerce Plugin
SeedProd integrates with popular email marketing services and Zapier to help you connect to your favorite apps and build a powerful WooCommerce landing page WordPress themes that drive more leads and conversions.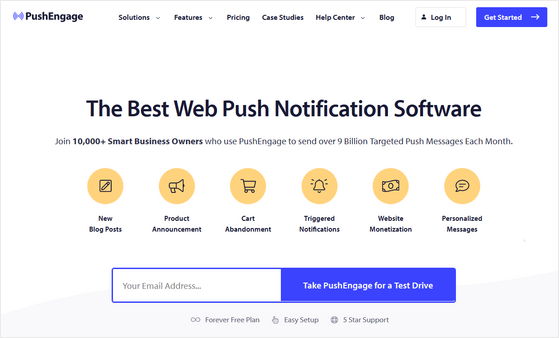 PushEngage is the best push notifications plugin for WordPress. It lets you send targeted messages to subscribers via their browser, or mobile device even if they're not currently on your website.
With web push notifications, you can instantly inform customers about new products or flash sales, price drop alerts, send abandoned cart reminders, and much more.
Key Features
Trigger notifications based on user actions
Create drip campaign/series of notifications
A/B testing to find which notifications work best
Segment users to send personalized notifications
Why You Need This WooCommerce Plugin
With PushEngage, you can send targeted personalized messages straight to your customers' browsers. This is an easy way to bring them back to your website and skyrocket your conversions.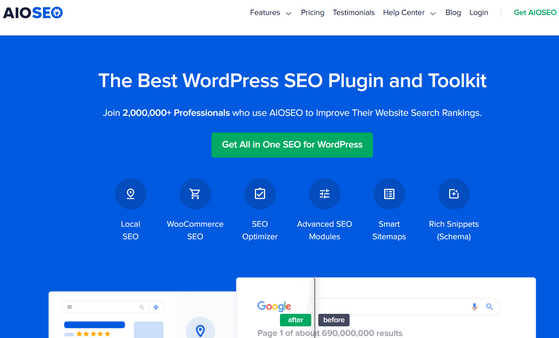 If you want your online store to be found in search results, you need to optimize your site for SEO.
That's where All in One SEO (AIOSEO) comes in.
AIOSEO's setup wizard will help you automatically choose the best SEO settings for your business. Plus, the SEO Audit Checklist will analyze your entire site to detect critical errors and give you recommendations for improvement.
Not only that, but AIOSEO also offers powerful WooCommerce SEO features. This will help you easily optimize product pages, product categories, product images, and more.
Key Features
Complete support for schema markup
Local SEO features to rank higher on Google Maps
Easily add title tags, meta descriptions, and keywords
Automatically generate a WordPress XML sitemap
Why You Need This WooCommerce Plugin
AIOSEO makes search engine optimization easy. And with your website fully optimized for SEO, you can rank higher in search results and drive more traffic to your site. You also can get started with AIOSEO's free plugin.

YITH WooCommerce Wishlist is a top WooCommerce plugin for increasing sales on your online store. It gives you the ability to allow shoppers to save their favorite products so they can find them again when they're ready to buy them.
Users can also share their wishlist with others for gifting occasions like birthdays or Christmas, as well as being able to share their lists on social media.
Key Features
Wishlist page includes an add to cart button
Share wishlists via email or social media
Create more than one wishlist (premium version only)
Why You Need This WooCommerce Plugin
YITH WooCommerce Wishlist offers an easy way for people to save and share products online. As a result, it can increase your product awareness and drive more sales. You can also use wish lists to learn more about your customers and suggest related products they might have an interest in.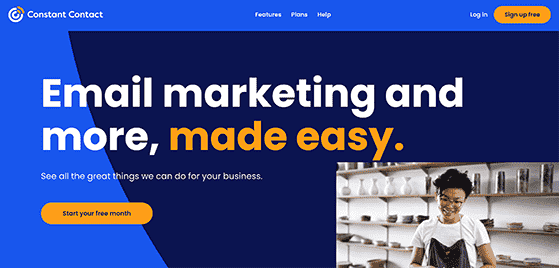 Constant Contact is one of the most popular email marketing services for both small and large businesses. It helps you create engaging email marketing campaigns to keep your brand in shoppers' minds and encourage them to buy from your WooCommerce store.
With its user-friendly web interface, you can build various professional email newsletters, while the drag and drop email builder lets you tailor their email templates to meet your business needs.
Key Features
Group and segment email list subscribers
Automate your marketing messages
Send targeted campaigns to recover abandoned shopping carts
Why You Need This WooCommerce Plugin
Constant Contact is a highly recommended email marketing service due to its amazing customer support and robust all-round product. After adding this extension to your WooCommerce store, you can follow up with shoppers after purchasing, recover abandoned carts, and even recommend products.
Alternative: Drip, Brevo (Sendinblue), and HubSpot are some other excellent marketing solutions.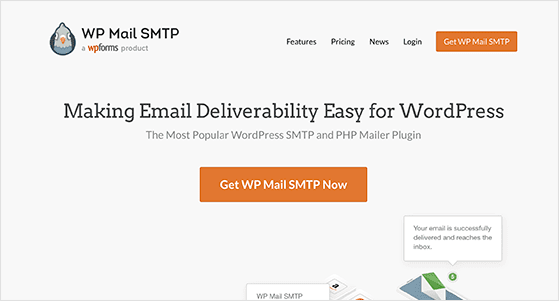 WP Mail SMTP is a well-known plugin that lets you use an SMTP provider to deliver many of the WooCommerce emails your store sends. This can be anything from order confirmations and invoices to shipping notifications and more.
Key Features
Efficiently manage the email messages your WooCommerce store sends
Authenticates your account with OAuth to keep your login information protected
Keep track of all emails sent from your site automatically
Why You Need This WooCommerce Plugin
By default, your WooCommerce store sends emails to store owners and customers using the PHP mail() function. Many WordPress hosting providers don't have this function configured correctly, while some even block it completely.
When the PHP mail() function isn't working as it should, your shop's email notifications won't work either. WP Mail SMTP solves that issue by allowing you to send your WooCommerce stores' emails using an SMTP provider, so emails are sent to inboxes instead of spam folders.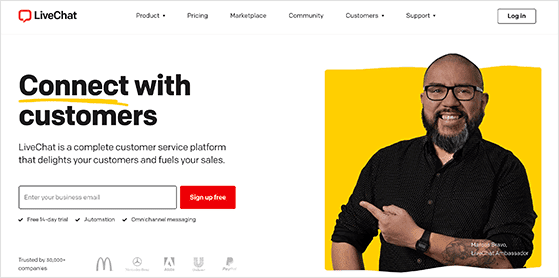 On average, over 67% of customers abandon their shopping carts before completing a purchase. Mostly because they want answers to pressing questions they have about your products.
With LiveChat, the best live chat support software on the market, you can answer customer queries instantly right on your WooCommerce website.
Key Features
Live chat widgets to add a chatbox to your website
Mobile responsive design lets you chat on any device
Collect feedback with surveys after chat sessions
Integrates with various email marketing and marketing automation tools
Fast loading times for improved user-experience
Why You Need This WooCommerce Plugin
LiveChat allows you to engage with shoppers and answer any questions that prevent them from making a purchase. This will enable you to convert them into customers before they abandon their cart.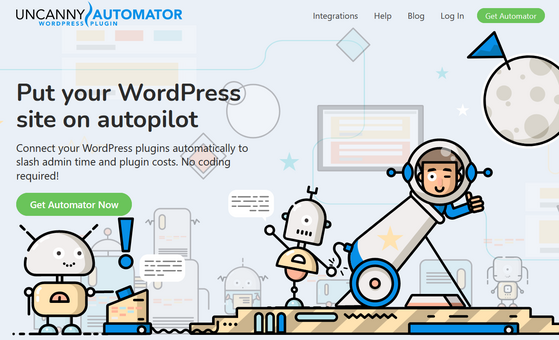 With Uncanny Automator, you can automate routine tasks by connecting your existing WordPress plugins together and making them do the work for you.
You can easily create "recipes" that will reduce your admin time, no coding required. Simply choose a trigger, or a combination of triggers, and then choose the action you want Uncanny Automator to perform.
For example, when a user purchases a product, you can tell Uncanny Automator to automatically tag them in an email marketing tool.
Key Features
Connect over 50 popular WordPress plugins
Connect to over 2000 apps with Zapier
Create recipes in just a few clicks
Billions of recipe combinations are possible
Why You Need This WooCommerce Plugin
Uncanny Automator will save you tons of time by automating routine tasks, so you'll have more time to focus on growing your online store.

Custom Product Tabs for WooCommerce consolidates and organizes product pages on your eCommerce website into easy-to-navigate tabs. This allows you to add more descriptive titles to your tabs. For example, you could have tabs for descriptions, fittings, reviews, and so on.
Each tab supports multiple content types like images, text, and video. You can also manage tabs using the standard WordPress editor, without any custom code.
Key Features
Quickly add simple tabs to product pages
Save tabs to duplicate on other pages
Use shortcodes, images, and other content in tabs
Translation ready for multilingual stores
Easily export product tab data
Why You Need This WooCommerce Plugin
Custom Product Tabs for WooCommerce make your product pages easier to read and provides extra space for other product information.
Bonus: WooCommerce Product Add-Ons lets users choose their own product specifications.

Beeketing for WooCommerce is a marketing automation platform that gives you the ability to optimize conversion rates, increase the average value of orders, prevent shopping cart abandonment, and boost your online sales.
Key Features
Upsell and cross-sell products
Create product bundles to improve cart values
Chat with your customers on Facebook Messenger without leaving your store
Offer coupons and discounts anywhere during checkout
Why You Need This WooCommerce Plugin
Beeketing has a wide variety of features for eCommerce stores that makes it an excellent solution for marketing automation. It particularly stands out as one of the best WooCommerce upsell plugins.

The WooCommerce EU VAT Compliance plugin helps eCommerce website owners stay compliant with new EU VAT regulations. It takes the hassle out of manually ensuring your WooCommerce store is compliant by automatically detecting shoppers' locations and showing prices with the correct VAT from the first page.
Key Features
VAT calculations are recorded for evidence during store audits
Stores currency conversion rates with orders
Accurately maintains VAT rates
Allows VAT calculations for both physical and digital products
Distinguishes VAT from other taxes
Adds VAT line to invoices
Why You Need This WooCommerce Plugin
If you plan on selling your products to customers in the EU, you'll need this plugin to ensure you charge the correct VAT. It can also help eliminate the chances of selling to EU shoppers if you don't wish to.

WooCommerce Customizer is one of the best WooCommerce plugins for adding extra customization options to your online store. While these options are already available in WooCommerce, this plugin makes them easier to implement with visual settings that won't require any developer help.
For instance, you can easily change the number of products displayed on each page, your store's login page, and much more visually.
Key Features
Visual editing settings for non-coders
Includes extensions for services like MailChimp, Jilt, etc
The majority of features and extensions are free to use
Why You Need This WooCommerce Plugin
WooCommerce Customizer makes it easy to customize even the smallest elements of your online shop, with no coding required. This enables you to tailor your store to your branding and experiment with important elements like buy now buttons to see which converts best.

WooCommerce Image Zoom is a free WooCommerce plugin that allows shoppers to get a closer look at your product images and learn more about them. The more product details you can show potential customers, the more likely they are to purchase.
Key Features
4 different types of zoom functions
Customize the zoom window and zoom lens sizes
Remove the zoom function for specific products
Why You Need This WooCommerce Plugin
Given that shoppers can't physically pick up your products and look closely at the detail, they'll at least need a way to view larger product images. With WooCommerce Image Zoom, you can provide much larger product photos without impacting your website speed with large, bulky images.

WooCommerce Shortcodes is a cool free WooCommerce plugin with a wide variety of shortcodes that gives you the ability to add buttons, products, and more to your online store. It adds a dropdown button to your WordPress editor to easily select and insert shortcodes with a single click.
Key Features
Tons of WooCommerce shortcodes for products, product attributes, shopping carts, etc
Uses a TinyMCE dropdown button for inserting shortcodes
Easy to use, universal WooCommerce plugin
Why You Need This WooCommerce Plugin
WooCommerce Shortcodes takes the hassle out of adding stylized product attributes, buttons, and other features to your online store. Instead of hiring a developer to implement these changes, you can add them with a few mouse clicks, improving your overall user experience.
Advanced Coupons is the best WooCommerce coupon code plugin available. It expands the relatively limited coupon functionality of WooCommerce and gives you the ability to create better offers.
It integrates seamlessly with WooCommerce, offering buy-one-get-one promotions, coupon URLs, scheduled coupons, and much more. It's also super-easy to use, helping you reward loyal customers with special offers.
Key Features
Create a variety of coupons including shipping, auto-apply, and product coupons
Create a loyalty program for your online store
Add premium cart conditions
Why You Need This WooCommerce Plugin
Advanced Coupons helps you boost your online sales by enticing shoppers with special offers and coupons. Plus, it's easy to use and integrates beautifully with WooCommerce.

PW WooCommerce Gift Cards is another free WooCommerce plugin that gives you the ability to sell gift cards from your eCommerce store. Shoppers can purchase gift cards online and share them with friends and family to use on your website.
Key Features
Similar functionality to Amazon gift cards
WooCommerce email templates
Integrates with your existing WooCommerce theme
Compatible with WooCommerce Pre Orders plugin
Why You Need This WooCommerce Plugin
Allowing customers to buy gift cards from your store helps expand your customer base, making it more likely gift card recipients will shop with you in the future. PW WooCommerce Gift Cards enables you to add this functionality to your shop easily.

Booster for WooCommerce is a comprehensive WooCommerce toolkit that adds powerful features to your eCommerce website. It has a modular system similar to the JetPack WordPress plugin, allowing you to turn different features on and off as you need them.
Key Features
PDF Invoicing
Customize breadcrumbs in WooCommerce
Currency and pricing options
Crowdfunding functionality
And a lot more
Why You Need This WooCommerce Plugin
If you want to keep your WooCommerce plugins to a minimum, but still want to enjoy enhanced eCommerce functionality, Booster will help you achieve that. Plus, it has over 100 modules to help you manage and improve your store efficiently.

YITH WooCommerce Compare is an excellent WooCommerce comparison plugin that lets shoppers compare similar products side-by-side to make an informed purchase decision.
It's easy to set up. Simply add the product attributes for each item and add a compare button for shoppers to click. The product comparison appears in a popup, making it easier for users to view the differences and similarities.
Key Features
Quick compare feature
Choose specific features for the comparison table
Comparison popup keeps users on your website
Customers can add items to their cart right from the comparison popup
Why You Need This WooCommerce Plugin
If your products have similar features using the YITH WooCommerce Compare plugin will give users the ability to compare them more effectively. This is especially helpful for products with standard specifications like electronic equipment, appliances, and jewelry.

Another great plugin from the YITH team is YITH WooCommerce Quick View. This cool WooCommerce plugin adds a quick view popup to eCommerce products, so shoppers won't need to click right through to the product page for a brief overview of the product details.
Key Features
Add products to cart from within the quick view
Insert quick view buttons to product loops and galleries
Powered by AJAX for faster loading speeds
Why You Need This WooCommerce Plugin
YITH WooCommerce Quick View removes unnecessary steps that lead to shoppers adding items to their cart and making a purchase. With too many steps, it's easier for potential customers to change their minds and abandon your website.

WooCommerce Menu Cart is a useful WooCommerce menu plugin that gives you the ability to add a shopping cart to your website's main navigation menu. It also works with various eCommerce plugins, including WooCommerce, Easy Digital Downloads, and more.
Key Features
Turn non-WooCommerce themes into online stores
Add the floating cart icon to different sections of your navigation menu
Allows custom CSS for advanced customization
Why You Need This WooCommerce Plugin
If you didn't initially plan to sell products on your WordPress site, the WooCommerce Menu Cart plugin lets you easily turn your site into an online store if you change your mind. It's a simple, elegant solution to a problem many website owners face as they grow.

The WooCommerce Checkout Field Editor plugin lets you easily add custom fields to your checkout page. You can also customize and rearrange fields to suit your eCommerce store's needs and the checkout experience.
Key Features
Display custom fields on the order details page and in emails
Change the order of checkout fields
Enable and disable specific fields
Why You Need This WooCommerce Plugin
WooCommerce Checkout Field Editor is a free WooCommerce checkout plugin that lets you customize your customers' checkout experience. What's more, if you get a little too enthusiastic with your customizing, there's a reset button to restore things to the way they were before.

WooCommerce Multilingual is one of the best WooCommerce translation plugins that let you translate your eCommerce pages into other languages.
You can translate all products, including simple, variable, grouped, and external products, and even enable different payment gateways for different users based on their geographic location.
Key Features
Easy translation for products, categories, and product attributes
Maintain the same language during checkout
Send emails to clients and admins in their native language
Why You Need This WooCommerce Plugin
WooCommerce Multilingual gives customers the confidence to shop on your site in their preferred language. This helps shoppers feel more comfortable, increasing the likelihood that they'll buy from you and return in the future.
Bonus: WooCommerce Currency Switcher lets customers switch currencies and get real-time conversion rates in their local currency.

Order Delivery Date for WooCommerce is another WooCommerce checkout plugin that gives users the ability to choose a specific delivery date for their orders. It also presents an excellent opportunity to reduce cart abandonment, since users can choose their preferred date instead of pre-defined dates.
Key Features
Disable specific delivery days and times
Limit the number of deliveries per day
Configure the minimum number of days it takes to ship items
Why You Need This WooCommerce Plugin
Using the Order Delivery Date for WooCommerce plugin, you can potentially reduce cart abandonment by giving customers more choice over when they receive their goods. This fosters goodwill and encourages shoppers to return to your store.

WooCommerce doesn't offer seamless invoices and packing slip functionality by default, making it harder for website owners to create an efficient eCommerce business.
The WooCommerce PDF Invoices and Packing Slips plugin lets you attach PDF invoices and packing slips automatically to emails, as well as printing them in bulk.
Key Features
Print and email shipping information like packing slips and invoices
Generate slips in bulk or individually
Invoices organize sequentially for more straightforward numbering
Why You Need This WooCommerce Plugin
WooCommerce PDF Invoices and Packing Slips is a must-have WooCommerce plugin for businesses looking for an easy way to invoice clients. It's also useful if you ship your own products and don't use a separate fulfillment center.
Alternative: Use WooCommerce Order Tracker to track orders with USPS, Canada Post, and FedEx.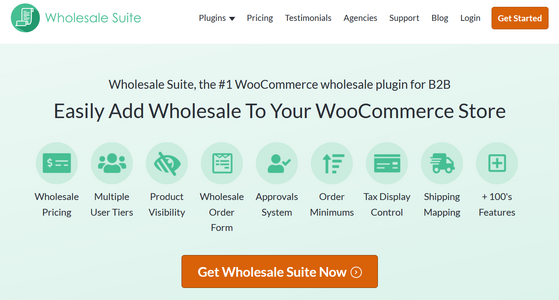 Wholesale Suite is the #1 WooCommerce wholesale plugin for B2B. With this WooCommerce extension, you can easily add wholesale features to your online store.
By default, WooCommerce only allows you to set regular pricing for a product. But with Wholesale Suite, you can show wholesale pricing to bulk buyers while still displaying normal pricing to retail customers.
You can also create a wholesale registration form to capture new leads and provide a searchable, one-page wholesale catalog for easy ordering.
Key Features
Easily set wholesale pricing and minimum purchase amounts
Manage shipping and tax separately from retail buyers
Efficient wholesale ordering system for bulk buyers
Automated registration, login, and wholesale signup sequence
Why You Need This WooCommerce Plugin
By adding wholesale options alongside your retail business, you can dramatically increase your store's distribution and sales. Wholesale Suite lets you add these features to your WooCommerce store in minutes.
There you have it!
We hope this article helped you find the best WooCommerce plugins to skyrocket sales on your eCommerce store.
You might also like this guide on the best lead generation software to help you nurture leads and convert your customers into sales.
Please follow us on YouTube, Twitter, and Facebook for more great tips to grow your business.