Are you looking for a detailed WPForms review?
Many people claim that WPForms is the best form plugin for WordPress, but is it true?
We think WPForms is a website tool worth paying for, so in this post, we'll tell you exactly why it's so outstanding (and worth the money).
Why Do You Need a WordPress Form Builder Plugin?
All WordPress websites need a contact form plugin, regardless of the type of site you run.
Contact forms are an effective way to stop spammers and hackers. That's because you can keep your site more secure with a contact form rather than simply showing your email address. As a result, you're protecting your email from unwanted offers and phishing messages.
Similarly, online forms also save time. You can use them to ask for specific details from visitors and potential eCommerce customers to gather valuable feedback and information.
Plus, top WordPress form plugins like Ninja Forms, Gravity Forms, etc., also include extra features like an email newsletter subscription checkbox to follow up with users and build long-lasting relationships.
How Does WPForms Work?
WPForms is a plugin for WordPress that lets you create effective contact forms for your site.
It works as a plugin, which means it can expand what your WordPress website can do.
To use WPForms, you'll need to:
Buy WPForms (Pro is the way to go)
And once you have it installed, you can easily create contact forms yourself with their drag-and-drop builder. And then, you can play around with a ton of cool features that can help increase your website's income potential.
Because it's so easy to use and great at making small business owners more money online, we think WPForms Pro is 100% worth the investment.
Let's go ahead and take a look at why WPForms is so great, just in case you're still asking yourself, 'do I need WPForms?'
WPForms Review: Is WPForms Worth The Investment?
We think WPForms is worth the investment. Here's why:
Sure, you can run a basic website without a contact form builder. But if you don't have even simple contact forms, you won't get any leads. And making money from your website is the whole reason many business owners pay to keep it online.
So the tools that you do use should help you increase your website revenue. And that's exactly what WPForms does (specifically, the WPForms Pro version).
With over 5 million+ users and 11,000 5-star ratings, WPForms is clearly doing something right.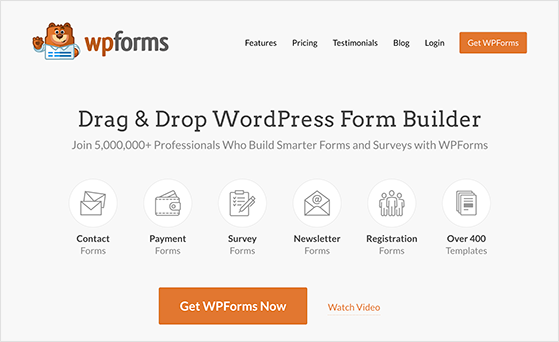 So let's go ahead and take a peek at what makes WPForms Pro so worth it:
There are a lot of excellent tools to cover in our WPForms review. So feel free to click on a specific feature in the list above if you'd like to jump ahead.
1. Visual Builder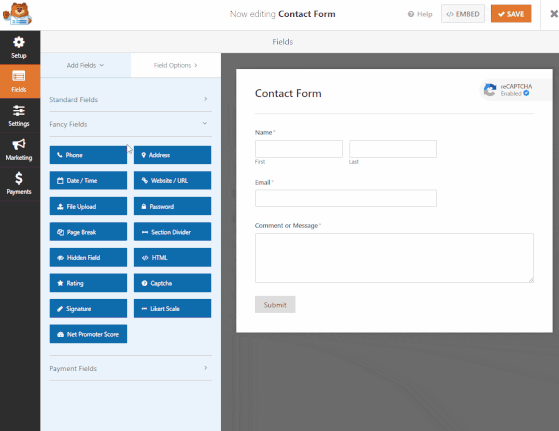 The beginner-friendly drag-and-drop form builder from WPForms makes it super easy for anyone to build their own contact forms from their WordPress dashboard.
To add a field, all you have to do is drag it from the left side of the screen to your form on the right! It's so easy to create a form using the WPForms builder that even beginners can improve their site's user experience.
More importantly, you can embed any form using the built-in WordPress block or WPForms shortcode. As a result, you won't need help from a developer to make attention-grabbing forms.
2. Form Templates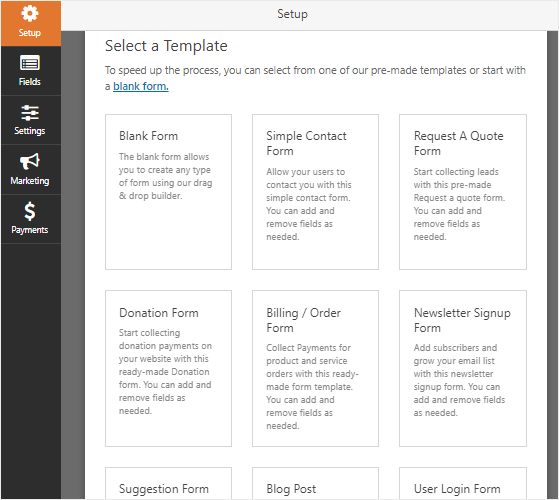 Another reason WPForms Pro is worth the investment is because of all of the pre-built templates that come with it.
Never build a form from scratch again. The WPForms Pro plan includes a bunch of form templates, such as:
Basic contact form
Payment forms
Login forms
Post submission forms
User-friendly recruitment forms
Newsletter signup forms
…and more you can use in nearly every niche and industry.
3. Order Forms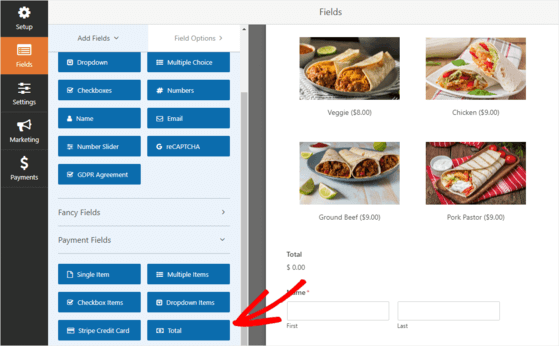 One of the most significant money-making features that WPForms Pro offers is order forms.
You can accept payments right on your order form with Stripe, Square, or PayPal and even use Authorize.Net with the Elite Plan. These payment provider integrations are part of what makes WPForms worth the investment.
4. Conversational Forms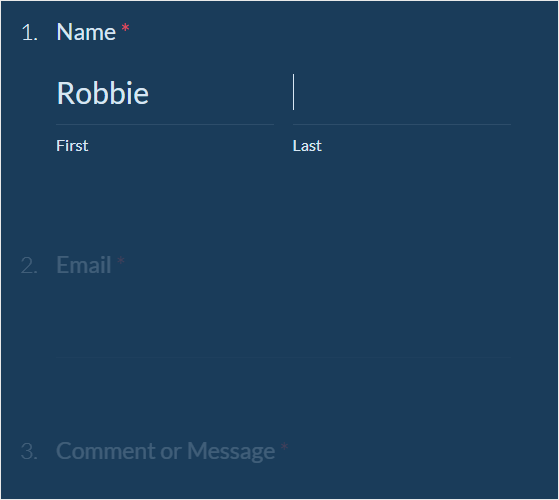 WPForms changed the game for contact form builders when they released their Conversational Forms add-on.
It's a super cool 1-click feature that turns a simple form embed into a conversational-style form that acts like face-to-face personal and meaningful conversations for users on the front end of your site. The conversion rate on these types of 'interactive' forms is incredible (they're super fun to fill out!), and this feature alone would make WPForms worth it.
5. Conditional Logic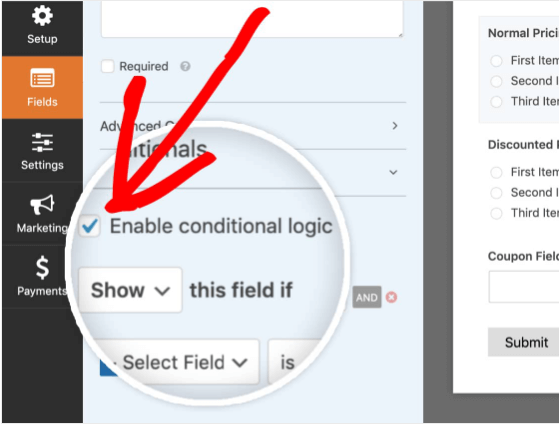 There's a secret to many forms that make them look good and work well.
It's that they use Conditional Logic. It's a tool hiding or showing other fields on your form based on a user's previous answer.
A good form builder should always offer the ability to add smart logic like this to your forms quickly, and WPForms does.
6. Spam Protection Tools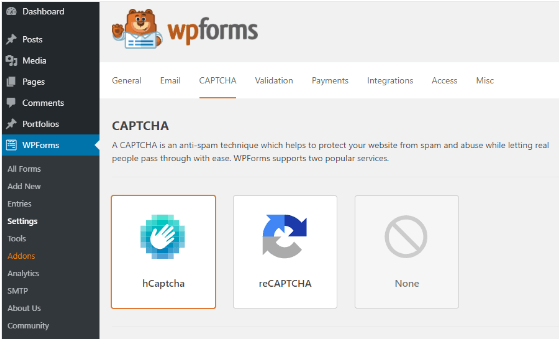 With the WPForms plugin, you've got several ways to protect form submissions from spam. There are great built-in security features. Some of the features to protect form entries are:
hCaptcha
Multiple reCAPTCHA Options
Custom Captcha
Ability to Limit Specific File Upload Types
…and others
When it comes to bots and spam on your forms, WPForms can help you keep your site secure.
7. Form Abandonment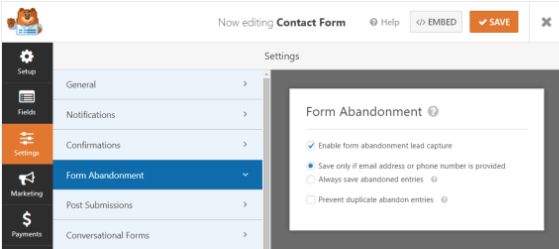 Distractions happen! People get phone calls, open a new tab, or forget they're filling out a form.
These are lost leads, and capturing them instead of letting them slip away is a huge way to grow your email list and get more email addresses for your marketing lists.
The WPForms Form Abandonment add-on helps save details that people start filling out on your form and never finish. That way, you can follow up with these people and get some of them to come back and complete the form.
And with the Save and Resume features, potential customers can stop filling in your form, save it, and come back later to complete and submit it.
8. Email Marketing Integrations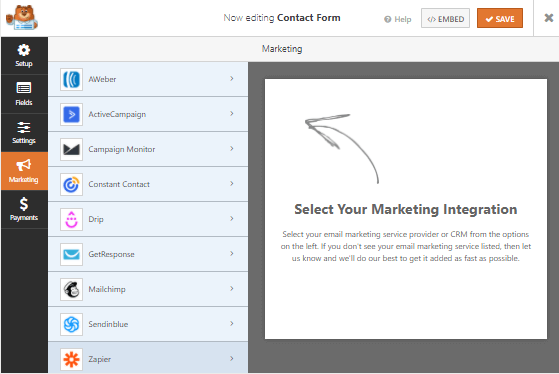 Want to set up an automated email marketing campaign and send form submissions to different lists? WPForms does that. It's integrated with the top email marketing tools out there, including:
Constant Contact (no addon required)
Mailchimp
AWeber
GetResponse
Brevo (Sendinblue)
ActiveCampaign
Campaign Monitor
You can also use the following integrations to connect to other third-party services:

Zapier: Connect your web forms with 2,000+ web apps and increase subscribers.
Uncanny Automator: Create intelligent workflows across multiple WordPress plugins.
Salesforce: Send your form contacts and leads to your CRM account.
Webhooks: Send online form entries to external tools and services without coding or third-party connectors.
9. Notifications
Part of what makes WPForms so worth it is the form notifications feature.
If you want to get an email every time someone fills out a form. Also, you can set it up to automatically email the person who filled out the form.
You can even customize these notifications to email different people depending on the form's content.
For instance, send leads to Paula if they say they have a budget over $10,000 and send leads worth less to Morgan, who works on the smaller accounts.
Customization like this shows you how streamlined your website can get using WPForms. And if payment notifications are too overwhelming, the new Limit Payment Notifications feature will help.
10. Surveys & Polls

WPForms offers a top-notch Surveys and Polls addon that is insanely popular, and for a good reason.
Features include:
Survey Templates
NPS Surveys
Star Ratings
Likert Scale Surveys
Polls
Beautiful Reporting Dashboard
It's a really powerful survey tool. Exporting survey data is super easy, making collecting the information you need to grow your business simple.
11. User Journey
You can learn a lot about your customers with Customer Journey Mapping. WPForms lets you see where your form users are going on your website before hitting submit.
This is a helpful tool to pinpoint areas of your site that might be working well to convert. And then, you can duplicate those tactics on other pages of your website!
12. User Registration
Letting people register for your WordPress site is helpful for tons of reasons.
So another reason you'll want to consider what a great value WPForms is is the user registration feature.
The User Registration addon lets you build a custom user registration form so people can make user profiles on your site.
13. Guest Post Submissions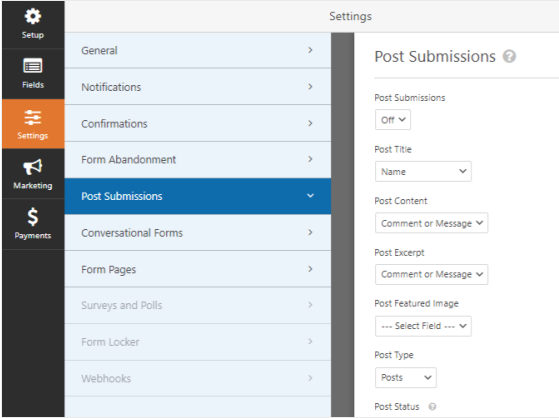 Do you accept guest post submissions on your blog? If so, this feature alone makes WPForms worth the investment for you.
You can let people submit user-generated content without logging in with WPForms' Post Submissions feature. This is a great way to develop your content marketing strategy!
14. Form Landing Pages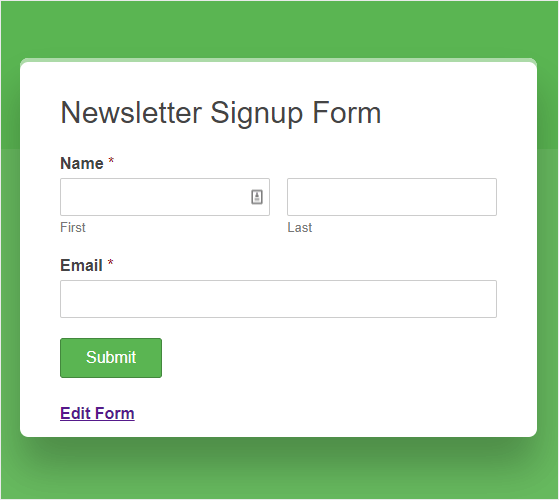 Just like RafflePress, WPForms is a remarkable landing page creation tool.
Landing pages are a big deal when you're advertising your brand around the web. So another excellent feature is that you can turn your forms into landing pages nearly instantly with WPForms.
The Form Landing Pages addon from WPForms works in just 1 click. You can get distraction-free landing pages that convert well so that you can make more money from your forms.
15. Great Customer Support
One of the biggest reasons WPForms is worth the investment is the top-tier support.
The WPForms support team has an average response time of 60 minutes. And with over 7,600 5-star reviews on WordPress and counting, you can tell that the support agents genuinely want to help solve any issues that come up.
WPForms has also created a large library of extensive documentation on using the plugin, with beginners in mind. additionally, you can see their blog for handy step-by-step tutorials on practically every feature.
16. More Excellent Features
There's so much more functionality to WPForms than meets the eye. Some of the other tools the form builder plugin offers include:
Salesforce Integration — Syncs forms to one of the top CRM services for easy customer management.
Offline Forms — Saves info filled out into forms (if internet connection is lost) to be resubmitted once the user gets back online.
Multi-step Forms — Break up long forms into multiple pages.
Geolocation — See where your users are located.
Digital Signatures — Collect electronic signatures right on your forms.
Entry Management — View all your leads in one place, delete ones you don't want, and export what you need.
Webhooks — Easily integrate forms into other tools without using a 3rd party connector service.
Form Locker — Set Date/Time limits, password-protect forms, and more.
Search Engine Optimization — All forms are optimized for SEO to help your website ranking in Google.
User Journey – See which pages and posts users visit before completing your form.
Save and Resume – Let visitors save partial form entries to complete later.
There are even more things WPForms offers that we couldn't fit into this growing list, and they release new features often.
So still asking yourself, is WPForms worth it? Well, wait until you see exactly how much it costs.
WPForms Pricing: How Much Does WPForms Cost?
We recommended the WPForms Pro plan (paid version) to access all of the best tools.
WPForms Lite vs. Pro
There is a free version of WPForms called WPForms Lite on WordPress.org. The Lite version gives you access to primary form fields and 4 different form templates.
If you don't have room in your budget for a contact form plugin right now, you can always download the Lite version of WPForms for free to test it out.
WPForms Pro has many more features than the lite version. The Pro version includes additional templates, more form fields, file uploads, and password protection.
The Pro and Elite plan also includes priority support, while all free and paid plans offer a 100% mobile responsive design.
WPForms Frequently Asked Questions
How do I get help with WPForms?
WPForms offers a number of ways to get help, including:
Documentation: WPForms has extensive documentation that can help you learn how to use the plugin.
Support forum: The WPForms support forum is a great place to get help from other users and the WPForms team.
Ticket support: If you need help that is not covered by the documentation or the support forum, you can submit a ticket to the WPForms team.
What are some tips for creating a successful WPForms form?
Here are some tips for creating a successful WPForms form:
Keep your form short and simple. The fewer fields you have, the more likely people are to fill out your form.
Use clear and concise language. Make sure that your form is easy to understand.
Use a professional design. Your form should look good and be easy to use.
Add a CAPTCHA or honeypot field to protect your form from spam.
Test your form thoroughly. Make sure that your form works correctly before you add it to your website.
What are the different ways to collect form submissions with WPForms?
WPForms offers a number of ways to collect form submissions, including:
Email: You can send form submissions directly to your email address.
Database: You can store form submissions in your WordPress database.
3rd-party integrations: You can integrate WPForms with a variety of 3rd-party services, such as Mailchimp, Salesforce, and Zapier.
WPForms Review: The Final Verdict
We've given WPForms a first-hand review and can tell you that, YES, the form-building plugin is worth it.
Every form you create with WPForms is fast and SEO-friendly. The drag-and-drop form builder makes creating any form a breeze. It also integrates popular email marketing tools, payment processors, web apps, and other add-ons.
So if you aren't already using it, we suggest you get started with WPForms Pro today.
And WPForms has a 14-day money-back guarantee. So they'll give you a refund if you don't find it helpful and change your mind.
There you have it!
We hope this article helped you decide if WPForms is worth the investment. If you love cool money-making plugins like WPForms, you may also want to check out our round-up post with the best WordPress plugins to grow your business.
Thanks for reading, and if you liked this article, don't forget to follow us on YouTube, Twitter, and Facebook for more from the blog.