Want to build an unforgettable presence on social media?
With RafflePress, you have all the ingredients you need to create gorgeous, social media giveaways to turbocharge your business growth.
Our social media contest tools let you build your giveaway in 5 minutes or less, so you can quickly increase social media followers, engagement, and drive tons of traffic to your website.
Viral Social Media Giveaway Template
Imagine being able to create and launch your social media giveaway with a few clicks.
The majority of social media contest platforms make it ridiculously hard to craft even the simplest of giveaways.
But with RafflePress, you don't have that problem.
We're firm believers in simplicity, so you won't need a degree in computer science to make your competitions look fantastic and achieve the results you need.
To run a successful social media giveaway, you can choose from any of our ready-made social media giveaway templates for Twitter, Instagram, Facebook, and YouTube.
With a single click, you'll see your contest built with the entry methods needed to improve engagement and followers on those platforms.
But if you want to go a step further and unleash the power of word-of-mouth marketing, choose the Refer-a-Friend Viral Giveaway template to expand your reach and grow your brand.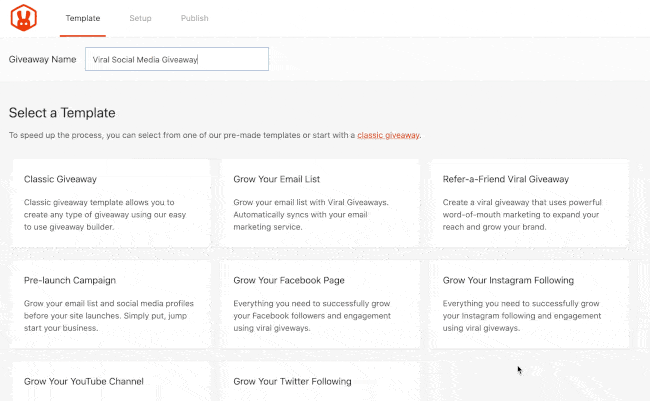 Then it's just a matter of tailoring the design and embedding your social media giveaway anywhere on your WordPress website.
With RafflePress creating a social media giveaway is so painless, you'll wonder why haven't used it before.
And that's why so many bloggers, businesses, and website owners choose us to power their social media contests.
So how about you let us help you build your presence with viral social media giveaways.
What are you waiting for?