Want to know which is better: RafflePress vs. Kingsumo? And are you looking for an easy way to run a giveaway on your WordPress site but don't know which tools can make the process easy?
With so many options to choose from, we figured we'd make things easier by comparing two popular giveaway builders, RafflePress and KingSumo, so you can decide which option is best suited for small businesses.
Before we dive in, let's clarify what we mean by "giveaway builder."
What Is a Giveaway Builder?
A giveaway builder is a web app or WordPress plugin that gives you the ability to easily create viral giveaways on your website. They usually have pre-built giveaway templates, a giveaway widget, embed code, or a landing page that is easy to add to your site and multiple ways to enter.
The majority of giveaway builders let people enter by:
Registering with their email address
Following you on social media
Sharing your contest online
Visiting a page or link
And more.
The most popular tools offer easy ways to manage entries, choose a winner, and display the winner within the app.
Bottom line: A giveaway builder is an easy way to create an online contest on your website to grow your subscribers, social followers, and traffic with viral giveaways.
Now that you know what a giveaway builder is, let's compare two more popular solutions for running contests on your website: RafflePress and KingSumo.
How to Choose the Right Giveaway Builder
Deciding which giveaway builder is right for you can be challenging. What features and functionality should a good giveaway builder have?
We think you should look for the following aspects when comparing RafflePress and KingSumo:
Easy Setup: The giveaway tool you choose should be easy and quick to set up. Look for functionality like drag-and-drop editing and a visual interface.
Customization: You'll need to be able to customize your giveaway to your company branding, so ensure the tool you choose offers easy customization options.
Giveaway actions: Giveaways should be easy for users to enter. Look for a tool that offers multiple entry options to meet various marketing goals, both on and off your website.
Publishing: You don't want to spend ages figuring out how to publish your giveaway. The tool you choose should allow you to launch your giveaway with a few clicks.
Winner picker: Your giveaway tool should also include methods for picking a winner. That will save you from using 3rd party generators.
Speed: Your giveaway tool should be fast and bloat-free; otherwise, it could slow down your website, making it frustrating for potential contestants.
Now that you know what to look for, let's dive into our comparison of RafflePress and KingSumo, starting with the features.
Features: RafflePress Vs. KingSumo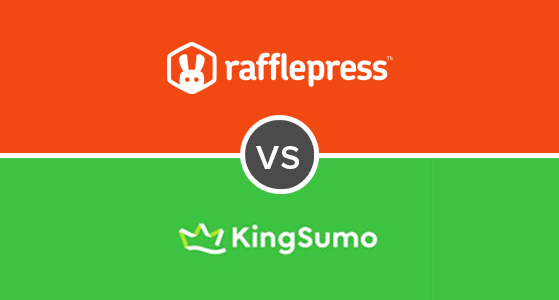 When running an online contest, it's crucial that whatever tool you use includes a robust set of features. You should be able to build your contest easily, have plenty of ways for people to enter, connect with the top social media networks, and integrate with various email marketing services.
Let's kick things off by looking at the features included with RafflePress vs. KingSumo.
RafflePress Features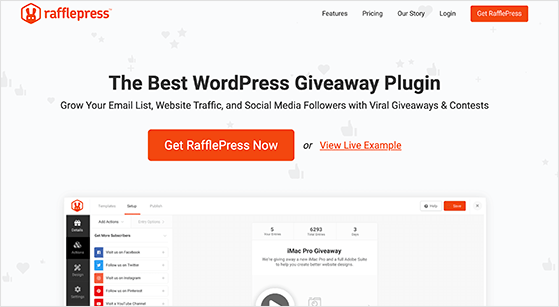 RafflePress is one of the best giveaway plugins for WordPress. It helps you grow your email list, website traffic, and social media followers with viral giveaway contests. As a free WordPress giveaway plugin, it makes it super-easy to create any giveaway on your WordPress website.
Features
Beginner-friendly drag-and-drop giveaway builder.
Create unlimited giveaways in WordPress.
Viral giveaway templates to create goal-specific contests.
1-click entry actions and fraud protection.
Upload custom prize details and images.
Giveaway design options, including custom backgrounds.
Viral refer-a-friend sharing options for word-of-mouth marketing.
Image submission actions to collect user-generated content.
Create distraction-free giveaway landing pages to drive entries.
Connect to major social media networks to grow your social following.
Email marketing integrations and webhooks to grow your list.
Powerful retargeting features to maximize conversions.
Random winner generator.
Giveaway rules template.
Giveaway entry reports.
Display giveaway winners within the contest widget.
Learn how OptinMonster used RafflePress to generate 3,500+ new users.
KingSumo Features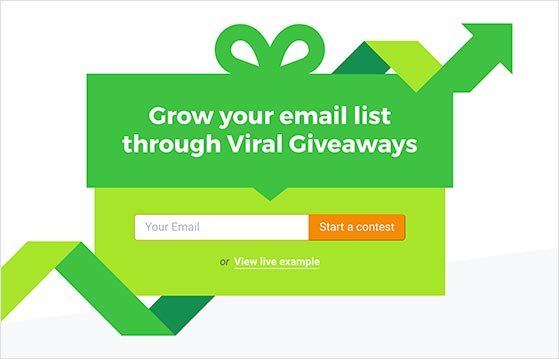 Compared to RafflePress, KingSumo is primarily a free web application, so it doesn't automatically come with a WordPress plugin. To get that functionality, you'll have to pay a one-time fee (more on that later). Instead, you can use an embed code to add a contest to your website.
Features
Create unlimited giveaways
Users can enter your contest via email
Upload a prize cover image
Use your own logo
Bonus social media giveaway sharing actions
Bonus social media following actions
3 Email marketing integrations + Zapier
Display winners inside the giveaway app
Related: KingSumo vs. UpViral vs. RafflePress
Ease of Use: RafflePress Vs. KingSumo
Now that you're aware of the features of both RafflePress and KingSumo, let's look at how easy these giveaway builders are to use.
RafflePress Ease of Use
Creating an online contest with RafflePress is super easy. Just download the RafflePress plugin and install and activate it on your website. You can learn how to install a WordPress plugin in this guide.
Setting up your first giveaway in RafflePress is as easy as choosing a giveaway template, adding your prize details, selecting your viral entry options with the drag-and-drop builder, and clicking publish.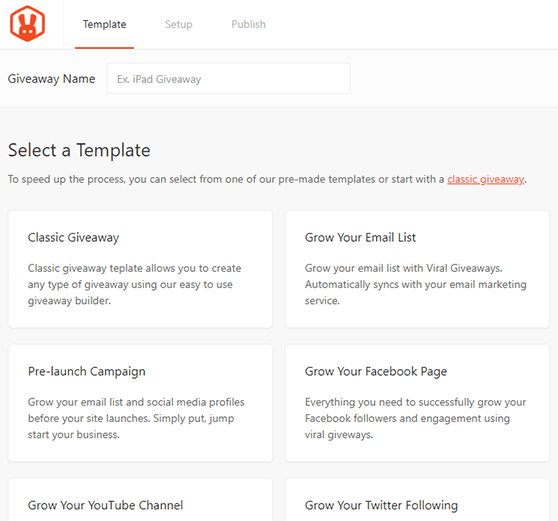 For more detailed instructions, see this step-by-step guide on how to run an online contest with RafflePress.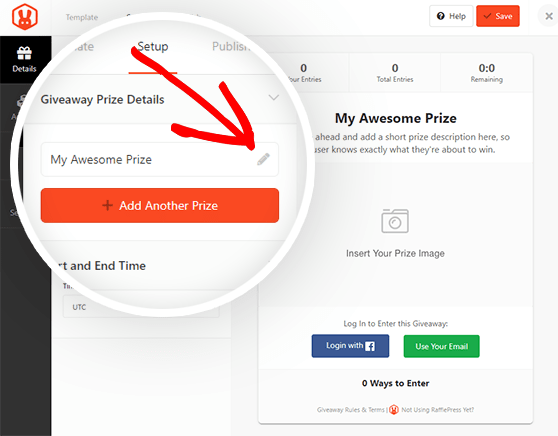 The free version of RafflePress lets you include the following entry actions for your giveaway without spending a penny:
Visit a Facebook page
Follow on Twitter
Tweet a message
Follow on Pinterest
Visit on Instagram
Visit a page
Plus, most of those actions allow users to enter your giveaway daily to accumulate more entries.
The free and paid versions also include a GDPR consent checkbox and giveaway rules generator and template. This makes it super-easy to get a head start creating what usually is a complicated set of guidelines.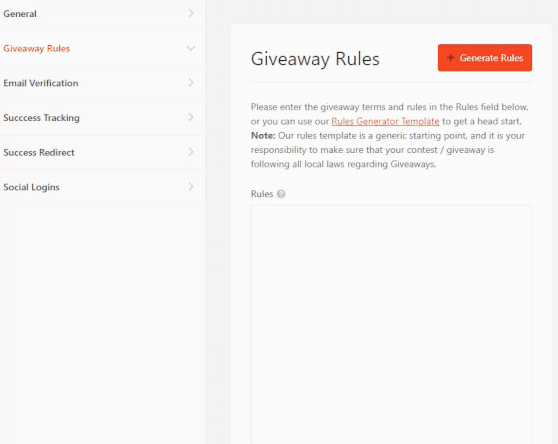 You can customize your contest's look and feel with a range of design options. Choose the fonts, layout, and colors you prefer with a few easy clicks.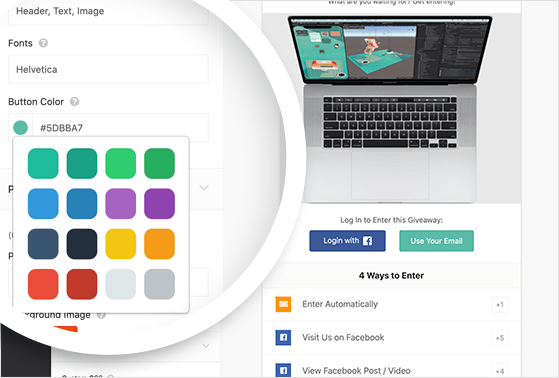 KingSumo Ease of Use
The KingSumo web app is straightforward; however, it doesn't include a visual drag-and-drop builder to preview your contest while working on it.
After entering your email address, you're taken straight to the creation page to create a new giveaway. In that area, you can enter your competition title, description, start and end times, etc.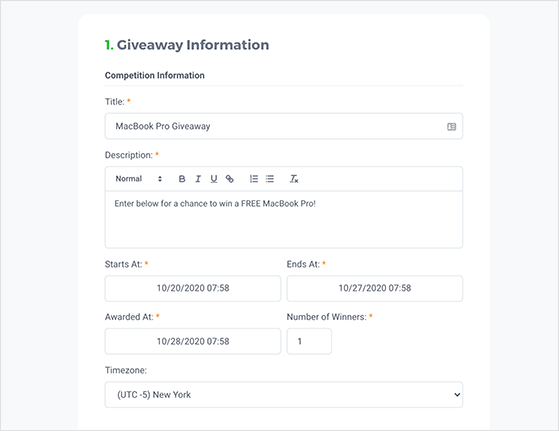 You can include various prize images and choose which platforms you wish to allow users to share your giveaway. It's also possible to add several bonus entries by selecting an option from the drop-down menu provided.

One crucial feature KingSumo lacks is an area to enter your giveaway's rules, terms, and conditions. Instead, it shows a link displaying KingSumo's terms of service.
Another feature it doesn't include is collecting user-generated content (UGC). Gathering and displaying UGC, such as images and photos, is a powerful way to increase user trust and engagement. It can also influence your target audience's purchase decisions, helping you make more sales.
Publishing in WordPress
Considering that WordPress powers around 43% of all websites globally, let's focus on how easy it is to publish your giveaway in WordPress using RafflePress and KingSumo.
Adding RafflePress Giveaways to WordPress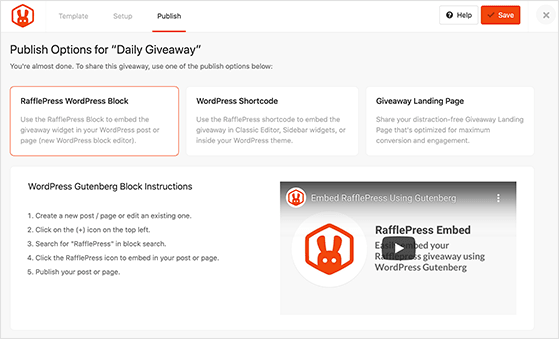 RafflePress offers 3 easy ways to publish a giveaway in WordPress, including:
RafflePress WordPress Block – Embed the giveaway widget in your WordPress post or page (new WordPress block editor).
WordPress Shortcode – Embed the giveaway in the classic WordPress editor, sidebar widgets, or inside your WordPress theme.
Giveaway Landing Page – Create a distraction-free landing page on your website for your giveaway.
Let's look at the 2 easiest methods – with the RafflePress WordPress block and a giveaway landing page.
To publish your RafflePress giveaway using the RafflePress WordPress block, create a new post or page and give it a name.
Next, click the plus (+) icon to bring up the block finder in your WordPress editor.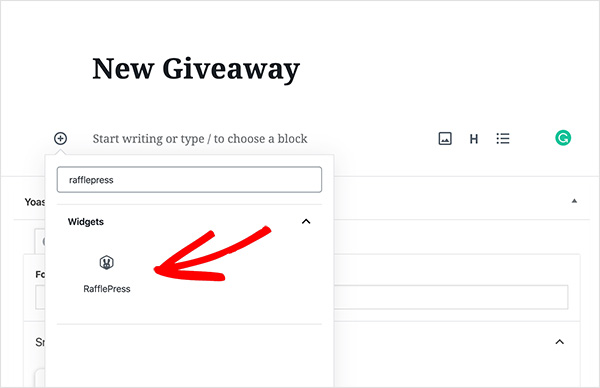 Type RafflePress into the search box to find the RafflePress block, then click it to add it to your post.
From the dropdown menu inside the block, select your giveaway.
Then the RafflePress giveaway widget will appear in your post with a live preview.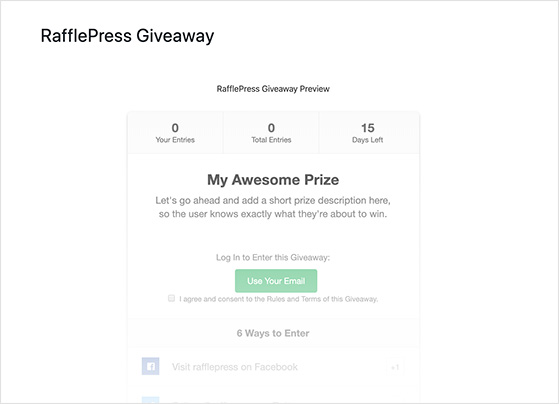 When you're happy with how everything looks, publish your page. Then when you click preview, it will look similar to the example below.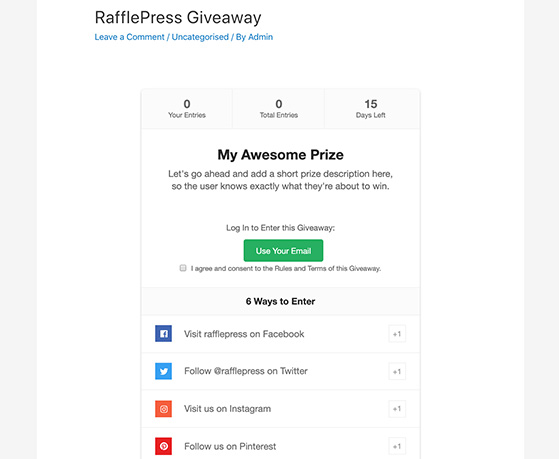 If you'd prefer to create a distraction-free landing page for your giveaway, it's as simple as choosing the Giveaway Landing Page option from the Publish page and entering a unique permalink.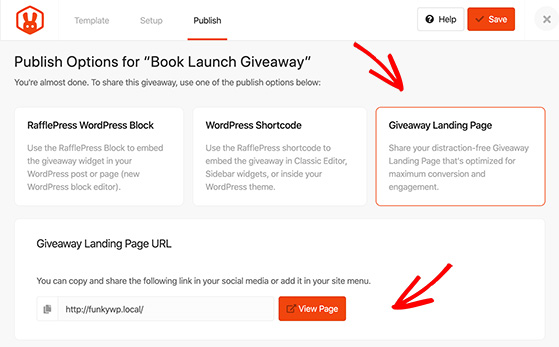 Then you can target your traffic to a single page to help you increase your contest entries.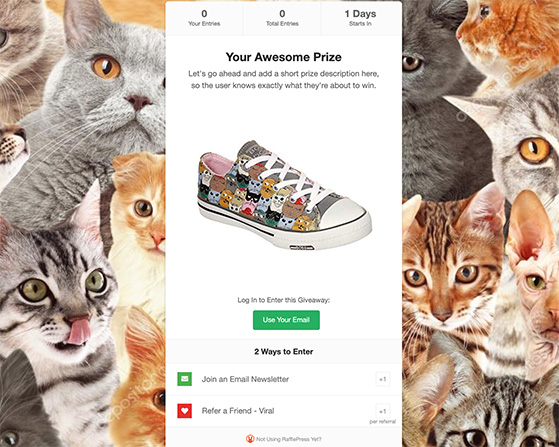 Adding KingSumo Giveaways to WordPress
The primary method to publish your KingSumo giveaway in WordPress is to use the embed code provided.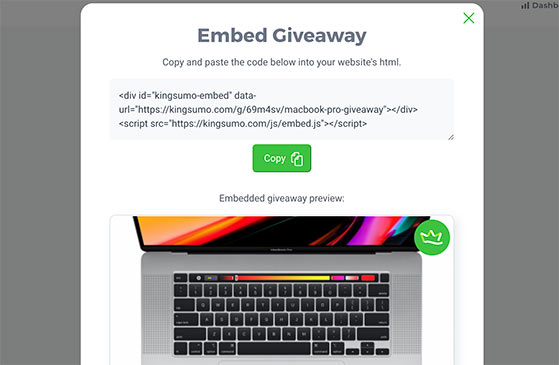 Copy the HTML embed code and paste it into a new Custom HTML block inside your WordPress page editor.
After publishing your page, your WordPress giveaway should look similar to the example below.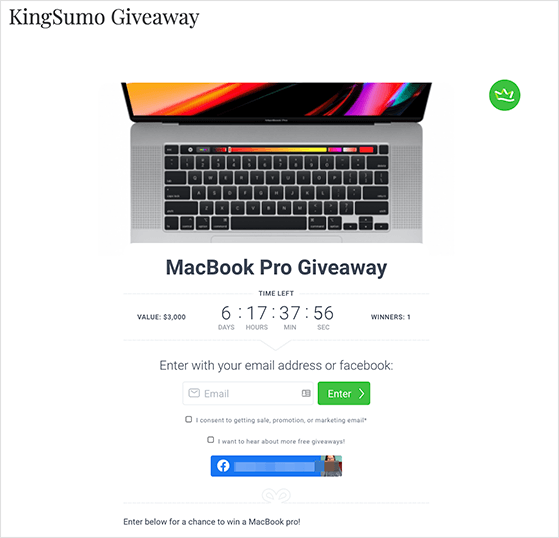 RafflePress Vs. KingSumo Pricing
Getting good value for money is a central sticking point when choosing any tool, software, or plugin. We've compared the pricing below to help you better understand how much these giveaway builders will cost.
RafflePress Pricing
RafflePress lets you run fully functional viral giveaways with the free version.
But upgrading to the paid version unlocks more robust features, which include:
Multiple sites – Add RafflePress to more than one of your WordPress websites.
Time controls – Set the start and end time for your giveaways.
Multiple prizes – Offer more than 1 prize on the giveaway widget.
Email verification – Verify entries by asking participants to enter their email addresses.
Prize image gallery – Display stunning prize images.
Design options – Customize the design of your giveaway widget and landing page.
Polls & surveys action – Run a poll or survey as a way to enter. (You can learn how to get more survey responses here.)
YouTube actions – Ask entrants to visit your YouTube Channel or watch a video.
Image upload actions – Run a photo contest with image uploads.
Optional Facebook actions – Ask users to like your Facebook page or share your giveaway on Facebook to enter.
TikTok actions – As users to visit your TikTok profile or watch a TikTok video.
RSS Feed Promotion – Allow users to subscribe to your RSS Feed to enter.
Comment action – Ask users to leave a comment to enter.
Blog Promotion – Allow users to write a blog post to enter.
Twitch Promotion – Ask users to follow your Twitch channel.
Podcast actions – get users to subscribe to your podcast to enter.
Email integrations – Grow your email list by integrating it with your email marketing software and asking people to subscribe.
Zapier and webhooks integration – Connect to thousands of other apps and services.
Mandatory actions – Make specific entry actions required to enter.
Winner announcement – Display the giveaway winner on your contest widget.
Entry Reports – See a visual representation of your best-performing entry actions.
Upgrading to the paid version of RafflePress starts at $39.50 per year, which is only around $4 per month!
However, if you start using RafflePress Lite, you'll automatically get a discount at the checkout when you upgrade to Pro.
Alternatively, you upgrade to RafflePress's limited lifetime offer for a single payment of $499.50.
This gives you access to all features, all future updates, and the ability to use RafflePress on an unlimited number of websites for life.
KingSumo Pricing
The free web app version of KingSumo allows you to create a simple giveaway with basic social sharing options. However, you'd need to upgrade to the paid version for Zapier integration, Facebook pixel tracking, additional entry fields, custom rules, and to remove the KingSumo branding.
The pro version of the web app is a one-time fee of $49.
If you'd prefer WordPress integration, you can buy the KingSumo WordPress plugin for use on 1 site for a single payment of $198. Access to unlimited site licenses will cost $594.
Still not sure, check out these KingSumo alternatives.
Now that you know how much everything costs, let's get down to the nitty-gritty and look at the pros and cons of RafflePress vs. KingSumo.
Pricing Summary
Here's a quick summary of the pricing options for the WordPress plugin of each giveaway tool.
| Giveaway Plugin | 1 Site Plugin Pricing | Unlimited Site Pricing |
| --- | --- | --- |
| RafflePress | from $39.50 per year | from $499.50 single payment |
| KingSumo | $198 single payment | $594 single payment |
RafflePress Pros and Cons
Pros
Free version available
Drag and drop builder
Create unlimited giveaways
1-click entry and fraud protection
A large variety of entry actions
No design knowledge needed
Viral giveaway templates
Giveaway rules generator
Includes image submissions
Contest management dashboard
Email marketing and Zapier integrations
Random winner picker
Entry Verification
Priority support
Cons
Most powerful features in the Pro version
KingSumo Pros and Cons
Pros
Free web application
Easy to set up
Variety of social sharing options
Create unlimited giveaways
Email support
Cons
Distracting branding in the free version
No verification for entries
Cannot collect participant names
No entry management dashboard
Expensive WordPress plugin
Limited integrations
Which is the best Giveaway Tool: RafflePress vs. KingSumo?
After comparing RafflePress to KingSumo, it's easy to see that there's a clear winner.
Our top pick for the best giveaway builder is RafflePress. It's super-easy to use with the drag-and-drop builder and offers tons of powerful features to make creating viral giveaways a breeze.
The goal-oriented setup options make growing your email list, social followers, and website traffic effortless. And because it's a WordPress giveaway plugin, adding your contest to WordPress takes just a few clicks.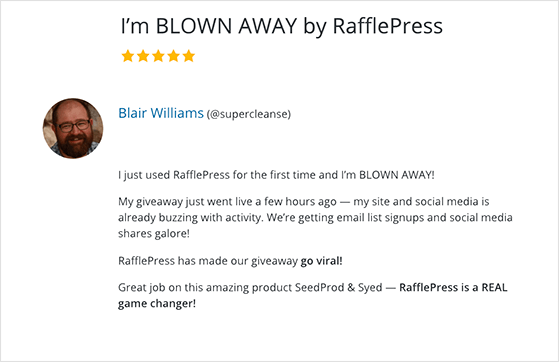 The free version of RafflePress has everything you need to build powerful giveaways in minutes. And since the paid version is so inexpensive, it costs very little to level up your marketing efforts.
Get started with the premium version of RafflePress now! Or you can grab the free version here.
And after setting up your first giveaway campaign, check out these super-effective contest promotion ideas.
If you found this article helpful, join us on YouTube, Twitter, and Facebook for more giveaway guides and tutorials.