Want to fast-track your Twitter growth with contests and giveaways?
With RafflePress, you can create engaging Twitter giveaways in 5 minutes or less.
Our drag and drop contest builder lets you design stunning Twitter contests in no time, so you can drive follows, tweets, retweets, and more with one-click actions.
And you won't have to start from scratch either…
Twitter Giveaway Template
Picture this: your Twitter giveaway designed, launched, and collecting entries in a few minutes.
Most Twitter contest apps don't offer you that ease and efficiency.
But with RafflePress, we understand you want to get up and running as quickly and efficiently as possible.
That's why our Twitter giveaway template comes with powerful ready-made actions to boost the reach of your contests on Twitter.
Just click the Grow Your Twitter Following template, and the actions to follow you on Twitter and tweet a message, are right there.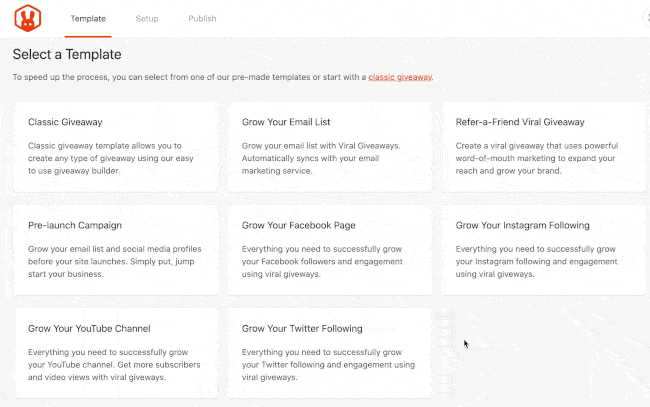 But that's not all…
With RafflePress, you can grow your brand beyond Twitter with actions for Facebook, Instagram, YouTube, and more.
Then you can embed your giveaway anywhere on your WordPress site to collect entries.
Twitter Giveaway Picker
Drawing winners for your Twitter competition is just as easy too.
Our Twitter giveaway picker lets you randomly draw winners with a single click. This keeps your campaigns fair for everyone who enters.
If you're running a Twitter contest and need to choose a winner manually, you can do that with a click of a button too.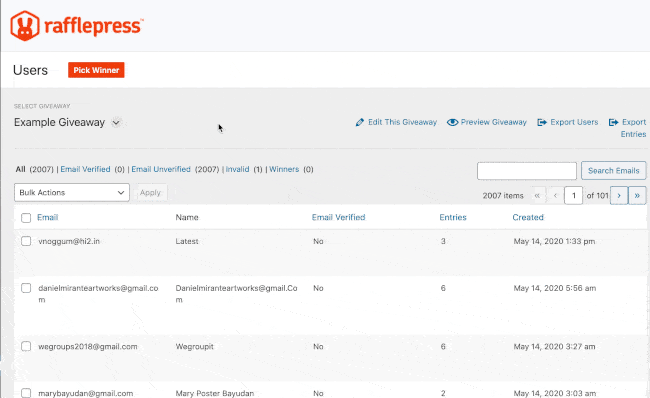 After, you'll see the winners highlighted in your list of entries. Then it takes just a click to email the winner with the good news.
At RafflePress, we believe in getting rid of the barriers that stop you from running successful Twitter giveaways. That's why we've made our contest builder easy to use right out the box.
Just ask the hundreds of Twitter users, bloggers, and small businesses already experiencing success with RafflePress.
Let RafflePress help you build entertaining contests to grow your Twitter account.
Create a viral Twitter competition in minutes … What are you waiting for?