Are you looking to attract more people to your event and want some handy event promotion ideas? Whether your event's at a physical location or online, it's challenging to get people to sign up. That's why finding creative ways to promote attendance is a smart idea.
With that in mind, we've done the research and found the best event promotion ideas you can use to attract more attendees and grow your business.
What Is Event Promotion?
Event promotion uses multiple marketing strategies and channels to spread the word about your event and increase registrations.
Without effective promotion strategies, people won't know about your event or know where to sign up.
Benefits of Promoting Your Event
There are many benefits to promoting your event. With the power of excellent event promotion, many businesses can achieve the following marketing goals:
Raise awareness of your event to your target audience
Improve the chances of more people attending your event
Expand your potential attendees to people unfamiliar with your business
Generate more leads to convert to paying customers
Build relationships with like-minded professionals in your industry
As you can see, it makes sense to promote your event. So how do you do it?
How Do You Promote an Event Creatively?
There are tons of ways to promote any kind of event. In the following sections, we'll explore how to promote your event through your website by creating excellent content, paid ads, and social media.
Event Promotion Ideas on Your Website
Let's kick things off with event promotion ideas that utilize your current business website. You'd be surprised what you can achieve from a single site.
1. Optimize Your Event Registration Page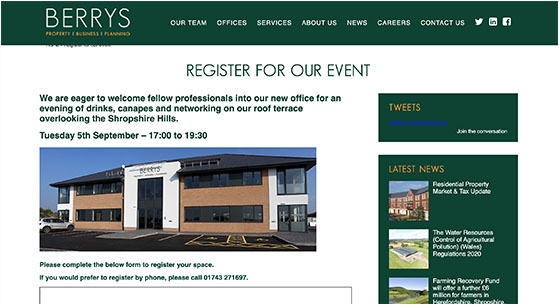 Your event registration page is where people sign up to secure a spot at your event, so you must optimize this page for maximum sign-ups.
Think about the elements on the page and how you can improve them. Here are a few optimization ideas to get you started:
Mobile responsive: Ensure your event registration page displays well on all screen sizes to make it easier for mobile users to register.
Calls to action (CTA): CTAs should be simple, actionable, and where users can easily see them. Learn how to create the perfect CTA here.
Images: Make use of imagery that evokes an emotional response in visitors. Images with smiling faces have a better impact than those without.
Speed: Keep page load times as fast as possible. Slow loading speeds will put people off.
SEO: Ensure your page content is optimized for search engines by including relevant keywords people are likely to search for.
When you've optimized your page as much as possible, test everything! A/B testing essential elements on your page help you find areas you can improve to get more conversions. To help you test your event registration page, check out these A/B testing best practices.
2. Use Live Chat to Answer Questions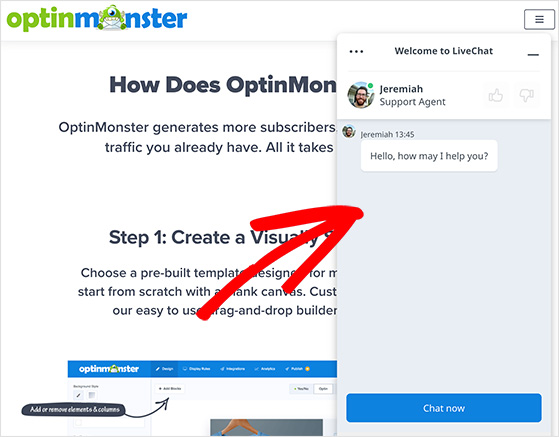 Something else that helps with on-site event promotion is being able to answer questions before people register. Think about using a live chat service on your registration page to answer queries and provide extra information.
When you add live chat to WordPress, you can solve people's issues in real-time. And instant customer support can help convince potential attendees to register for your event.
3. Create an Event Agenda Page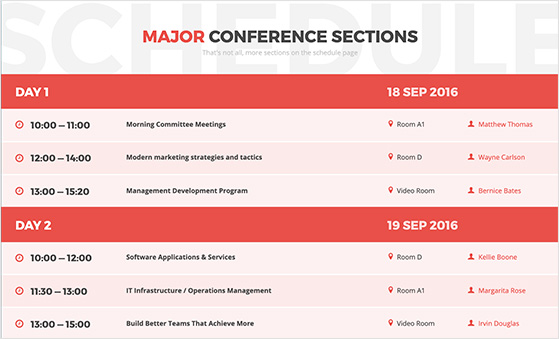 Another idea is to create an event agenda page. An agenda page makes it easier for attendees to learn about what they can look forward to after they've signed up.
Try to keep the design of your agenda page clean, simple, and easy to navigate. And include a straightforward timeline of what's happening when throughout the day. That way, attendees can better schedule their time between speakers, workshops, and other events.
4. Publish Content from Speakers
In the lead-up to the event, publish content on your blog from your event speakers. It could be teaser content about their workshops or talks or even content around the events' theme.
Getting your speakers involved at this point builds excitement for the event, which can encourage people to register. This type of content is highly shareable on social media to further boost registrations.
Make sure you include a clear CTA to register for the event on the blog post for even more of a boost to sign-ups.
5. Offer Members Discounts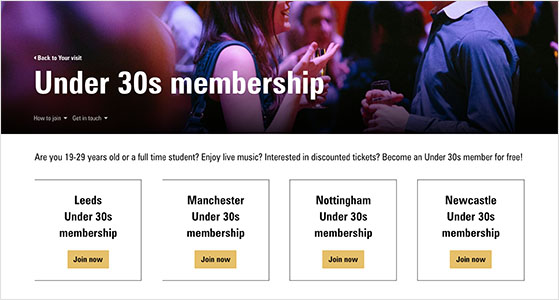 What if your website has a VIP area for paying members? Here's an event promotion idea that rewards your members while encouraging them to register.
Why not offer members exclusive discounts in return for their loyalty? Member discounts will make your members feel valued and as if they're part of a select group while still encouraging them to attend your event.
If you don't already have a member's area, you can learn how to create a membership website here.
6. Promote Limited Time Offers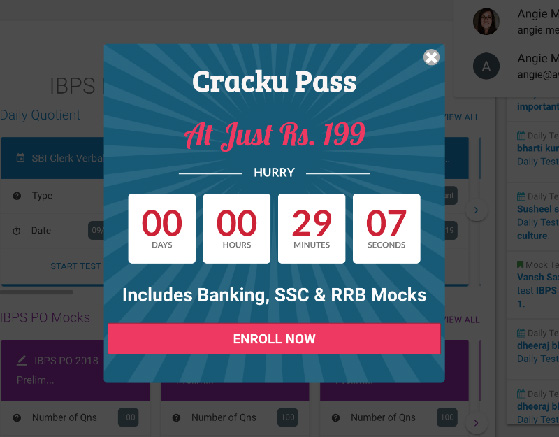 With your members taken care of, how can you promote your event to non-members? A limited-time offer is a perfect opportunity.
Limited-time offers for event tickets can build excitement and give people the fear of missing out on a fantastic opportunity. If the offer runs for a short time, people need to act now to secure their spot.
You can create a limited-time offer for your event using OptinMonster, the most powerful lead-generation software for marketers. OptinMonster makes it super-easy to create almost any type of campaign so you can target your ideal audience and convert them into paying customers.
With tons of lead capture campaign types, you can run promotions in minutes, and with powerful Exit-Intent® Technology, you can capture people's attention right when they're about to leave your site.
Try creating a countdown timer popup to increase registrations, or if you're looking for more ideas, check out these scarcity marketing examples.
7. Offer Registration Swag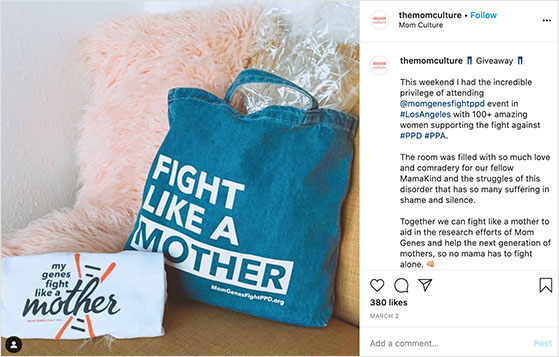 Hands up if you love getting free swag! Swag bags are like the ultimate perk of attending events. But why make attendees wait for the big day to get their hands on it?
Why not sweeten the registration deal by offering swag to people when they sign up for your event? They can arrive at the event decked out in branded t-shirts, custom lanyards, and much more. It gives those attendees something tangible to remind them of why your event is worth going to.
Here are a few more ideas to include in your registration swag bags:
Flash drives loaded with event-specific information
Custom name badges and lanyards
Phone and tablet screen cleaners
Cool event t-shirts or hoodies
Branded earbuds
Activities to keep children amused
Food and drink coupons
8. Create Registration Badges

Besides offering physical swag, there are many ways you can promote your event with digital assets.
When people register for your event, offer them a badge to display on their blog or website. If you build HTML into those badges, you can link the badge to your registration page to boost sign-ups.
Make sure your badge graphic is attractive enough for people to share on social media to reach even more people.
9. Run a Giveaway With Free Tickets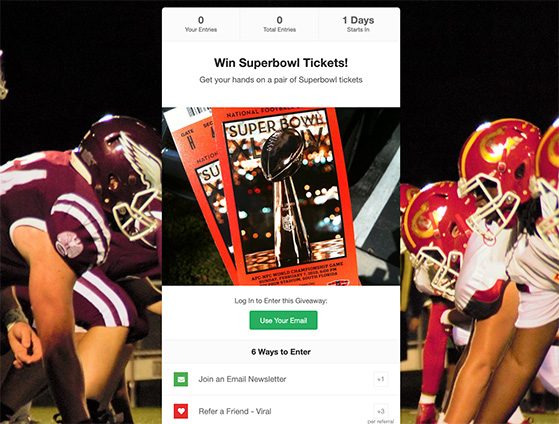 Another event promotion idea that's ideal for your website is to run a giveaway offering lucky winners free tickets to the event. Not only do you get to allow someone to attend your event for free, but giveaways can also attract massive interest and traffic.
You can easily create an online contest or giveaway with RafflePress. RafflePress is the best giveaway plugin for WordPress, allowing you to build stunning giveaways in minutes.
Pre-built giveaway templates make it easy to design your contest in a way that drives traffic to your website, grows your social media followers, and even boosts sign-ups to your email list.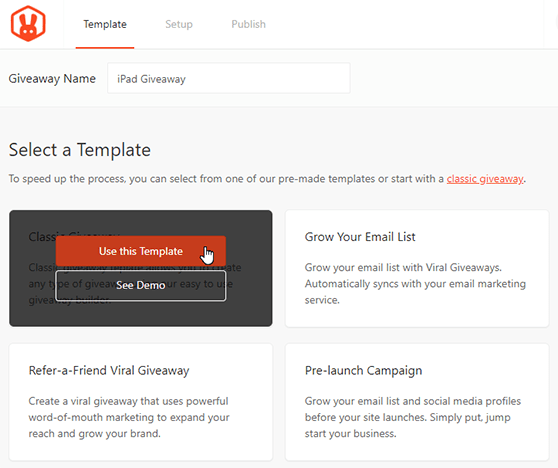 Then with powerful entry options, you can encourage word-of-mouth marketing with viral refer-a-friend actions.
To make your giveaway even more exciting, try offering a discount to everyone who enters, even if they don't win. That's sure to maximize your registrations.
10. Track Your Progress with Analytics
If you haven't got analytics reports set up for your event website, you're missing out on crucial information. The more you know about how people find your site, the easier it is to decide how to promote your event in the right places.
Website analytics gives you valuable data on how people get to your website, what makes them stay, and what makes them click away without registering.
You can easily set up analytics tracking for your event website using a tool like MonsterInsights. As the best Google Analytics plugin for WordPress, it lets you track everything from site traffic to affiliate traffic and enhanced eCommerce tracking.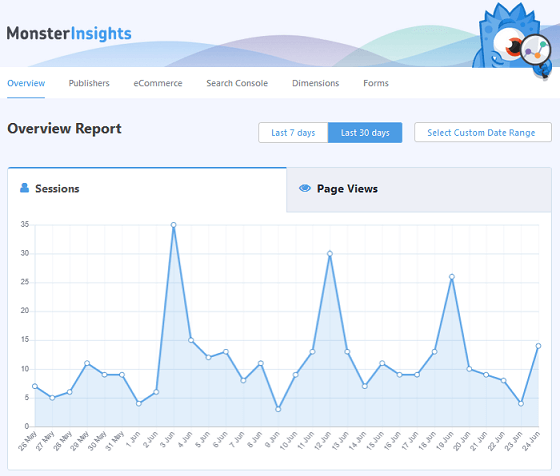 Then you can make data-driven decisions on how to improve your event promotion tactics. All this information is available in reports right inside your WordPress dashboard.
Event Promotion Ideas for Creating Content
Amazing content should be the cornerstone of your event promotion strategy. Without the content for people to learn more about your event, you won't be able to get them to register to attend.
In the next section, we'll look at ways to promote your event using excellent content.
11. Upload Sneek Peek Videos to YouTube
Did you know that YouTube is one of the most significant search engines next to Google search? It's true! With over 5 billion videos watched every day, YouTube is the ideal platform for helping people discover your event.
One way to utilize YouTube is to upload teaser videos of your event to give people a sneak peek at what they'll experience on the day.
Here are some ideas for what to include in your teaser videos:
Live tours around the event venue
Videos of speakers practicing their speeches
Previews of the workshop spaces
Tours of the city where the venue is
Sneek peeks at swag bag contents
To maximize exposure and registrations, don't forget to embed your YouTube videos on your event website.
12. Preview Your Event With a Webinar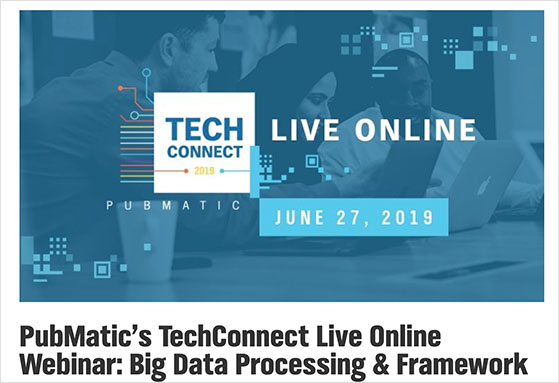 Another way you can use video to promote your event is to hold a webinar for people interested in attending.
Webinars are an excellent way to answer questions about your event. Plus, they give attendees a preview of what to expect on the day. You can also use webinars to offer people who attend a discount on the price of event tickets to increase registration sign-ups.
Take a look at the best webinar software for WordPress users to get started.
13. Launch a Podcast Related to Your Event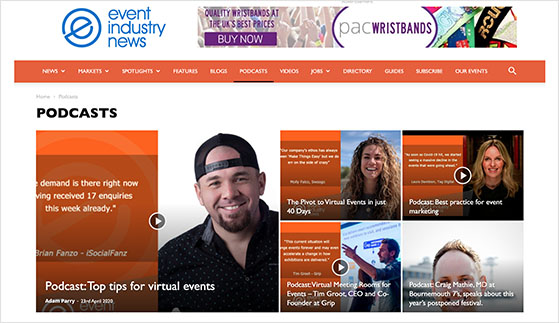 Did you know that 67 million Americans tune into podcasts every month? That's a massive audience you could be tapping into for your event!
Running a podcast is a creative event promotion idea that's often overlooked. Try launching one for yourself based on a theme relevant to your event. You could invite speakers for your event to join episodes so attendees know what to expect.
Alternatively, you could become a speaker or sponsor of a popular podcast in your niche that attracts a similar audience.
Event Promotion Ideas for Advertising
Paid advertising methods are always good ways to promote any event. But you need to be smart with spending your advertising budget to get the most success from your efforts.
The following section highlights the best ways to get more from advertising.
14. Run Social Media Advertising
Social media is a central place to promote your event because there's the potential to reach a massive audience. Facebook, Twitter, LinkedIn, and Instagram all have paid advertising functionality to help you reach your target audience.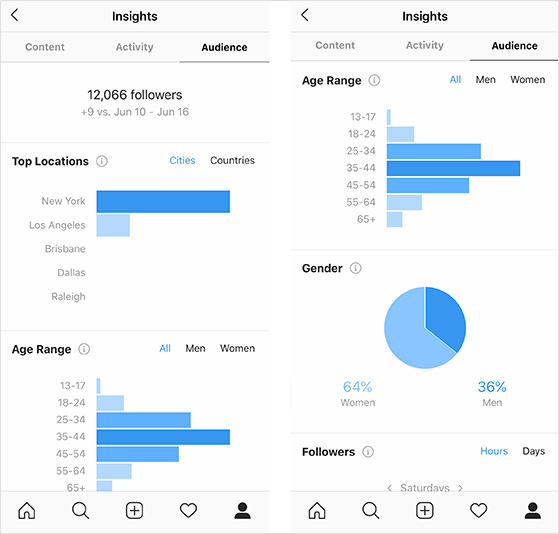 Let's look at each social media ad platform in more detail:
Facebook: Facebook advertising is best for lead generation. Use prospecting ads to build brand awareness, but don't use the same ads for all your audiences. Tailor them to each audience's interest instead.
Instagram: Instagram is best for companies targeting a younger audience. First, focus on custom audiences, then move on to lookalike audiences. Use high-quality images, not stock photos, and use the best hashtags for maximum exposure.
Twitter: Twitter is great for brand awareness and organic engagement. Make sure you're pretty targeted with what you choose to promote, and include a clear CTA. Try to build user engagement directly into your ad and keep it easy to skim read.
LinkedIn: LinkedIn is best for b2b marketing. A good practice is to track your ads and discard any performing under a 0.10% click-through rate (CTR). Users prefer shorter copy that focuses on professional challenges or problems.
15. Create Smart Retargeting Ads
Another way to promote your event with advertising is to run retargeting ads. You've likely seen it before, where you look something up online, then see ads for it wherever you go on the internet.
You can use retargeting ads for your event so that when someone looks at your registration page, they'll see ads reminding them to register elsewhere online.
You can learn how to create a successful retargeting strategy for your event here.
16. Add Your Event to Discovery Sites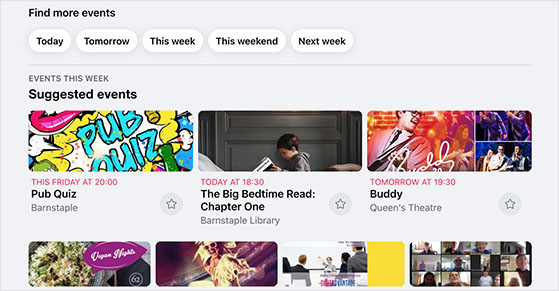 There's a wide variety of online guides and apps that show people fun things to do with their time. And often, those guides list events tailored to their users by category or interest.
You can reach those people by promoting your event on those sites.
Here's a list of event discovery sites to help you get started:
Promote Your Event with Social Media
Now let's look at how you can effectively promote your event on social media.
17. Leverage the Audience of Event Partners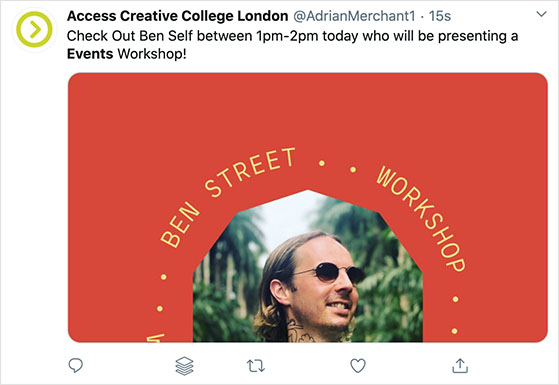 All the speakers, partners, and sponsors have engaged audiences waiting to hear about your business event.
Tap into that audience by providing your partners with information and imagery to share with their audience on social media so they can promote your event to their followers.
Just make sure you also give them a tracking link so you know exactly where new registrations are coming from.
18. Email Past Event Attendees
Remember the last time you ran an event? How many people attended, and how successful was it? If you saw a great turnout, email the people you know who attended last time to encourage them to register for your new event.
You can also segment your email lists into different demographics within your target audience. Then you can build email campaigns speaking directly to those smaller groups with specific messages.
Not sure which email marketing service to use? Check this guide out.
19. Create Branded Hashtags
Hashtags are an excellent event promotion idea that helps users find you on social media. And not only does creating a branded hashtag help you engage more with users, but they're also easy for users to remember about your event.
Branded hashtags should be unique to your business and interesting enough to stick with your audience positively.
Let's look at the key features of a well-branded hashtag:
Short in length
Easy to remember
Consistent with your brand
Unique to your brand
Focused on a single message
When you've created the ideal branded hashtag for your event, include it in all your messaging.
20. Use Word-of-Mouth Marketing
Word-of-mouth marketing is when customers are so interested in a brand they actively encourage people to check them out for themselves. And it's a brilliant way to help more people register for your event.
You can encourage word-of-mouth marketing for your event by including ways for people to share the event with others, like social sharing buttons.
If you choose to run a giveaway for your event with RafflePress, you can easily encourage word-of-mouth marketing with the viral refer-a-friend option, which asks people to share your giveaway in return for a chance to win.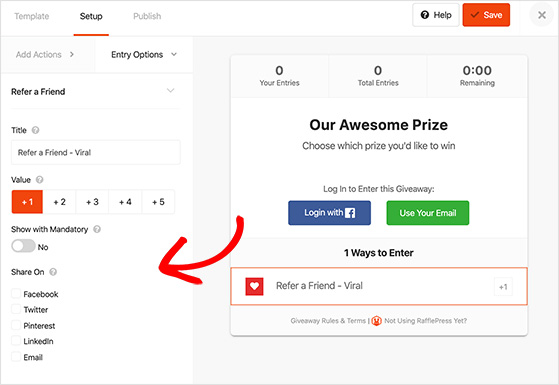 21. Collaborate with Niche Influencers
Since your fans are your biggest advocates, chances are a few who are particularly influential, with an audience hanging on to their every word.
Using tools like Buzzsumo, you can identify influencers related to your business and motivate them to spread the word about your event. That way, you increase your exposure to a relevant audience and could secure more registrations.
22. Hire Brand Ambassadors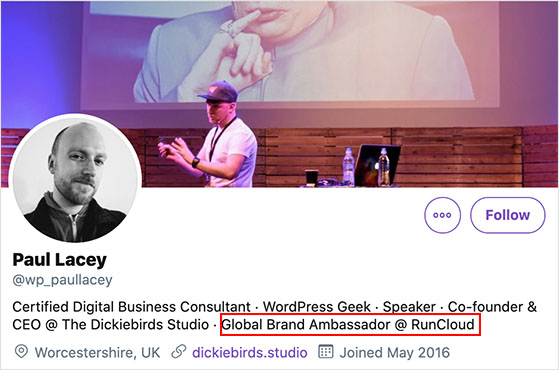 And since we're on the topic of using influencers to encourage bookings, it's worth looking at hiring brand ambassadors for the same job.
Look for people with massive online influence, like celebrities, YouTube stars, industry experts, and bloggers. Then you can sponsor them to create and post timely content about your event that's shared with their audience.
23. Tell Insider Stories on Social Media
Stories are a growing feature on many popular social media sites. Instagram, Snapchat, and Facebook have them, and YouTube is primed for storytelling.
While you prepare for your event and during the big day, keep your social media audience engaged with insider storytelling. That way, people will feel more connected to your event and more inspired to attend.
24. Use Social Media GeoTagging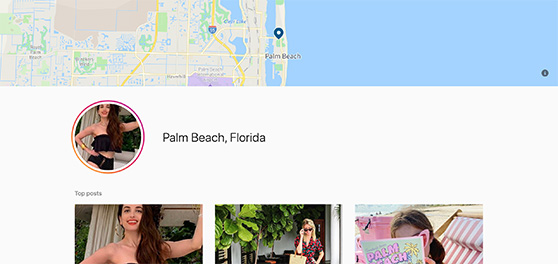 Geotagging is the new favorite way to reach audiences through location-based targeting when marketing your event.
You can easily geo-tag your social media posts on all the major platforms by tagging a location. Then when people search for that location, they'll discover your content in location-specific feeds, highlighting your event to users who might not know it exists.
25. Build an Engaged Event Community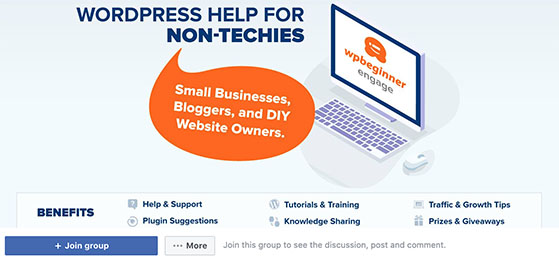 Building a community around your event is one of the best ways to promote it to your target audience. With so many platforms available that encourage community building, like Facebook groups, LinkedIn groups, Reddit, and more, it's easy to gather like-minded people around a specific topic or interest.
When you've created a community around your business, you can share past events and updates and future ones to get people interested in attending. It's also the perfect place to share teasers and promotions for attendees.
And that's it!
We hope this article helped you find loads of creative event promotion ideas to increase attendance at your next event.
When the event is over, learn how to get more reviews so you can encourage registrations for the next event.
Don't forget to follow us on YouTube, Twitter, and Facebook for more great tips to grow your business.