Do you want to learn how to promote NFT art collections?
Unless you're a popular artist with thousands of followers, getting the recognition your NFT project deserves can be hard. A solid NFT promotion and content marketing strategy are crucial because it helps you reach the wider NFT community, getting more eyes on your collection.
In this article, we'll share some of the best tips on creating your own NFT promotion strategy to reach your target audience.
What Is NFT Art?
NFT is short for non-fungible tokens. That means, inside each piece of art, there's a unique piece of data stored on a ledger using blockchain technology, confirming that you own it. Similar to cryptocurrencies like Bitcoin and Ethereum, it's used to verify the uniqueness of NFTs and establish who owns them.
But unlike Bitcoin and other cryptos, every NFT is unique and can be exchanged like-for-like. The extra information stored in NFTs makes them more valuable than cryptocurrency alone, and as a result, they're highly collectible, holding value similar to traditional art.
In the end, turning your digital art into crypto art is an effective way to get attention as a digital artist online.
Benefits of Promoting Your NFT
Promoting your art in the NFT space is an effective way to get the attention your creativity deserves. Here are just some of the benefits of promoting your NFT collection:
More recognition: Similar to the physical art world, getting your first big break can be a life-changing moment. With effective NFT marketing, your latest collection may catch the eye of the right NFT collectors and help get your name out.
Increase sales: For many NFT artists, selling their work is their primary source of income. But to join the ranks of the successful, you'll need to promote your art correctly.
New audiences: NFT promotion isn't just about promoting yourself. It's also about sharing your work and talent with the rest of the world. With an effective promotion strategy, your NFTs can reach a wider audience of people interested in what you do.
Essentially, the benefits of promoting your NFT art are more brand awareness, recognition, and sales.
How to Promote NFT Art Collections Online
Below, you'll find some of the easiest and most effective tips and tricks to promote your NFT projects.
Many are free ways to grow your presence, so let's dive in with the first and most important tip.
Create a Website to List Your NFT Art
One of the best things you can do as a digital professional is to build yourself a website. Your website is where people interested in your work can learn more about what you do and see some examples.
You can also promote and sell your NFT collections directly from your website, which ensures you maintain complete control over how you run your business.
If you're looking for an easy way to build a website, we recommend using WordPress. It's a flexible open-source platform with all the features you need to create the best foundation for your NFT business.
Before you get started, you'll need to set up hosting for your site and purchase a custom domain name. Many hosting providers offer web hosting and domain registration in the same plans, and our top choice is Bluehost.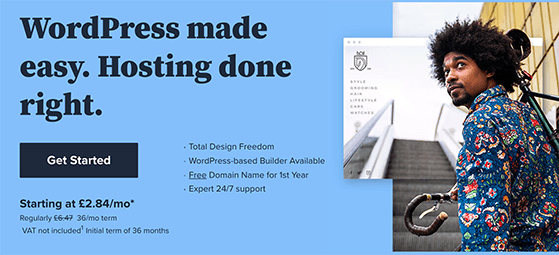 Bluehost is an officially recognized WordPress hosting provider and one of the largest hosting companies in the world. Its plans offer flexible hosting options with a free domain name and SSL certificate.
It might sound like a lot of work, but it's easier than you might think if you follow this guide on creating a WordPress website.
Produce High-Quality Content About Your NFTs
Once you have a website, you can start creating content that talks about your NFT collection. Doing this will help your content rank in search engines like Google and attract organic traffic.
To generate organic traffic, you'll need to create high-quality content your audience will want to read. Here are some examples of the types of content you can make that people love to consume:
How-to guides and tutorials
Numbered lists of tips, tools, and advice
Educational video content
Interviews with influencers and experts
Teasers of new products and upcoming collections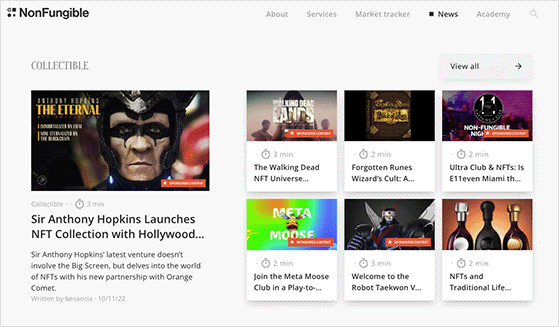 Once your content starts gaining traction with your ideal audience, you'll find some users will share it on social media channels, promoting your NFT content automatically.
Run an NFT Giveaway or Contest
With your website and some excellent content in place, you'll likely have a growing audience of followers. One way to keep those users engaged with your brand while promoting your NFT is to run an online contest or giveaway.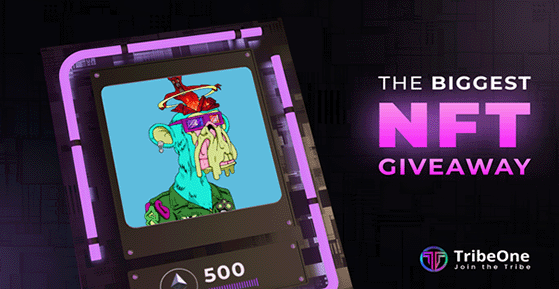 Giveaways work by asking your audience to perform a few tasks for the chance to win a prize. The tasks can be anything you like, but it's best to align them with your marketing goals to get the best results.
For example, if you ask people to share your giveaway on social media platforms to enter, you can expose your NFTs to a much larger audience while rewarding your existing fans.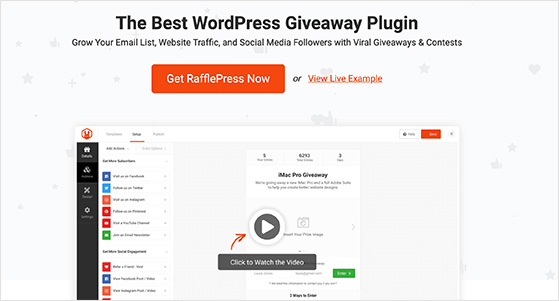 RafflePress is one of the easiest ways to run a giveaway on your WordPress website. It's a powerful giveaway builder that lets you easily create any contest without code.
With premade giveaway templates and a drag-and-drop editor, getting started takes a few minutes.
From there, you can add tasks for entrants to perform, like refer-a-friend, follow on social media, retweet your giveaway post, visit a page, answer a question, and more. You can even use the "Invent Your Own" action for custom tasks like joining your Discord server.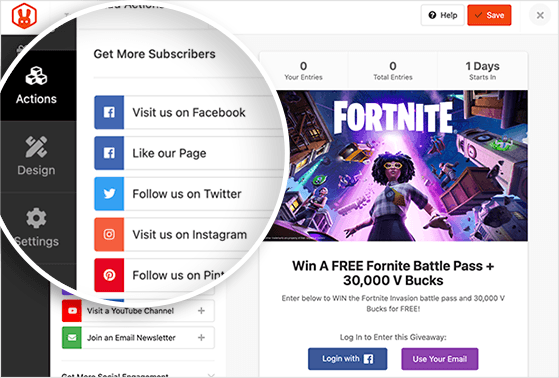 Even better, you can publish your giveaway virtually anywhere on your website and online. You can embed it in any WordPress post, page, or sidebar or create a distraction-free giveaway landing page.
Picking a winner is just as easy. The built-in generator lets you choose a winner randomly and display the winners inside your giveaway widget for everyone to see.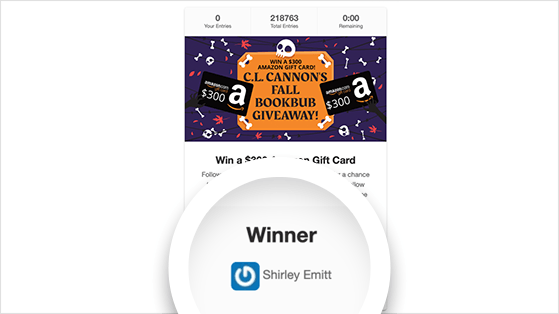 Follow this step-by-step guide on how to run a free NFT giveaway in WordPress to get started.
Build a High-Converting NFT Landing Page
Landing pages are another effective way to promote your NFT art. They're standalone pages on your website, but unlike your homepage and other pages, they're designed to convert traffic into leads and sales.
Let's say you're running a paid advertising campaign for a new NFT to build hype and earn money. In that case, you can send traffic from your ad to a custom landing page targeted to that specific audience.
By addressing your audience's needs and including landing page elements like compelling content, social proof, and eye-catching calls to action, you can turn interested visitors into paying customers.
The best way to create a landing page for your WordPress site is with a landing page builder plugin.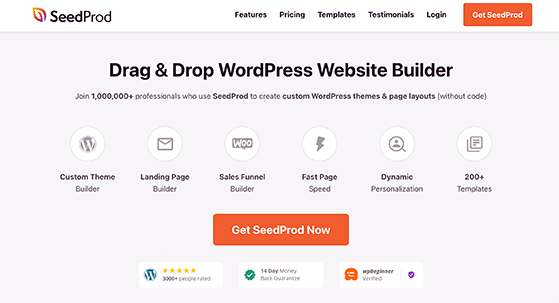 SeedProd, for example, is the best WordPress page builder with drag-and-drop functionality. It includes hundreds of premade templates and countless elements you can drag and drop to create the perfect landing page design.
For instance, you can use the following lead-generating elements:
Icons for your social media accounts, including Twitter, TikTok, Telegram, Facebook, and more.
Video blocks for embedding your YouTube Channel content
Countdown timers to create urgency for special offers and deals
Optin forms to grow your email list
Add-to-cart buttons to sell your latest NFT release
And more
Unlike other page builders, SeedProd is fast, lightweight, and optimized for SEO. That means you won't face performance issues and can quickly rank your page in search engines for greater exposure.
Announce NFT Drops with Push Notifications
If you've ever had a popup appear in your web browser or desktop with a sale or promotion, you're probably familiar with push notifications. They're small browser notifications you can send to subscribers even if they're not visiting your website.

However, what you may not realize is that they're a great way to bring people back to your website and yield better results than email marketing. One company got 4x higher click-through rates with push notifications instead of using email.
Additionally, sending push notifications from your website is pretty straightforward.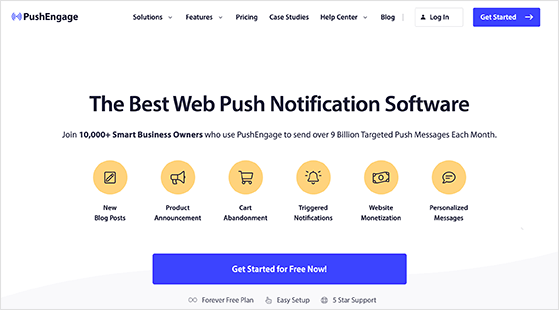 Push notification software like PushEngage walks you through the entire process from start to finish. No coding is required, and you can send web notifications in minutes.
Once you're up and running, you can send notifications on a range of topics, including:
New NFT drops
NFT sales and promotions
NFT industry news
Reminders to enter your giveaway
Recently published content
To help you get started, here's a guide on how to add push notifications to WordPress.
Optimize Your Website for Search Engines
Earlier, we talked about creating high-quality content for your website. Whether you plan on creating podcasts, video content, or different formats of written content, you'll need that content to rank high in search engines to generate significant traffic.
We call this search engine optimization, or SEO for short, and it's the process of making your content easy for search engines to crawl, index, and display. The higher your website ranks in search engines, the better your chances of attracting more organic traffic, which can quickly turn into more fans, subscribers, and paying customers.
One of the best ways to optimize your website is with a WordPress SEO plugin. Our favorite is All In One SEO, and it comes with everything you need to make your site search engine friendly.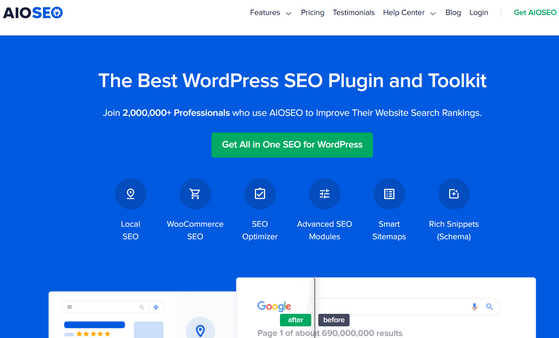 The plugin will analyze your content and suggest ways to improve it. For example, its on-page optimization checklist will let you know where to use the right keywords, and its internal linking features will suggest ways to link your content together, so it's easier for search engines to crawl.
For more details, check out this All In One SEO review and see if it's the right fit for you.
Tease New NFTs to Your Email Subscribers
So far, we've talked about how to promote NFT art from your website. But there are many other ways to get your collections in front of the right people.
One way is to build an email list and send newsletters to your subscribers about your work.
Because the people who join your email list have taken the time to confirm their subscription, they're more interested in what you offer and are much more likely to click through to your website.
In this example from Bitski, they use email marketing to tell subscribers about various NFT giveaways.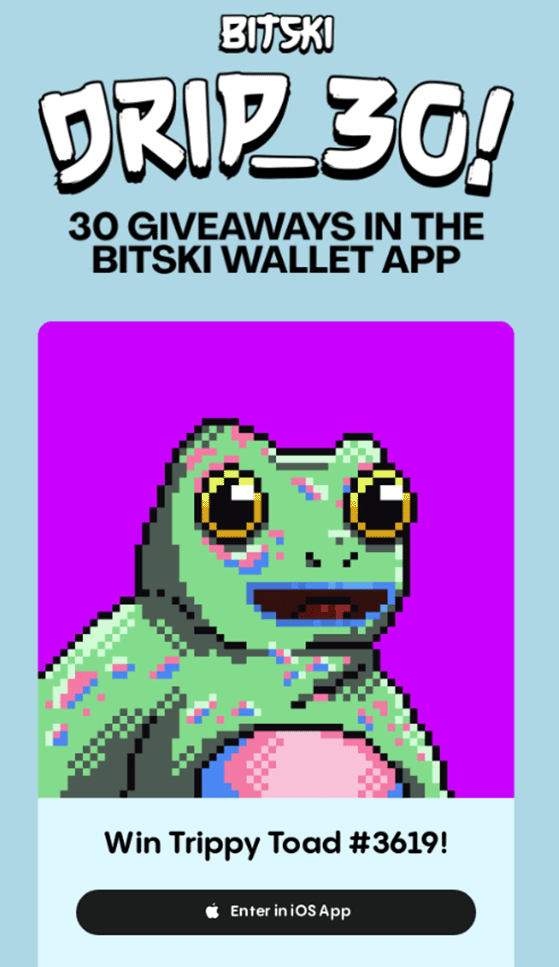 You can create a similar email promoting your RafflePress giveaway by including an image of the prize and a link to your giveaway page.
Share NFT Content on Social Media
Promoting your NFTs on social media is a smart move. It makes sense to regularly share your work on platforms like Facebook, Twitter, and Instagram to get more eyes on your content.
But that's just the tip of the iceberg when it comes to social media marketing. There are many other online communities with audiences ready to engage with your art.
For example, on Reddit, several subreddits are dedicated to NFTs, including:
r/NFT
r/NFTExchange
r/freeNFTs
r/NFTgiveaway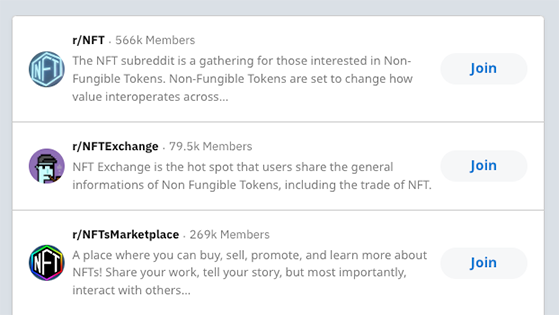 You can also find a dedicated NFT fan base on Discord servers, Telegram groups, and even on TikTok.
Once you find a community that works for you, you can start forming relationships with other NFT creators and influencers. As your authority and credibility grow, you can even collaborate with other creators on a new project and engage in influencer marketing to spread your name through the metaverse.
List Your Collections on NFT Marketplaces
If you still need help to gain traction in the crypto community, it's worth checking out some NFT marketplaces. They're platforms that store, display, trade, and sell NFTs to collectors.
Larger NFT marketplaces like OpenSea and Rarible get millions of visitors daily, and listing your NFTs only takes a few minutes.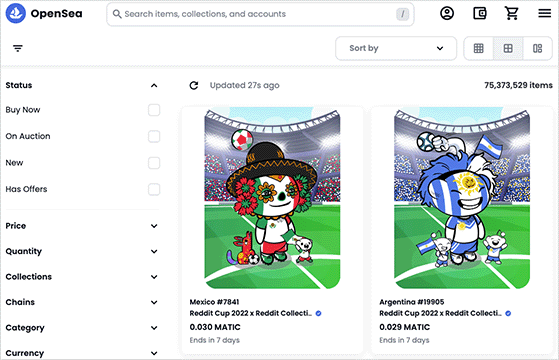 The only downside is that thousands of NFT creators are doing the same thing, so the competition can get fierce.
That said, if your NFT gets on the featured drops for these marketplaces, they'll likely promote them on social media, helping you expand your audience simultaneously. Nifty Gateway, for example, posts an NFT calendar for the upcoming week's drops on its website and Twitter.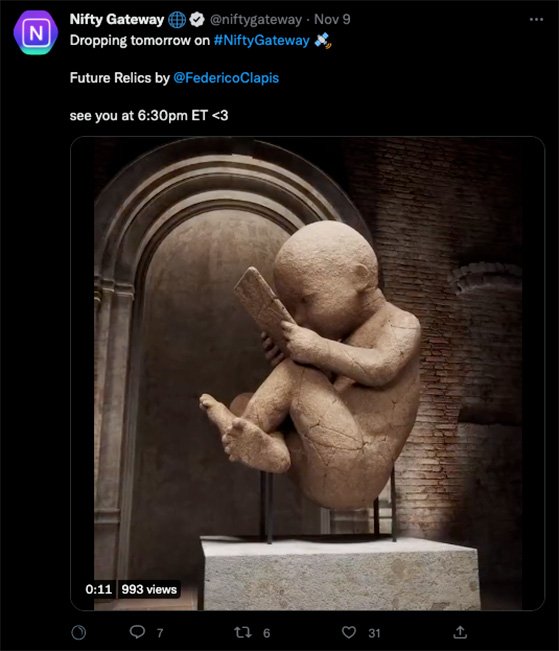 Whatever you do, you can't go wrong with a robust NFT promotion strategy, and hopefully, the tips in this post have been successful in showing you how to promote NFT art online.
Before you leave, you might also like these other tips and tricks to grow your brand:
If you liked this article, please subscribe to our YouTube Channel for RafflePress video tutorials. You can also find us on Twitter and Facebook.